– Why Chicago? Why New Orleans? Don't you know it's the two most murderous cities in the United States, my friend Thomas said. Better you bike in Denmark, or Norway, he argued vividly. But it was in vain. The plan was set, the tickets booked and the cycle packed in ba box. Bike experiences 2017 will be Chicago to New Orleans. About 3000 km.
This is the real route. My preliminary route did not include Selma. Why it came in the itinerary, I will tell you later.
23 June 2017
After a long and tiring flight and taxi, I finally came to Ruth, a Warmshowers host. She lived near Andersonville. An old Swedish neighbourhood. I stayed two nights with Ruth. The first day I went around in Andersonville and Ruth's neighbourhood. Went into the Swedish Museum.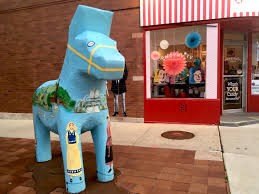 The second day I went to a large grocery store for purchases. Was pleasantly surprised, they had a bar inside the store, never in Sweden. There you could buy a glass of wine, take with you while walking around in the store for your purchases. I tried a local beer which was perfectly ok. Last night, Ruth have invited some friends and I signed me to stand for cooking. It was a mix of Swedish and American cuisine. Ruth did the American part. We talked a lot about travel, the difference between the US and Sweden, a little politics. It was a nice evening.
Ruth had already gone to work when I woke up. After breakfast, I packed my bags and started cycling for New Orleans. A strong feeling I realized that I should ride more than 3000 km through US. I wanted to follow the Shoreline Trail to its southern point along the lake. As I approached the trail, I saw my first homeless people under a roadbridge. But they were not the last.
View to downtown Chicago
later this great stately statue.
I came to Southern Chicago. Where a certain Obama grew up. Saw many abandoned houses. Lunched on Route 66 pizza. A road hook with hamburger and pizza. It was the first hamburger of many.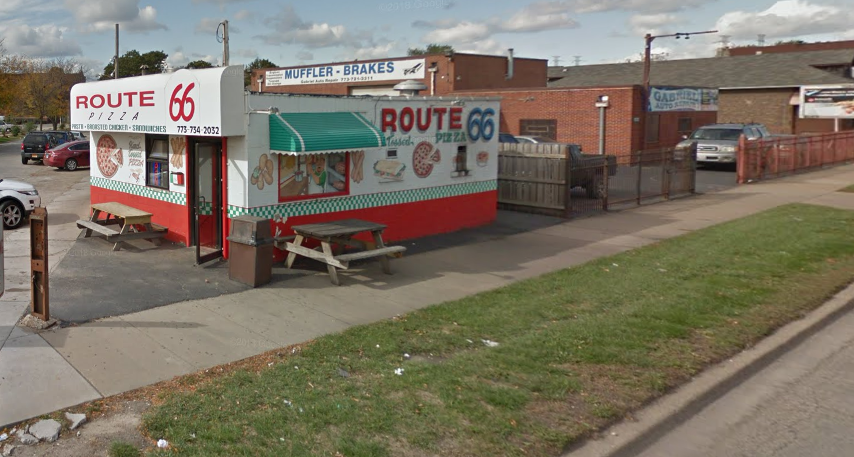 I followed Erie Lackawanna Trail until I came to Crown Place. Found an abandoned property with greenhouse, groom and abandoned house. Talked to Kevin, a homeless. He was drunk on town, police took him. Three months in jail. Then homeless and unemployed. Must remember to buy reading glasses, have lost them.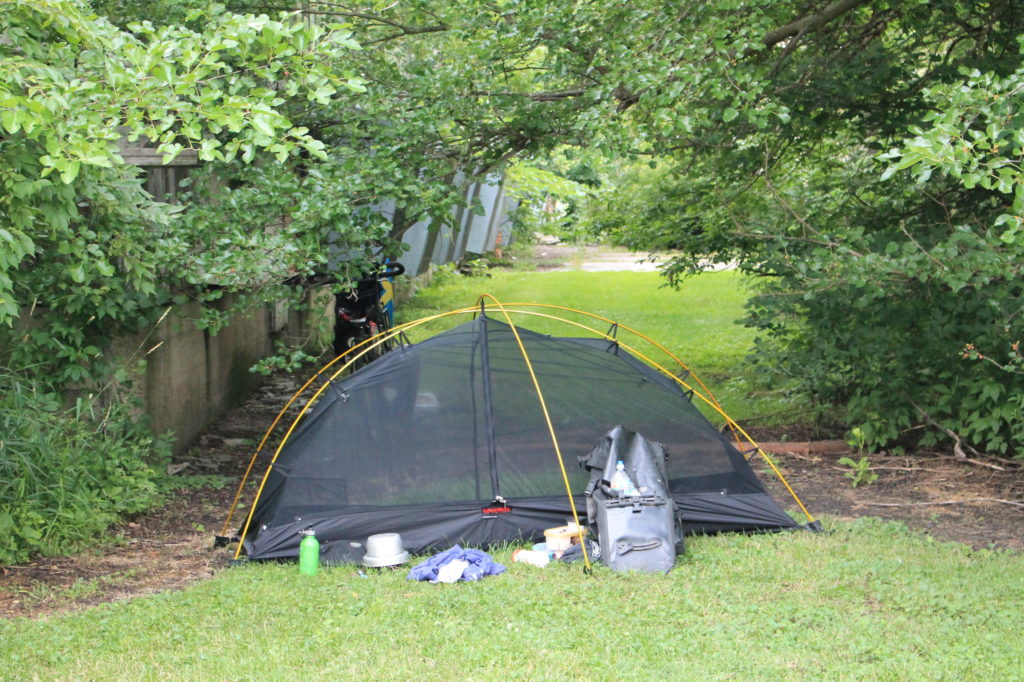 Illinois is flat, but beautiful but the same horizon far away. The roads are straight in the north / south or east / west direction. The day was uneventful. Passed Kouts.
Stayed om Kingdom Hall property outside Winnimac after 107 km. Wind in the back, easy cycling. Ready already 4pm.
I continued south-east, surrounded by cornfields, on small side roads with little or no traffic. Came to Hebron. Continued toward Rochester. Talked to Greg who fried sausages outside his church. He offered me one. It was not enough so I stayed at Putts bar & grill for lunch.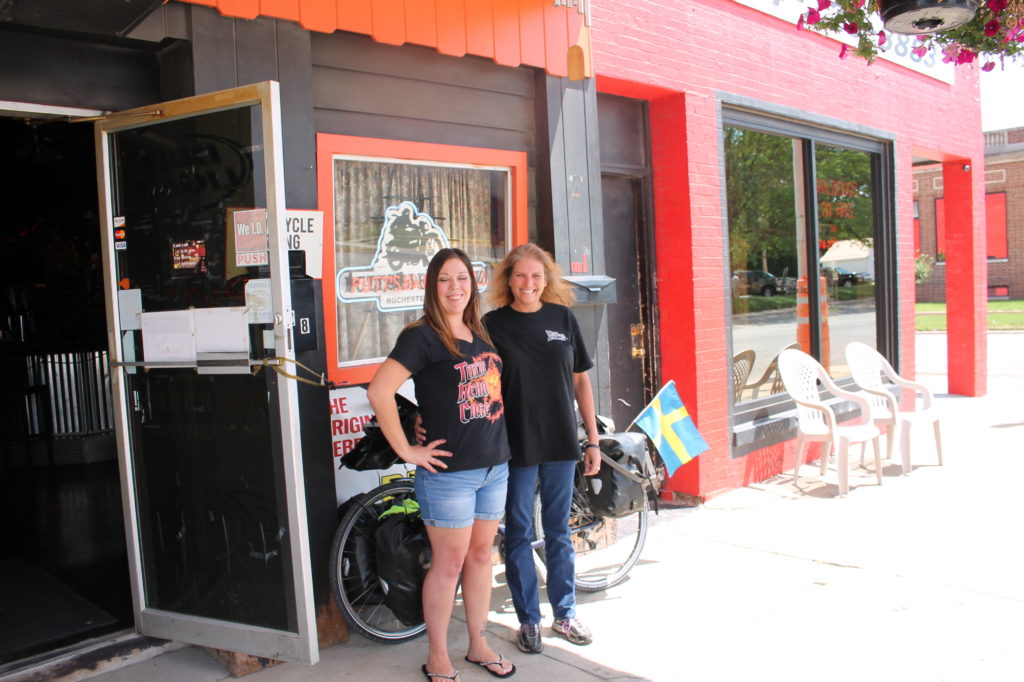 It turned out that Putts Bar was a popular bike bar. Hollie was pleased to see a new face she said.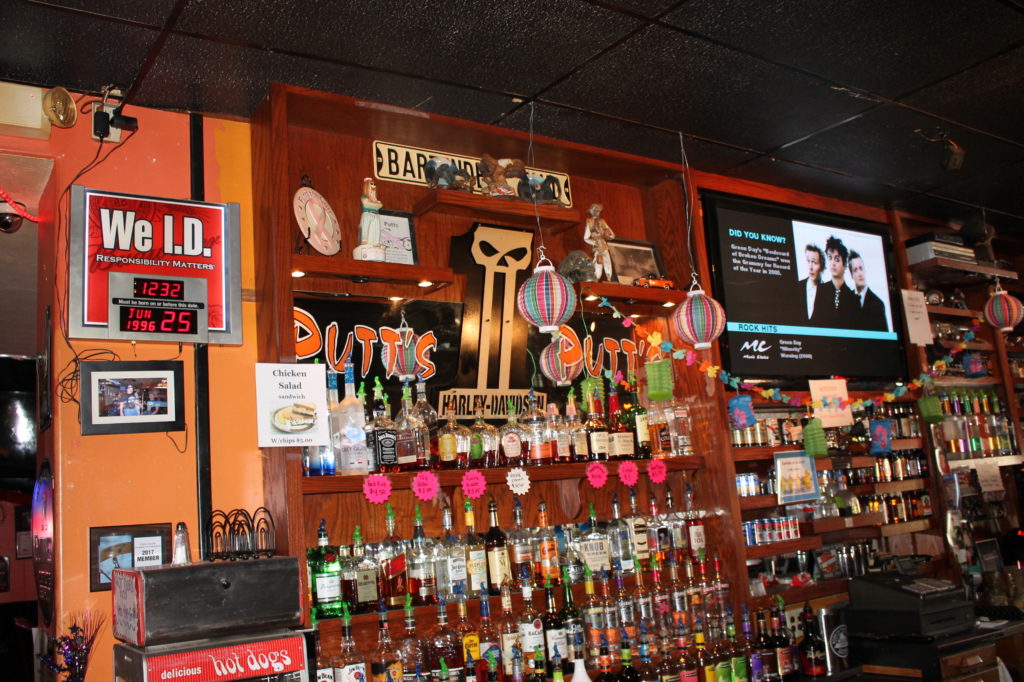 Continued on nickel Plate Trail to Peru.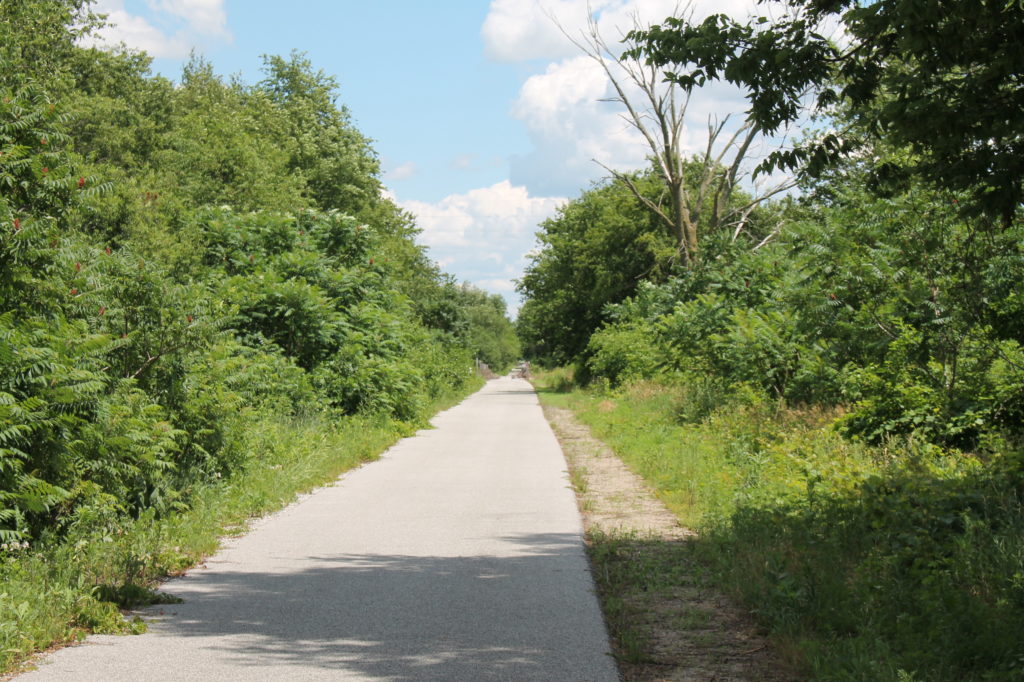 Managed to find a grove. Probably the cause of a fire. I could see visible signs of building grounds, streets and burnt possessions. It was here that I lost my Swedish flag.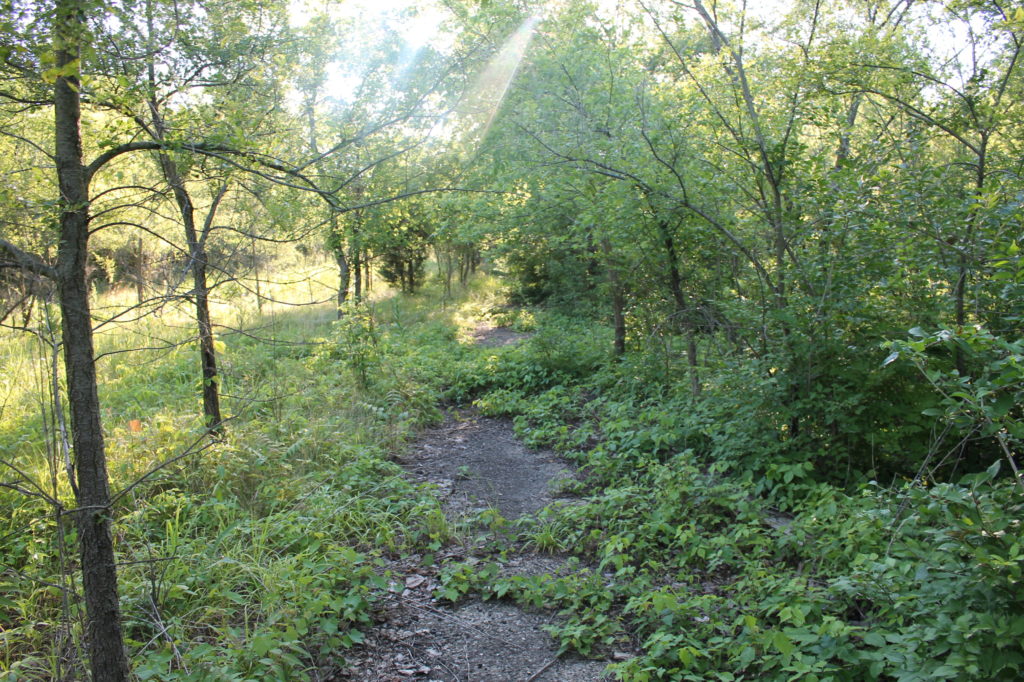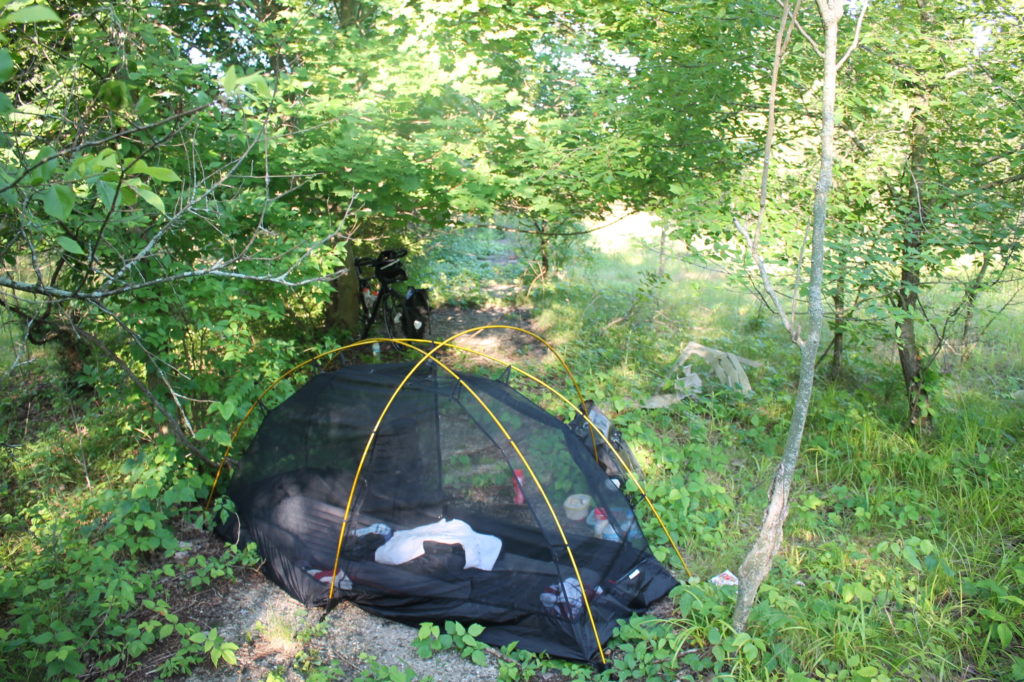 I continued on the Nickel Plate Trail towards Kokomo. It was a lot of trails but it also involved some dirt roads. That night I stayed at the Super8 motel in Muncie. visited Guardian brewery.
The highlight of the following day may have been that I came to Ohio. I followed the Whitewater Gorge Trail. Then smaller roads. My goal for the day was a small town, Verona, because there began a long trail towards Dayton.
Ohio is as Illinois. Agricultural Area. Just look at this house.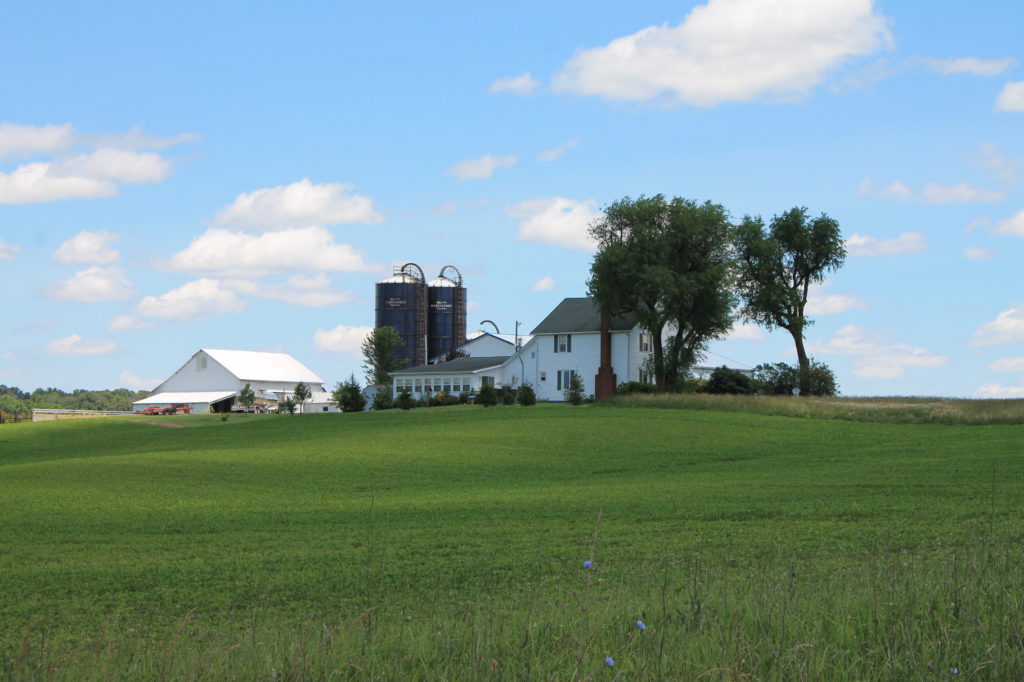 Stayed in Losantville for lunch. I saw I was near Wilbur Wright's birthplace.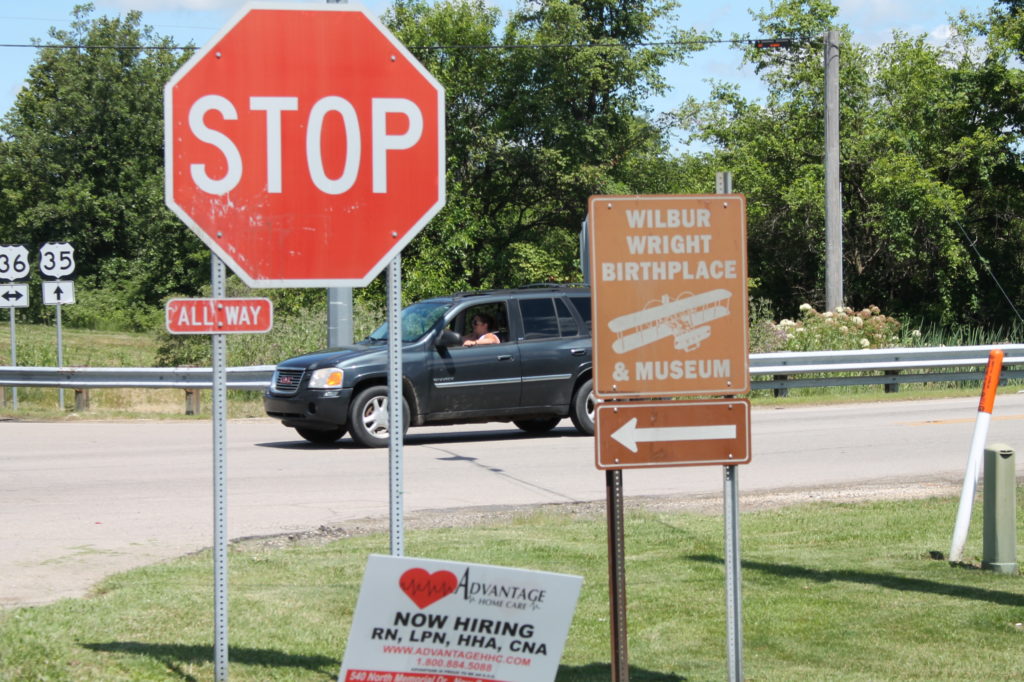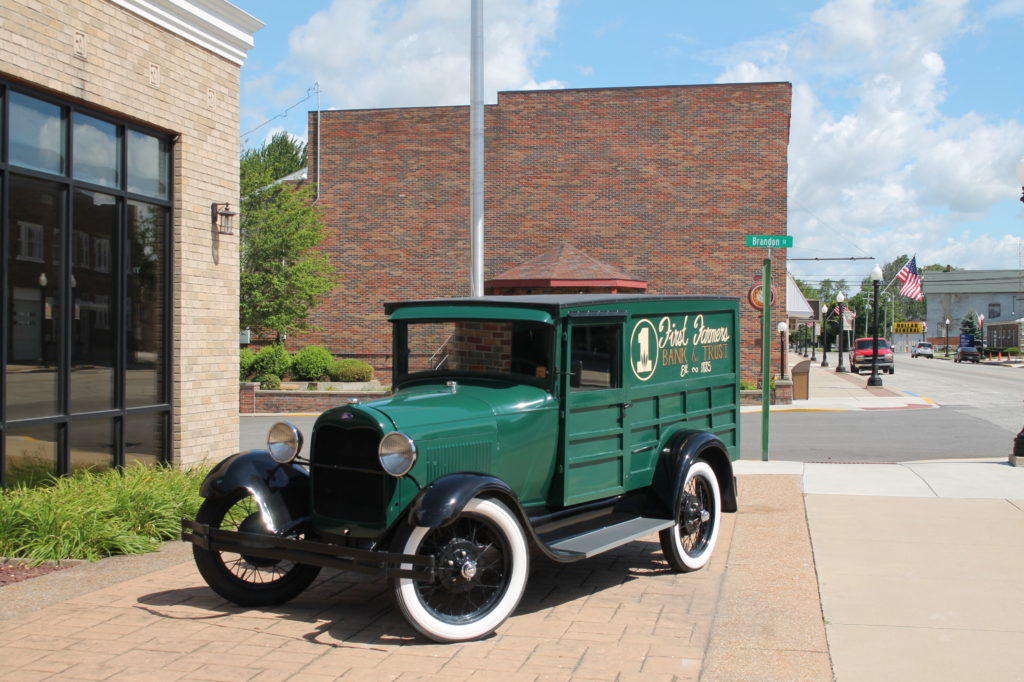 Come to Verona. a small town, no store. looking for a good place (secluded, solitary) Found a fast food store. Fit to load my Samsung reader. When I sat there Greg came. Greg was a jerk but interesting. He offered me sleep in his garden. Just outside Verona. Okay, I thought. Will be fine because I had no good place else. Greg called himself "road runner ". he collected scrap and plastic from the roadside that he sold. He "invented" various means of transport from scrap bikes: he was doing dumpster diving and taking care of hir sick mother.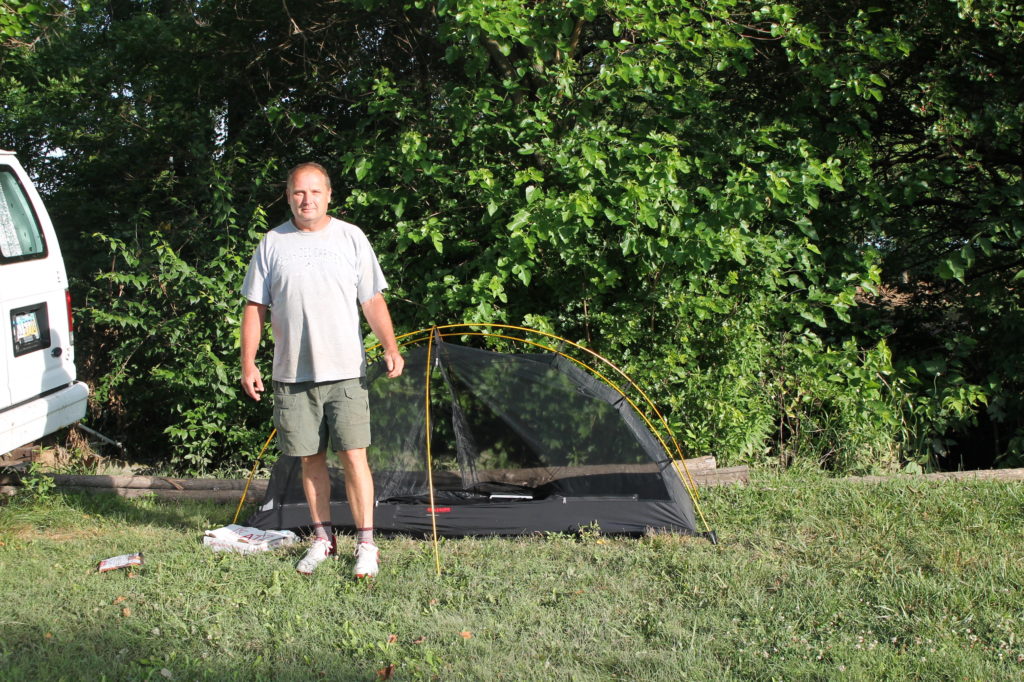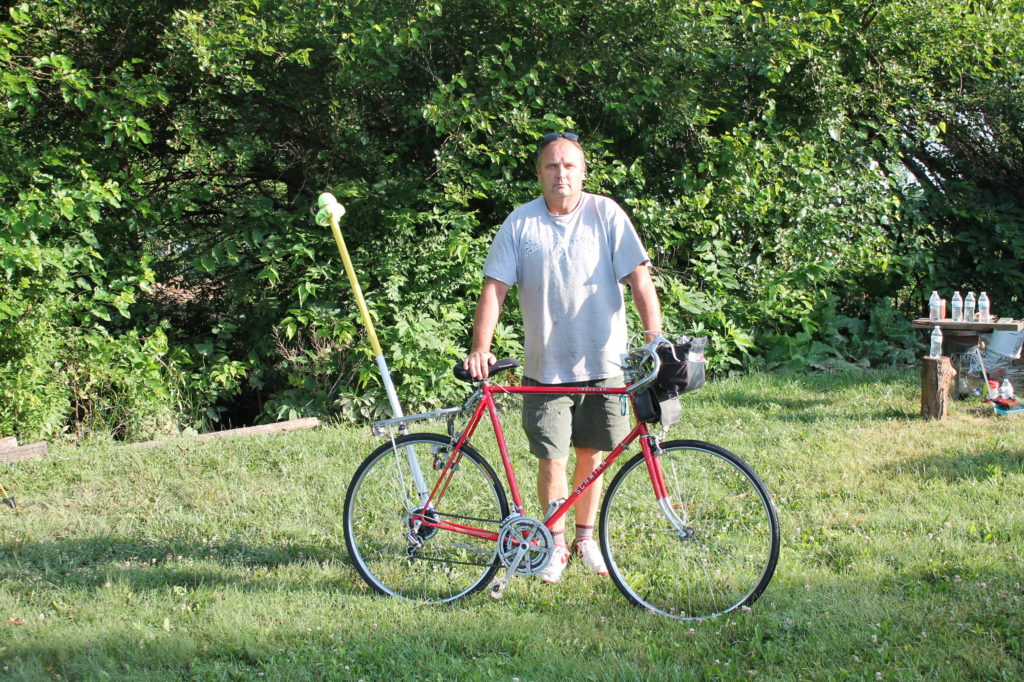 The night in Verona was quiet. Continued the Wolf Creek trail to Dayton. I was looking for Fat Pork BBQ. Found it but didn't find the wallet. Big panic, no shit and what do I do now. Had a spare card so the emergency resolved. Continued to performance bike for the cartridge was exhausted.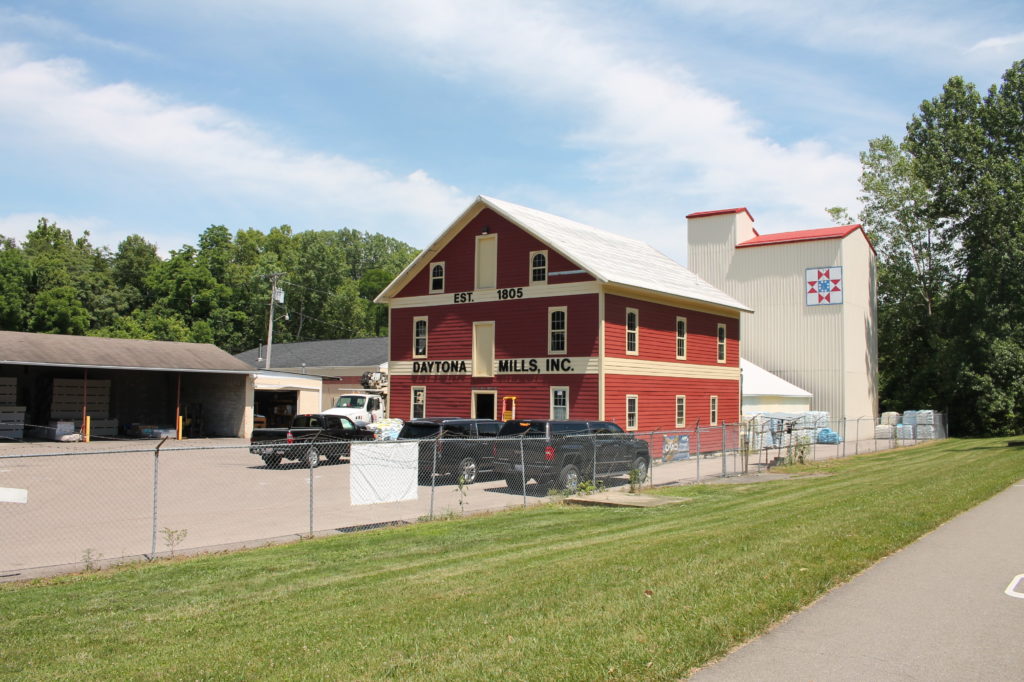 Come to Jamestown. Met Drew on the trail. Talked to him. Sleept behind MacDonald's.
As soon as I left Illinois and came into Ohio, it started to get hilly. There were no long awkward slopes, but many.
In Chillicothe I stayed att warmshowers host Lars Pedersen. Lars was a great host. We had a good evening in his garden.
In Chillocothe by the river I found this remnant of a bygone era.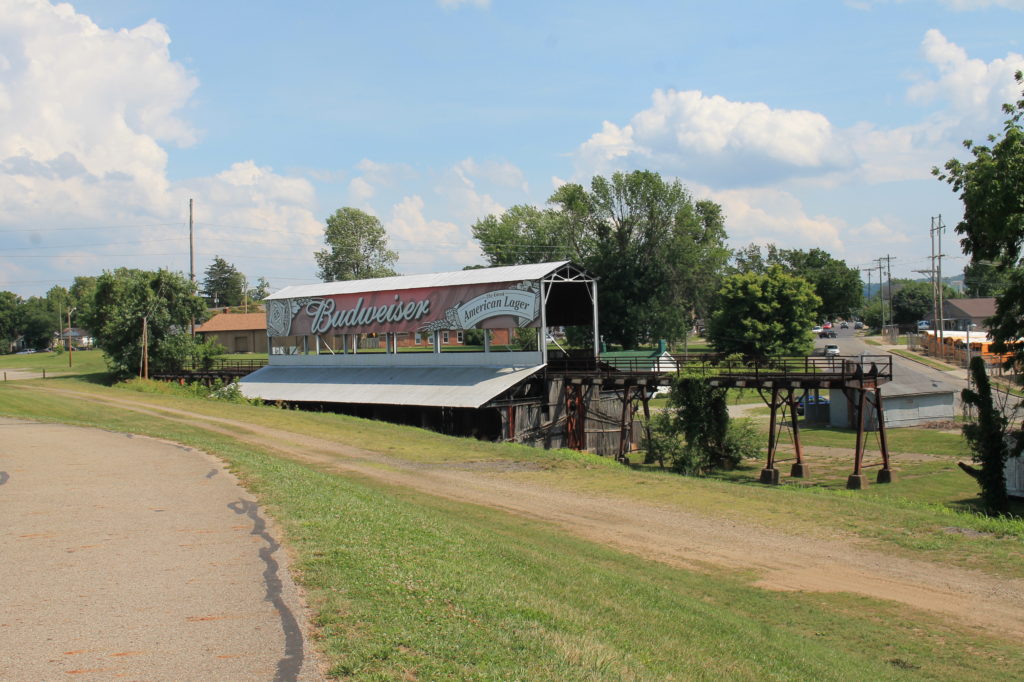 The next stop was Athens, Ohio. A beautiful university town. There I had made contact with Mary and Atilla from Warmshowers.org. Two environmentally conscious liberals. First, they took me to a dinner meeting with live music. After that we cycled to the centre of town for an ice cream. At the same time, I got a guided tour through the university area.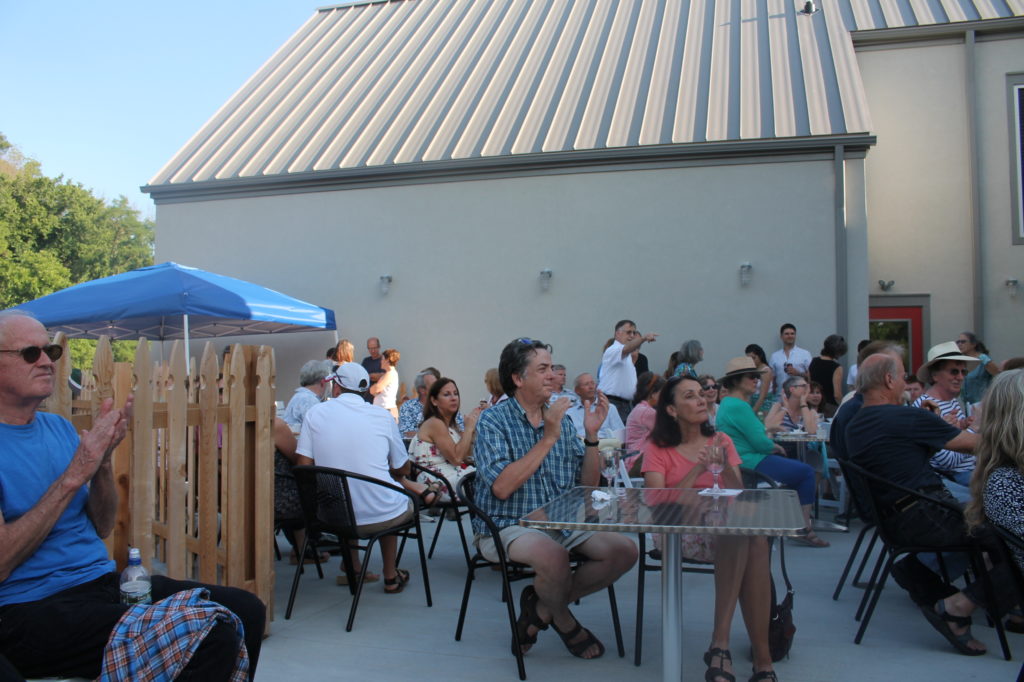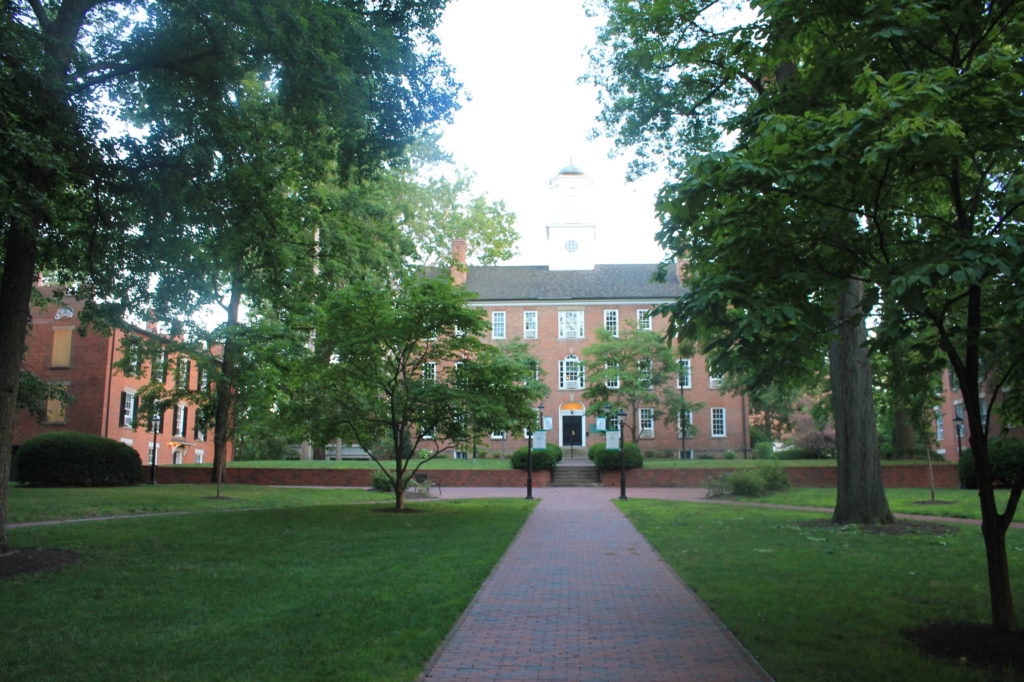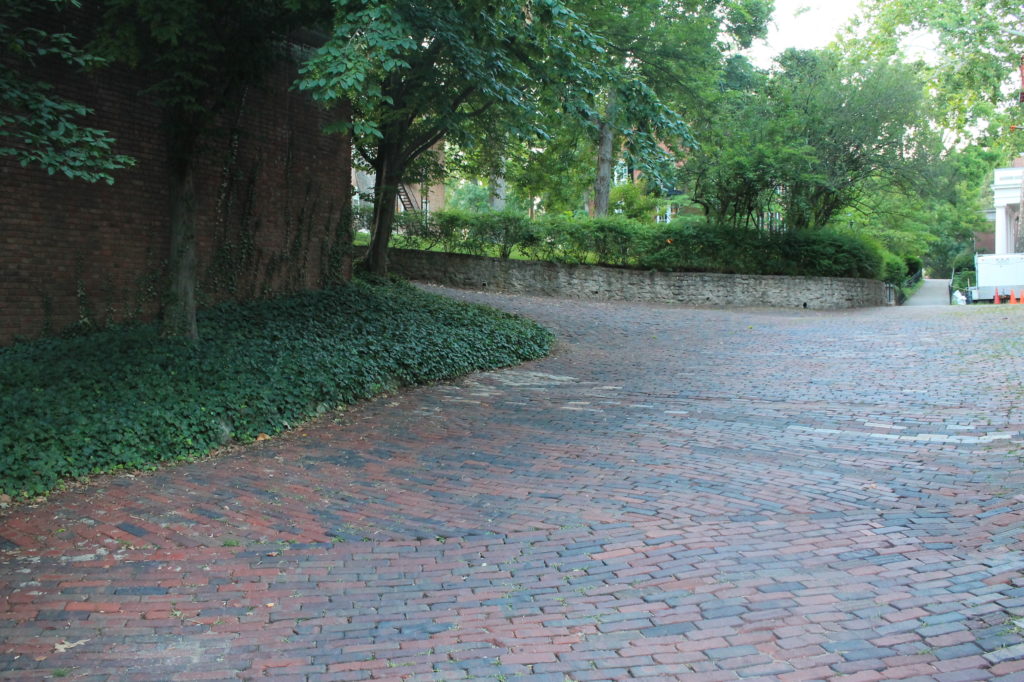 Despite the relaxed atmosphere, I continued the day after. First part at Rt 50 but as soon as I could, I got off on smaller roads. Admittedly a detour but clearly exciting. It started to be quite hilly now. On small roads with climbs I came to Parkersburg. Stayed at Parkersburg Brewing Co. Looked forward to North Bend Trail. Stayed at the trail. It was a weird night, almost scary. I'm not scared but when a flock of wild dogs or coyotes. They scolded and scolded. I woke up several times and each time it seemed to me they came closer. I threw stones and branches out into the dark, but nothing helped. Finally, the daylight came, and the dogs or coyotes disappeared.
At first it was asphalt, then it became gravel. Then it became a gravel line with grass in the middle. Then it was just grass. Then the grass grew longer. I passed small villages like Petroleum, Cairo, Ellenboro, Pennsboro, Toll Gate. It became more and more of a struggle to continue. In Greenwood I gave up. Get out on the RT50 which is an important highway with two files in each direction. Come slowly to the exit to Salem and the goal of the day. Kitty Mains apartment. I was expected. But something was wrong on the bike. The front dérailleur had a malfunction, disturbing.
I stayed in Salem for three nights. One evening Kitty took me to Clarksburg and the National Day celebration on the outdoor scene. After that we c Continued to Clarksburg's only Irish pub. There on the sidewalk, for the first time, I got to taste genuine "moonshine". A peach taste was very nice in taste. Lean and strong at the same time.
The following day I walked around Salem and university campus.
This is Jenning Randolph's birth house, now a museum.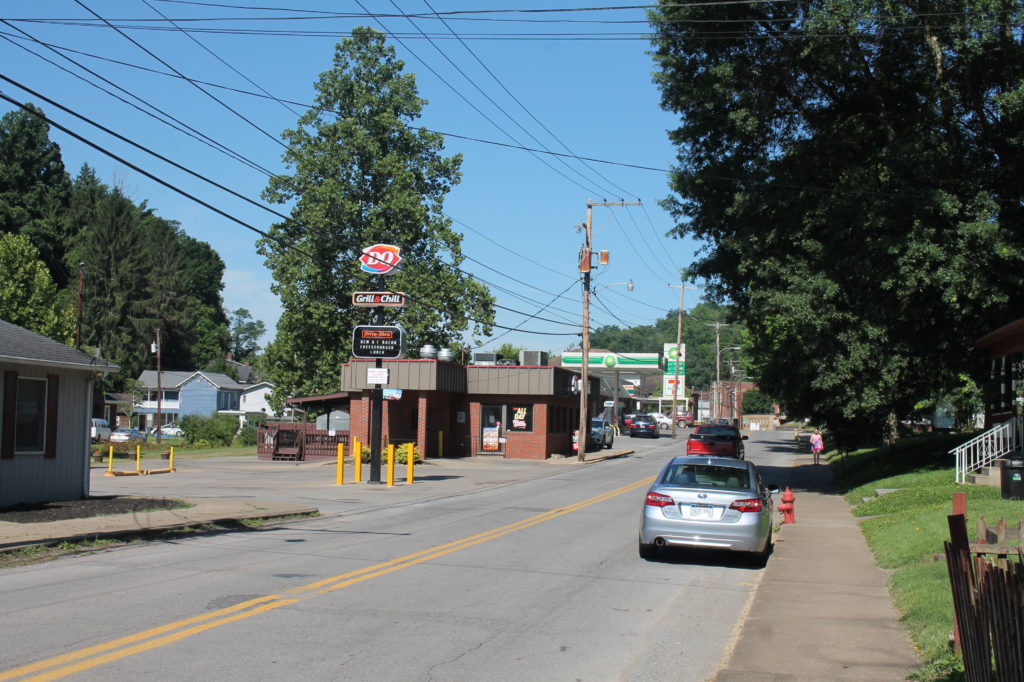 A little bit unexpected, I was interviewed by the local TV station. WBOY read the article here. After Salem I continued on gravel roads to Glenville. Now I was inside the mining district. Slopes and even more slopes. They were many and short. Had a nice meal at the Smokehouse BBQ and stayed that night on Elm Street .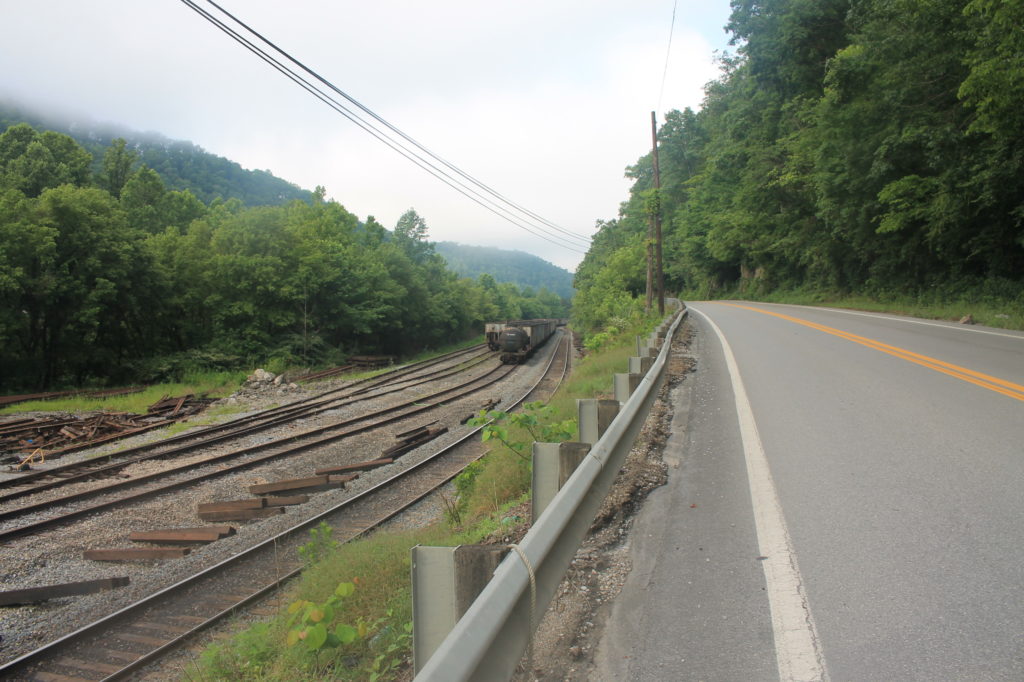 Wet, more wet and so was it all day. Still very heavy climbing. Come to Spencer already at three o'clock in the afternoon. Stayed at a sports ground.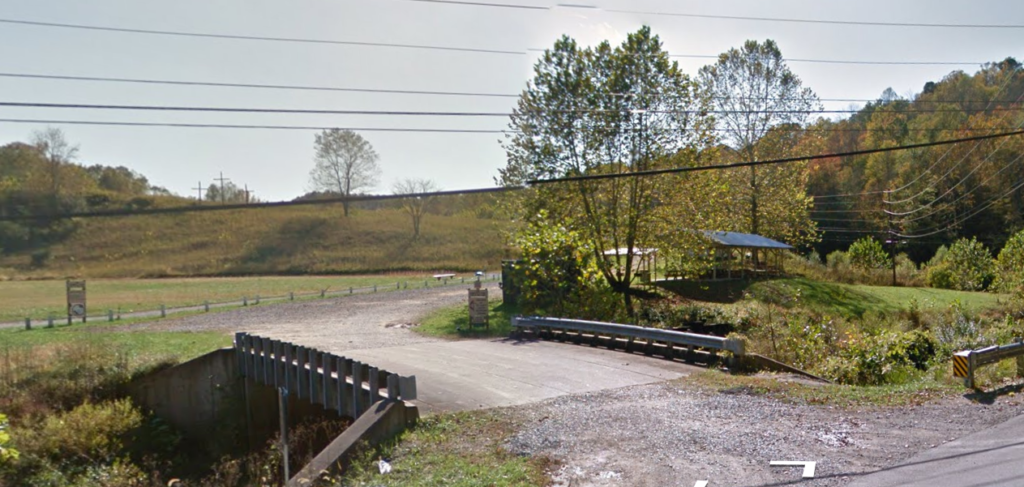 Continued toward Charleston. Still problems with the bike. The front gear is not working properly. Had only two chainrings. Could not move chain to the biggest ring. The first thing I did when I came to Charleston was to find a bike shop for changing the front wheel. So I was looking for the Charleston Bicycle Center. They helped me with the front gear . Finally, a working bike. Now it was just my legs that needed to be fixed. So bad pain the heels and tears. Had booked room at Motel6. Not the best. In the United States they have non-smoking rooms, but they are still embedded with cigarette smell, so they are not particularly smoke-free. In the evening I went to an outdoor concert by the river with Bluegrass.
The next day was one of the worse ones. My goal was to come to Logan. The only way to get there seemed to be on RT 119. A wide highway with lots of cars. Keeping me as close to nature as possible and hoped the day would end well, was my plan for the day. I came to Pikesville. During the day, thoughts began to go down that it is not worth the trouble in West Virgina and Kentucky's slopes. I had pain in everywhere under my knees, the bike did not feel good. The bike bags were broken. It was here I decided that this is enough. Nashville will be the end. In Pikesville I saw they had a dragstrip in the middle of town. That night I slept at the Daniel Boone Motor Inn. Ordered flight ticket home from Nashville. I would not make it to New Orleans this year.
Stayed in Dwarf, Ky. Went into a church to ask if I could put my tent in their yard. It ended upI was invited in their assembly /diner room. ,I got food and water. Next day I Continued without having met the pastor again. He even tried to save me. Said Jesus loves me despite being an atheist. Don't think so, I said, silently to myself.
Now it was not only hilly but also hot. Sleept in the tent that night outside Garrard. In Somerset, I stayed at Motel8, ​​tired and aching everywhere. Glad it was only a few days left, I continued. The first challenge was to cross the Cumberland River. Many lorries that swept past my left shoulder. It was a sad day. Followed road 790 but missed an exit so it was 26 km unnecessary. Come to a small stream. Then I realized this was wrong way.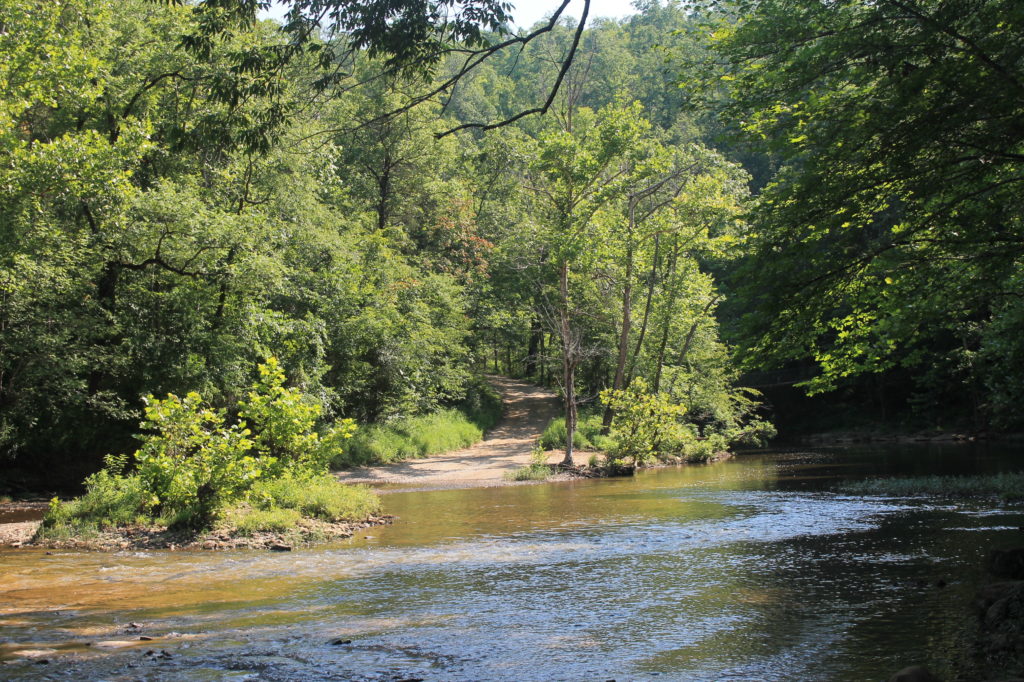 What would be a short day became one of the longest. Lunch in Monticello late to Maupin church. A church in the middle of farmland. Magnificent view of a farm far away. I slept behind the church house .
An easy day today. Wind in the back Stopped outside Carthage behind a small church. Rain on the day, rain at night. Not only did it rain at night. even in the morning. With some hesitation, I started cycling towards Nashville about 100km away. The rain poured down. I got a plastic poncho of a man at Macdonald's in the middle of dan . But it didn't help much. Later in the hostel I heard the news that they warned of " flooding ", so heavy rain had passed. I can attest that it was. Flooded fields and plots. When I was outside Nashville, the rain stopped. I passed Lebanon, came to Herimitage and found the bike trail Stones River Greenway. It took me all the way to downtown Nashville.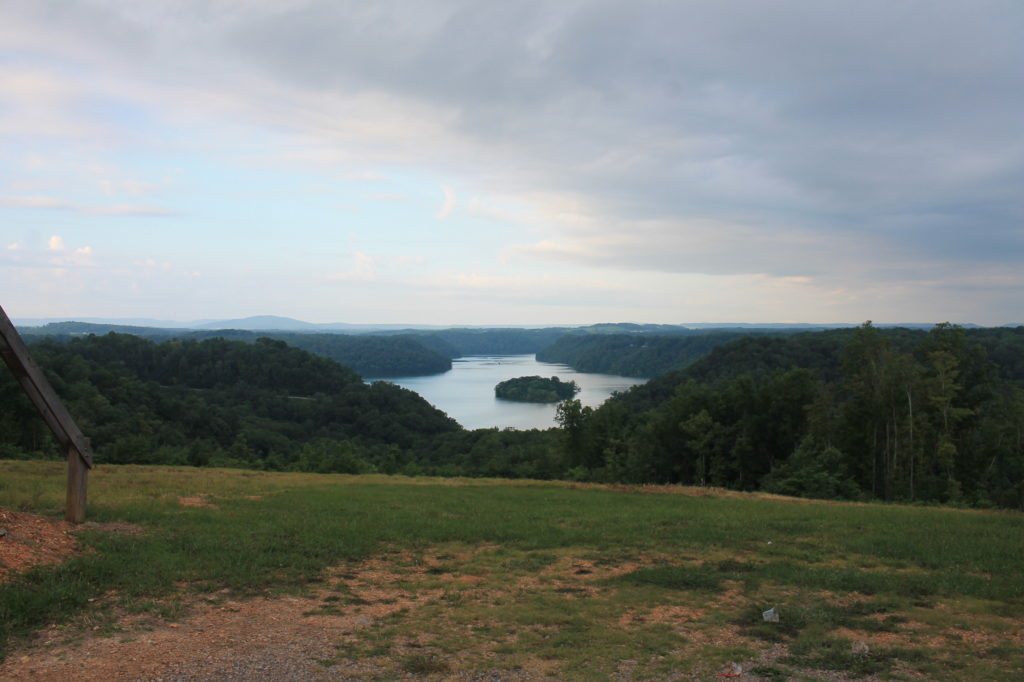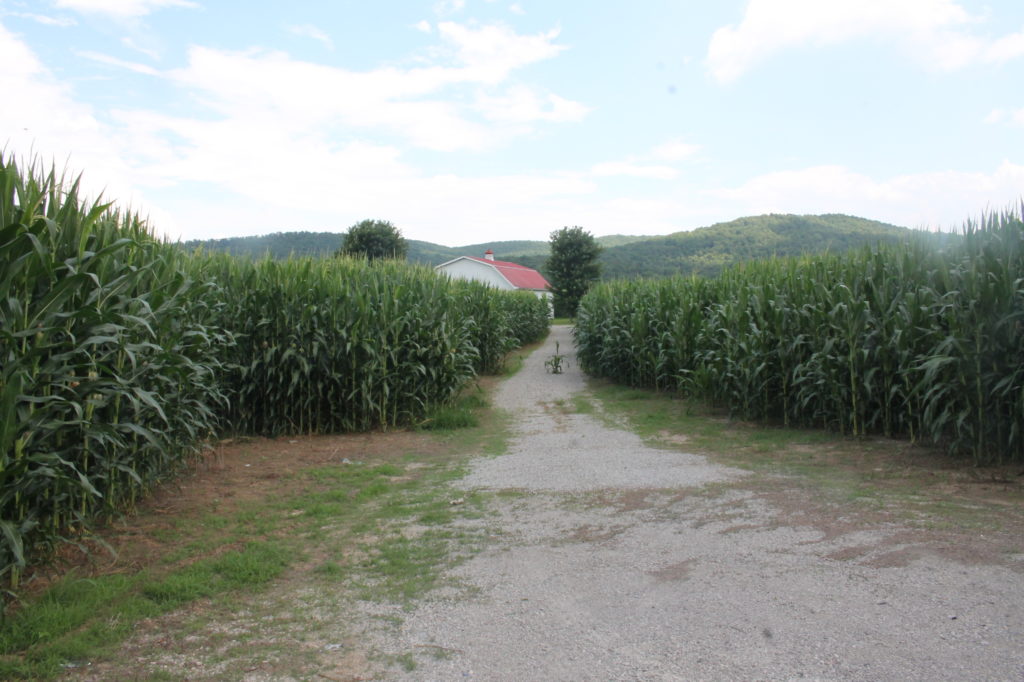 In Stones River park I saw this sign. Considered whether it meant that it was free speed down or watch out for wheelchairs.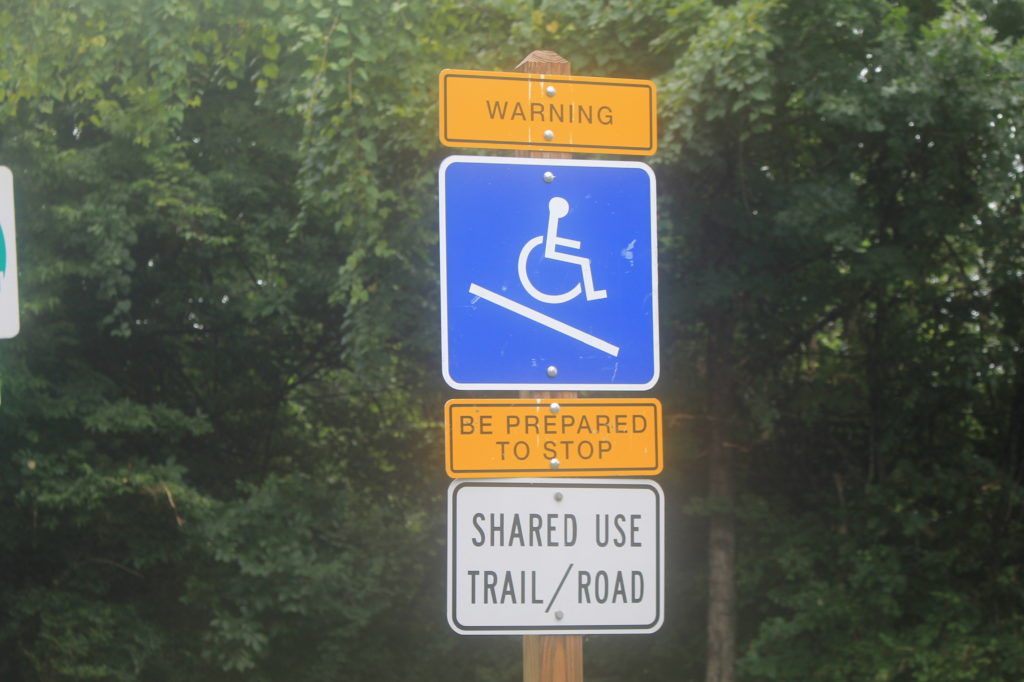 First stop in Nashville. My hostel to the right of the containers.
After a few days in Nashville on Broadway and some other things I flew home. As usual, I rode to Eskilstuna from Arlanda airport, 126 km. I kind of was dissatisfied I didn't make it all the way to New Orleans.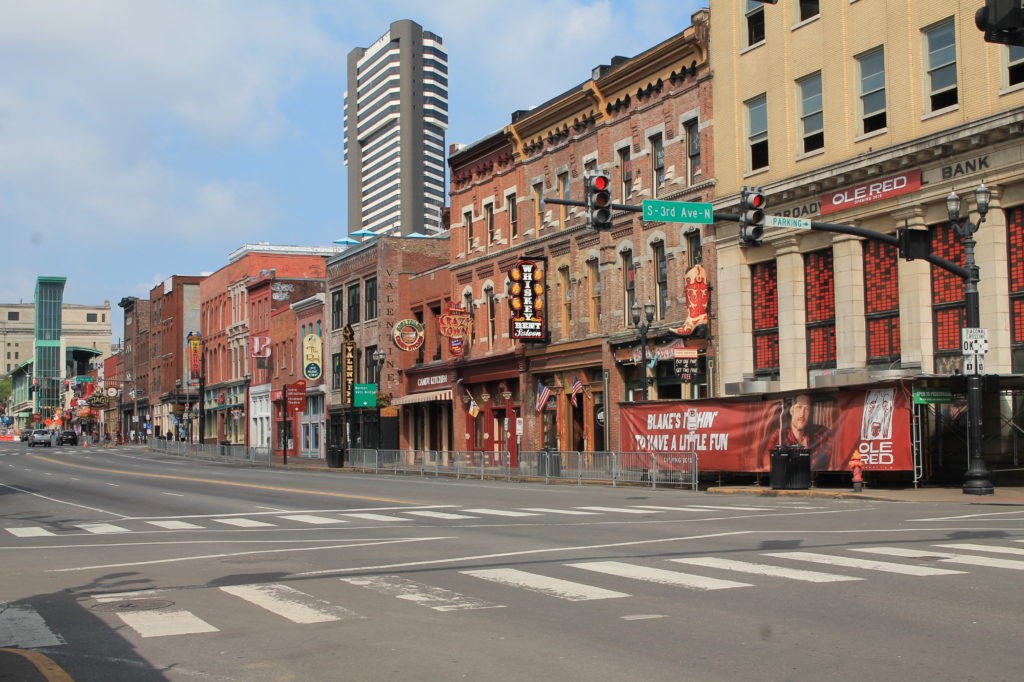 Winter 2017/2018
The revenge gnawed in me. Couldn't let go of the thought. That winter, after a little thought it became clear to me that the Cycle experiences 2017 has to resume in 2018. I had seen a program on the civil rights movement and Selma. That and it was only about 750 miles to New Orleans according to the old plan made me decide to make a detour to Selma Alabama.
I was back in Nashville. Now with the aim completely set to cope with it.
June 23, 2018
After the usual immigration check and customs, I was on my way to in a taxi to my old hostel. Nashville, I am back I could say when I arrived at Hostel Downtown Nashville. But nobody recognized me.
I mounted the bike, took an Ûber to Walmart There I could buy that I needed for the first eight days. In the evening I found Drifters Nashville BBQ a few miles from the hostel.
Cycled to the l Green Fleet Bicycleshop , bought bike pants and T-shirt. Something was wrong with my gears so I turned back . They changed the chain. In the evening I looked at FIFA WorldCup Swedeb – Germany. In the evening I went on a Broadway tour.
Last day in Nashville, it was Nashville Pride. Stopped and looked at the parade.
Finally, off, towards New Orleans. Without major planning, hopes or expectations.
I had previously decided to stay at Belle Meade Plantation. I had read earlier that there was a large plantation for horse breeding and dairy production.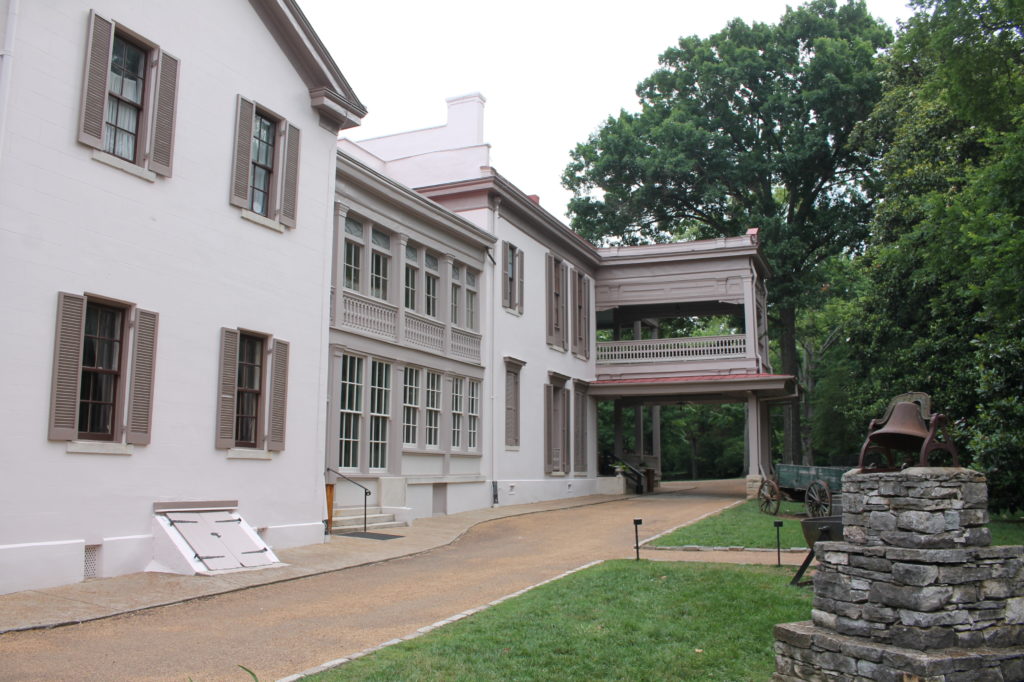 Here lived the mastery.
I aimed to to use Natchez Trace Pkwy who was going to take me all the way to Tupelo. When I stopped for a break at a resting place, I met Joe. Joe was a lawyer living in Nashville. It was an interesting conversation about working conditions and lock-in at the workplace. A lot of americans don¨t like their works but cannot change, he said. Among other interesting things.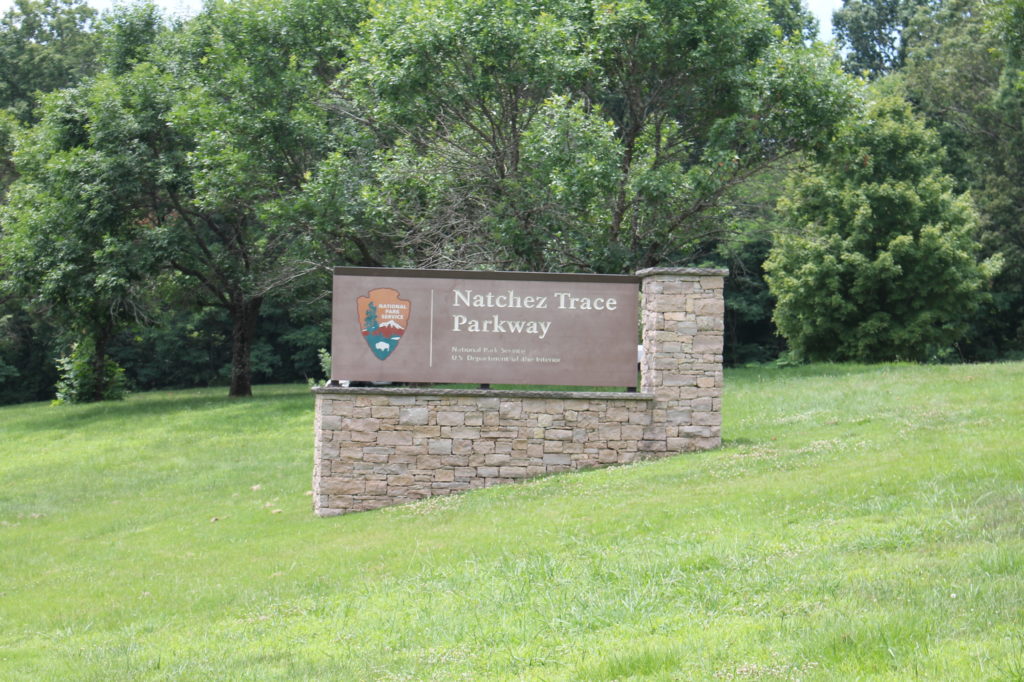 The advantage of Natchez is that there is almost no traffic. The negative was that it was quite monotonous. It looked like this for four days.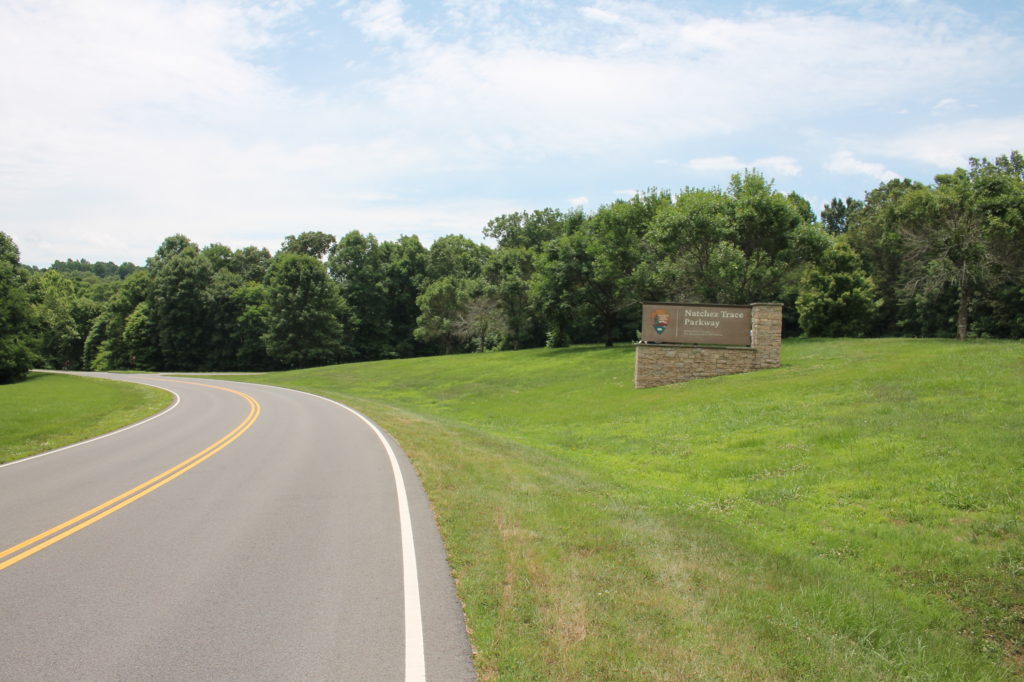 I came to Gordon House, a so-called historical site. It fascinated me that American historical sites were the earliest from the 18th century. The first settler, the first…, the first crossing, the first village, etc. My historical sites at home are more than 1000 years, Viking settlements.
It was not easy to find a good place to put up the tent. But here I found a path that was wide enough. It was behind Gordon's house. The path went to Gordon's crossing one mile away.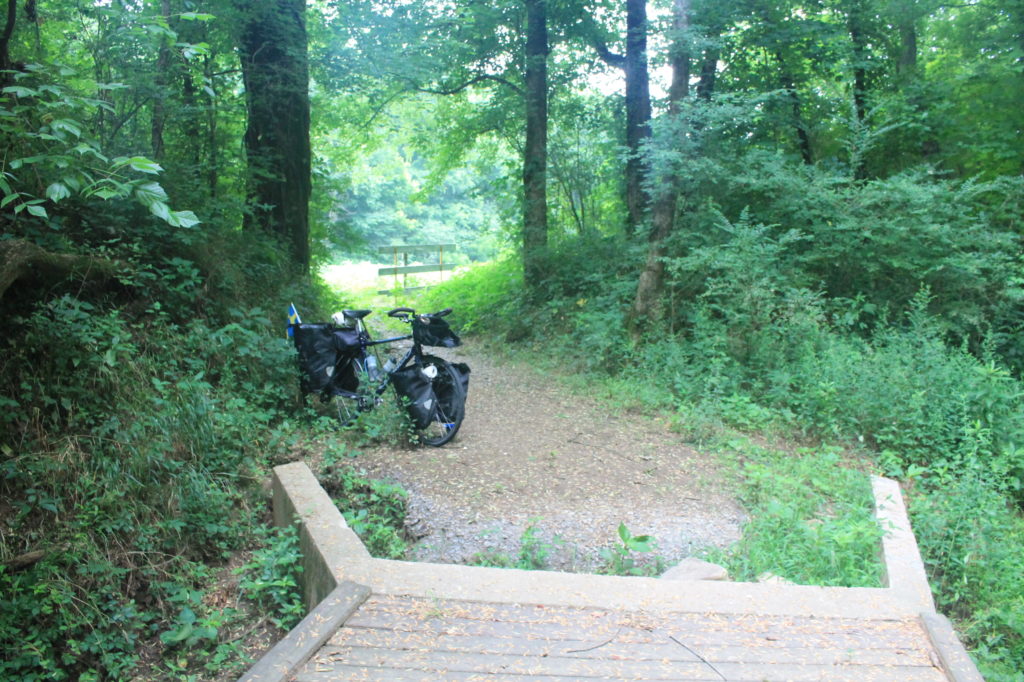 Then not so much happened on the three days to Tupelo. I stopped at historic sites. I talked to some motorcyclists. I slept in the woods.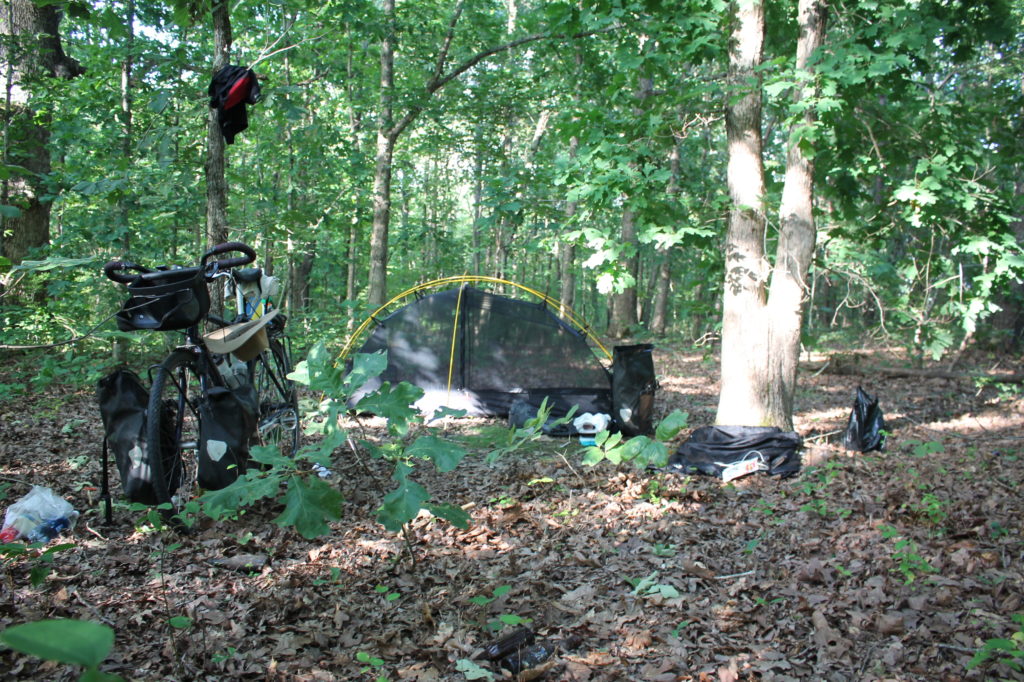 I was looking for tobacco plantations. Found only this tobacco barn which was a historic place.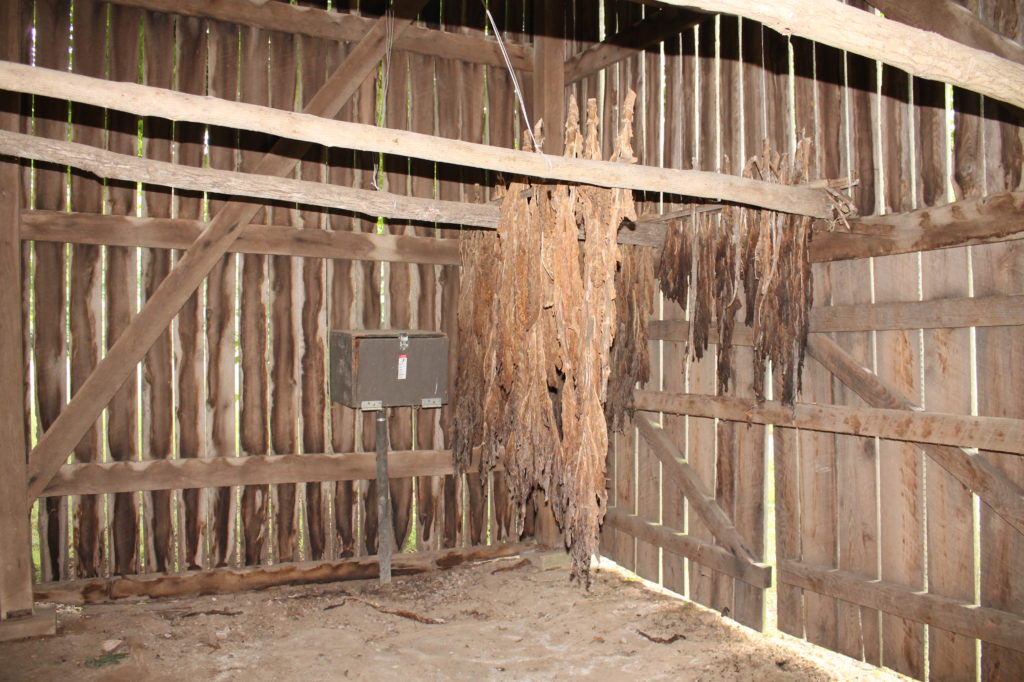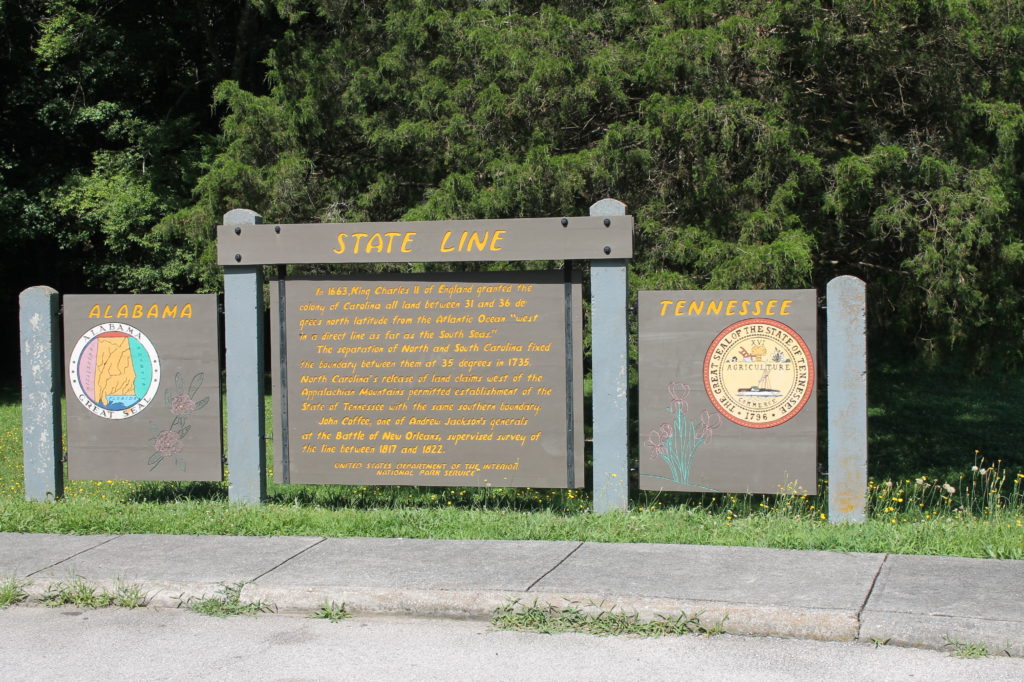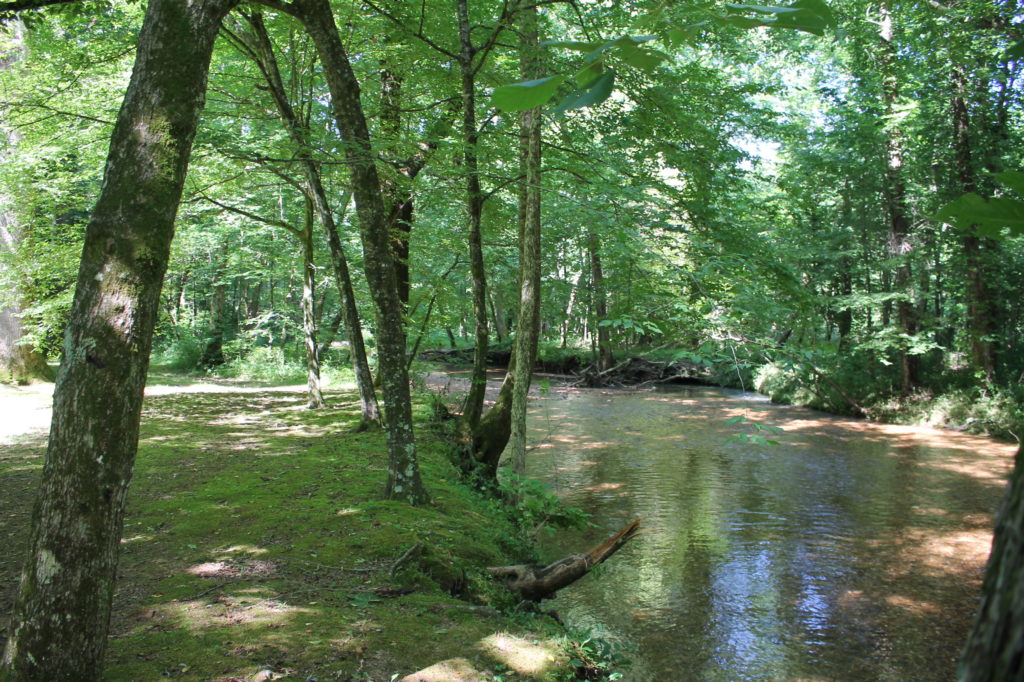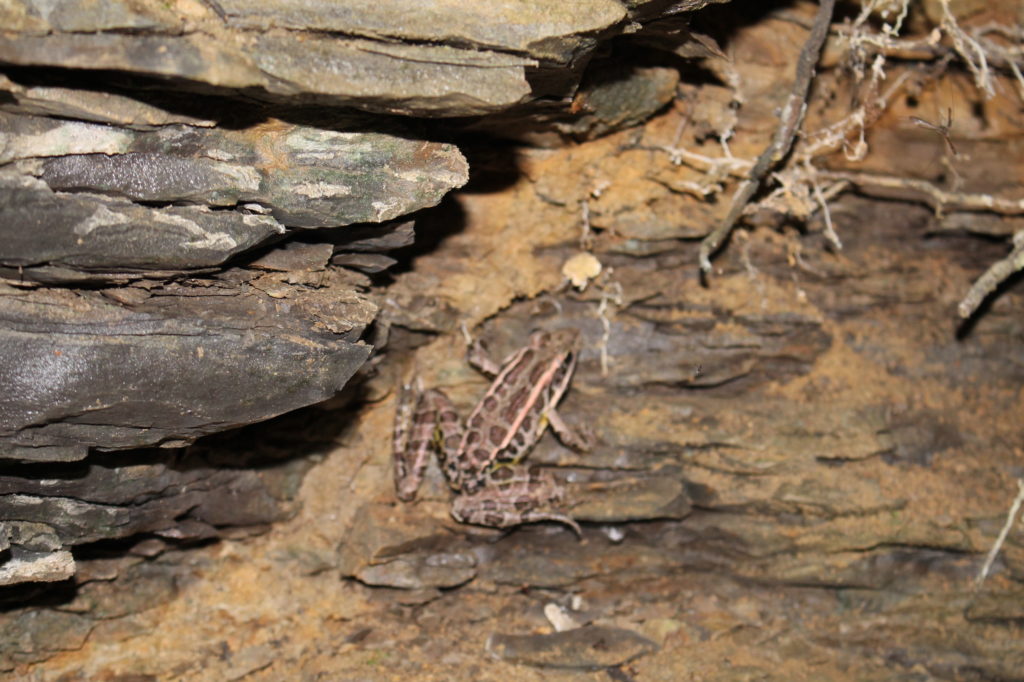 In Tupelo , I had contacted a Warmshower's host, Rufis van Horn. I found his house. he was not at home. Cycled to a store, bought a six pack. Waited for Rufus. He came. Then we went to his church for a little dinner, Interesting meeting many people.
Rufus went to work. I packed my bike and started cycling. My distance meter didn't work so I started by looking for a bike shop. Found no one so I bought the cheapest at Walmart. After lunch at Hardy's, I stopped at Elvis Presley's birthplace. Took pictures, read info. It was a very small house, I thought. I continued I towards Selma.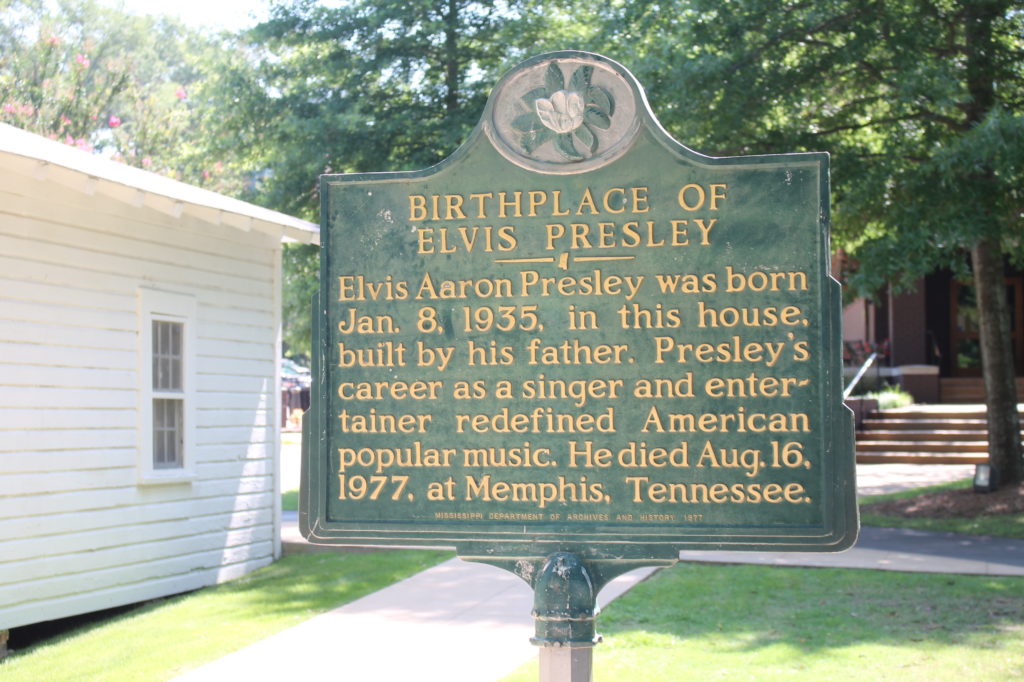 Arrived at Hamilton and New Hamilton MS late afternoon. Cycled around to look for good dinner, found Tags. A traditional family restaurant with BBQ fish and seafood. stayed behind the Shell station. It rained at night. Tried to come to Carollton but a bridge building prevented me, made a long detour. Passed Aliceville . Somewhere near Aliceville I passed this prison.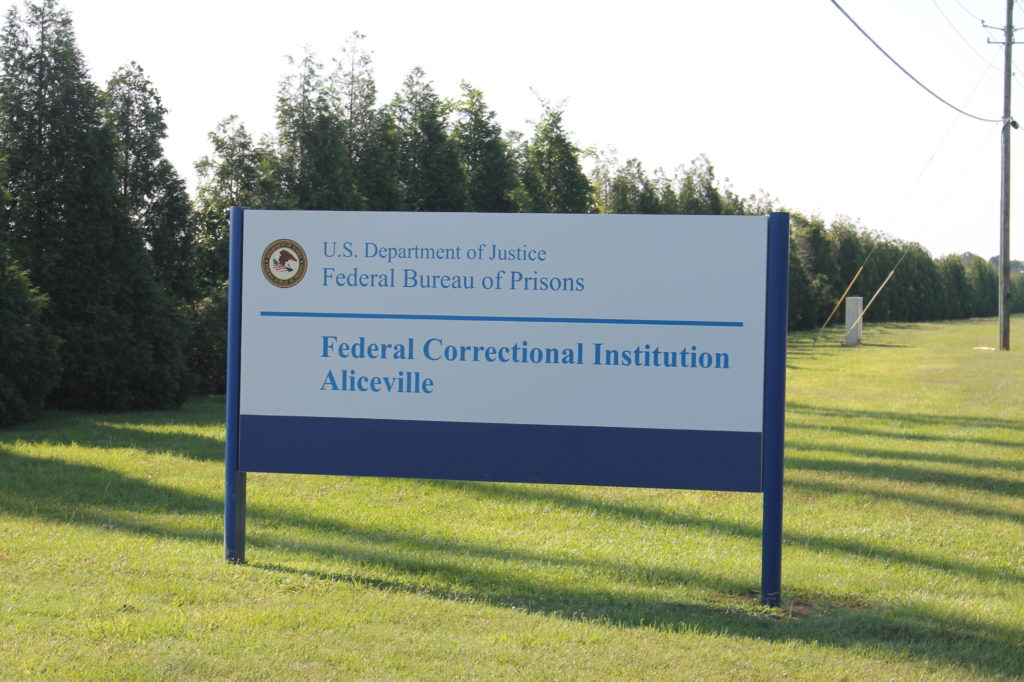 All these small towns gave me a greater understanding of the area. Typically, for this area is the forest industry.
Passed Eutaw , saw Kirkwood Estate , which is an old plantation.
In Swayerville , I stayed in the woods. Cycled to the store, the only one who was also a diner. Bought BBQ. Went back to the tent.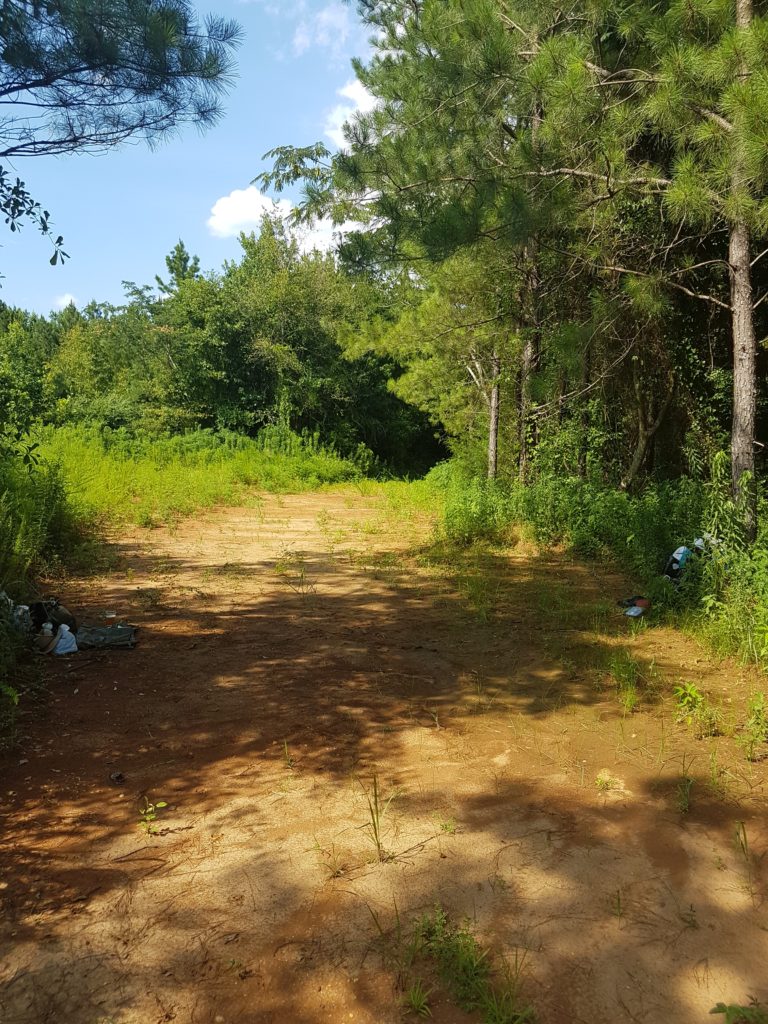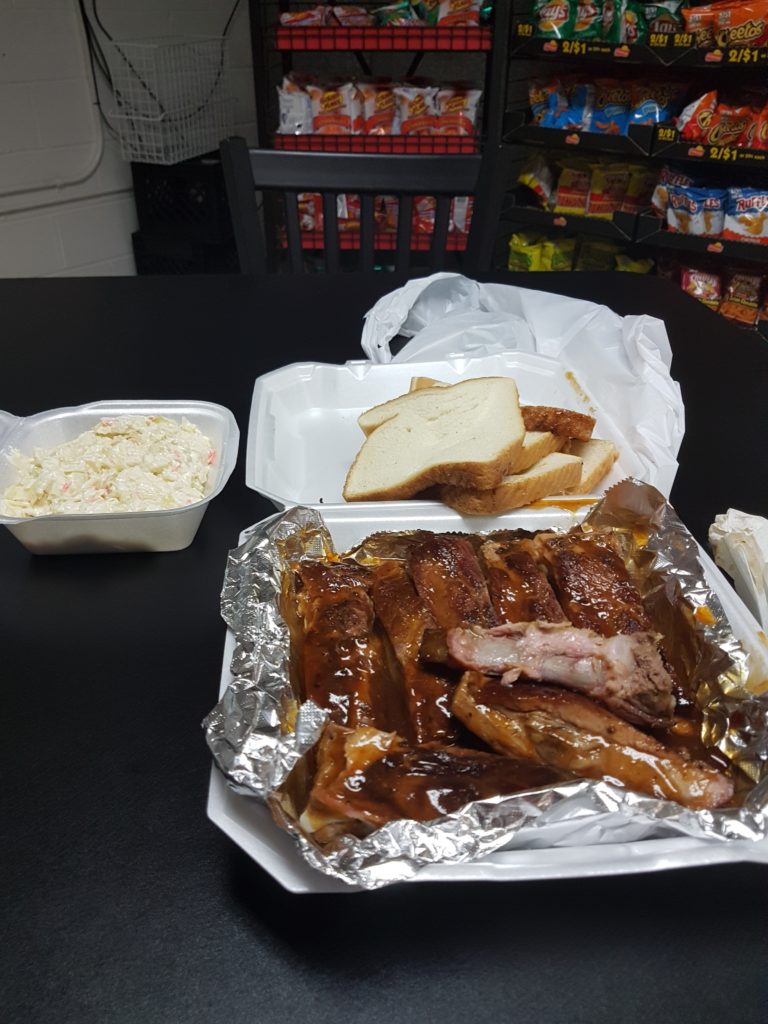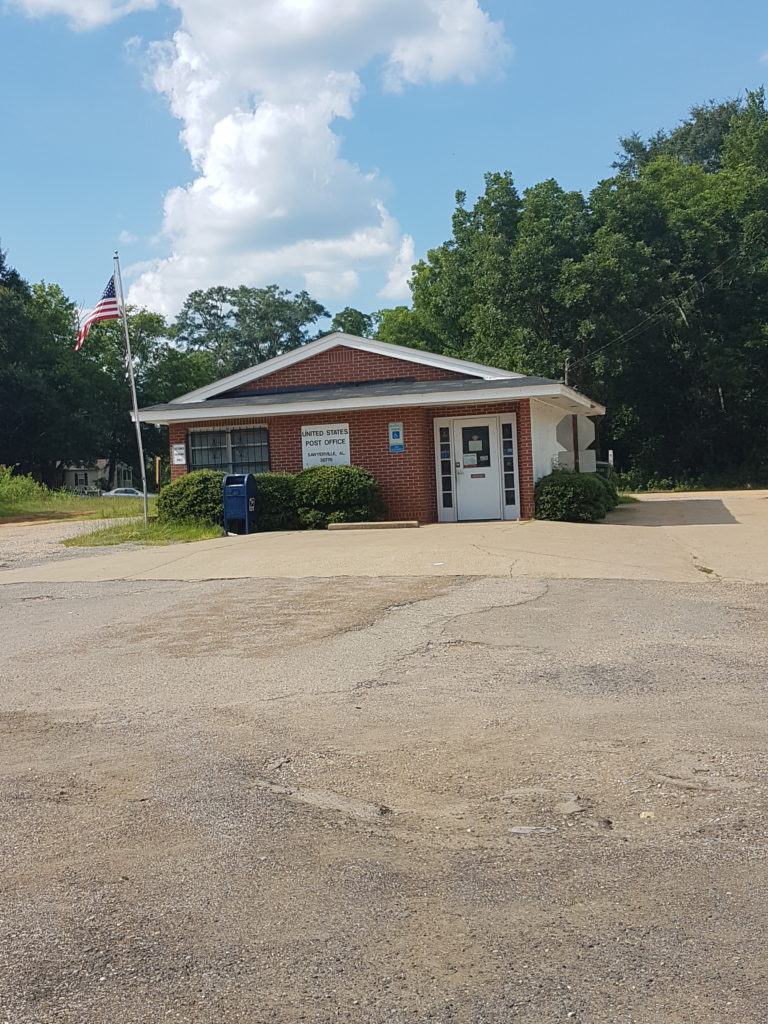 After 102 km I came to Selma, Al. But first I got to listen to a little gospel, got an invitation to seek God because he exists for everyone, got an invitation to join a congregation. But all to no avail for an atheist.
Here I passed and heard gospel. They looked a little thoughtful, but I gratefully received a bottle of cold water. This was in the middle of the countryside. No city or town nearby, just fields and forests.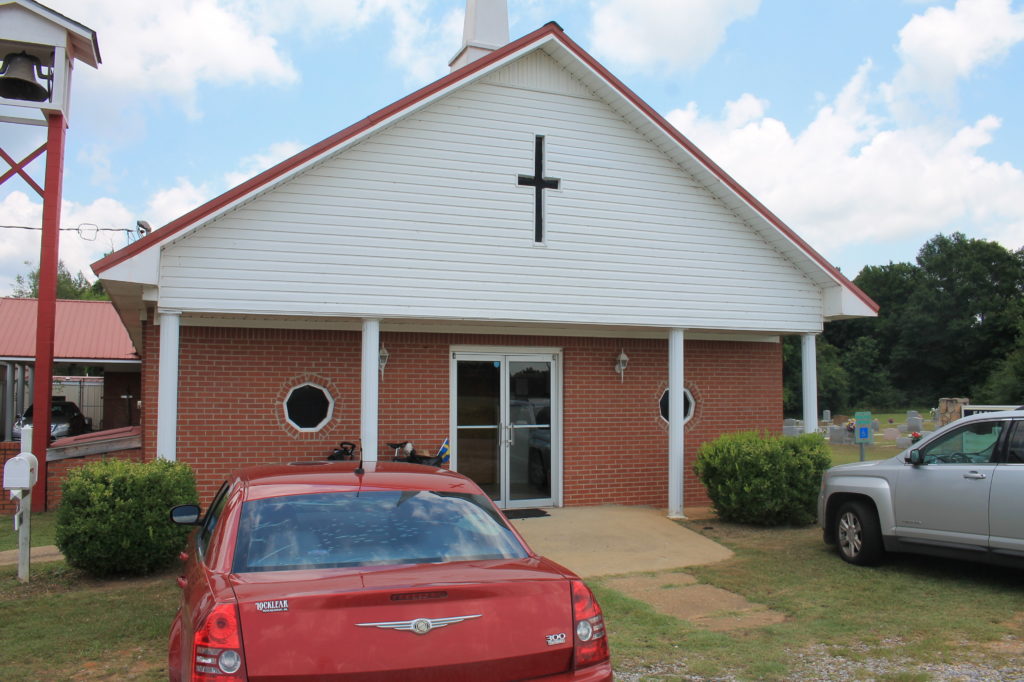 Three hours later I sat here, rested, drinking water. Suddenly a large car stops, and a short man jumpet out from driverseat. It was the priest in the congregation where I rested earlier. He recognized my bike. He suggested I would become a member of his ward.
– No good idea, I fly home to Sweden in a week, I replied.
The last part to Selma went on Highway 80. Not a good choice but the only one. I stayed two nights at American Inn in the outskirts of Selma. Selma is an important city in the American civil rights movement after the famous marches from Selma to Montgomery during the 1965 US Civil War campaign. Another famous point is Edmund Pettus bridge. On Sunday, March 7, 1965, 600 civil rights activists and voting activists in Selma undertook to march to Montgomery. The march ended well until it reached the Edmund Pettus Bridge. On the other side, a police chain with riot police and the police were standing. One of the leaders of the march, Pastor Hosea Williams, tried to speak to the police officer but responded that there was nothing to discuss. Immediately afterwards, the police attacked the demonstration with batons and teargas. Seventeen of the march participants were seriously injured and one of them was Amelia Boynton Robinson. Pictures of how she was slaughtered and rescued by her peers ended up on the front page of newspapers all over the world. The attack was also filmed by TV, and police violence caused sympathy and support not only to the march participants but to the entire US civil rights movement.
The bridge is more than a bridge and I crossed it, Come to National Voting Rights Museum and Institute
Some pictures from Selma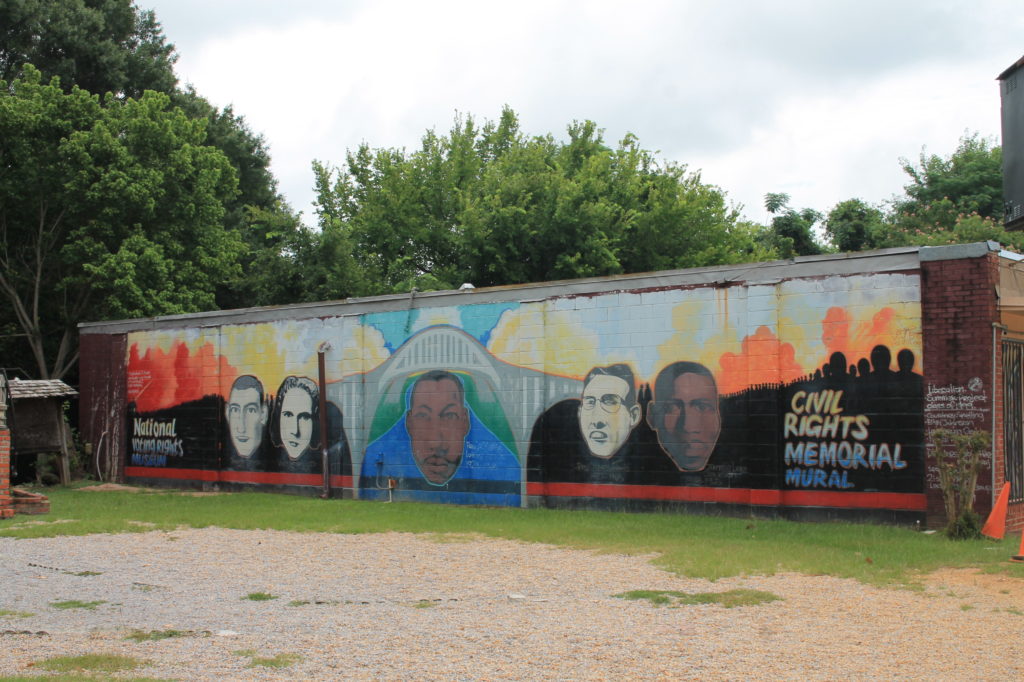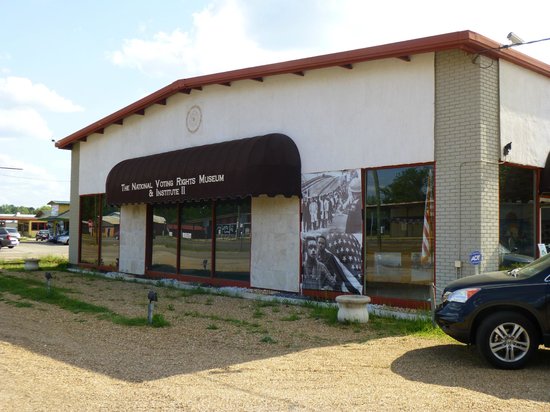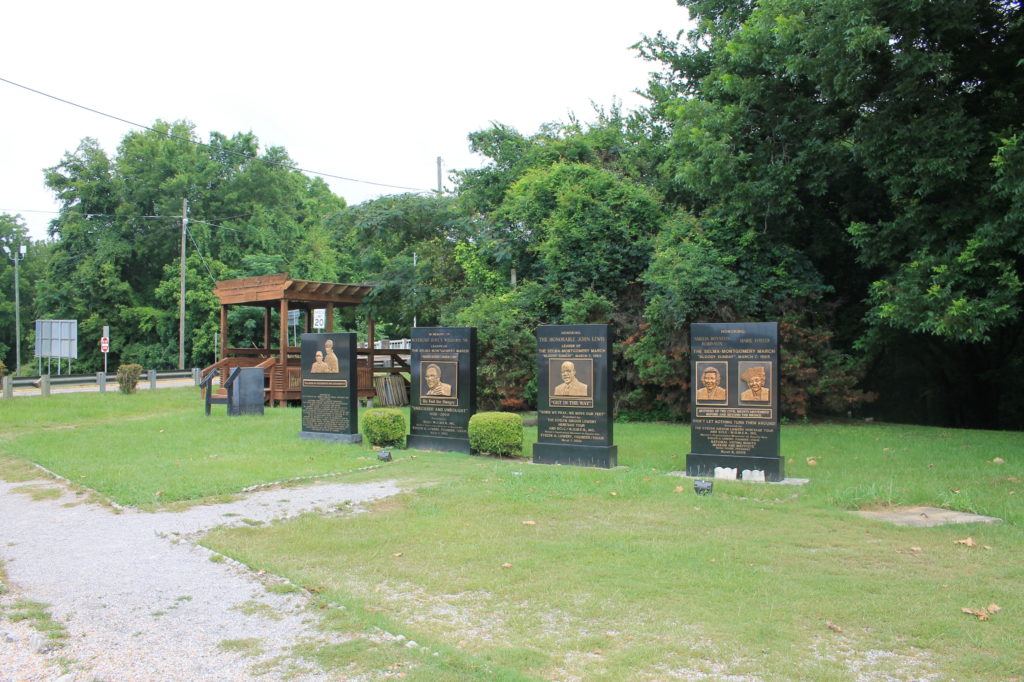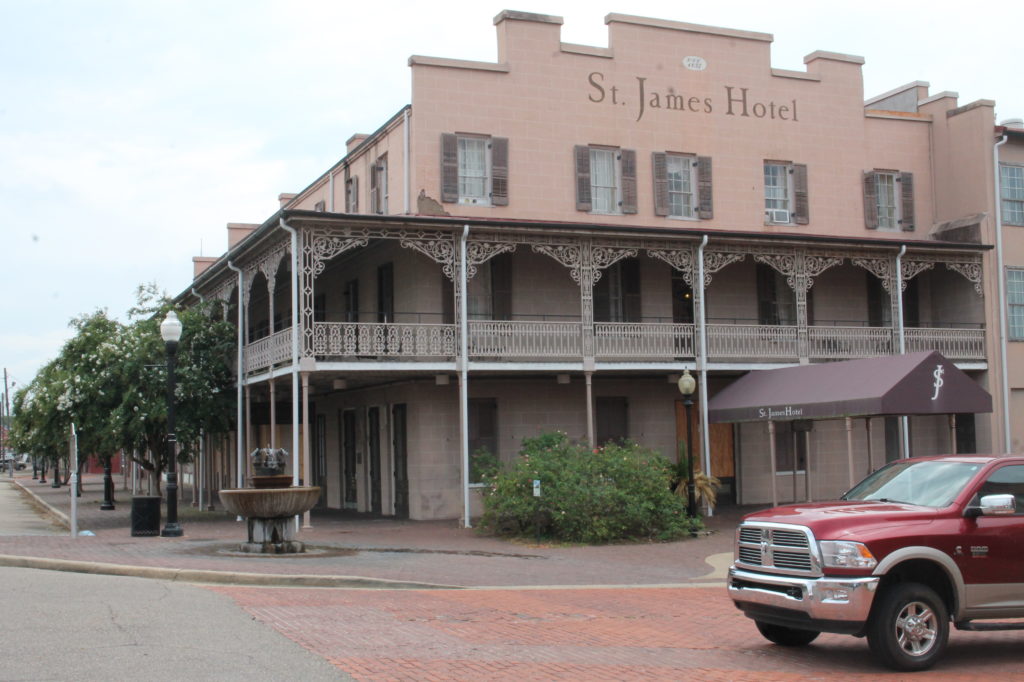 Then to Selma Interpretive Center.
Satisfied with the day I returned to my motel. In a few days I will be in Chatom , with Cindy a Warmshower's host.
I had bought postcards in Selma and were looking for a place to buy stamps. In the US, it is not like home where I can buy stamps in any food och tobaccoshop. No, here you have to find a "Post Office". I found one in Orrville. When I got out of the office a big car stopped. The man jumped out, saw my bike and flag. – Which church do you represent, he asked me while pointing to my flag. The Swedish flag is a yellow cross on blue background. No one, I said. It is Sweden's flag. Sweden in Europe, Do you know? I asked him. We talked for a while and then said good bye.
Here I found a small village with some beautiful dilapidated houses.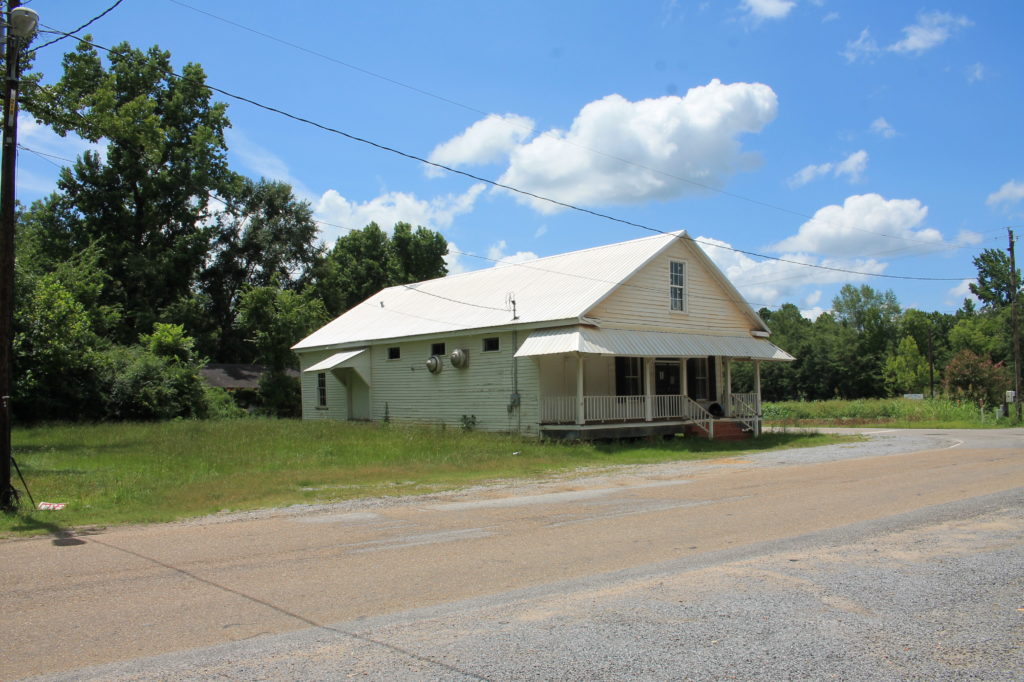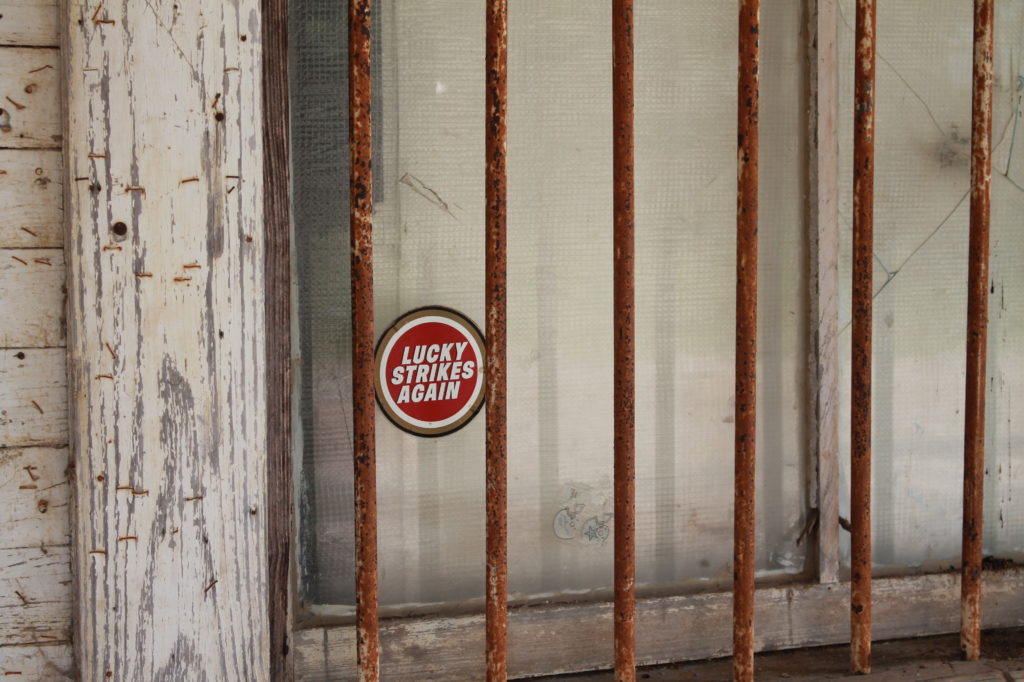 Disturbing dark clouds began to appear in the sky. I hurried toward Thomasville. Had a few miles left when the first raindrops came. I finally found shelter outside a "Dollar Store" before the rain poured down. Stayed there until it ended. Later I a hamburger place where I stayed for a while. That night I slept in a grove of trees in Thomasville. I saw a house just a hundred yards away. The dog heard me and scolded. But the owner didn't come out.
A fantastic day before a night that easiest to describe as difficult. The dog barked, the tent was not quitein level my rest was not the best.
A large spider web that has taken over. lunch break outside Frankville Baptist church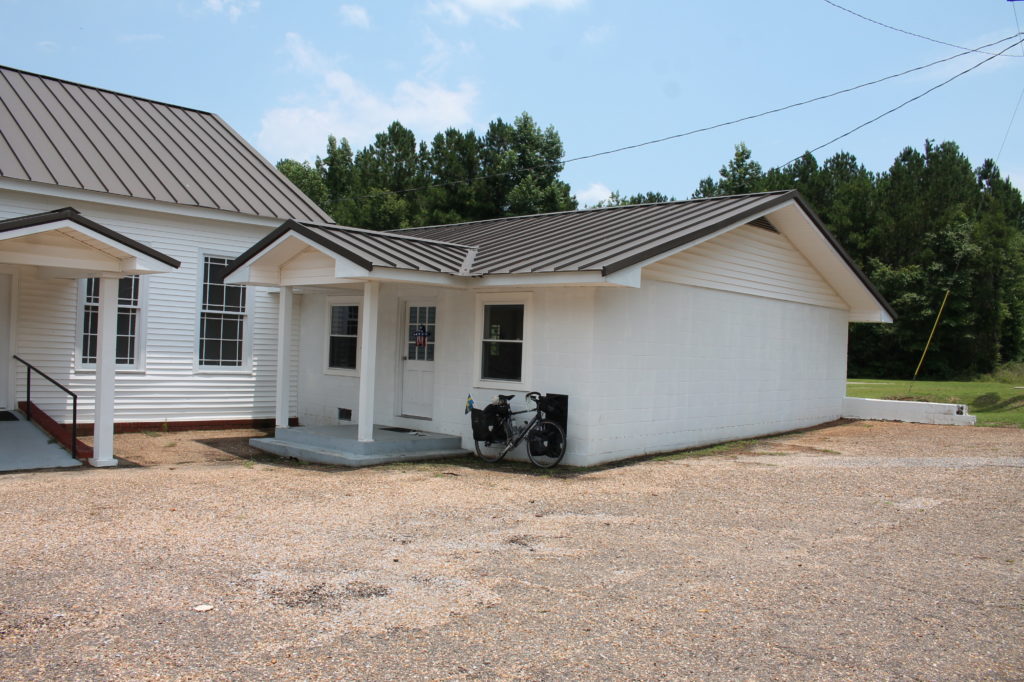 I found the way to Sindy and Tom. I was expected. It was July 4th, they had prepared a traditional national day dinner with barbecue with accessories. Tom took me on a tour of the city. The city owned a golf club. It surprised me.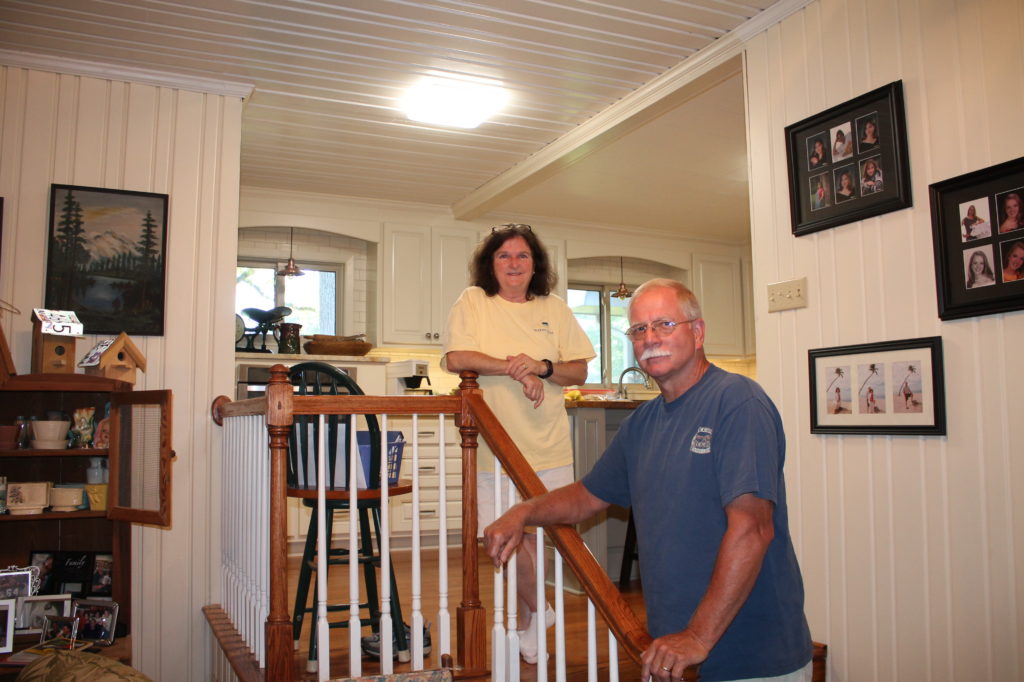 I got a good description of the road to New Orleans, just five days left. My plan to ride south over Lake Pontchartrain was rejected that night. That road was bad, very bad for cyclists. So it had to be cycling west on road 42. I had through Warmshowers found a host in Gonzales about 120 miles from New Orleans.
I left Chatom with promise to be careful. But that was opposite of careful. The bike broke, very bad. The back derailleur broke. First, I walked 10 km to Sand Hill. Got water from a nice girl. Walked for another mile. Got a lift to Rachton . There I tried to hitchhike 1.5 hours, didn't work. Tried uber. Didn't go at all.
I stayed between Mississippi home care of Richton and the fire department's garage. With the policechiefs good memory. Tomorrow I will try to hitch hike again to the bike shop. If it doesn't work, then I will take a taxi.
It did not work. I tried again to hitch hike to Hattiesburg. Stood outside gas station on the road to Hattiesburg for more than an hour in the morning. Then one of the owners of JJones & son's funeral came out. They had understood by an employee that I was in trouble. He invited me to a breakfast before driving me to Hattiesburg and Moores's bicycle shop.
I had a plan to ride the Lengleaf Park trail to Sumtrail and from there to Gonzales. Had cycled for two hours. It was time for lunch. I had noted a cyclist on a red Trek racer who passed me from behind. Then after about an hour he came back from the front. "Well, today's training is over, " I thought. I had stopped by the road, laid out my wet sleeping bag and sleeping mat, prepared the kitchen and was cooking my lunch. Then the cyclist came back.
What now, I thought. What's wrong. I can't cook here? But that was not the case. It was Bill Bowders who asked if I was interested come home to him and Pam to see England – Sweden in FIFA 2018. Clearly that is, I said without any major hesitation. A very nice invitation It turned out to be one of the best afternoon and evening on this trip.
at home with Bill and Pam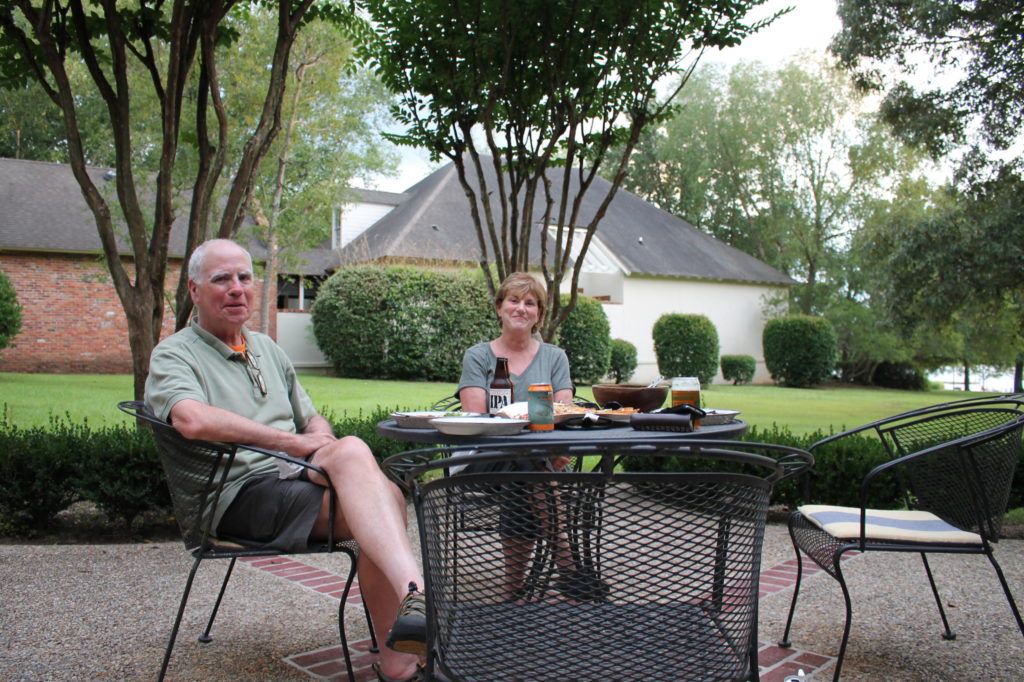 We ordered pizza and beer. Talked a lot about everything and nothing. The match did not end well.
After the game, Bill and pam drove me to old Hway 24, It was rain in the air all day. It was a short day, just 40 km. Come to Dexter. A little outside I found a good place. There was an abandoned house behind the bush to the left of the tent. There was electricity, so I loaded my tablet.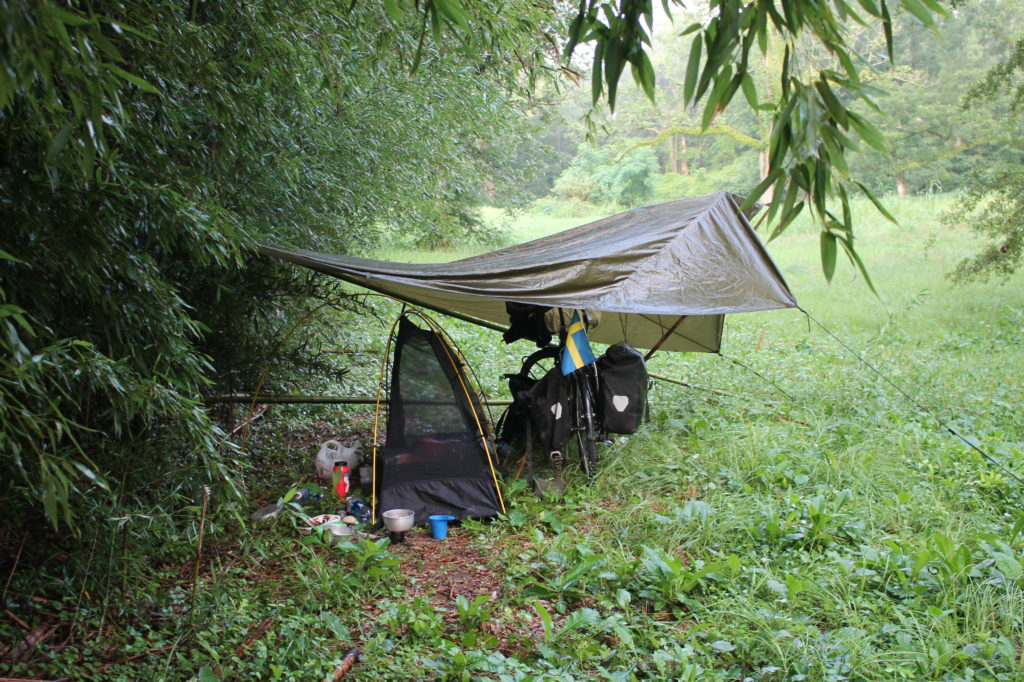 That night it rained , really a lot.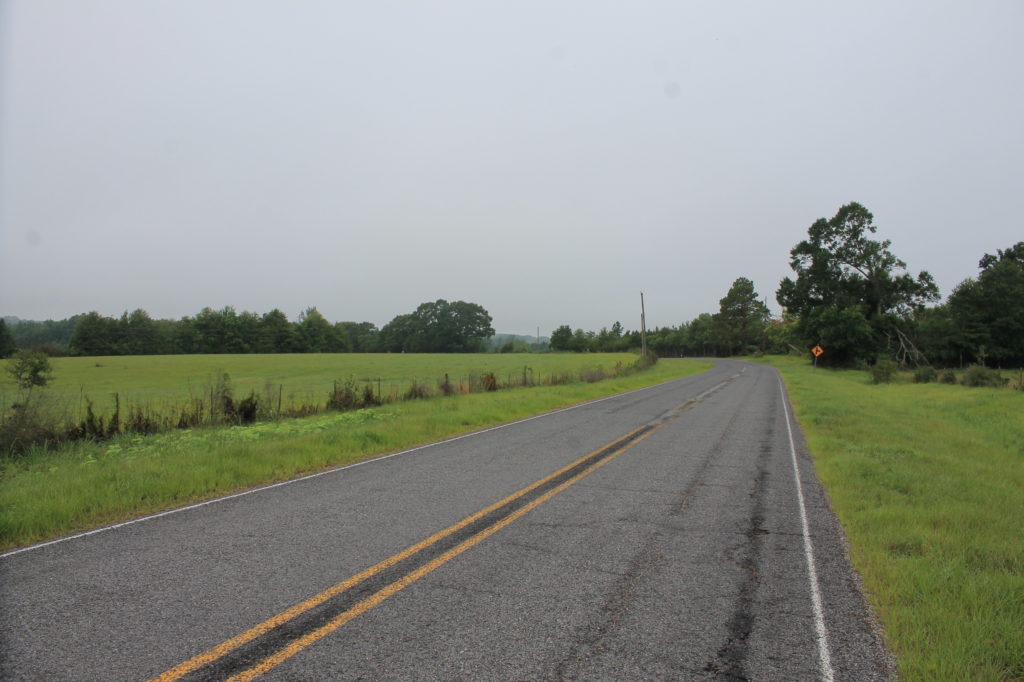 In the south of Mississippi. 22 degrees in the morning but 90 percent humidity.
Soon I was thinking when I started cycling towards Independence. The first 50 km went well and was hoping to be ready until three pm. I passed Franklinton and McDonalds. But then it stopped, my good day. A big downpour kept me still for a long time. Waited in a barn with lots of agricultural machines.
Go out when it looked rain stopped , but rain came back. A few stops to wait for the rain.   Looking for a place to sleep. Tried a church in Mt Olive but no. Continued on Rte 40. Saw this sign snd my place for the night was decided.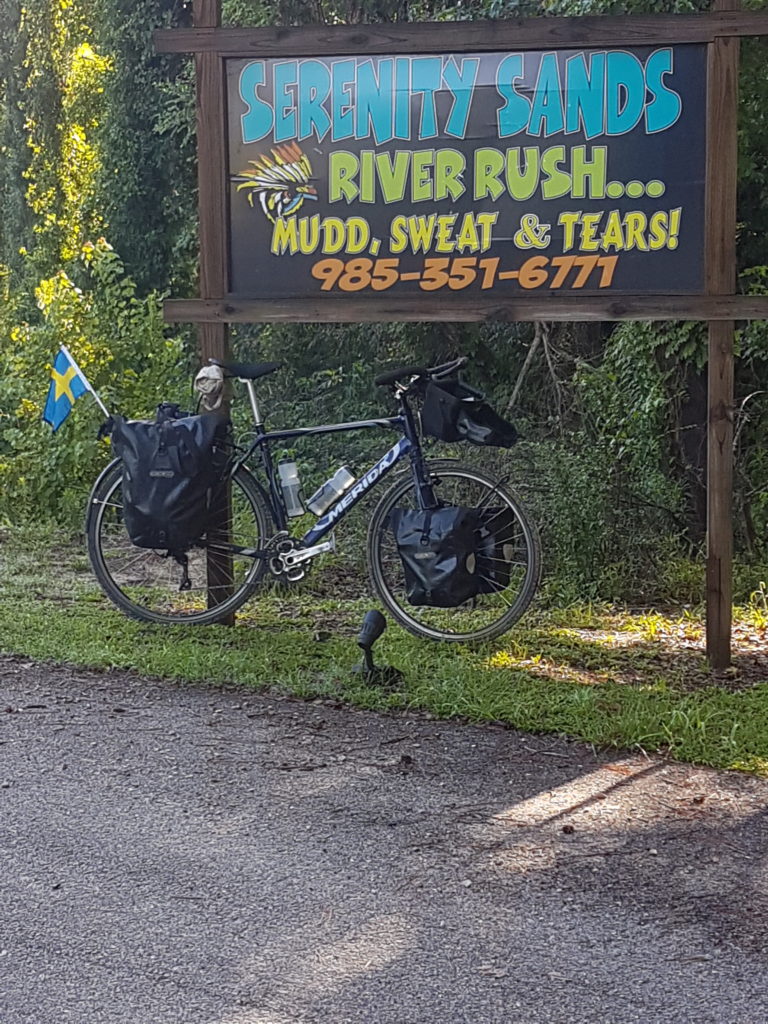 It turned out to be av very interesting evening.   I first thought it would be a moment of solitude. Admittedly, I saw the Mexican family a little further away.   But not a thought that they would invite me to real Mexican home made dinner and family gathering. But they did.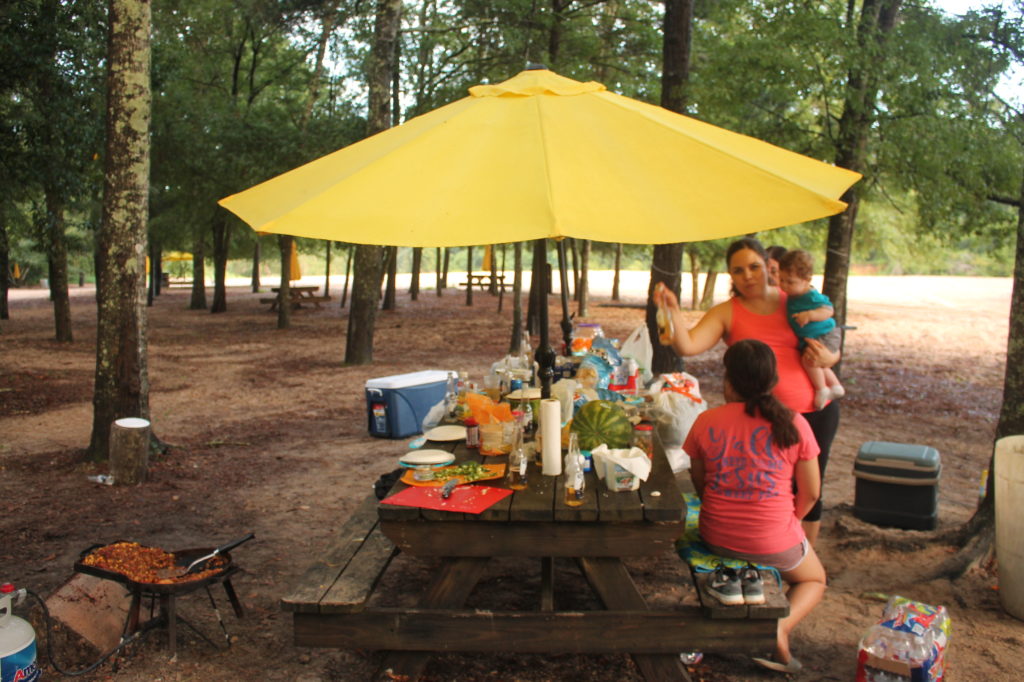 They drove around on your quad bikes in the sand, through water holes and thought it was fun. Looks muddy and wet.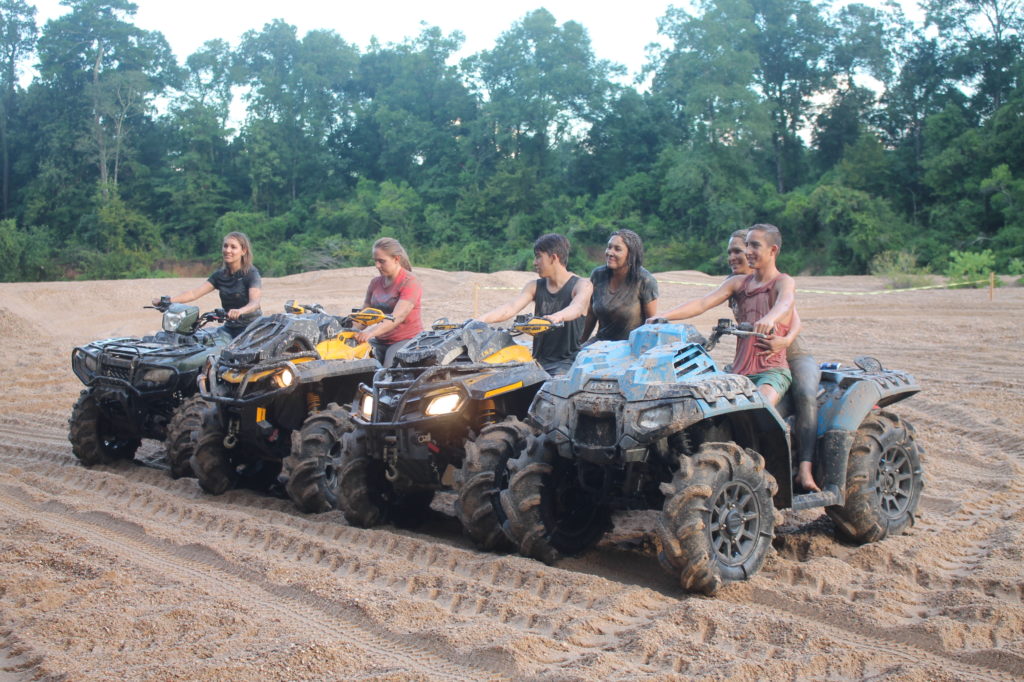 With great hesitation I tried a quad bike. Barely came around the 200-meter-long loop in the sand. Not my thing.
In the evening I was seated outside one of the employees' tents and talked about Louisiana. The next day it was empty. The Mexicans had left, and the staff were gone. I left Serenity Sands towards Gonzales and my warmshowers host Adam and Sarah. Adam and Sarah can most easily be described as cycling running sport nerds. Their entire existence revolved around cycling, hiking or canoeing. But for Sarah a little less than their two children demanded all her attention.
Last day, Sarah had given me grave well-chosen advice on the road choice. We appreciated that it was about 120 km left to New Orleans.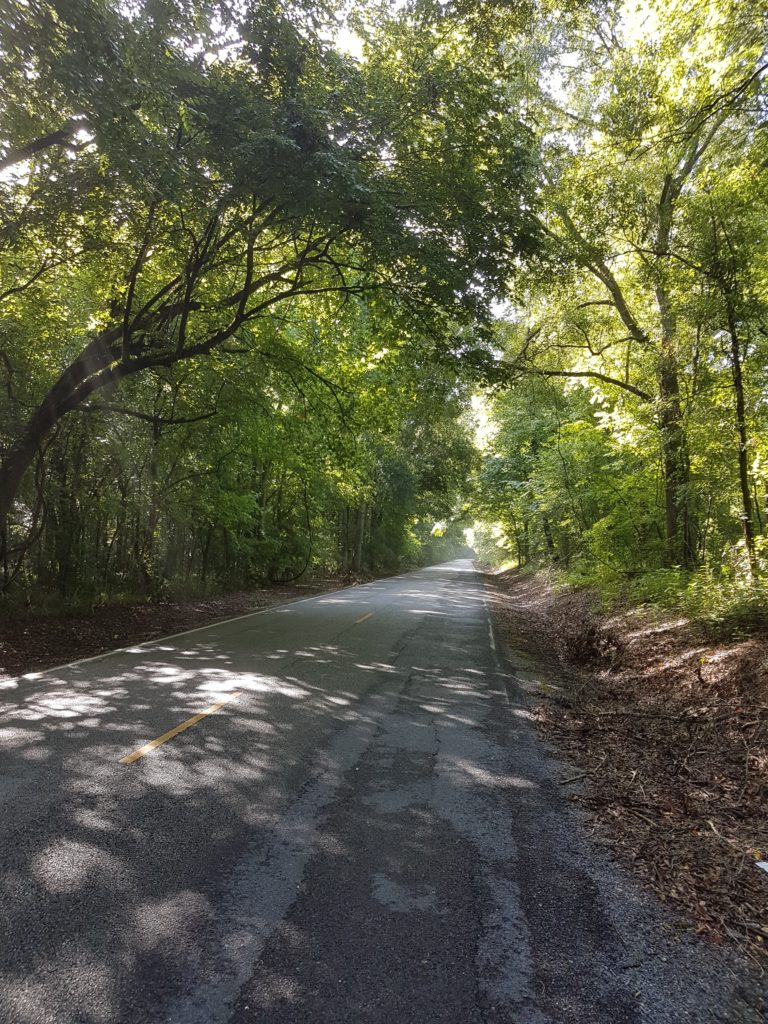 We had a little wrong about how far it was to New Orleans. This day, the last one, also became the longest. I started cycling a little before eight in the morning. Come to the hostel 17.30. Then I had rode 96 miles (154 km) in the hottest of days. My cycling thermometer showed 42 degrees. I wanted to get to the river as easily as possible. That meant some detours.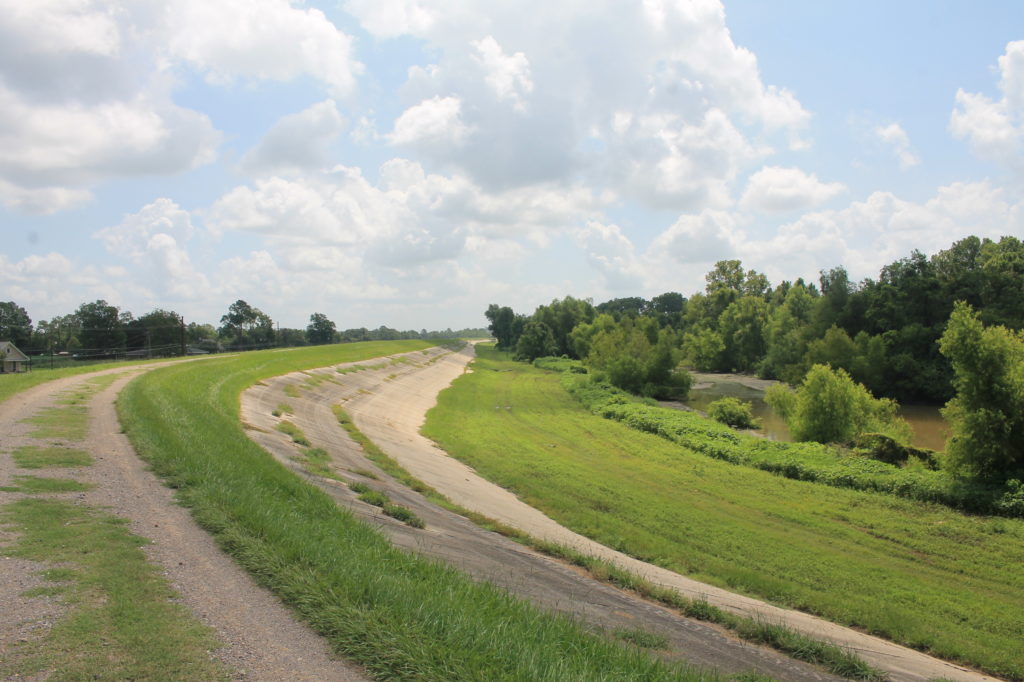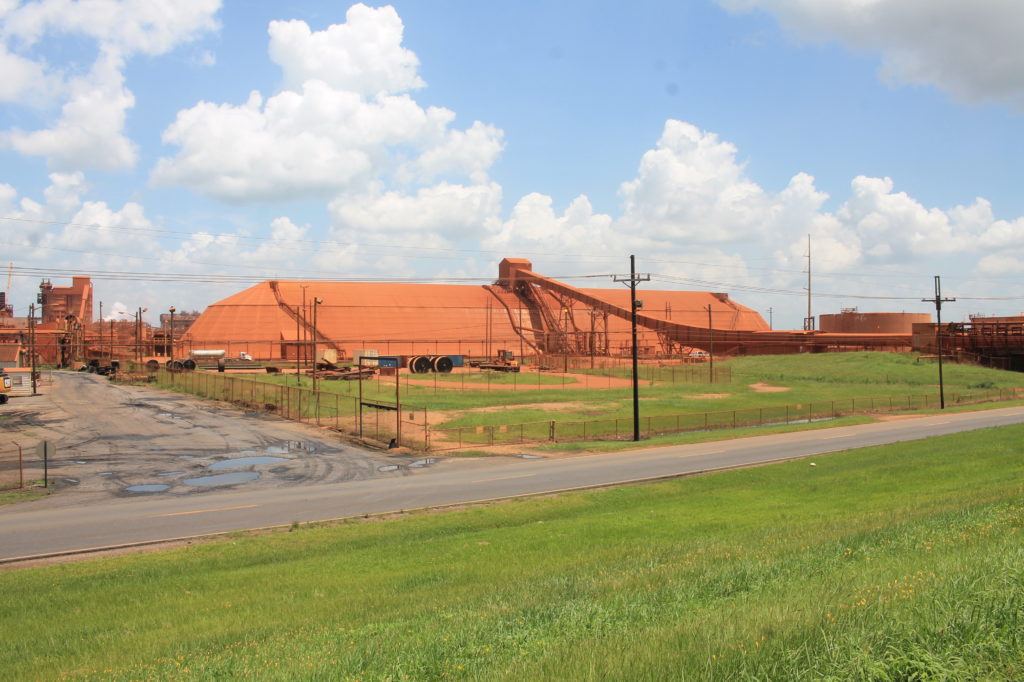 North of the city, the industries spread out, refineries, raw materials, food, etc.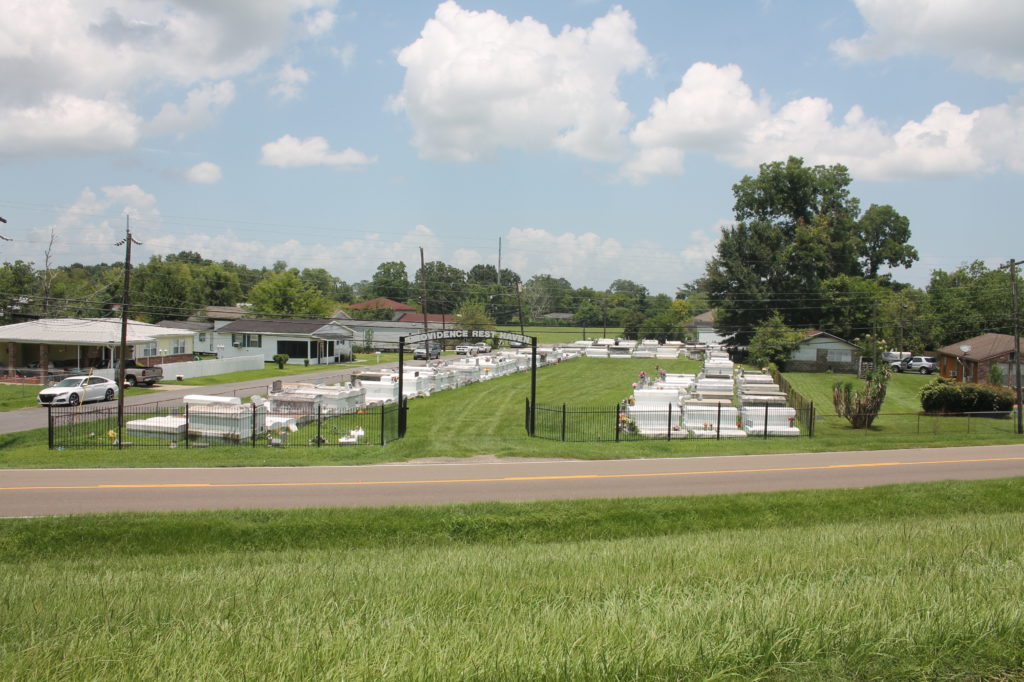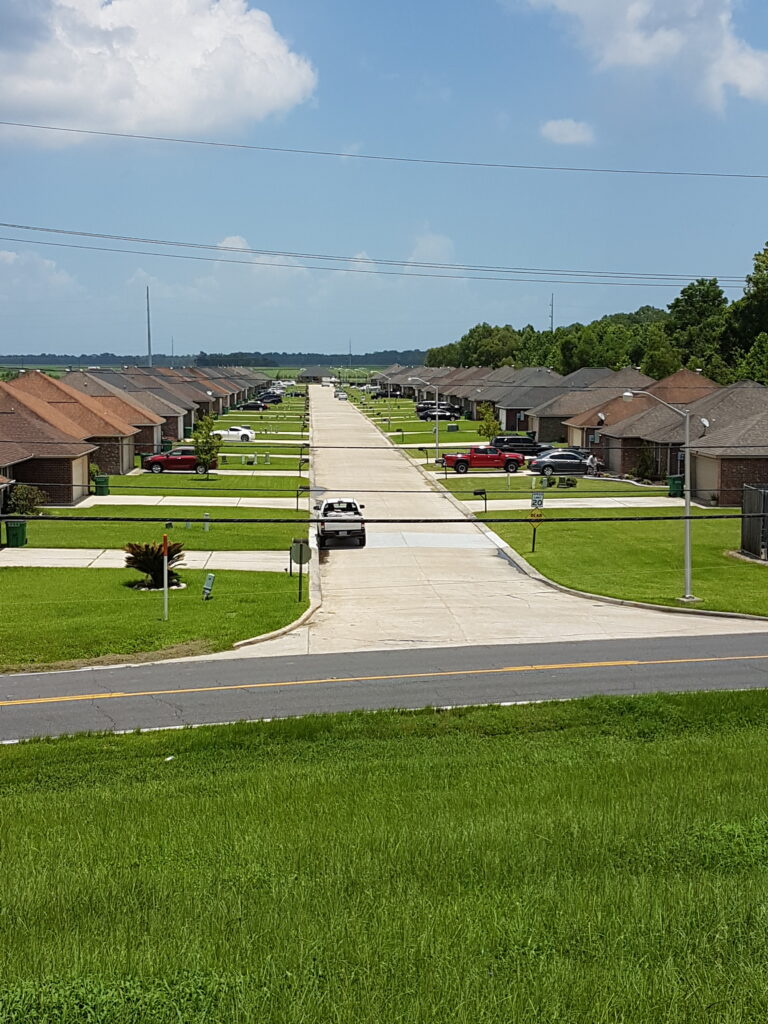 Finally, arrive at The Atlas house , my home for the last five nights. There were many tourist activities. A food tour, one evening at Boubon street , one day a very long walk around French Quarter .
Some pictures from New Orleans.
from food tour

from food tour
Long before, I had decided that I would go to the swamp to look at alligators and other animals. Found a tour that seemed interesting. First bus one hour to get to the place itself. Then wait an hour for our group to get a boat. Get away with the skipper. Enough I saw alligators. The great Brutus and many little ones. I also saw wild boar and raccoons.
But I was very disappointed when I left the place. Both the alligators and the wild boar were trained to get to the boats. They were fed all the time.
One last thing to do on y trips is to find a suitable box for my bike An ever-recurring problem for me on my cycling experiences. Got a tip from the staff about a bike shop not too far away. Went there. Yes, he had a box, come back tomorrow, said Wes McWhorter , the owner and creative director. For Rouler, not only is a shop and cafe. It's a clothing brand too. Below a part of Wes's collection of racing jerseys, he used in his bike career.
I left New Orleans and the US with mixed feelings. The United States is fascinating but still so different how I want to live. I value the Swedish system of social responsibility, freedom and safety. I know I'm done with the US for the moment.
But cycling experiences 2017 was not over yet. A little bit remained. The one from Arlanda home to Eskilstuna. I had an attack of gout the night before I was going to travel. The foot was really swollen and sore. Travelled to Arlanda without shoes on my feet. I landed late in the afternoon. Unpacked the bike in the passage between terminal two and three. Started cycling towards Märsta. I came to Erikssund where I stayed. Pitched tent. Couldn't sleep that night. The foot hurt to much. Morning, I couldn't stand up. Just remember I crawled around there in the grass when I was  packing up the tent. From Erikssund to Eskilstuna, it took eight hours. On those eight hours I did not leave the bike. When I rested I sat on the frame. Couldn't get off the bike because the pain.
What happens now? not much. have begun to think about where bike experiences 2019 should go. Most of the talk is that it will be the Caucasus, i.e Georgia, Azerbaijan and Armenia.