About my cycling from Key West to Boston
With the hope of interesting nature, exciting local food and interesting meetings, I decided early in the spring of 2015 that Cycling Experience 2015 would go to the United States. The route would go in the countryside. On smaller roads with hopefully less traffic. The big cities on the East Coast would be avoided. 
28 May – 2 July – A waiting time
late evening BA821 left Copenhagen airport towards London Heathrow. One hour after schedule I arrived. If this was my final destination it would be al-right, but I am continue my travel tomorrow. Cycle experience 2015 has begun. I have loaded my laptop with films, I am ready to meet the night. Around midnight I was forced to go outside security check and wait. I have spent my night in departure hall.
Stage two continued as planned. The plane landed in Miami according to schedule. Passport control and customs was quick and easy. I went to the baggage belt to pick up my bike and panniers. But where's the stuff? Gone, delayed. Nothing to do about it more than to file a notification and hope for the best. Took the bus to Key West and Seashell hostel.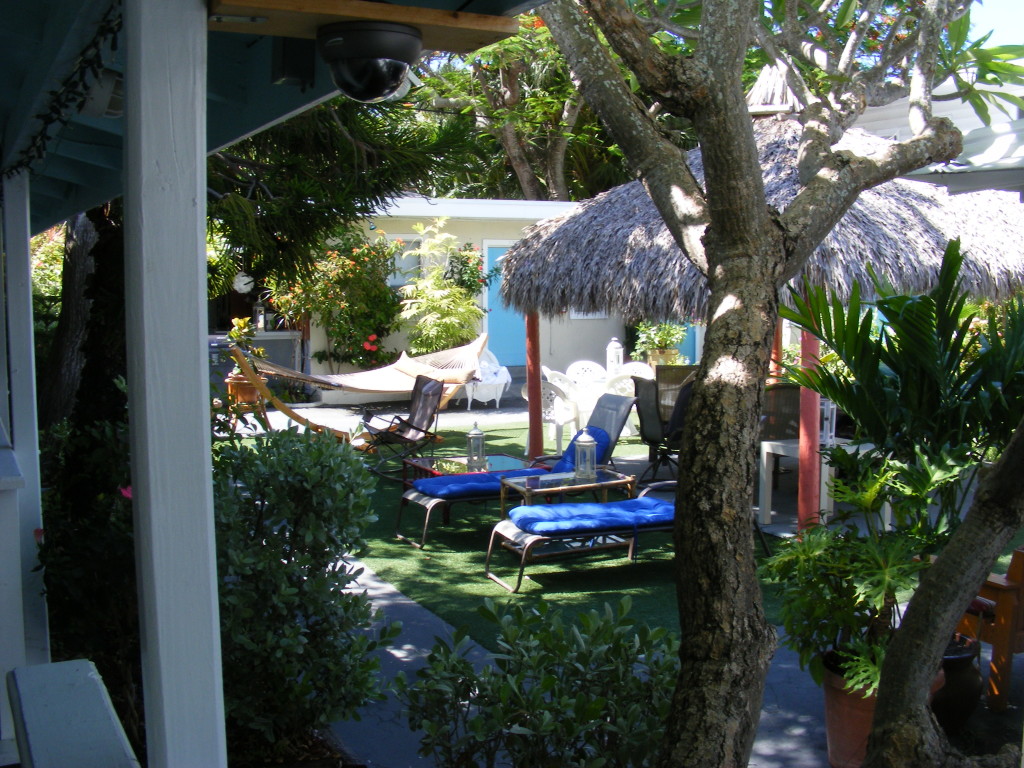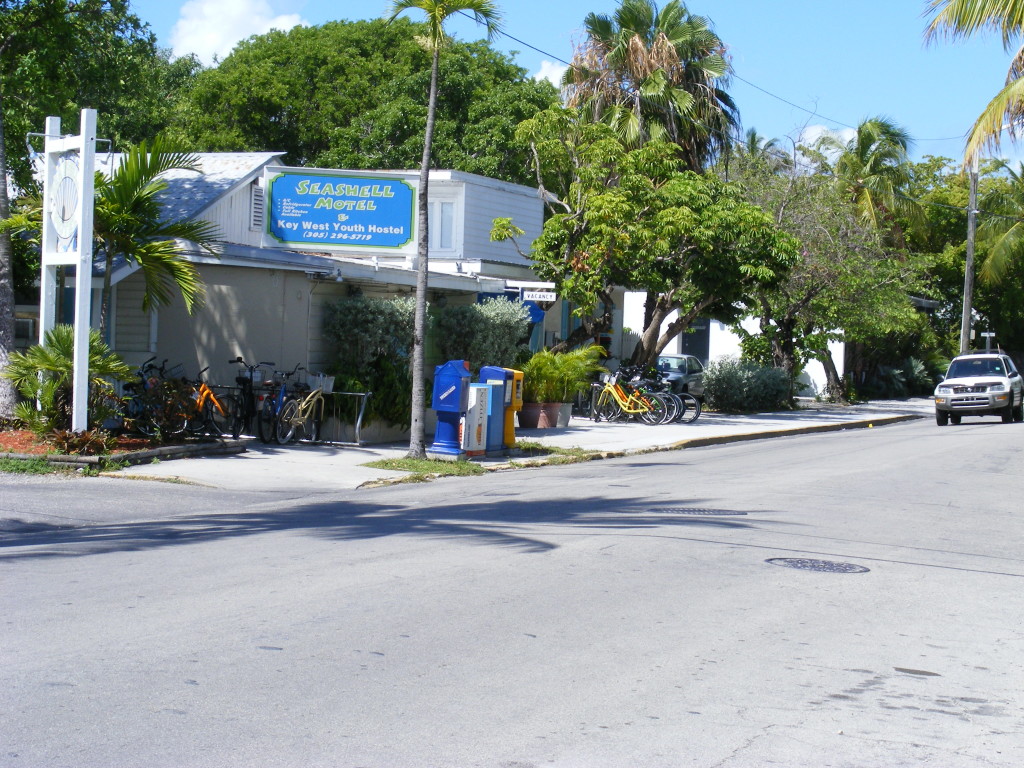 On Saturday I had already booked the Key West Food Tour. A food and culture walking tour of three hours. We tested five different places and in between we had knowledge of Key West history and culture. A good balance of food and culture. It was time well spent.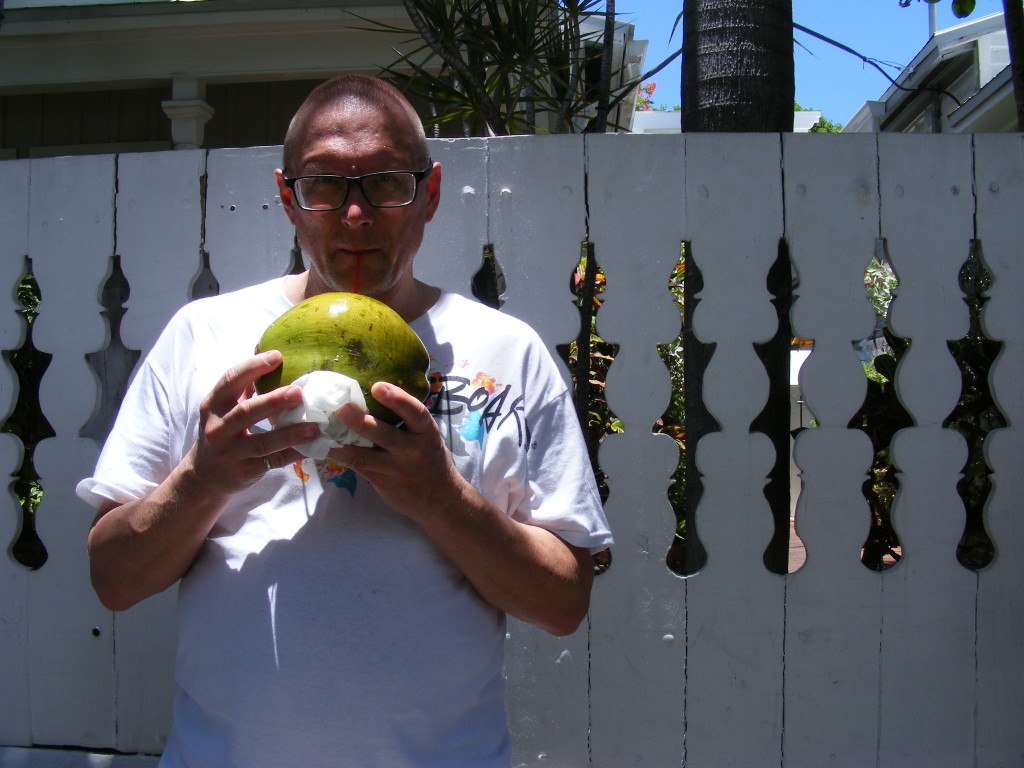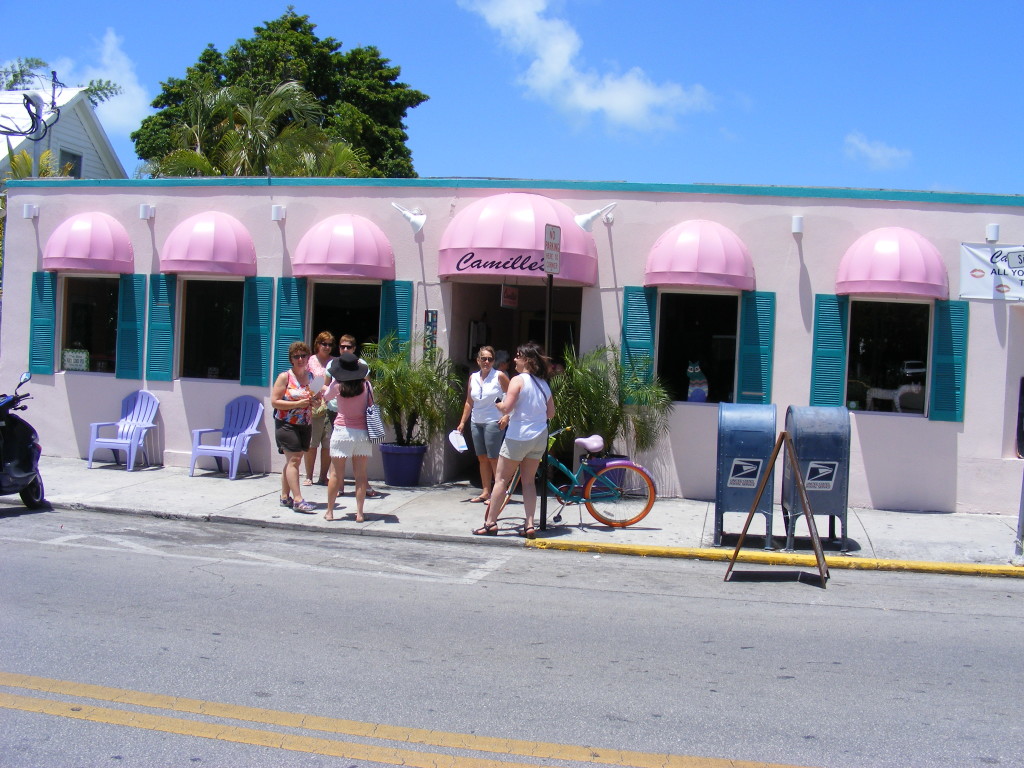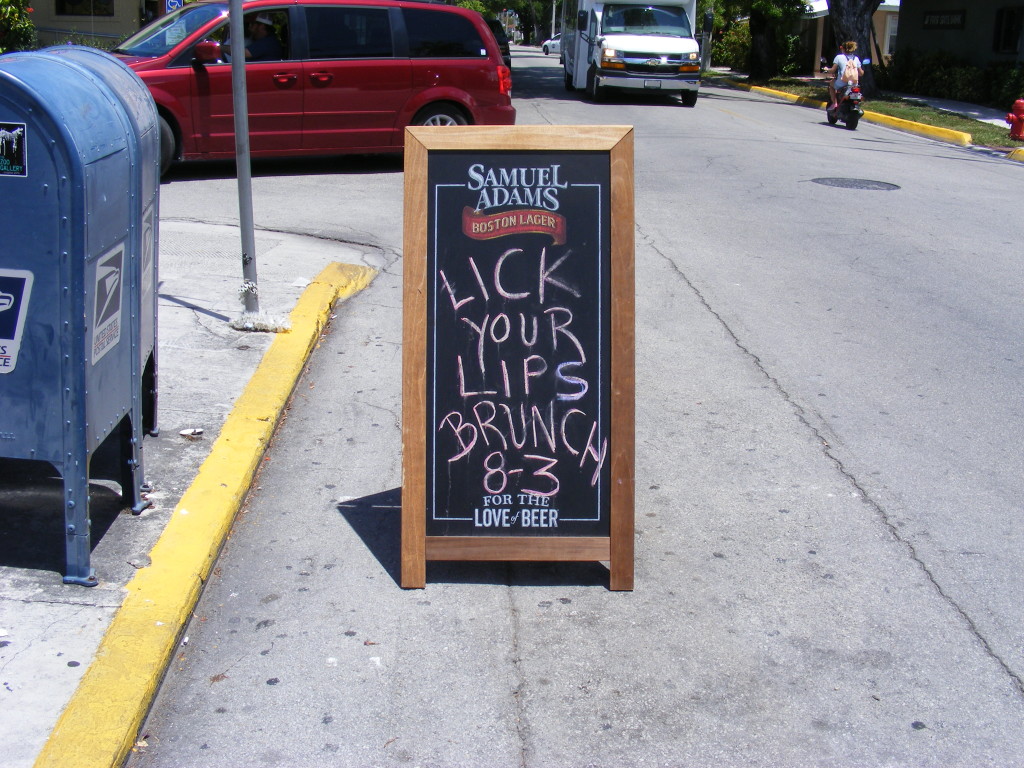 Still no luggage. It was hot and humid day so it went down a lot of beer. After to many beers it is easy to do crazy things, like this one. John, Nicola and Piotr was going to Duval Street, and I went with them. We went to "the world of Beer, Bull bar and World of Eden. World of Eden is probably the only place in the world where you can see naked men dancing with each other while Bunny girls dancing with old men.
Slightly hangover on Sunday, I continued waiting for my belongings; nothing. I took a long walk around Key West. Dinner at Denny's Diner.
Monday continued with endless waiting.  My panniers arrived in the morning but no bike. I didn't want to leave to hostel if the bike would turn up.
On Tuesday I was still waiting and finally the bike came. Three days after my schedule I immediately began to assemble my bike and discovered that TSA had lost to nuts to the fenders so they got hold tight with plastic wraps. Finally ready to get started
3 Juni  – 6 juni Hot days and amazing experience in the Everglades
 I woke up early to take advantage ot the morning coolness. I left Seashell hostel. First stop was US southernmost point. Took some pictures there,

and continued past Sloppy Joes bar.

Without any problem I found the bike lane on US 1 north. Now I would ride northward all the way to Boston.

There was a lot of water and mangrove trees along the road.
This big iguano was resting on the roadside. I estimated it at 8 feet.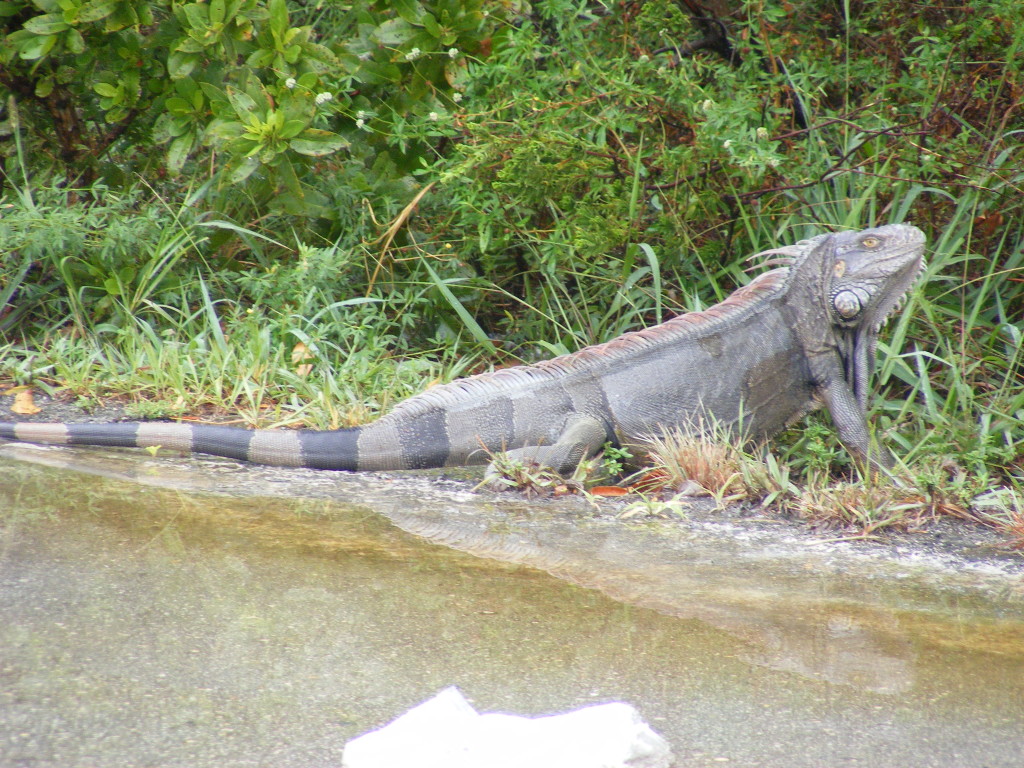 It was with some exitment I rode out on 7 Mile Bridge.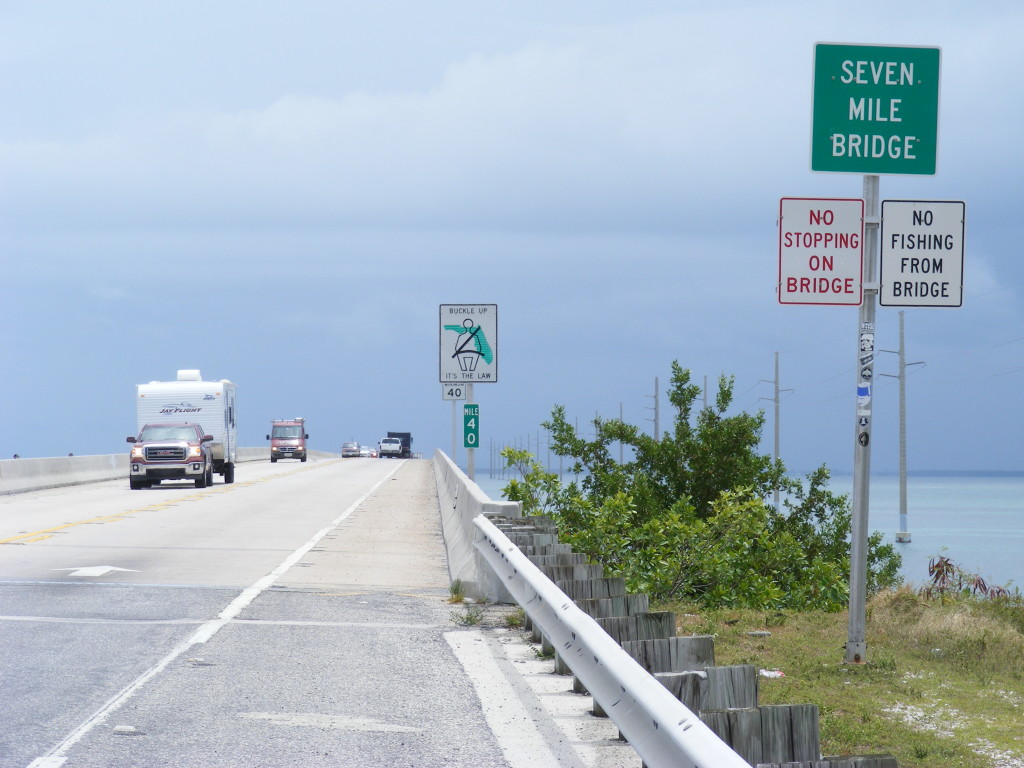 This is the old bridge.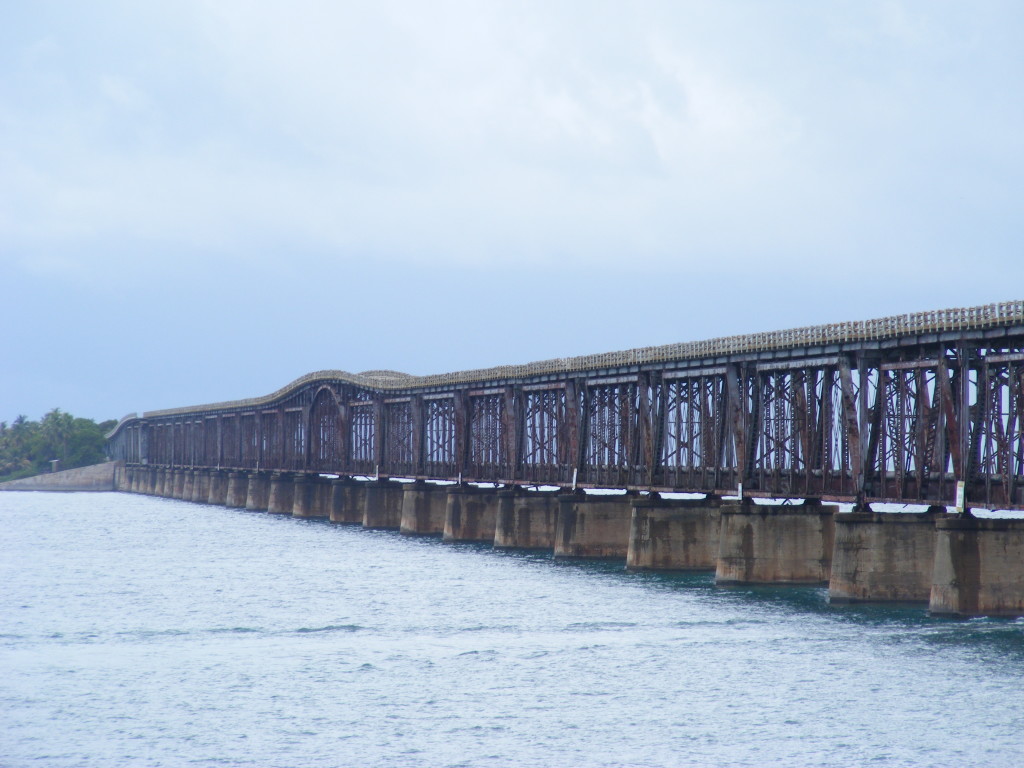 At a reststop I was this primitive boat. It was used by Cuban exiles to escape Cuba.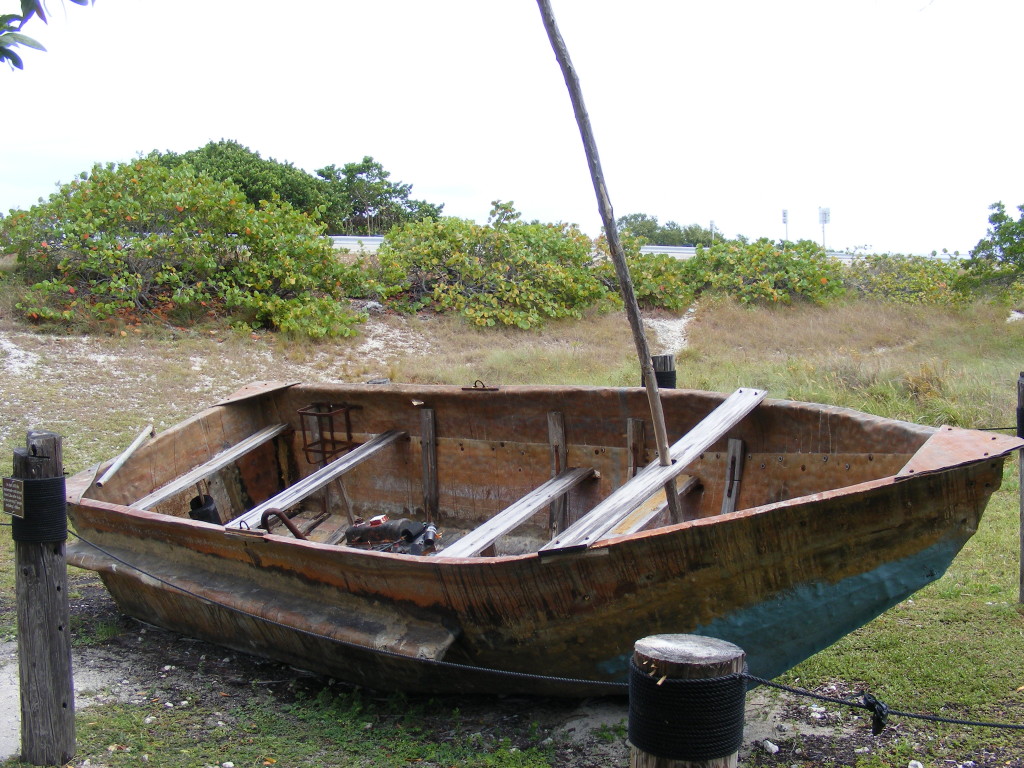 The nightrest was in Long Key State Part. $8 for a roof and wooden floor 15 meters from the Atlantic Ocean.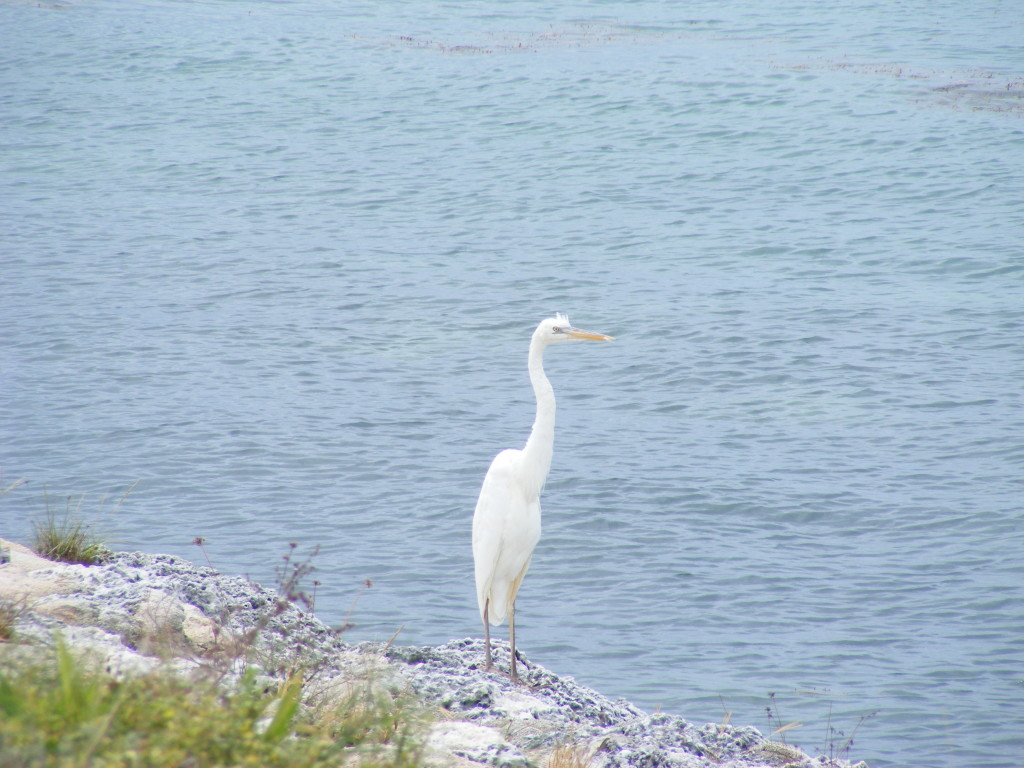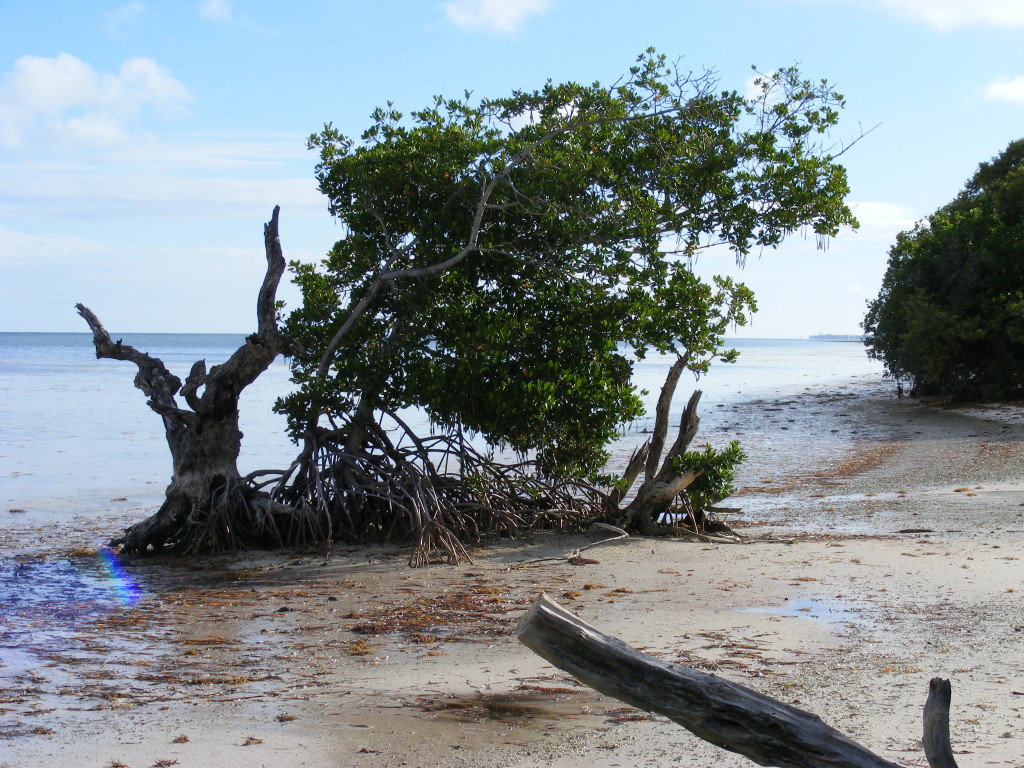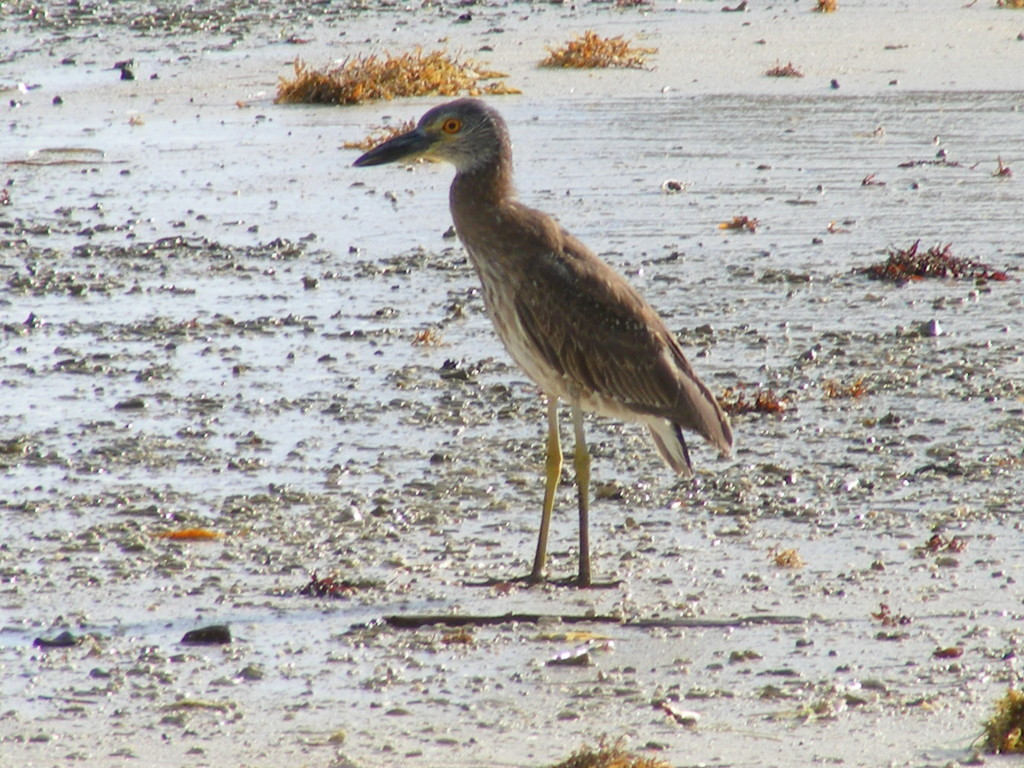 I saw a lot of money when I rode towards the mainland. Large boats and fancy cars.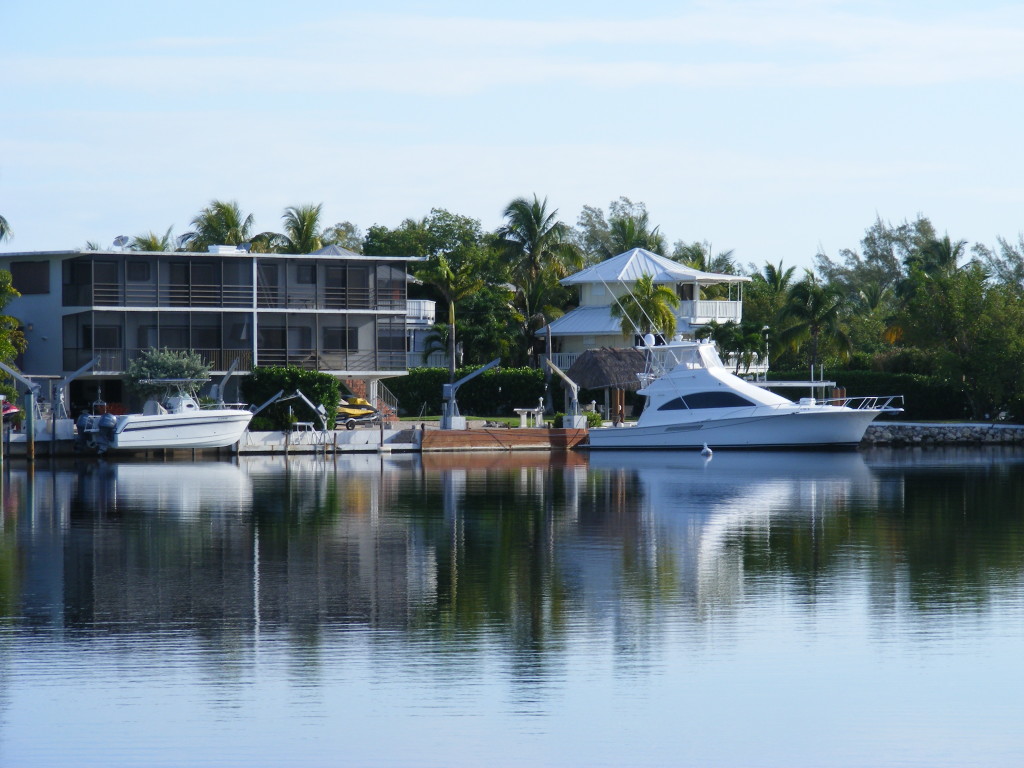 It was warm, almost hot all day. When I turned left onto Overseas Highway it was unbearable hot. I often stopped to drink lukewarm water and tormented. The sun is at its zenith and I couldn't find shade anywhere.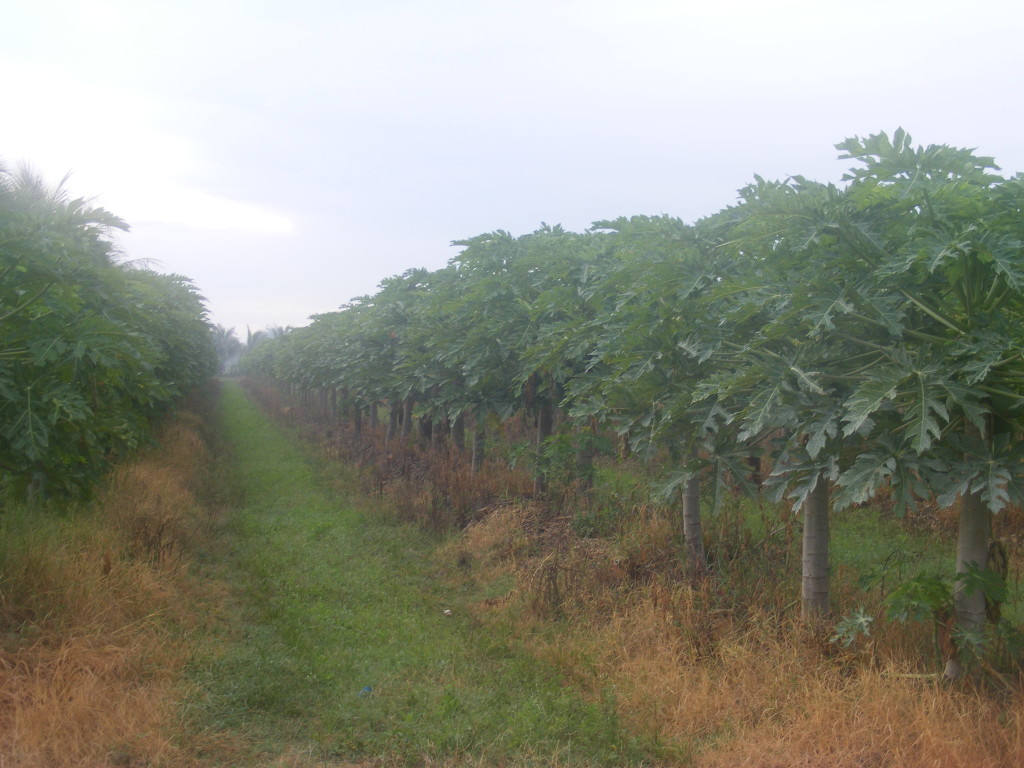 Finally I reached the mainland and cycled through Homestead. That night I slept in an avocado plantation.
I hurried on to the Everglades and the long awaited kayak tour. I knew already in the morning that it will be a long day. Traffic was not a problem. It was the heat that was the big problem. I left 997 and turned onto R41 and Tamiami trial. Here i saw an alligator for the first time when I stopped to talk to two fishermen on a pond. In the pond slid four alligators.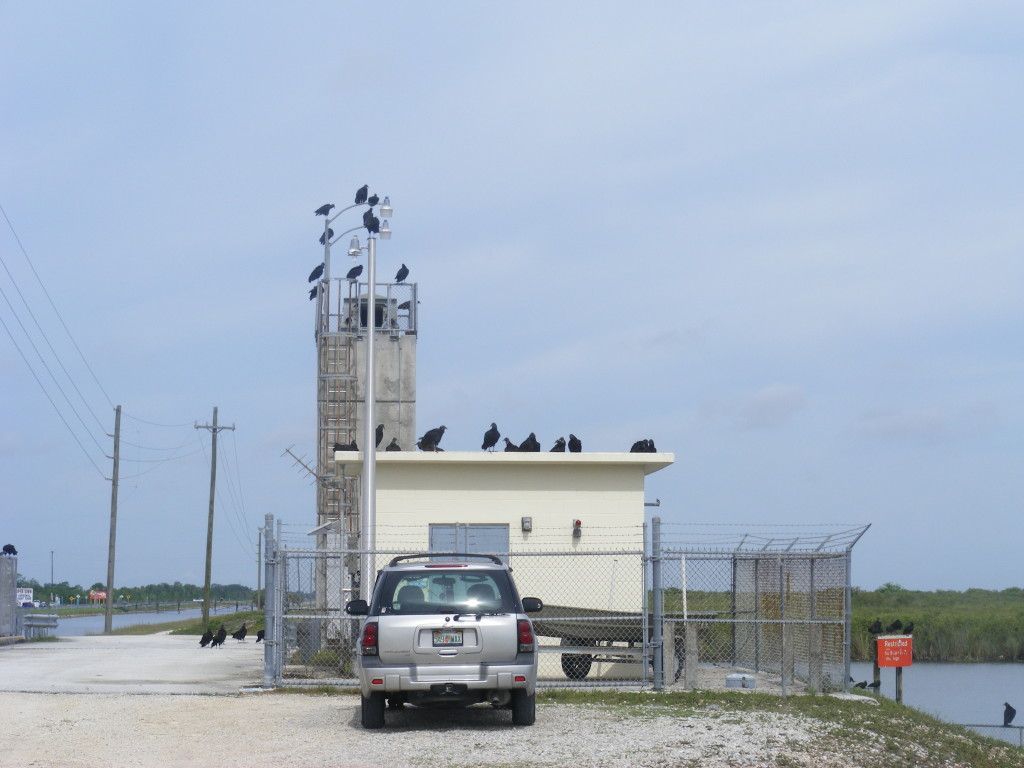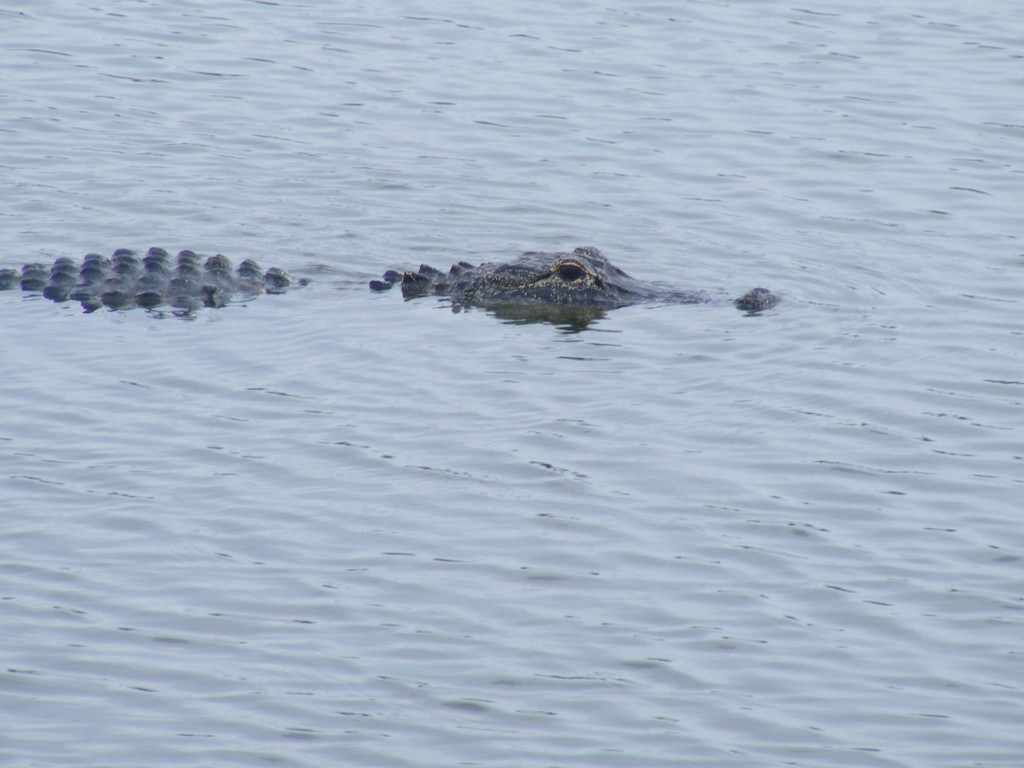 One of the fishermen gave me some ice water and I was able to continue. In the afternoon I came to Big Cypress Preserve loop road and thought I had time to take a little detour. When I rode there I thought "how is, that someone wants to settle here"?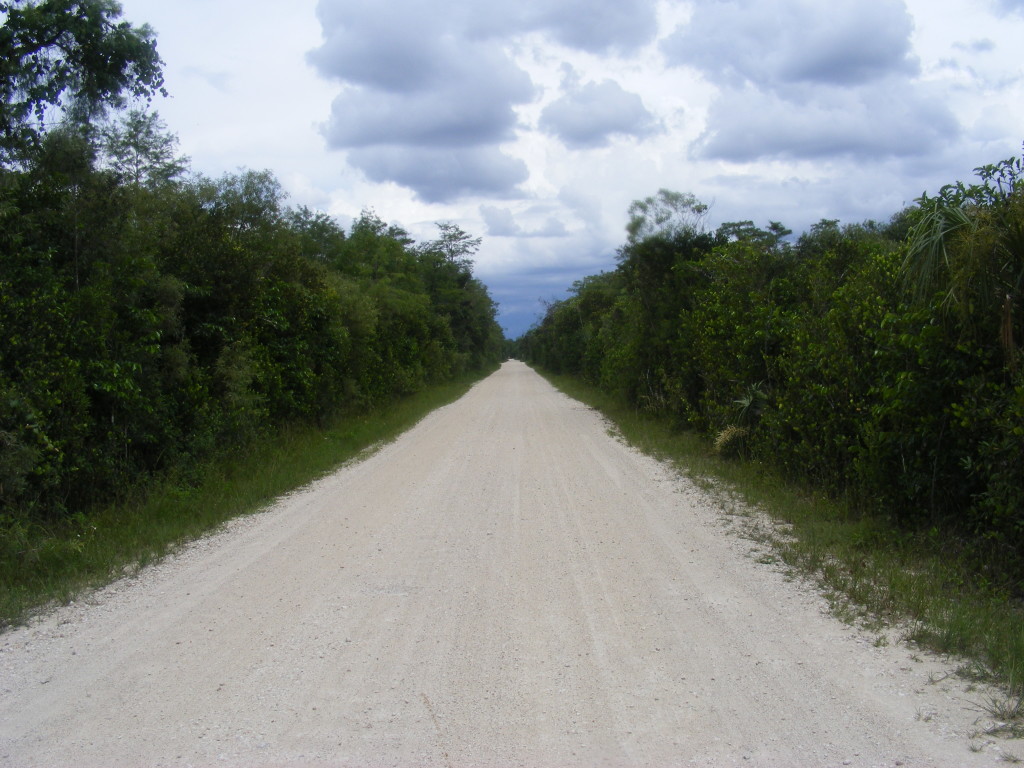 THere was an abandoned schoolhouse and other abandoned buildings along the road. It was an interesting detour. I saw two otters playing on the road.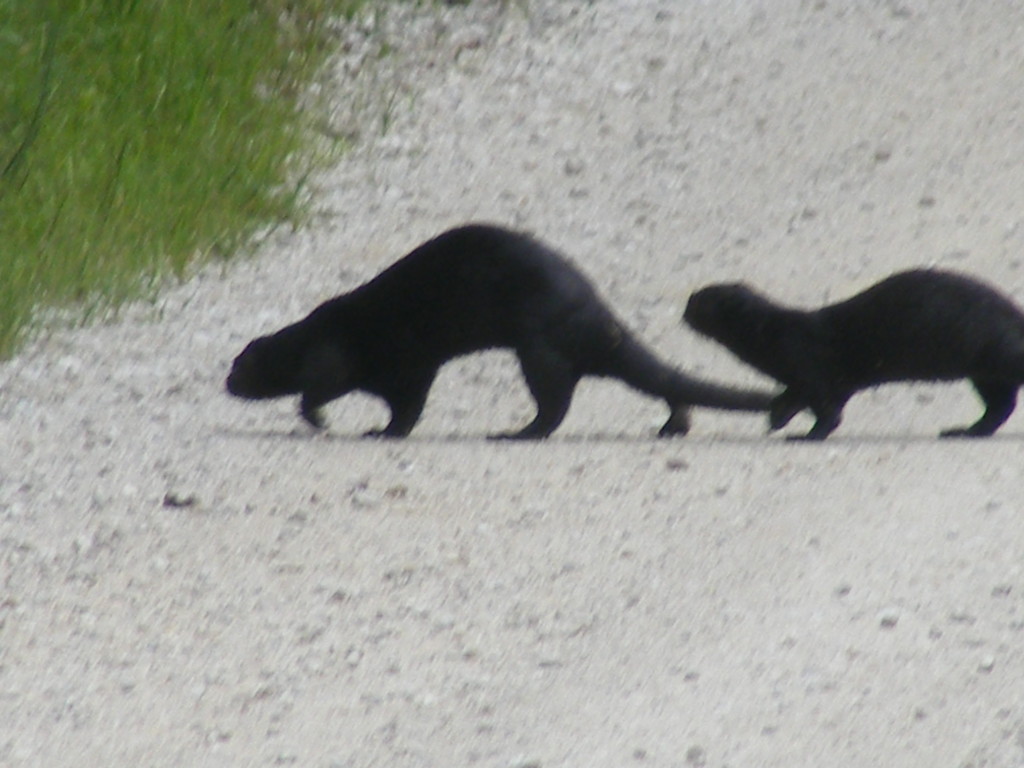 In a small creek a big alligator was resting.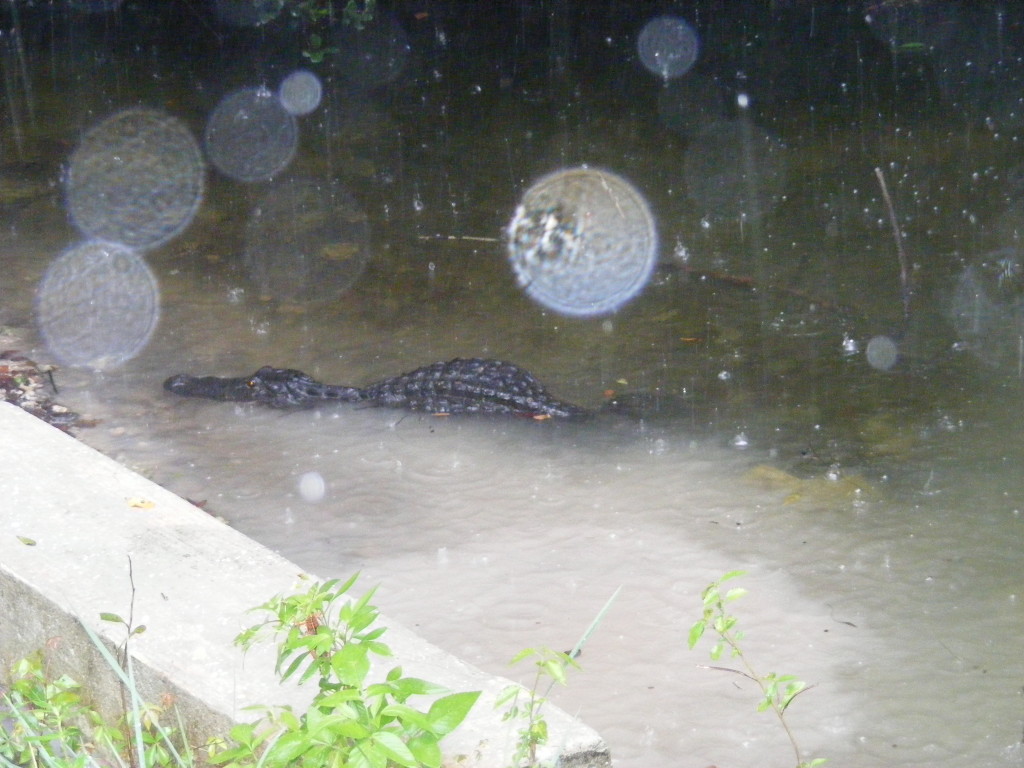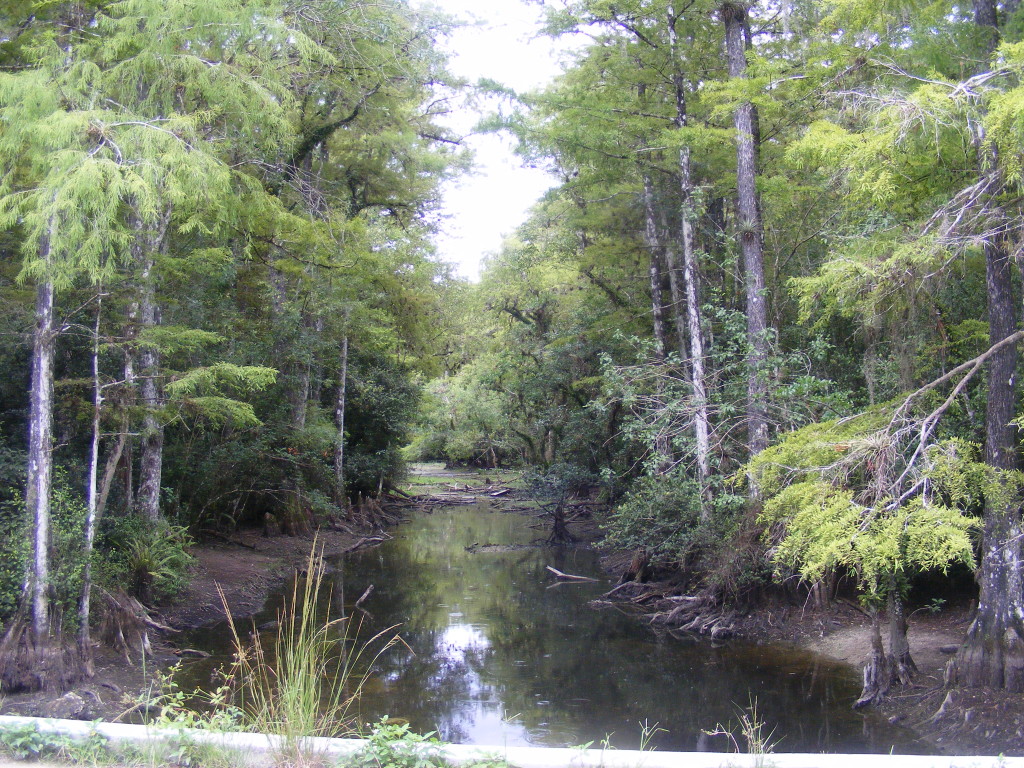 But then the misery began. The rain came and it was not a small drizzle we're talking about. THe sky opened. I tried to look for protection but nowhere. Then I got the strange idea to use my tent for shelter. S0, wuickly I tore up the tent and crawled into it without using the pegs. But in vain. It was impossible to get away from the rain. I was really cold and wet there on the roadside. But then, a big Toyota stops and a friendly voice asks if I need help. No, I say, but something to eat would help me. She says I'll be back. She turned back from where she came. I figured it was probably not for real. I stayed at the roadside sitting in the rain. She came back! with a Subway sandwich. I think it saved the day for me.
The rain stopped and I continued. The last miles I thought about where to stay for the night in order to minimize the time I needed to ride to our venue next morning. I pitched my tent on backside of an Exxon gas station, with the owners permission. He only said "not to close to the water, alligators could come." After food and a few beers it was no problem falling in sleep before sunset. Next morning I woke up by the alarm already at 04.30.
I had barely finished eating and brushing my teeths when Jenny turned up. Jenny was my guide for the day. She was an experienced guide from Everglades City. We drove of in her big Dodge Tundra to the starting point. When the sun was about to get up, we started to paddle away.  It was a fantastic day with animal encounoters, geography, history, biology and everything else that Jenny told me stories about. We paddled against the tide but after a few hours it turned and we could float slowly with it to the sea. I got to see alligators up close, dolphins, tarpon fish, crabs, a mangrove squirrel and many large mangrove trees.  We even saw a manatee in a canal later on.
The last piece ws over open water to an island which was inhabited until sixties. Today it was deserted but there where remains of houses, water tanks, cemetery etc. We waited there until our boat came to get ur to Everglades City. Jenny drove me halfway to Labelle. After she left me I cycled 11 km until I came to Feldra. I stayed behind a Shell gas station and pitched my tent in a small grove. No, nobody saw me sleeping there.
Slide show from Everglades.
Here somewhere my camera broke down so there was no images in a week. Then I bought a simple camera for $ 35.
June 7 to June 13 Florida and Georgia in a heat haze
I continued north. It was hot and it was even hotter in the afternoon. It was good to ride until noon. I tried to ride early to avoid the worst heat. WHen it was getting hot I began to apply the 5 km system. cycling 5 km, take a breaks to drink water and rinse the head with ice waterm thwn continue 5 km and so on. It went well for there were many convenience stores along the way. One night, I stayed in a forest near Grandin Folorida,
I left early, wanted to come long before afternoon heat struck me. It was a good cycling day. That night I stayed behind a church. There was a sigh biker friendly at the entrance to the church. I interpreted that it also applied to cyclists. Later on I realized that it is probably meant motorcycle bikers. There, at the backside it was be my night camp. It was a great place. Water, electricity, and to my surprise, I managed to catch up on an open wifi network. 300 meters down the road there was a gas station with food and drinks. That night I slept outside my tent. It was 30 degrees at night.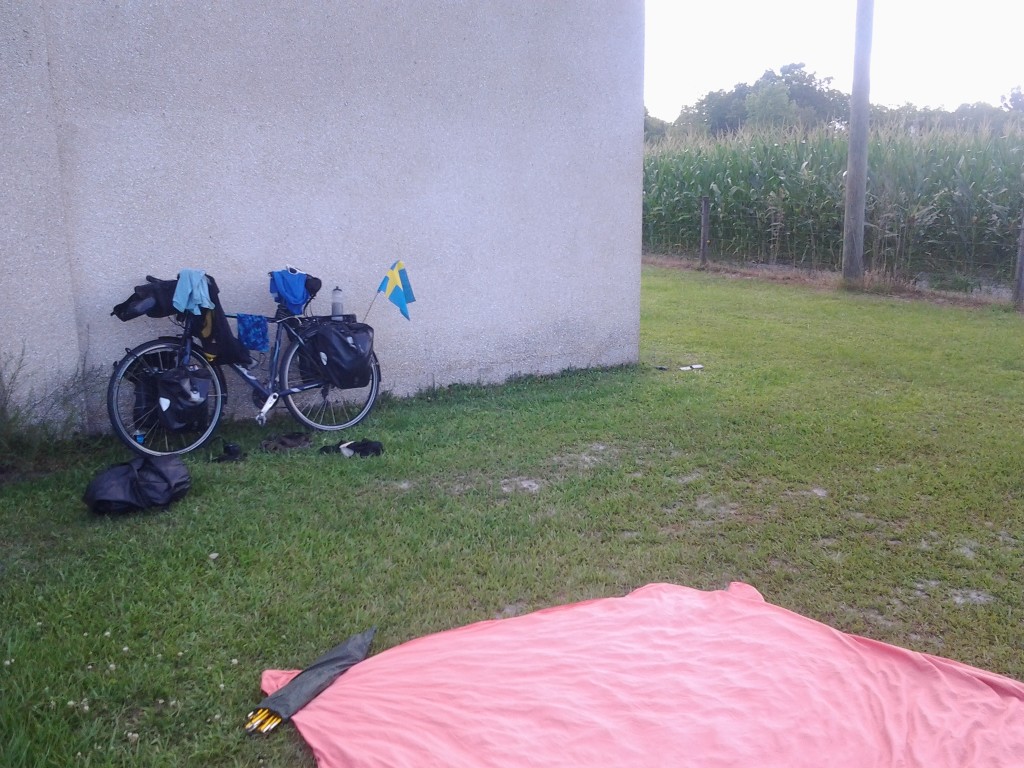 I was trying to dry the sheet because it was wet from the previous night.
I had managed to get in touch with Sonya at Warmshowers two days ago. We agreed that I could sleep one night at her place. I havn't taken a shower in ten days, since I left Key West. Sonya was not home so I waited outside her house. Finally she came home, but just to let me in and went back to her work. I showered and shaved. Then I fell asleep on the couch. In the evening we drove to a Southern buffet.
June 14-June 17 the heat is overwhelming
I left Sonya in Richmond Hill and rode toward Savannah. The city was founded in 1733 and was the first colonization of Georgia. Savannah is located in the eastern part of the state at the outlet of the River Savannah River. It is a major port city and has been since its foundation as the majority of products from the "New World" were shipped over Savannah. The historic city centre is designed as a grid plan with a large amount of boulevards and leafy plazas places, and is known as one of America's most beautiful and well-preserved urban environments. That's how neutral Savannah can be described. But its beauty is deafening. I rode around in the old city centre. Many green parks and many amazingly beautiful houses from the colonial era. It was told to me that the reason that there are many buildings preserved is that when the northern states would conquer Savannah escaped Confederate without burning down the town which was customary during the war. I stayed for 4 hours in Savannah but the city really deserves much more time.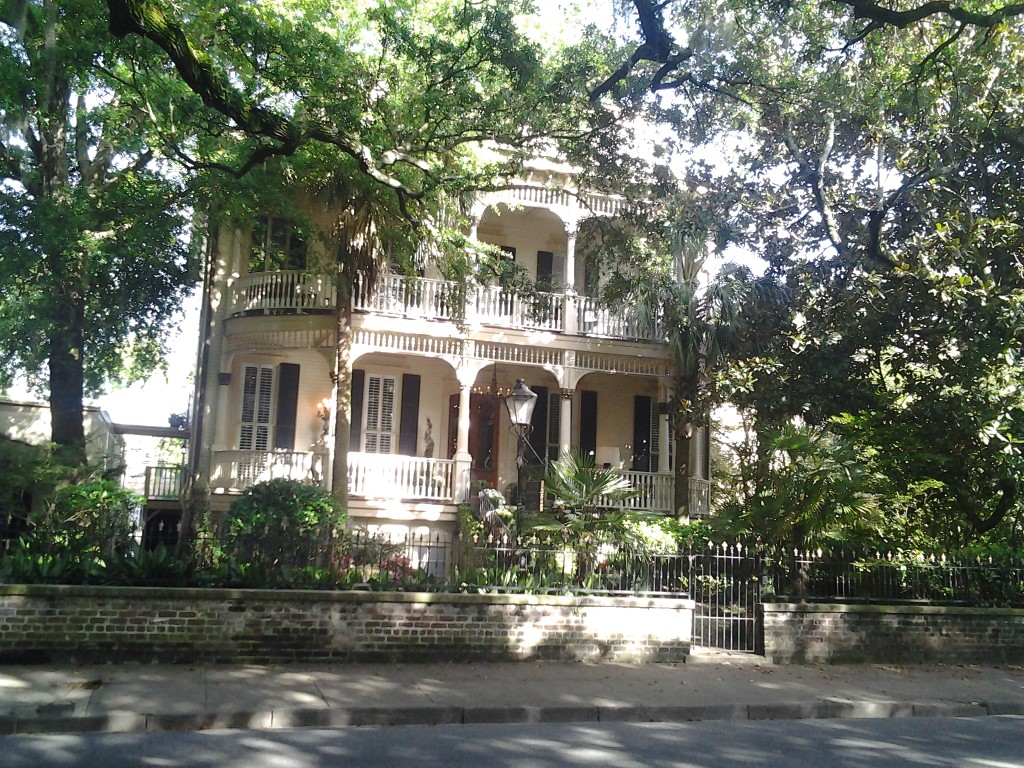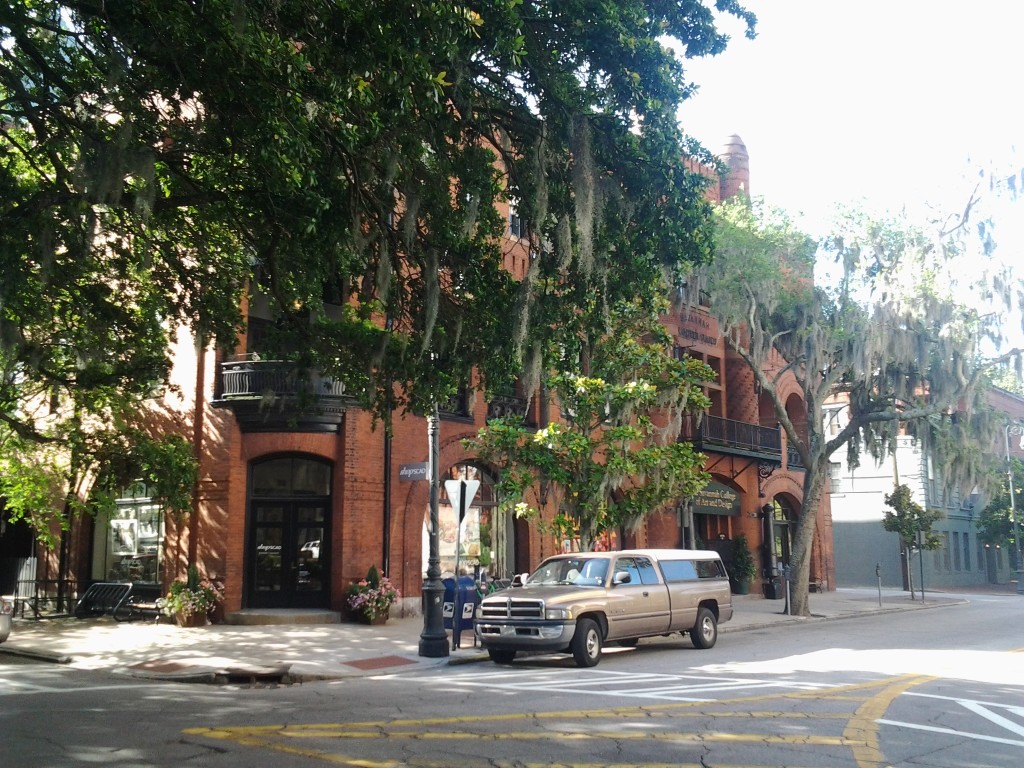 L left the hot Georgia to enter hot South Carolina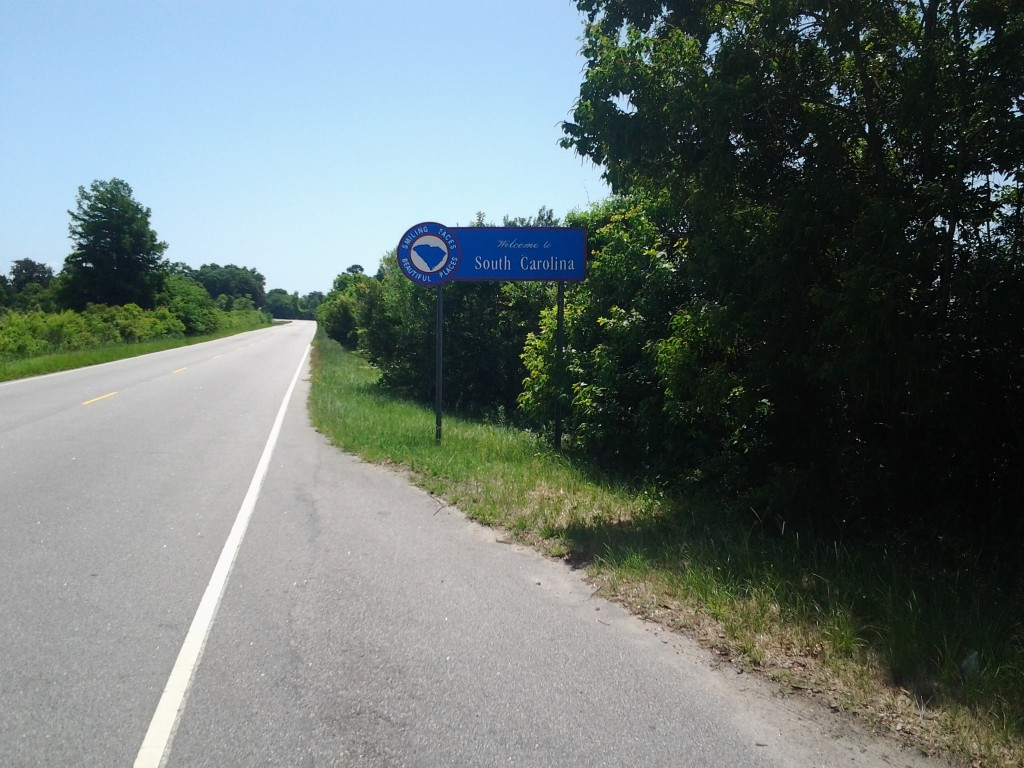 I came to Furman, SC, that night. Population 286 people in 2000. It was a hot night, and a hot night. I looked for a place to pitch my tent after 118 km cycling. It got to stay behind the small town hall. Already at 17, the youth came to play basketball in the recreation park next to the town hall. When they stopped for the evening it was already dark. I hesitated to interact with them. They wher more than 10 and young. I was alone and old. Odds was against my favor if anything would happen.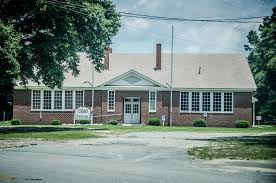 The next day I came to Orangeburg and Southern Lodge. I was figuratively cooked. Therefore, I took into the Southern Lodge motel. A little later in the evening I wanted some beer so I went across the street to the Conoco station. Imagine my surprise when they refused to sell to me because I didn't have my drive license with me.
601 had intensive traffic of trucks with timber heading to a paper mill. The mill also owned a plantation house. Unfortunately I did not get in it was closed and "No Trespassing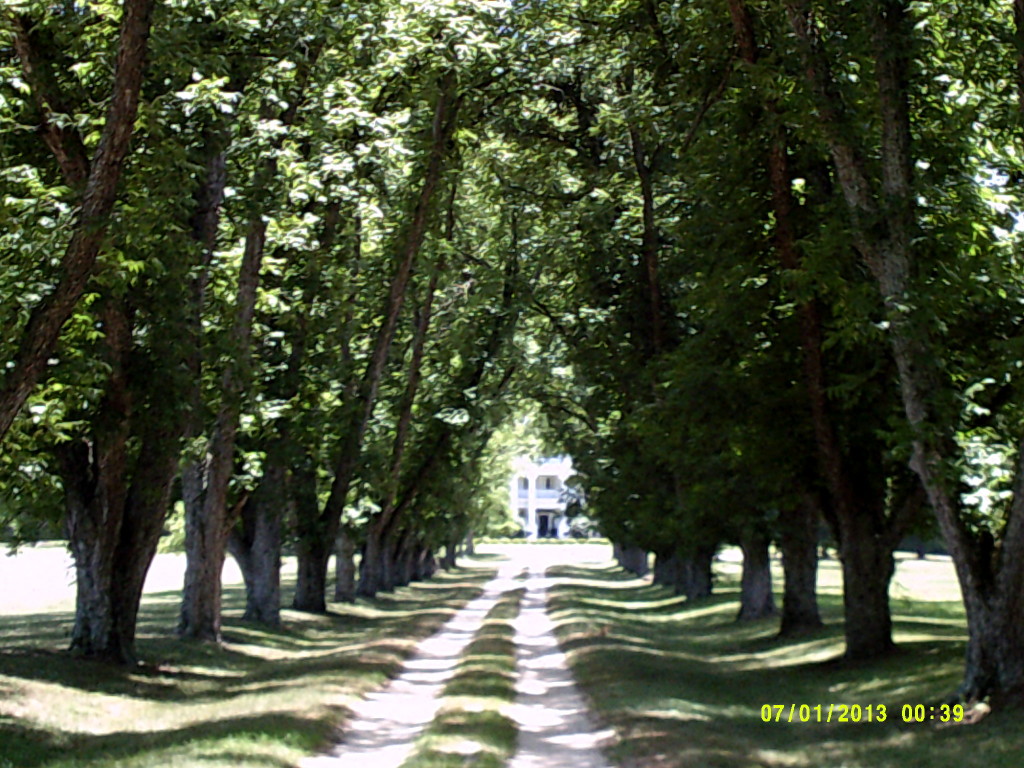 That night I slept in Dekalb Baptist Church and their park.
There I had both water and electricity. I could sleep under a roof. I rolled out my sleeping mat between the tables and slept under a thin sheet. It was my birthday. I celebrated with extra water.
This is the town hall of Kershaw SC. A typical southern state city hall in the colonial style with columns and friezes.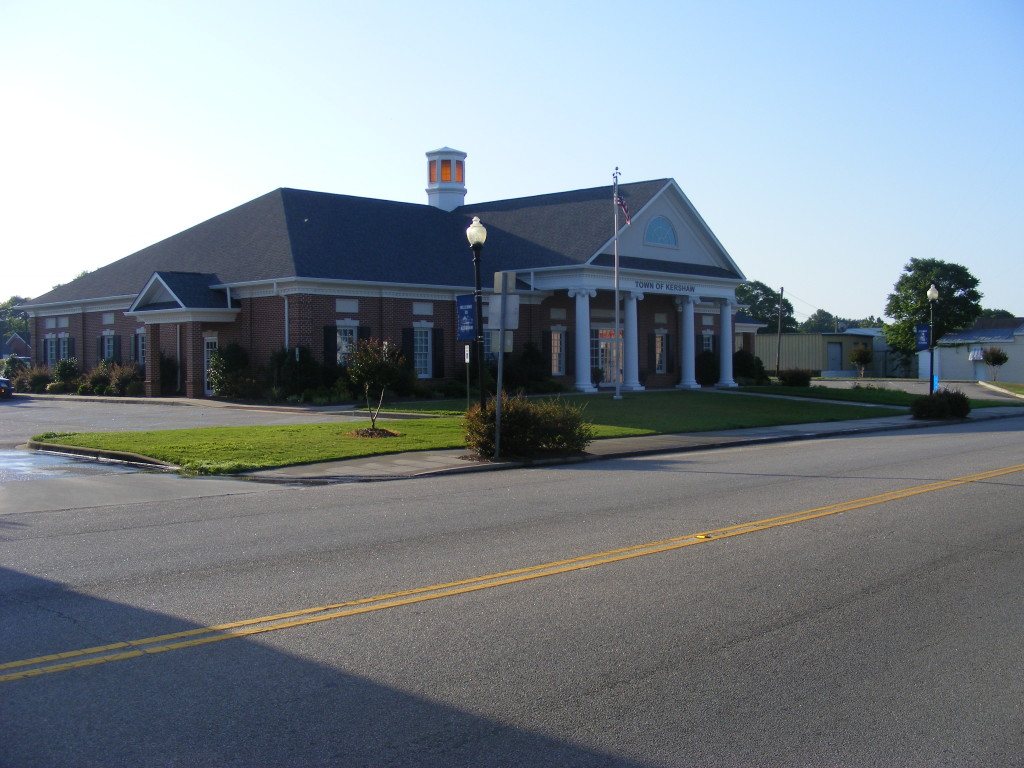 18 juni – 21 juni North Carolina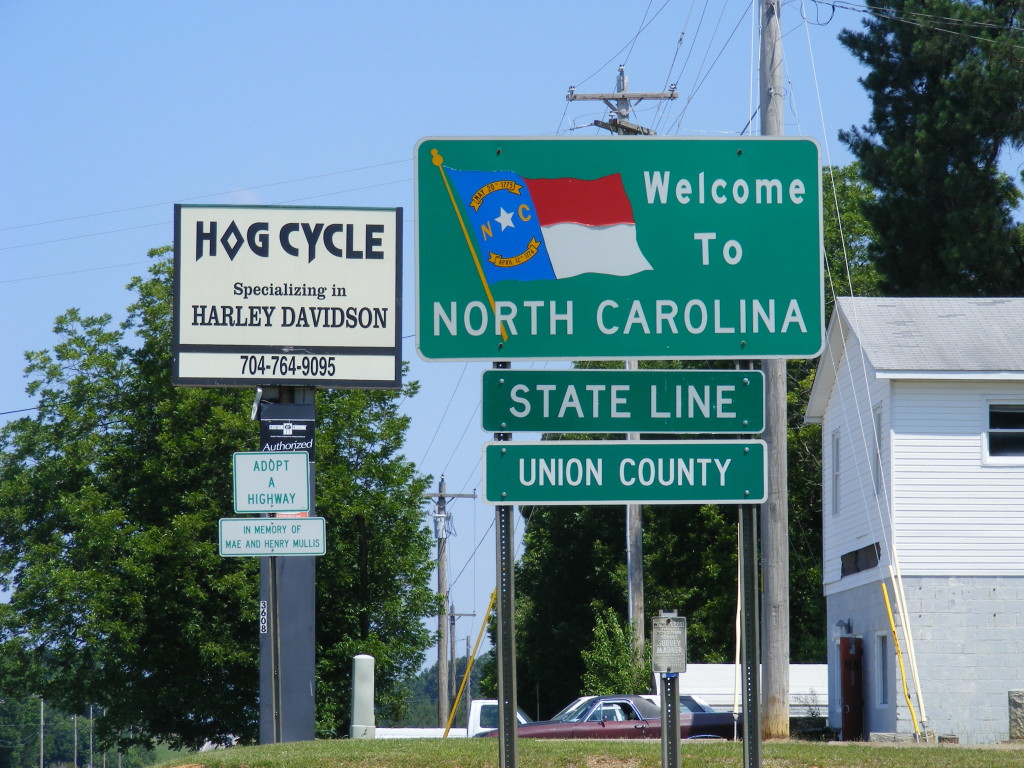 I followed Rd 601 further north. Not much happened these days through South Carolina. It as hot. I stayed at Knights inn in Monroe. It was to hot to stay outside.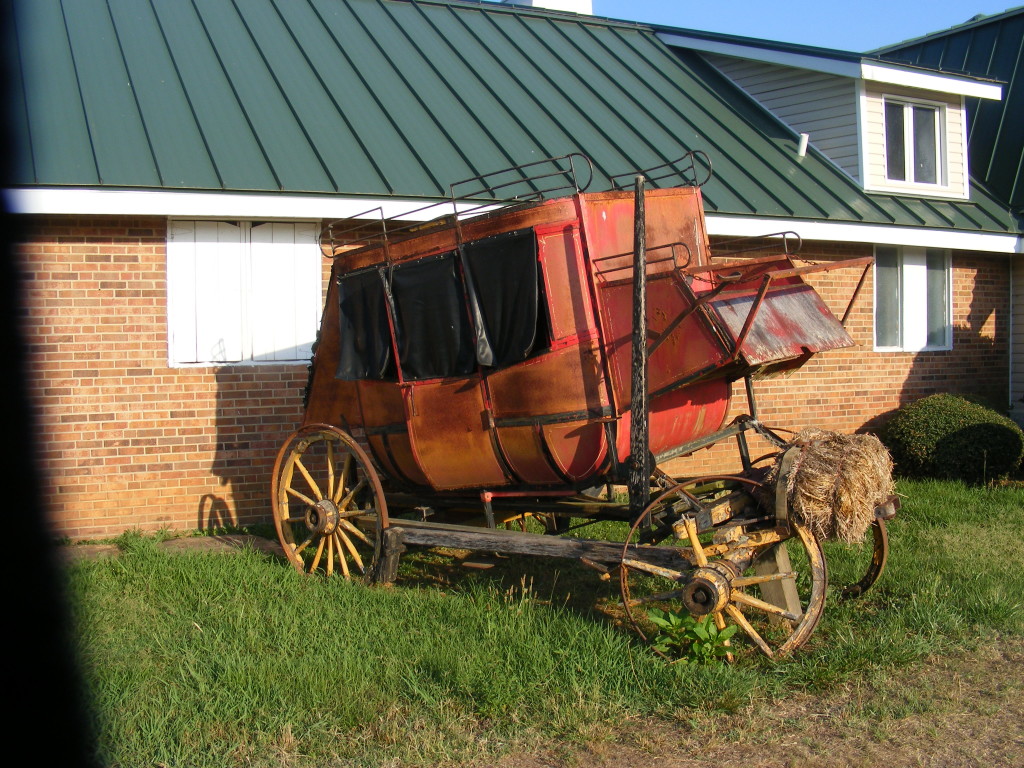 A old wagon on a farm, specialized in arranging bridal transports with horse wagons.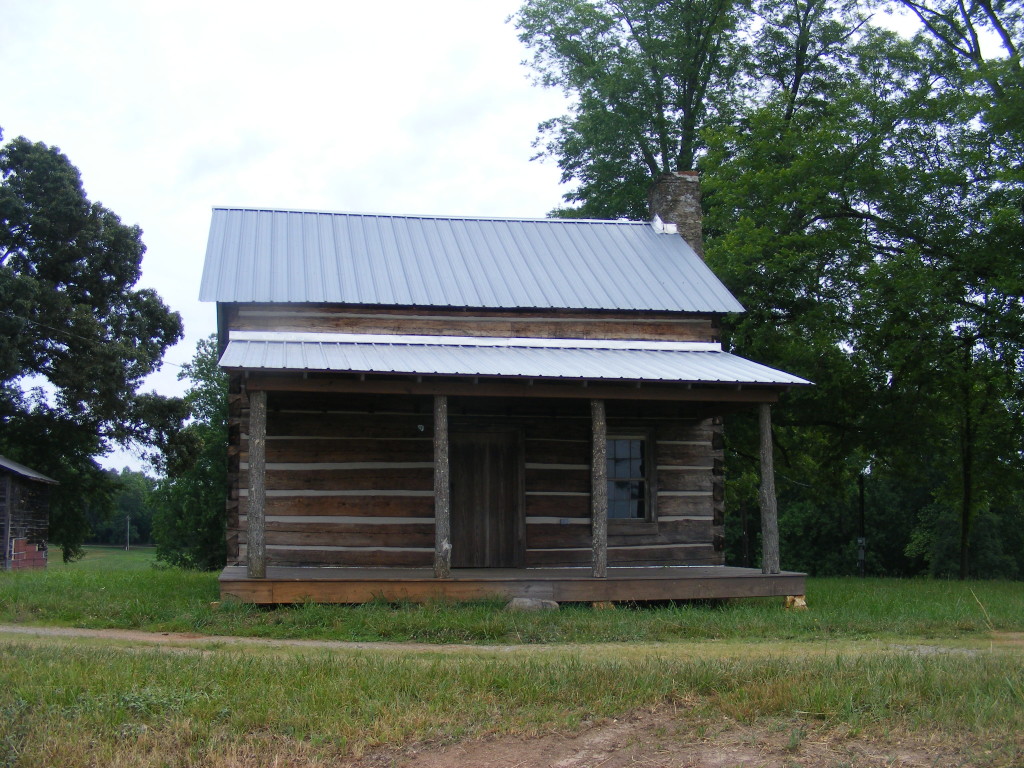 I stopped at a "convenience store" and began talking with a man. He thought it was an awesome trip I was doing. He was himself a cyclist, so I took the opportunity to ask if there was a bike shop in Salisbury. He called his friend who knew more and, yes, on Main street there was a store. I hurried on and came after some wrong turns to Skinny wheels bicycle store. They straightened up my front wheel. There, I also met David Freeze, a long-distance cyclist. We started to talk and share experiences and tips. It turned out that he cycled from Maine to Key West last year. He had also written a book about that trip. he gave me a copy
I came to Mocksville after 134 km. Tired hot and thirsty, I stayed at a Shell station dringing some cold beer. I was seriously thinking about hide my tent behind some bushes there. Sitting there resting when the deputy sheriff Dave thought his car. Oh Swedish he says, seeing my flag. Oh yes, he had been in Stockholm for more than 20 years with his father, who worked at the Volvo Truck worldwide. By the way, I'm going to sleep here, I say. I think you should ride a few km, Dave said. This will take you to an abandoned residential area with only one house. Stay there.
I biked there, put up my tent on a deserted plot. Then Dave returned with a colleague. "This is the guy" he said to his colleague. At the same time John saw me from his house. We talk for a while, police said if it will rain tonight we come and take you in so I do not get wet. Police left me. I ate my tasteless supper. Then John came back with his big car. Said, better you sleep in our garden there are both snake and mosquito here. Yeah, so, without further talk, we took all of my belongings threw everything into the car. That night I slept in their garden. It did not rain but lightning and thunder in the distance.
Now in North Carolina road 601 was hilly. It was often slow uphill cycling and fast downhill runs. I came to Dobson around lunchtime. Sat on the bike was thinking about where I could buy a light lunch when Chuck stops me. "Can I invite you to lunch," he asks. Of course you can, I said more than happy. It turned out that Chuck and his wife was a retired teacher but nowadays RV owners. Then they stopped working, they run around in the US for watching birds. We talked a long while before I continued.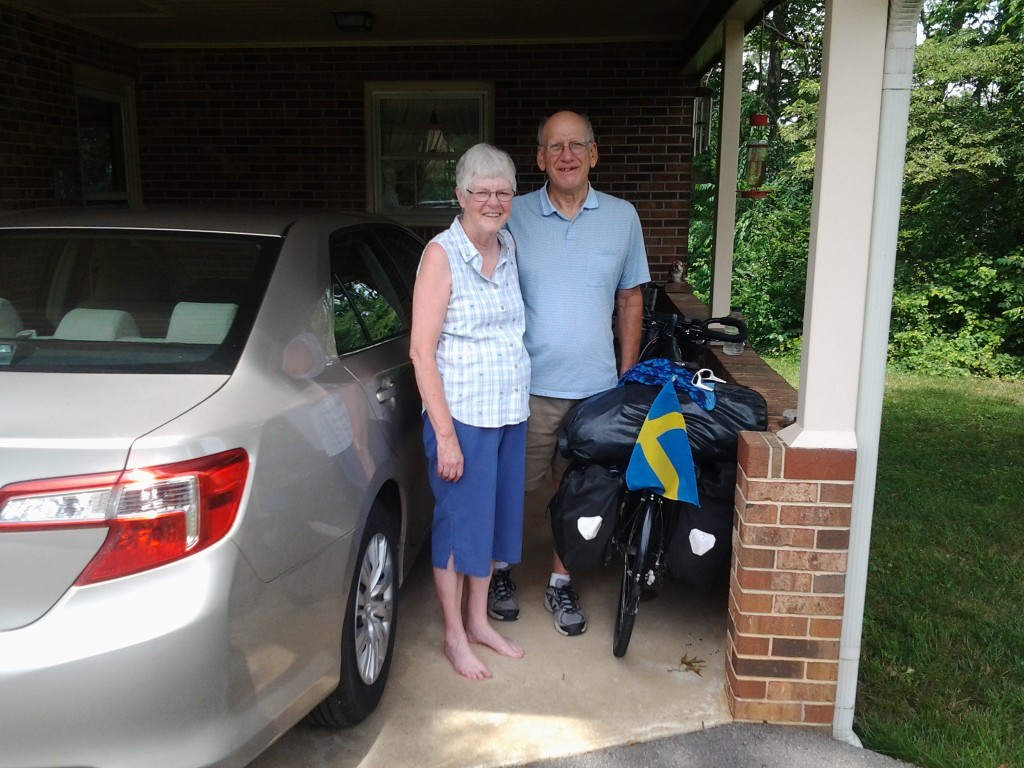 I came to Mount Airy just to stay out of a church to hide from the rain. It soon stopped so I continued. From Mount Airy, I took the road 104 and 614. And it was a challenge. From 400 to 950 meters above sea level to 10km.
My pacemaker went on full speed on the last climb to Blue Ridge Parkway mile mark 182. That meant that I had 182 miles to Afton and Skydrive.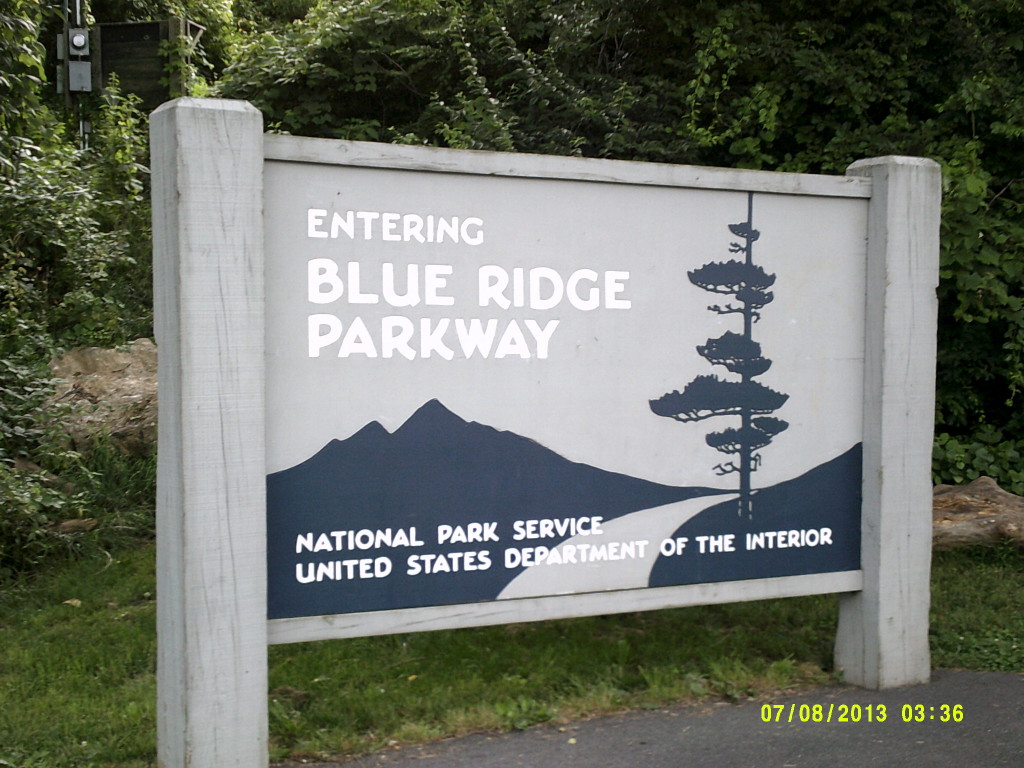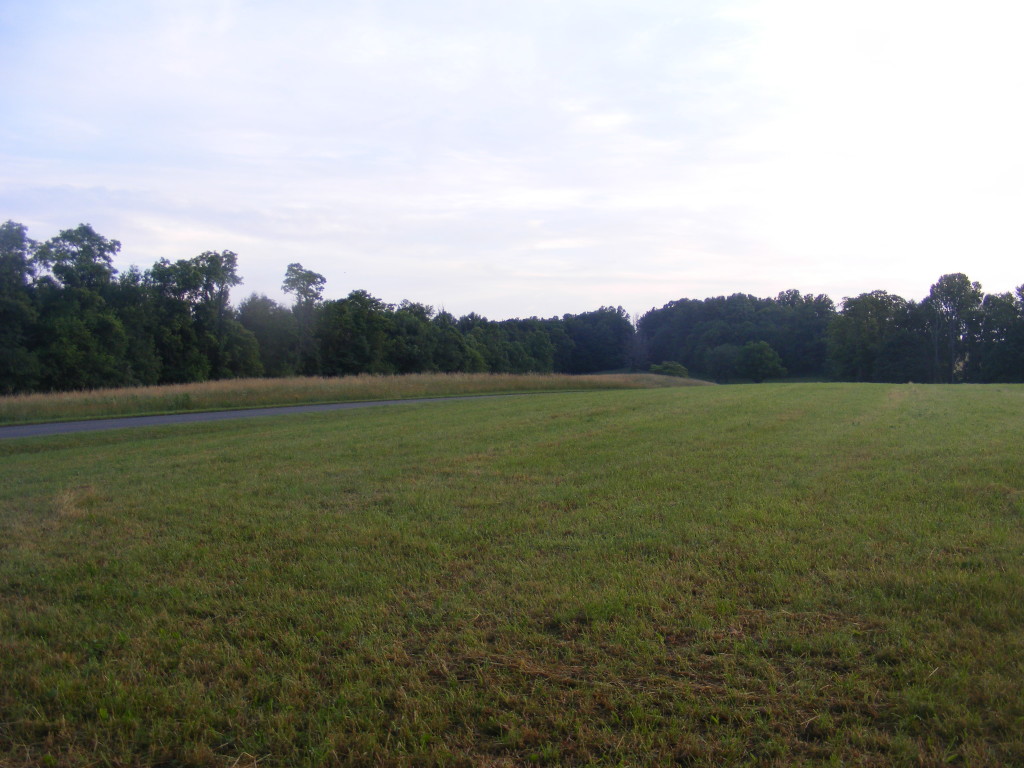 22- 24 juni Blue Ridge Parkway and Skydrive
It was a long uphill which took hours to get up. Luckily it was also long downhill that took minutes to roll down. I really struggled to get up. The bike felt heavier for every hour of the day. My pacemakers did not pace up the beat, my legs ached. Had to stop often. Thinking of throwing the bike and take the bus to Boston. But it was considered by the joy of rolling downhill in the 55-60 km / h. I stopped frequently to take in the amazing views. Far down there was the Great Appalachian Valley. I came to Roanoke after 114 km There I stayed at the Holiday Inn.
After breakfast at the Holiday Inn, I was looking me back to the Blue Ridge Parkway. The day was similar to the previous one. Infinitely long climbs and fast descents. This road is closed to all heavy vehicles. Therefore the path of cyclists, motorcyclists and motorists. Nature experience was outstanding. I started thinking about why this road was built and, of course, I found the answer later in the Wiki.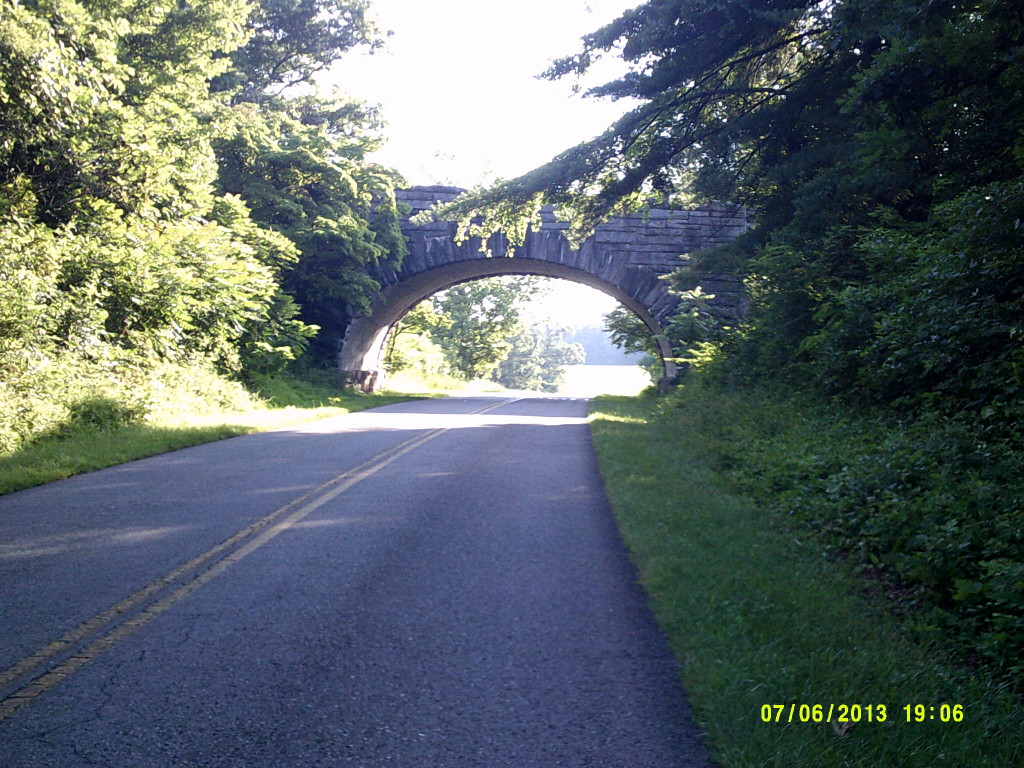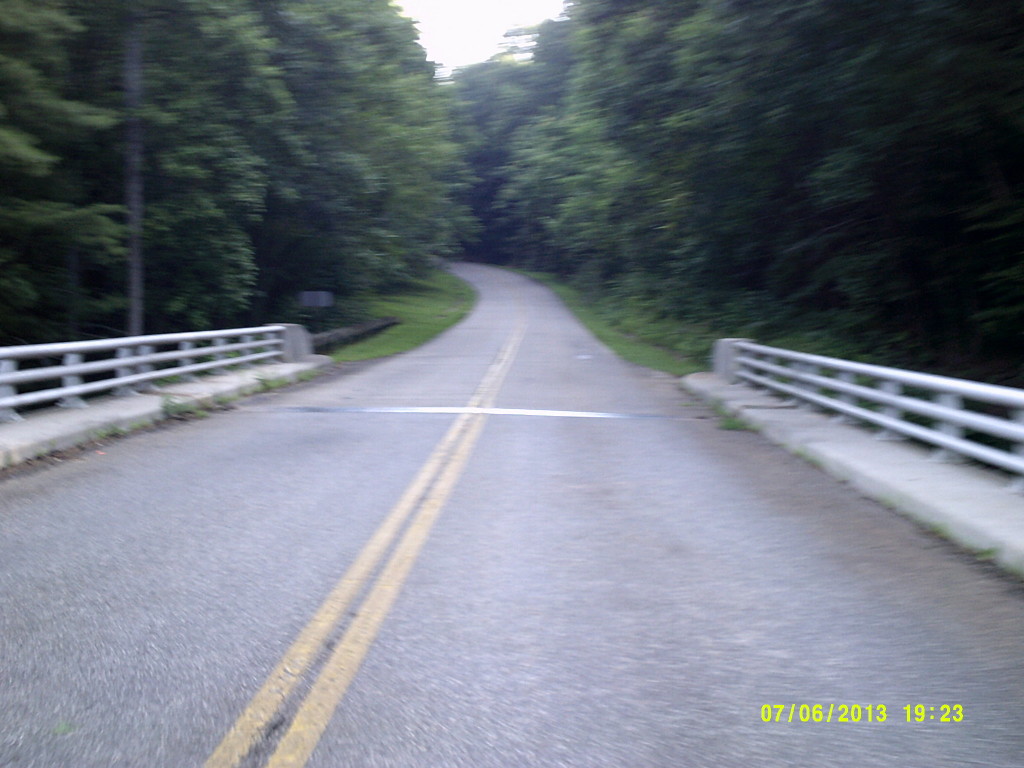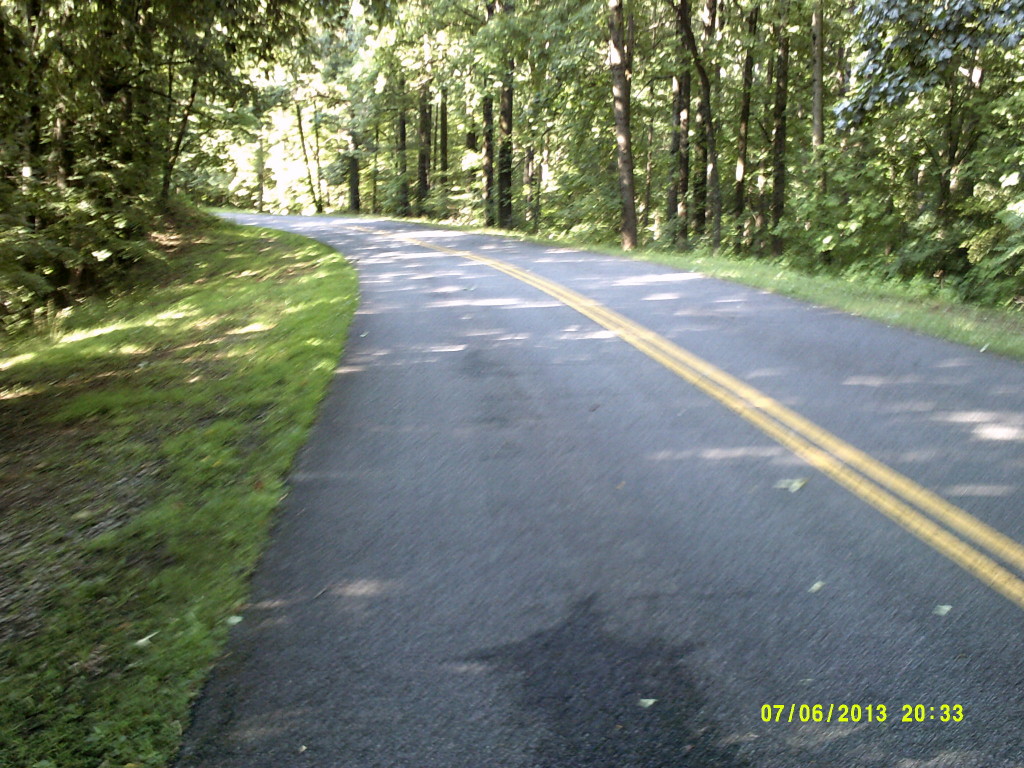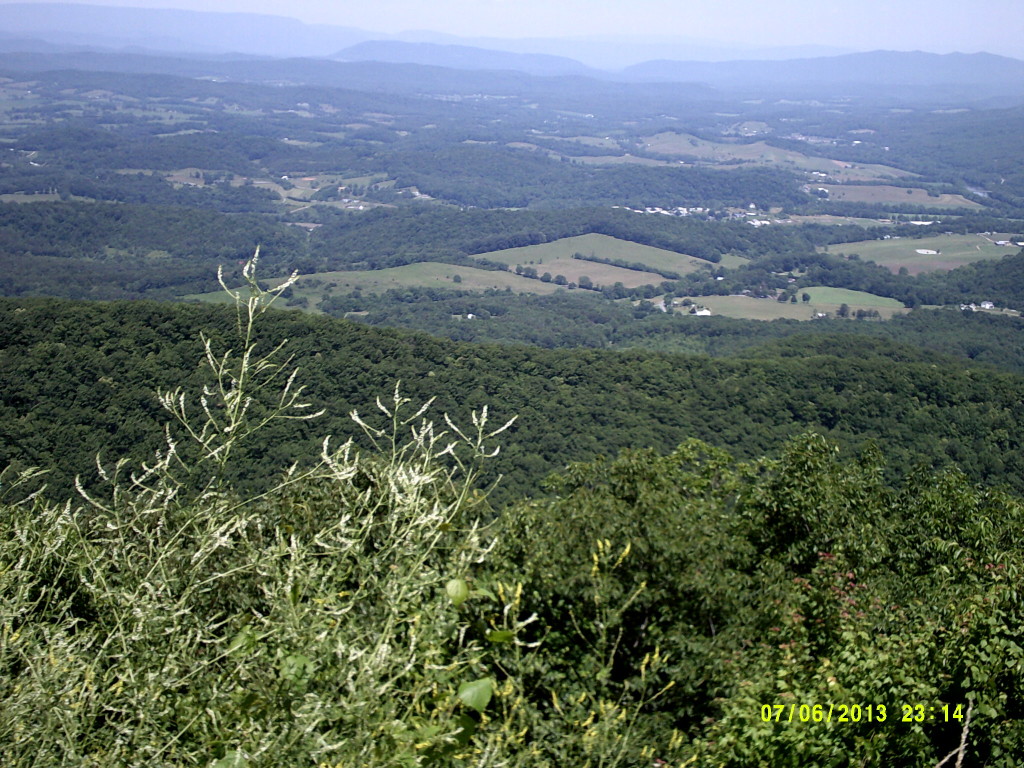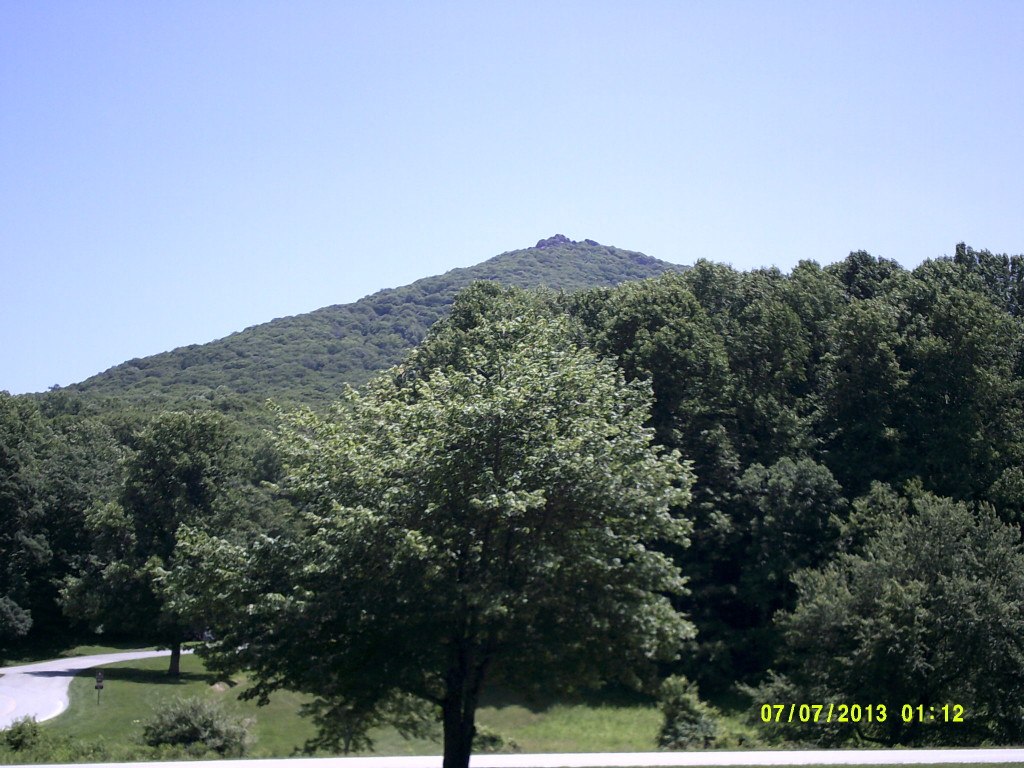 I met a lot of road bike riders. We talked of course about cycling. Somewhere here I met the first hikers who walked the Appalachian Trial. The first was interesting to talk to. The tenth was not as interesting. In the afternoon, one of the longest climbs on this trip. I struggled and worked hard. My heart pumping as fast as it could. My pace went down to 2-3 miles/h. For some moments there I thought about throwing the bike away and take the bus to Boston. But after the last downhill to Otter Creek, it felt a little better. I came to Otter Creek Camp ground after rangers left for the day. I took the opportunity of course to stay there without paying. In the evening I talked to a retired man who drove around with his camper. His main interest was the Civil War.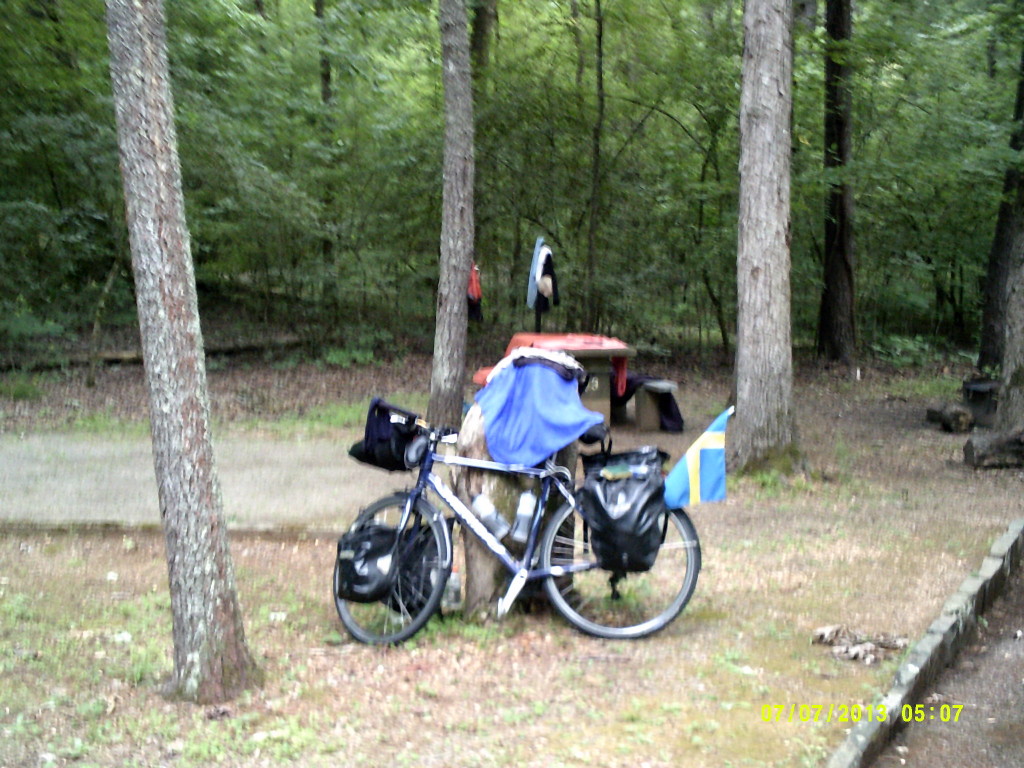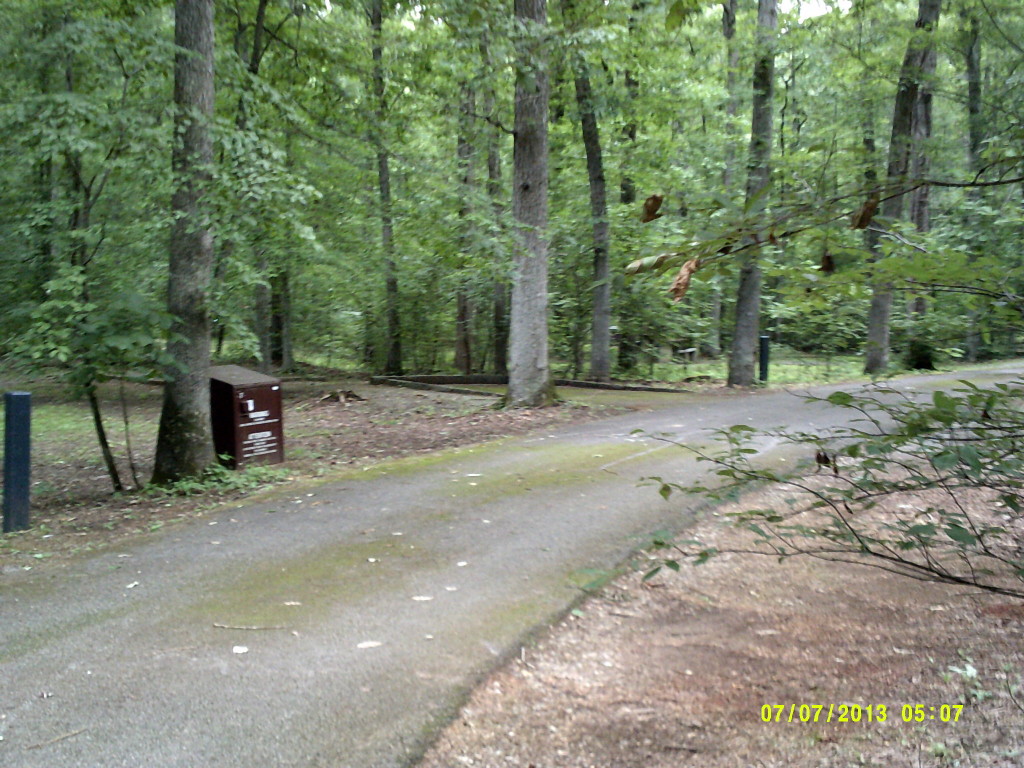 I left the camp ground very early without paying. Did not fell it was worth 18 USD to pay for concrete platform and mosquitoes.
I came to Afton and could continue on Skyline Drive. But first, I stayed that night in Waynesboro. I got a tip tha AT hikers could stay in a park and take a shower in towns YCMA.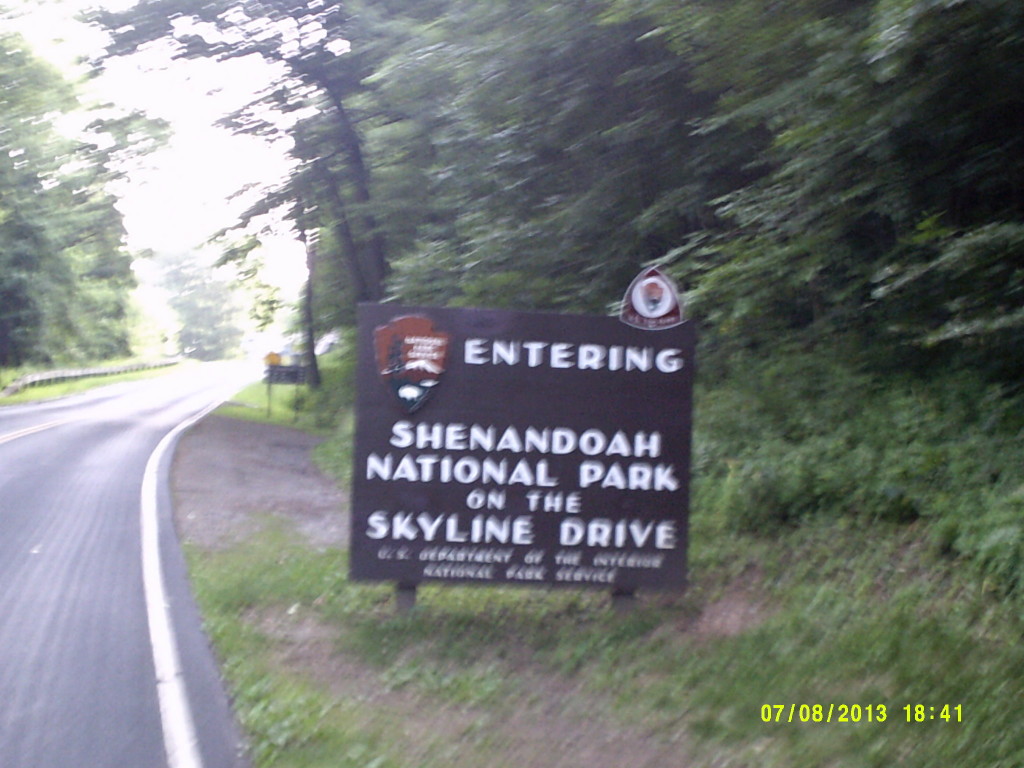 The day continued as the previous one with a lot of biking uphill and downhill. That evening I stayed at Big Meadow Campground. For $ 20, I got a place to pitch my tent and take a shower. The most interesting thing was that I was recommended to put all my food in a bear-proof cabinet. Thus there were bears there in the woods. That night a storm rolled in over the campsite. Above the tent thunder and lightning.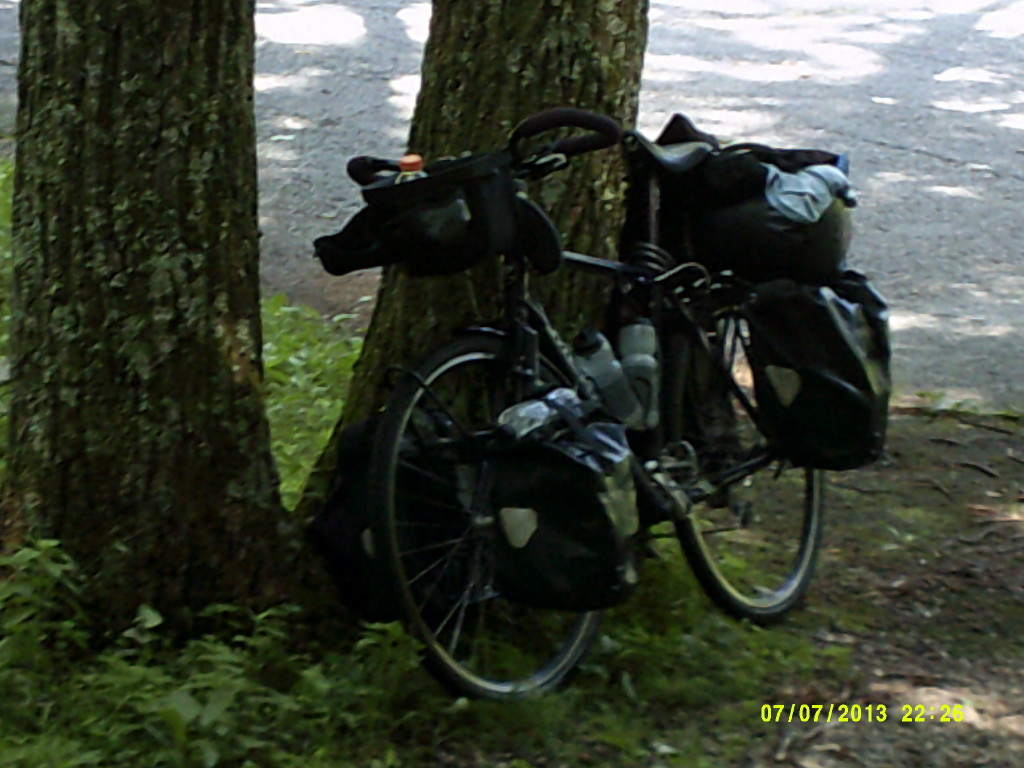 This was interesting. This rail road was built for transporting logs to the sawmills in the valley. I can't remember the numer of much but it was a lot. Later on because of road transport they where abandoned.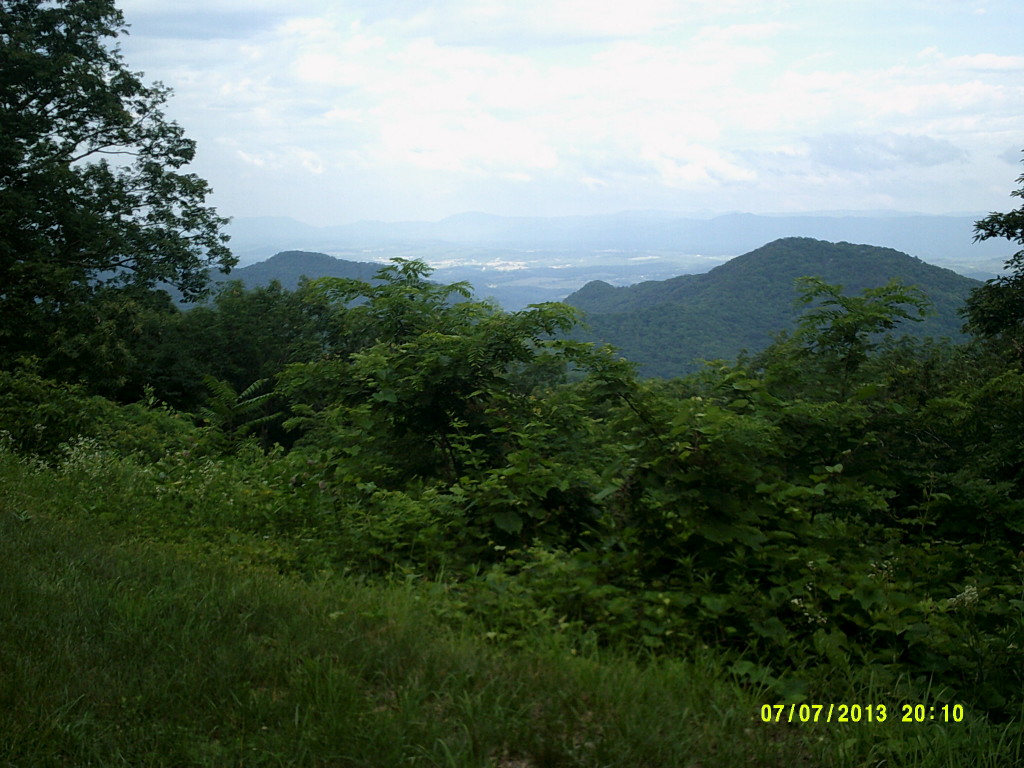 Next day I came to Front Royal after a long downhill ride of 16 km. I stayed at Super 8 motel. Oh what a relief to get into the cold room.
From Afton I continued on Skyline Drive
June 25 to June 29 Amish county
It was cooler in the morning now when I started to get closer to Pennsylvania. I was on the road to Harpers Ferry to get across the Potomac. It was not that good routing becuse I I came to
Brunswich instead, located 40 km east of Harpers Ferry. There i stayed at Brunswich family campground.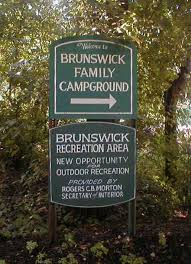 It cost $ 8 but they forgot all about me that night and I left the place early the following day without paying. There were a few good days of cycling in Virginia. I ended up on small rural roads which sometimes turned into gravel roads. Virginia has amazing views with large estates. I saw large horse stable and large residential buildings. It appeared clearly that I was close to Washington DC.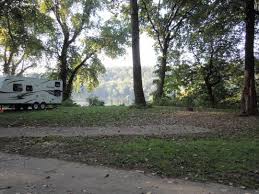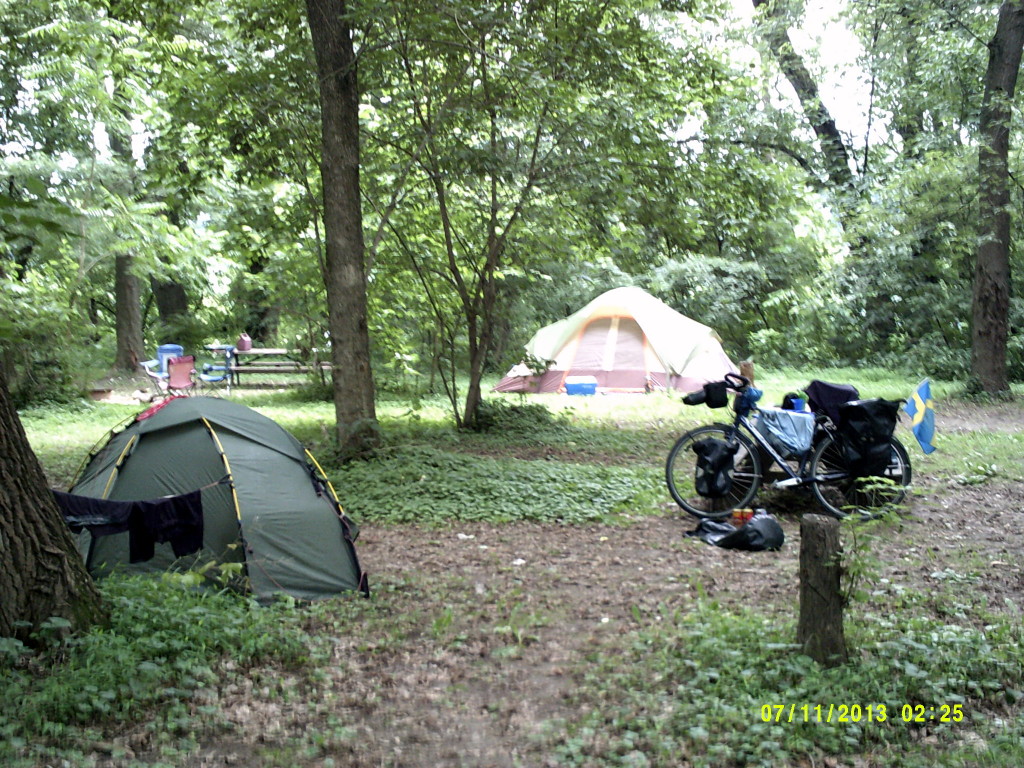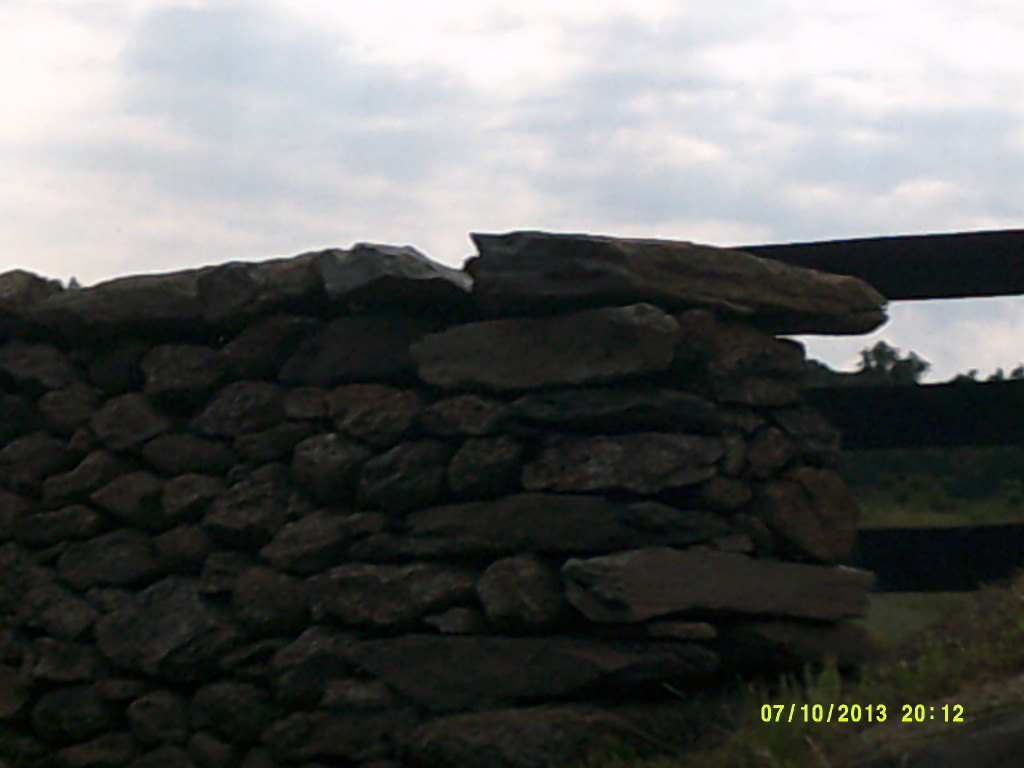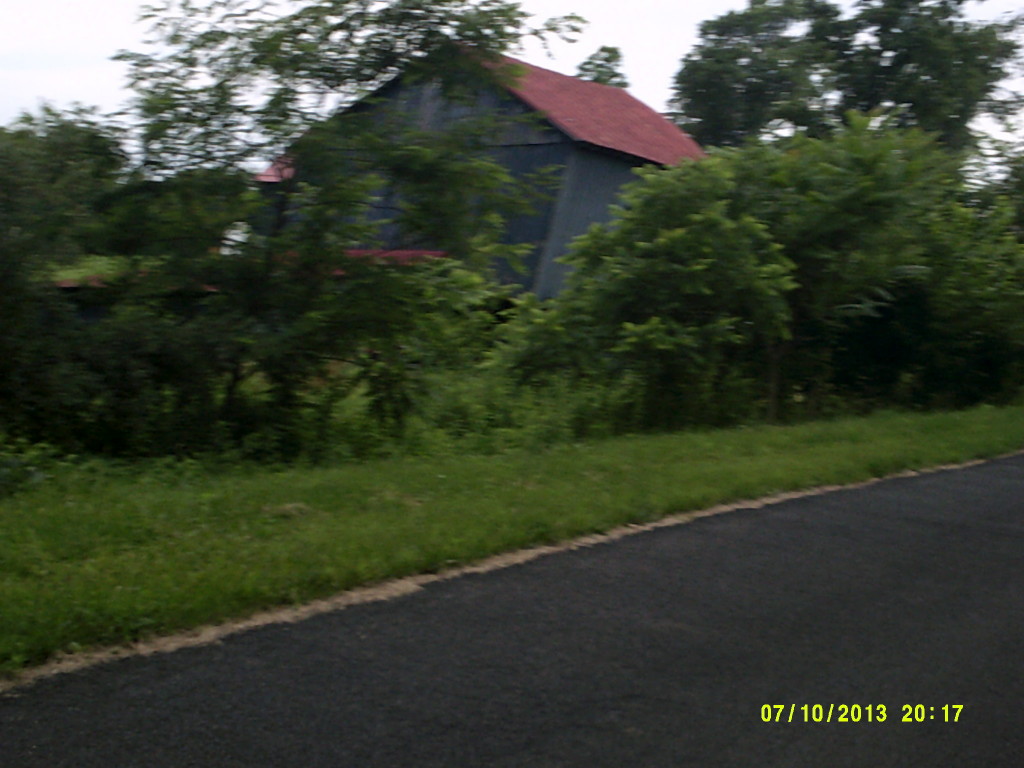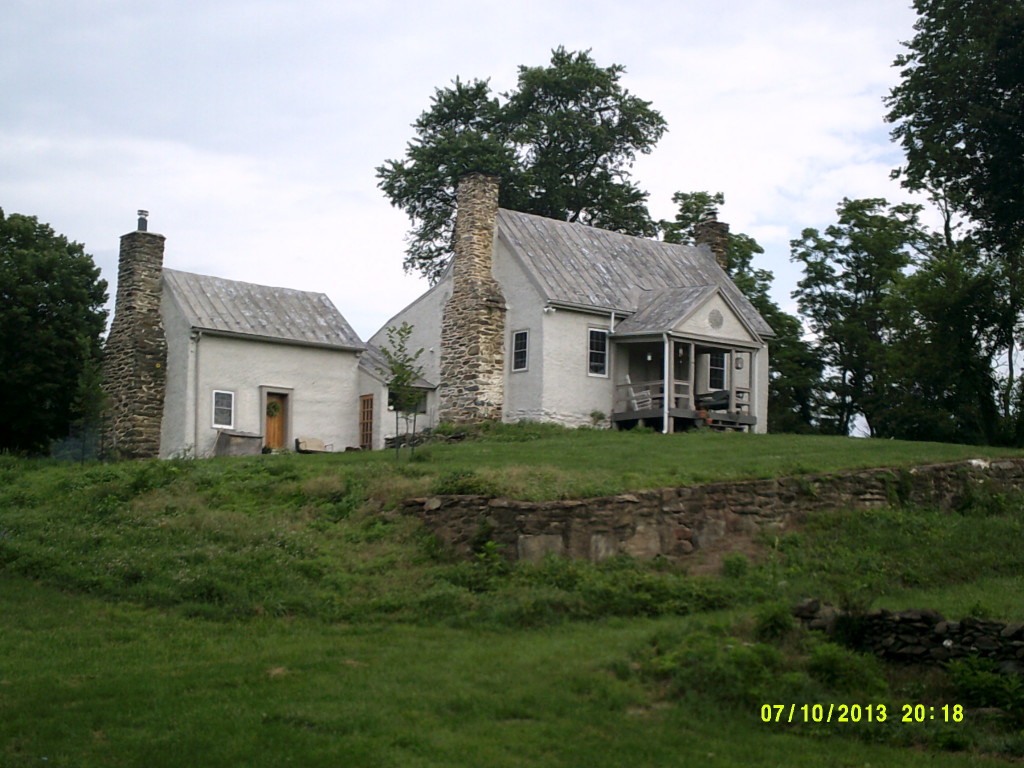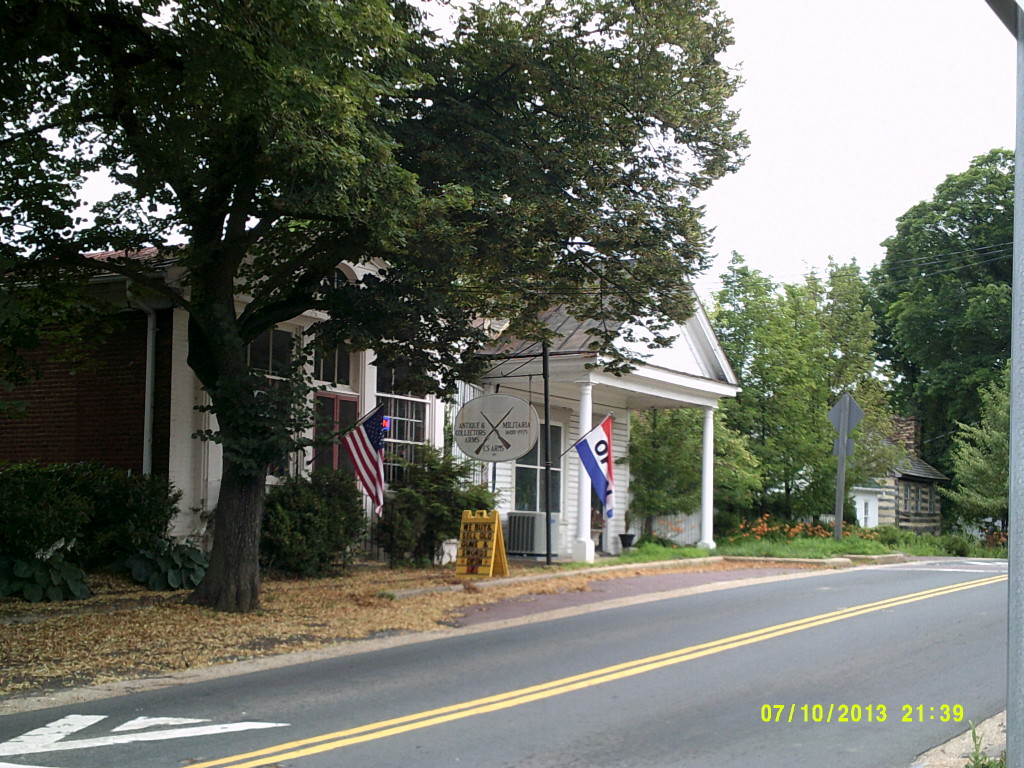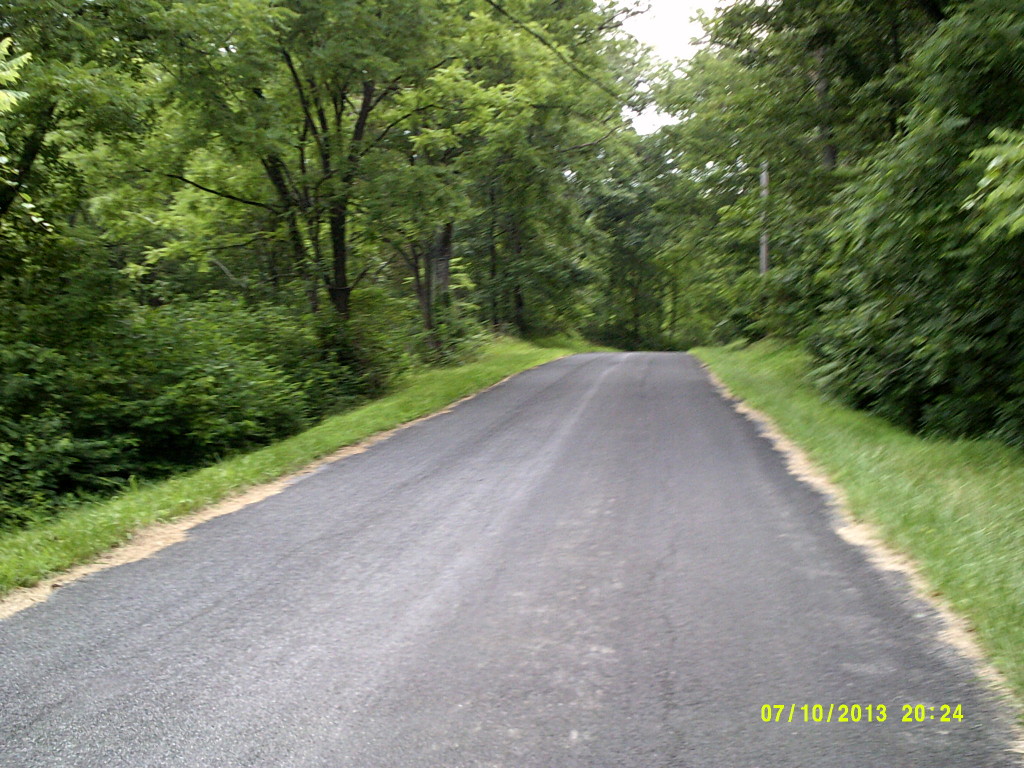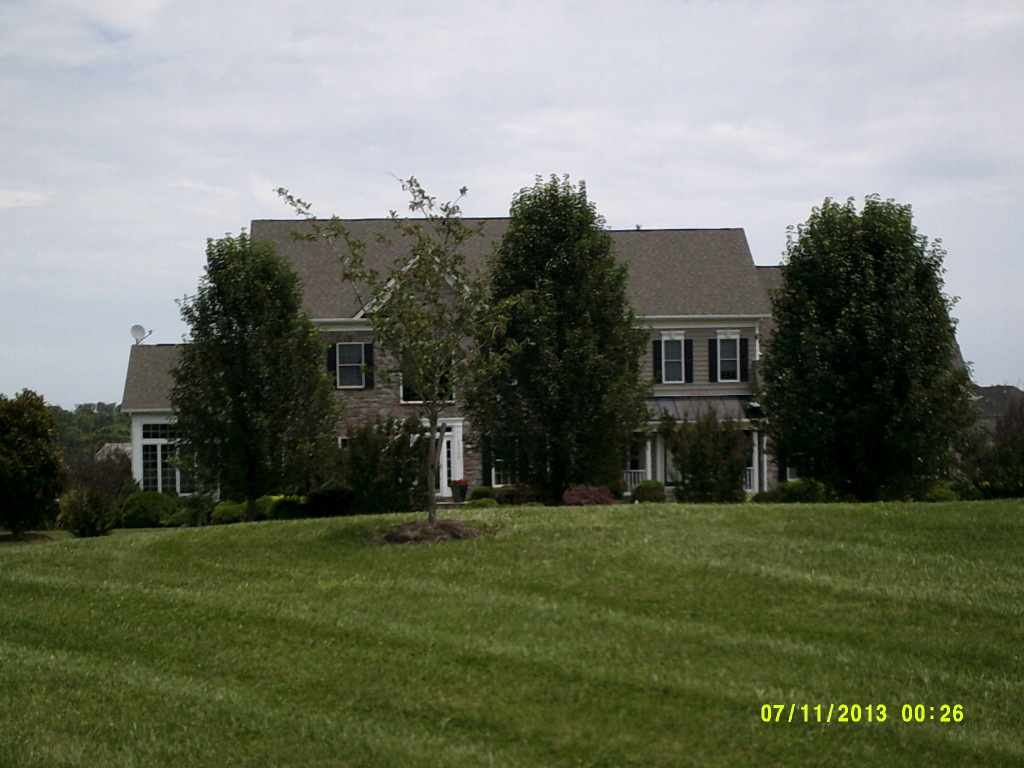 I came to Hanover in the afternoon. Hanover looked a bit worn out. It was getting late so the plan was to stay on Coderus State Park a little outside Hanover. There I met Kari Rouvinen.
He was in Ride Across America, but broke in Flagstaff. Because he would leave his mobile home in New York, he chose to follow the race anyway.
That night it rained. It started after midnight. It was raining when I woke up. I lay in my tent waited, and waited and waited some more. It got little better around 10 am so I packed up. Nurtured a small hope that the rain would stop. Started cycling towards York. But it did not get better,  on the contrary. It did not take many minutes until the clothes were drenched. My plan was to get through York and sleeping behind a country church had to be revised. It was Holiday Inn for $ 98. But it was nice to crawl into a warm bath. Later in the evening I went to Quaker Steak and Lube.
A remarkable experience. It was reminiscent of a gas station with old cars and motorcycles hanging from the ceiling. All decorated with number plates. The food was average but the local summer ale, was better.  The rain stopped in the evening so I could continue the following day with dry clothes. The goal was to come to Lancaster and see a small part of the Amish culture and food. It was a Saturday and everything seemed fully booked. had done some research on the motel in York. So it was just that I stayed at Plain & Fancy Farm Restaurant
I ended up with a family from New Jersey. We had interesting conversations about the Amish, biking, USA and Sweden. Amish food is appreciated by the visitors. Most, I think, because it is naturally cooked with simple tastes. I thought it was very similar to Swedish fare.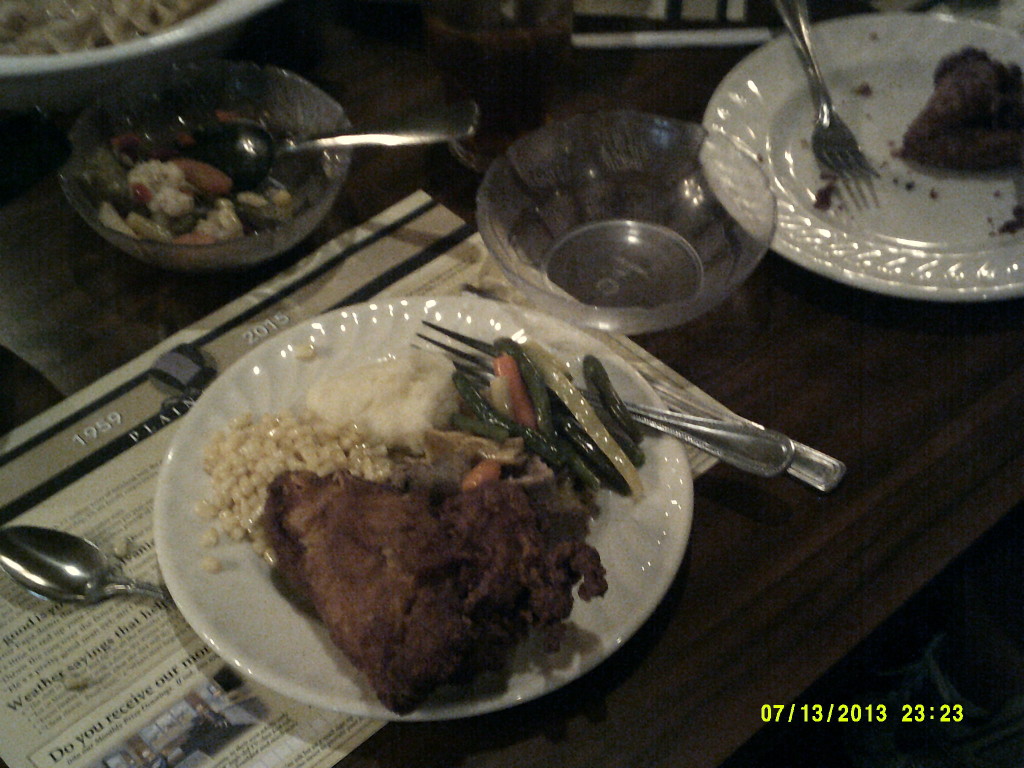 Obviously, I saw that the Amish do not use cars, but still drove their horse carts. However, these are modern with lighting and disc brakes.
Note the dark asphalt, it is worn by the horses' steel shoes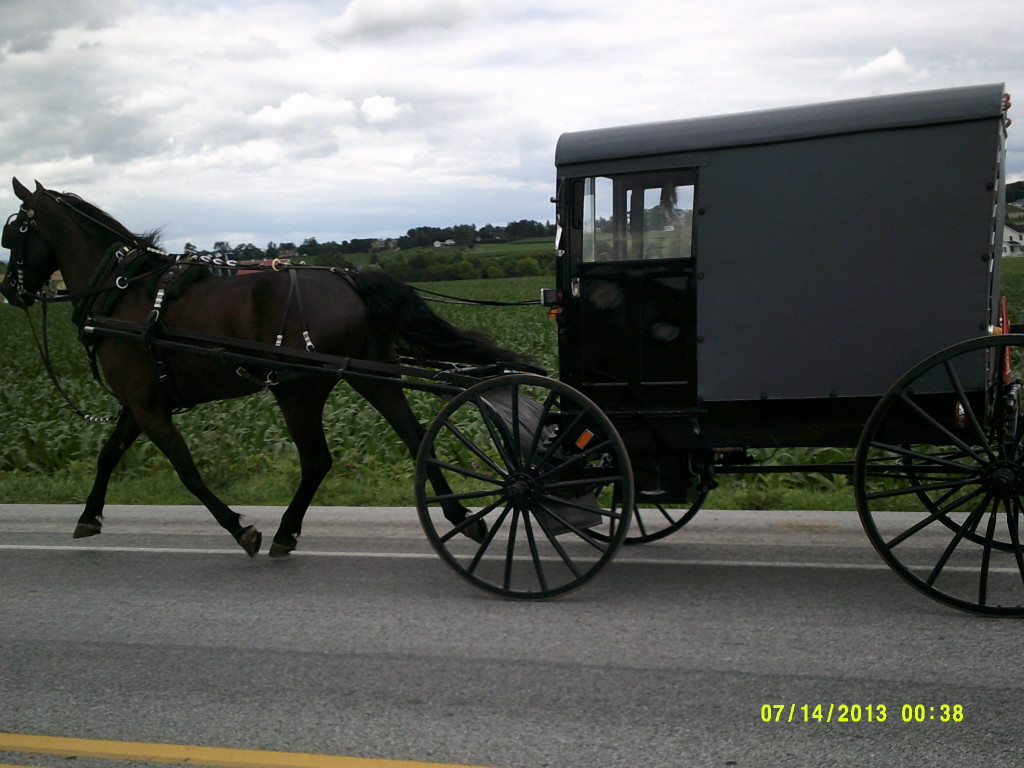 That evening, I thought stay in Hibernia Park. But that did not happen. Instead, I ended up behind Cornerstone Fellowship Church in Coatesville.

It was an exciting evening. It was Sunday evening. The mess was finished several hours earlier. But it turned out that a family booked the church for a children's party. A lady with a dog saw me, so I waved to her. My tent was between two storehouses behind the church. The children ran out onto the lawn to play, grass behind my tent on the picture. I got the feeling that they did not see my tent. Otherwise, someone should come forward to ask what I was doing there. In the darkened brandished a car up to the storehouses and the light shone straight into the tent. Even when they seemed to discover me, they did not. Finally everything calmed down and I could fall asleep.
Monday morning and a new day ahead of me. On small rural roads, I came to Jacksonville. Not the big on in Florida. This was a small agricultural village with barely 100 inhabitants. Again, I used the church to get a good place to pitch your tent. Water and electricity were from gym house.
30 June-1 July The rainy day
It was one of those days I did not like it when I cycle. It rained on and off all day. When I had cycled one hour it started to drizzle. Well, little rain won't kill me, I thought, and went on. But it got more intense. I found shelter in a horse stable for 20 minutes. Continuing cycle for  hours.I stayed for lunch under a farm shop roof. And there I stayed hree hours. It poured down. I rested and lept for for a while. When the rain slowed down a little I continued for ten minutes then paused again in an entrance of an abandoned business premises. Continues for a while. Pause on the porch of a couple that looked friendly. Now I had biked 40 km and was three o'clock in the afternoon. Now it was a long cycle and I could cycle 30 km. That night I slept on the backside of the United Lutheran Church in Brodheadsville. My tent under under a small roof at the back door. Luckily because it rained through the night.
The rain stopped early in the morning and it felt fresh air. It was alternately cycling with a lot of climbing with downhill. Not to long or challenging only alternately. I followed the Delaware River and rode through the Delaware Water Gap Recreation Park. There was a path that went further into the park parallel to the road. I tried it a few kilometres but hurried back to the asphalt. It was too heavy.
I came to the Delaware and Hudson Canal County Park in Cuddebackville. It was a popular park for the entire evening came and went families, joggers and dog owners. But finally it was empty and I could put up the tent in their rest place under roof. Up early the next morning to get away before the staff came with demands for payment or other unexpected. It was a bit unexpected. When I was about to set off came the curator on his golf cart past. We cheered, and he disappeared. Then he came back to see if I was ok. Would need some water, I said. Come here and we'll fix it. We went to his office / kitchen. Then he wanted to serve coffee and so it was. But it was an interesting conversation. He taught me the expression TPT (trailer park trash). He was a bit anti-African-Americans, and especially young people. Would move to Fort Mayer Fl. An interesting person.
June 2 to July 5

The

great disaster
In Wurzburg, I took right towards Bloomington. I noted that there were kosher shops in the center of Bloomington. Then I saw that it was hassidic jews.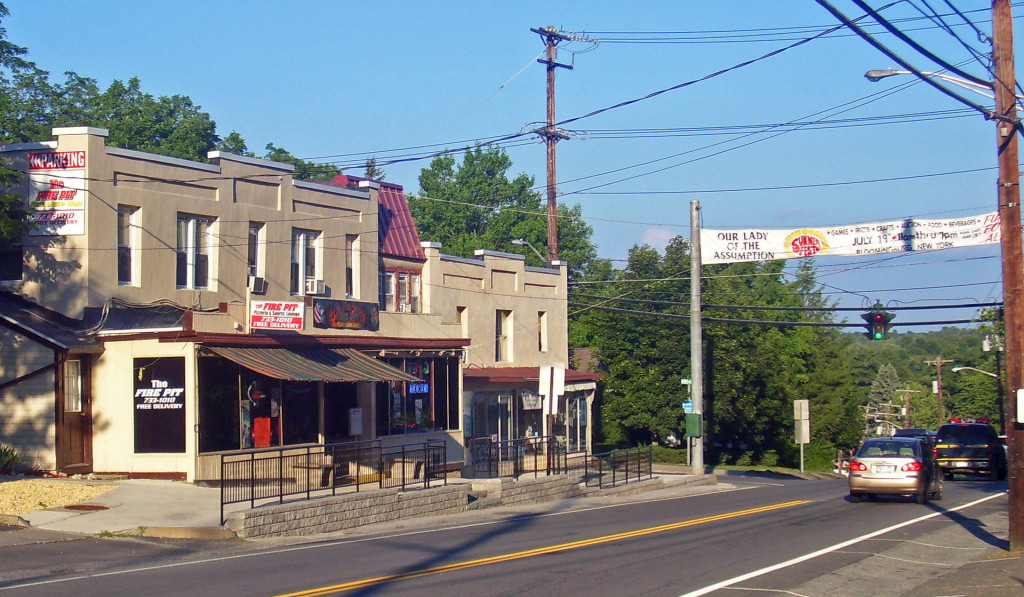 Between Bloomington and New Waltz it was incredible beautiful with the mountain in the west.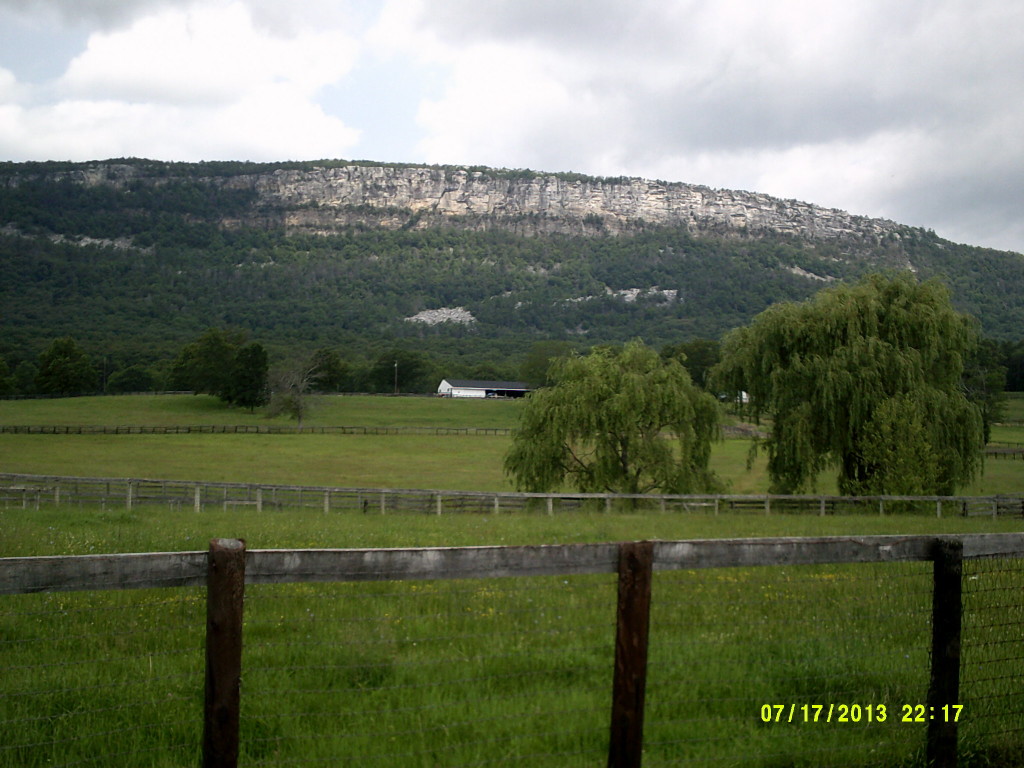 I came to New Waltz in time for lunch. Suddenly I saw that The Gilded Otter, a micro-brewery with a restaurant. I took the opportunity to try their summer ale, it was approved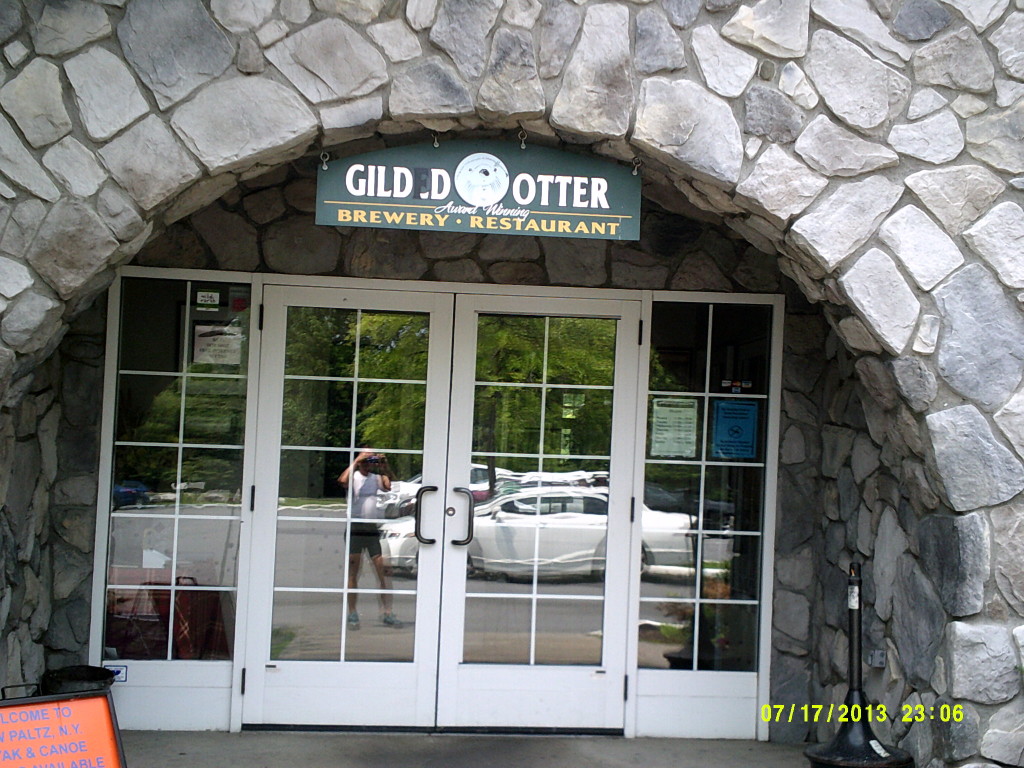 I came to New Waltz in time for lunch. Suddenly I saw that The Gilded Otter, a micro-brewery with a restaurant. I took the opportunity to try their summer ale, it was approved.
Here I bought a buff because I thought I had lost the one I bought in Waynesboro. In Lloyd I came to the Hudson Valley Rail Trial and had a nice ride to Poughkeepsie. I came to the walk bridge over Hudson river. It was the old railway bridge before it was renovated. I stayed in the middle of the bridge, took some pictures, talking to a municipal employee environmental inspector.
I rolled on the Rail Trial now known Duchess Rail Trial. Who meant I do not know but the county was named Duchess.
 It is now the great catastrophe came. Quite pleased to have four days left, I wanted to take out extra money from an ATM. I was in in Pleasant Valley, I came to a bank with an ATM. I put my card in the slot and followed the instructions on the screen. Surprised, more surprised and angry when I realized the machine took my card and did not get any money. Went into the office, but no help there. Disappointed, I continued to Pleasant Valley center without coming up with a solution. I tried Chase bank for an international transfer, but they could not help me. I went to the next bank. Same thing there. The clerk mentioned Western Union as an alternative. Anyway, I here I opened an account if no other solutions I could transfer from my Swedish bank. I sat outside Dunkin Donuts and thought about a solution. Sure, western union, she said of course. I used the Dunkin Donuts Wi-Fi and transferred the money to my uncle's account and emailed instructions to him. Then I went to A & P food store to buy a six-pack of beer. Now I had solved the economic problem. I had previously scouted some churches in the city Centre to stay behind. But they did not work so I pitched the tent at the back end of Cady Recreation Park, fully aware if the police had found me they would not have been happy. But behind a house with woods behind the tent and Whappinger Creek it was a safe place.
One of the most surprising meetings was when I met Michael outside Charlotte's Restaurant in Millbrook. A Swedish emigrated and worked in the restaurant business in New York since the 70s before he took the bark Charlotte's. We talked a long time and he gave me fruit to eat during the day. I had plenty of time and could take it easy these last three days. I came to Torrington I had a good day on the bike. In Torrington, obviously, I campde behind a church, I continued to Shenipsit State Forest. In the evening I heard the 4th of July fireworks from Somers and other places. "What do you do on Bastille Day?" I asked a man I met on the road. "Nothing, it impinges the family, grills and shoot fireworks" Come to think of Norway's National Day, it feels a bit more meaningful.
Last night before arriving to Boston I came to Upton State Park. It felt good and bad that cycling experience 2015 is coming to an end. A little tired of the monotonous camping food I could make and oat meal. But nice to come home soon, I thought.
I took the opportunity to leave a memory in the forest to other hikers. As a token of appreciation to all the nice parks available in the United States.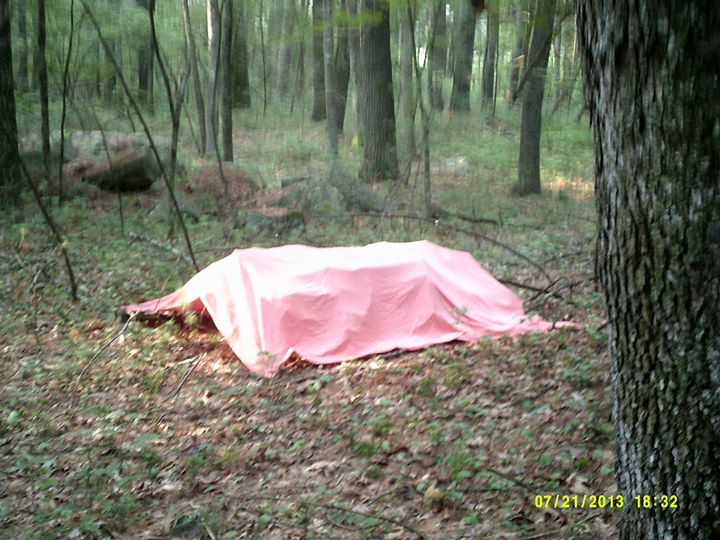 July 6 -9 July Boston
I was in Boston for four days. I walked a lot, eat a lot and rested.
First day after arrival I took the sub to Adam Smith Brewery. a little disappointed when I was told they don't make the lager in Boston but in New jersey.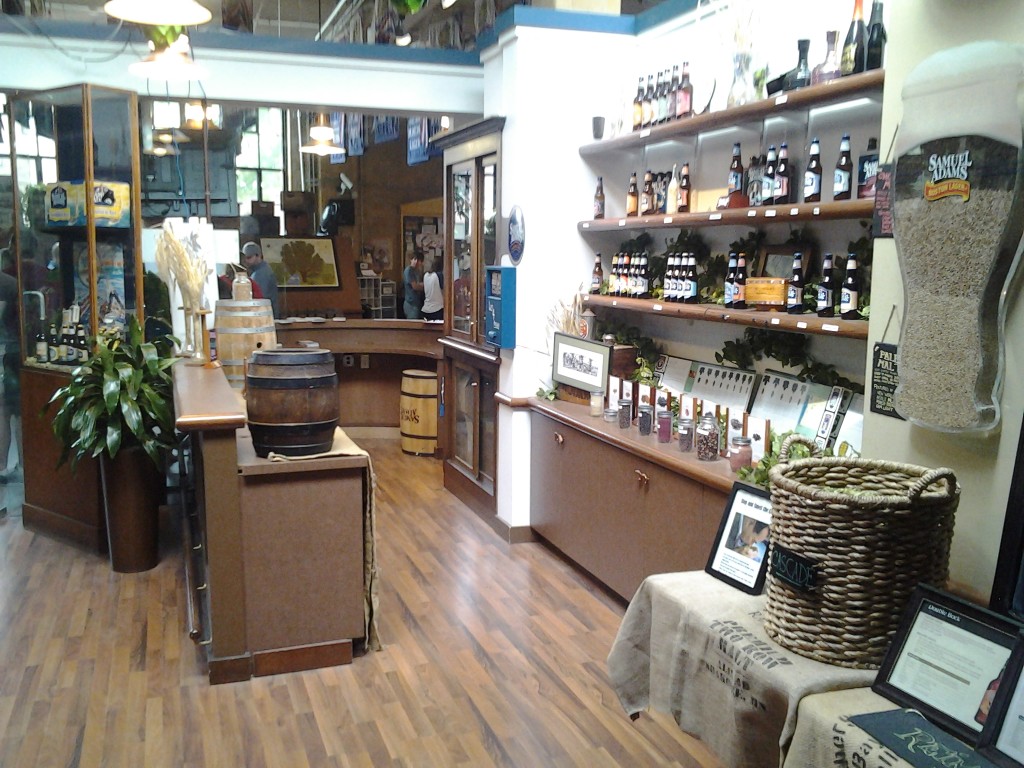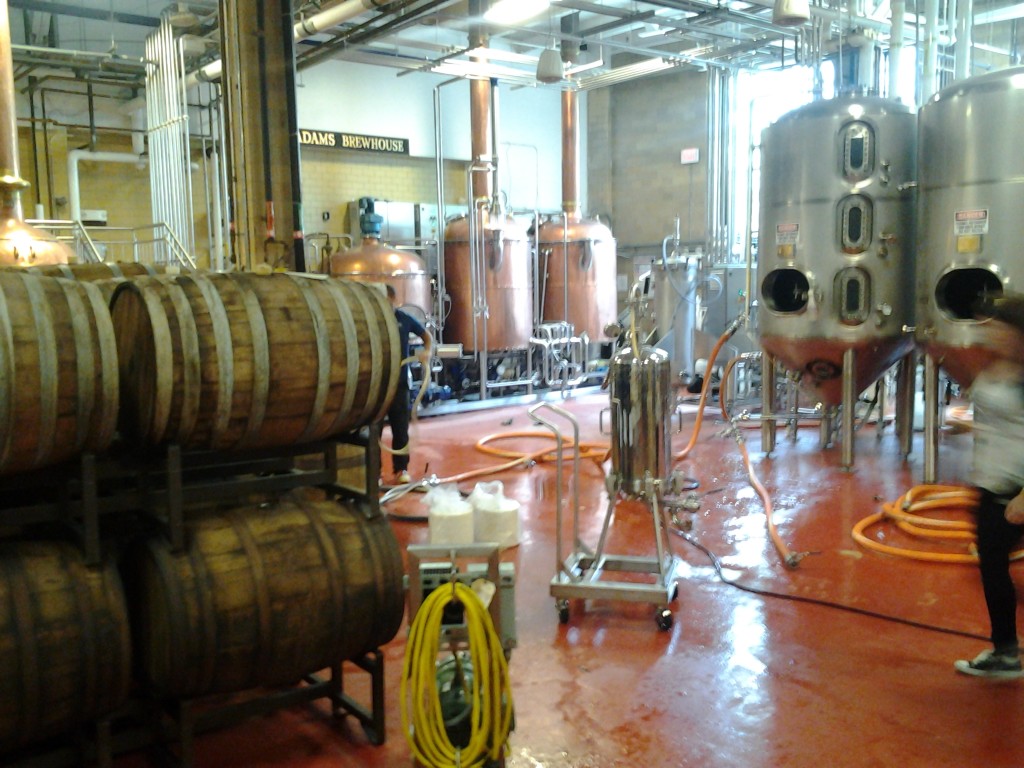 Next day I took care of my bicycle transport problem. I walked to Community Bicycle Supply Store at 496 Tremont St. They kindly provided me with a bicycle box.In the evening I walked to China Town to eat some tasty Chinese cuisine.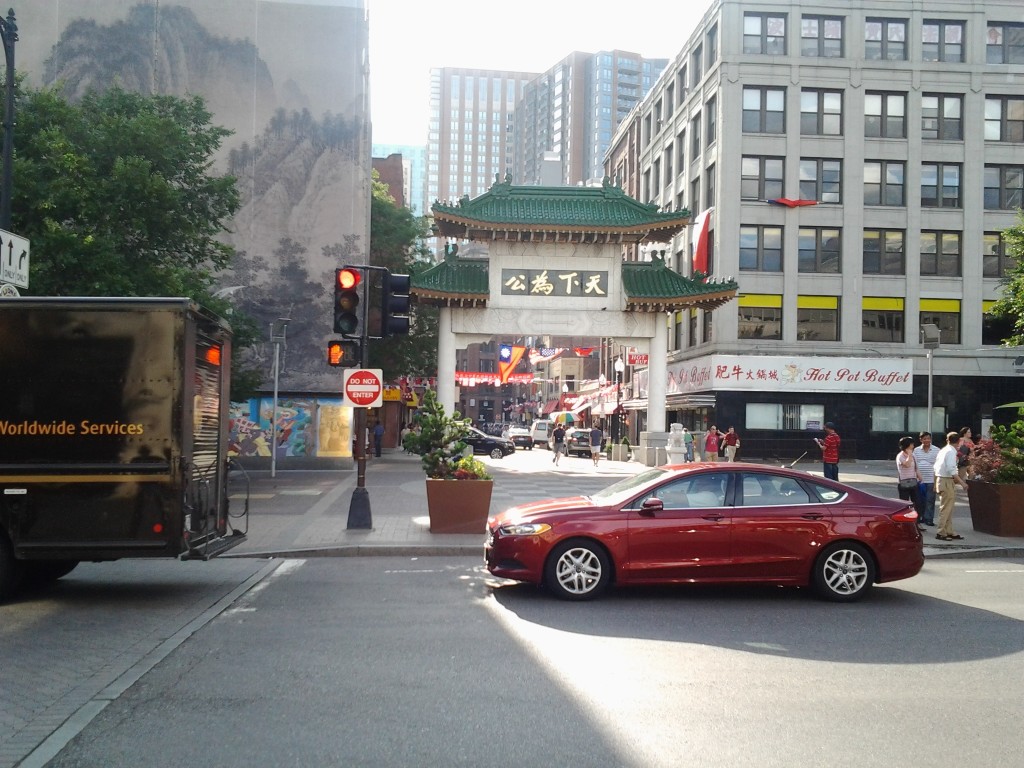 Third day I walked the Freedom Trial. Interesting historical walk in down town Boston.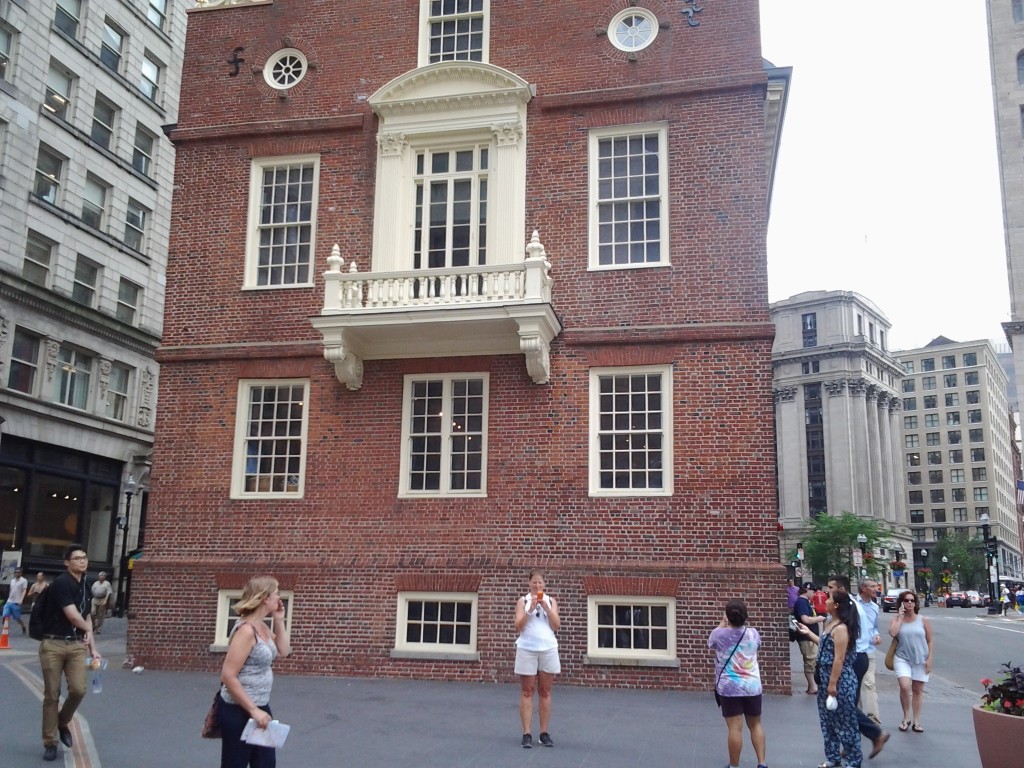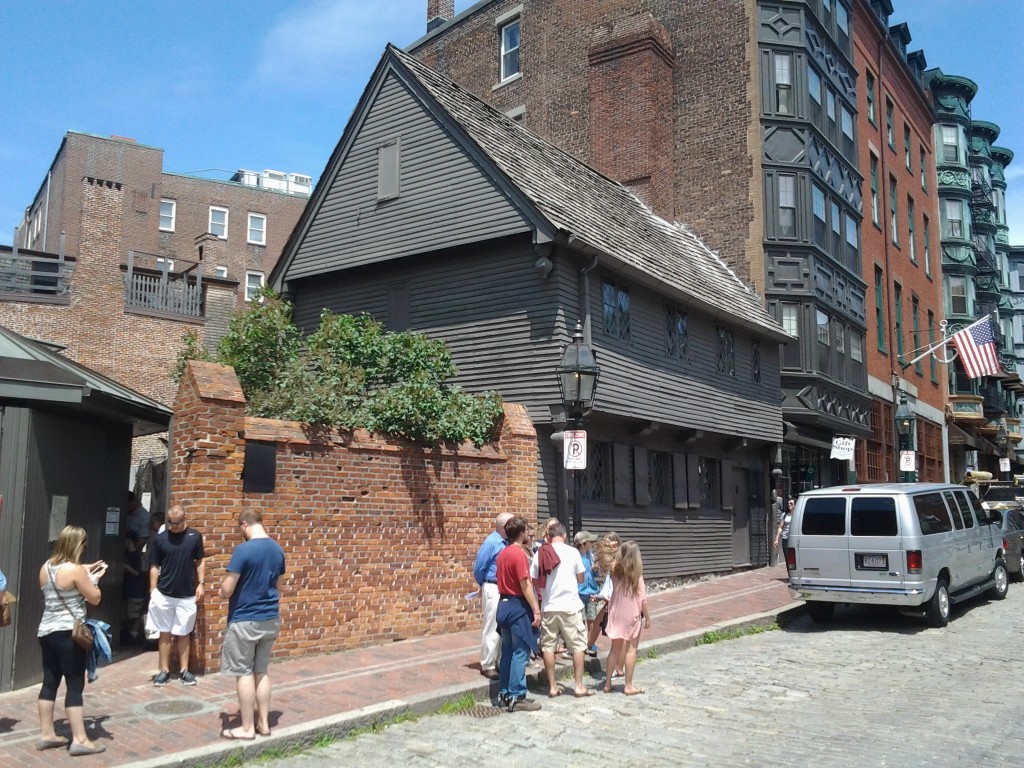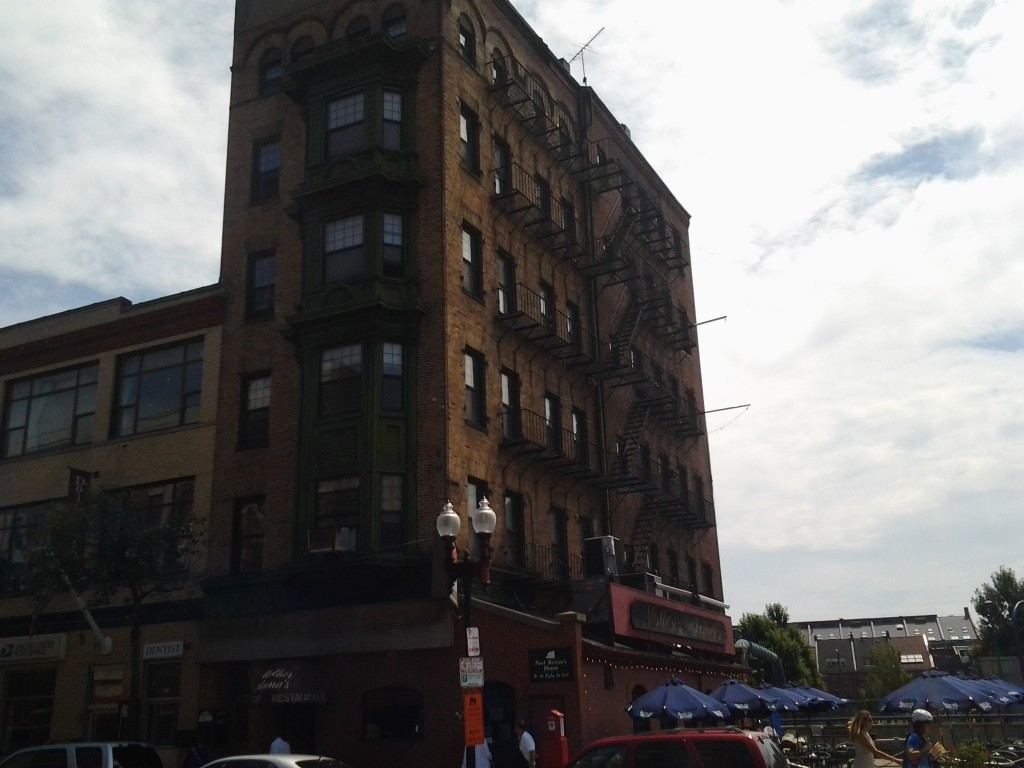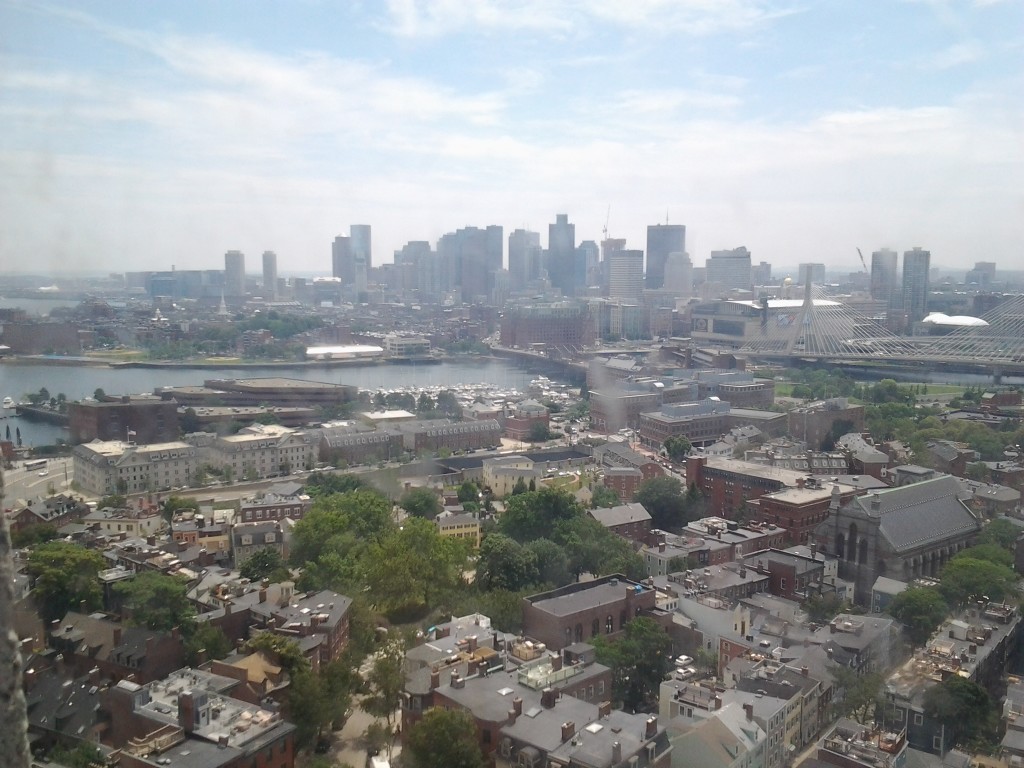 I Can say that I have seen much of Boston. I also took the opportunity to try New England clam chowder, not once but several times. Incredibly good. One day I took my bike out to the Massachusetts Institute of Technology in Cambridge.
Summary
3316 km cycling
60 km car
Longest day: 134 km;
Shortest: 11 km
Warmest: surely about 40 degrees in Central Florida.
Coolest: 17 degrees a rainy day in Pennsylvania.
Highest point: 1204 meters Virginia Blue Ridge Parkway
Maximum speed: 74 km, Blue Ridge Parkway
Lost / left forgot:  handler for Trangia pots, Buff, Cycling shorts, MasterCard (unusually low for being me)
Unnecessary purchase: Buff headband in New Waltz