Cycling Experience 2016 United Kingdom
"Are you really cycling in England? Said my friend T. Why, it will rain every day. It will not be good. "Additionally, drivning on the wrong side of the road, all of them, he said, and their beer is off."
I insisted that it be given a great bike experience. Nature experiences, good beer, cultural experiences. In addition, there was a second reason for the choice of country. My daughter graduated from Glasgow University. After four years, she was finally finished and will be moving home.
To see the planned route out.

The flight to Edinburgh departed half an hour after the specified time. It meant that I did not come away from the airport in Edinburgh until it was half past four in the afternoon. It got dark a little after 22, so I had six hours for my t85 km cycling to Glasgow as it was in measurement on Google maps.
It took longer than I thought.  Had an idea to cycle along the Union Canal from Falkirk but it was not so. Took the wrong road directly outside the airport and ended up on the A89 which I followed for  a while.
Come to Argyle Street just when the street lamps came on. Continued to BrewDog bar where I bought two Punk IPA before I went to the hotel where Linn waited.
I stayed in Glasgow for three days. The following day was the day of Linn's graduation ceremony. A beautiful event in the university's old assembly hall. But oh so long it took.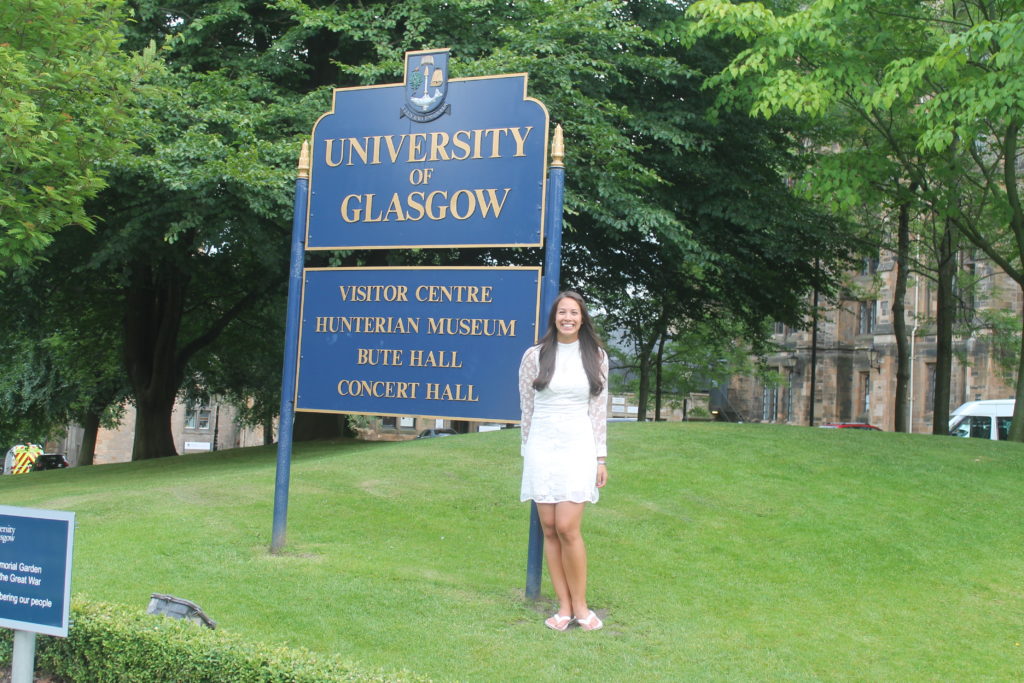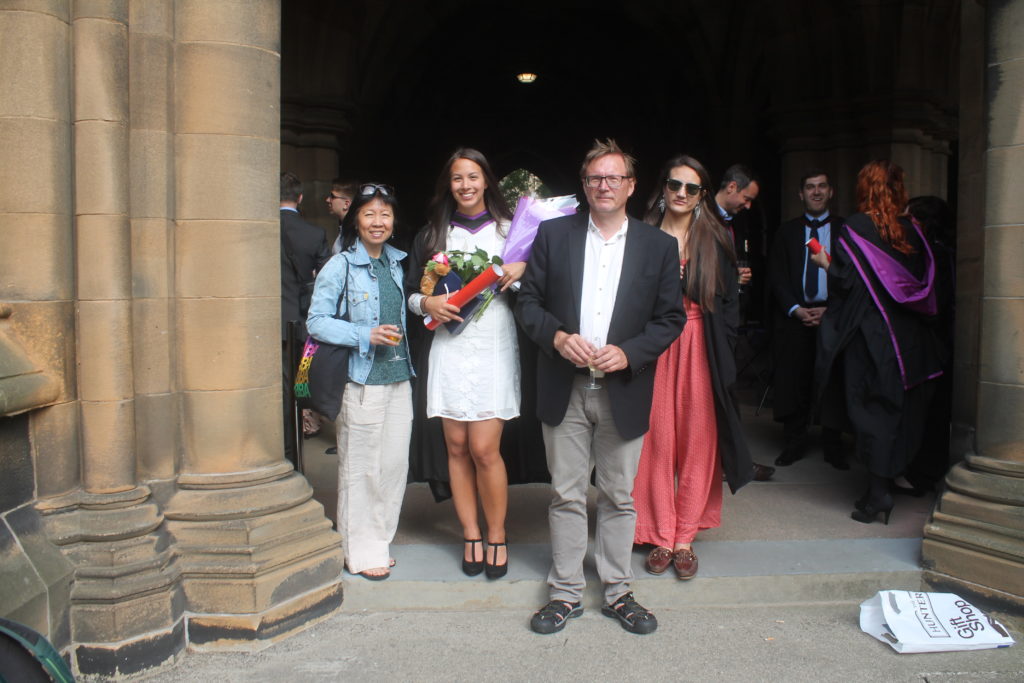 The evening ended at a restaurant. The following day the family went on a city tour with a stop at the Cathedral, St. George Square, Macintosh Tea room and the Lighthouse. I finished at West Brewery and the family went into the shops of Buchanan Street.
Thomas followed me out of Glasgow since the probability that I would cycle wrong route was rated high by both Linn and Thomas. I accepted the offer and we pulled away from the hotel after breakfast.
Thomas left me in Eaglesham. Now I was by myself but not alone. On the way I met clusters of other riders, with fast roadbikes. Weather was until now sunny and comfortably warm. Cycled in an agricultural area with rolling fields. With sheep and lambs in the fields. But soon it  began to drizzle. I passed Whitelee Wind Farm and later in the afternoon Darvel. Darvel is not known for much more than that it is the birthplace of Alexander Fleming.  It had been raining since early afternoon until late evening. Therefore, I decided to look for a forest. Dripping but in good spirits.That evening I struck camp in a grove of trees a little outside Sorn.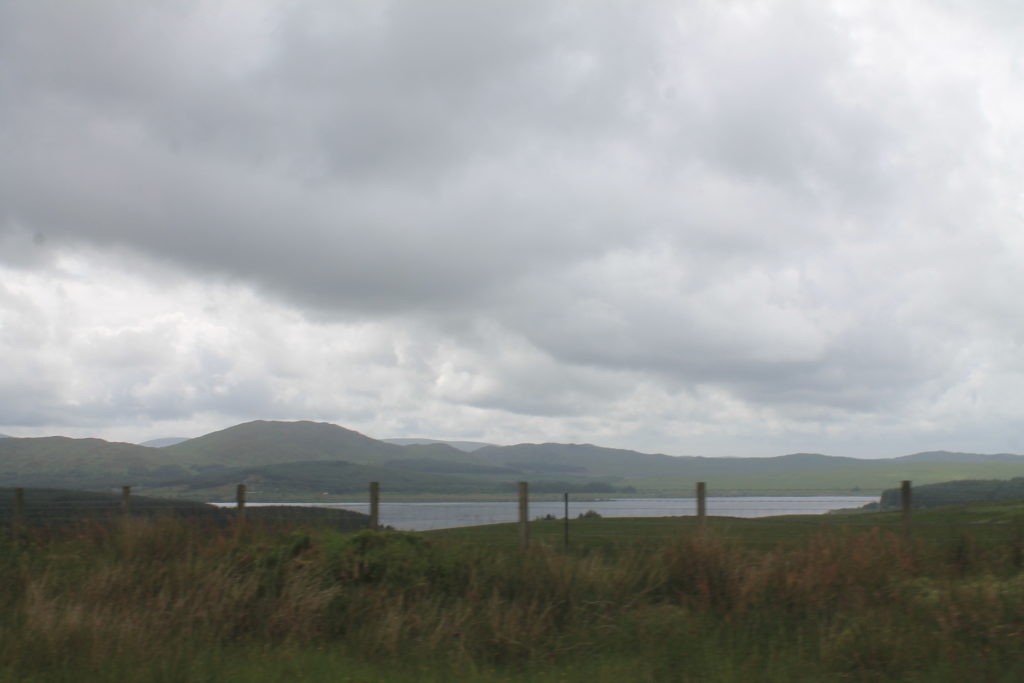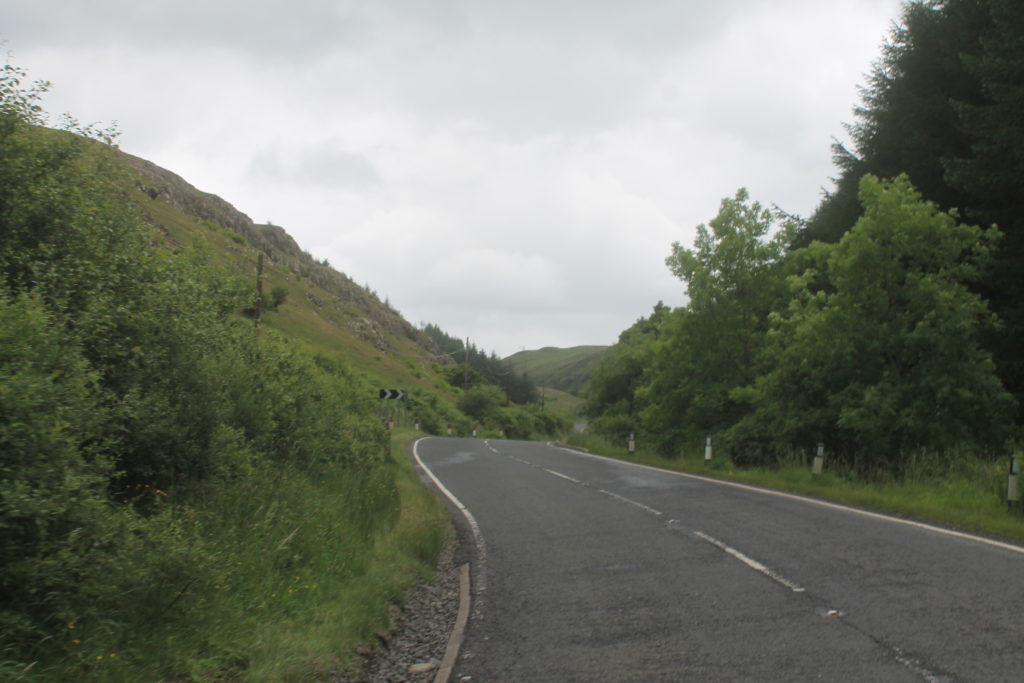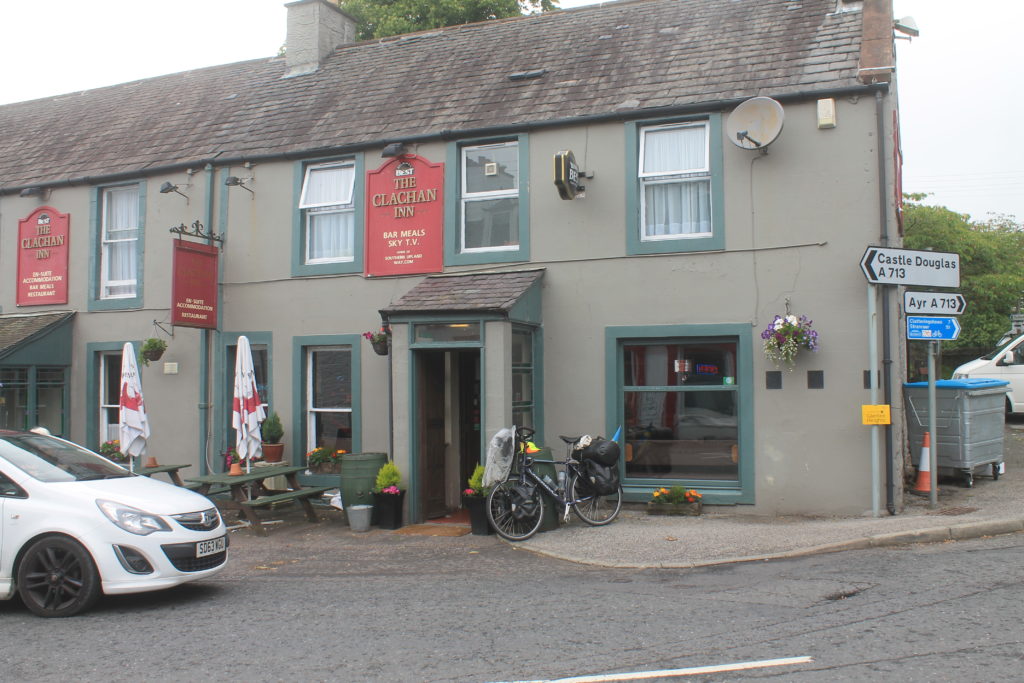 The next day was a repeat of the last. Rain all day. But I managed to cycle 83 km.  Here sometwhere I got a gear malfunction. Two bolts were missing.  I tried using some cable straps to make a temporary repair. "Can probably arrange something in Dumfries," I thought. But that did not happen. After a poor fish and ships I visited two stores there. No one had bolts.  Googled and found that in Longtown there was a bike shop.
Come to Clarencefield the third day. Everything was wet and I was in a miserable mood. Stayed at the Farmers Inn. First night at a guest house. I was now in the south of Scotland. Had passed Galloway Forrest Park.

Another rainy day. Thought long time to wait out the rain, but was thrown out of the room by ten.  When I saw the sign "Devils Porridge" I just had to stop by to see what it was. It was a war museum dedicated ammunition factory ( http://www.devilsporridge.org.uk/ )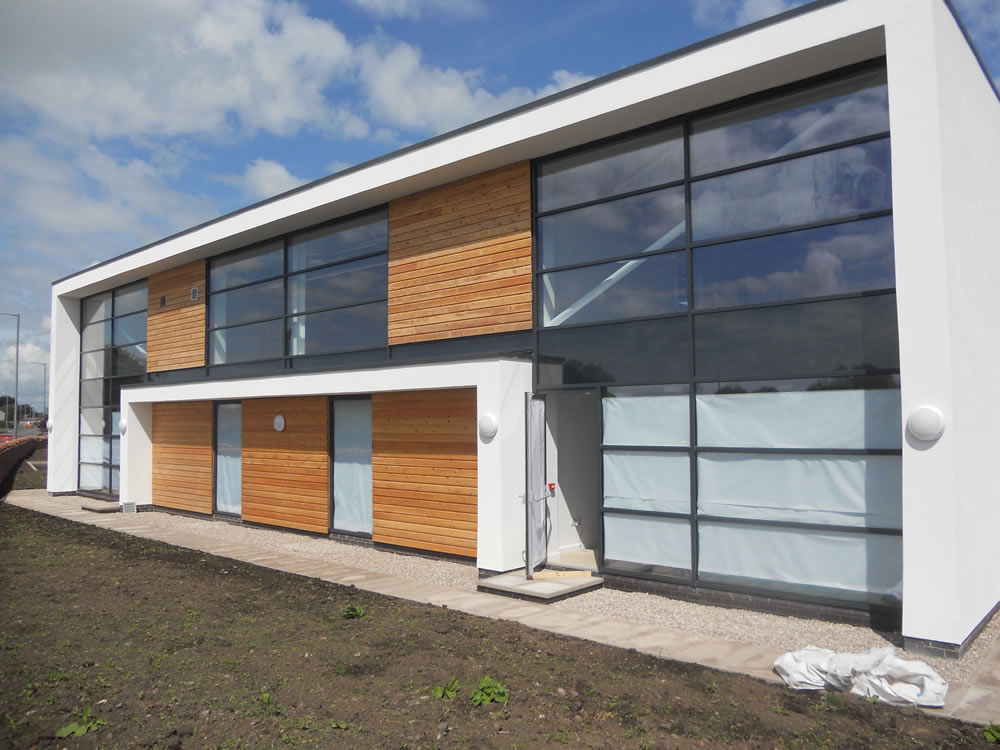 Finally I came to Longtown and got help with the bolts. The rain sprinkled down constantly throughout the day.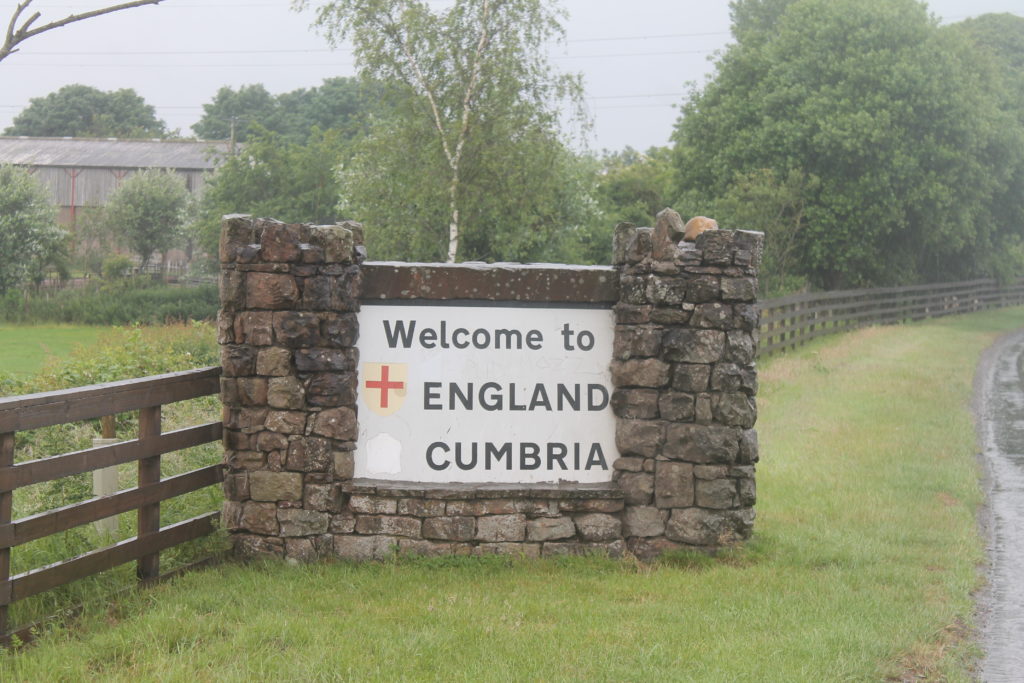 On small narrow counotry roads I approached my goal for the day, Gilsland.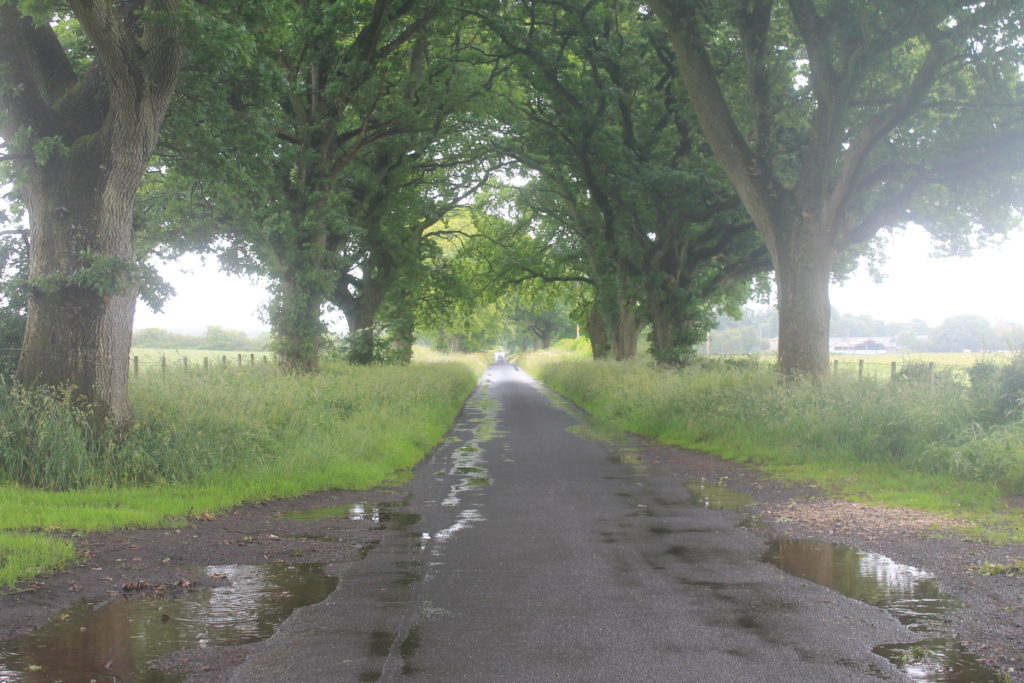 Near Gilsland was Hadranius wall https://sv.wikipedia.org/wiki/Hadrianus_mur : Dripping and a little tired, I was looking for a place for the night. But no, everything was full. Instead, I continued 4 km to Greenhead and Greenhead hostel. 50 pounds of sleeping in an old church. The only fun there were meetings with hikers who walked the entire length of the wall from Newcastle in the east to Bowness-on-Solway.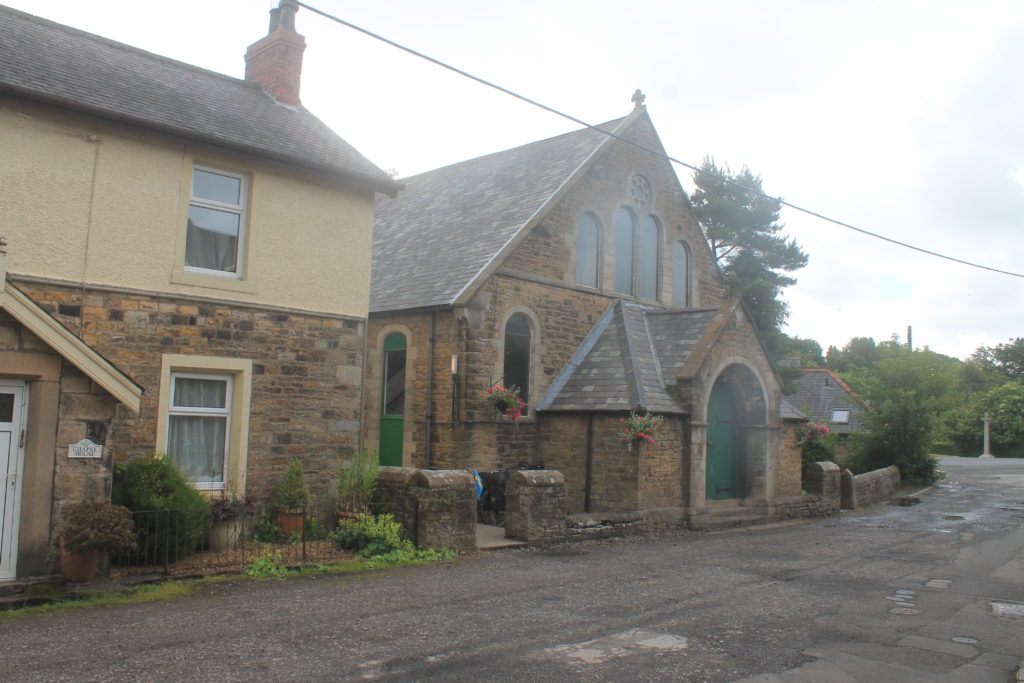 It rained. Do not know how many times I will note this fact. Rode to the Hadrian Wall and the museum outside Gilstand. It was closed so I took some panoramic pictures on the wall instead. Continued on the old military road.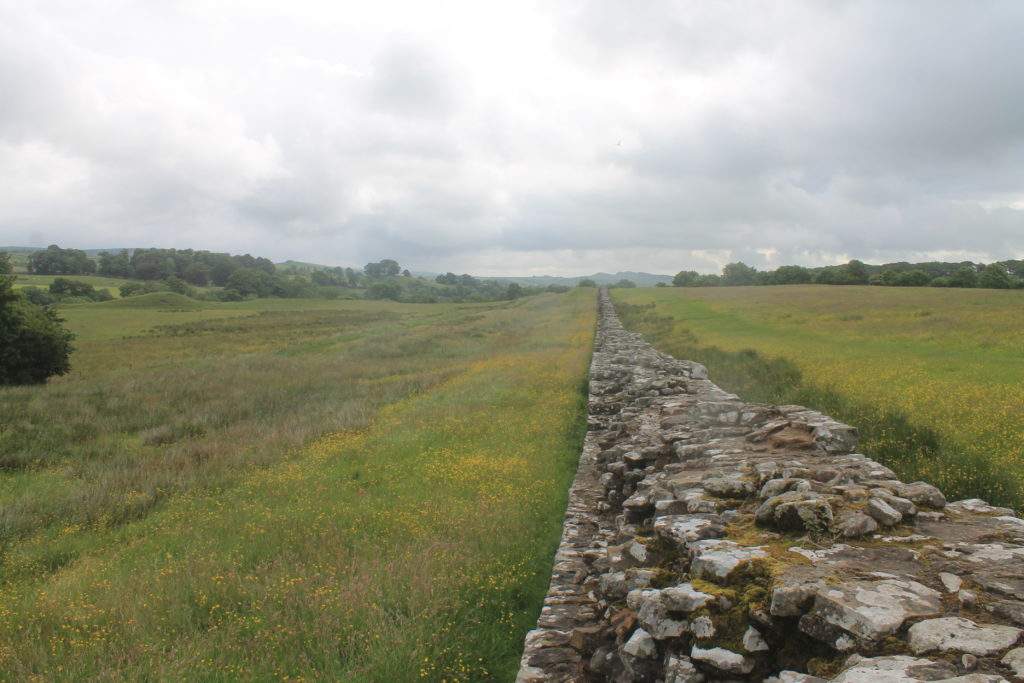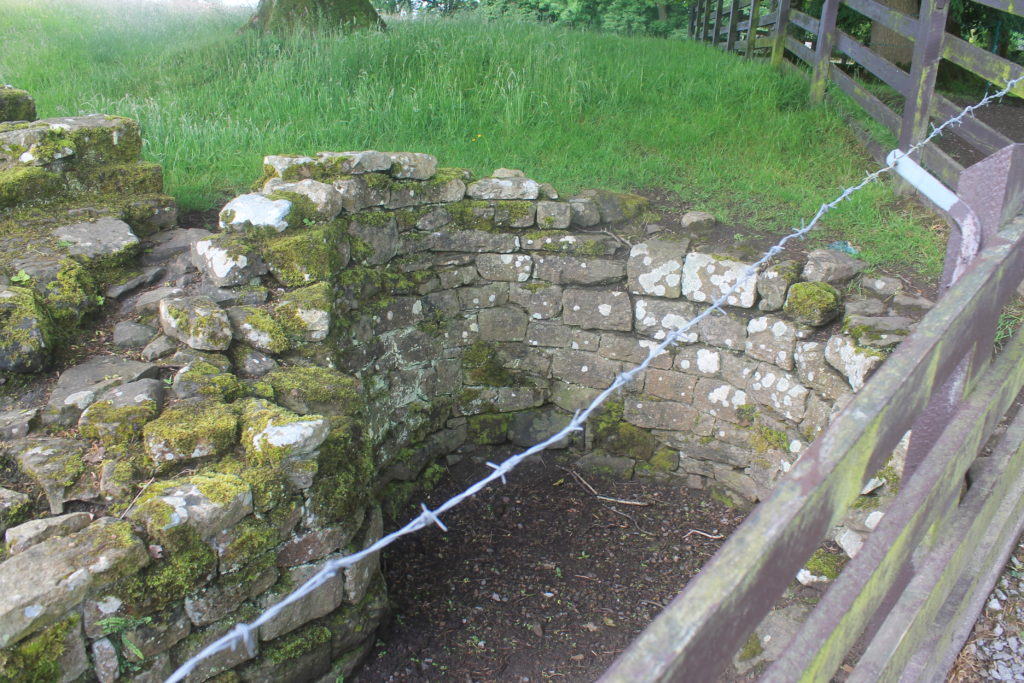 After a few miles and a leisurely descent, I came to Lanercost and the old abbey.
Lanercost established at some point between 1165 – 1177 by Robert de Vaux. It fell into ruins after the dissolution of the monasteries by Henry VIII in 1537.  not so worth seeing in my eyes so I continued towards Brampton.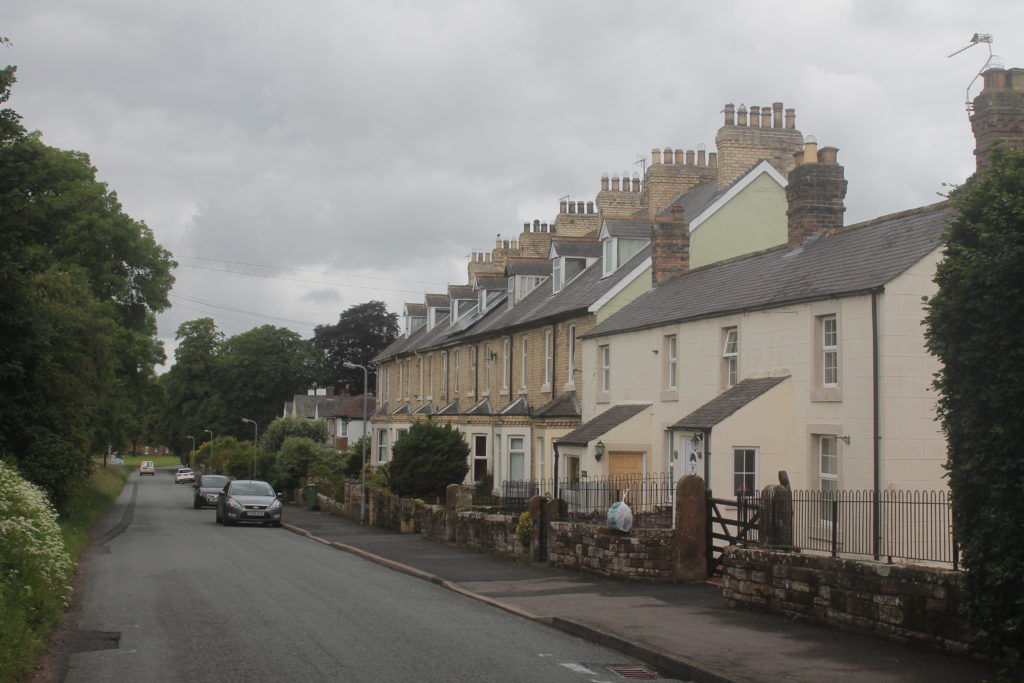 I observe and see a lot of things when I cycle Today, an ultra runner. Also got to help drive a herd of dairy cows forward. But this house was really interesting. Unfortunately, I saw no one I could tell me about it. See how they erected a new tower.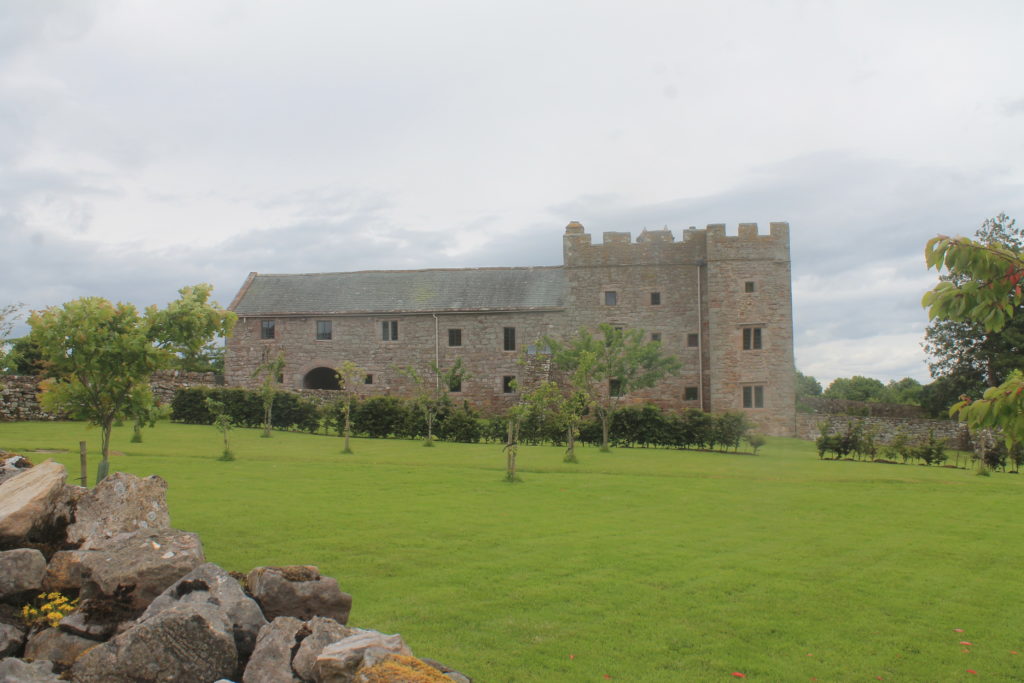 Troutbeck was a hill that took some time. Stayed at The Royal Hotel in Dockray before I came to Glenridding. The plan was to find a way to the lake and get a nice campsite there. It never happened. The image is from decent from Glenridding to Patterdale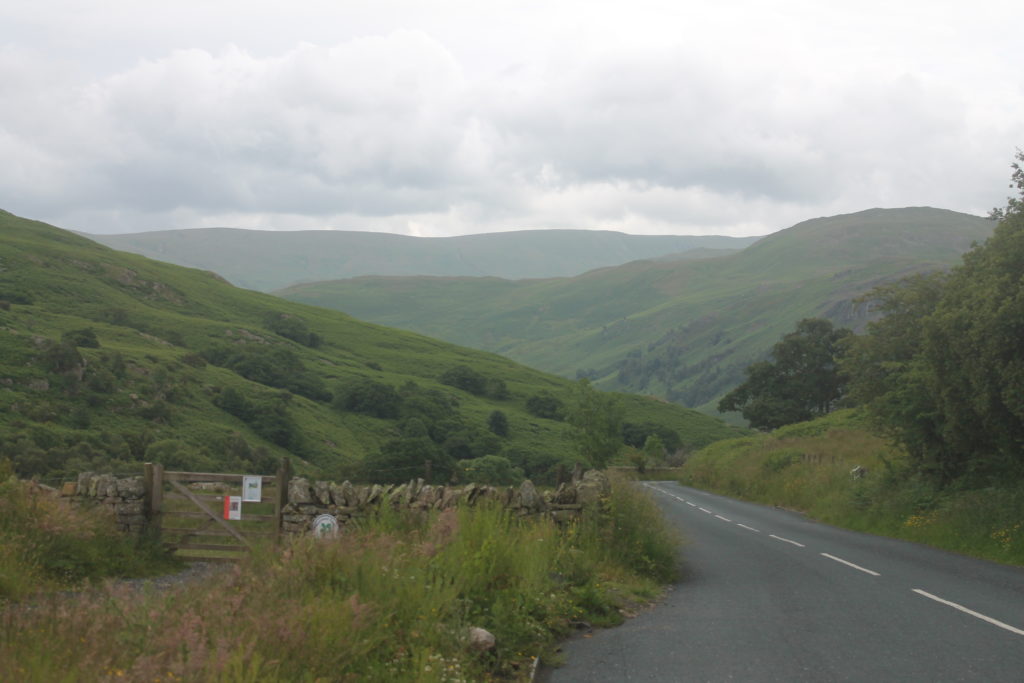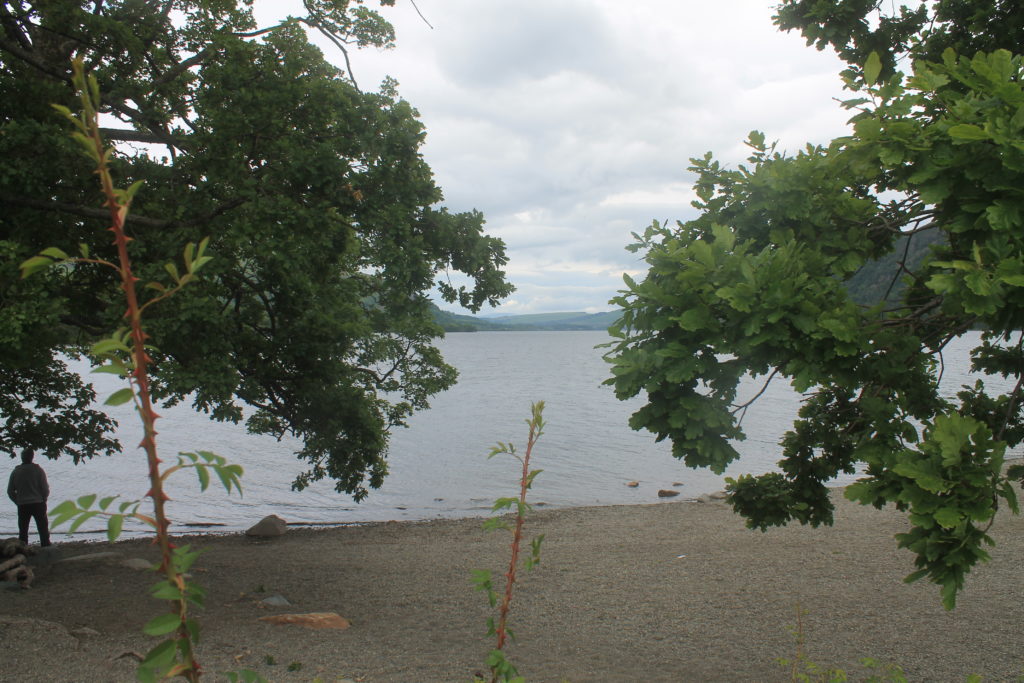 I stayed outside Patterdale. I thought I found a great place. Behind a stone wall, under an oak. But not. The cars could be heard through the wall. No rain during the day but in the evening.
I had come to the Lake District. Now came the hardest day of all, Kirkstone Pass. This is the Lake District highest pass open to motor traffic and it connects from the north Rothay Valley Patterdale Ullswater Valley In some parts of the slope is 1: 4. Near the top there Kirkstone Pass Inn, the third highest pub in Britain, the second the highest is the Cat and Fiddle Inn in the Peak District. I got there a week later. Two km, said the sign that it would be to the top. After a while the sign 13% came. It is doable, I thought, and moved slowly on. It did but it went slow. After half km came the next sign, 20%. There I started to walk. When it was 300-400 meters left came sign No. 3, 13% again. These two kilometres took me about 70 minutes. Then it was a relief  that it was downhill all the way to Windermere.
It is popular with trekking in the UK. Ideally, it should be done in groups and anywhere where it is hilly. Therefore, I saw a lot of walkers in the Lake District. After Windermere and a quick lunch I continued to Kendal. Thanks to its proximity to the Lake District National Park, Kendal counted as part of the Lake District tourists use the city as a base for hiking. The town of Kendal is located in the countryside which made it long served as a commercial center for the surrounding area. First major village after Kendal was Sedbergh. Considered as a great antiquarian city on par with Hay-on-Wye and Wigtown. In Dent, I stayed at the local pub The George & Dragon. But again, Ale is not my drink.
After Dent the road continued on and over small hills, up or down. Incredibly beautiful in Yorkshire. A bit barren but beautiful.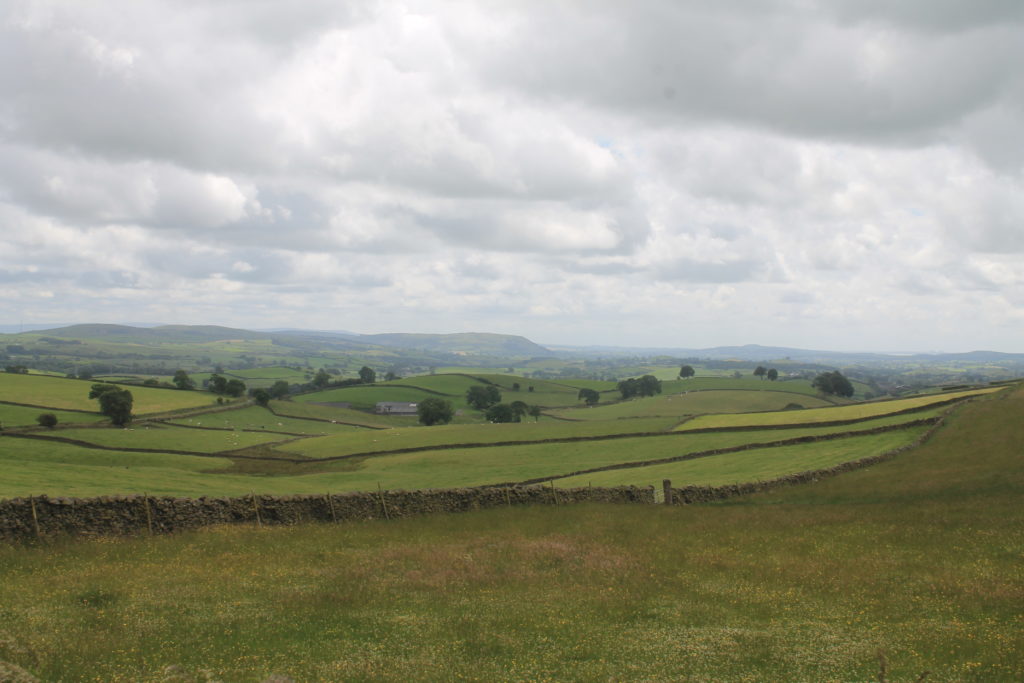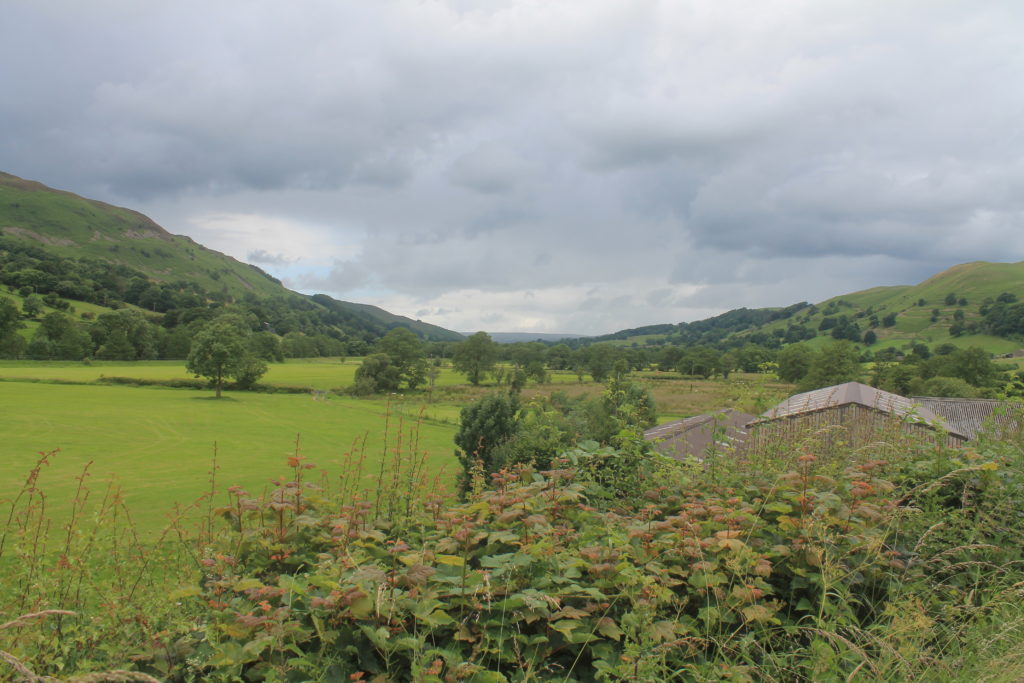 It drizzled in the afternoon with high probability of rain during the  night. I was looking for a good place to stop at. Good means protection from rain and wind. Finally I found an abandoned shed, or if it was a container. It provided little protection from the rain and wind.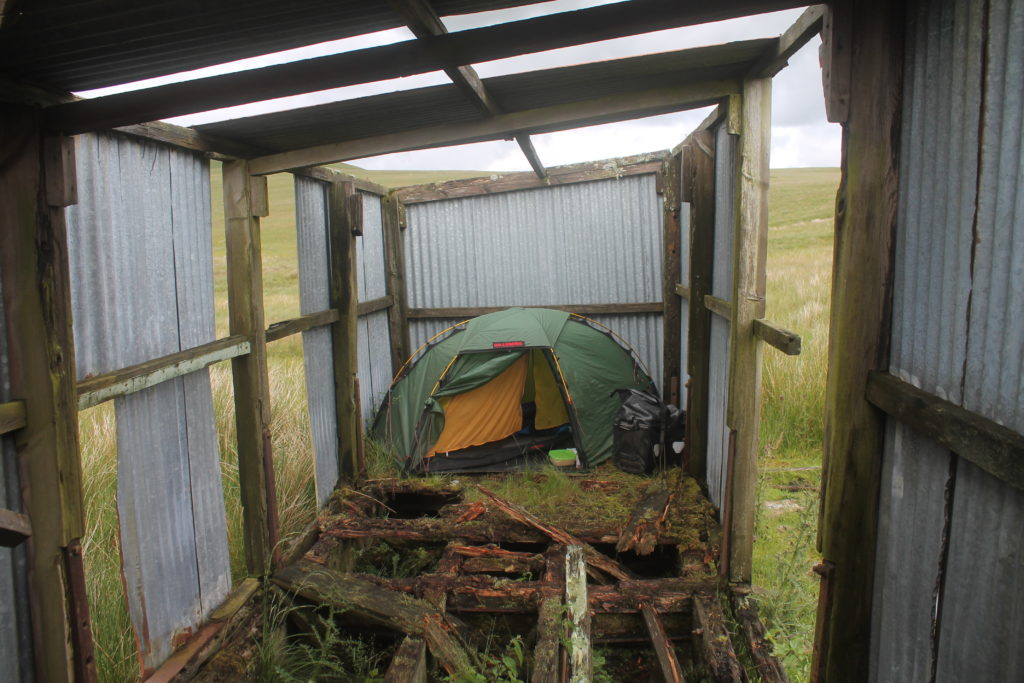 The night was cold, windy and rainy. But in early hours it stooped and the day turned out to be a good day for cycling. A descent that lasted almost the entire day. First city after about 30 km was Hawkes. A little town with about 1,100 inhabitants. This particular day was the market so it was slightly more people and cars.
After Hawkes the road followed river Ure.  It was a beautiful day. Sunshine and tailwind. First day with short sleeved shirt. After 75 km I came to Skelton on Ure. Stayed there for the night with the certainty that the day after I will be in York.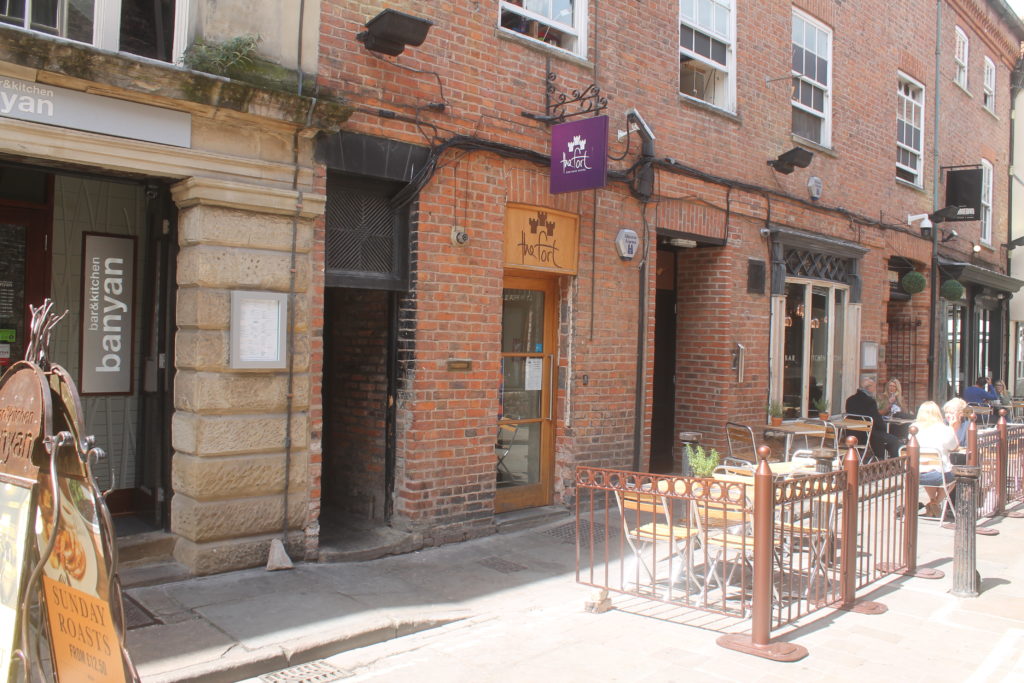 The plain around York and the west wind brought me to York before 12. A little hassle of finding Fort Hostel. I stayed one night in York. Looked at the cathedral, took pictures, tried Yorkshire pudding and their ale. Again, ale is not my thing.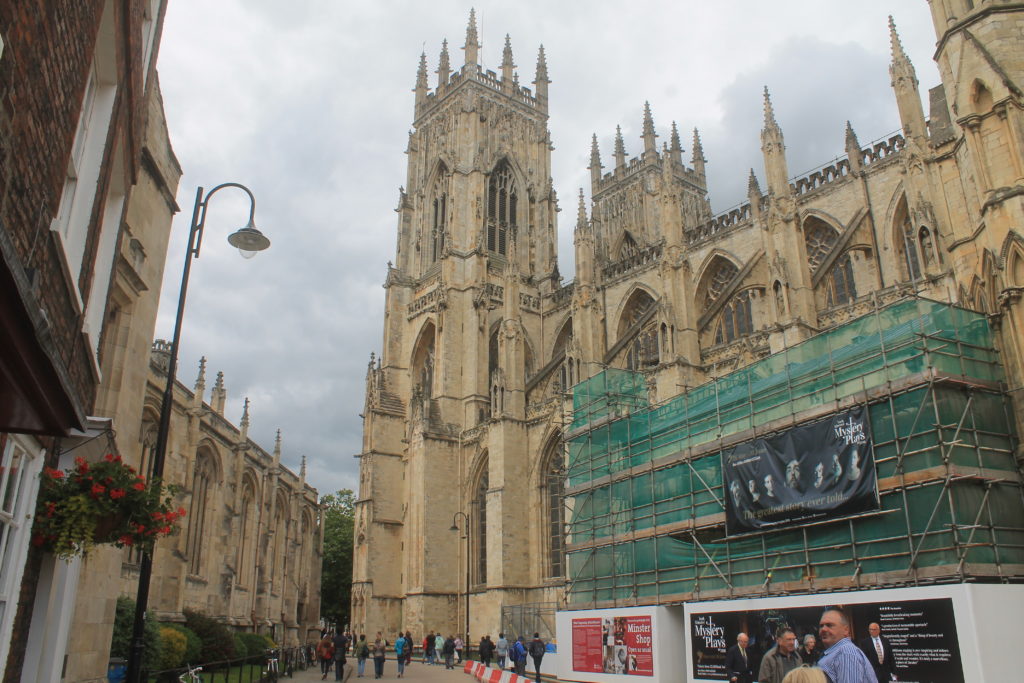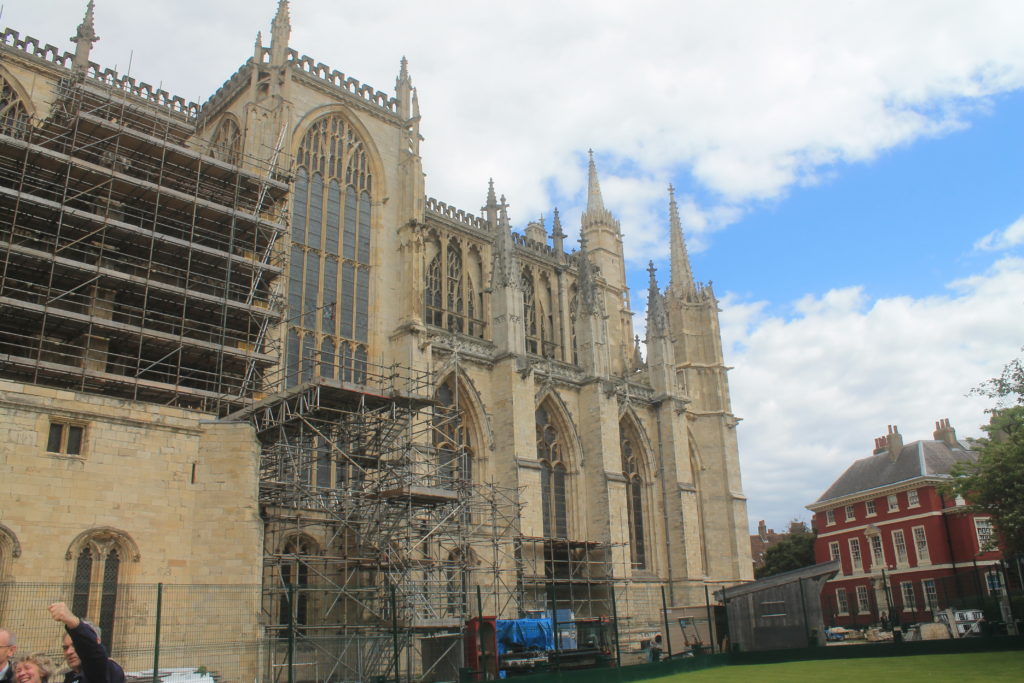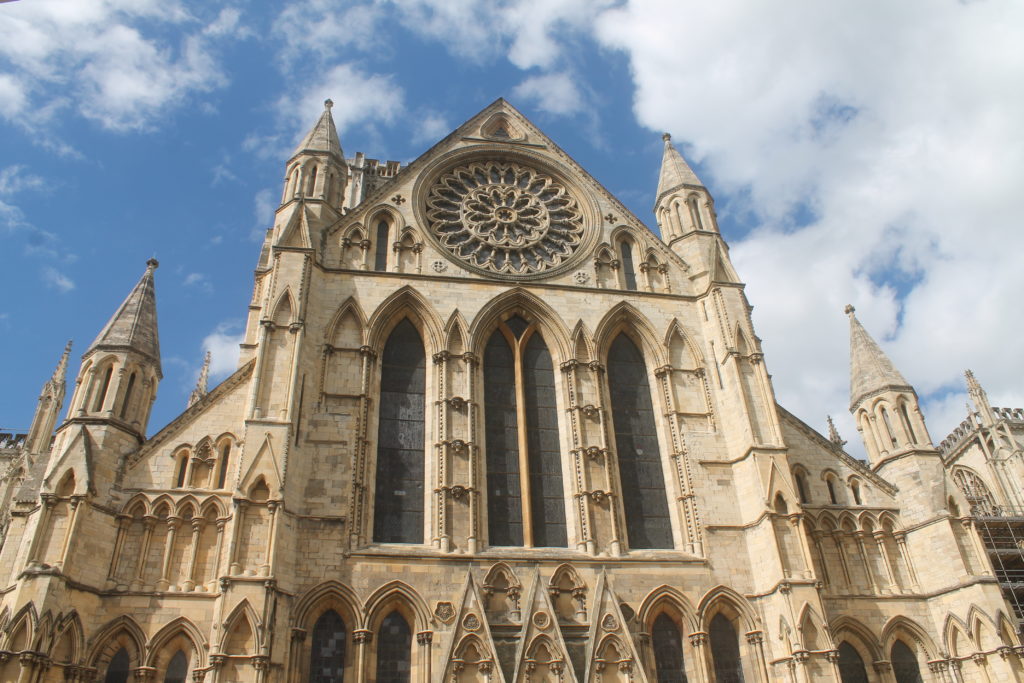 Unfortunately, the church was under renovation so it was no good pictures. The church burned down in part 9 July 1984.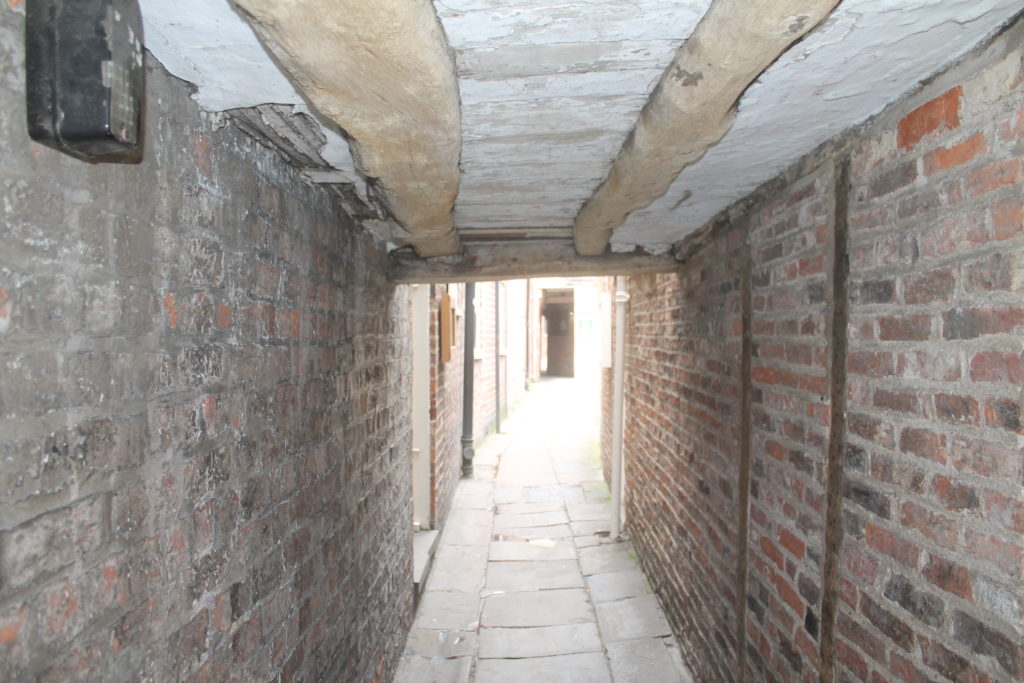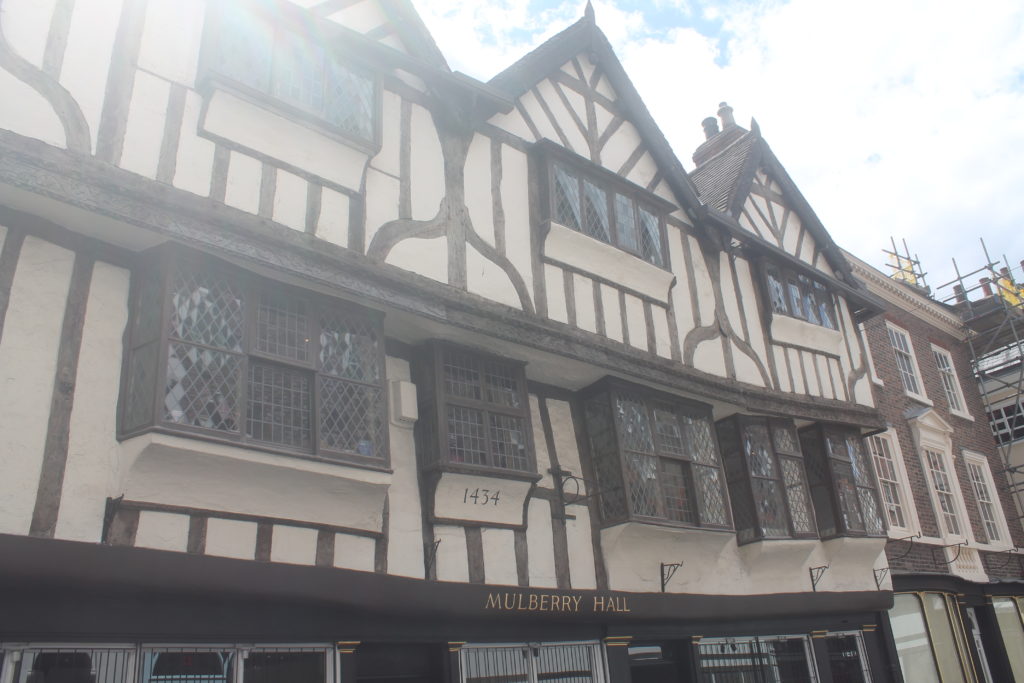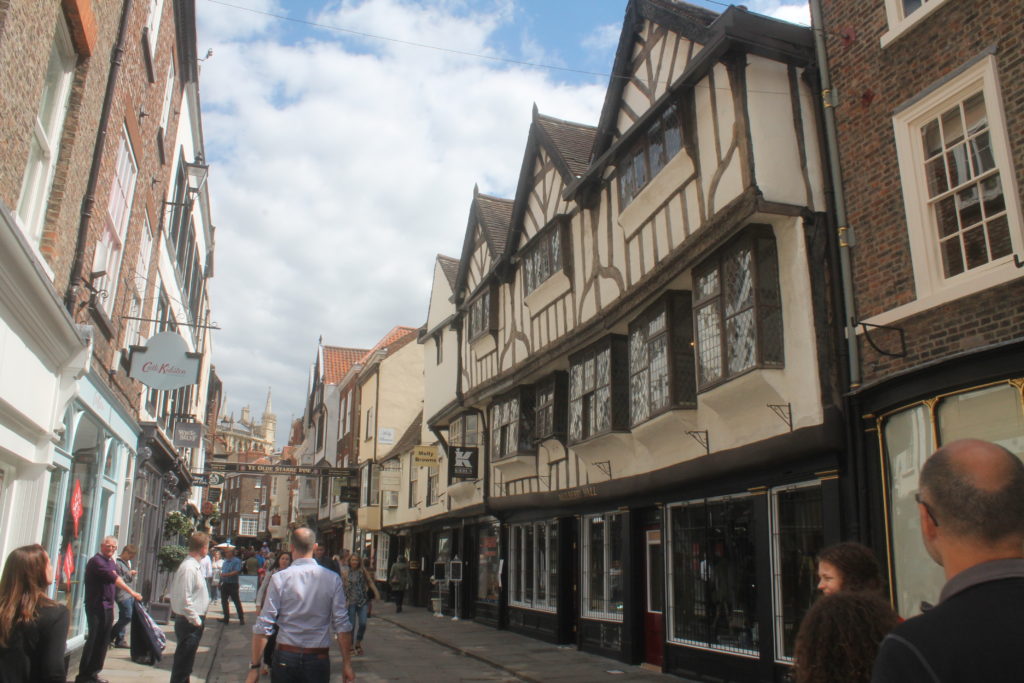 For the first time, it was no hills it was flat. Passed small farming villages. Lost my reading glasses (first loss). When I came to Bishopsphorpe I saw a big house. Became curious, stopped a lady with a dog. Yes, it was the Bishop of York's house. A castle for a lonely old man as she put it.
To get over the River Ouse, I had to take a little detour through Cawood. Continued towards Barnsley and Pontefract. There, I was completely lost in my orientation. Met a lady on bike that helped me on the right path toward Oxspring. We followed the Trans Pennine Cycle Route to Penistone. There, I put up my tent on a field, which also was a popular way for dog walkers. But as usual, they said nothing.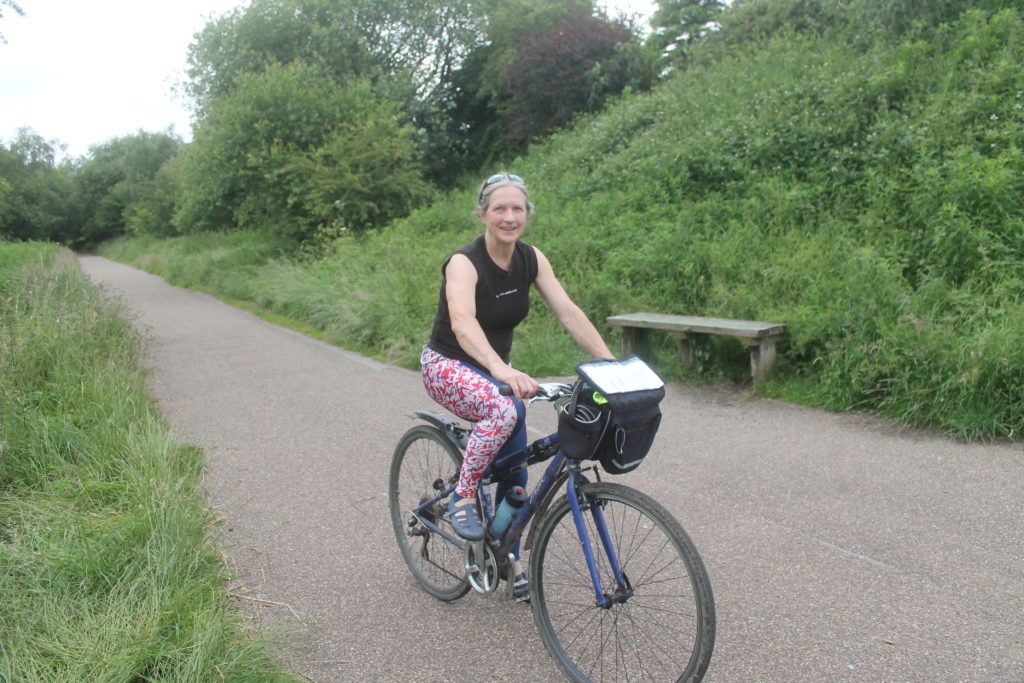 Now came the next big test. Peak District. Several steep hills. The sign showed 25%.  Good for me it was downhill.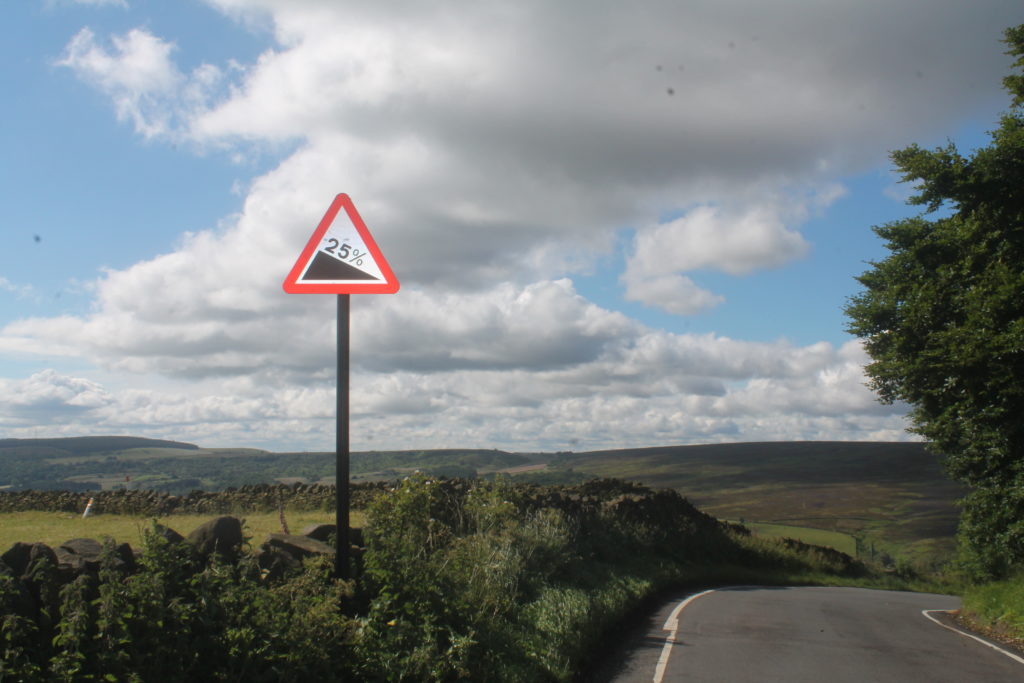 The brakes were worn out. It scraped metal to metal both front and rear. The perils of counting errors and cycle paths with many long runs. The firstmiles was part of the Tour de France Yorkshire in 2014. In Hope the shop was closed ao I went to Castleton. There on 18 Bikes Ltd. II found my pads. I struggled on my runs. Around Castelton there are many caves open to the public. I chose not to crawl into one of those. I wanted to continue my journey. I followed the road out of Casteton. But chose a smaller road, i e the old road. Suddenly the road ended. I had come to Mam Tor landslide area.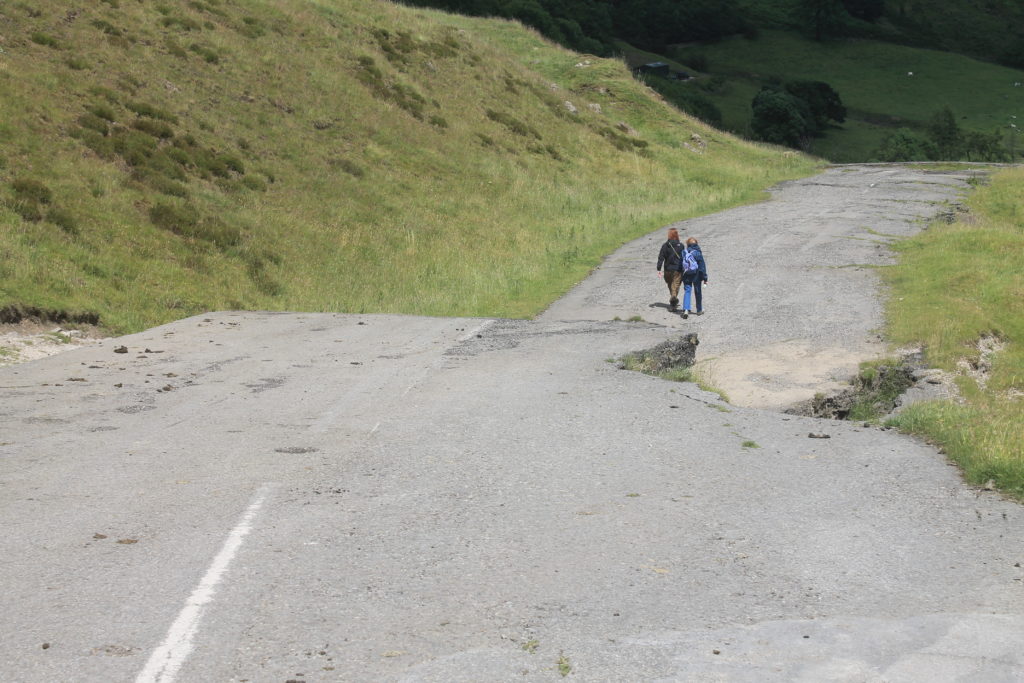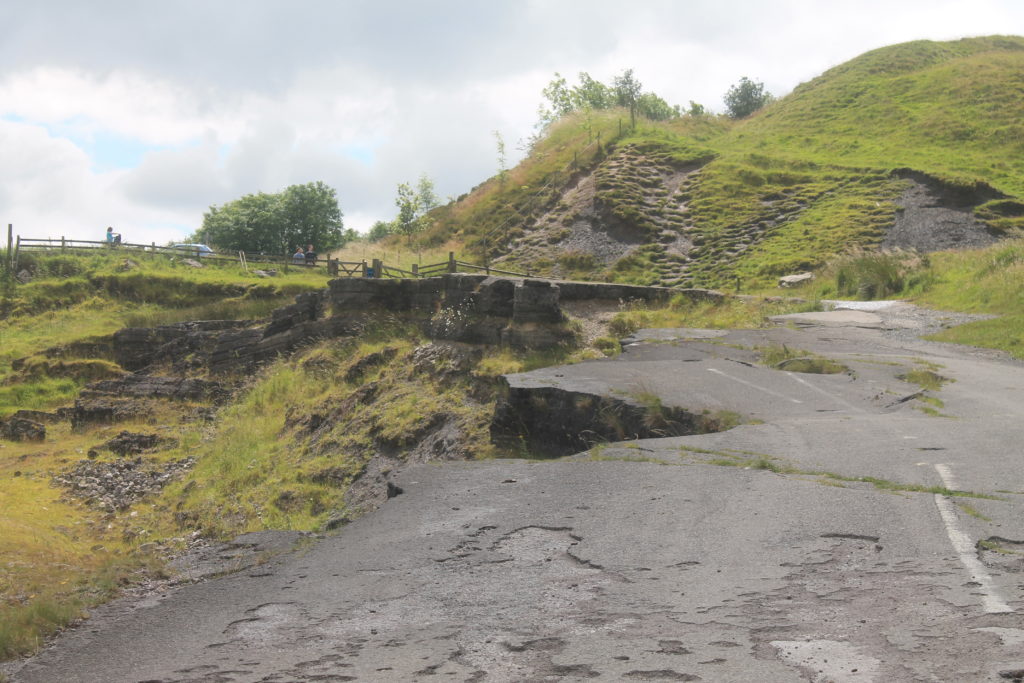 Last landslide was in 1977. Since 1979, the road was closed to traffic but open to hikers and cyclists. After the challenge, I came to Buxton. Road A54 between Buxton to Macclefield, also called the cat and the fiddle road, is considered one of the most dangerous roads in the UK.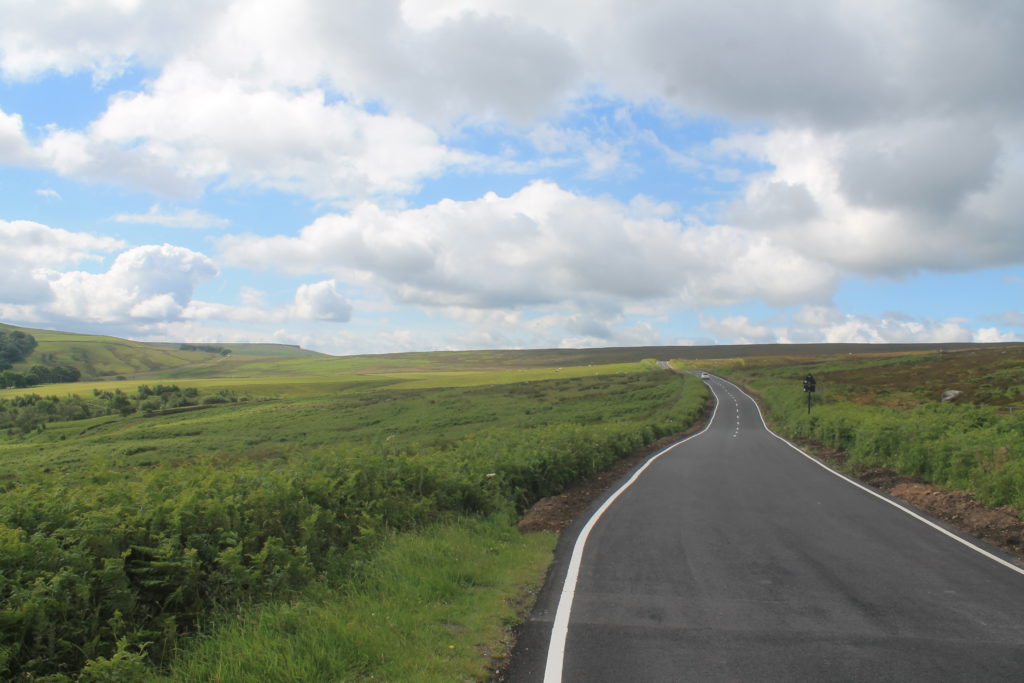 When I was there it was not so much traffic. Danger is that there are many sweeping curves that calls for speeding, motorcycles especially. Buxton was a long climb again, this time 7.5 km. With climbing means in touring bike that momentum can be described as fast walking. I spun around in Macclefield before I decided which direction to take towards Chester. Took the opportunity to resupply. That night, I stayed in a pasture about 3 km outside the city but 200 meters from a pub.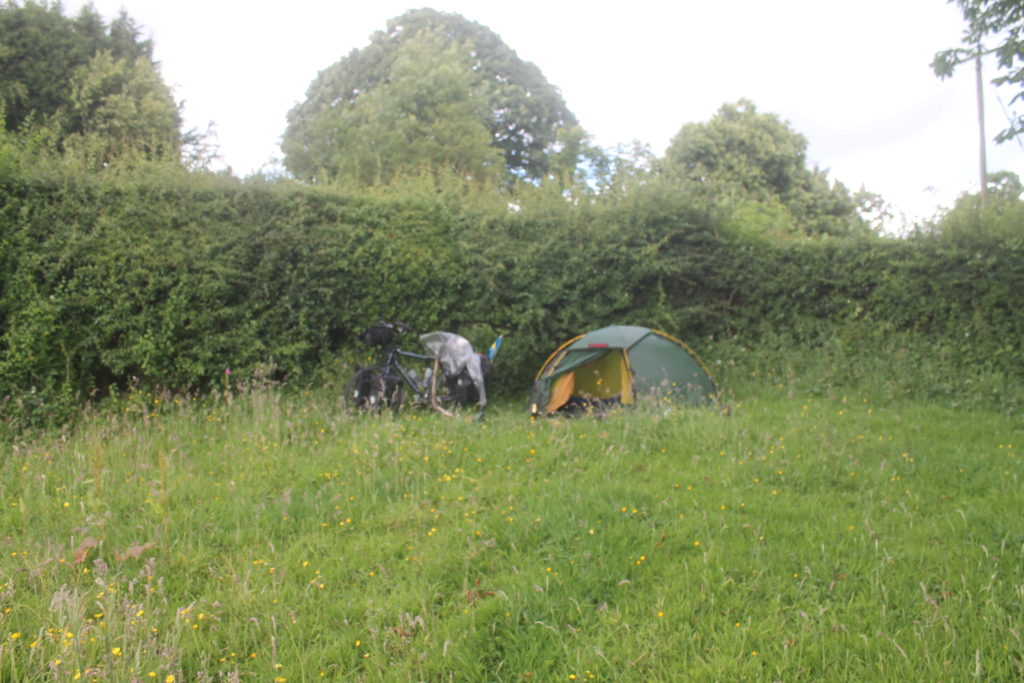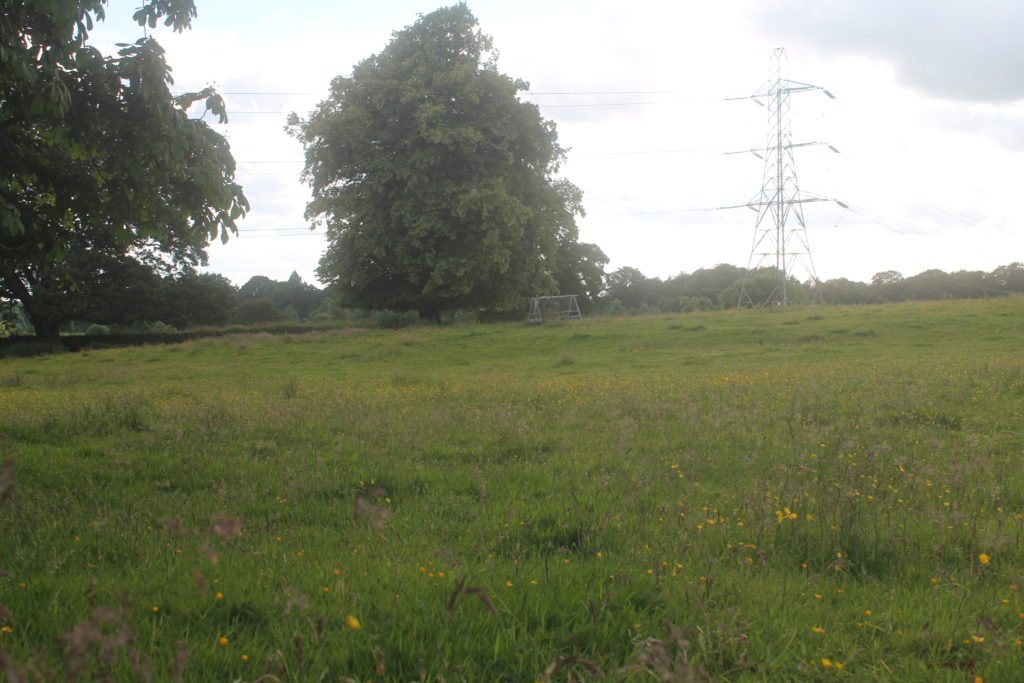 View from the tent opening. Took a walk to the pub for a beer and charge my tablet. But no, once again real ale is not my thing.
I was heading towards Chester and Wales. Outside Chester I passed Hawarden. Known for William Gladstone lived there. William Ewart Gladstone (1809 – 1898) was arguably Britain's greatest statesman and the main Anglican layman the past two centuries. Four times Prime Minister and Finance Minister parliamentarians more than 63 years, few politicians have achieved so many lasting reforms Gladstone. He was a pragmatic political leader with an unceasing interest in history, literature, the classical world and theological disputes and was a voracious reader. He left behind a large library in Hawarden.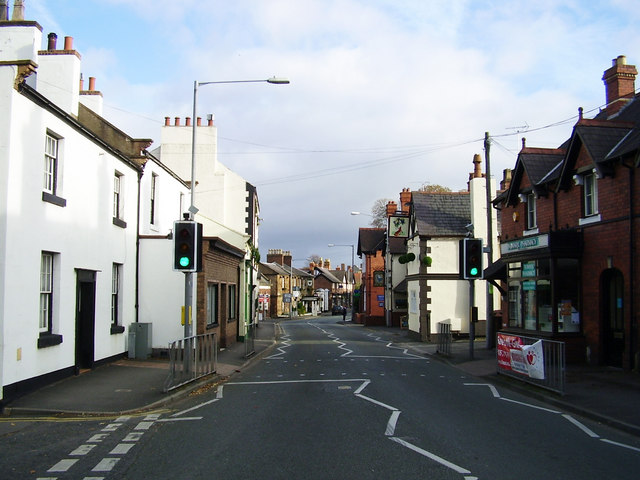 Hawarden
After some effort I found the right road to follow out of town. I came to Flint early afternoon. The plan was to stay there in a hotel. Go to a sportsbar and see the European Cup match Wales – Portugal. It was harder than I anticipated finding a room. All the rooms were booked by travellers fitters to a large factory outside the city. The Ship had a room but the first did not want to lend it for they had no good place for my bike. Greg, a regular guest said he could take care of my bike in his house. So it was. The cycle to Greg and I stayed at The Ship. Wales lost the game but we were all agreed that the best team won.
Headwind, headwind, all the way from Flint to Conwy Bay. I followed the North Wales Coast trial. Thanks to the European Regional Development Fund as Wales has built a boardwalk and storm protection along the entire north coast.
The most striking was all these summer camps of trailers. Dense, dense, they stood in giant fields behind the shoreline protection.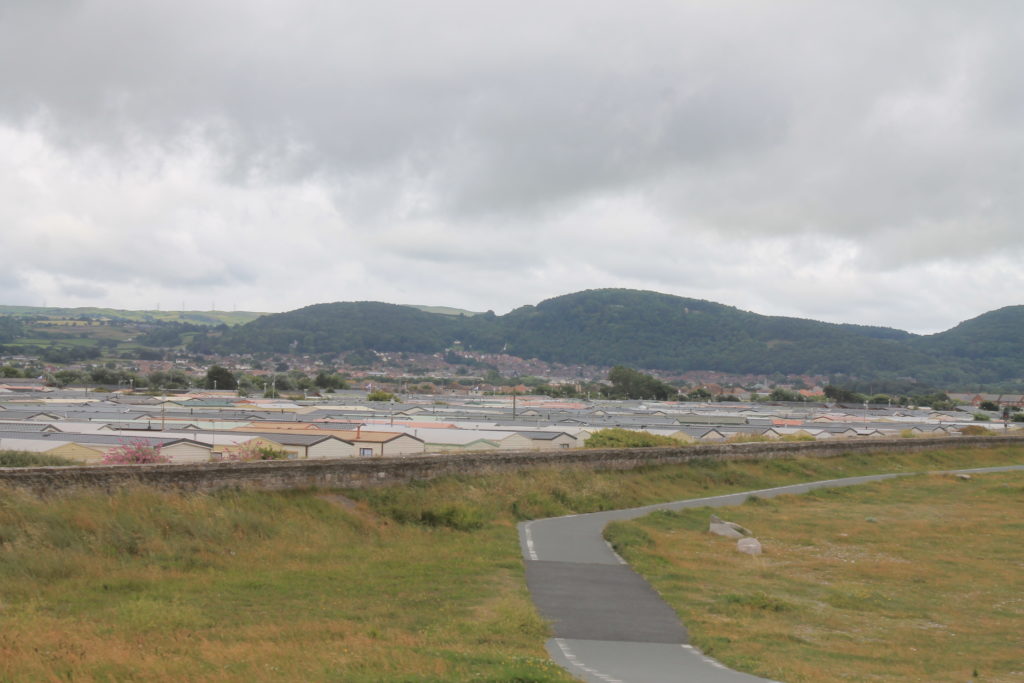 It rained, no, it was a light drizzle, not much but enough that it would be unpleasant. Many hours later than intended, I came to Conwy. Conwy has a beautiful port into the city. Castle Conwy Castle and town walls were built on behalf of Edward I between 1283 and 1289, as part of his conquest of Wales.
A picture of Conwy
From Conwy there was a rise into Snowdonia. I stayed after 88 km a few km outside Betsy Coed on a field.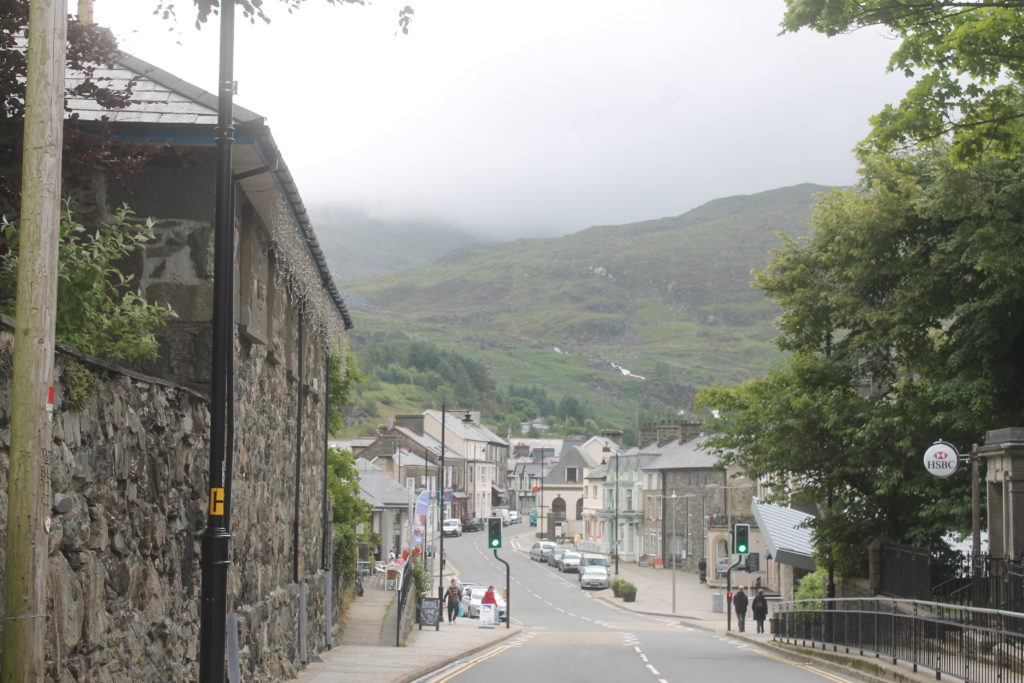 Betsy Coed has a clear touristic profile. Shops with hiking equipment, many B & B.  It was a challenging day. Snowdonia is beautiful with its peaks and valleys. New record, 70.8 km / h. Stayed on a field before I came to Mallwyd. I came to Bishops Castle in the afternoon with the hope to sit down with a cold stock in hand. But that did not happen.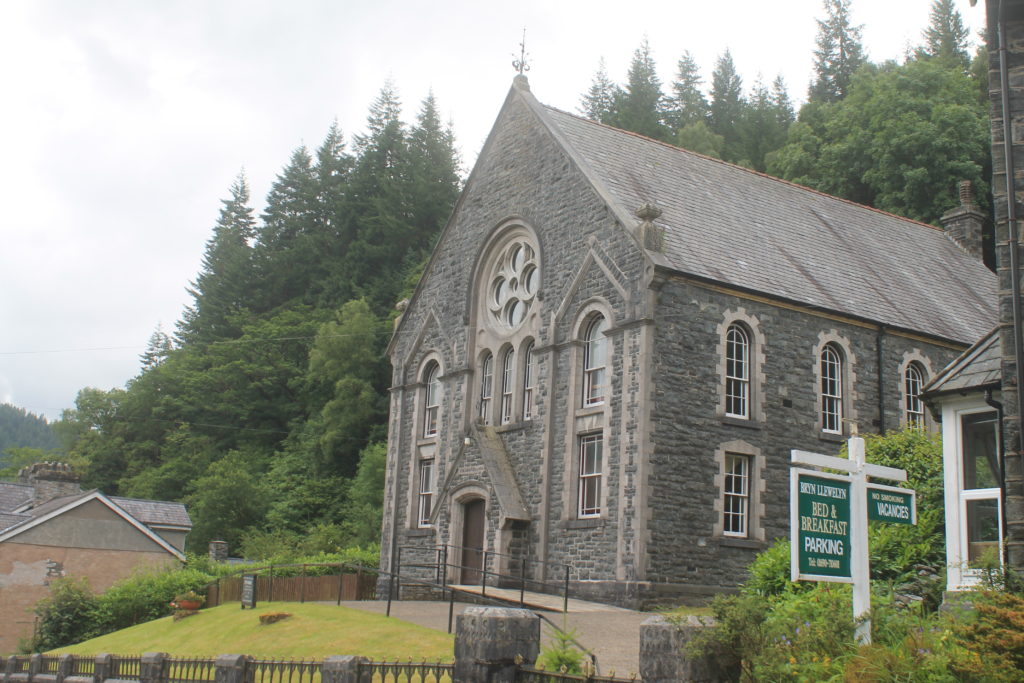 The night was not good, albeit quiet but the rain came at night.I came away after lunch, it was still very hilly. I stayed outside Bishop Castle. Bishop Castle is a small market town in south west Shropshire, and the sooner the smallest town. According to the 2011 census had a population of 1893rd
The city is located in an agricultural area and has also become known for its alternative community including artists, musicians, writers and craftsmen. The city has a small micro brewery which is very much appreciated. I came into the midst of a Real Ale Festival. Several buses had arrived with enthusiastic beer drinkers who filled the city's five bars and inns. So it was a pack of four Stella Coop store before I quickly went a few kilometers to find a place to stay at. That night, I stayed at a field 400 meters from a farm. I was in an agricultural area. It was difficult to find any forest or else to stop at.
The next day I came to Stratford on Southaven, better known as Shakespeare's birthplace. I got a map with five key Shakespeare stop. Afterwards it felt like now I have seen and been in Shakespeare Country. If you want to meet anadra tourists Stratford is a good place. It was enough with all kinsesers must list there were many there. I got in anyway a map and went Shakesoear promenade. The one with the five most important stops. Here are some pictures from the promenade.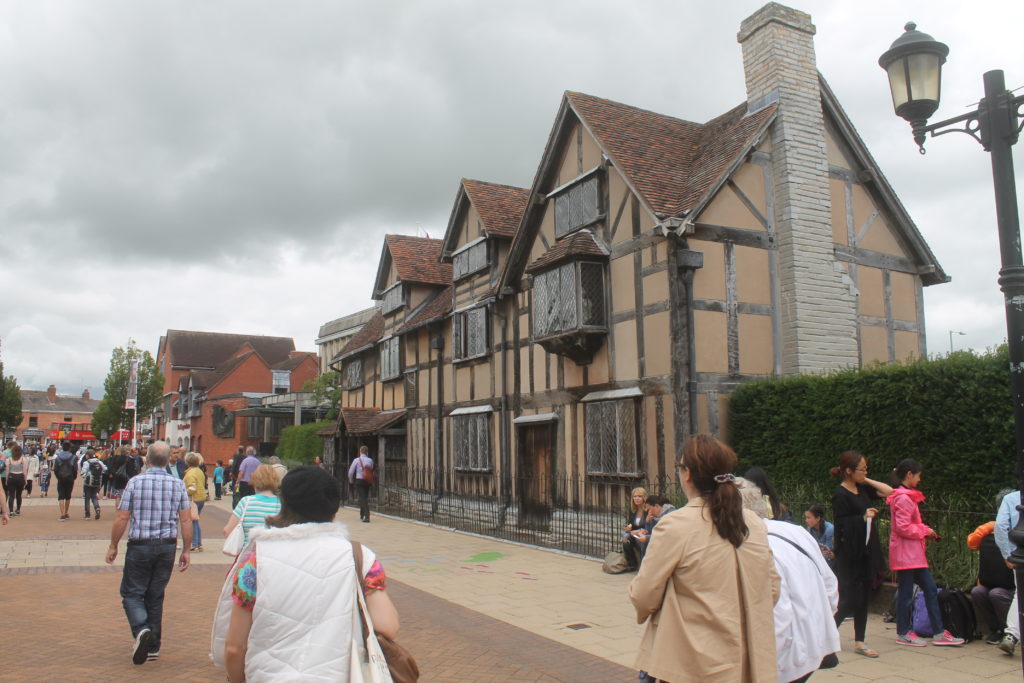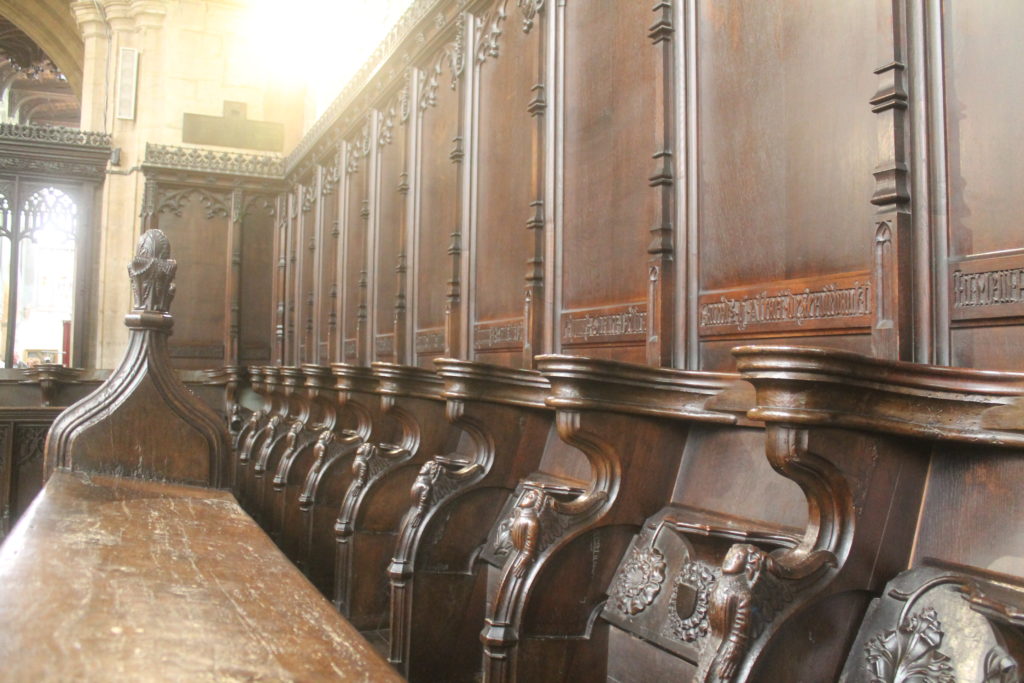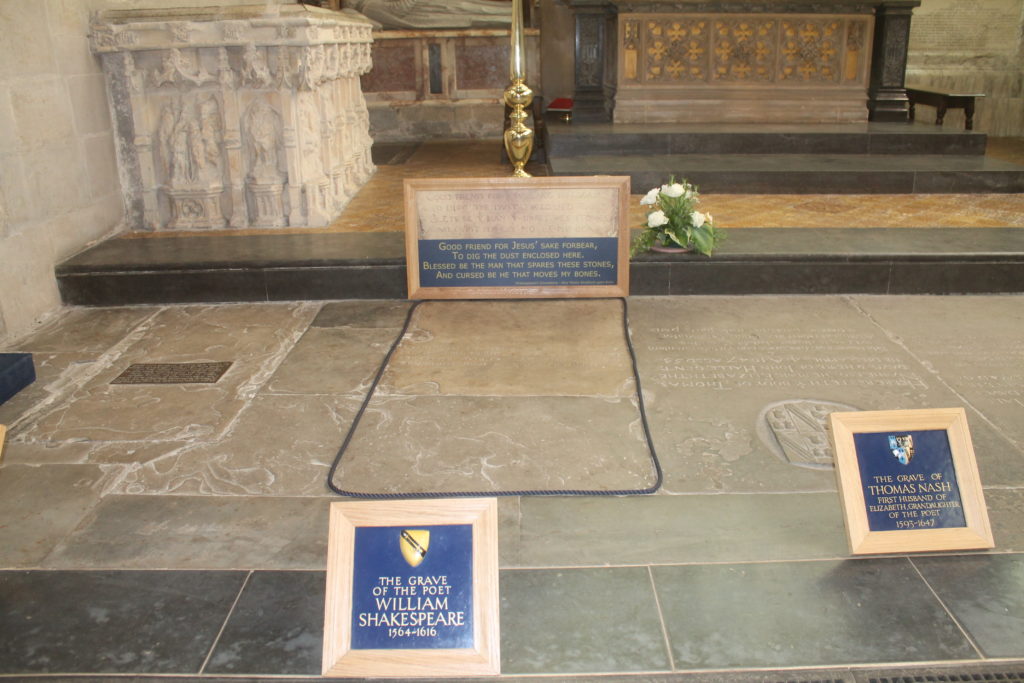 Happy with the tourism effort, I continued towards Bath.
Do not know what or why I chose to follow the Fosse Way from Stratford. At first it was a normal road with heavy traffic. Trucks and cars one meter to the right of me. In Stow on the Wold was a bit wrong. Did not have an eye on the compass so AJG took the wrong way out of town. Tried genic through farmland. Found a shortcut. But it was a senväg. Come back to the starting point. Then I had bikes two hours and 12 km extra. Bought me a fish and chips. Then it went better. I came to Crudwell. There, I left the A229. Come to the old Fosse Way which was a byway. Hurray!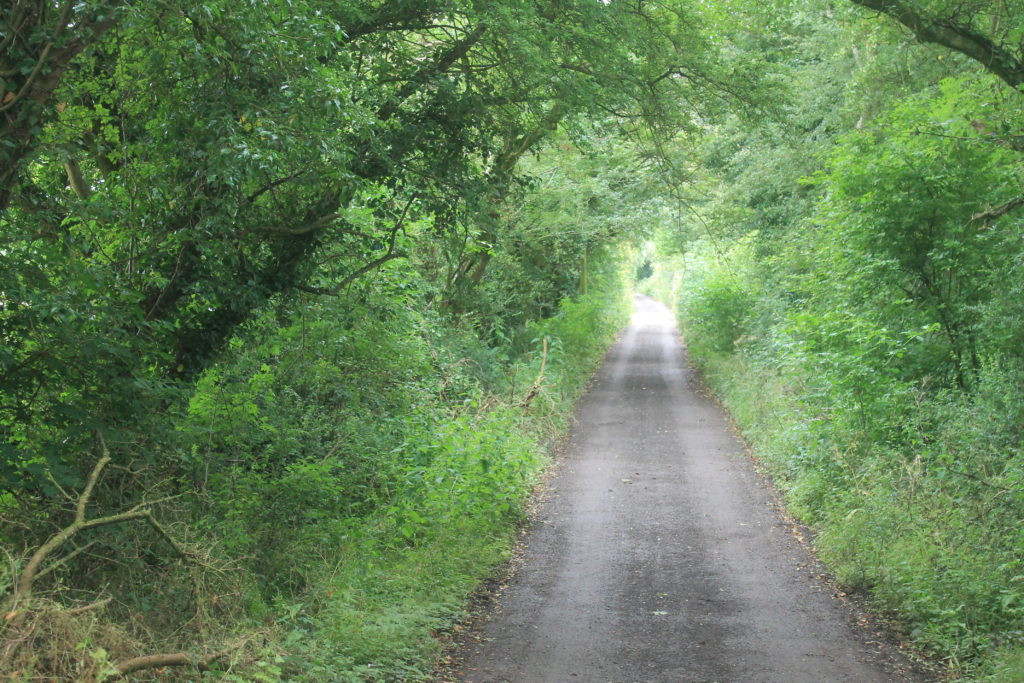 A dirt road with no traffic. I svänge left there. It was getting late now and time to look for a good place to sleep on. First place was good but when two horses looked angrily at me at 30 meters, I understood the hint. Found a better place no later.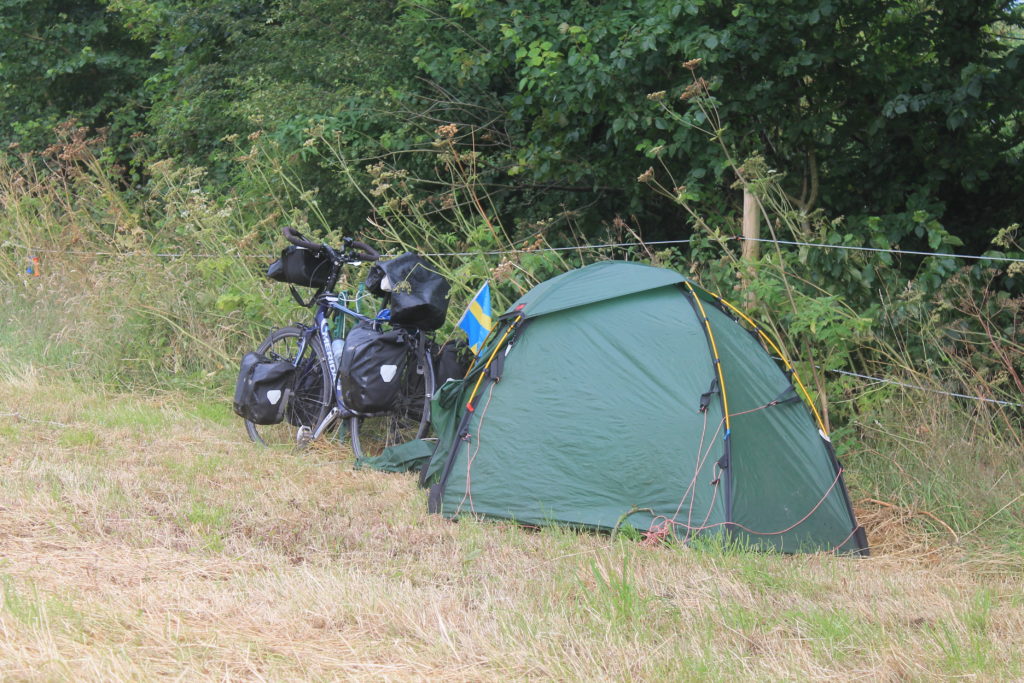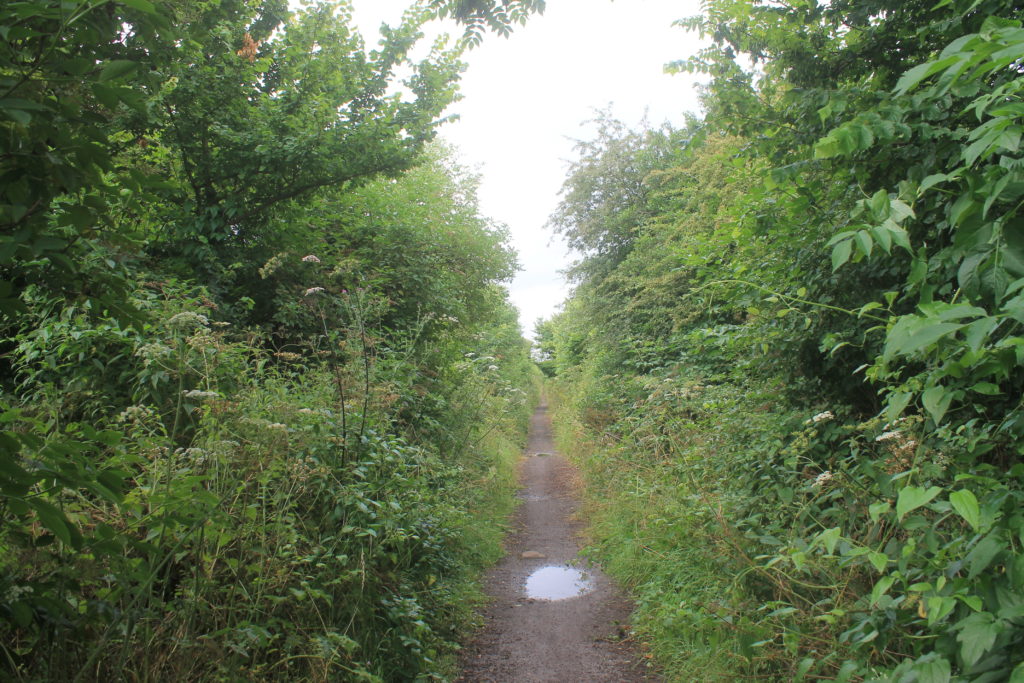 It was one of those typical day in England. Rain, uppehåå and more rain. Just wait here, somewhere in the Cotswold
Come to Bath after 4 hours cycling on the Fosse Way. First there was a byway but the closer Bath I got was the more civilized way. Actually, there were no good reasons to ride to Bath. A big disappointment. Bath became popular as a resort in the Georgian era (1700s). Georgian architecture crafted from Bath stone, including the Royal Crescent, the Circus, pump room and the Assembly. Additional building was carried out in the 19th century and after swimming Blitz during World War II.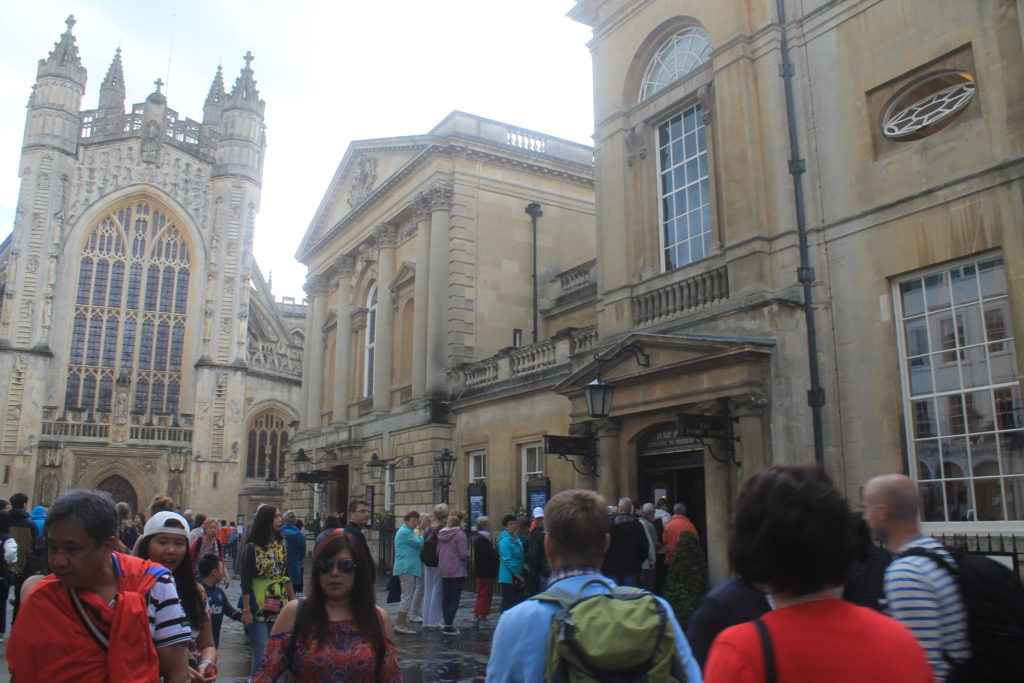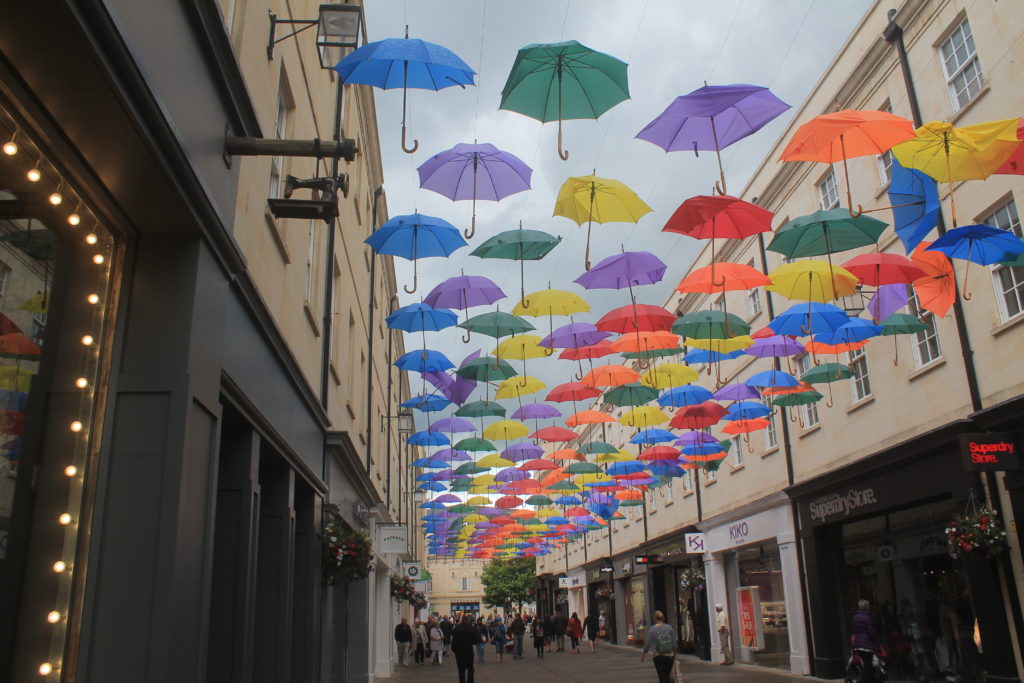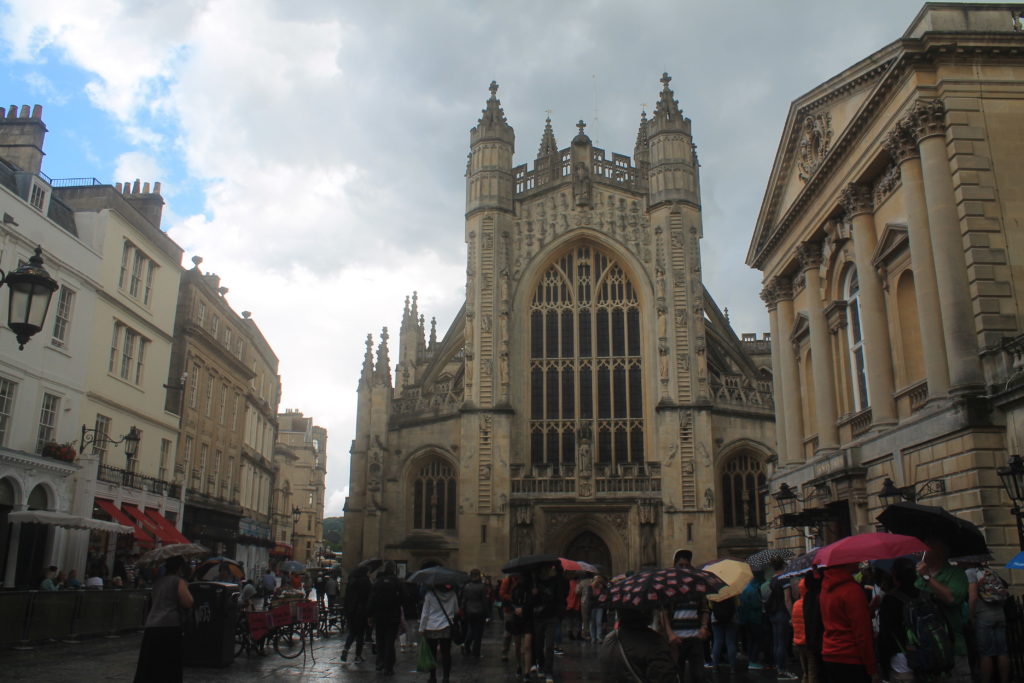 In addition to looking at all these buildings, it was not so much more. Sex at the museum was two hours long. Nothing for me. So I left Bath after lunch. I followed Kenett & Avon Canal Towpath.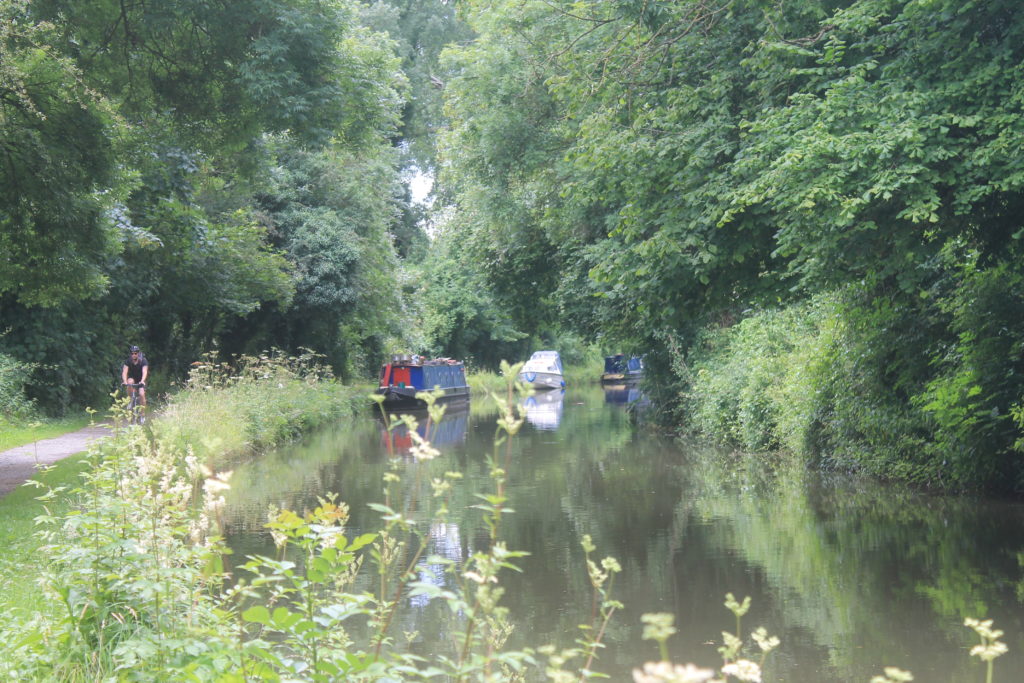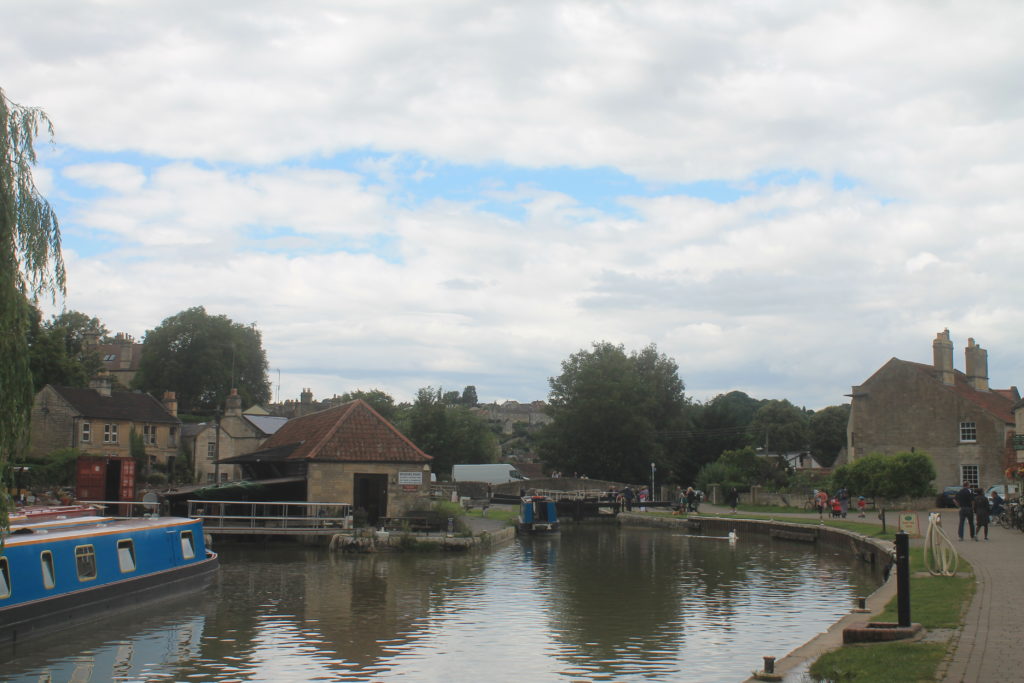 This day was one of the most tranquil because there was no traffic, and the water was calm.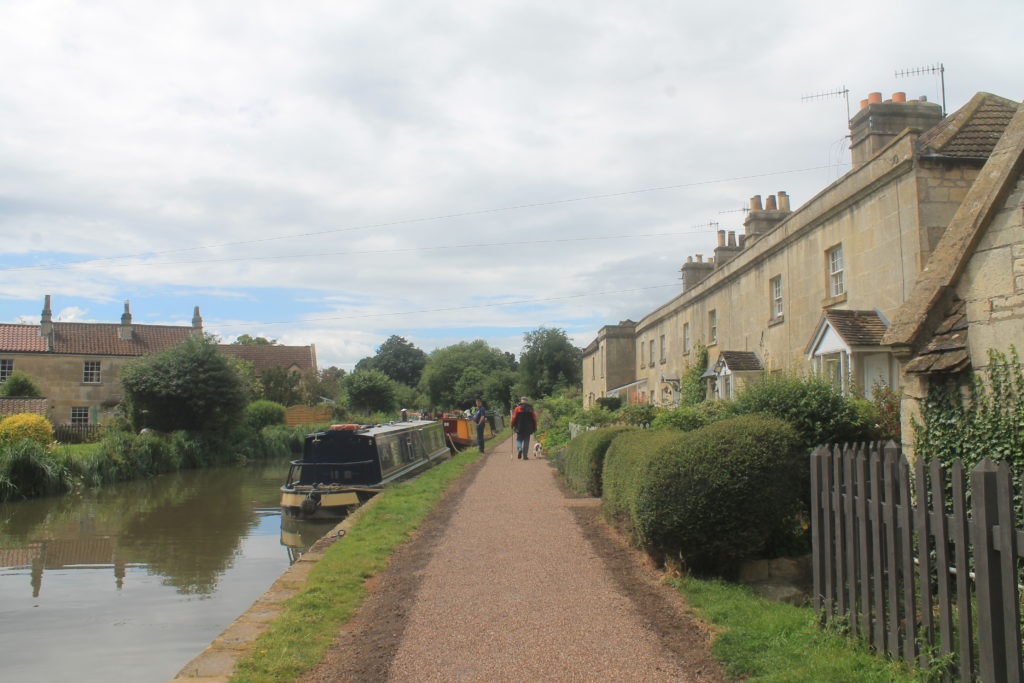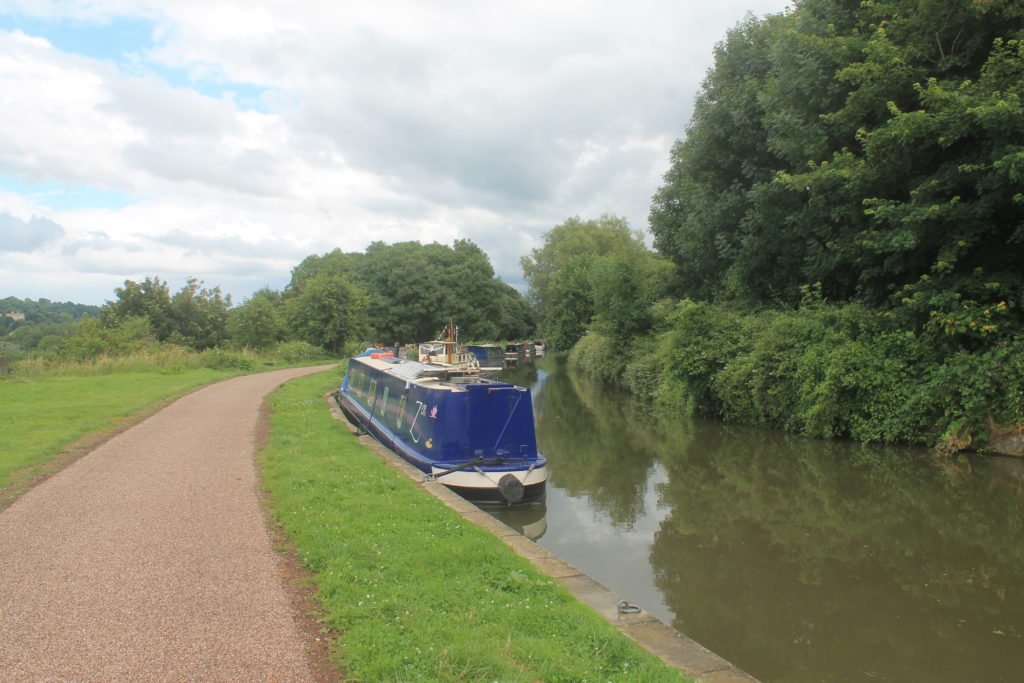 Next stop was the historic Highclere Castle. There were two days of cycling. I spoke with Brian Smith, of Lancaster, who lived six months in a barge every summer. A little later I learned that it costs 1300 pounds to hire a barge for seven days. I came to Delize locks. A magnificent technological masterpiece from the 1800s. The 29 locks have a pitch of 72 m to 3.2 km or a 1 in 44 gradient. The lock consists of three groups. The lower seven locks, Foxhangers Wharf to Foxhangers Bridge Lock, spread over 1.2 km. The next sixteen locks form a steep climb in a straight line up the hill. The last six locks take the canal in Devizes.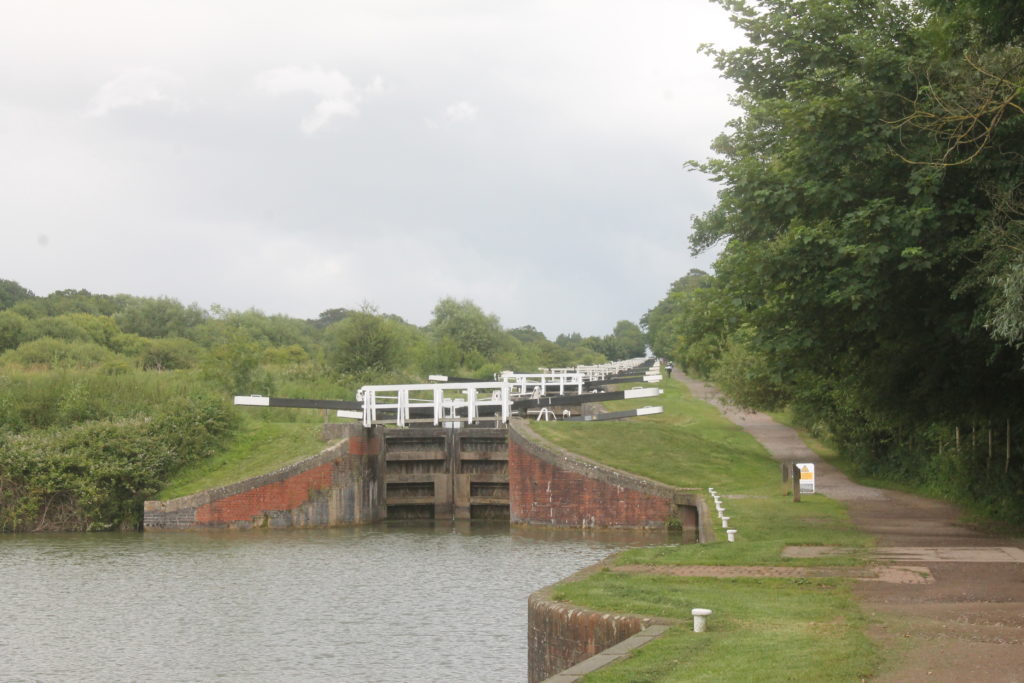 That night, I stayed at a bridge over the canal. Found no better. There were many who ran past, with or without a dog. Many gave the thumbs up and stopped to talk.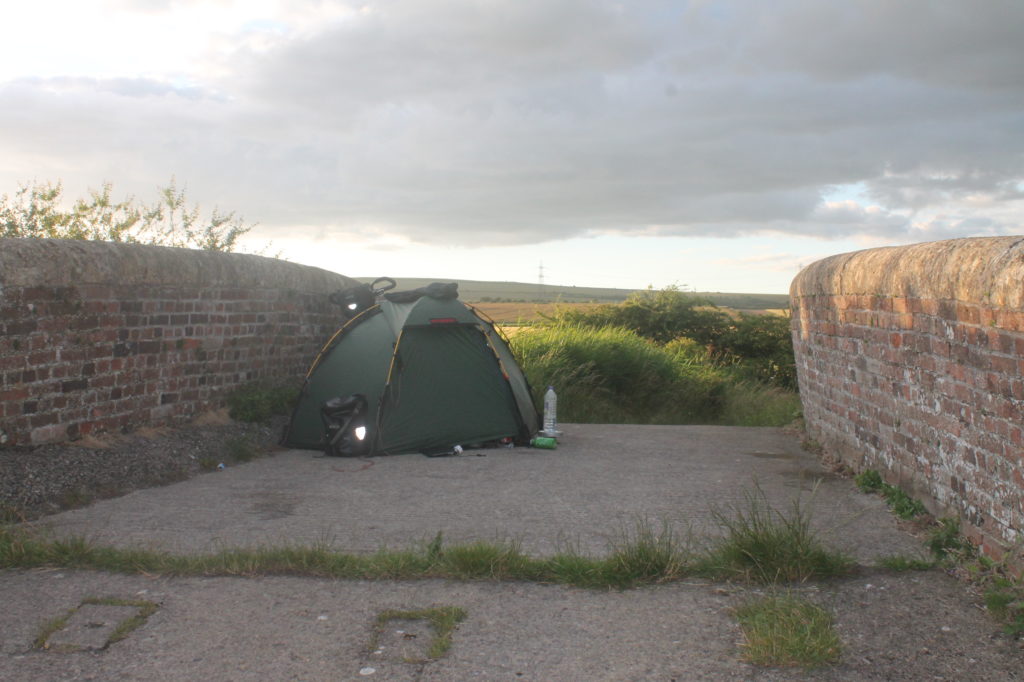 On small side roads, I came to Highclere. The plan was to cycle to Highclere Castle the day after for a guided tour of the castle. But that did not happen. It was closed. Always closed on Fridays. So it was no Downton Abbey visit. But a picture anyway.
Continued on towards the final goal, Brighton. It is not always the way looks as expected. How can it be if you follow Google Maps directions. How was it for about 3 km.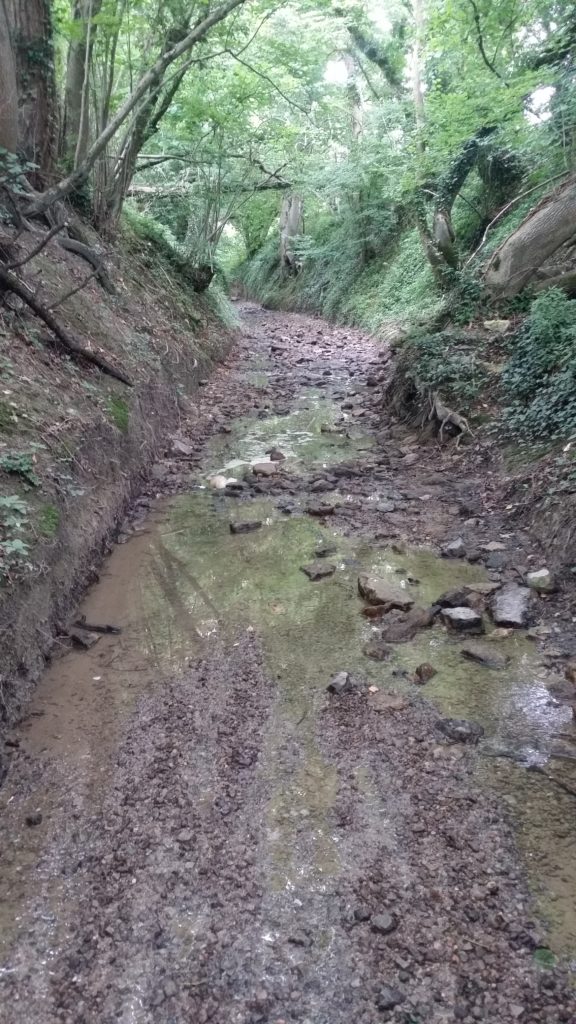 On the way there, I would stop at a Warm Shows host Bill Budd Liss. It was a pleasant evening with Bill, Jill, and their youngest son at the local pub with a lot of talk about long-distance cycling and other fitness sports. Bill was an experienced marathon runner and cyclist. Quite similar to my own background.
The next day, the last, followed Bill and Kevin with me on their bikes to Brighton. Jill followed by car and there lay my bags. It was five hours fast but many beautiful climbs and for me unusually rapid cycling. From Shoreham-by-Sea, we had the wind in the back to Brighton. We stayed at the promenade. Bill called for Jill so I got my bike bags. Then we sat on the boardwalk until they went home to Liss. I went to my hostel.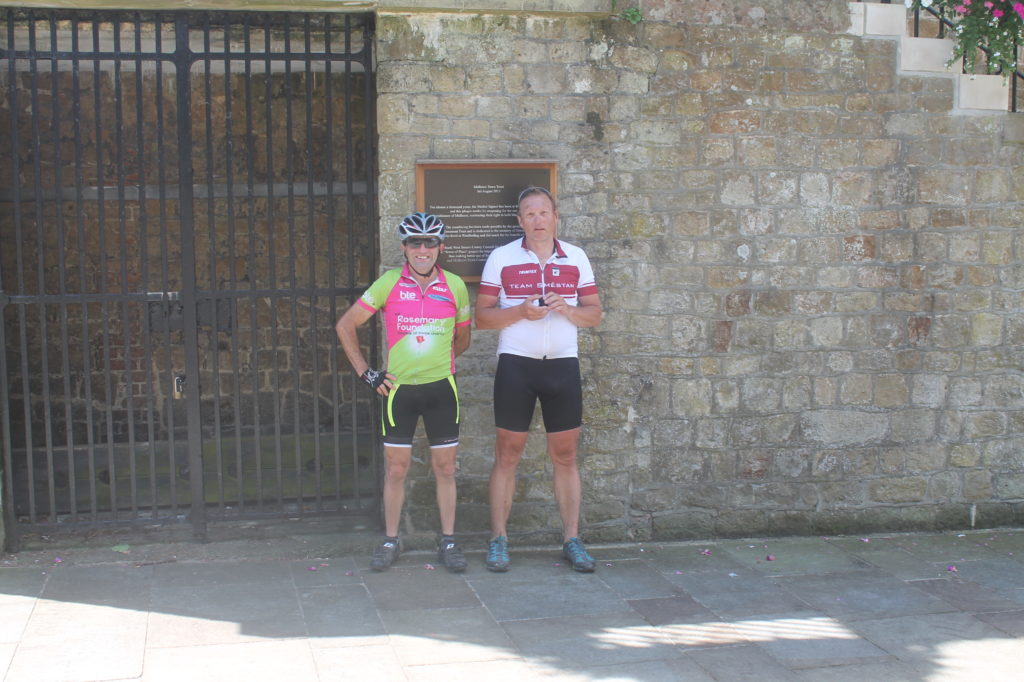 Finally at the promenade in Brighton
I stayed three days in Brighton. In Brighton there was Mark Brady. You know who I met in the Amazon 2013 Cycling Experience 2013. Took the opportunity to hang indictment count his "World Famous Pump Room."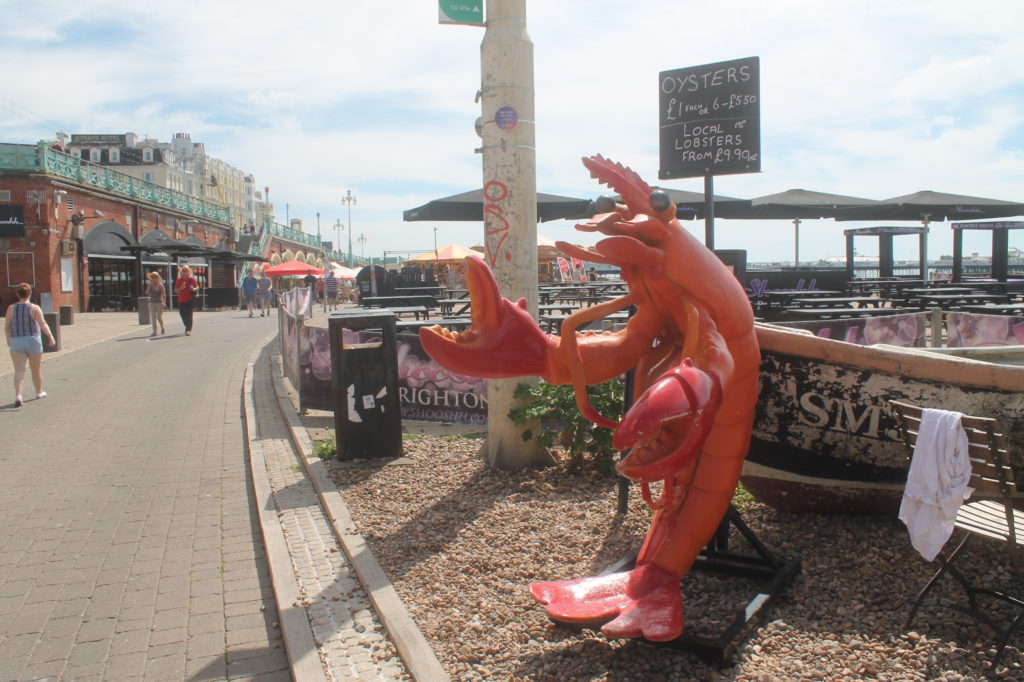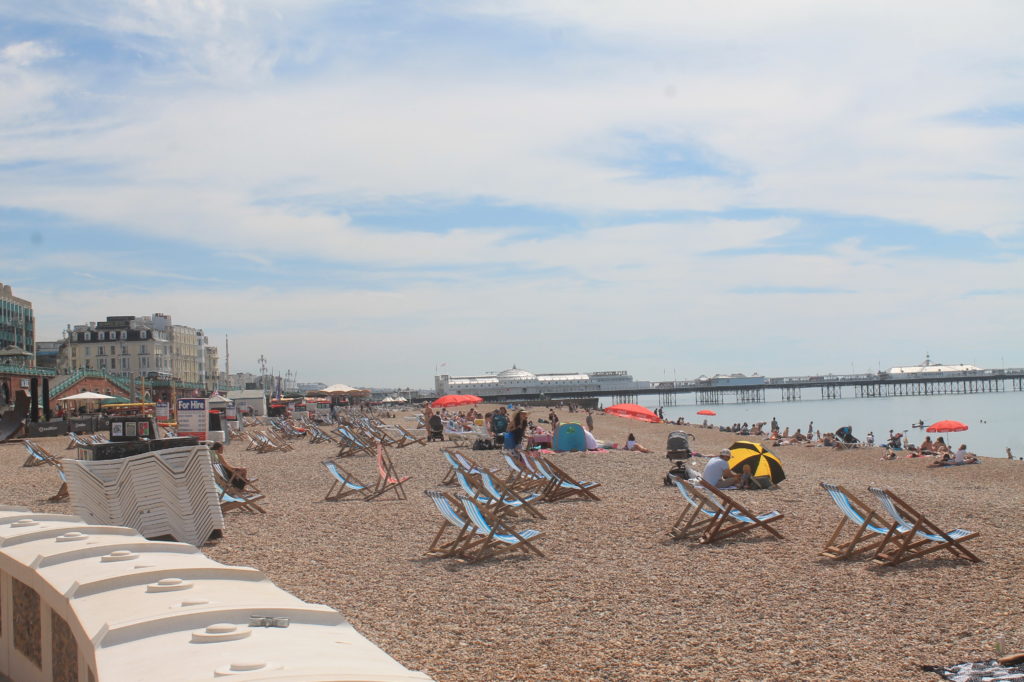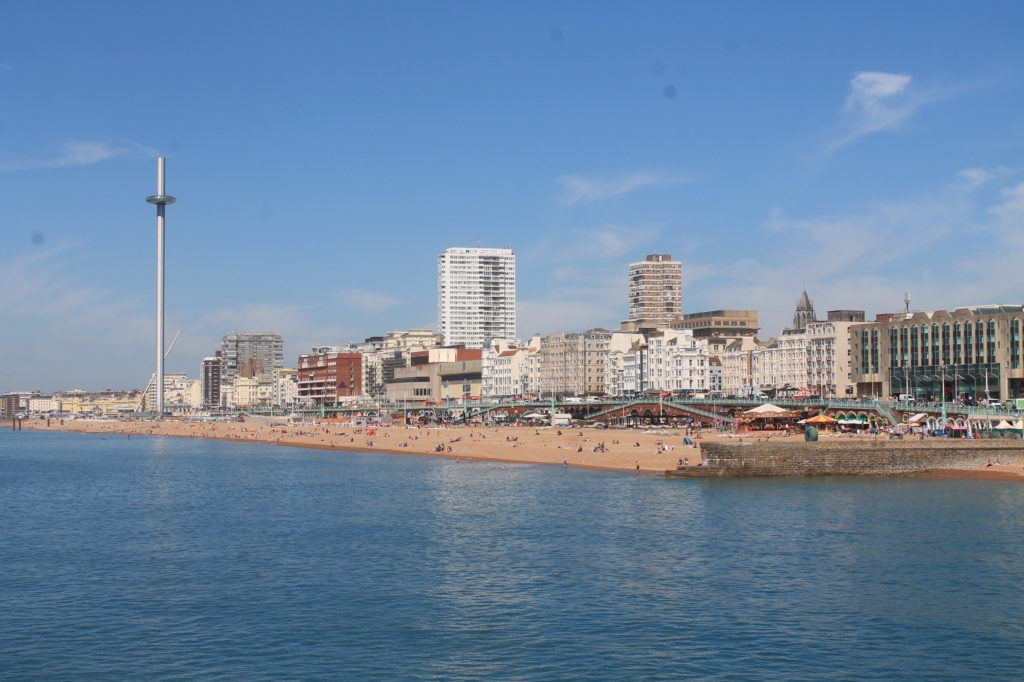 Cycling Experience 2016 was not yet final. A small epilogue remained, the one from Stockholm to Eskilstuna. 128 km. When I landed, I had 76 km until I almost came to Vasteras. When I stopped in a field. The next day I continued through Vasteras against Kviscksund and home to Eskilstuna.
Cycling Experience 2016 was therefore out: There were three nice days with many experiences, people and challenges.
1635 km mostly in the rain
4 nights indoor 15 nights in tents
a forgotten thing, reading glasses
numerous meetings with interesting people
No incidents, either on the road or in the cities.
Så här ser den planerade rutten ut.

Flyget till Edinburgh avgick en halvtimme efter angiven tid.  Det betydde att jag inte kom iväg från flygplatsen i Edinburgh förrän klockan var halv fyra på eftermiddagen.  Det blev mörkt lite efter 22 så jag hade 6 timmar på mig att cykla de 85 km som det var enligt min mätning på Google maps.
Det tog längre tid än tänkt och det blev fel väg till Glasgow. Hade en ide om att cykla utmed Union canal från Falkirk men det blev inte så. Tog fel väg direkt utanför flygplatsen och hamnade på A89 som jag följde en bit.
Kom till Argyle street precis när gatlamporna tändes.  Fortsatte mot BrewDog bar där jag köpte två Punk IPA innan jag fortsatte till hotellet där Linn väntade.
Jag stannade i Glasgow i tre dagar.  Dagen efter var det dagen för Linns graduation ceremoni.  En vacker tillställning i Universitetets gamla samlingssal. Men oj så lång tid det tog.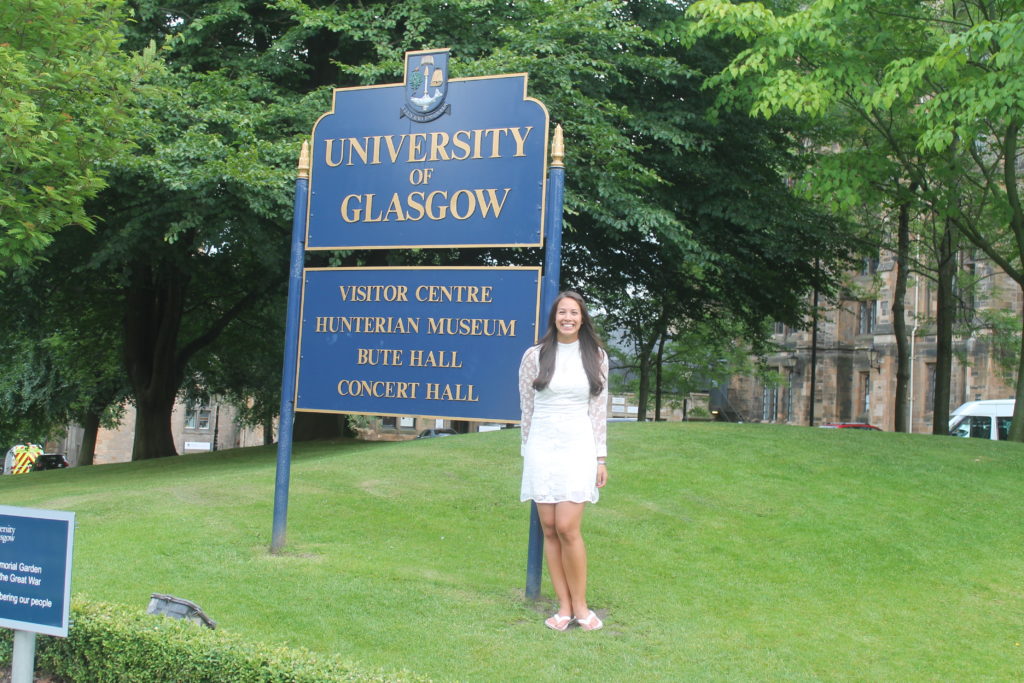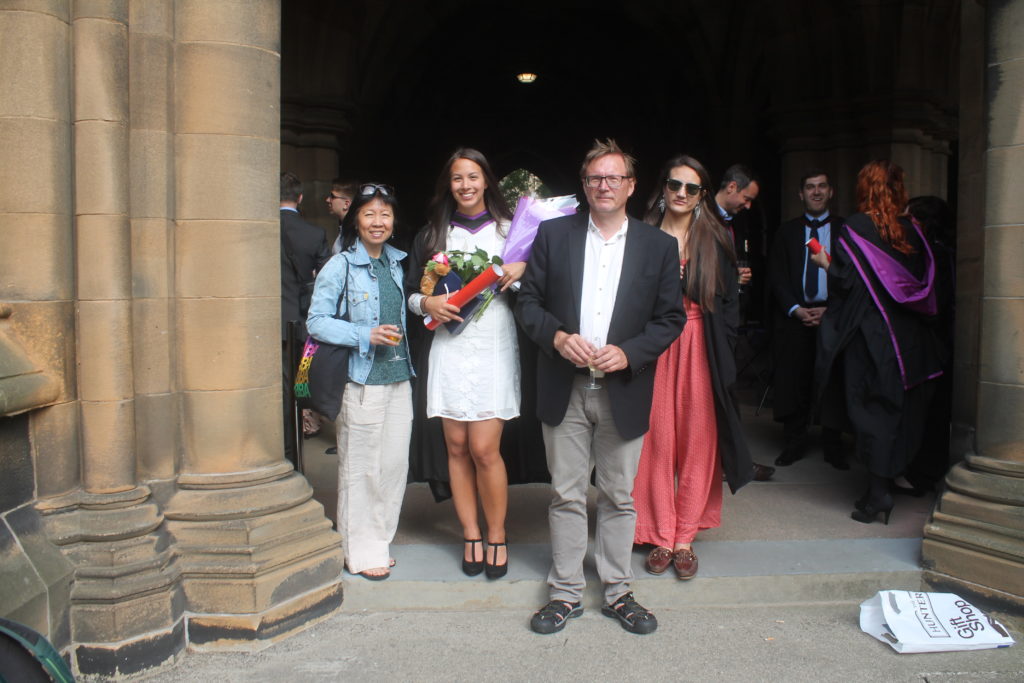 Kvällen avslutades på en restaurang. Dagen efter gick familjen på en stadsrundtur med stop på Katedralen, St George torg, Macintosh Tea room och the Lighthouse.  Jag avslutade på West Brewery och familjen gick i butikerna på Buchanan Street.
Thomas följde med mig ut ur Glasgow eftersom sannolikheten att jag skulle cykla fel bedömdes som hög av både Linn och Thomas.  Jag accepterade erbjudandet och vi drog iväg från hotellet direkt efter frukost.
Thomas lämnade mig i Eaglesham. Nu var jag själv men inte ensam.  På vägen mötte jag klungor av andra cyklister, med snabba racercyklar.  Vädret var fram till nu soligt och lagom varmt. Men nu började det dugga.  Jag passerade Whitelee Windfarm  och senare på eftermiddagen Darvel.  Darvel är inte känt för mycket mer än att det är födelseplatsen för Alexander Fleming. Den kvällen slog jag läger i en skogsdunge lite utanför Sorn.  Det hade regnat sen tidig eftermiddag fram till sent på kvällen.  Därför valde jag att leta efter en skog.  Genomblött men på gott humör. Cyklat i ett jordbruksområde med böljande fält. Med får och lamm på fälten.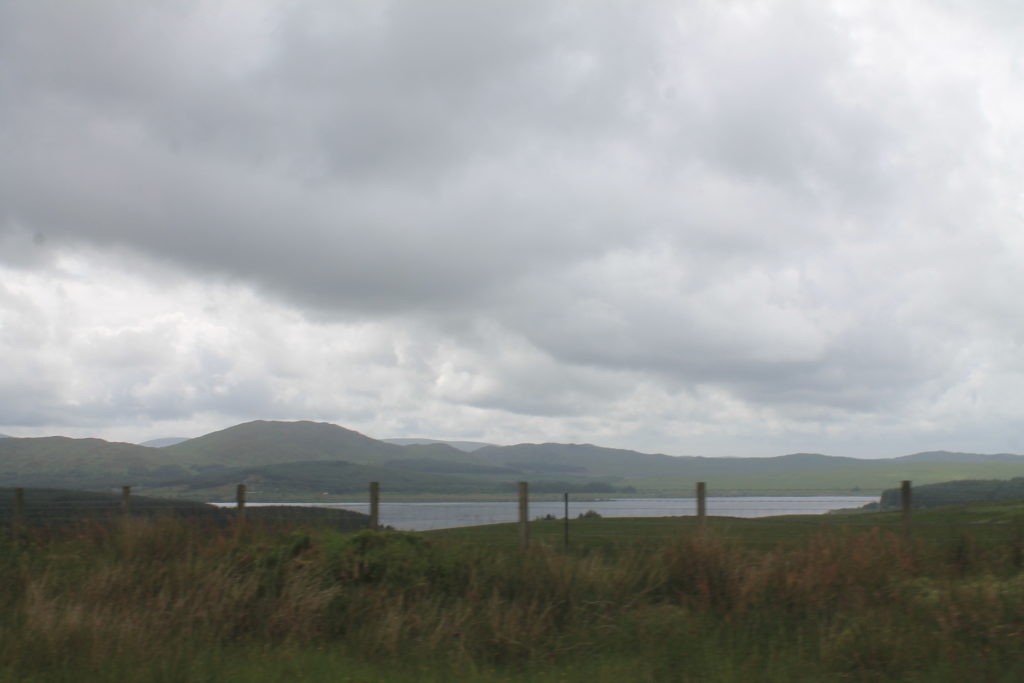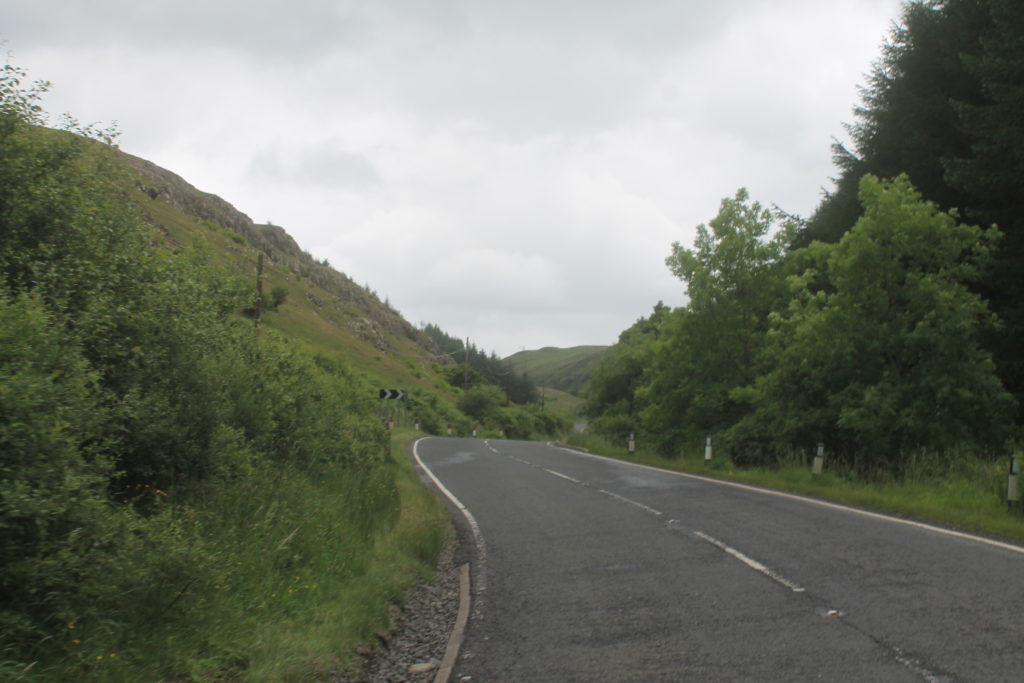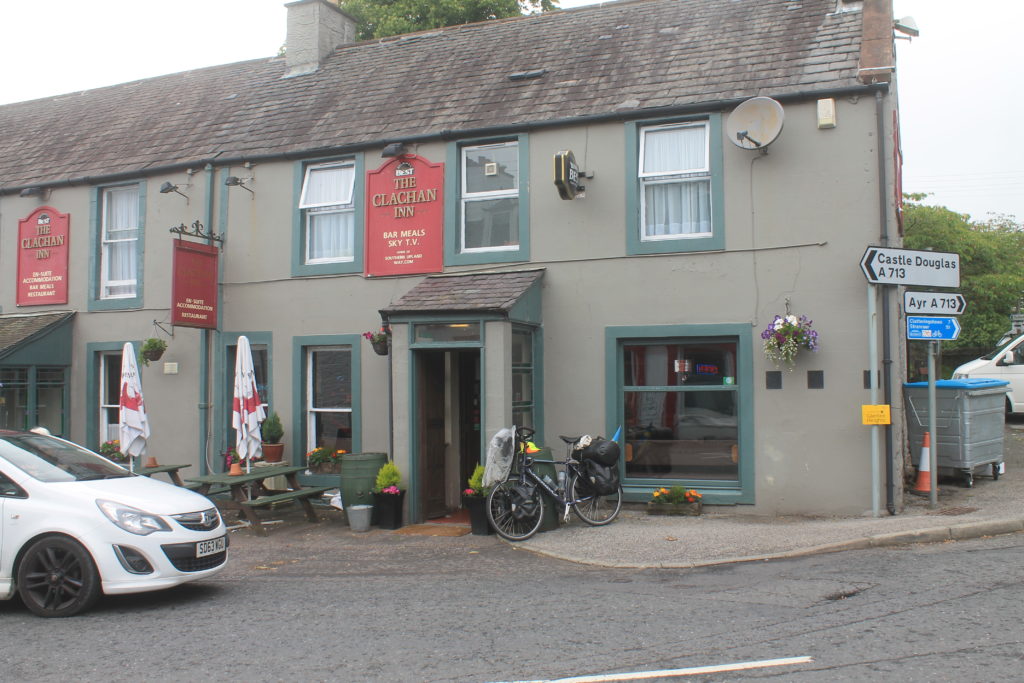 Nästa dag var en upprepning av den förra. Regnskurar hela dagen.  Men jag mäktade med 83 km den dagen..  Här någongång börjadee framväxeln krångla. Hur jag än skrivade på vajerspänningen så blev det inte bättre.  Inte konstigt. Vid en närmare undersökning så såg jag att två bultar saknades.  Använde bundband för att göra en provisorisk lagning. "Kan nog ordna något i Dumfries",  tänkte jag.  Men så blev det inte.  Efter en dålig fish & shiips så besökte jag två affärer. Ingen hade bultar hemma.- Googlade och såg att i Longholm fanns det en cykelaffär.
Kom till Clarencefield den tredej dagen. Allt var blött och jag var på miserabelt humör. Stannade på Farmers in. Första natten på guesthouse. Jag var nu i södra Skottland. Hade passerat Galloway Forrest park.  Stannade flera gånger för att byta buntbandet.
Återigen en regnig dag. Funderade länge på att vänta ut regnet men blev utkastad ur rummet.  När jag såg skylten "Devils Porridge" var jag bara tvungen att stanna till för att se vad det var. Det var ett krigsmuseeum tillägnat ammunitionsfabriken (http://www.devilsporridge.org.uk/)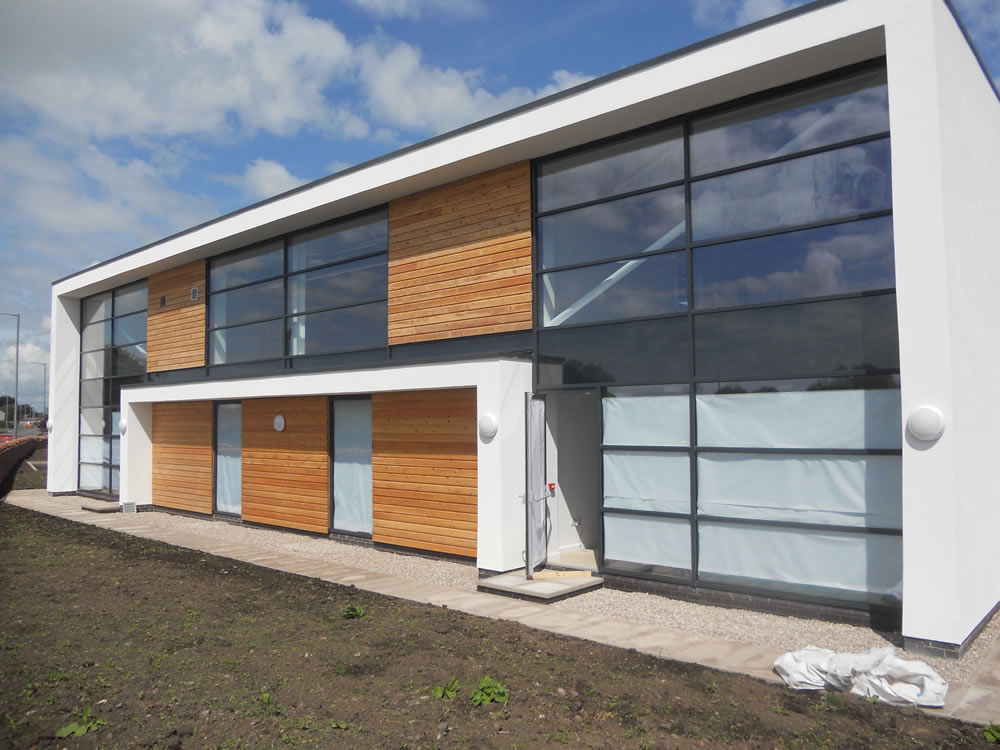 Kom äntligen till Longtown och fick hjälp med bultarna.  Regnet strilade ner oupphörligt hela dagen.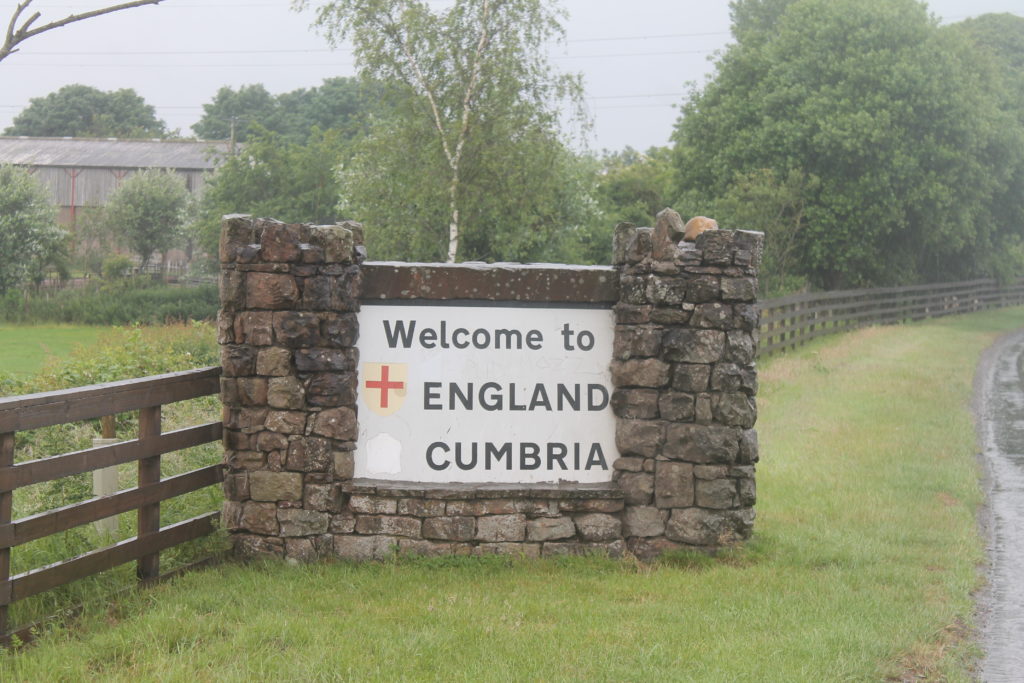 På små vägar närmade jag mig mitt mål för dagen, Gilsland.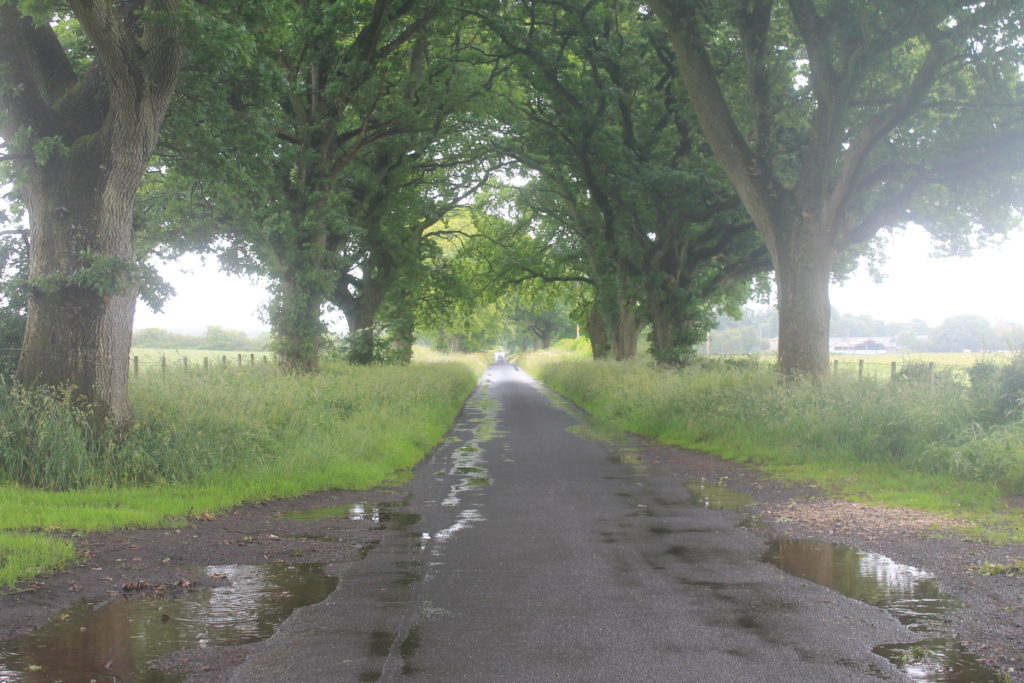 Nära Gilsland fanns Hadranius mur https://sv.wikipedia.org/wiki/Hadrianus_mur : Genomblöt och lite trött letade jag efter ett ställe för natten.  Men nej, allt var fullt. Istället fortsatte jag 4 km till Greenhead och Greenhead hostel.  50 pund för att sova i en gammal kyrka.  Det enda roliga där var möten med vandrare som gick hela murens längd från Newcastle i öst till Bowness-on-Solway.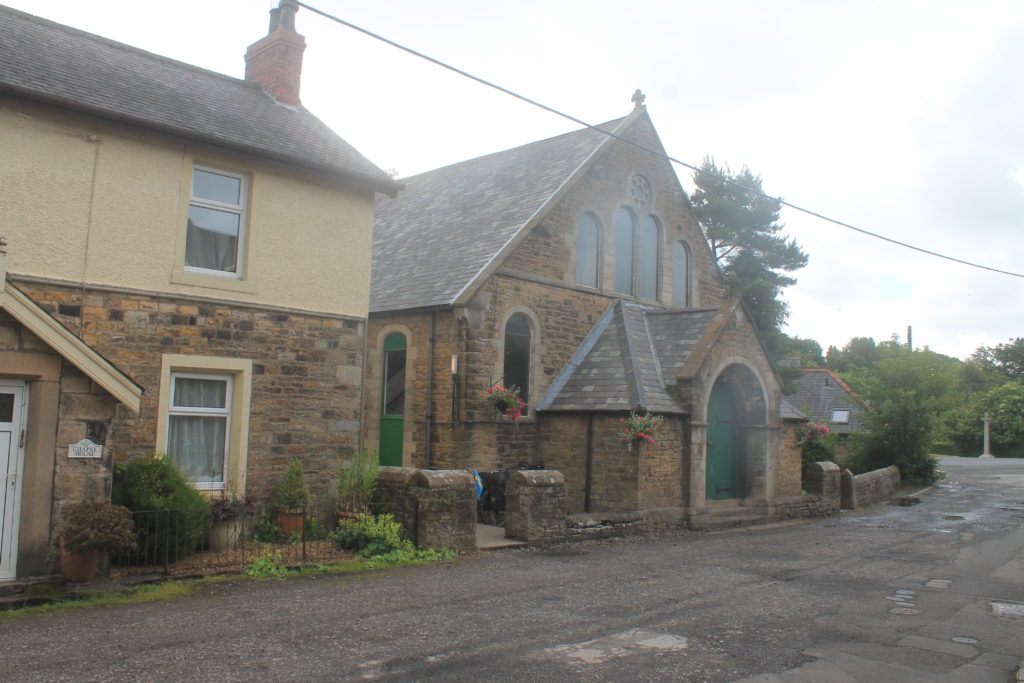 Det regnade. Vet inte hur många gånger jag kommer konstatera detta faktum.  Cyklade mot Hadrian wall och museet utanför Gilstand.  Det var stängt så det blev några panoramabilder på muren. Fortsatte på den gamla militärvägen.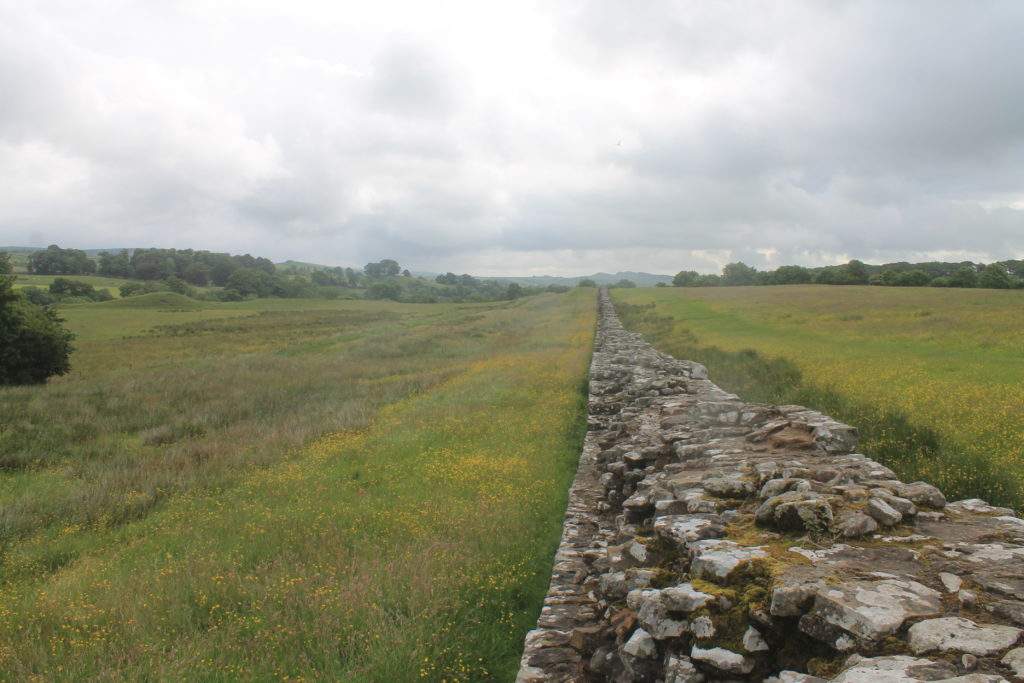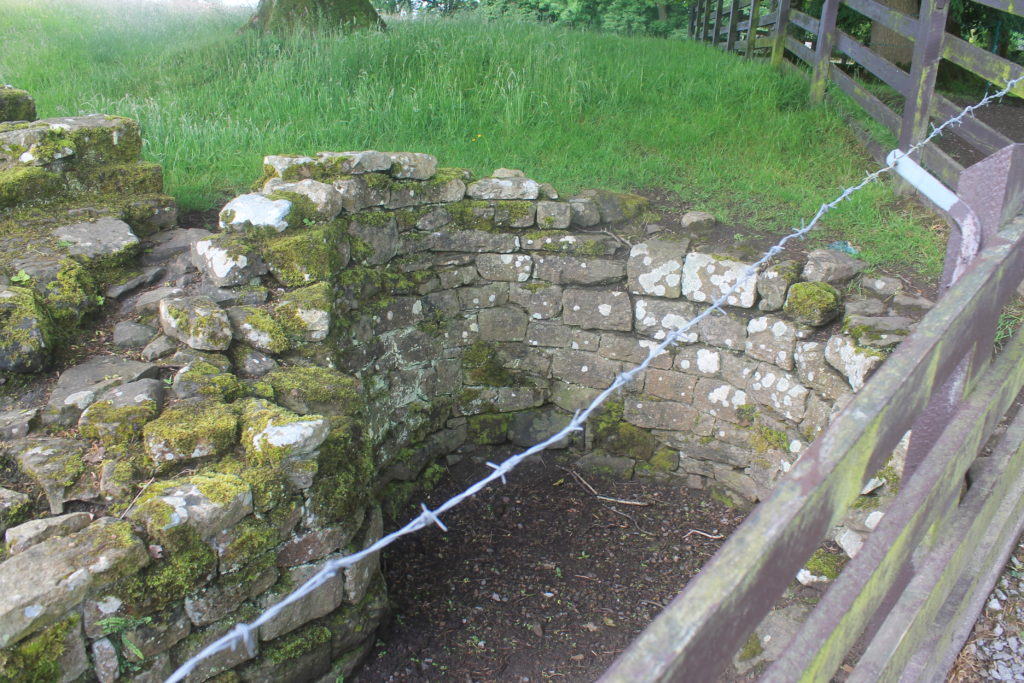 Efter några mil och en skön utförskörning kom jag till Lanercost och den gamla klosterruinen.
Lanercost etablerades på någon gång mellan1165 – 1177 av Robert de Vaux. Det föll i ruiner efter upplösningen av klostren av Henrik VIII 1537.  Så, inte så sevärt i mina ögon så jag fortsatte mot Brampton.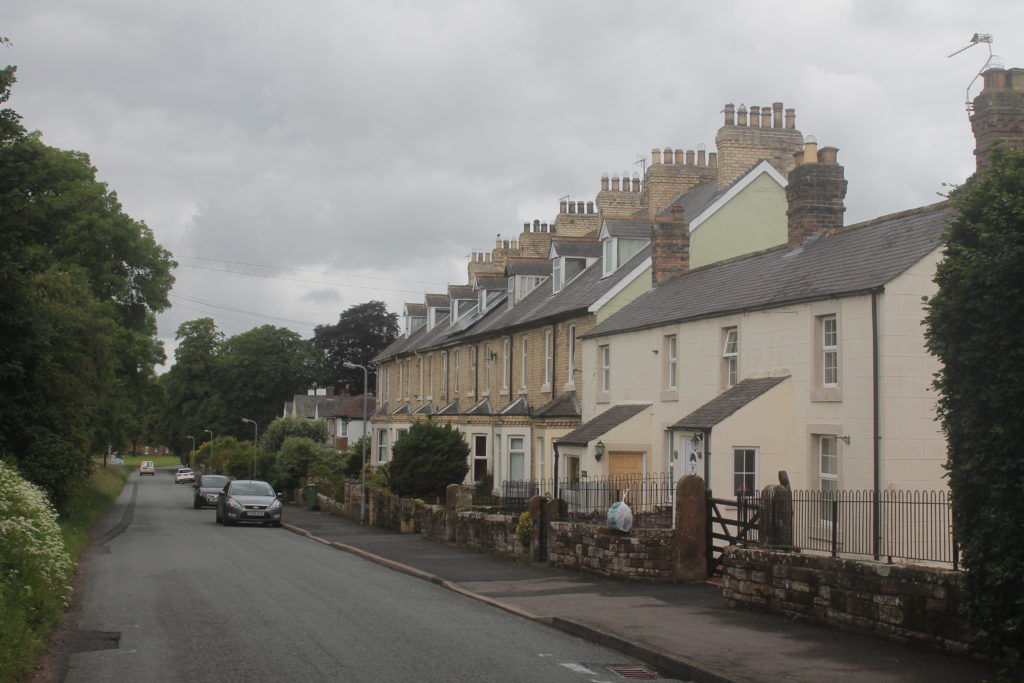 Man ser mycket när man cyklar. Idag en ultralöpare. Fick också hjälpa till drive en flock mjölkkor framåt.  Men det här huset var verkligen intressant.  Tyvärr såg jag ingen jag kunde prata med men se hur de anlagt nytt i tornet som delats.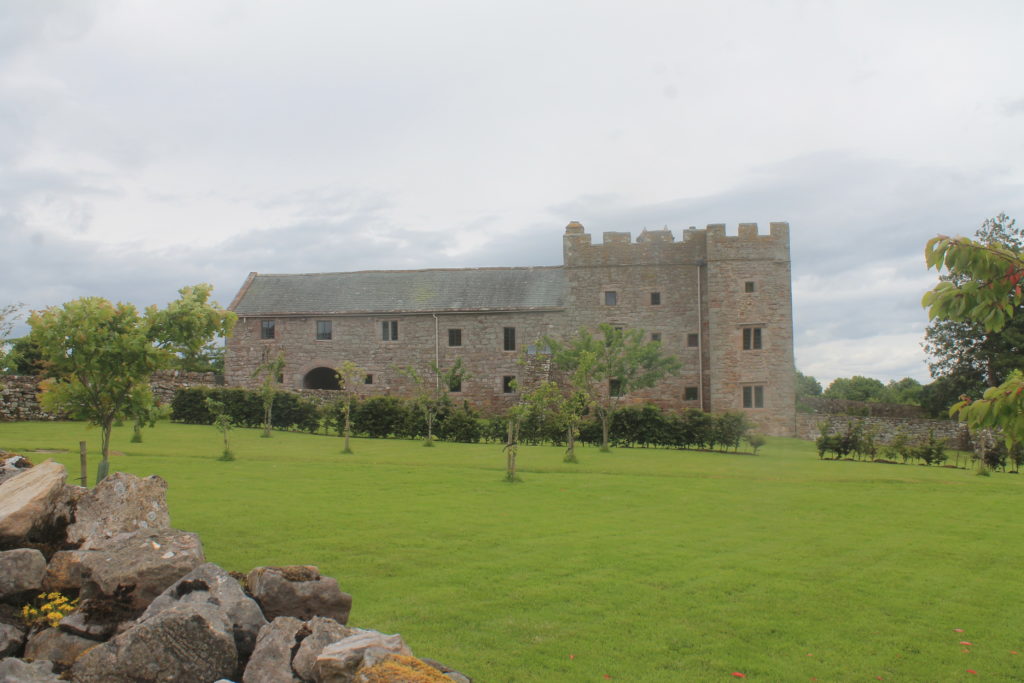 Från Troutbeck var det en backe som tog lite tid. Stannade på The Royal Hotel i Dockray innan jag kom fram till Glenridding.  Planen var att hitta en väg till sjön och få en trevlig camp ställe den natten.  Så blev det inte. Bilden från Nedförkörningen från Glenridding.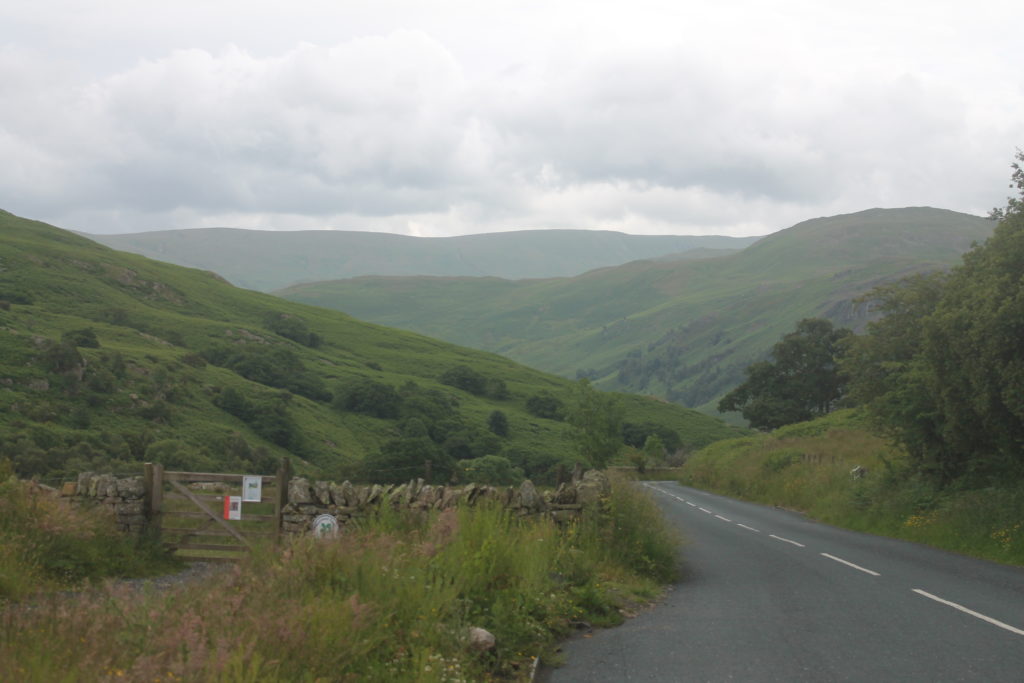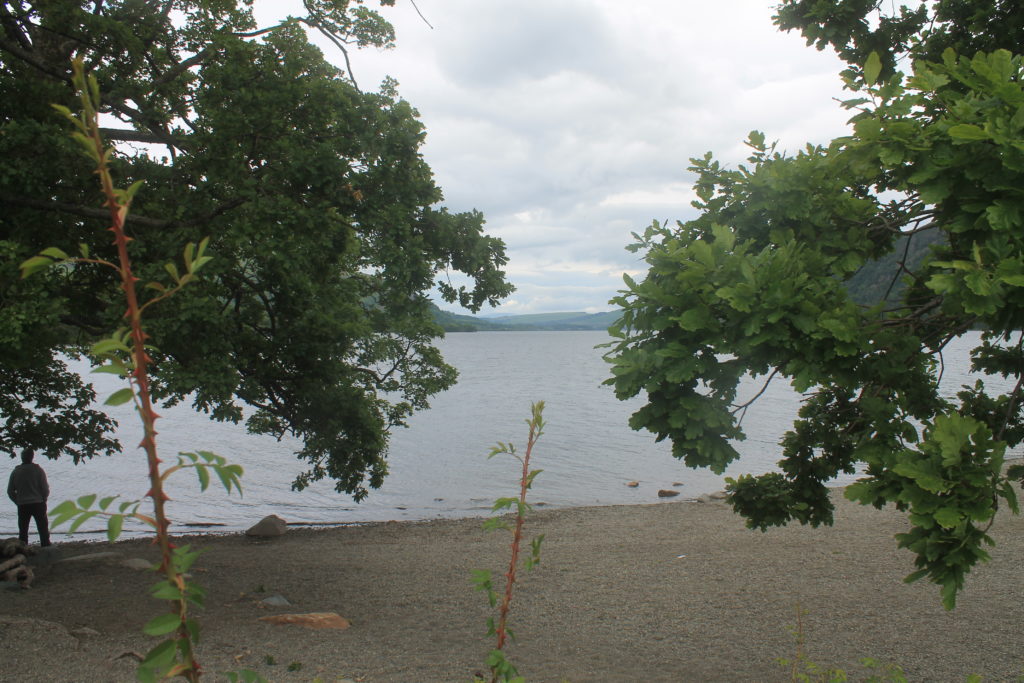 Det blev utanför Patterdale.  Tyckte jag hittat ett bra ställe.  Bakom en stenmur, under en ek.  Men inte.  Bilarna hördes genom muren. Inget regn under dagen men på kvällen.
Jag hade kommit till Lake District.  Nu kom den jobbigaste dagen av de alla. Kirkstone pass.   Detta är Lake District högsta pass som är öppen för biltrafik och det ansluter från norr Rothay Valley till Patterdale i Ullswater Valley På vissa delar är lutningen 1:i 4. Nära toppen finns Kirkstone Pass Inn, den tredje högst belägna puben i i Storbritannien, den näst högsta är the Cat and Fiddle Inn i Peak District. Jag kom dit någon vecka senare. 2 km stod det på skylten att det skulle vara till toppen.  Efter en stund kom vägskylt 13%.  Det går ju an, tänkte jag och gnetade på .  Det gick men det gick lsakta.  Efter en halv km kom nästa skylt, 20%. Då började jag gå.  När det var 300-400 meter kvar kom skylt nr 3, 13% igen. De här två kilometerna tog mig 70 minuter.  Då var det en lättnat att det var nedför hela vägen till Windermere.
Det är populärt med vandring i UK. Helst ska det ske i grupper och helst där det är backigt. Därför såg jag mycket vandrare i Lake District.  Efter Windermere och en snabblund fortsatte jag mot kendal. Tack vare sin närhet till nationalparken Lake District räknas Kendal som en del av den då turister använder staden som utgångspunkt. Staden Kendal ligger ute på landsbygden vilket gjort att den länge fungerat som handelscentrum för omgivningen.  Första större by efter Kendal var Sedbergh. Ansedd som en stor antikvariatstad i paritet med Hay-on-Wye and Wigtown.  I Dent stannade jag på den lokaal puben The George & Dragon. Men återigen, Ale är inte min dryck.
Återigen efter Dent drog det iväg på små backar, uppför eller nedför.  Otroligt vackert i Yorkshire. Lite kargt men vackert.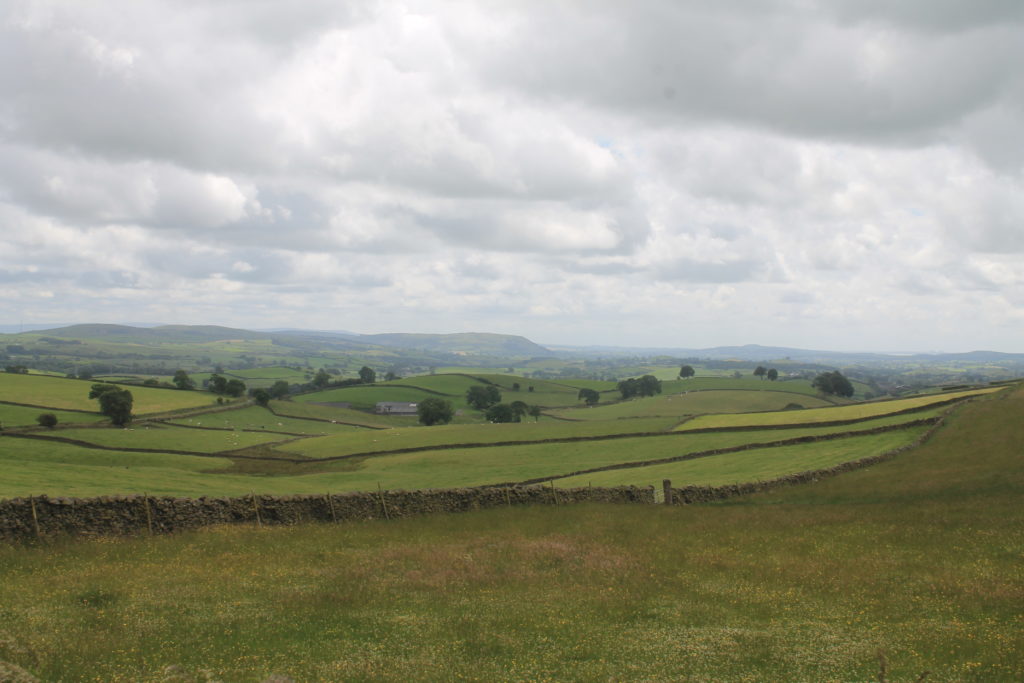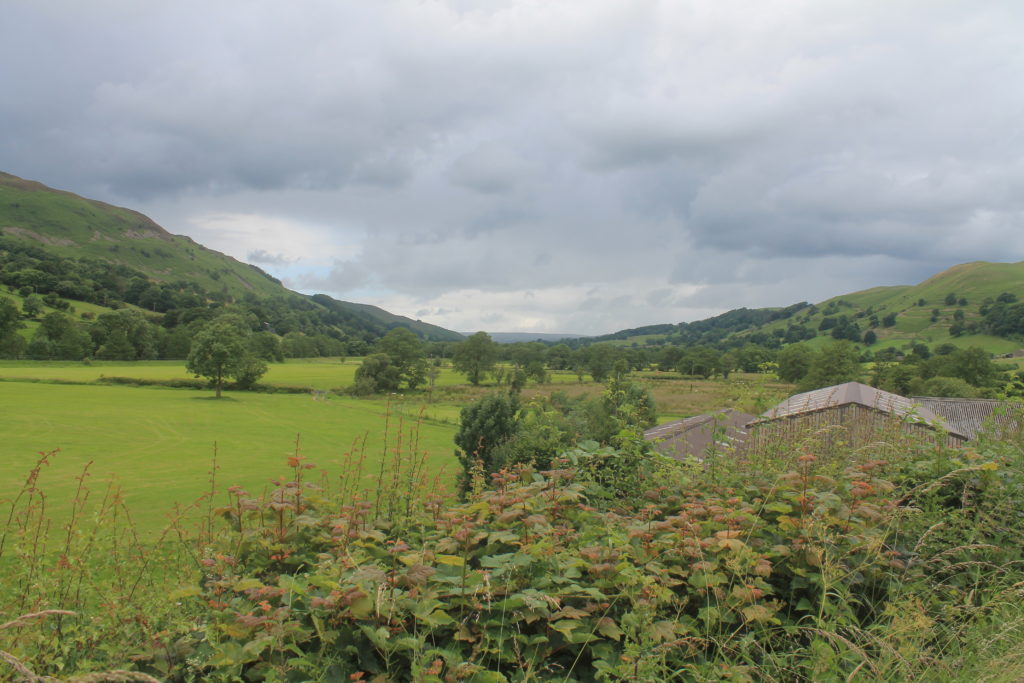 Det småregnade på eftermiddagen med aning om regn på natten. Jag letade efter ett bra ställe att stanna vid.  Bra betyder skydd för regn och vind.  Till slut hittade jag ett övergivet skjul, eller om det var en container. Den gav lite skydd för regnet och vinden.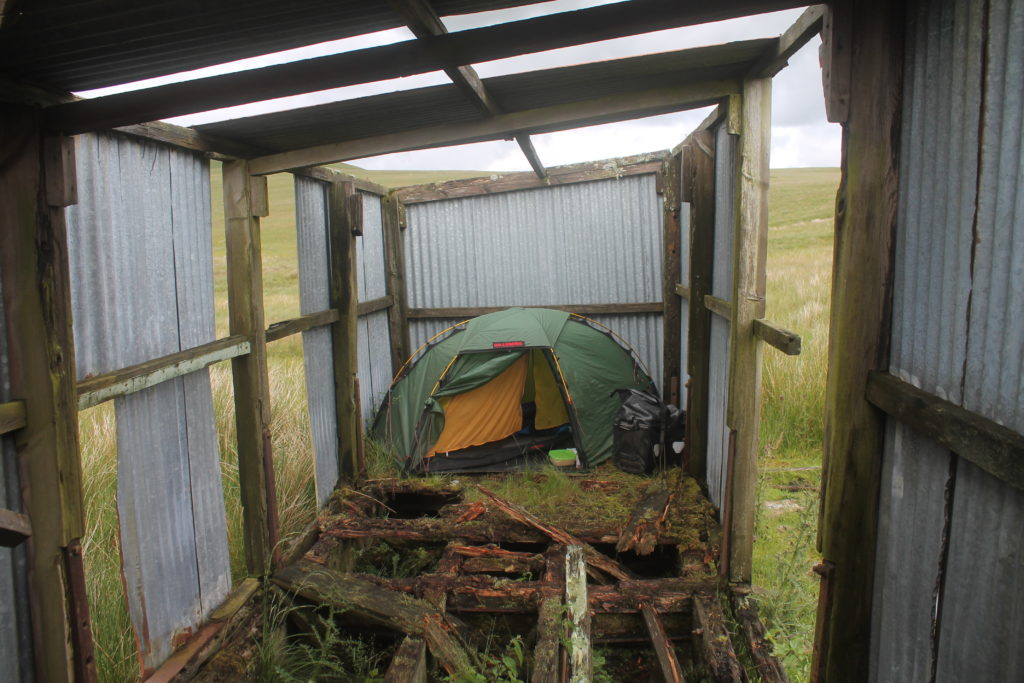 Natten var kall, blåsig och regnig.  Då blev det bättre dagen efter.  En utförskörning som varade i princip hela dagen. Första staden efter ca 30 km var Hawkes. En lite stad med ca 1100 invånare. Just den här dagen var det marknad så det var något fler människor och bilar.
Efter Hawkes följde vägen floden Ure.  Nu var det en vacker dag. Lagom med sol. Kunde för första gången cykla med kortärmad tröja.  Efter 75 km kom jag till Skelton on Ure.  Stannade där för natten med visshet att dagen efter skull jag vara i York.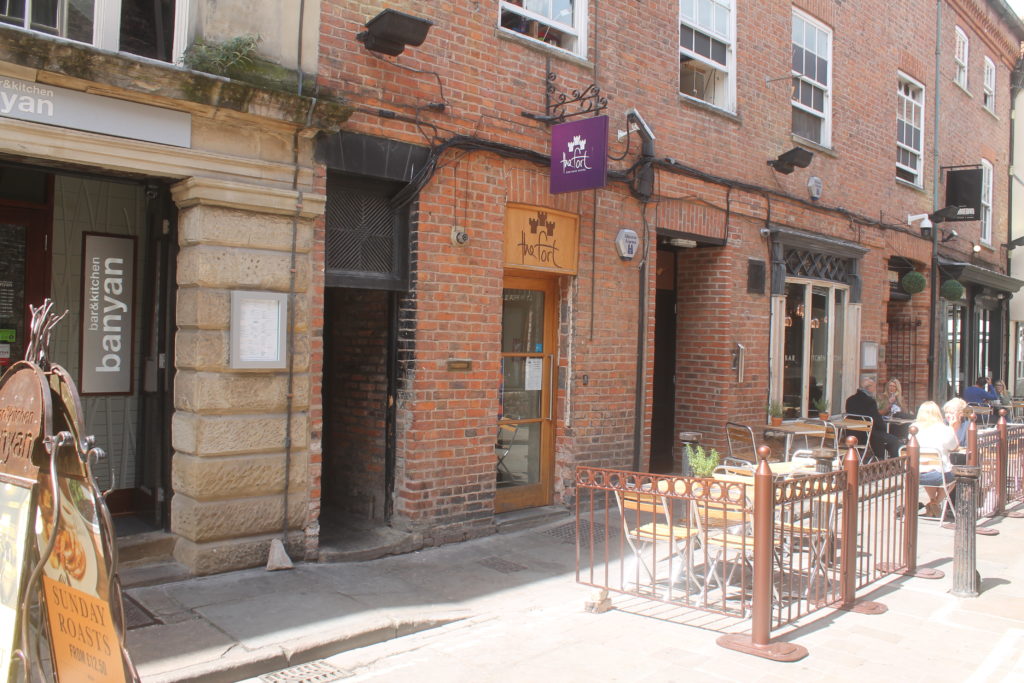 Slättlandet runt York och västlig vind gjorde att jag kom till York redan före 12.  Lite krångel med att hitta Fort Hostel. Jag stannade en natt i York.  Tittade på katedralen, tog bilder, provade Yorkshire pudding och deras ale.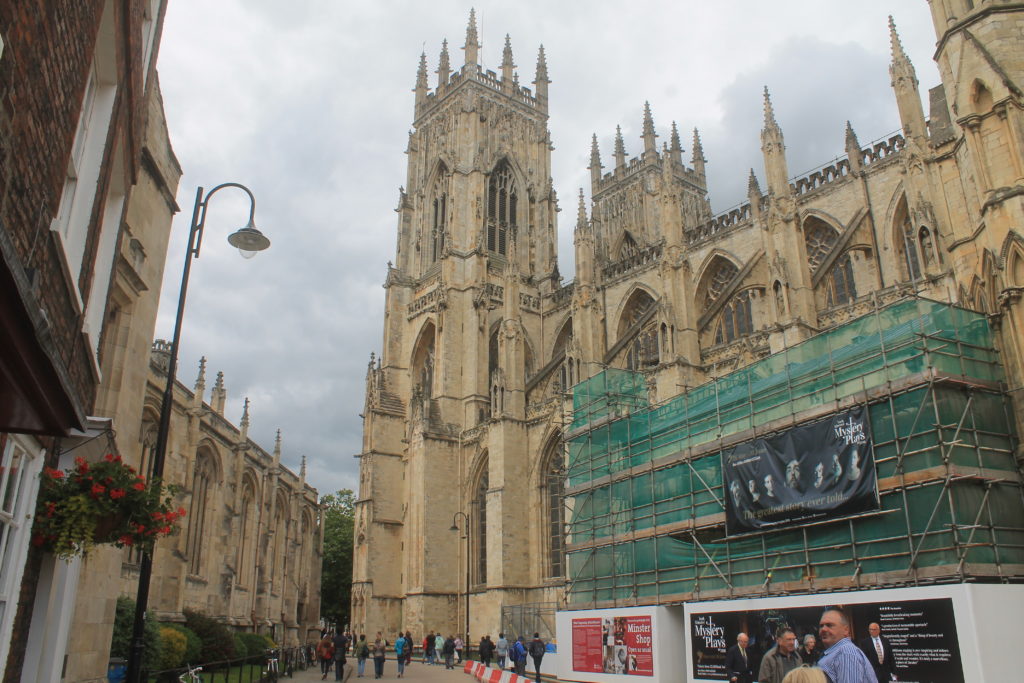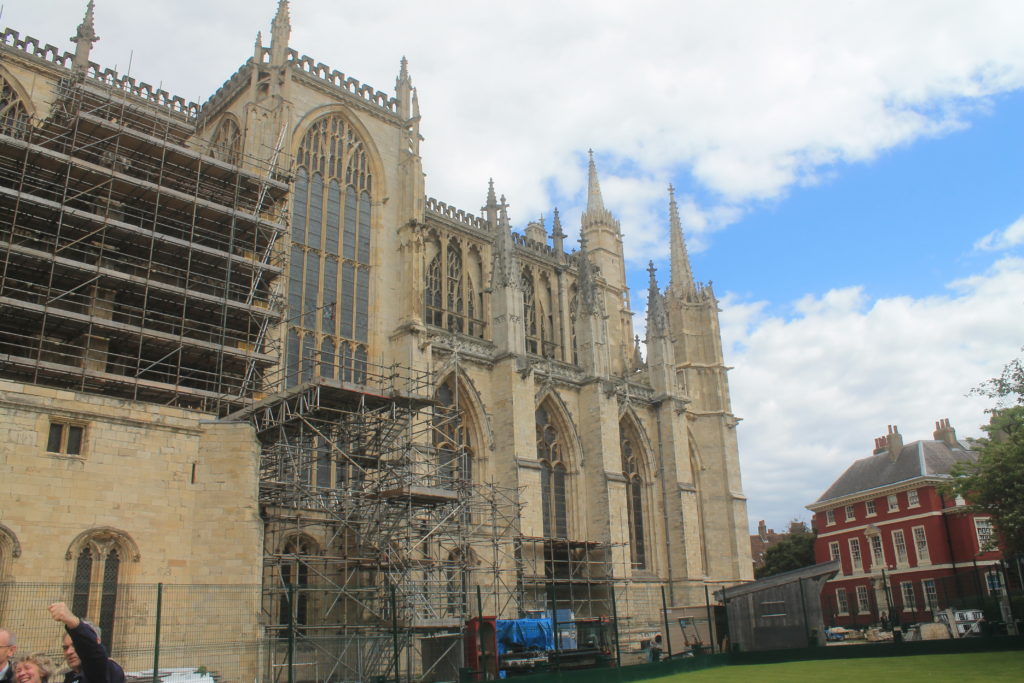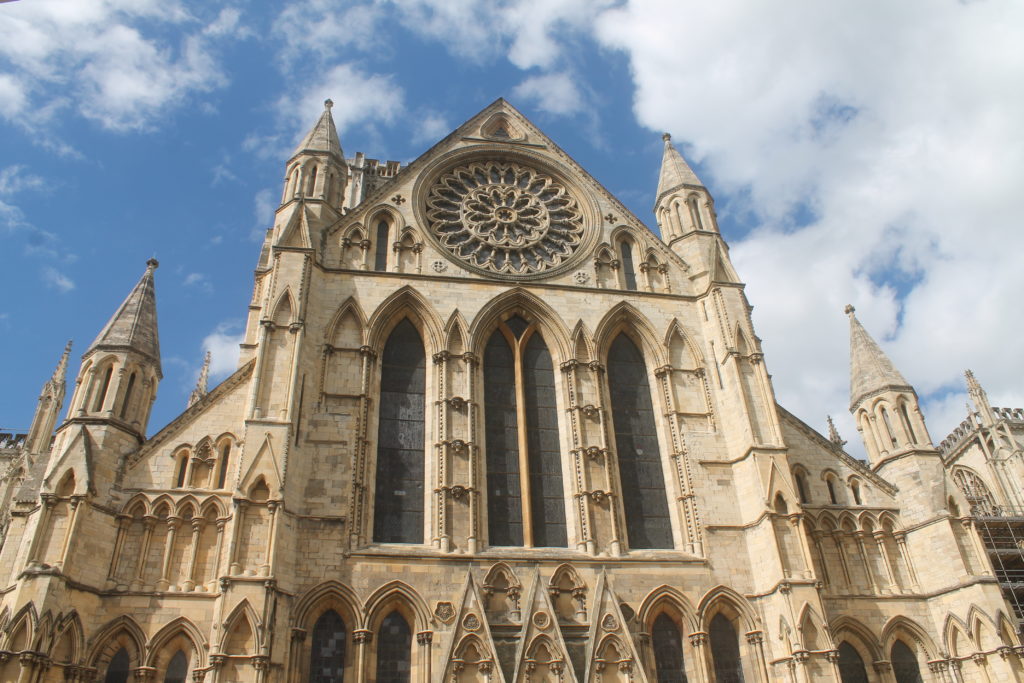 Tyvärr så var kyrkan under renovering så det blev inga bra bilder.  Kyrkan brann delvis den 9 juli 1984.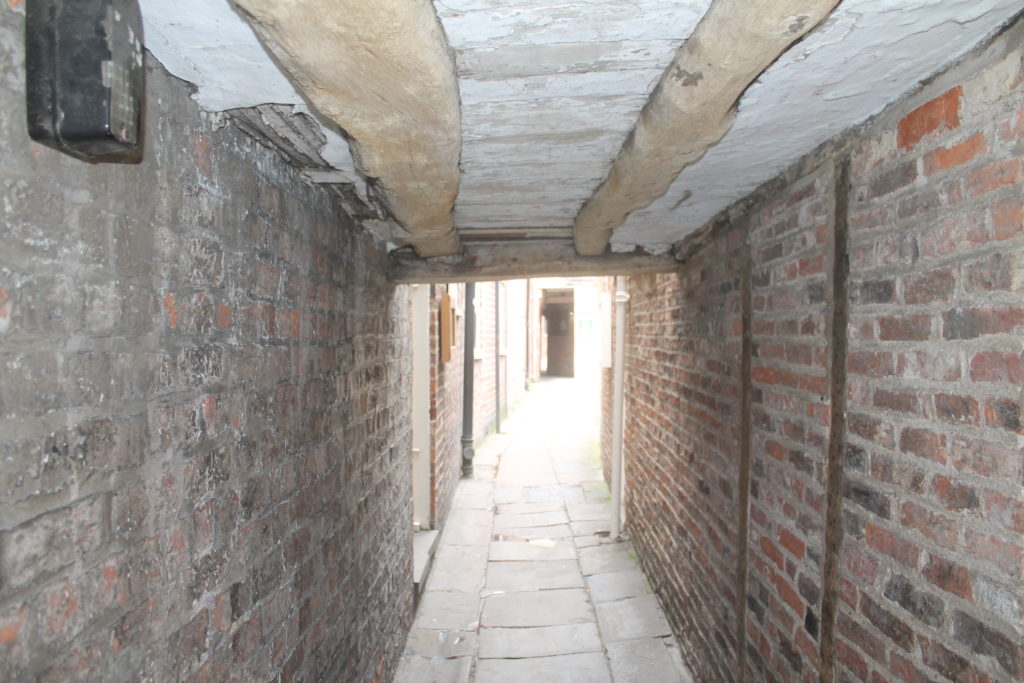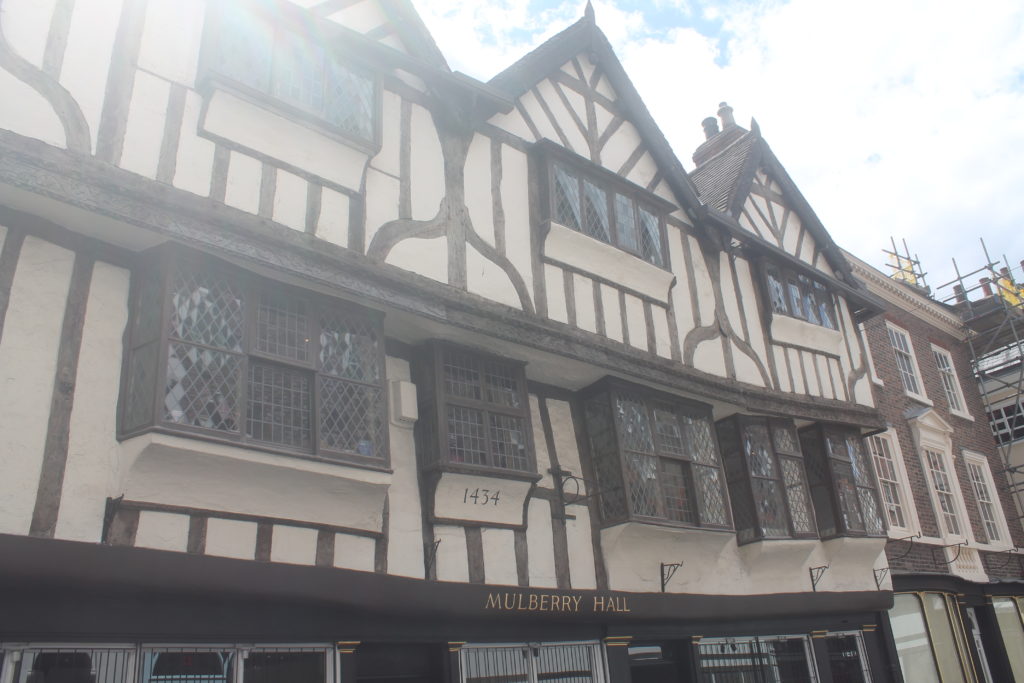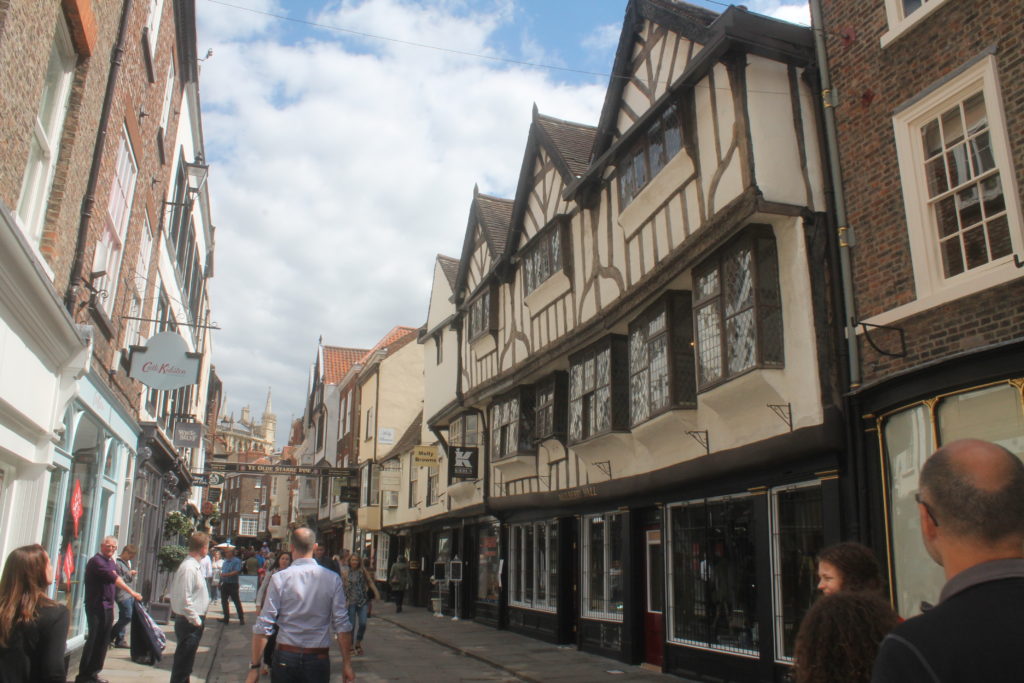 För första gången var det slättland. Passerade små jordbruksbyar. Tappade läsglasögonen (första förlusten). När jag kom till Bishopsphorpe såg jag ett stort hus. Blev nyfiken, stannade en dam med en hund. Jodå, det var biskopen av Yorks hus. Ett slott för en ensam gubbe som hon uttryckte det.
För att komma över floden Ouse fick jag ta en liten omväg genom Cawood.  Fortsatte mot Pontefract och Barnsley. Där strax utanför var jag helt vilse i min cykling.  Cyklade åt fel här.  Mötte en dam på cykel som hjälpte mig på rätt väg mot Oxspring. Vi följde Trans Pennine cycle route till Penistone. Där slog jag upp mitt tält på ett fält, som dessutom var en populär väg att ta med hunden för de boende.  Men som vanligt så sa de ingenting.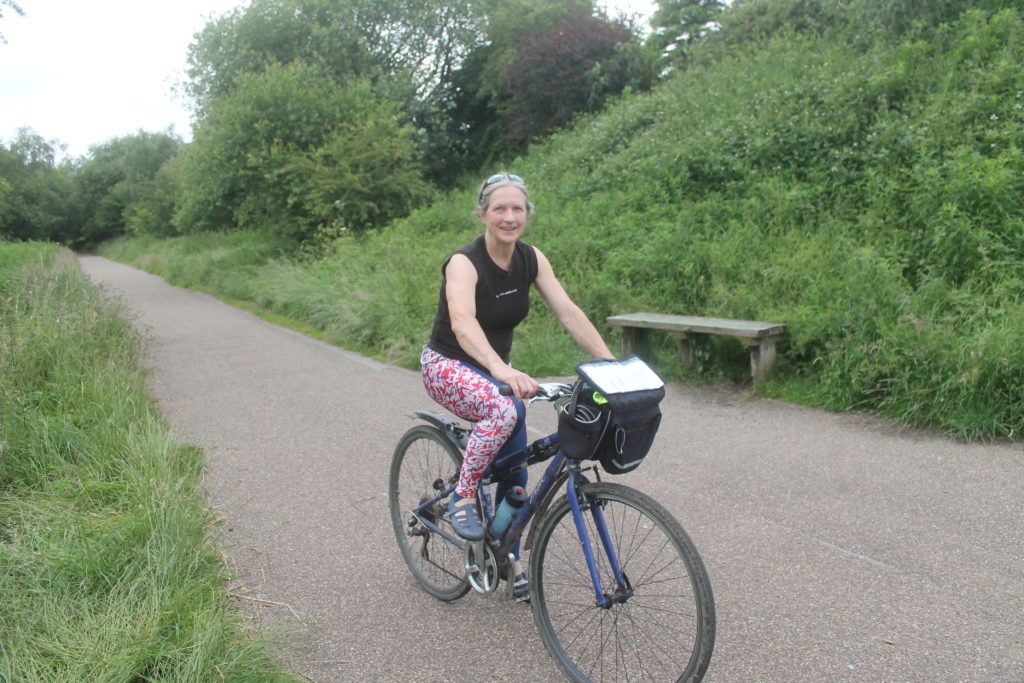 Nu kom nästa stora prövning. Peak District. Flera branta backar.  Skylten visade 25%. Det var nerför men ändå!.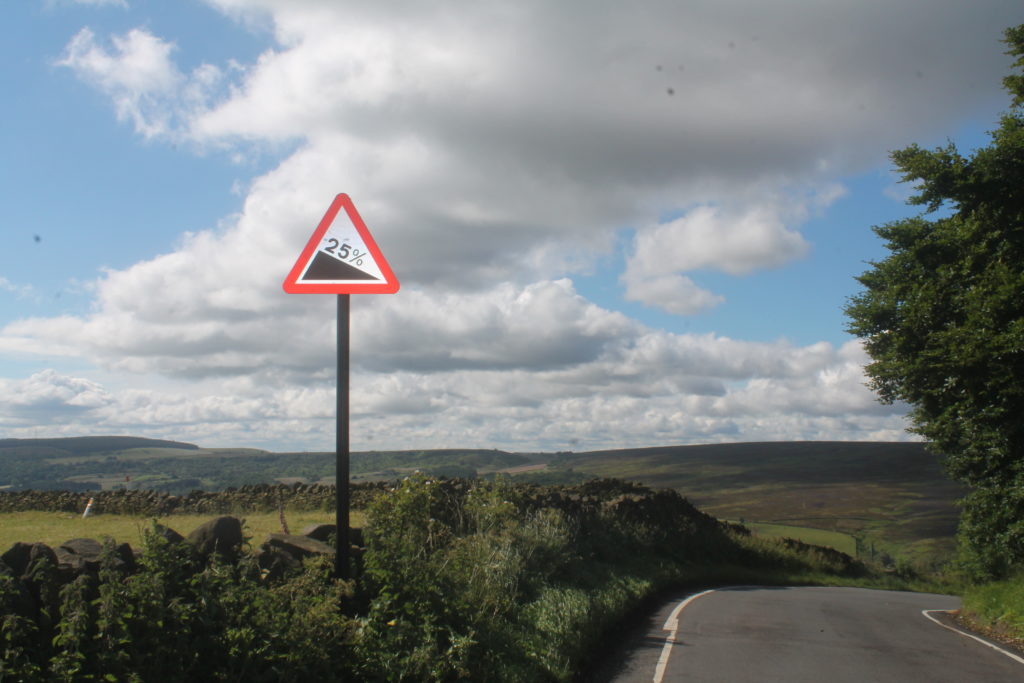 Bromsarna var slut. Det skrapade metall mot metall både fram och bak. Vådan av att räkna fel och cykla vägar med många långa backar.  Första delen var delvis från Tour de France Yorkshire 2014.  I Hope fanns ingen öppen cykelaffär så jag fortsatte mot Castleton.  Där på 18 Bikes Ltd köpte jag äntligen mina belägg fram och bak.  Jag stretade på i mina backar.  Runt Castelton finns det många grottar öppna för allmänheten. Jag valde att inte krypa in i en sån. Jag ville framåt. Jag följde vägen ut ur Casteton.  Men valde en mindre väg, dvs den gamla vägen.  Plötsligt tog vägen slut. Jag hade kommit till Mam Tor jordskredsområde.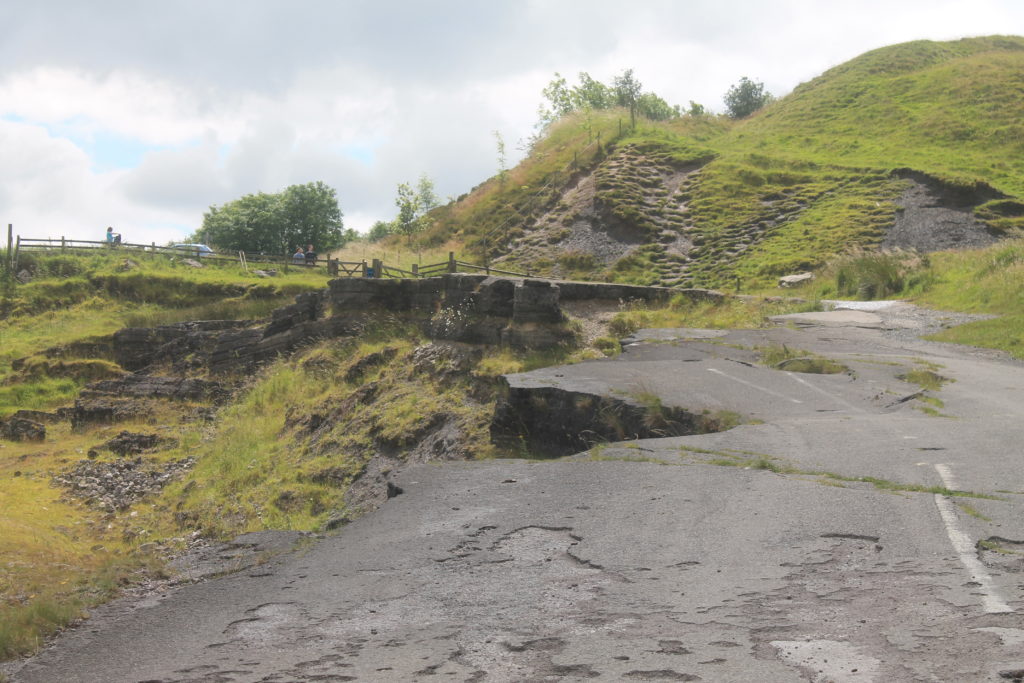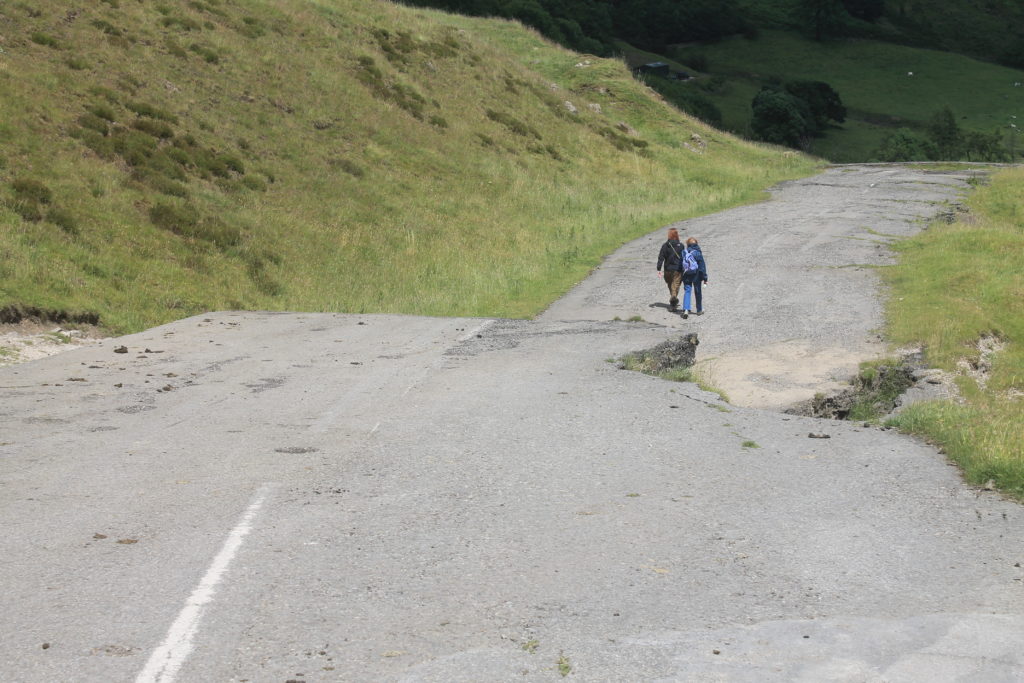 Senaste jordskredet var 1977. Sedan 1979 var vägen avstängd för trafik men öppen för vandrare, och cyklister. Efter den utmaningen kom jag till Buxton.  Väg A54 mellan Från Buxton till Macclefield, även kallade the cat and the fiddle road, är ansedd som en av de farligaste vägarna i UK.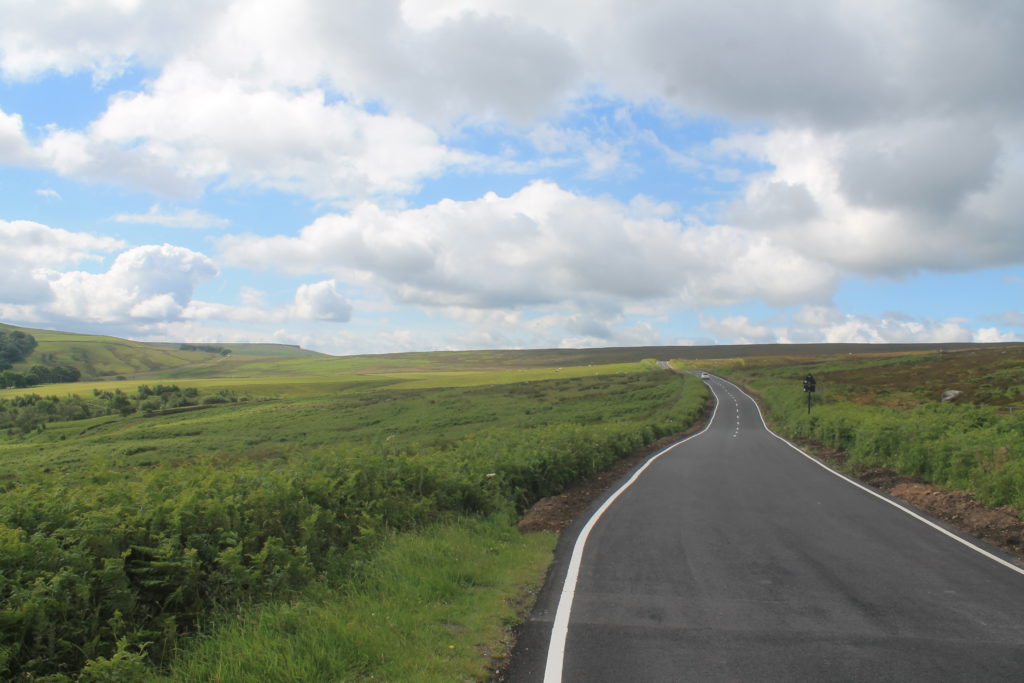 När jag var där var det inte så mycket trafik. Farligheten är för att det är många svepande kurvor som uppmanar till att köra för fort, motorcyklar framför allt.  Från Buxton var det en lång klättring igen, denna gång 7,5 km.  Med klättring betyder på touringcykel att farten närmast kan beskrivas som snabb promenad.  Jag snurrade omkring i Macclefield innan jag bestämde mig för vilken väg jag skulle ta mot Chester.  Passade på att proviantera. Den kvällen stannade jag i en hage ungefär 3 km utanför staden men 200 meter från en pub.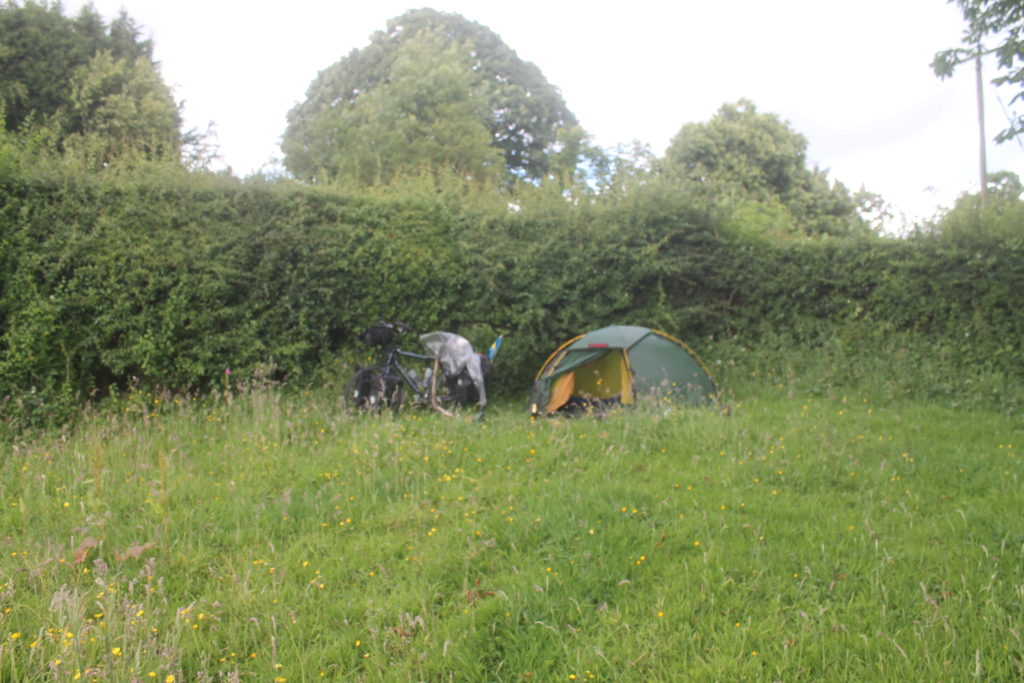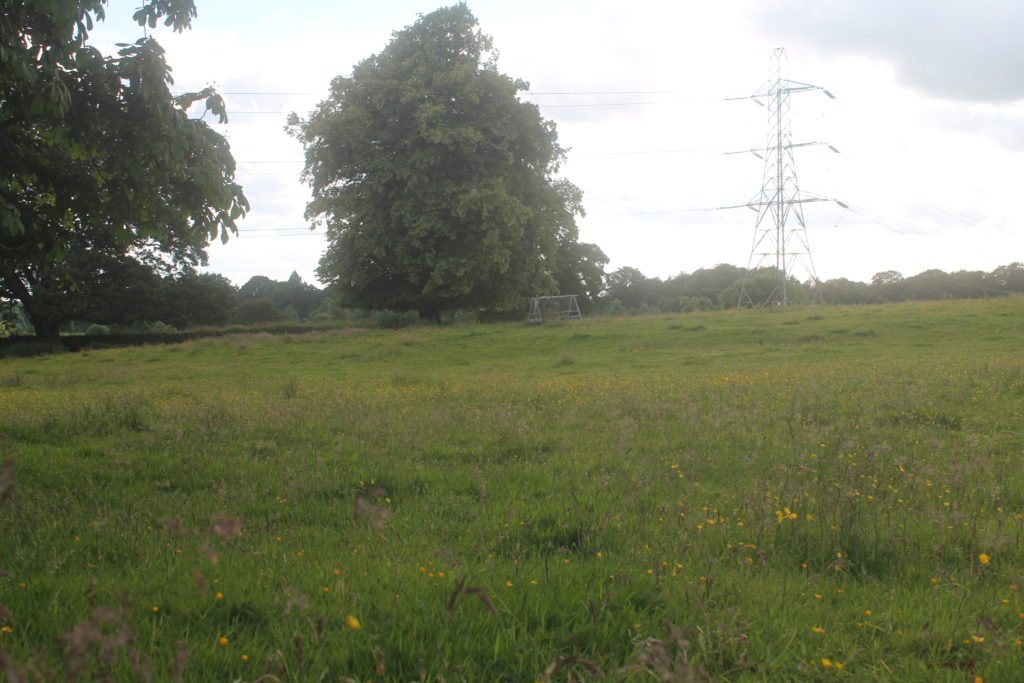 Utsikt från tältöppningen.  Passade på att gå dit ladda min läsplatta och testa den lokale alen.  Men nej, återigen det är inte min grej det där med real ale.
Jag var på väg mot Chester och Wales. Utanför Chester passerade jag Hawarden. Känd för att William Gladstone bott där. William Ewart Gladstone (1809 – 1898) var utan tvekan Storbritanniens största statsman och den viktigaste anglikanska lekman de senaste två århundradena. Fyra gånger premiärminister fyra gånger finansminister och parlamentariker mer än 63 år , har få politiker uppnått så många varaktiga reformer som Gladstone . Han var en pragmatisk politisk ledare med en oupphörliga intresse för historia , litteratur , den klassiska världen och teologiska tvister och var en glupsk läsare. Han efterlämnade ett stort bibliotek i Hawarden.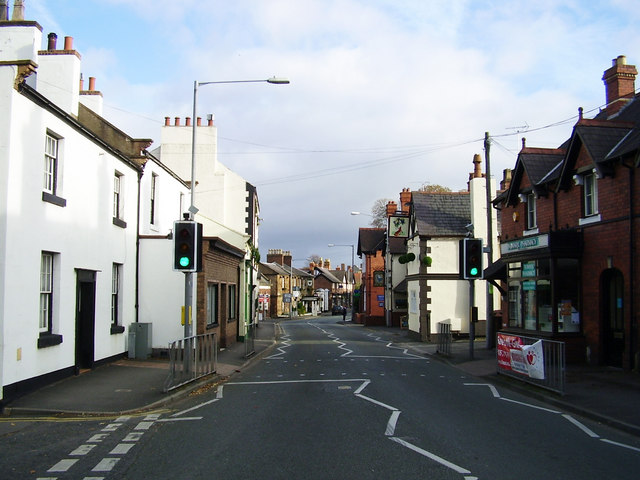 Efter viss möda hittade jag rätt väg att följa. Jag kom till Flint tidigt på eftermiddagen. Planen var att stanna där på ett hotell. Gå till en sportar och se EM Matchen Wales – Portugal.  Det var svårare än jag anade att hitta ett rum.  Alla rum var bokade av resande montörer till en stor fabrik utanför staden.  The Ship hade ett rum men ville först inte låna ut den för de hade ingen bra plats för min cykel. Greg, en regelbunden gäst sa sig kunna ta hand om min cykel i sitt hus.  Så blev det. Cykeln till Greg och jag stannade på The Ship.  Wales förlorade matchen men alla var vi överens om att bästa laget vann.
Motvind, motvind, hela vägen från Flint till Conwy Bay. Jag följde North Wales Coast trial.  Tack vare EUs regionala utvecklingsfond så har Wales byggt en strandpromenad och stormskydd utmed hela norra kusten.
Det mest slående var alla dessa sommarcamps av traiers. Tät, tät stod de i gigantiska områden bakom strandskyddet.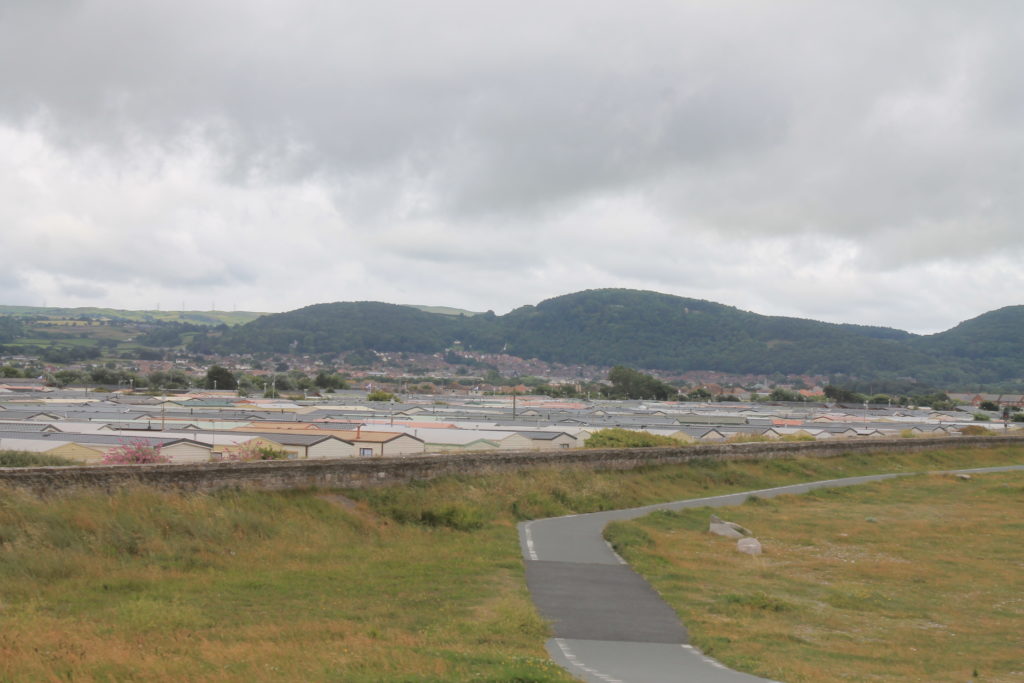 Det regnade, nej det var ett lätt duggregn, inte mycket men tillräckligt för att det skulle vara otrevligt.  Många timmar senare än tänkt kom jag till Conwy. Conwy har en vacker port in i staden. Borgen Conwy Castle och stadsmurarna byggdes på uppdrag av Edvard I mellan 1283 och 1289, som en del av hans erövring av Wales.
En bild till från Conwy
Från Conwy blev det en stigning in i Snowdonia.  Stannade efter 88 km några km utanför Betsy Coed.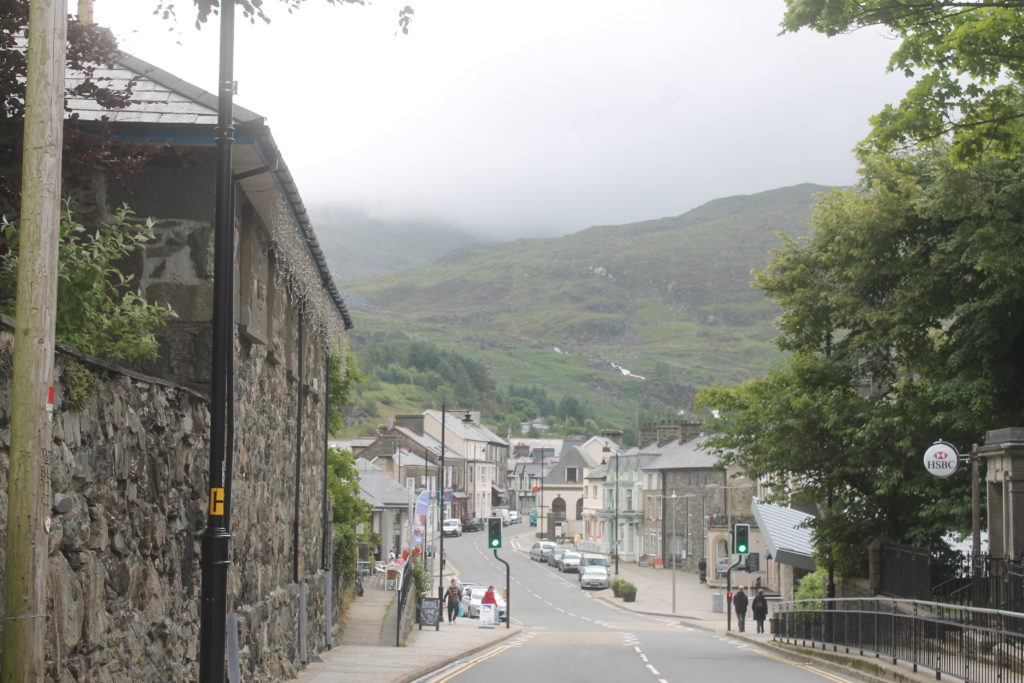 Betsy Coed har en tydlig vandringsprofil. Butiker med utrustning, många B & B. Genom Snowdonia hela dagen.  Det var en utmanande dag.  Snowdonia är vacker med dess toppar och dalgångar.  Ny toppnotering, 70,8 km/h.  Stannade på ett fält innan jag kom till Mallwyd. Jag kom till Bishops castle på eftermiddagen med förhoppning att sitta ner med en kall lager i handen.  Men så blev det inte.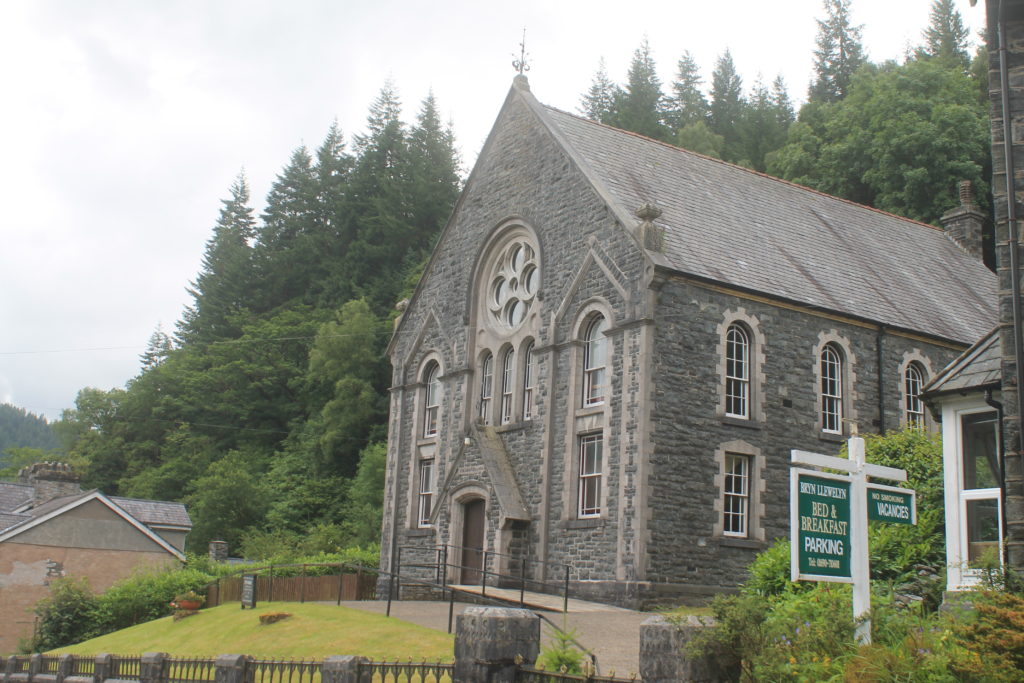 Natten var inte bra, visserligen tyst men regnet kom på natten. Kom iväg efter lunch Det var fortfarande mycket kuperat.  Jag stannade utanför Bishopscastle.  Bishopscastle är en liten marknadsstad i sydvästra Shropshire , och förr dess minsta stad . Enligt 2011 folkräkningen hade en befolkning av 1893.
Staden ligger inom ett jordbruksområde och har också blivit känd för sin alternativa gemenskap inklusive konstnärer, musiker , författare och hantverkare.  Staden har ett litet microbryggeri som är mycket uppskattat. Jag kom mitt in i en Real Ale festival.  Flera bussar hade kommit med entusiastiska öldrickare som fyllde stadens fem barer och inns.  Så det blev en fyrpack Stella i Coop butiken innan jag snabbt fortsatte några kilometer för att hitta en ställe att stanna på. Den kvällen stannade jag på ett fält, 400 meter från en gård. Jag var i ett jordbruksområde. Det var svårt hitta någon skog eller annat att stanna till på.
Nästa dag kom jag till Stratford on Aven, mer känd som Shakespeares födelsestad. Jag skaffade en karta med fem viktiga Shakespeare stopp. Efteråt kändes det som att nu har jag sett och varit i Shakespeareland. Vill man träffa anadra turister är Stratford en bra plats. Den var nog med på alla kinsesers måste lista för det var många där.  Jag skaffade i alla fall en karta och gick Shakesoear promenaden. Den med de fem viktigaste stoppen.  Här några bilder från den promenaden.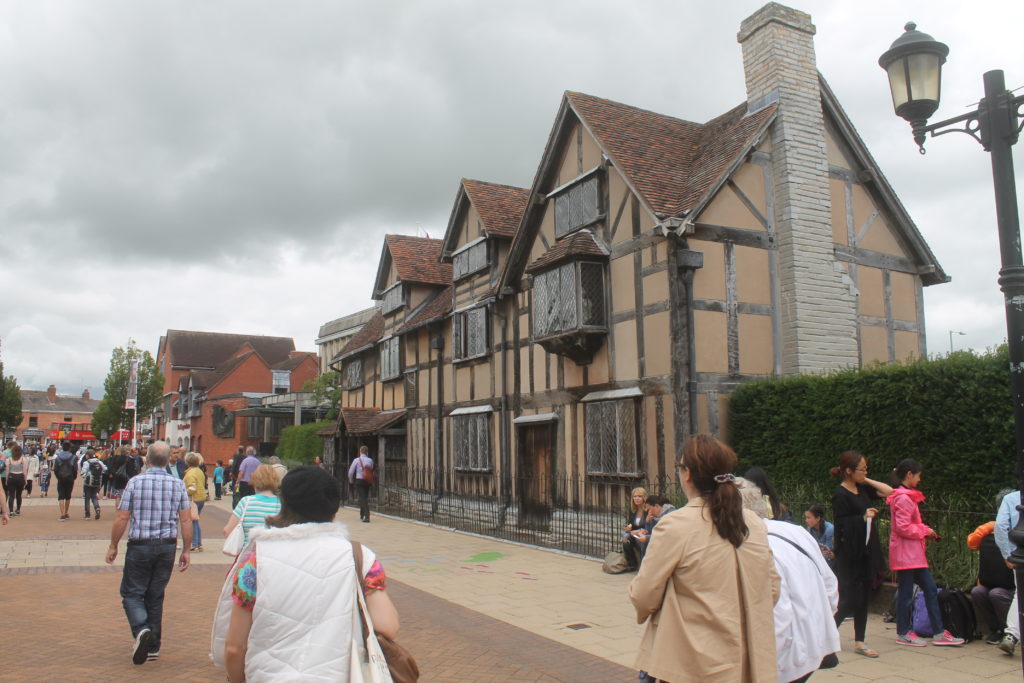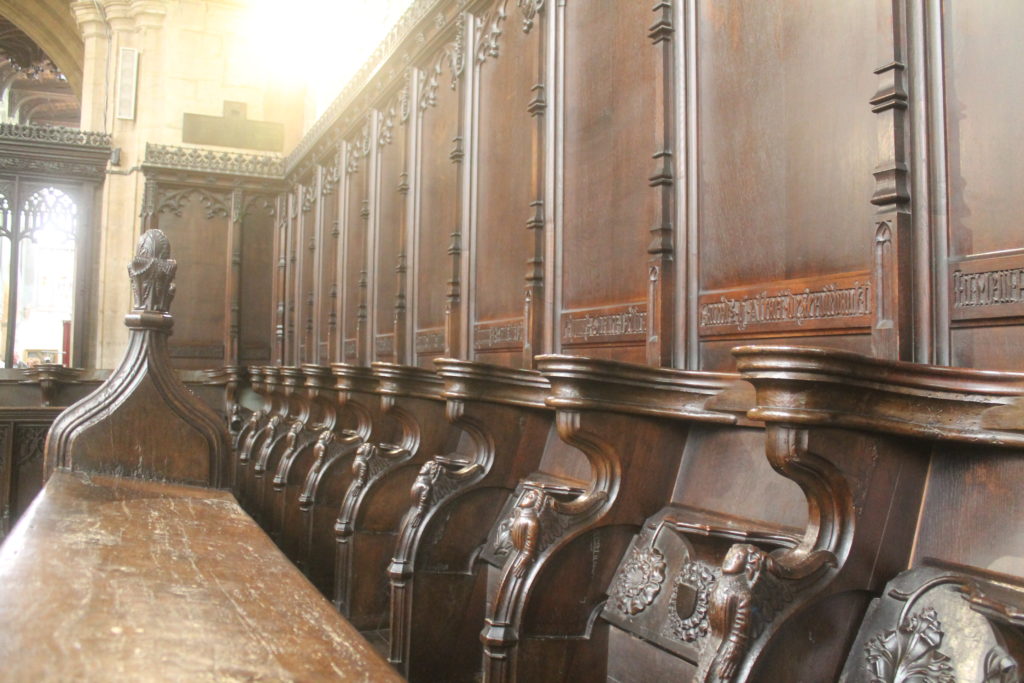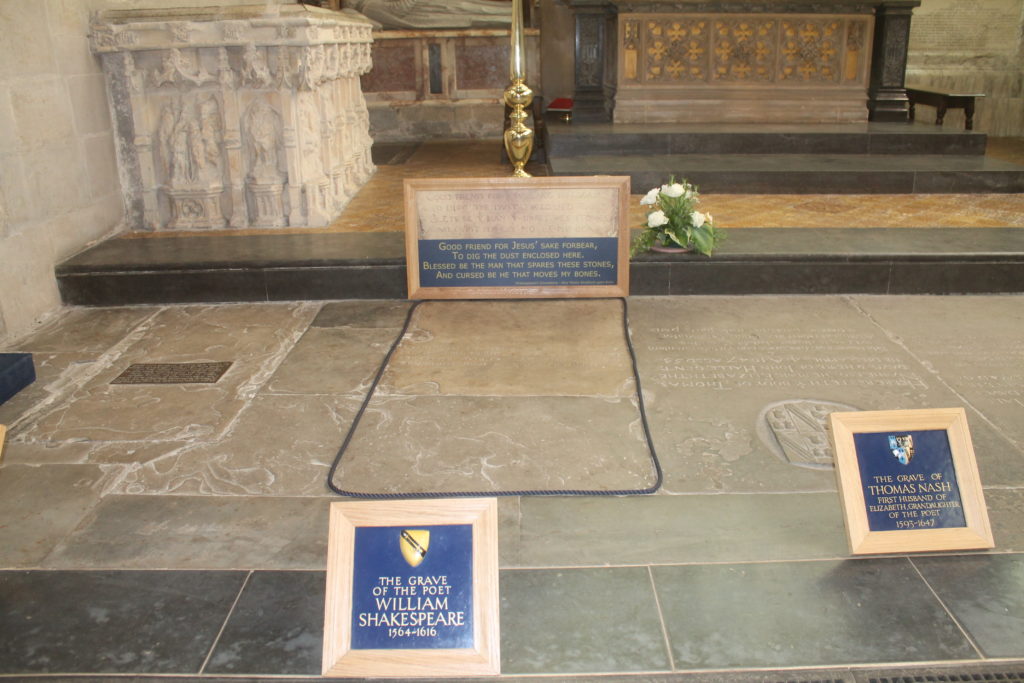 Nöjd med den turistinsatsen fortsatte jag mot Bath.
Vet inte vad eller varför jag valde att följa Fosse way från Stratford.  Till en början var det vanlig väg med intensiv trafik. Lastbilar och bilar en meter till höger om mig.  I Stow on the Wold blev det lite fel.  Hade inte koll på kompass så ajg tog fel väg ut ur staden.  Försökte gena genom jordbrukslandskapet.  Hittade en genväg.  Men det var en senväg.  Kom tillbaks till utgångspunkten.  Då hade jag cyklar två timmar och 12 km extra.  Köpte mig en fish & chips. Sen gick det bättre. Jag kom till Crudwell. Där lämnade jag A229. Kom till den gamla Fosse way som var en byway.   Hurra!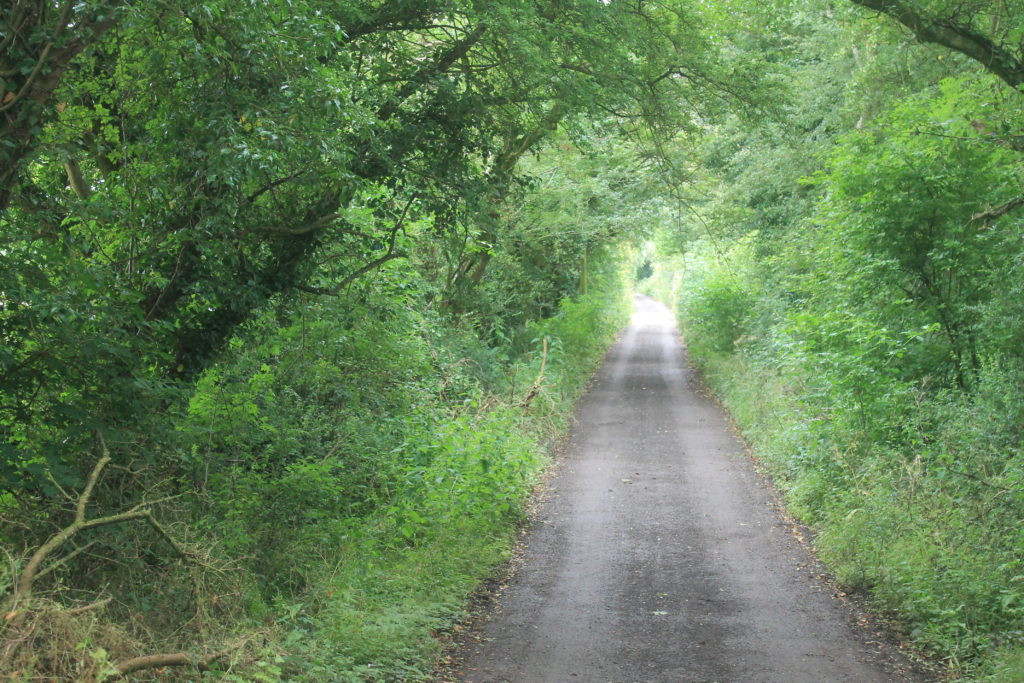 En grusväg utan trafik. Jag svänge vänster där.  Det började bli sent nu och tid att leta efter ett bra ställe att sova på . Första stället var bra men när två hästar tittade argt på mig på 30 meters avstånd förstod jag vinken. Hittade ett bättre ställe någon senare.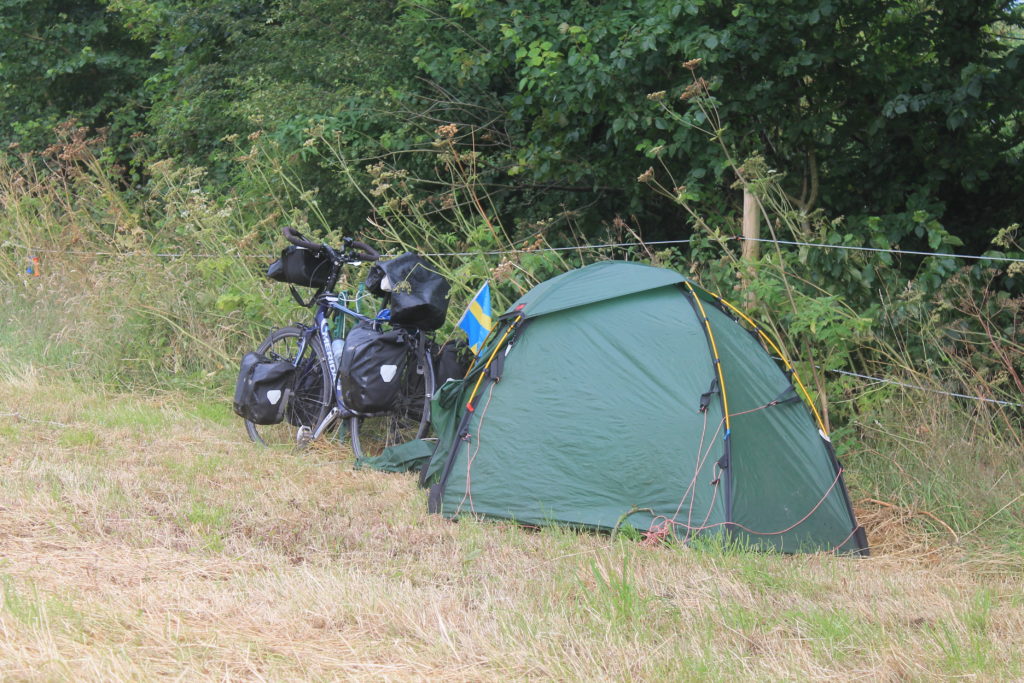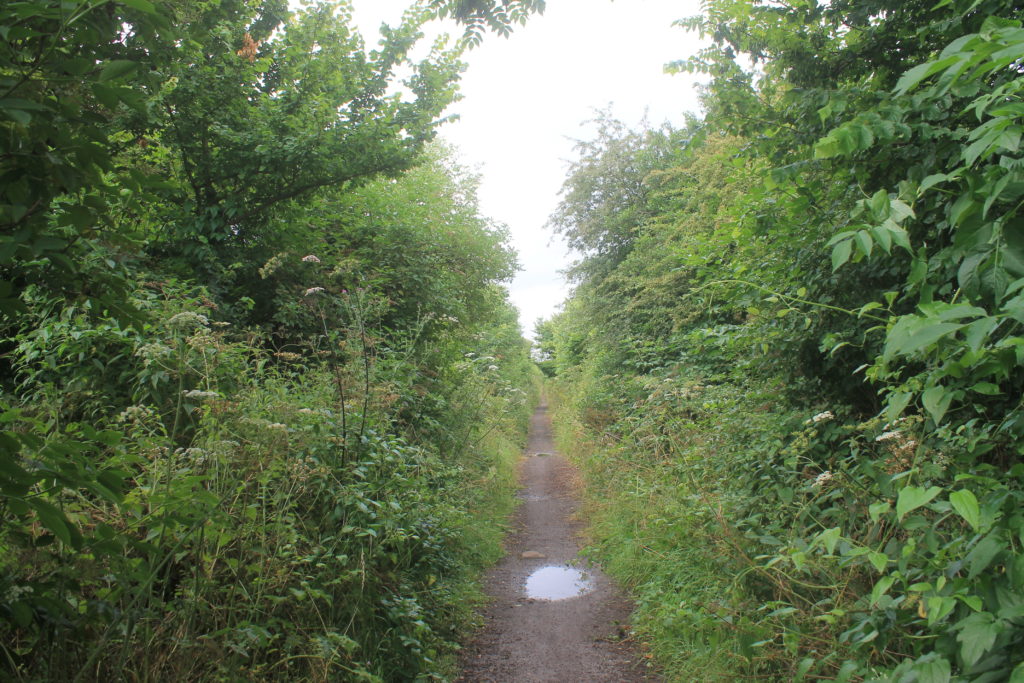 Det var en sån där typisk dag i England. Regn, uppehåå och mer regn. Bara att vänta som här, någonstans i Cotswold
Kom till Bath efter 4 timmar cykling på Fosse way.  Först var det en byway men ju närmare Bath jag kom desto mer civiliserad blev vägen. Egentligen fanns det inga bra skäl att cykla till Bath.  En stor besvikelse.  Bath blev populär som en kurort i den georgiska eran (1700 talet). Georgiska  arkitektur , utformad från Bath sten , inkluderar Royal Crescent , Circus , pumprum och Assembly. Ytterligare byggnad genomfördes i 19-talet och efter bad Blitz under andra världskriget .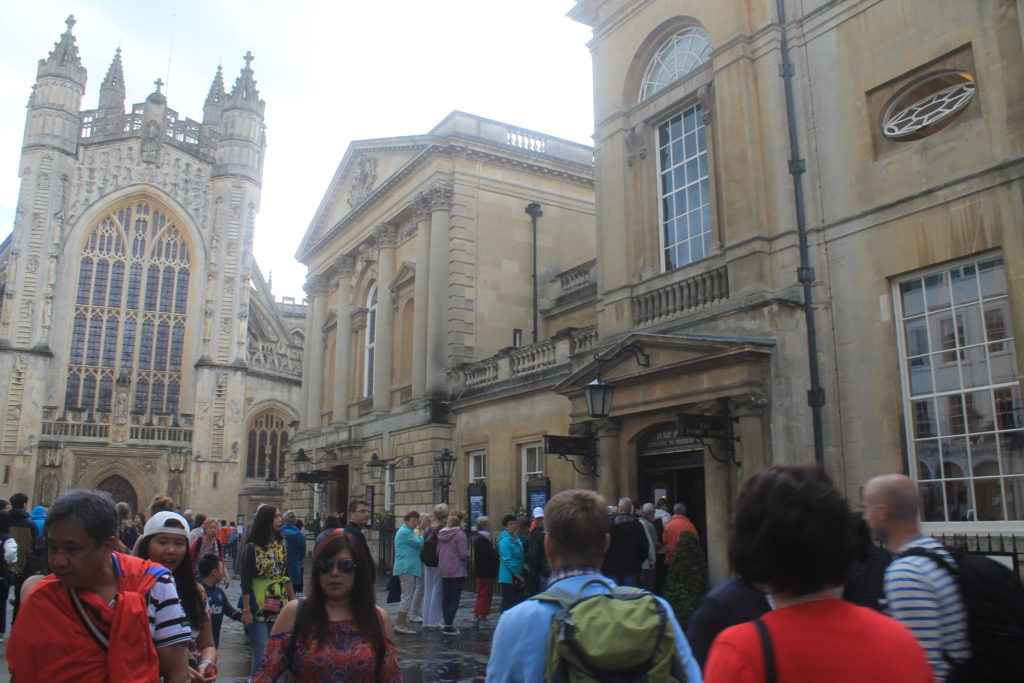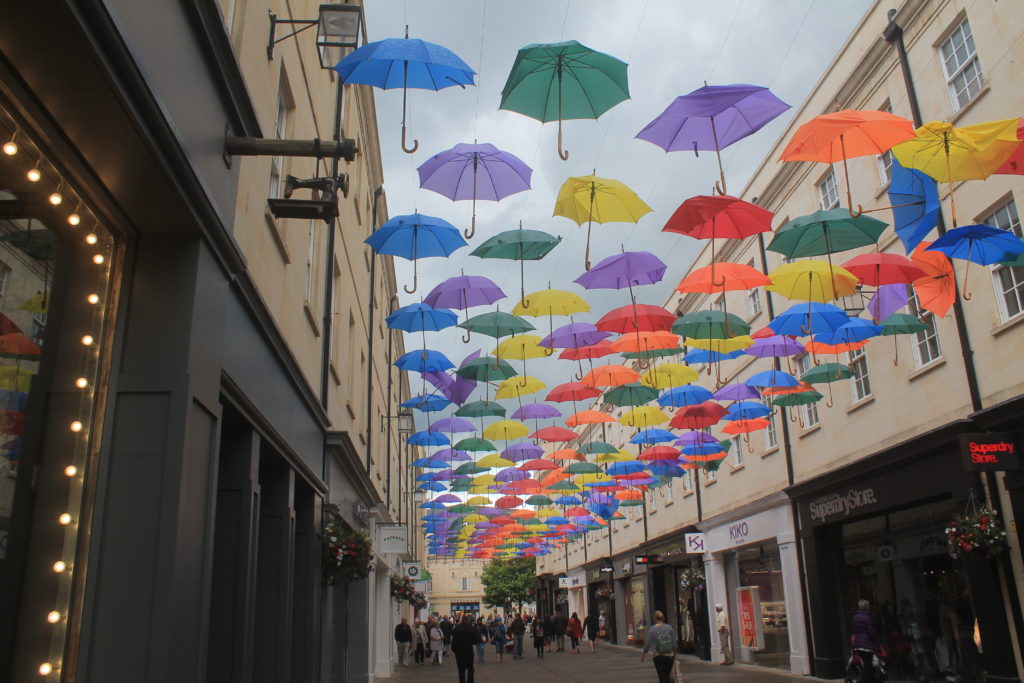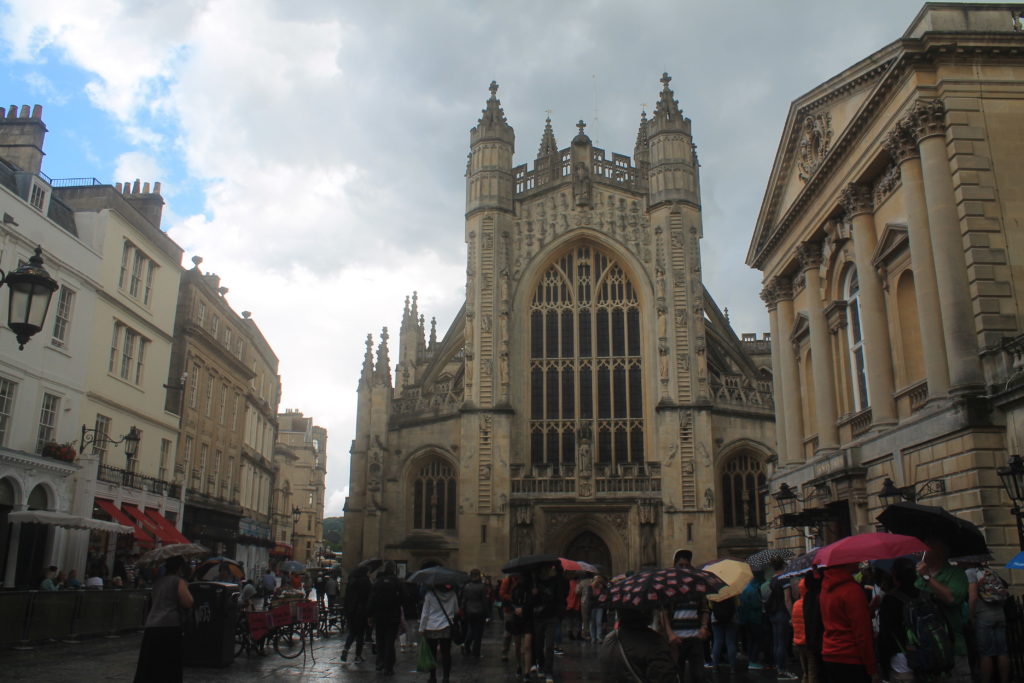 Förutom att titta på alla dessa byggnader så var det inte så mycket mer.  Kön till museet var två timmar lång. Inget för mig.  Så jag lämnade Bath redan efter lunch.  Jag följde Kenett & Avon Canal Towpath.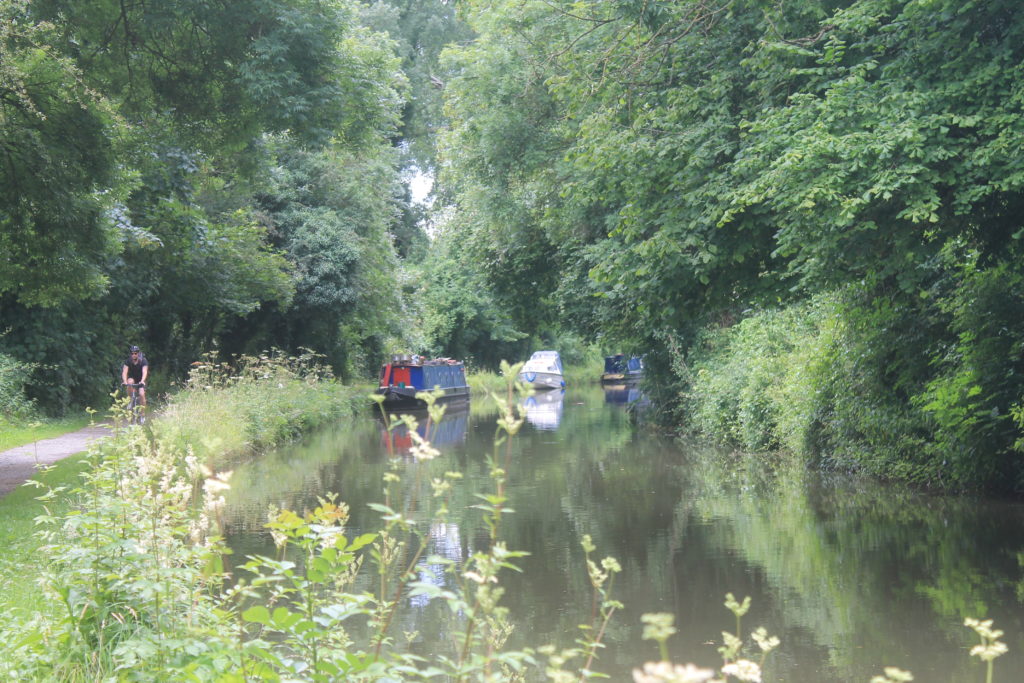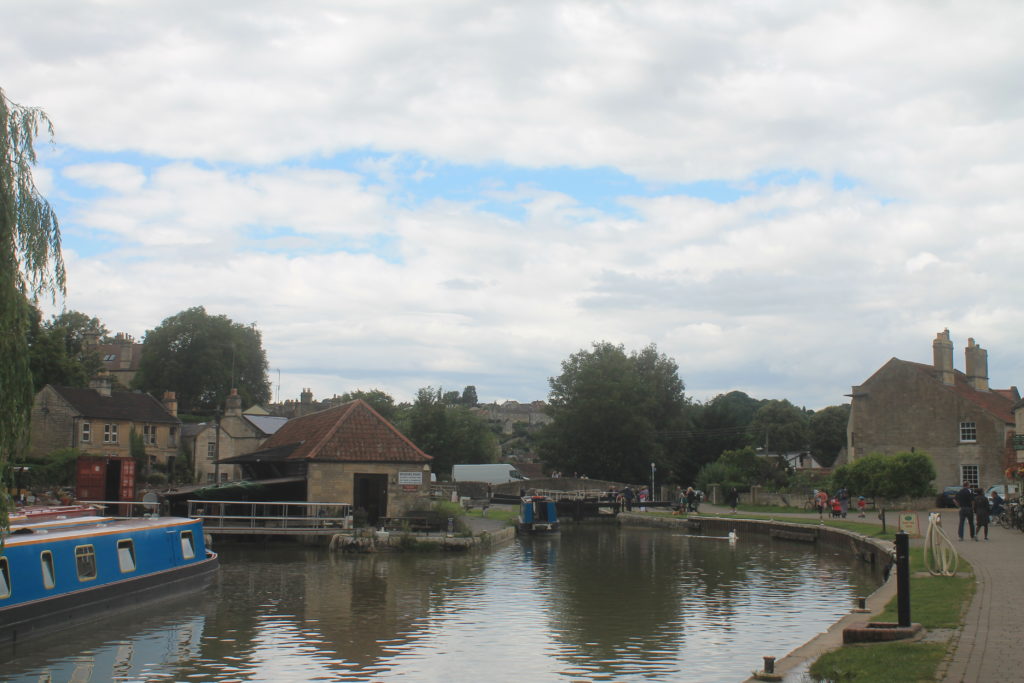 Den här dagen var en av de mest rogivande för det var ingen trafik och vattnet gjorde mig lugn.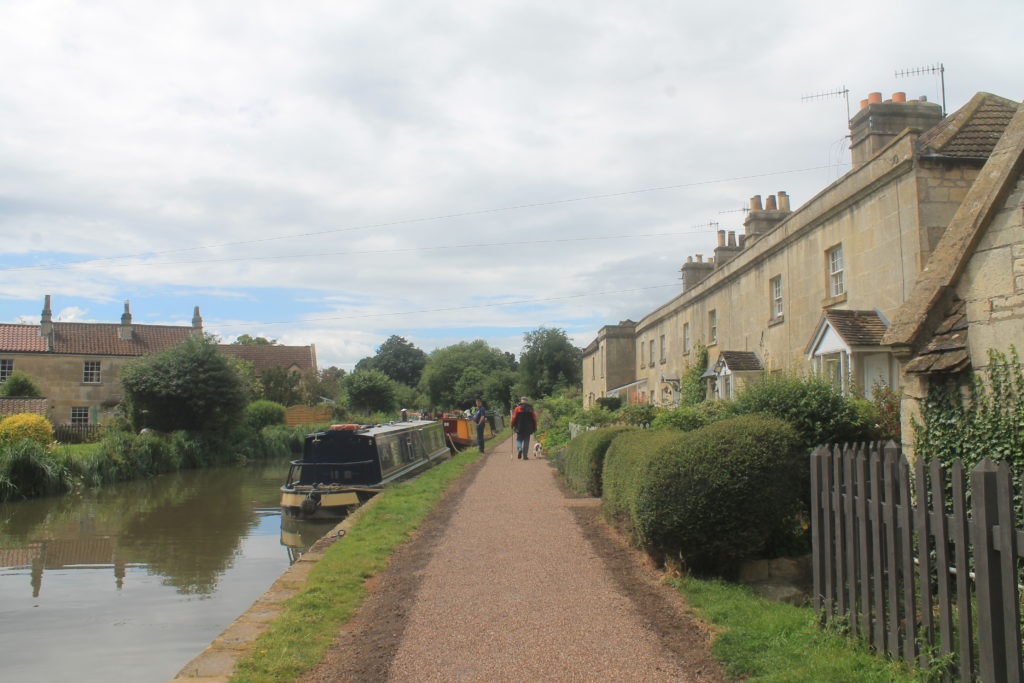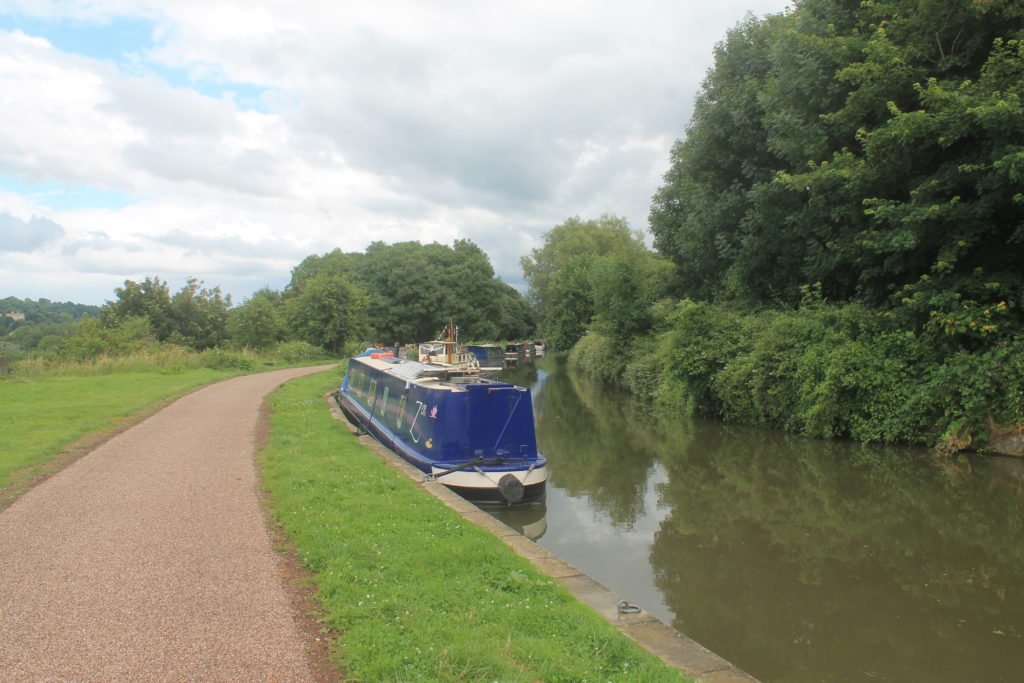 Nästa historiska stopp var Highclere Castle.  Dit var det två dagars cykling.  Jag pratade med Brian Smith, från Lancaster, som bodde sex månader i in pråm varje sommar.  Lite senare fick jag lära mig att det kostar 1300 pund att hyra en pråm i sju dagar.  Jag kom till Delize slussarna.  Ett magnifikt teknologiskt mästerverk från 1800-talet. De 29 slussarna har en stigning på 72 m på  3,2 km eller en 1 i 44 lutning . Slussen består av tre grupper . De lägre sju slussarna, Foxhangers Wharf till Foxhangers Bridge Lock , är spridda över 1,2 km . De närmaste sexton slussarna bildar en brant stigning i en rak linje uppför backen. De sista sex slussarna tar kanalen in i Devizes.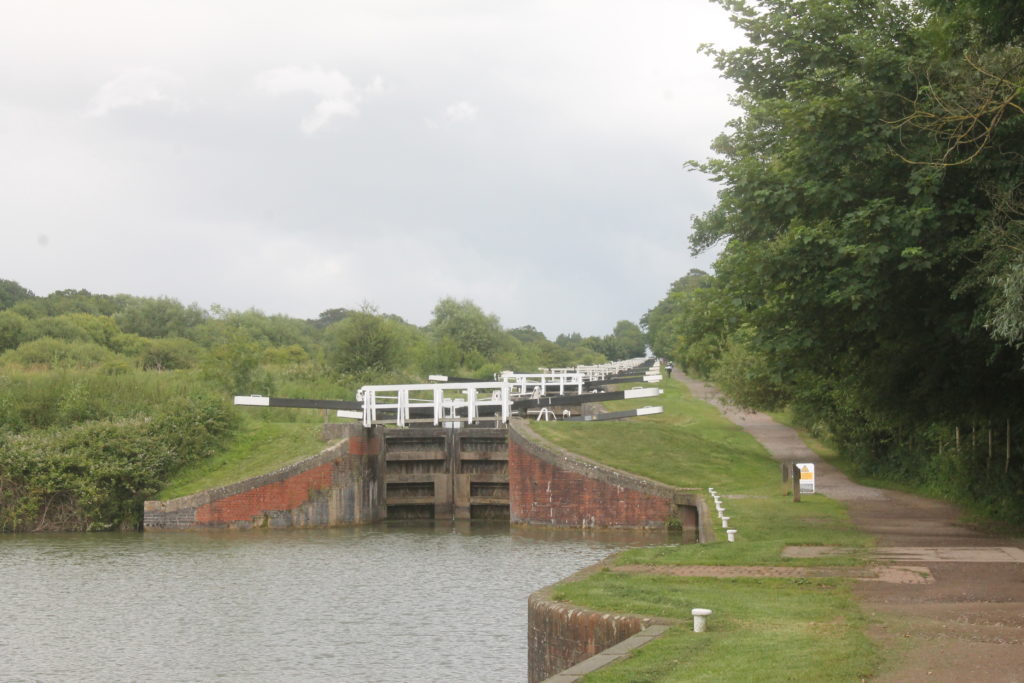 Den natten stannade jag på en bro över kanalen.  Hittade inget bättre.  Det var många som sprang förbi, med eller utan hund.  Många gjorde tummen upp och stannade för att prata.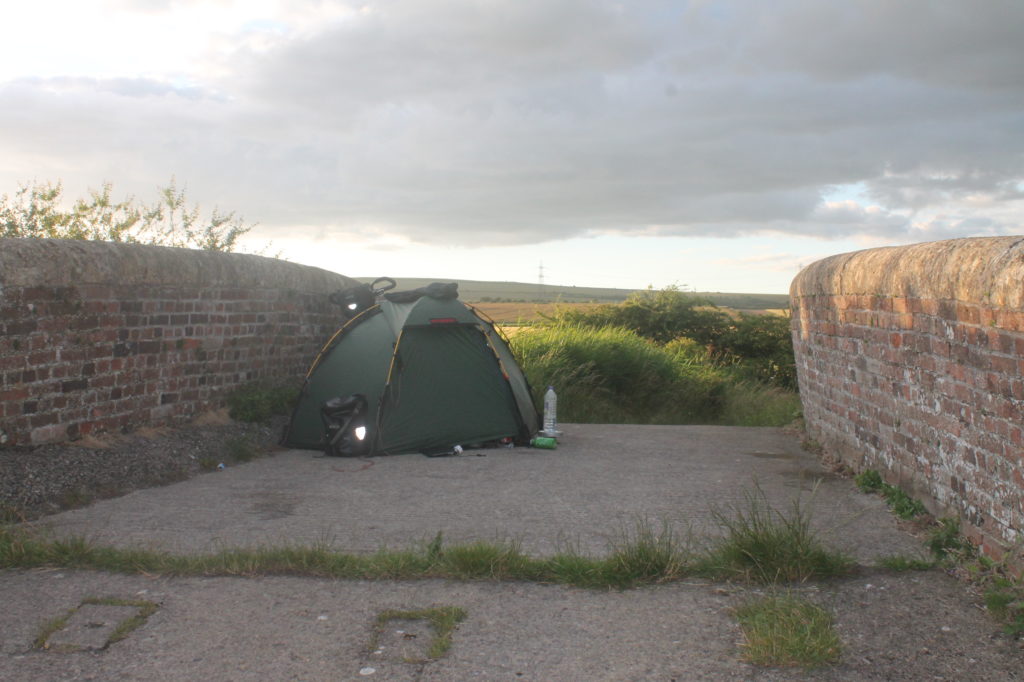 På små sidovägar kom jag till Highclere. Planen var att cykla till Highclere Castle dagen efter för en guidad tur i slottet.  Men så blev det inte.  Det var stängt. Alltid stängt på fredagar.  Så det blev inget Downton Abbey besök. Men en bild i alla fall.
Fortsatte vidare mot slutmålet, Brighton. Det är inte alltid vägen ser ut som man tänkt sig.  Så här kan det bli om man följer google maps anvisningar.  Så här var det i ca 3 km.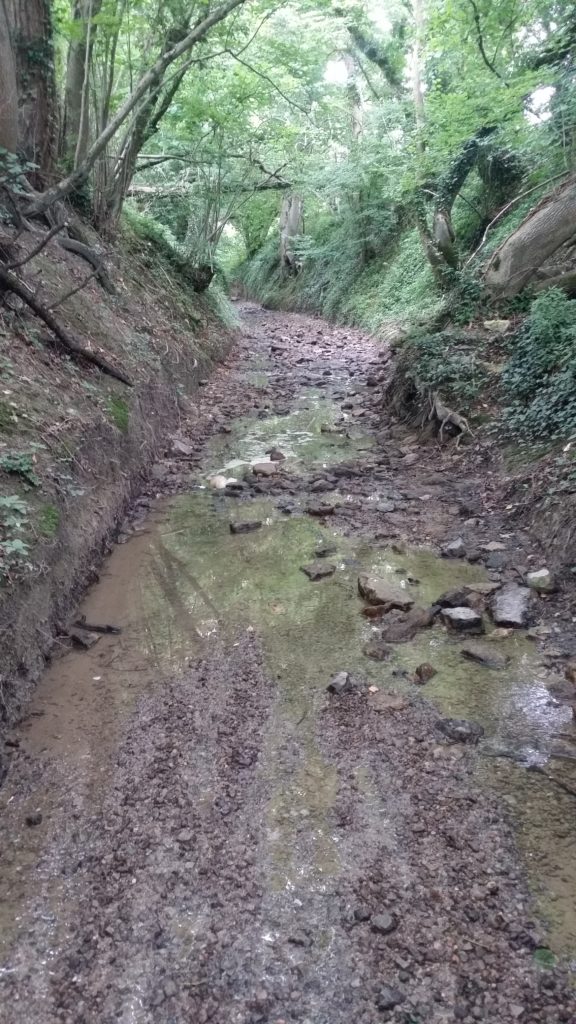 På väg dit skulle jag stanna till hos en Warmshower host Bill Budd i Liss.  Det blev en trevlig kväll med Bill, Jill och deras yngsta son på den lokala puben med mycket prat om långfärdscykling och annan konditionssport.  Bill var erfaren maratonlöpare och cyklist. Ganska lik min egen bakgrund.
Nästa dag, den sista, följde Bill och Kevin med mig på deras cyklar till Brighton.  Jill följde efter med bilen och där låg mina väskor.  Det blev fem snabba timmar men många härliga klättringar och för mig ovanligt snabb cykling.  Från Shoreham-by-Sea hade vi vinden i ryggen till Brighton.  Vi stannade på promenaden.  Bill ringde efter Jill så jag fick mina cykelväskor.  Sen satt vi på strandpromenaden tills de åkte hem till Liss. Jag gick till mitt hostel.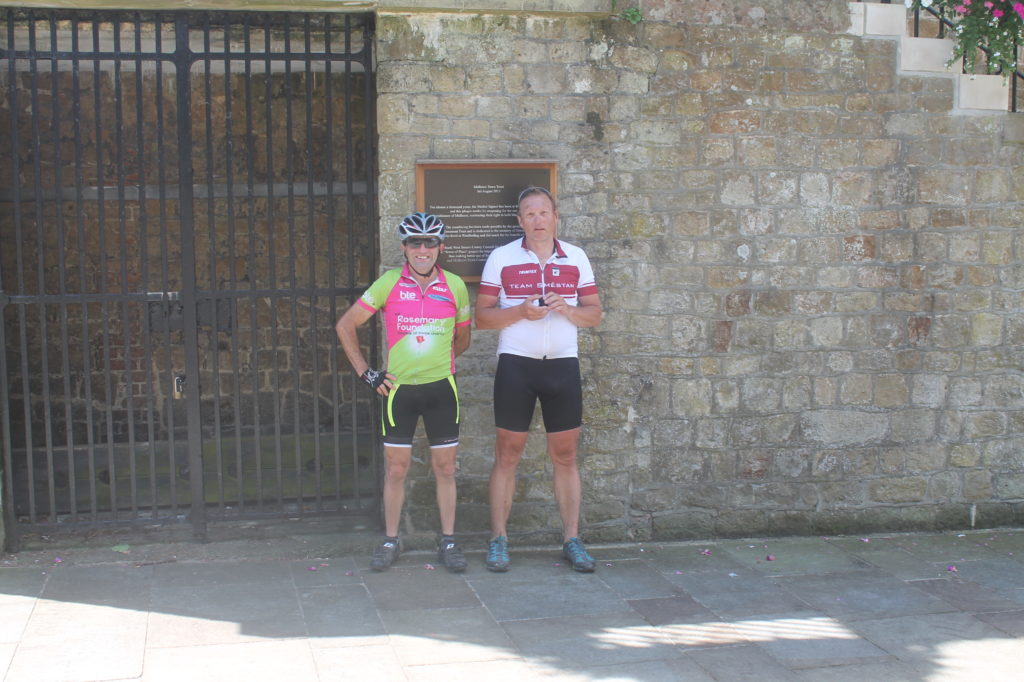 Äntligen framme på promenaden i Brighton
jag stannade tre dagar i Brighton. I Brighton fanns Mark Brady.  Ni vet han som jag träffade i Amazonas 2013 på Cykelupplevelser 2013.  Passade på att hänga åp hans "World famous Pump Room" .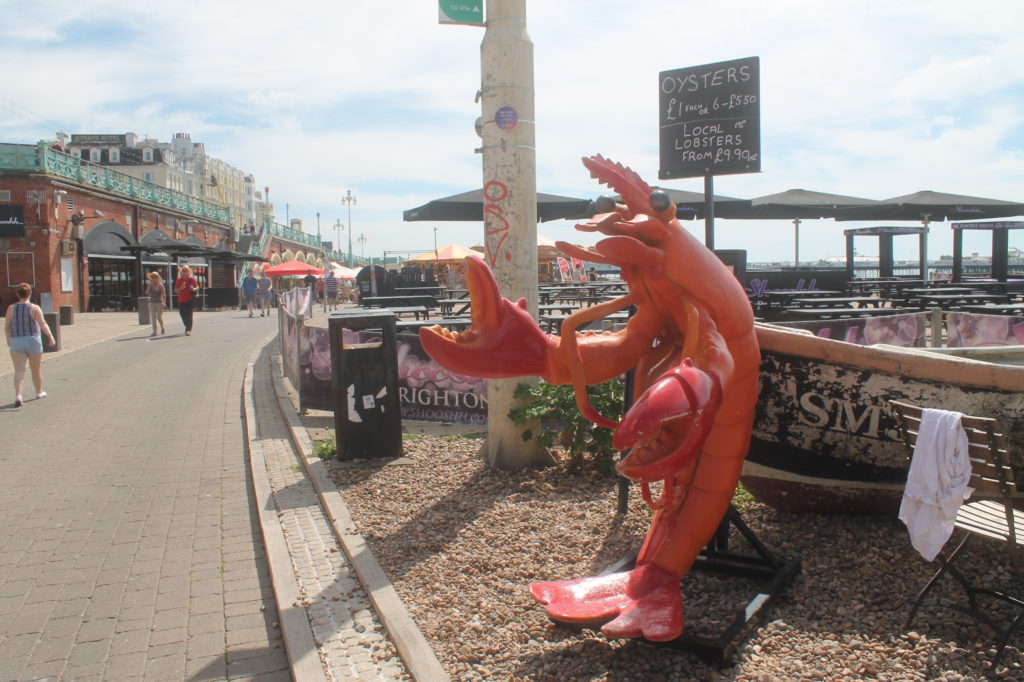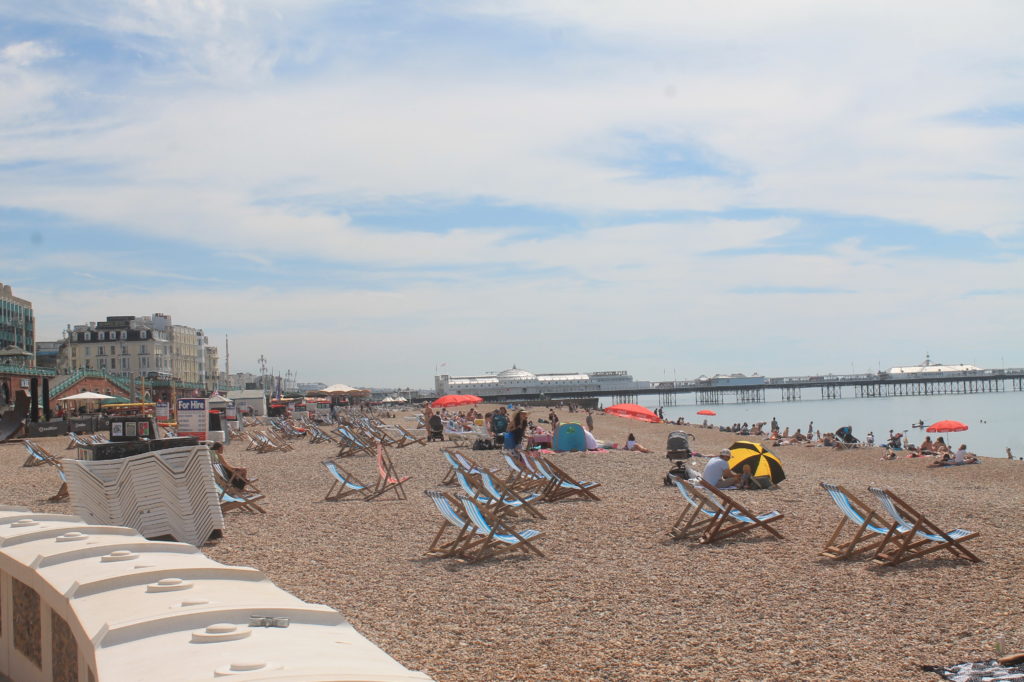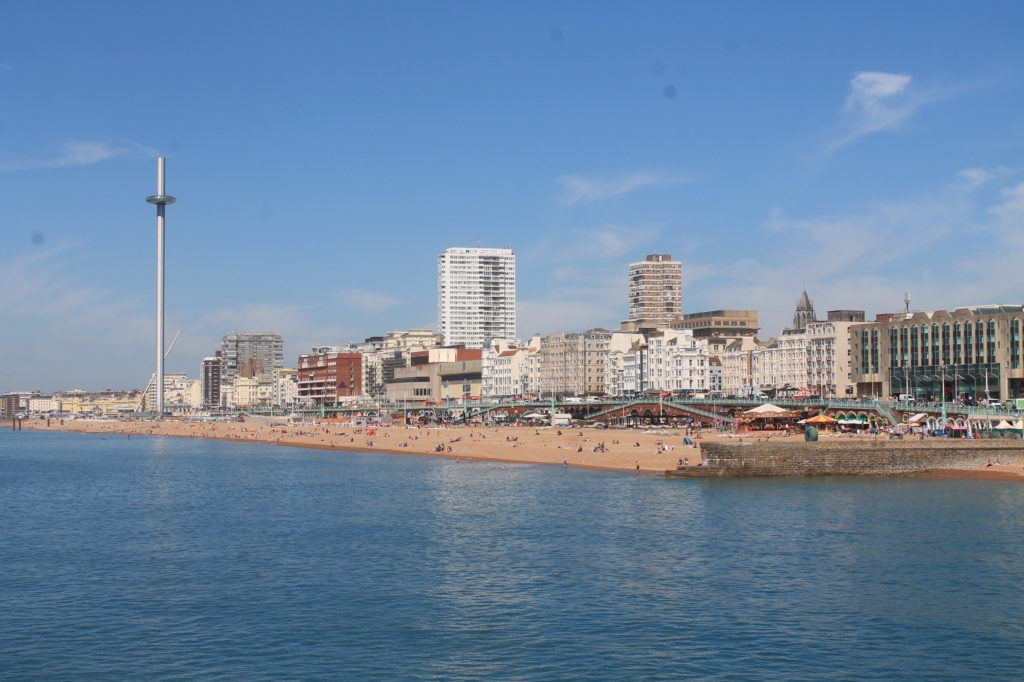 Cykelupplevelser 2016 var ännu inte slut. En liten epilog återstod, den från Arlanda till Eskilstuna.  128 km. När jag landat hade jag 76 km tills jag nästan kom fram till Våsterås.  Då stannade jag på ett fält. Nästa dag fortsatte jag genom Västerås mot Kviscksund och hem till Eskilstuna.
Cykelupplevelser 2016 var därmed slut: Det var tre fina veckor med många upplevelser, människor och utmaningar.
1635 km det mesta i regn
4 nätter inomhus 15 nätter i tält
en kvarglömd sak, läsglasögon
ett otal möten med intressanta människor
Inga incidenter, varken på vägen eller i städerna.