Spain, Compostela di Santiago. Germany, Luxembourg and France would be countries to experience. The Moselle valley with wine tasting was a highlight. What an experience it will be.
That was the plan early in the year. But major events in the world did occured that changed everything. Corona Covid 19 came and closed the whole of Europe.
So new plan, Sweden north again. Furthermore, I thought that Arvidsjaur would be a good turning point. There, a co-worker at #Studieförbundet_Vuxenskolan lives. This is the plan.
It started with a puncture. Had loaded on all the bags. Went back to my apartment to do one last thing. Came back, only to see a flat tire. Remove all bags. Remove rear wheels and look for spare innertube. Found one and replaced it. THis was my last tube, plans were immediately changed. Instead of cycling through Västerås without stopping, it became a detour to the only bike shop open at the mall.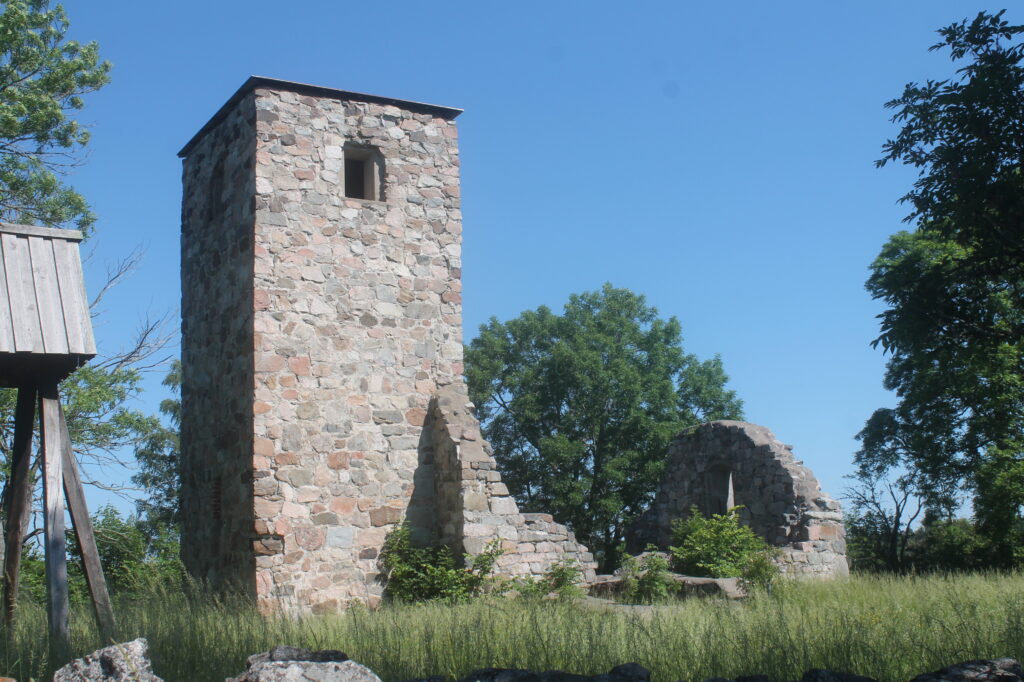 On small paved roads I came to Örsundsbro which became the first night's camp site, in a birch grove.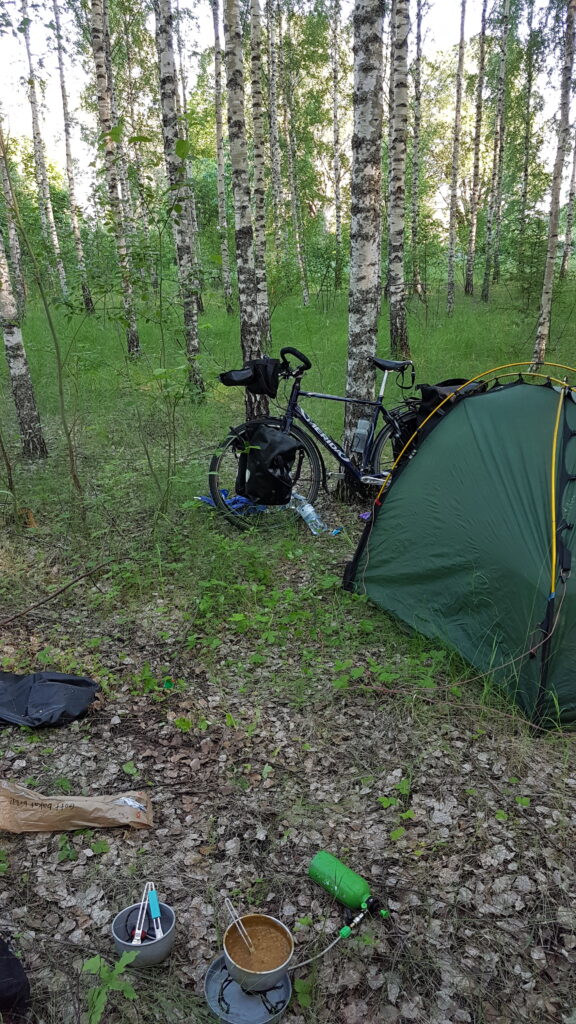 I came to Uppsala. Stopped at a cafe for a coffee before continue towards today's tourist attraction Österbybruk. But where's my Iphone? No no, I forgot it in the birch grove in Örsundsbro. Not a thought of cycling those 30 km back to pick it up. After all, it was five years old.i have to buy anew later anyway. This was the only time the phone appeared in this story.
More on that later. One of the first valloon mills in Sweden from 14-th century Gustav Vasa. Today, a well preserved industrial history with valloon forge, the world's only fully preserved, and the two fuel furnaces in uniquely well-preserved condition. Read more about it here.
Österbybruk was Interesting but I needed to continue my journey.
Passed Tierp and started looking for a place for the night. When I set up my tent, Yihaa, my phone. I found the phone, in my tent. I had forgotten it in my tent. What a relieve. The sound from E4 did not bother me much, instead the remaining heat was troublesome.
I passed Dalälven.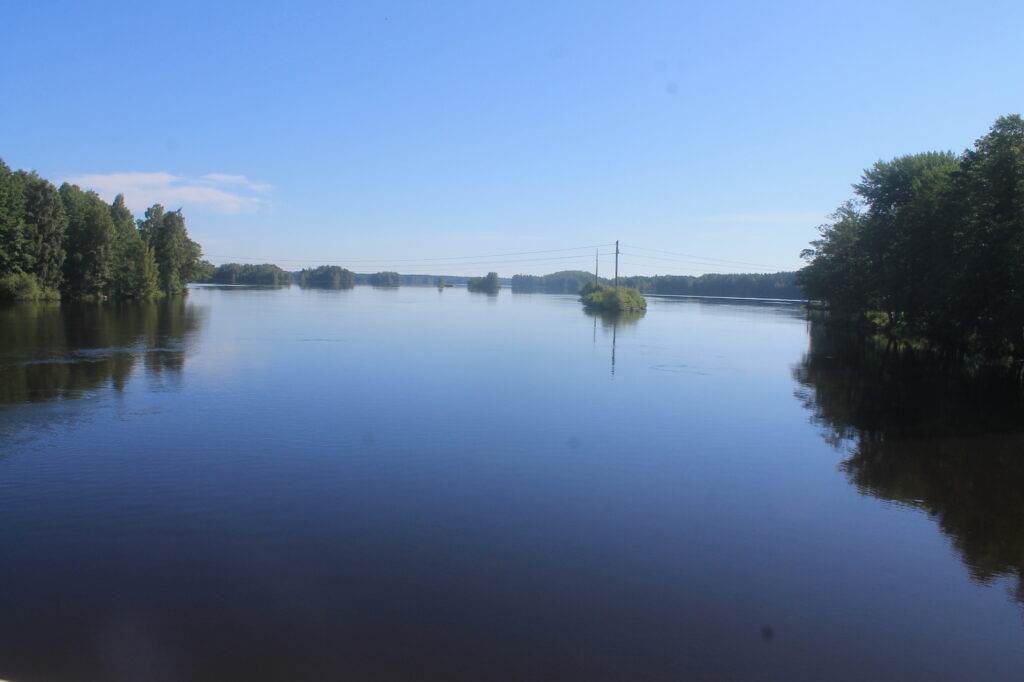 I turn left and come to Hedesunda. That was unexpected. Follow road 56 a short distance. Turned left and come to Sandviken in the afternoon. It was a fantastic road into Sandviken from the south through the outdoor area Årsunden.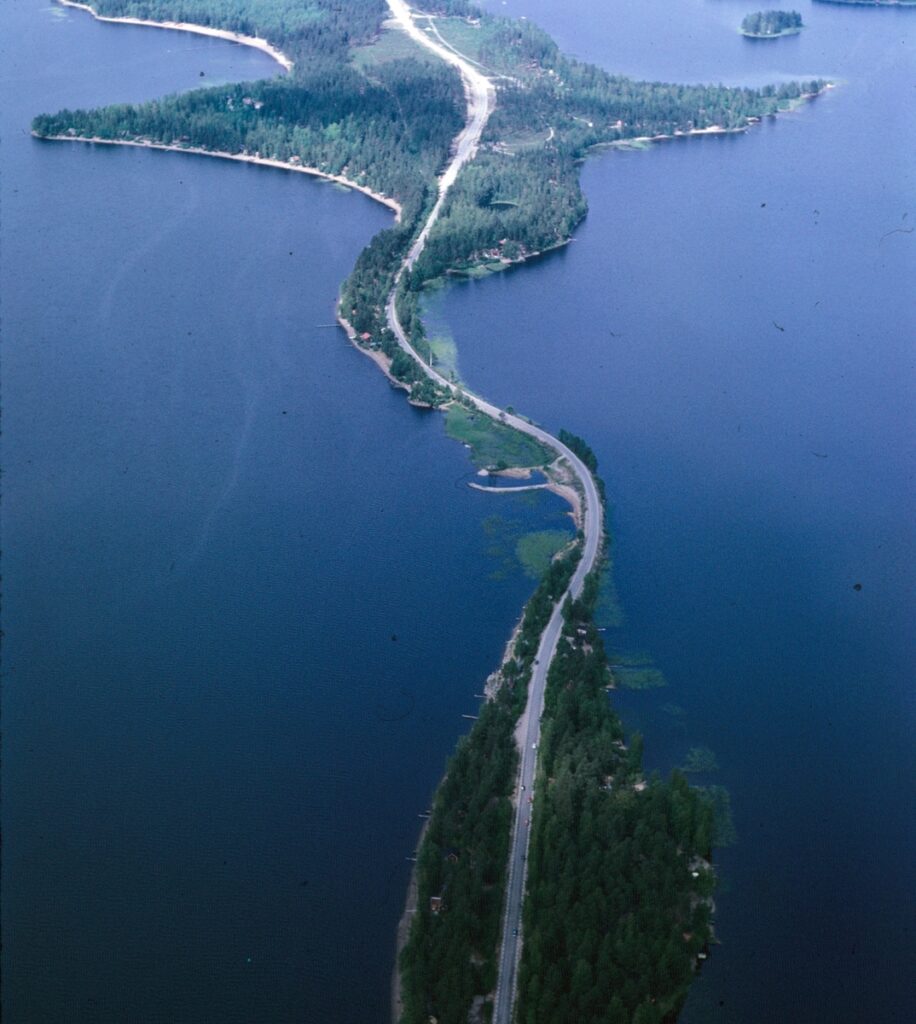 My multi-fuel kitchen had crashed in the morning. I was desperately in need for a replacement. I was looking for a sport or outdoor shop mut not, nowhere to find in Sandviken. Therefore, the decision was to stay at Ockelbo camping that night. Needed to use their facilities. Now it will be cold food and restaurant food until I'm in Sundsvall.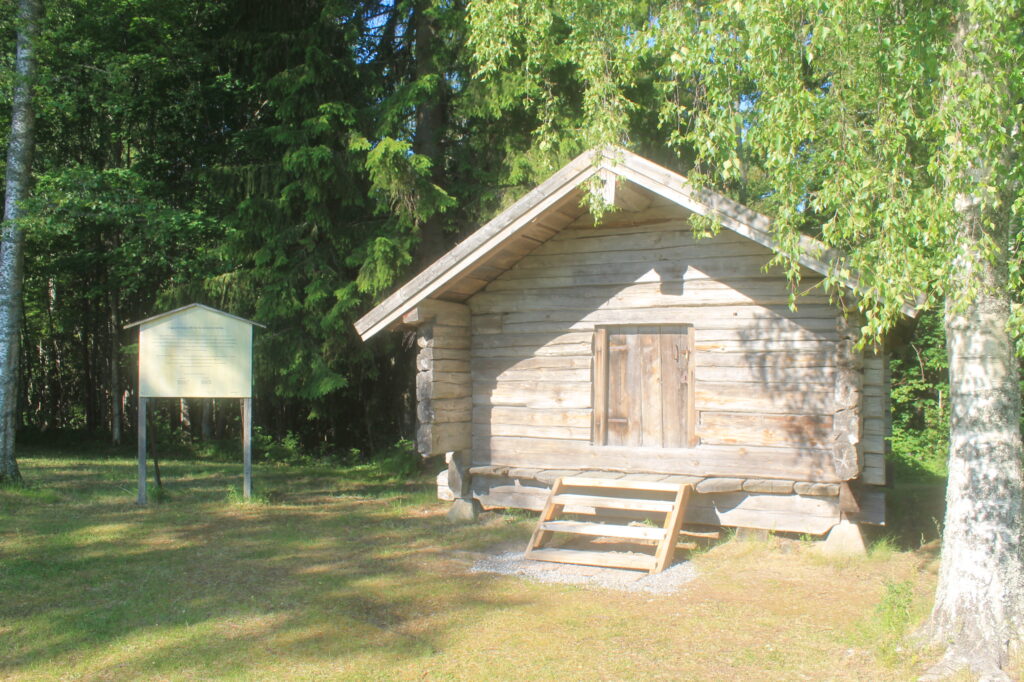 I came to Bollnäs ant stopped Max hamburger restaurant for food and charge my phones. Again looking for a sport or outdoor shop, but not. Outside Bollnäs I met Joel on the way to Nynäshamn and Gotland. The sun burned my arms and I stopped for a swim in the afternoon.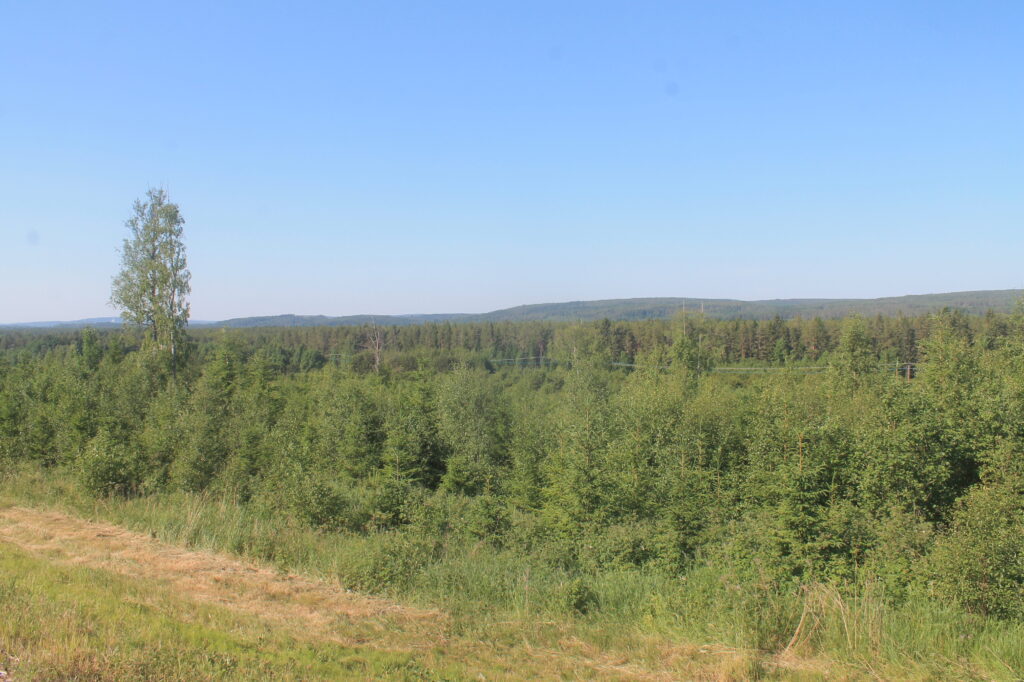 The evening came and I started to look for a good place to set up the tent. Found a forest grove a little outside Delsbo that fit.
Finally, in Sundsvall I found my outdoor shop, Naturkompaniet, to buy my new kitchen. Nothing wrong with Naturkompaniet but they did not have the spare parts I had hoped for so it became the cheapest gas burner and a tank of gas.
Then make contact with K and see her after she finished her job. It was a good evening with K. We cycled home to her place. On the way there we bought Sushi. Then we talked and she showed her allotment. I left her place to find a place for the tent. Got tip about a forest with walking/running trail. That should be enough, though. It was not the best though, many hikers, joggers and dog owners who used just that trail.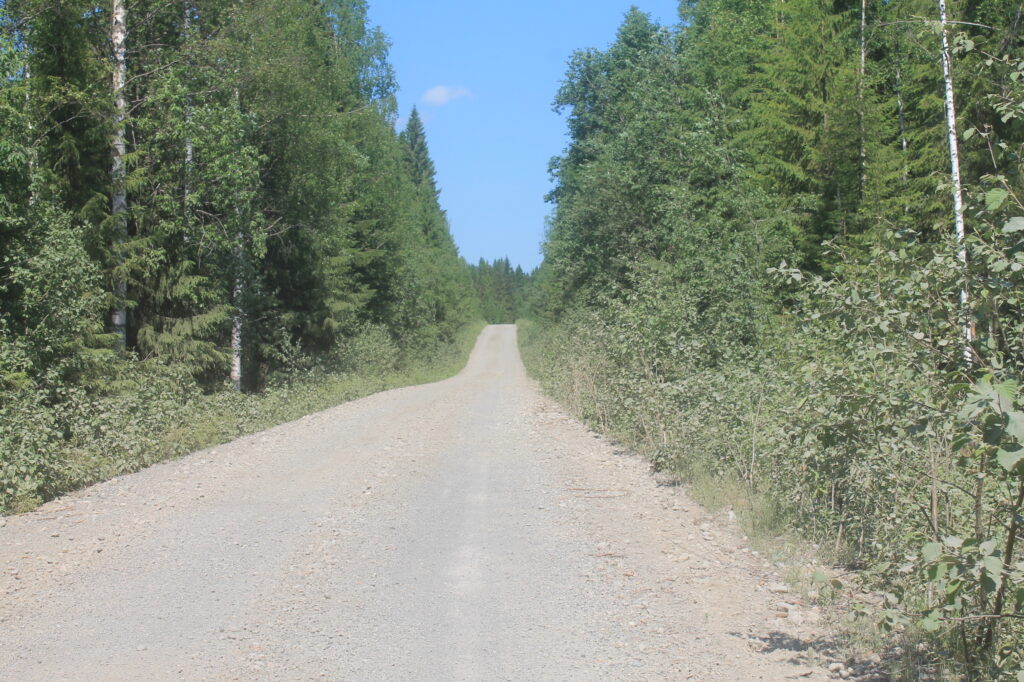 The day to Mellansel can best be described as a hard days in the saddle. The first gravel road was exemplary packed by cars. Second gravel road much worse. About 33 km over a mountain with Macadam. Recently scraped. Long slopes up and down. Slow and bumpy is a good summary of this day. If I choose to take the road around the mountain, which was perhaps 30 km longer, I would have arrived earlier. But who is in a hurry on a cycling holiday. Well, the couple who were on their way to Treriksröset who passed me north of Sundsvall.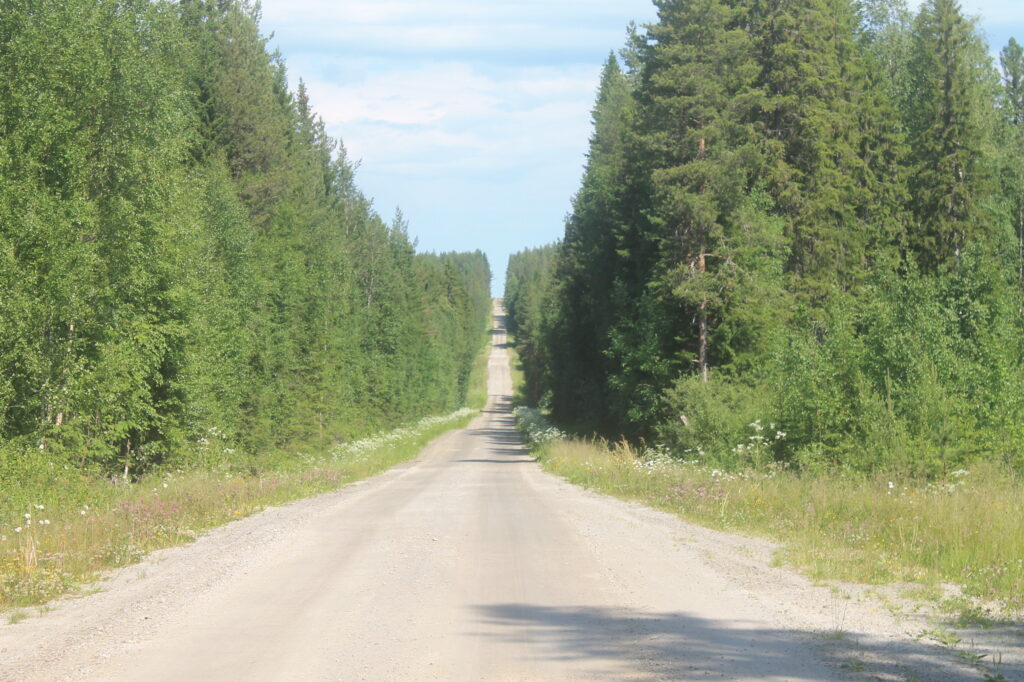 Had planned to stay at Mellansels camping but it was closed. Got a tip to go to the sand beach. Incredibly beautiful lake with sandy bottom.
In the evening, a family came to eat pizza. I was curious about what it is like to live in Mellansel and got answers to my thoughts.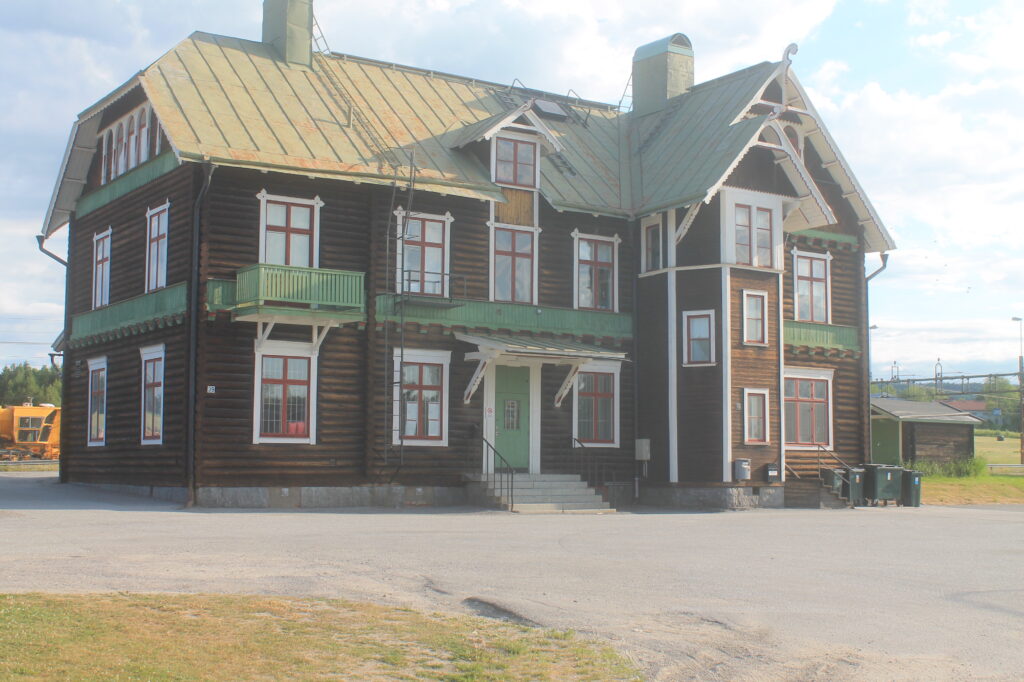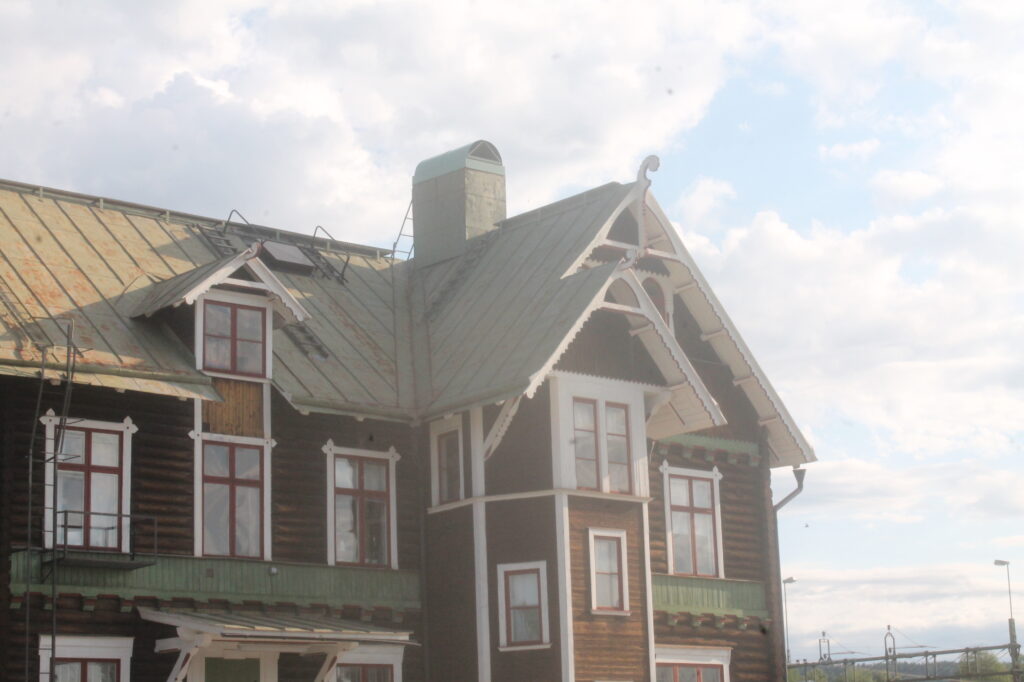 Still a lot of gravel mixed with asphalt roads. Passed many villages with abandoned houses. The station building in Björnsjö is no longer in use.
Pizza at Michelagelo's pizza in Bjurholm. Raise the tent by the river. Typically me, joggers, dog owners, fishermen passed revue. Tina and her husband came to the camp. Tina has also worked at Studieförbundet Vuxenskolan so it was an appreciated meeting.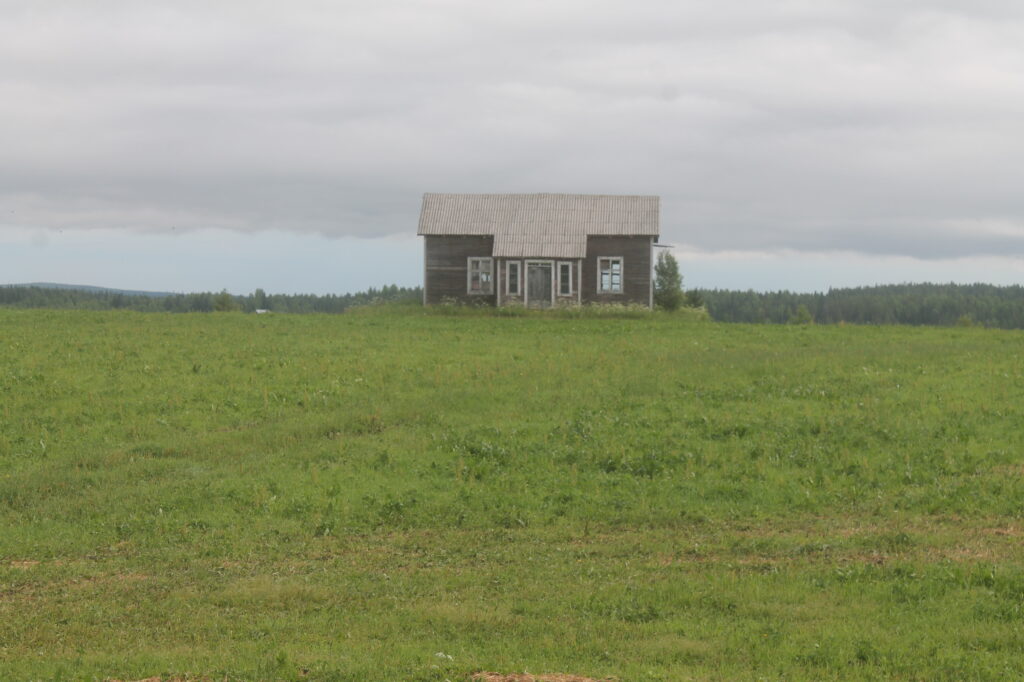 Until today, the weather had been perfect for cycling, 30 degrees, wind from the south. But today it was a change. The rain came in the afternoon. But then I was already at the Park Hotel in Lycksele.
I left Lycksele next day in a cloudy mood. My cycling began with a fairly long uphill. After that it went well. The temperature had dropped to 20 degrees. Stopped to get the gloves out. Oh no, after 14 km I notice that I forgot the bag with tent and sleeping bag when I took out the gloves. Just to turn around to pick it up. I came to a fourway intersection towards Norsjö.
Thought I would take that road, needed to buy some fruit there.
That night I stayed in a spruce forest.
I took a detour to Glommenträsk for lunch.
My biggest problem that I think about all the time when i touring is where and how can I charge my phones. I use my phone to take pictures, listen to radio. When I came to Arvidsjaur, S was already outside SV's office.
There I could charge my phones while we talked about yours and hers. Out of Arvidsjaur I saw the reindeer for the first time.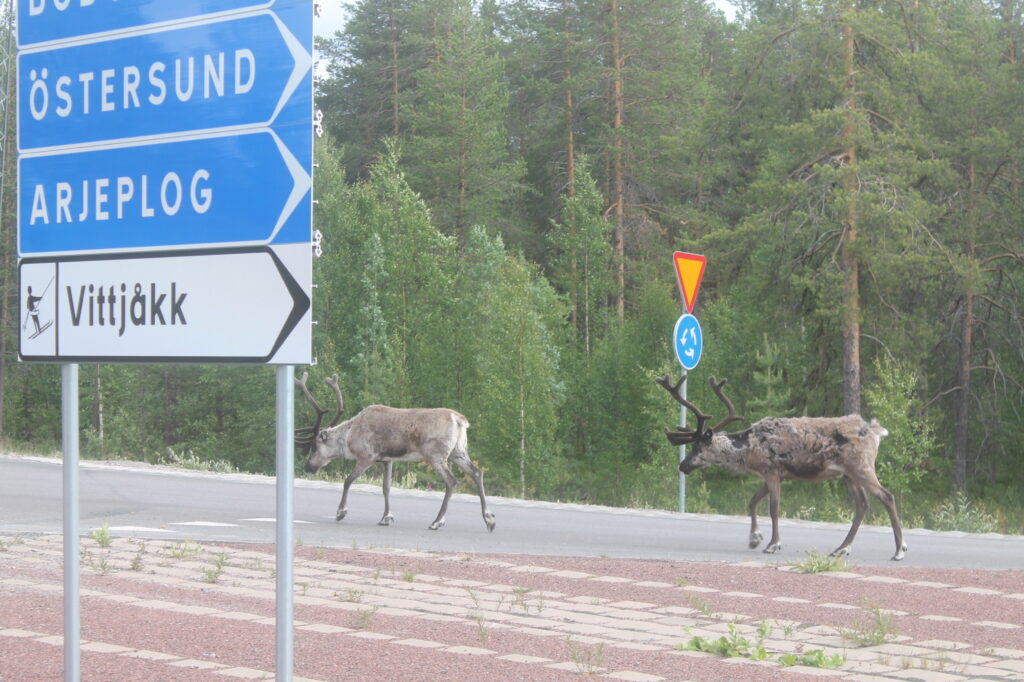 I struggled in the headwind to Avaviken where I stayed for the night.
Continued south on RV45. Lunch in Sorsele Come to Sandsjö. One thing about cycling are all the people I meet. A this one, the finnsih hiker met here. He was walking from Hudiksvall. Said he was on his way to Haparanda. He lived on collecting empty canshe found along the way. Lived on uncooked macaroni, he said.
It started to rain that night. I waited in my tent. It can pass over. But when it was close to nine AM, I gave up. I began cycle in the rain. Came to Vilhelmina. Decided to stay at the hostel. They had a sauna. This was the second night indoors. Now I would actually take Vildmarksvägen to Stora Blåsjön but since it was cold and more rain on the inside and I did not have the right equipment with me, I chose to continue to Strömsund.
It rained in the morning, for the second day. What to do? Just to keep moving on. I hesitated, I don't like rain. Found some plastic bags that I put on the shoes to protect against the moisture but not the cold. Stayed in Dorotea for lunch. Came to Strömsund in the evening. Beppe Wolgers made the area known to the whole country through the film Dunderklumpen.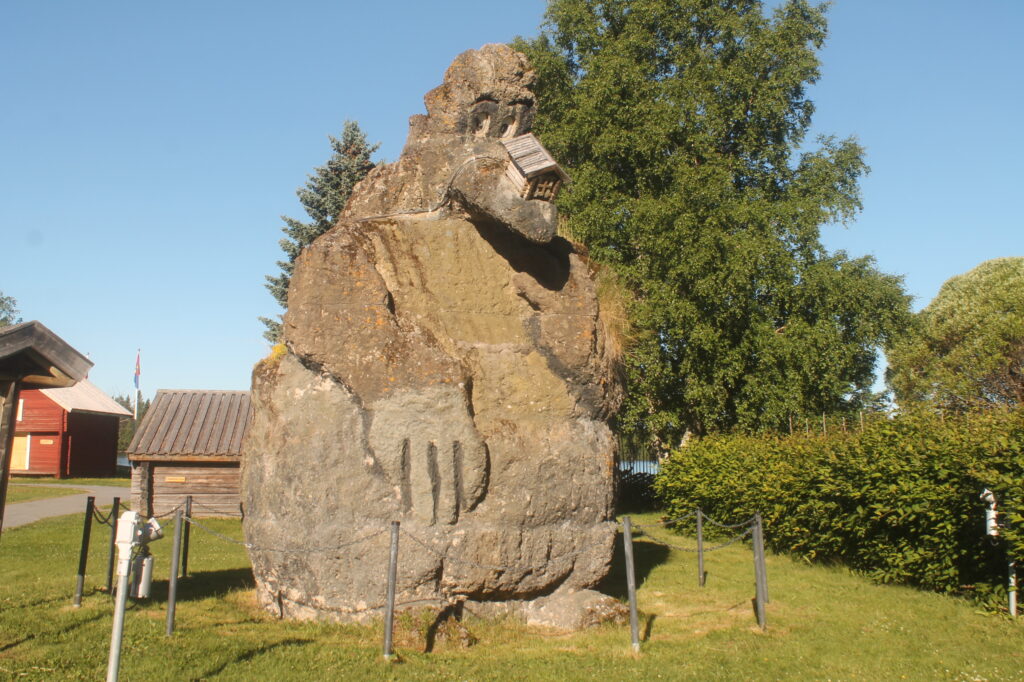 That night I stayed inside Ströms homestead park Strömsund. On this day when I arrived Östersund was a cold, wet and miserable day. I had been cycling in rain whole day and really needed go inside. I found my hotel I booked a few days before. Sauna, good food and movies in the evening. It was raining when I left Östersund. I took the road over Frösön. Lunch at a bus stop.

After a whole day in the rain, it was nice to get into the tent. This is where my phones stopped working. My Iphone could not handle the moisture so it died. My second phone Samsung, I forget the code so it was completely locked. From now on it became unplugged.
Came to Sveg, looking for a phoneshop for a cheap phone but not. went to the community house to print paper maps for free. Found a good place to sleep next to Sandtjärn's bathing place. Relatively undisturbed by dog ​​owners, joggers and walkers.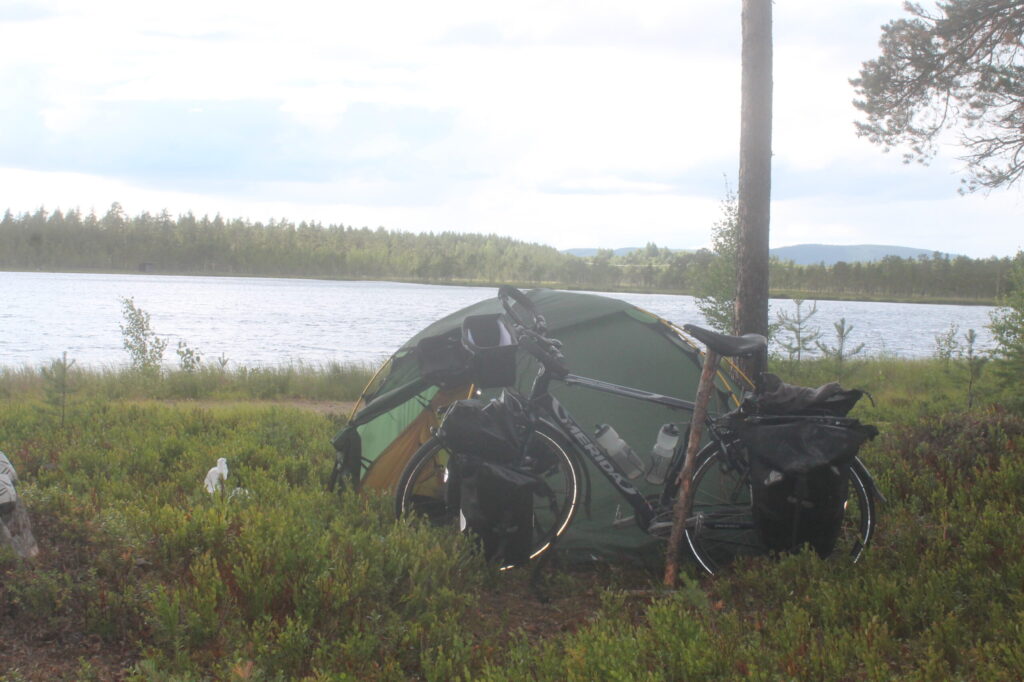 Come to what is called Orsa Finnmark. Swamps on both sides of the road. Hard to find a place to stay. In the end I found a barely visible path into the forest. It must be enough. I set up the tent and found for myself that there were a lot of gnats and mosquitoes outside the tent and inside the tent as well. There were fast sprint races outside the tent to cook, clean. An uneven fight against the insects. At half past seven I gave up. Tore down the tent and continued on. After a few km I met Nicolas, a German tourer on his way to Gothenburg. We had comapny to Orsa. He had found a good place to sleep, Holen's bathing place. It was good. mosquito-free and quiet.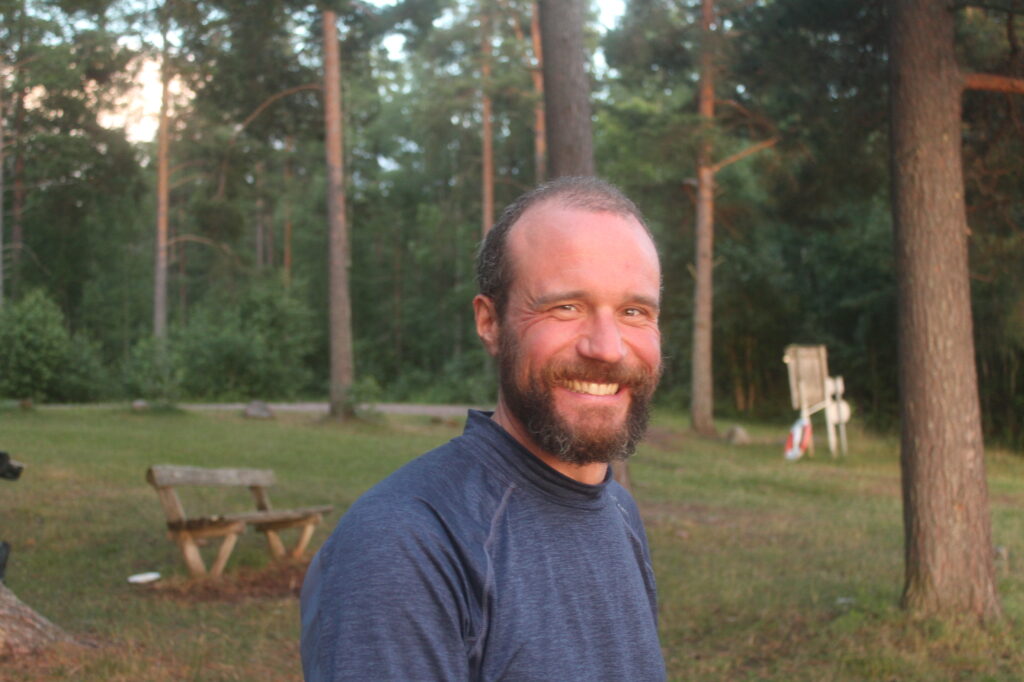 I left Nicolas early. I saw that my brake pads were worn out so I stayed in Mora for a long time to change them. Come to Sollerön and had lunch at a sparsely used restaurant. Before the trip, I had planned to cycle a gravel road from Sollerön towards Dala Floda. But since I did not have any maps, I chose to take the detour over Leksand. A little longer but a little safer.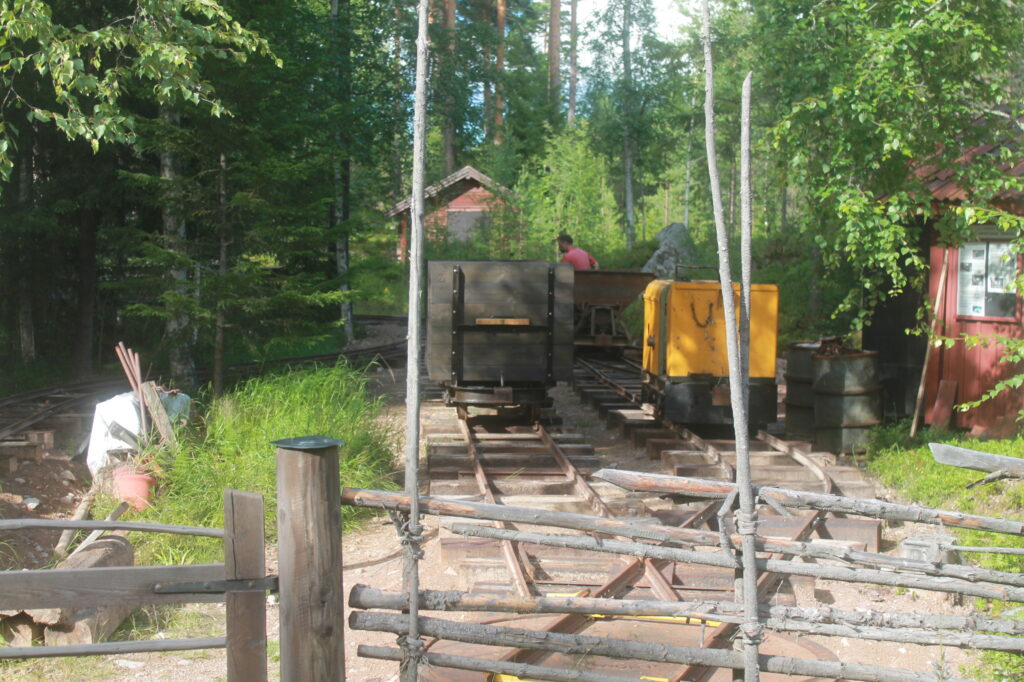 One thing I like about cycling are those unexpected meetings or things to see. like this one. Near Närsen outside Dala Folda. Närsen-Grontjärns Järnväg is a hobby track with a track gauge of 600 mm, where since 2016 the Museum Association Närsen – Grontjärns Järnväg has its operations. The facility has been built by two railway enthusiasts since 1986. The length of the track is about 0.8 km, plus a shorter distance with a 500 mm track gauge. In addition to many locomotives and carriages, we also have a number of dressings of various kinds, locomotive sheds, turntables, rails and gears.
I stayed a few hundred meters away from large factory outside Dala Floda. Nearby was a familyhome with barking dog.
The rain had passed temporarily. Cycled on in an overcast day. Passed a memory of great days of forest and wood industry.
Along the old road between Nyhammar and Dala-Floda. Here near Salå station and the Fagerberget shack,I saw this sign by the roadside with the text "Liss'ns saw". Inside the trees, a timbered cottage. Of course I had to go there curiously. Next to the old cottage (which is now housed by Fagerberget's hunting team) the ground slopes sharply down towards a valley depression where the Nolbergsån river slowly flows past. An old dam in the river testifies to what once lay here on the site and inside the thicket you will find its remains in the form of a number of stone foundations and other remains from a time gone by today. Here, as I said, was Liss's sawmill, a small sawmill built between 1910-15 and which had its heyday in the late 1920s. The proximity to Salå station made it easy to transport the products by rail. But as early as 1931, the era was over and today there are only a few remnants left of the sawmill business itself. However, it is still a piece of interesting rural as well as industrial history. Visible only to those who take the time to stay.
Come to Skinnskatteberg with raincloud skattering over ths sky. Worried that the rain seems to be approaching from the west. Quick visit to Coop for some sweets. Looking for a place for the night. A few minutes before the rain fell, I got the tent up. On a boat ramp near the city center. The rain fell all night. In the morning there were big water poodles around the tent.
Since it was the last day for cycling experiences in 2020, I decided that I can tolerate the rain. So quickly down with the tent and off home towards Eskilstuna. It rained a lot, pouring down like a bucket full of water was frown at me. It rained all the way to Köping. It was then 10 o'clock and I had cycled for three hours. I passed Strömsholm and stopped for a coffee at Markan. Finally home.
Afterwords
Cycling experiences 2020 would have been all about Europe and Spain. As a cyclist, I am used to changing my plans quickly. It became Sweden. Overall, a good experience. In the moment there and then it was annoying that I did not plan for autumn weather. and lost two phones. But now afterwards, it was the right decision not to cycle Vildmarksvägen. The road is still there and I will cycle there sometime. It started well with hot and a lot of sun. It ended with rain so typical Swedish summer. Then it was boring with the phones. There were pictures in Iphone that are now gone.