Part one – Denmark
It started with a camper van from Eskilstuna to Lund.  With C & K I made my way to Lund to meet up with my daughters. They wanted to come with me to Helsingborg.
karta
We left Lund after a big breakfast. A little mis navigation towards Furulund – Stävie we finally found the road through Löddeköping and we were on the right road. Lunch at Max Burgers in Landskrona. Now we where halfway to Helsingborg. With the wind at our backs and with good company and spirits the time passed quickly. Råå and Fortuna with the sea on the left side were passed before we approached Helsingborg. Beautiful old fishing villages that have now become hipster reserves. I took the ferry to Denmark and the daughters took the train home to Lund. The ticket cost 59 kr. Expected to be checked for the Covid pass but saw no one. Stopped for a while in Elsinore before finding route 205 to Halsinge. Had found a shelter 99 from Lund. Didn't make it all the way. Found a meadow with horses as neighbours. 92 km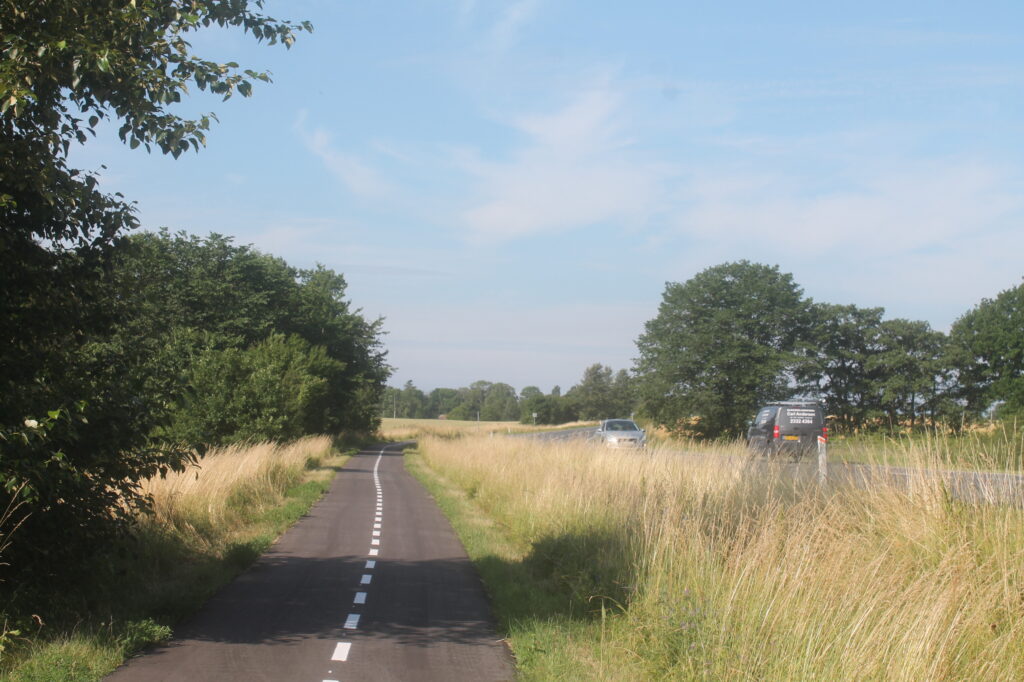 Continued towards Själlands Udde. To get there I had to take a ferry from Hundested to Rörvig, to my surprise it was free. Dark clouds towered to the south. Rain was coming and I hoped to make it to the ferry before it started to rain. But no, when I had two kilometres to go, the rain came down like a tropical downpour. Got on the ferry with a few minutes to spare, but soaked, 359 DKR.
Got to Aarhus. A long windy ride from the ferry dock through Aarhus. Had seen a shelter 31 km from Århus towards Randers. It was occupied by a Danish couple. Writes occupied because they had furnished it with slave shelter and spread their possessions. Continued towards another but did not find it. Stopped in a field not far from The Scandinavian Design College https://www.designhojskolen.dk/ 105 km
Left the Scandinavian Design College towards Randers. Stopped at a cafe for a morning coffee, charging the phone and writing. A steep hill to get out of Randers. The road to Aalborg was busy so I turned off towards Spentrup- found nice roads that took me towards Hadsund. Lunch in Hadsund at a restaurant. There were a few raindrops now and then throughout the afternoon. From Hadsund to Aalborg I found a cycle path on an old railway track. As I approached Aalborg, I was pleased to see that Denmark is far ahead of Sweden in the implementation of cycle paths. A pure joy cycling into Aalborg. On my way through the city center I met student floats and happy young people. Somewhat surprisingly but the semester is apparently over in early July. Found my shelter outside the city near the beach. Nothing surprising except that it was raining. A big thunderclap not far from the shelter woke me up. 105 km
To the city Centre to buy food at Brugsen. The bike lanes out of town were easy to follow. I chose not to follow road 11 which had taken me quickly to Hanstholm. Instead, I looked for smaller roads. They give more impression of the countryside. There were also some train trails. Then I got the idea to follow the coastline route 1. That was stupid. It did take me through a beautiful pine forest, but I got a bit lost in the orientation. Eventually I reached Hanstholm. The idea was to check into a hotel. But both hotels were fully booked. I stayed outside Hanstholm near a German coastguard from ww2 in my tent. 116 km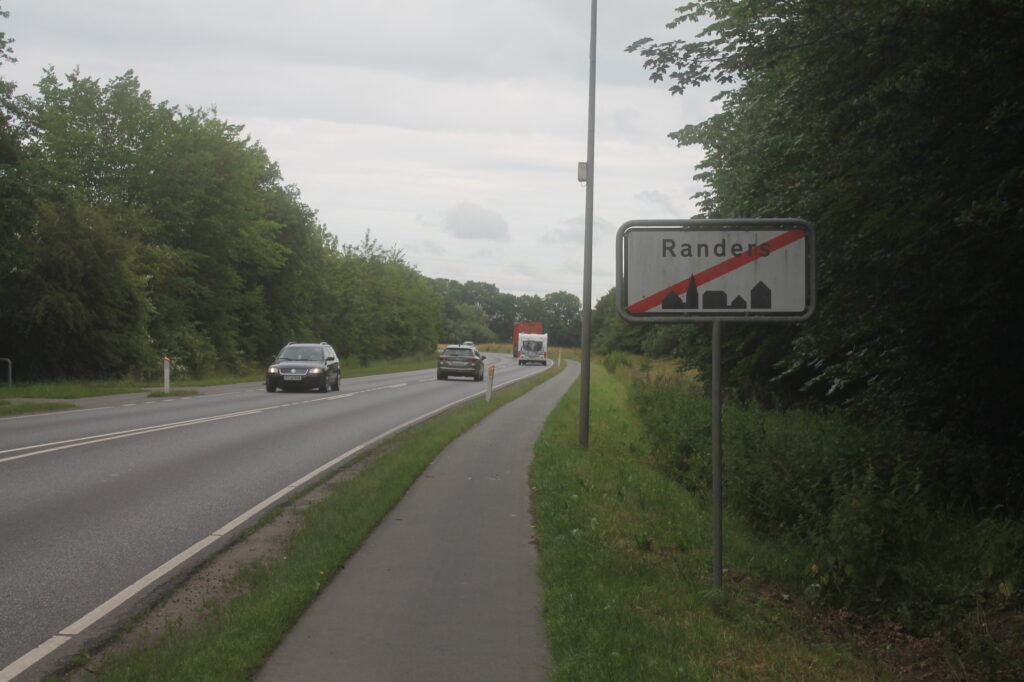 Headwind and Vestkustruten National rute 1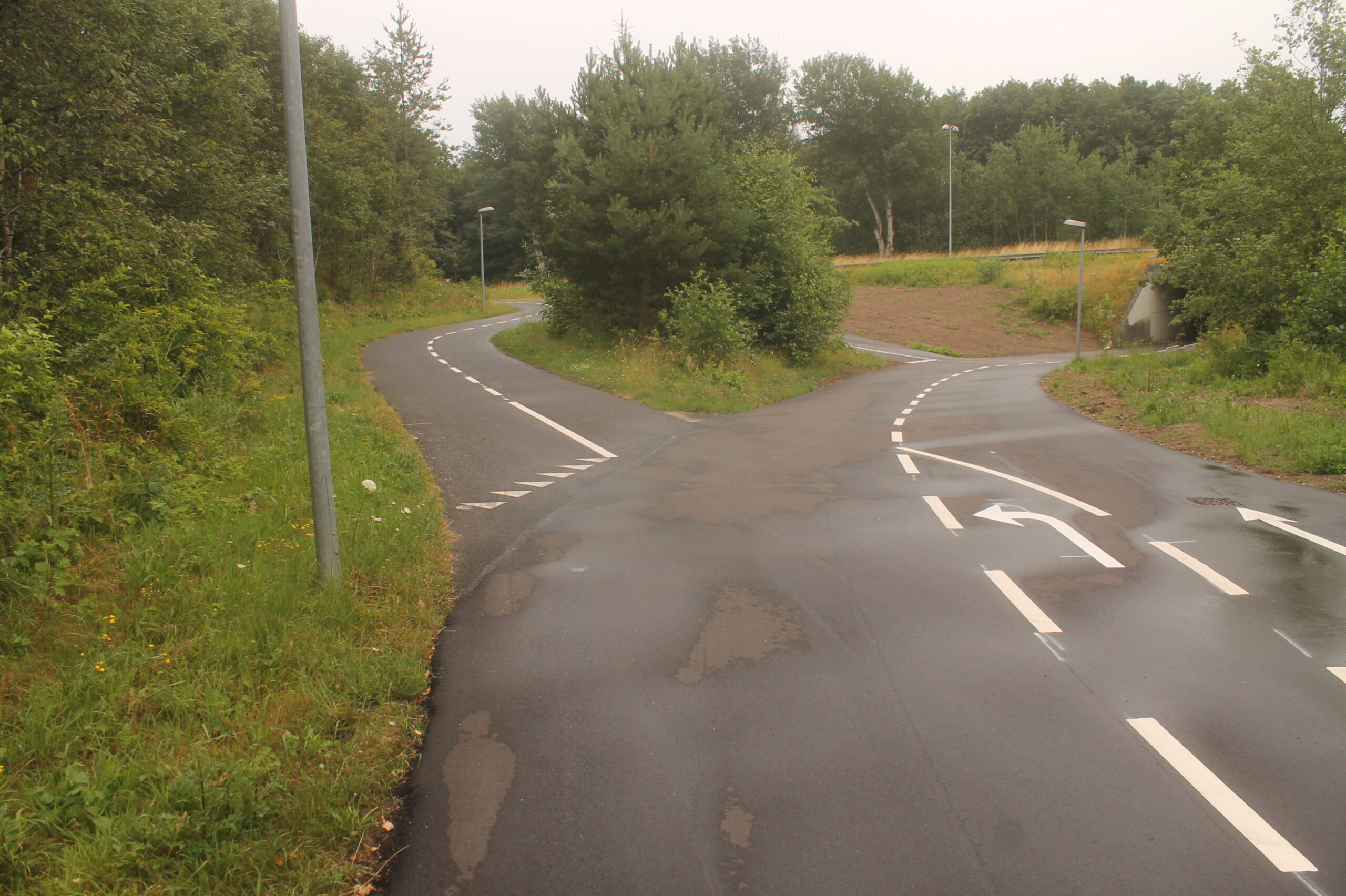 This route runs from Skagen to German border. It winds its way south on small roads often dirt roads through forests and through fields. I followed it sometimes and then it usually went wrong. But interesting, nonetheless. Thyborön I know from Swedish radio weather forecasts. Now I know where it is. There it was ferry number 4 from Agger to Thyborön.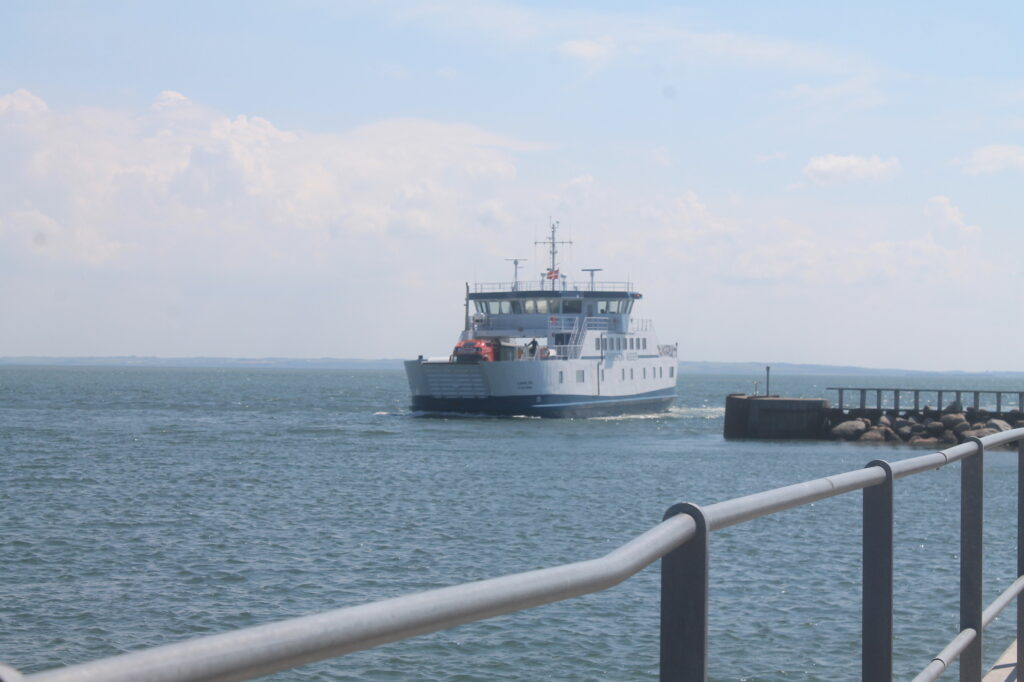 Thy National Park and holiday villages lie like a string of pearls along Denmark's west coast. Was a bit hesitant when the sign pointed straight out into the dunes, but it was right, stayed that night at Thorsminde campsite. Needed a shower and a change of clothes. https://www.thorsmindecamping.dk/uk/ 103 km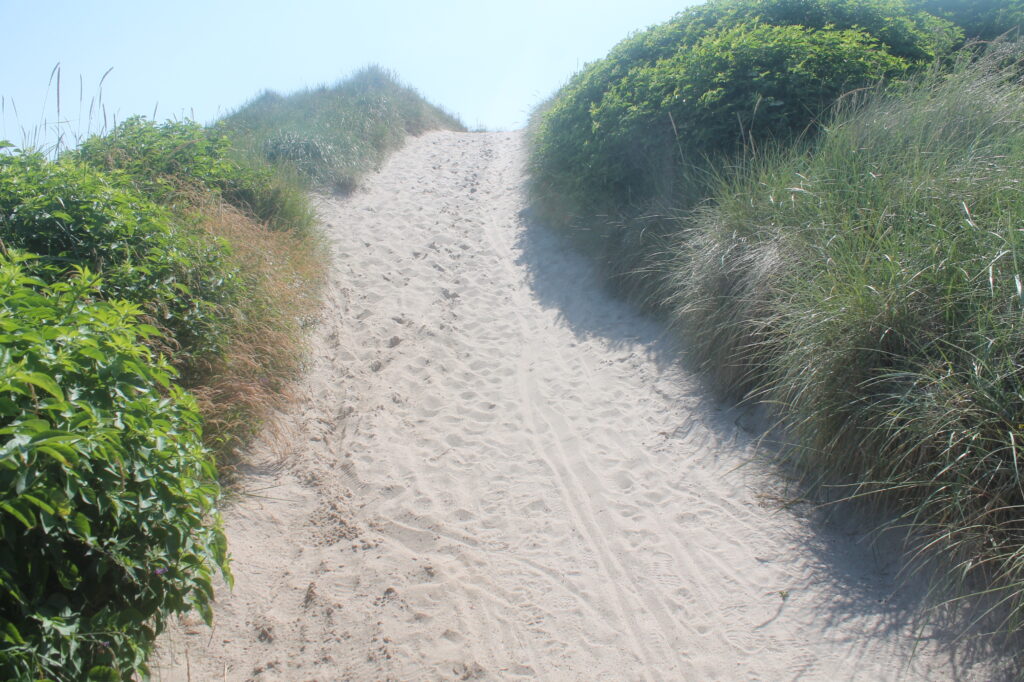 The wind had changed. Wonderful, tailwind all day. It was the best day of all. I deliberately chose not to follow the coast to Esbjerg. Took off southeast on small, beautiful roads. Wanted to experience the countryside. Found that the farms here in southern Denmark are large, that they have loose farming with several hundred dairy cows. Arrived at my planned stop in Nedre Nöbel already at 15.00 time. Decided to continue to Ökböl.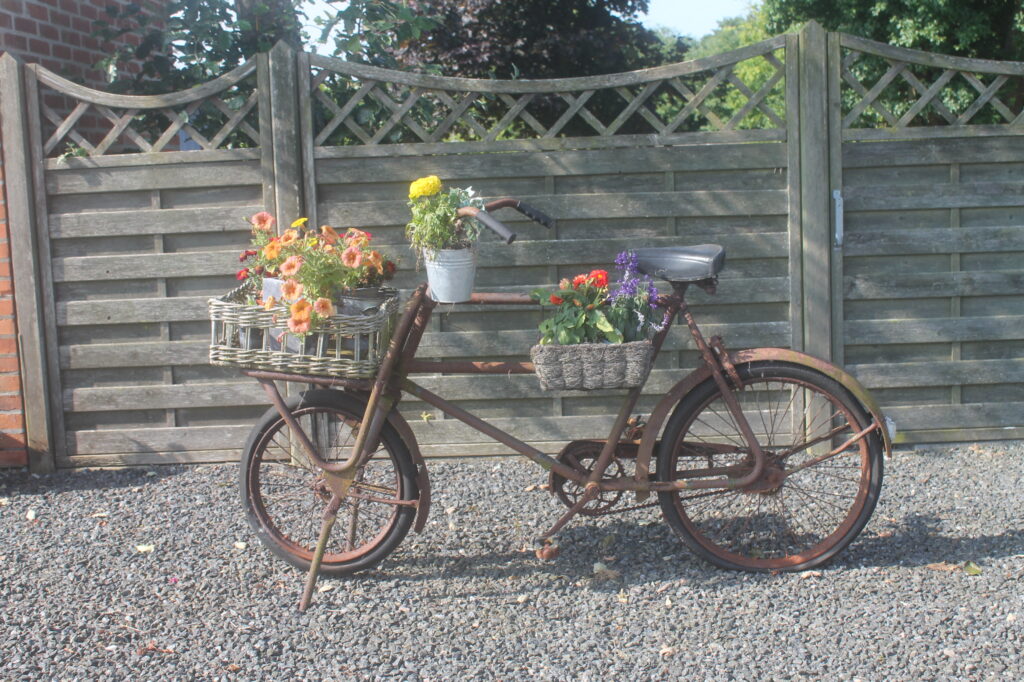 Stopped in the town forestof Ökböl. In Ökböl I met a group of cyclists cycling around Denmark to raise money for Save the Children. They were not the only ones. A little later I met Ream Rynkeby DK cycling for cancer foundation. 126 km.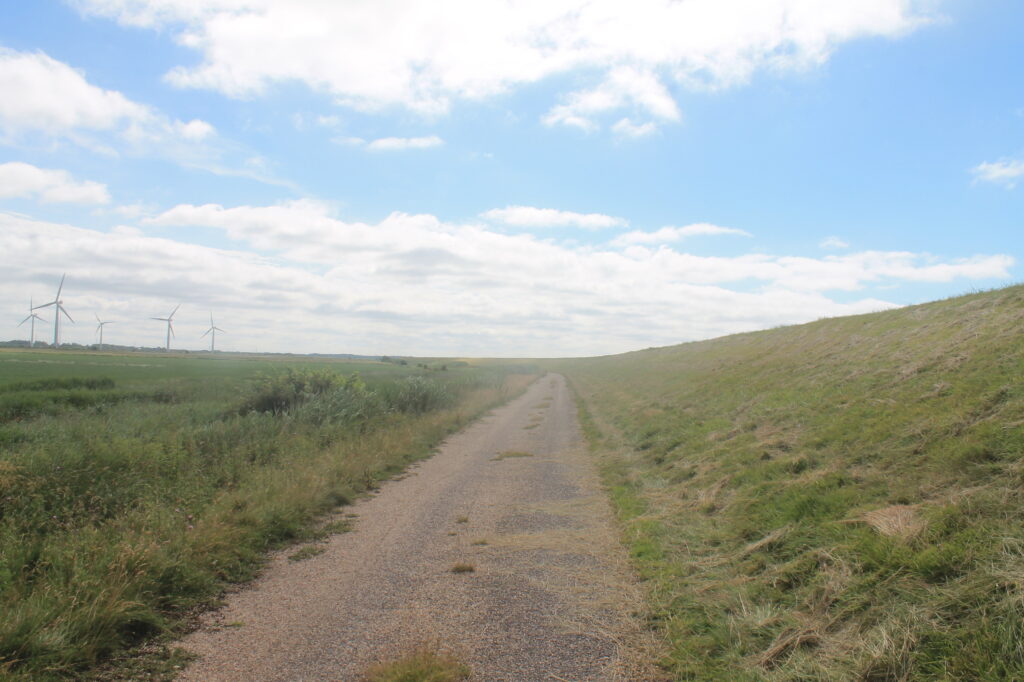 Woke up early in the forest in Ökböl. Was a bit worried that an early dog owner would see the tent, but not. Got to Esbjerg before nine. Stopped at the square for a second breakfast. Esbjerg has an interesting history linked to the war of 1864. With the wind at our back it was easy to get to Ribe. An interesting city with dates to 850 AD. Hamburger lunch and writing postcards. It cost more than 240 SEK to buy and send 10 postcards to Sweden.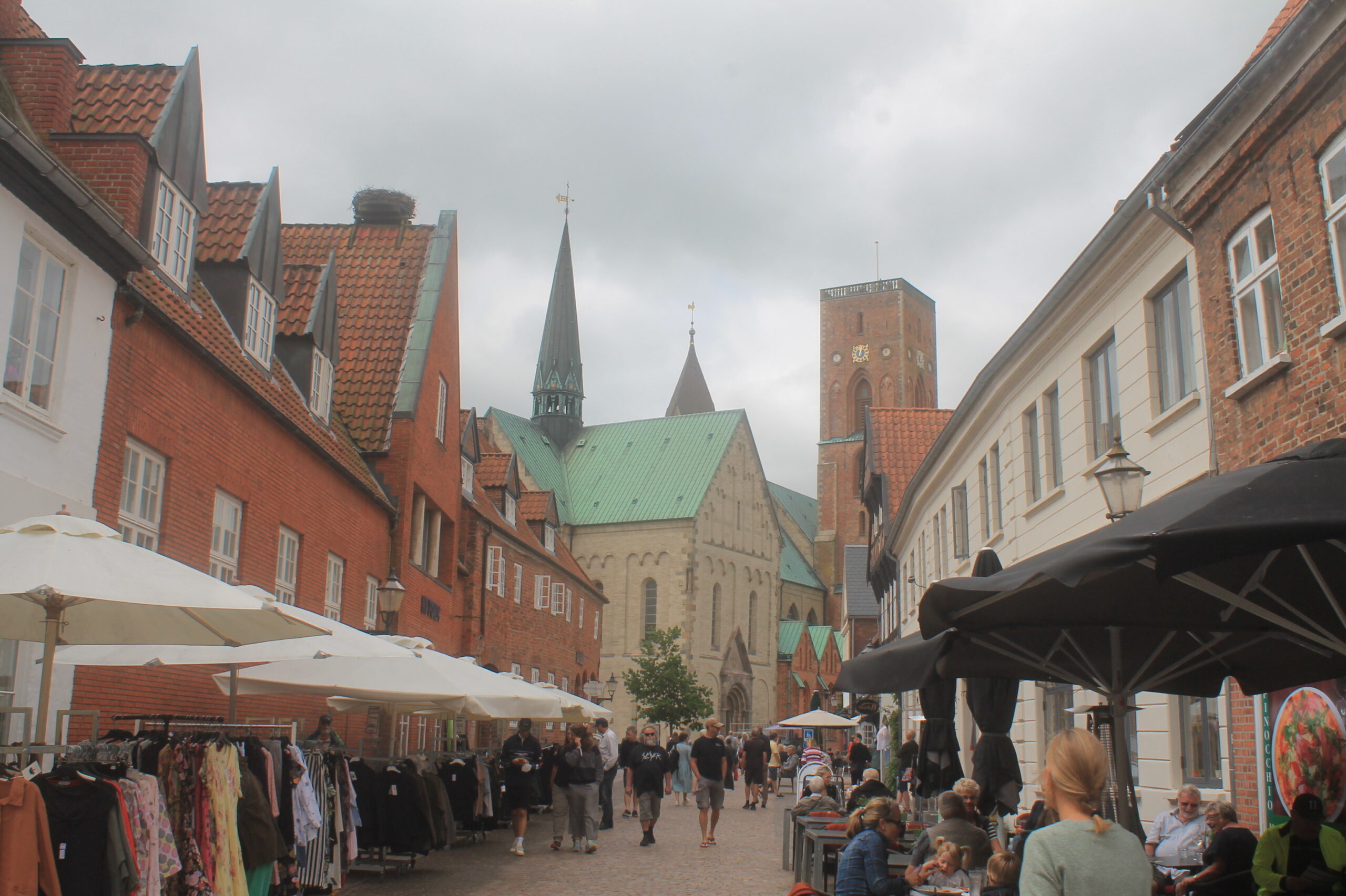 Skipped Haderslev. I continued on nice bike paths in the Danish agricultural landscape at a good pace to Kolding. The destination was a shelter east of the city. Unfortunately, it was occupied but found a good tent site a little beyond it. Again, there was a party from the neighbours.
Got to Middelfart and passed through Fyn in one day. If previous days were defined by tailwinds, then today must be hills, up and down.
Many short steep ones. Not long but tiring. Got a puncture on the rear tire. Quick and smooth change of tube and off again. Would have preferred a hotel that evening, but it was a campsite, Carlbergs camping https://carlsbergcamping.dk/uk/ It was the final game of the European Football Championship England – Italy. 115 km
I left Carlsberg campsite with the observation that today will be a tough day. Headwind from the start, the bridge to Langeland and Rudköping was a tough challenge. Finally got to Spodsbjerg and the ferry to Lolland. To avoid the heavily trafficked route 9, there was a slight detour on small roads south of route. After many breaks and stops, I finally reached Nyköping/Falster: stopped in a beautiful forest just outside the town. The repair from yesterday only lasted one day. The tire exploded when I filled it with air in a bike shop in Stubbeköping. The tire was broken. Had to buy tire and tube there. 99 km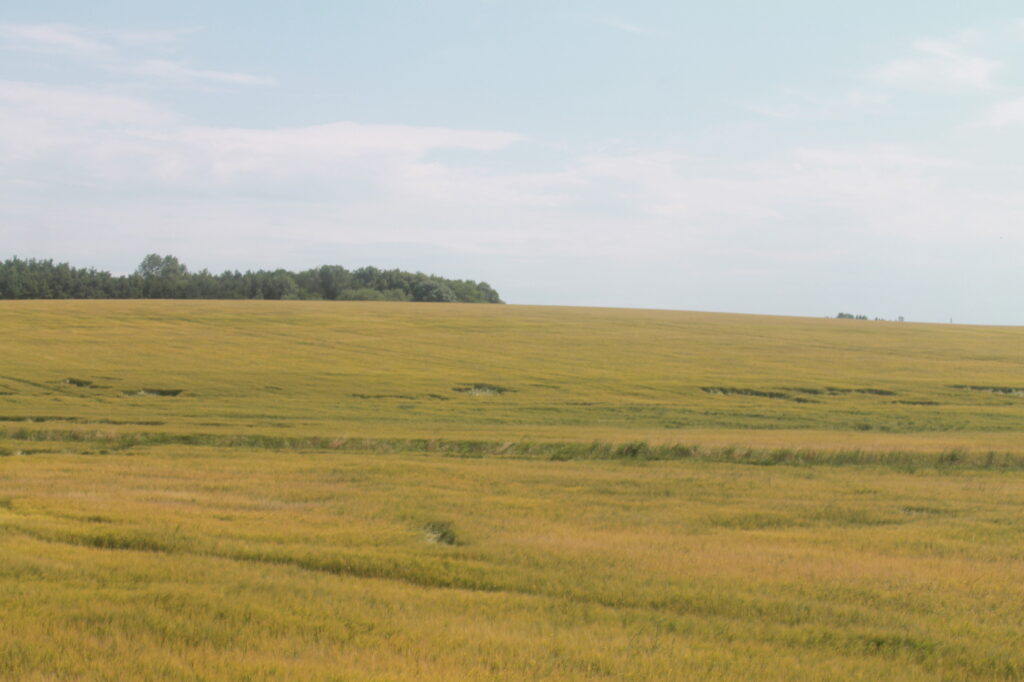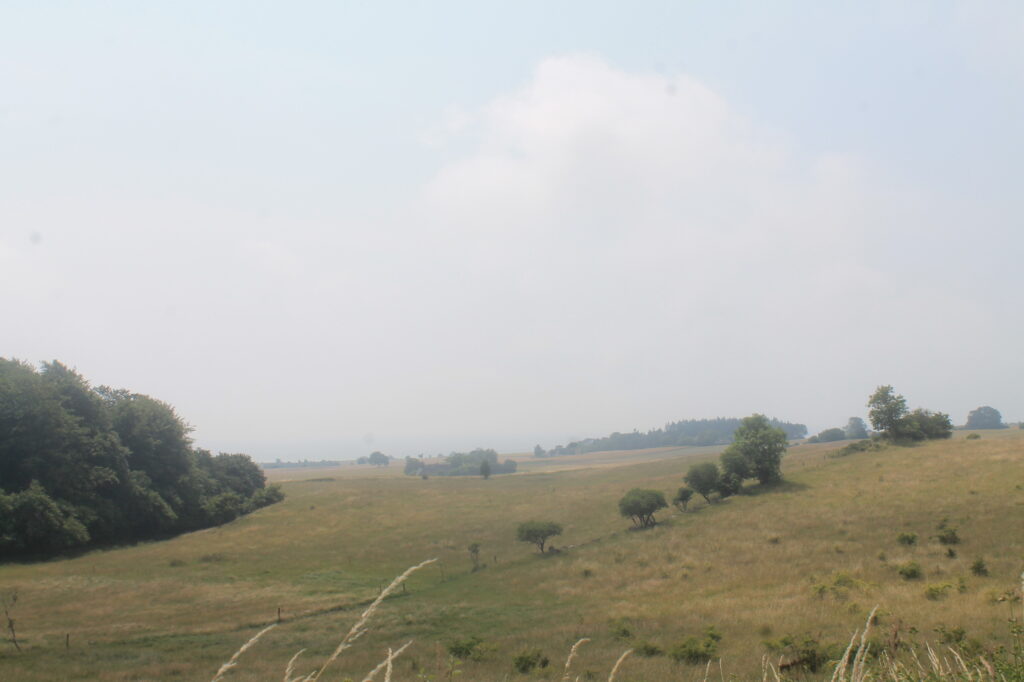 I was on my way to Möns klint and then towards Copenhagen. Denmark was ready to harvest the fields. Before I got to the Klinten nothing happened. The closer I got to the Klinten the more hills I felt there were. The Mön is hilly, especially the closer I got to the Klinten. I struggled on to the Klinten. I climbed down to the beach. 469 steps down and 471 steps up.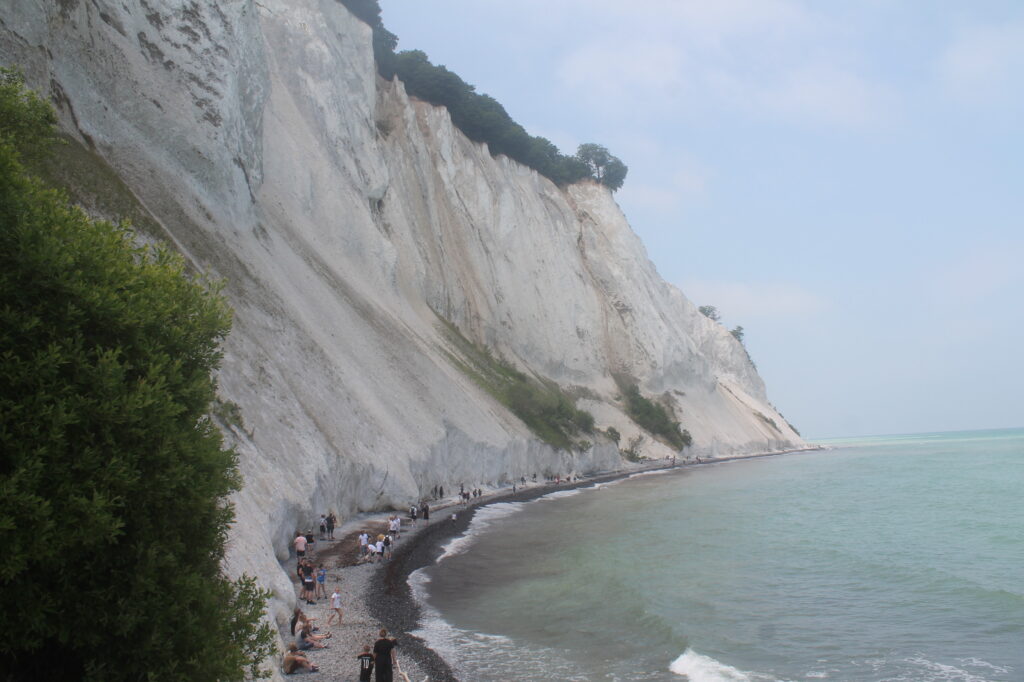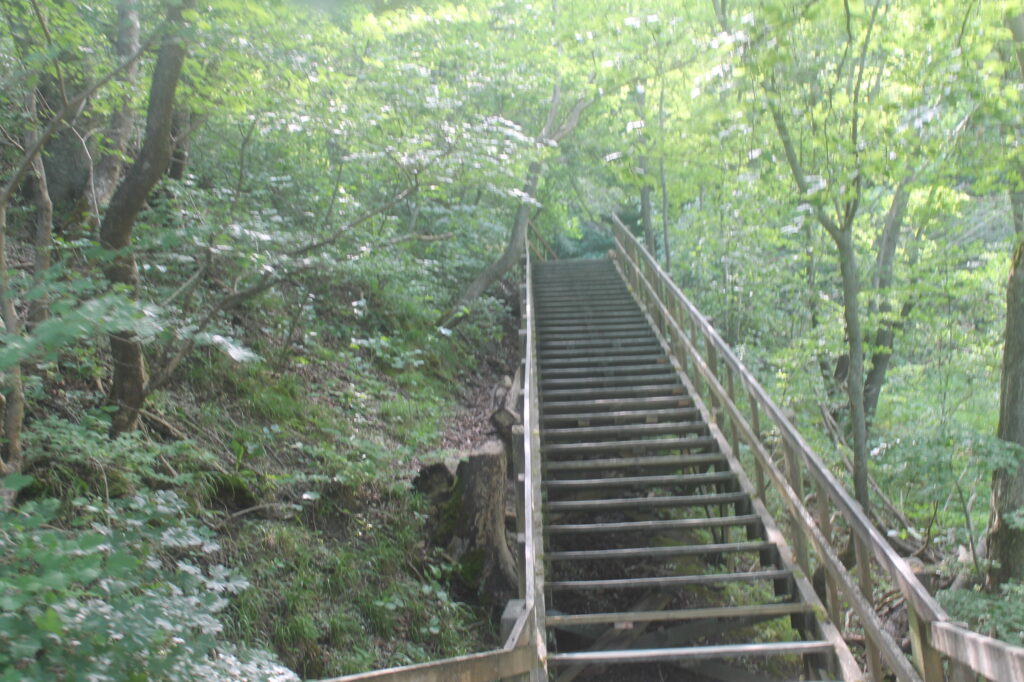 Continued towards Kalvehave to stop at a shelter de lux. Own bed, candlelight, and a roof over my head. 99 km.
Last day in Denmark was a transport day to Copenhagen. It was a perfect cycling day; the sun was shining and the wind was from the right direction. Many Danes thought the same. Saw many peletonsand lone cyclists. Bought some beers that are not available in Sweden. With the help of my GPS I found my way to the central station: track 6, no that's Kalundborg. I happened to jump on the wrong train too. Up to the main hall, asked a host. Quickly through a maze to track 26- Yes, I made it, I'm on my way to Sweden. Then cycled to Lund from Malmö. 100 km
Part two – Jämtland
I Left Krokom and L already before nine. The first 30 km were uphill. Mostly all the time. Stopped 8 km after Föllinge for lunch. Then it continued as earlier in the day, up and down.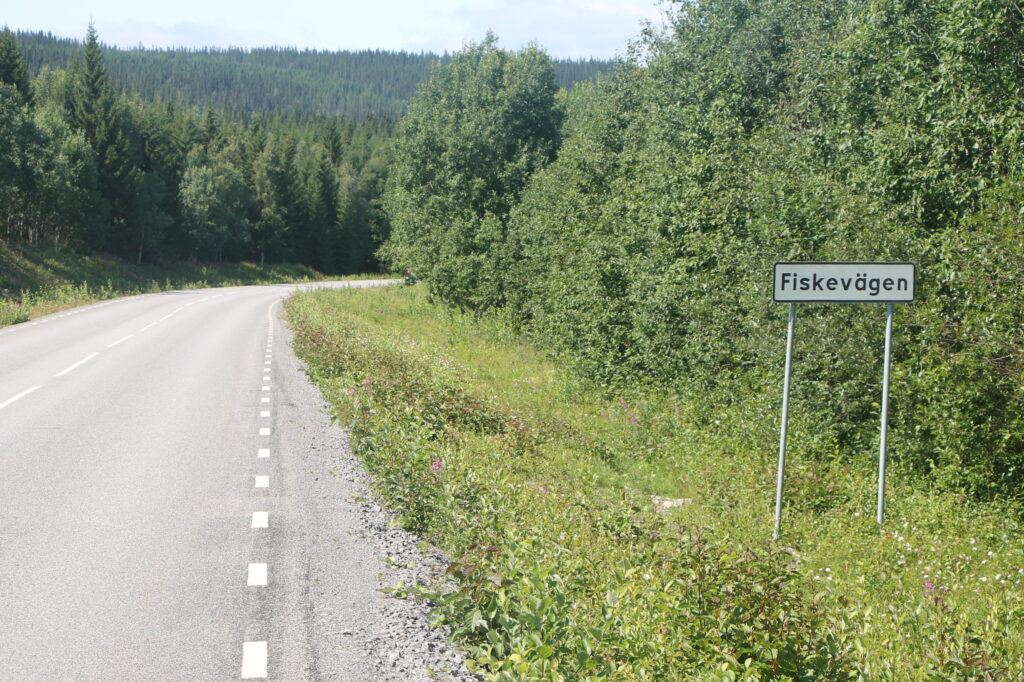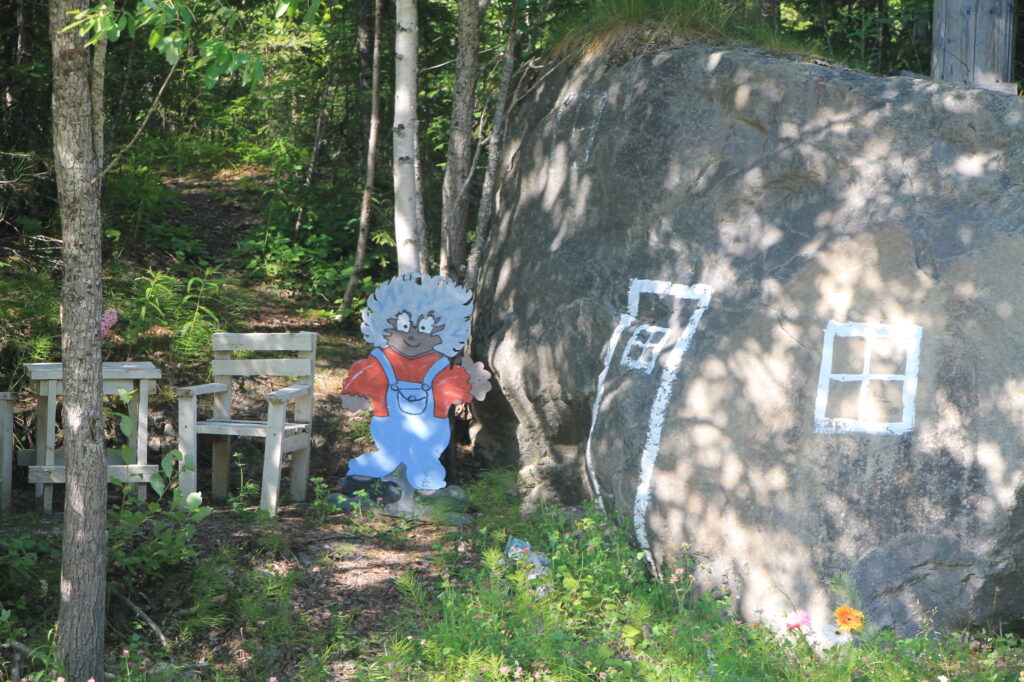 This litte fellow lived inside that stone.
Stopped at Skärvångens village dairy. Interesting local food vendor Not much to see here, mostly forest and plants.93 km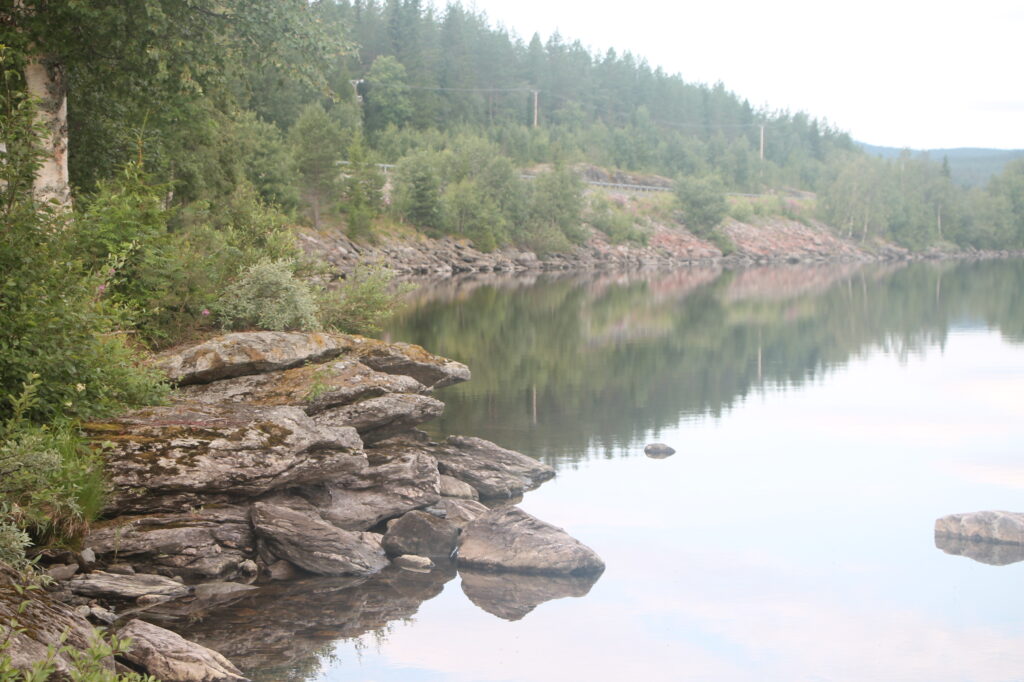 Left the rest area with the destination Lierne guesthouse in Norway.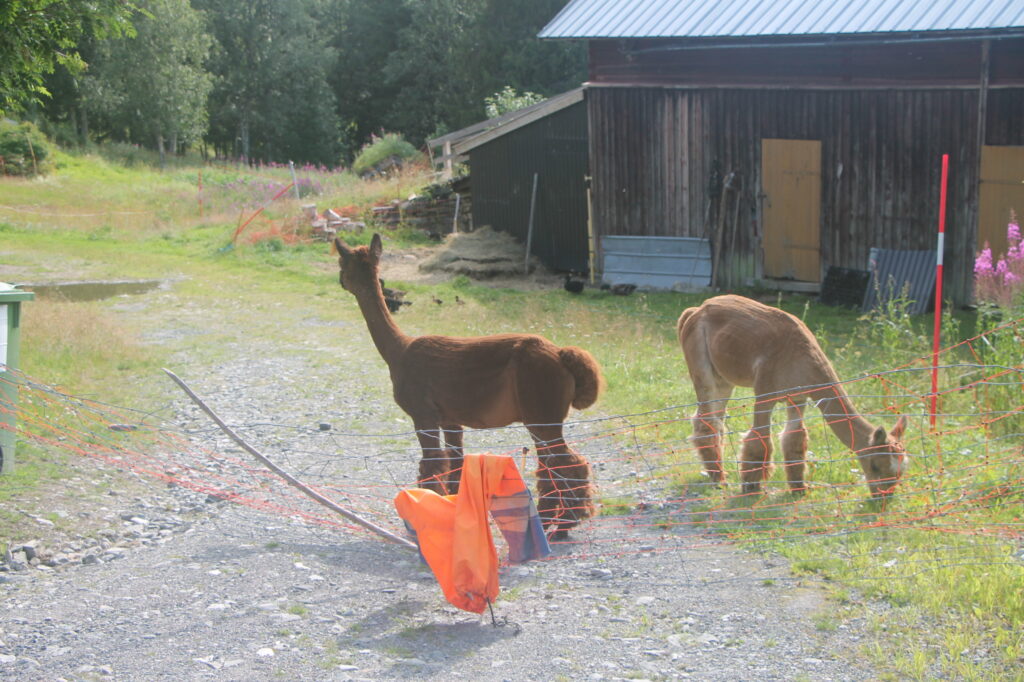 The big question was how hard it would be to get into Norway. It was an overcast morning so long trousers were the order of the day. Later it was shorts. In Rötviken I talked to a lady selling artisan cheese from Bränna village dairy. Didn't have a chance to bring me some but they looked good. Passed Klintaberg Fortress A defense installation from the Second World War. Got to the border, nothing happened. Not a single person, just a camera. Arrived at Lierne in the afternoon. Bought some beers at the reception and wrote my notes. 92 km
The first thing that happened this day was that I arrived in Sweden. It was a short visit to Norway. 76 km in what is my 27th country to have cycled in. The second thing that happened was that I arrived in Gäddede. The third thing that happened was that it was a very long hill. It was a hard afternoon, but I got to Stora Blåsjön early in the afternoon. Had been tipped off about a popular restaurant. Fjällripan. It was so popular that I couldn't get a seat. That evening I had dinner at the tent instead. Pasta of some kind. 74 km
Towards the highlight of the trip, the Wilderness Road towards Stekenjokk. The first challenge came already after a few kilometers. A hill of 5 km with sections of 12%. From Ankarvattnet started the long hill up to 826 möh which is the altitude of Stekenjokk. There were a lot of campers, caravans and carss in Stekenjokk. It took 2.5 hours to get the 32 km to Stekenjokk.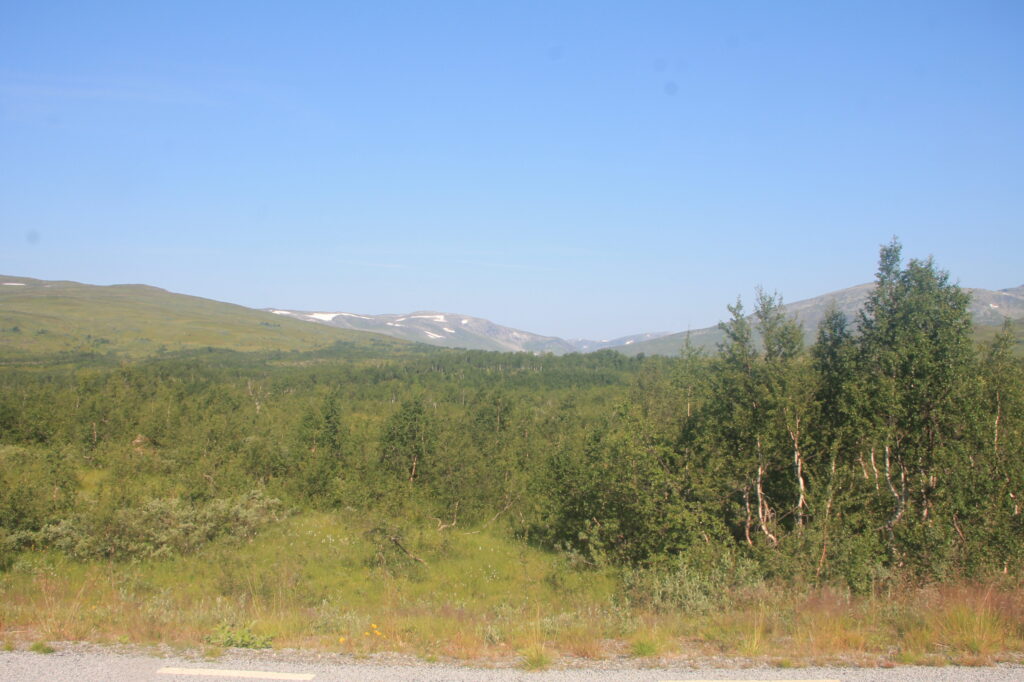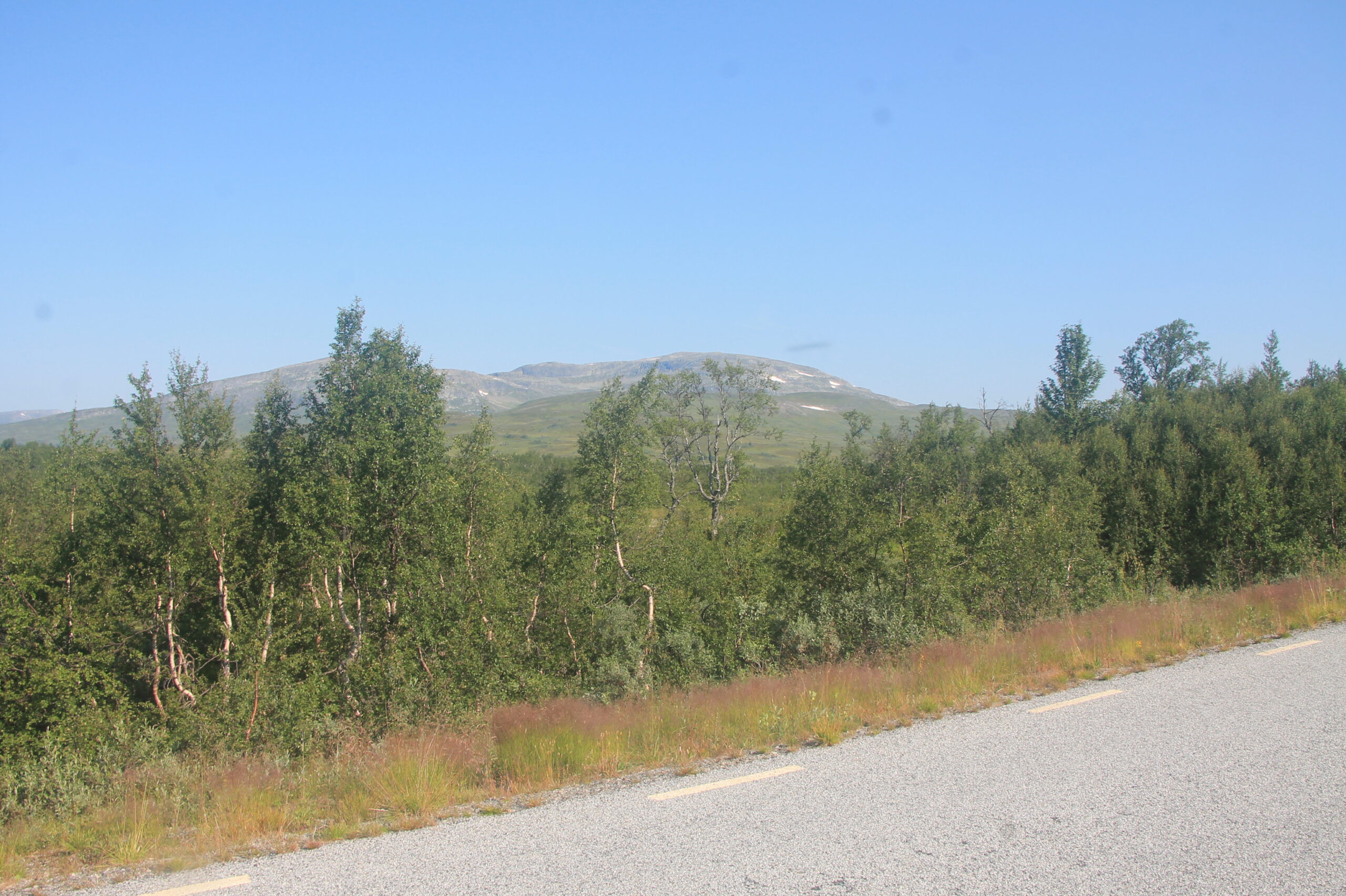 It was faster to get down. The intended night rest did not work so I continued for a few kilometers. Found an old jetty that had to do. Tripled through the brick planks. Got a serious thigh chock. 86 km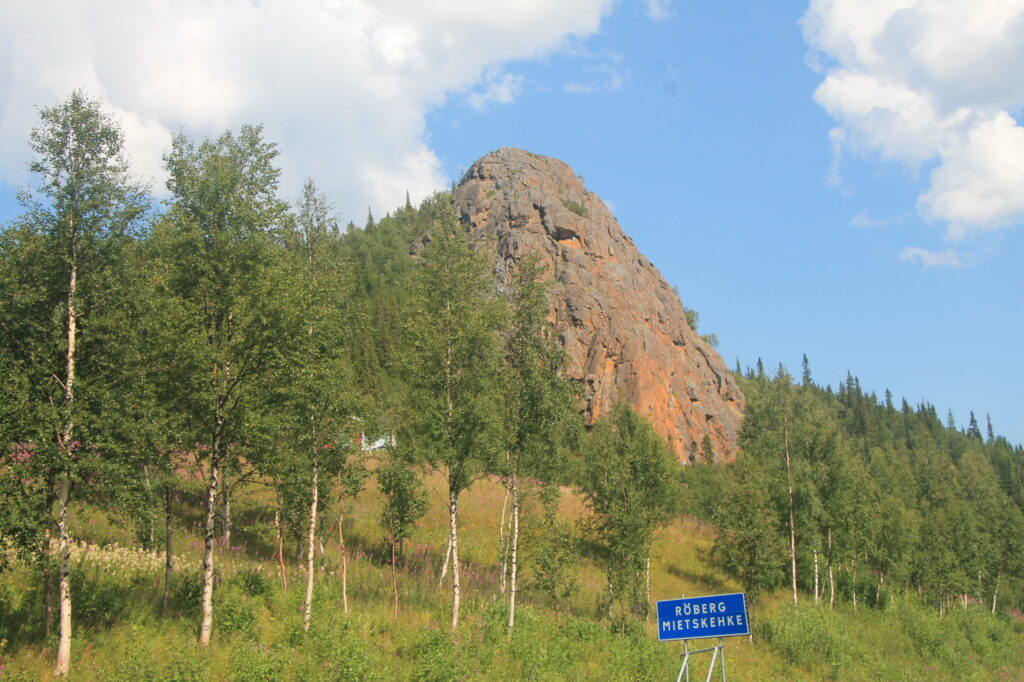 Today the plan was to stop in Skansholm. It was easy to get there so I continued to Vilhelmina. The coffee was gone, the book was gone so there were at least two reasons to continue there. Stopped at Saiva Camping & Stugby. It was a pleasant evening. Next to me was a Dutch family. Michel. On the other side of my tent, I had Johan and Thomas travelling on motorcycles. There were many beers, laughs and conversations until late at night. 102 km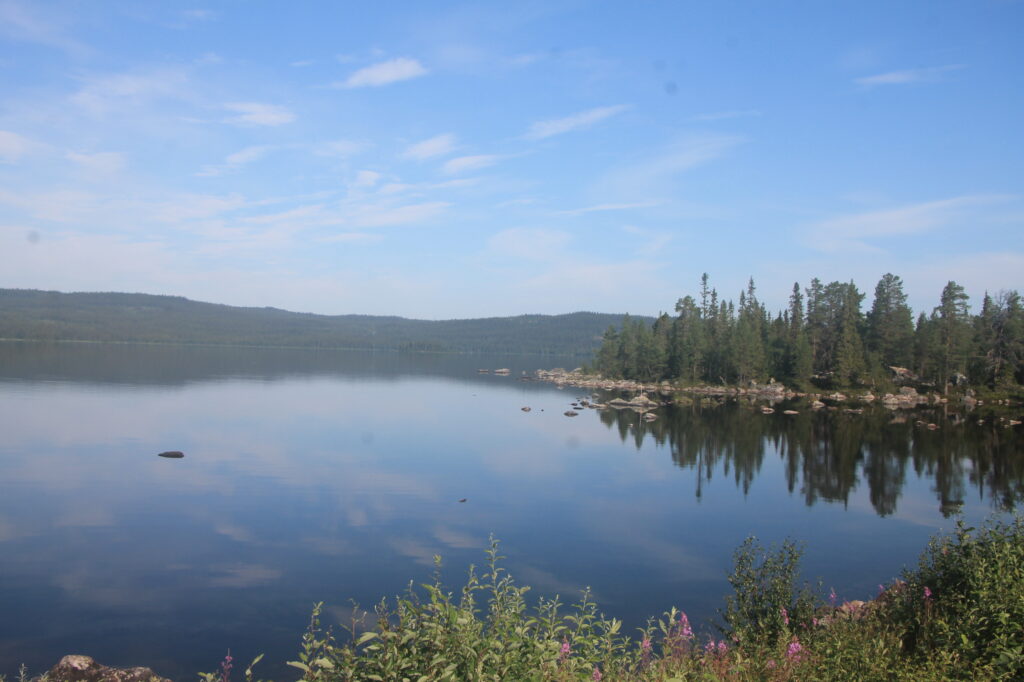 Stopped in the woods 10 km south of Hoting. Followed the E45 all day. Many motorhomes, caravans, and trucks. 84 km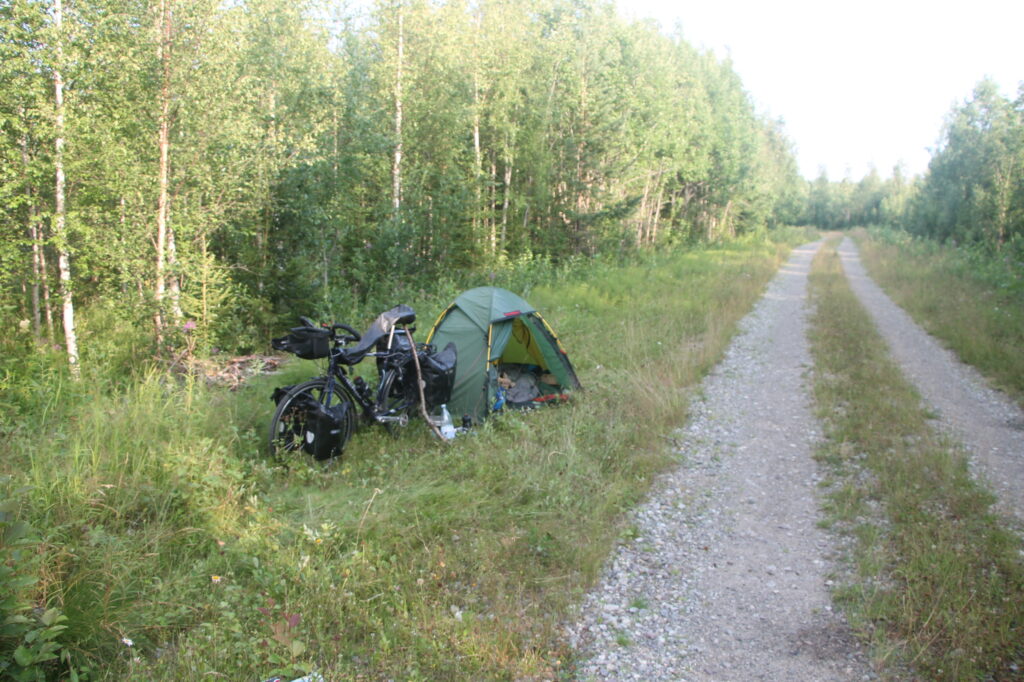 The night was uneventful. Continued E45 to Hammardal, then road 344 to a place in the woods. It has been easy cycling from Stekenjokk thanks to a northwesterly wind. 96 km
Last day of Cycling Experiences 2021. Headwind and rain last two hours. Did nothing as I knew there was a hot shower at the hotel. 92km. In the evening L and I went to a restaurant in Östersund. The next day we drove home to Eskilstuna.