This is about my cycling from Stockholm, Sweden to Athens, Grecce through Sweden, Poland, Tjecken, Slovenia, Hungary, Serbia, Kosovo, Albania and Greece.
SWEDEN
Day 1 34.8 km – On the road again
I left hometown at 1 pm after P S retrieved my dog. From a nearby outdoor shop I got some stuff that I needed. The day was not sunny, it was not hot. On the contrary, it was raining and a cold day. Perhaps it was a rash decision to start cycling when the rain streamed down and temperature was round +5 C. But the joy of being on the road again was great. I left town and took my aim south to Europe. The hills in Sörmland is heavy and sometimes long with 40kg extra load, I can promise. Rain poured down from beginning to end of the day. Already in Hälleforsnäs I began to wonder if this is the right decision. Approximately five kilometers beyond Hälleforsnäs I found an unused barn that I crawled into in order to protect myself and wait for the rain to stop.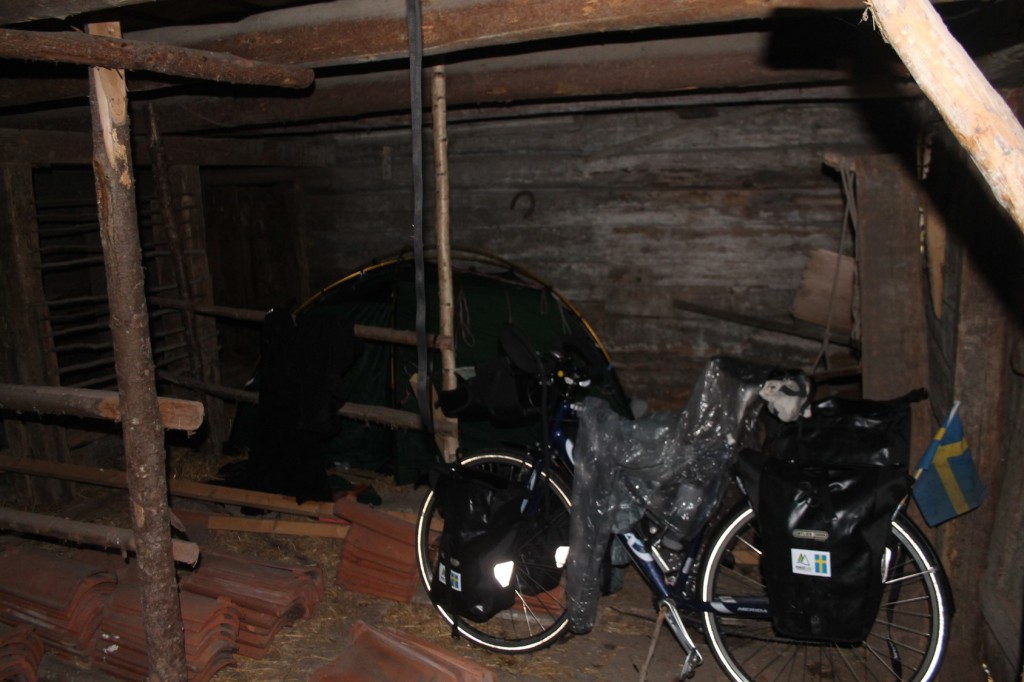 But I stayed there until the next morning. The clothes where damp, wet mittens, shoes wet, everything was wet. Later on i found out that I forgot my book here. The one I was supposed to read in the evening sitting outside my tent see sun go down.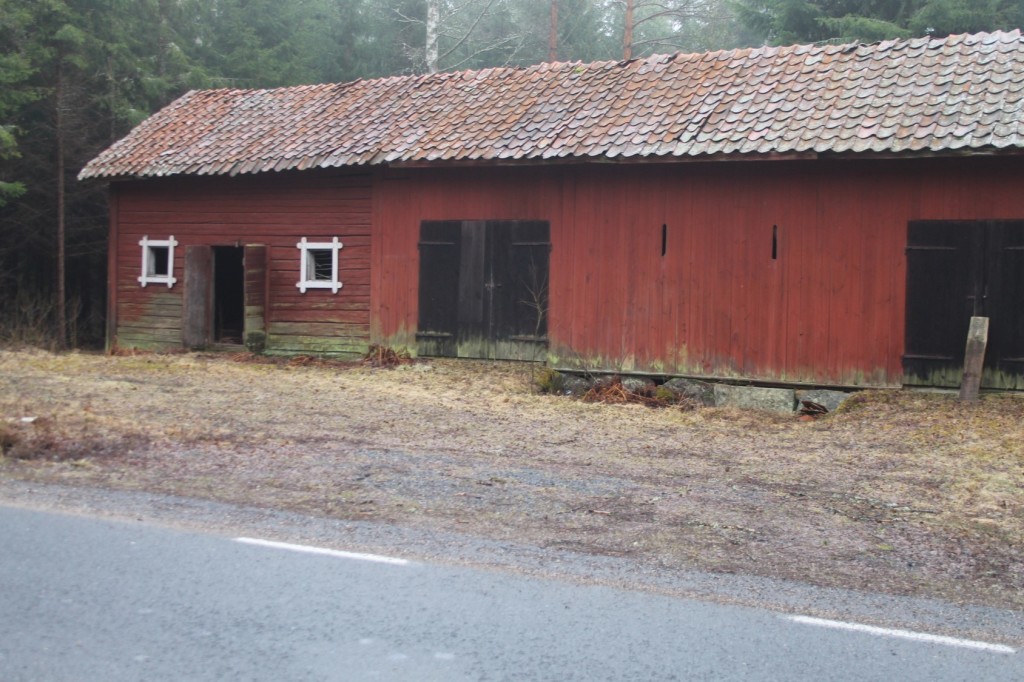 Day 2, 105.6 km Miserable weather and an unexpected cost
It was not as I was planning at all. After lunch the ordeal started to mess up again, moisture from above. I continued to Ålberga on familiar roads. Coffee stop in Björkvik, then to Alberga. I ate my lunch at a small lake, talking to a family with two small children. Come to the ferry on time, which is 5 minutes before it left the port.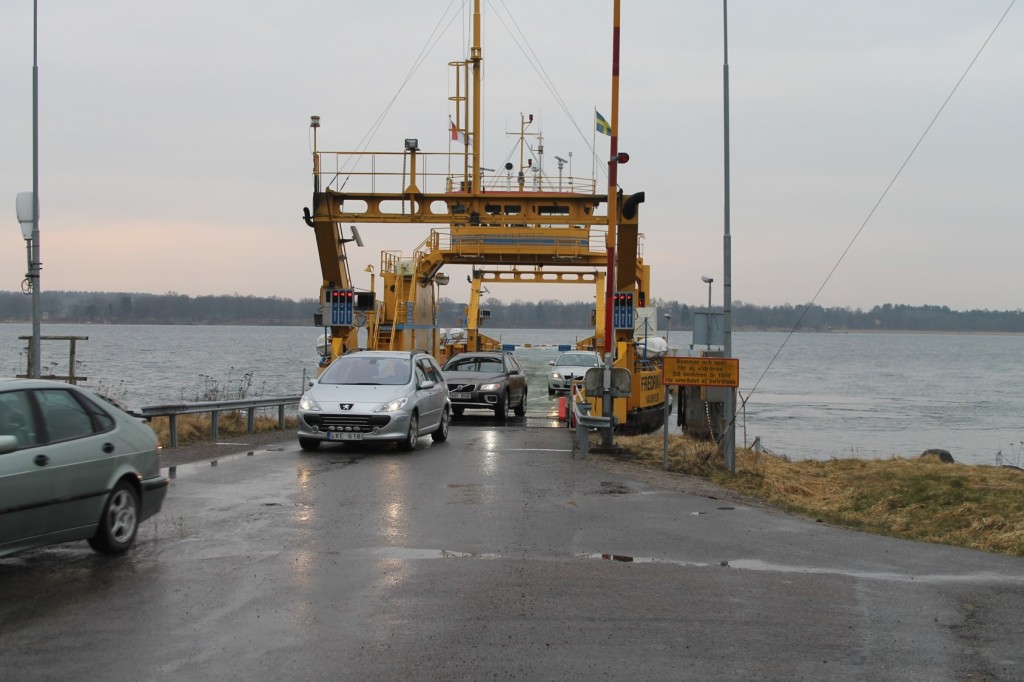 Wet and in a bad mood I decided to check into the resorts most expensive hotel Söderköpings Brunn. This was an unexpected financial cost of 900 SEK for sleeping at Söderköping Brunn. But they had a sauna and bar. Breakfast was included. Continue tomorrow towards Vimmerby and Hultsfred. Now I'm in the room with dry clothes, stomach full of beer and food and look forward to tomorrow.
Day 3, 138.6 km, An uneventful day
A hard day in the saddle. Now I know why I don't like Östergötland. It's either up or down, or there is a right turn or left turn. Sometimes both downhill and turn at the same time. Otherwise, an uneventful day. I followed small country roads with no traffic. In four hours from Söderköping I saw only four cars. Camped not far from a lake whose name I already forgot. The tent is spread under a large fir tree. I think it will rain tonight.
Nights has been cold this far. Temperature drop to slightly above zero. I am still in late winter or early spring.
Day 4 99,6 km The quest for McDonald's
It did not rain during the night, it came when I started cycling. When I left my camp 5 km north of Vimmerby I did not think the rain would be that much. I was hoping to have breakfast at McDonald in Vimmerby. But no, did not found any or i was not even sure there was one at all.(this is not America) I continued to Hultsfred. There at least must be a McDonald. Hultsfred in known for its Musicfestival, youth, money, you see what I thought. Toward the center. I stopped a cab driver outside Preem. – McDonalds, nah, we do not here, but we have a Sibylla. Try Preem, there you can have coffee and sausage. (preem is a nationwide gasstation chain with food and convenient store)
I went to Preem, bought me a coffee and a cinnamon bun. I needed to warm me up. Cinnamon Bun was the biggest I've seen in a long time. Possibly Ofvandahl in Uppsala when I was student there had the same size. And where are you going? asked one taxidriver. Athens, I said. Athens, do you mean Athens in Greece? Yes, that's it. You're crazy, was the answer I got. Possibly insane, or willful or interested in the world. I choose the last option.
Two towns and still no McDonalds, What to do, the hope was to Åseda. I continued in the rain. I think the temperature was like 4-5 degrees. The gloves were already wet, not damp but soaking wet. The shoes and socks were also soaking wet. When it rains like this you have two choices, either stop and go indoors or you continue to your final destination. Ride and stops to look at interesting things is no good choice. Every time you stop, you become a little colder. You have to keep cycling so body heat does not go down.
I passed Målilla not even consider that there could be a McDonalds. The goal was set at Åseda. Once in Åseda it turned out that neither was a McDonalds. It ended up that I went into the grocery to buy some sweets to comfort me when I did not get McFeast & Co.
Looked for campingsite but it was closed. Went to the sports ground instead. The idea was to find a roof where I could get protection from the rain. Pitched my tent in the shelter of the grandstand.
Day 5, 136.1 The car cemetery
The night was cold, probably the coldest night I have slept in my tent. The thermometer showed minus 4 when I got up just before seven, maybe it was -8 at its lowest. Had lunch in Väckelsång. After I passed Ryd I came to the car cemetery. At last, I thought. I wanted to go there for at least 20 years and now I was there.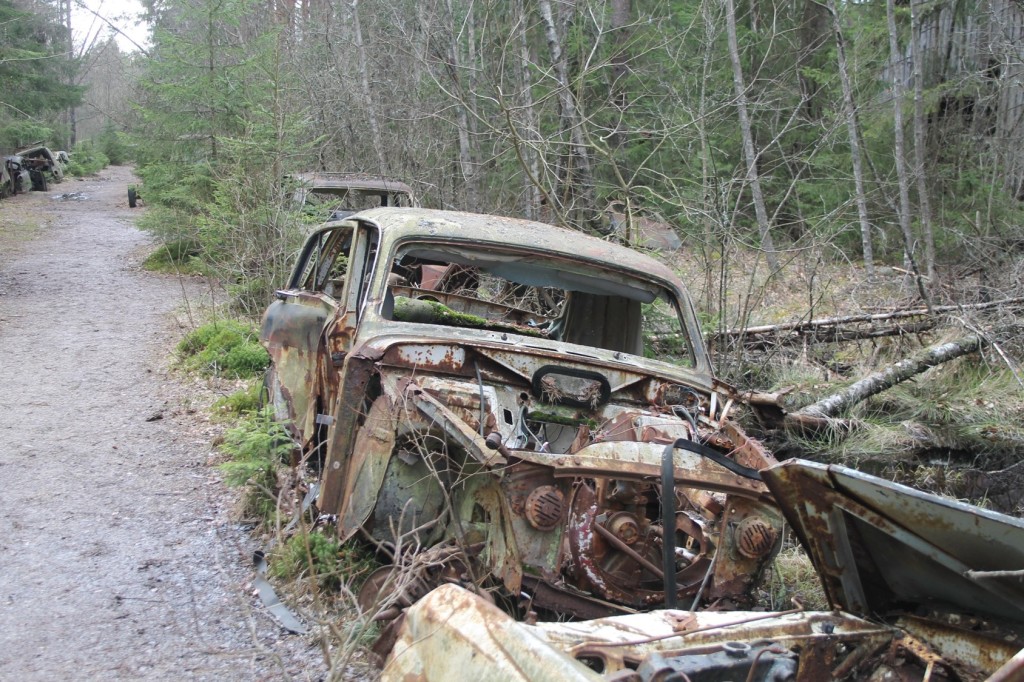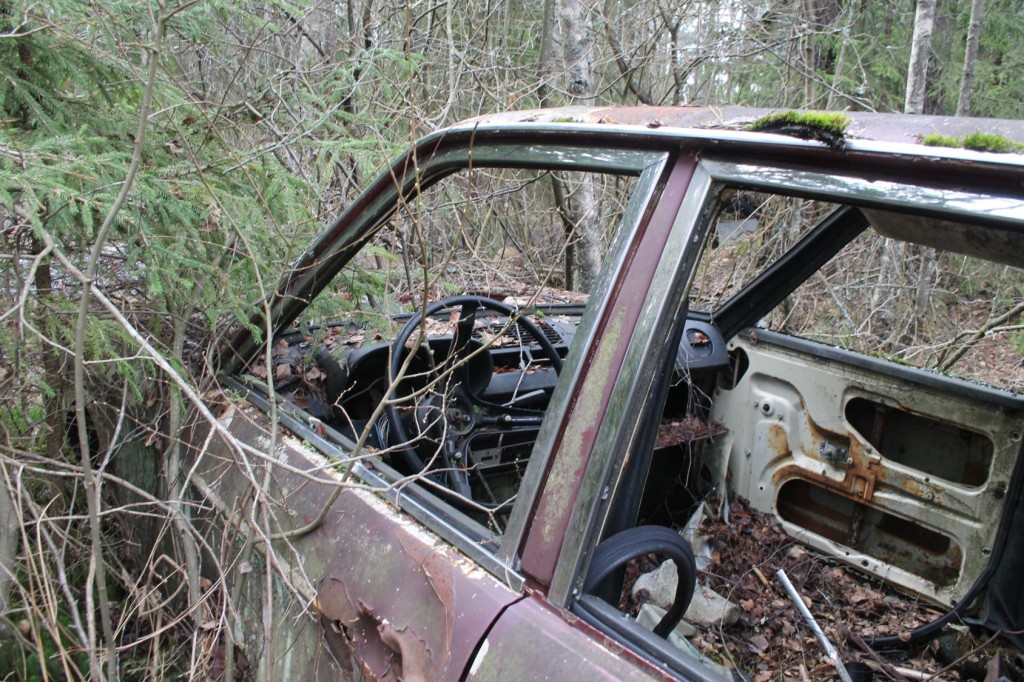 I stayed for a while and took some pictures. Otherwise, an uneventful day.
Stopped for the night just before the border of Skåne. In the evening it was film time in the tent. Because it was last night before a real bed. It was American History X. But the battery ran out before the movie was finished.
Day 6, 93.6 km Visiting my sister
A tree is a spruce, a birch tree is a birch tree, regardless of where it stands in Sweden.
I've seen trees in Östergötland, Småland and Skåne. 608 km in 6 days. If I should summarize, it would be rainy and cold. Freezing temperatures at night and a few degrees during the day. The only way to keep warm was to keep going.
Now I am in Tollarp and had washed the clothes and got food in my stomach. T gave me pizza and beer. Tomorrow I continue to Ystad and the ferry to Poland. Hoping for better weather there.
Day 7 86.6 km Last day of Sweden
I left Tollarp late morning to Ystad to catch the ferry to Poland. The euphoria of the first 25 km that was downhill Linderödsåsen with the wind at my back. Sometimes God is good. In Brösarp I made a new speed record, 60.1 km/h But the joy is short-lived, an almost equally long uphill on the other side of Brösarp. A pleasant meeting in St. Olaf. Ray my roommate on "Chase the Sun trip" to Italy 2008 was home and offered me coffee.
From St. Olaf to Ystad was strong crosswinds and headwinds at times also. I passed Tomelilla without having seen the world's smallest museum. Stopped at Roslin's bikeshop to buy an extra innertube and bicycle pants. Did some shopping, lunch at Max Restaurant, pharmacy and Forex for the zloty. In the evening it was film time, while waiting for the ferry departure.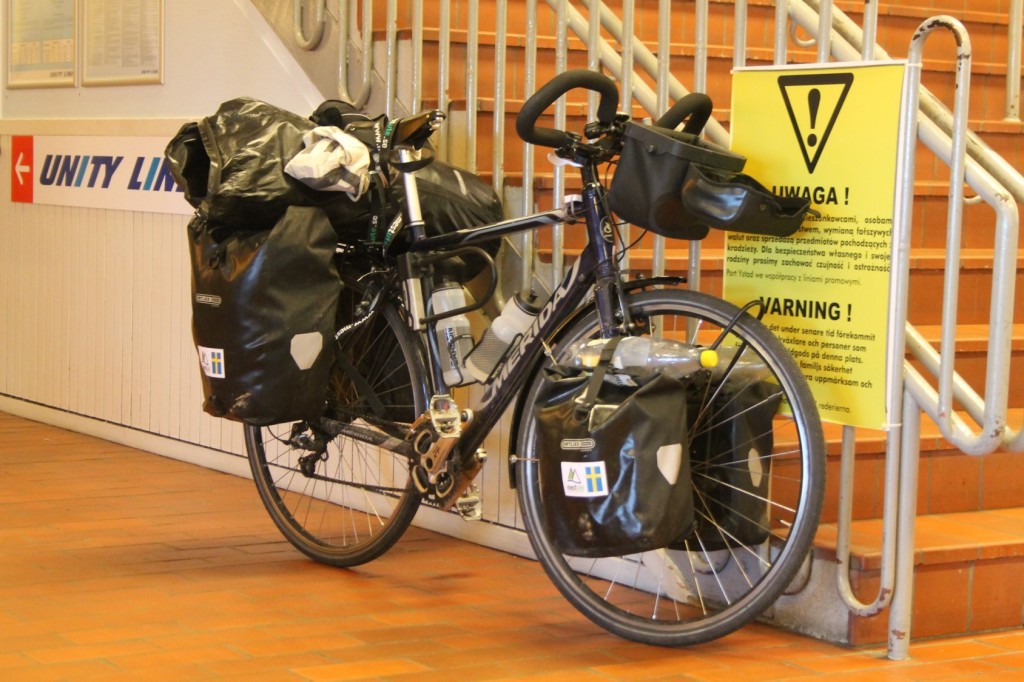 Summary Sweden
698 km, 7 days. 4 days of rain. 2 days cloudy and 1 day of sun. Average temperature 5 degrees.
POLAND
Day 8 132.6 km Fighting with the cars Swinoucie – Morzezyn
From Swinoucie to Wollin I had to follow the main road. I was passed by lorries, buses and fast speeding polish cars. As I understood it, this is the only way to Wollin. I could take off west through Germany or follow the coastline east. From Wollin I took off and followed small roads until I came to Stargard Schezinzki, a Gothic city that has a monument of Pope John Paul IVX in the center. Guess they are religious here. Had to ride another 7 km to find a place to put up my tent. I found a closed campground in Morzezyn but it was easy to get into. Ate my pasta dinner accompanied by the waves from the sea.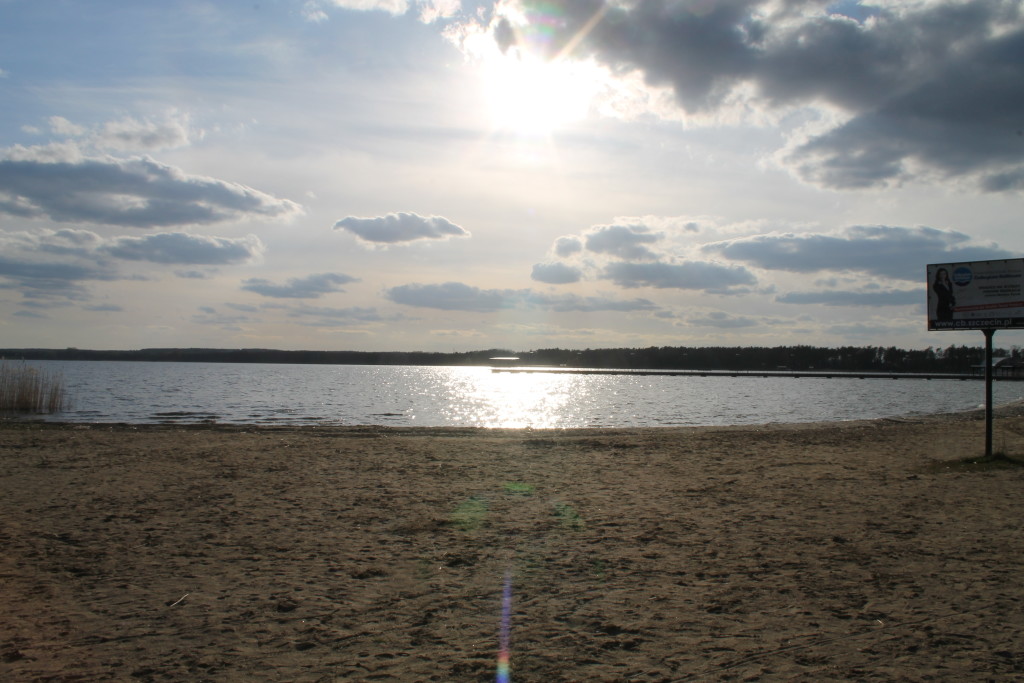 I watched sun's downward movement in the West before I crawled into my tent, very poetic and relaxing.
Day 9 The eternal wind 92.8 km Morzezyn – Dubiegniew
The good tailwind that had been my friend for over a week which gave me speeds of 24-36 km/h had changed today to a south or southwesterly wind that slowed me down.
The further south I go, more and more signs of spring i see. I saw my first stork today and it made me happy. The stork has been endangered in many places in Europe and especially in Sweden. Poland seems to have good judgment in the conservation of wetlands like the stork. Also saw the flowering oilseed rape for the first time.
Day 10 120.3 km A slow paced country Dobriegniew – Karpicko
It was varied forest and farmland, sometimes small hills to climb but still easily cycling. The wind was not as strong today as yesterday and turned a little more towards the north-east. Therefore, easy light tailwind all day. I camped in the woods without incidents.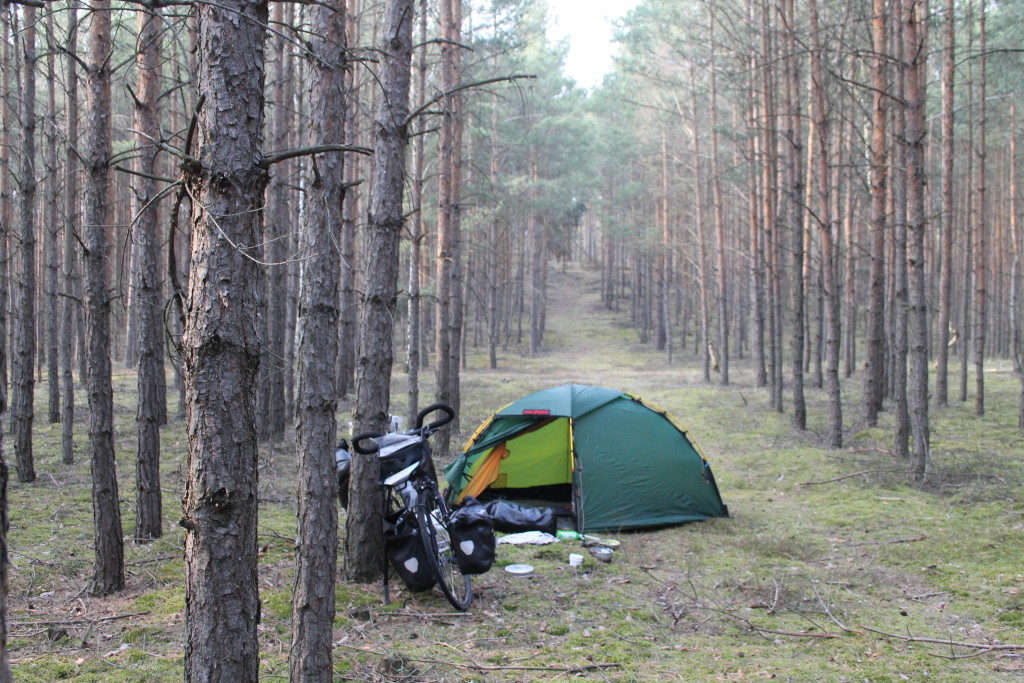 I was following road 160 and 305 but one time I had to follow A2 towards Poznan for 10 km. A gamble along trucks fast cars passed me only inches away on my left side from being hit. But it worked. I had my lunch in Miedzychod outside a church. I noticed It is difficult to make contact with the locals. Yet no one dares to speak English, or they cannot speak English. Some older men asked questions, in Polish. But there was not much discussion because my polish is limited.
Day 11 121.5 km the happy fisherman Karpicko – Winsko
I Camped 1 km outside Winsko 300 meters from the road in a forest. I see two church towers in the city far away. If I turn about 90 degrees, I see land and farmers in full work.I saw a large asparagus plantations today, many and much.
The Polish countryside can be described as – incomplete, dilapidated and dirty. Most are characterized by half-finished houses, dilapidated barns, plastic bottles and rubbish everywhere along the roadside. It's just like the way it should be, although there are containers for recycling in the villages I rode through.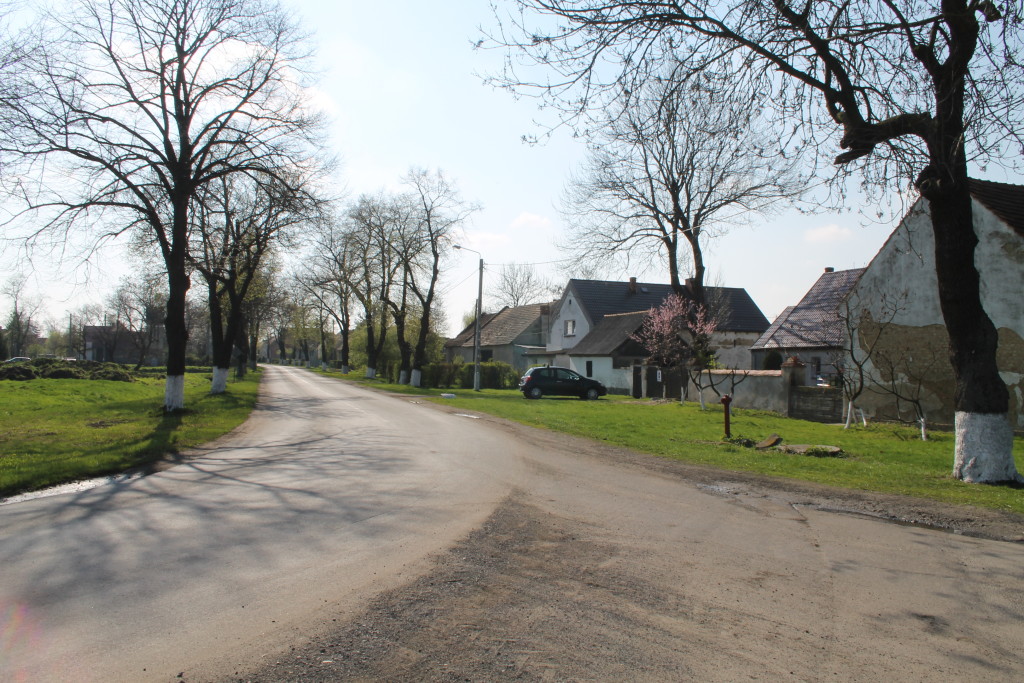 Stoped to try a beer at microbrewery Browar Edi.
Tried their hop beer that it tasted OK. Saw a man fishing carp in a pond. Think he was quite satisfied with life, a lot of beer and waiting for fish. Sometimes we men don't need more than that. Tough slopes towards the end of the day. My aim for this day was to get to Wroclaw, but it is longer than I imagined. It may be tomorrow.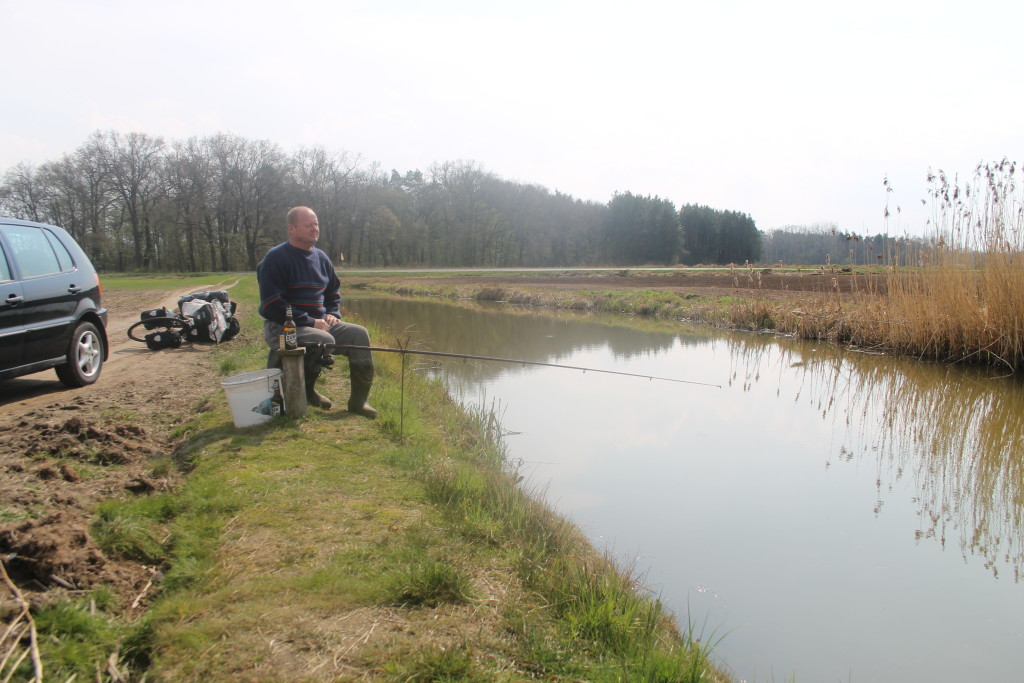 Day 12 66.2 km wild camping ok Winsko – Wroclaw
The evening was pleasant with 18 degrees C. The sun was shining into the tent. I had put up my tent with opening to west. I lay there in the sun and enjoying life with a cold beer and a good book. Then, suddenly a car came past my tent. Ne polski I said when the lady on the passenger seat said something. Slaffen she said in German, Da I said. The couple was satisfied with that answer and disappeared. Since it was the last night before hostel, it was film time in the tent. This time it was "The Guard" an Irish film.
But the joy will always be destroyed by something. This time it was raining. It started around midnight and continued throughout the night. I had my breakfast in the rain, I had no good feeling today. Took down my tent in rain, not a pleasant experience either I don't like cycling in rain, but had no choice. It was 60 km to Wroclaw. Has done more rain cycling last weeks and I had a warm shower to look forward to.
It was despite the rain a pleasant cycling. The road rolled over the ridges which herald major climbing further ahead of the Carpathian Mountains. Come to Wroclaw as I planned and got some help to find the tourist information. There I got help to find a hostel. But I cannot recommend Hostel One in Wroclaw. Neither, laundry, Internet or breakfast in the price. Got to handwash my clothes in a bucket.
It was little bit off season in the hostel. I shared my 8 bed room with two Russian guys. I think they where there for a martial art contest. anyway, it gave me plenty of space to hang my clothes to dry.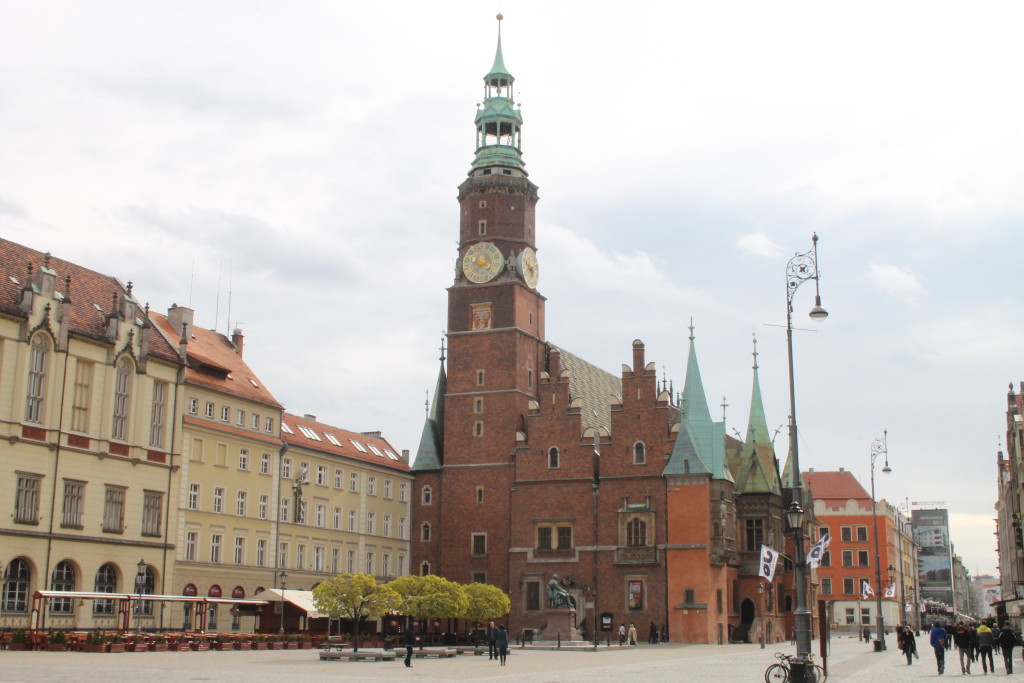 Now dinner at a restaurant with Polish speciality and local beer.
Tomorrow, the day of rest and sightseeing. It is supposed to be about more than riding this trip.
Day 13, 0 km Wroclaw – Wroclaw
It took a four to walk around town and pretended I was a serious tourist. I walked about 4 km and saw an infinite number of churches. here and there I saw small tiny sculptures of dwarfs. It is said to be 170 pieces of dwarfs in town.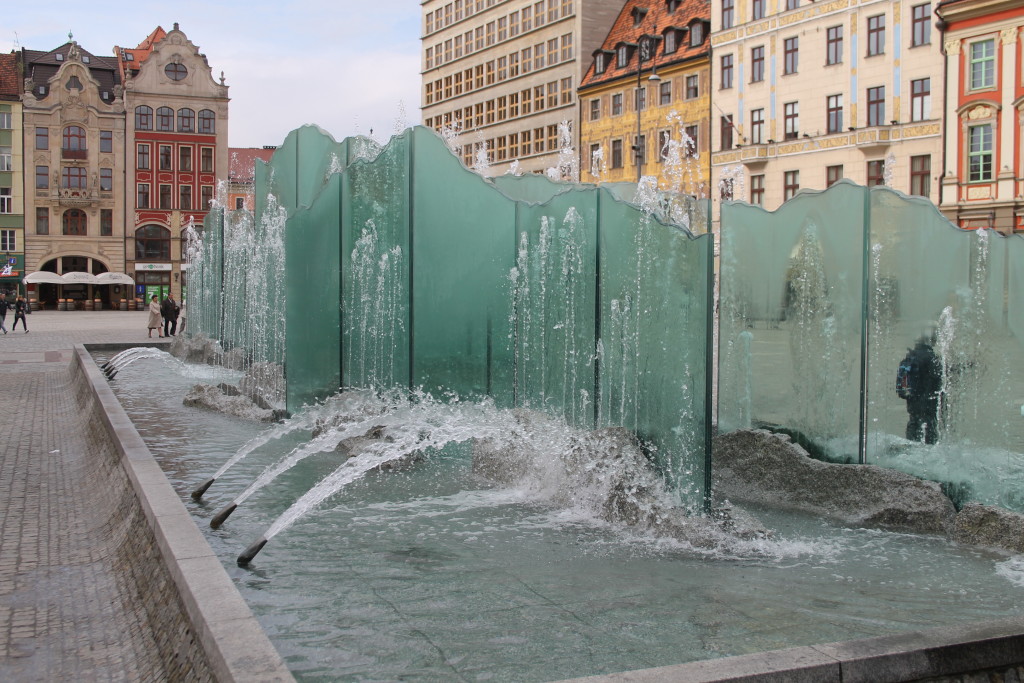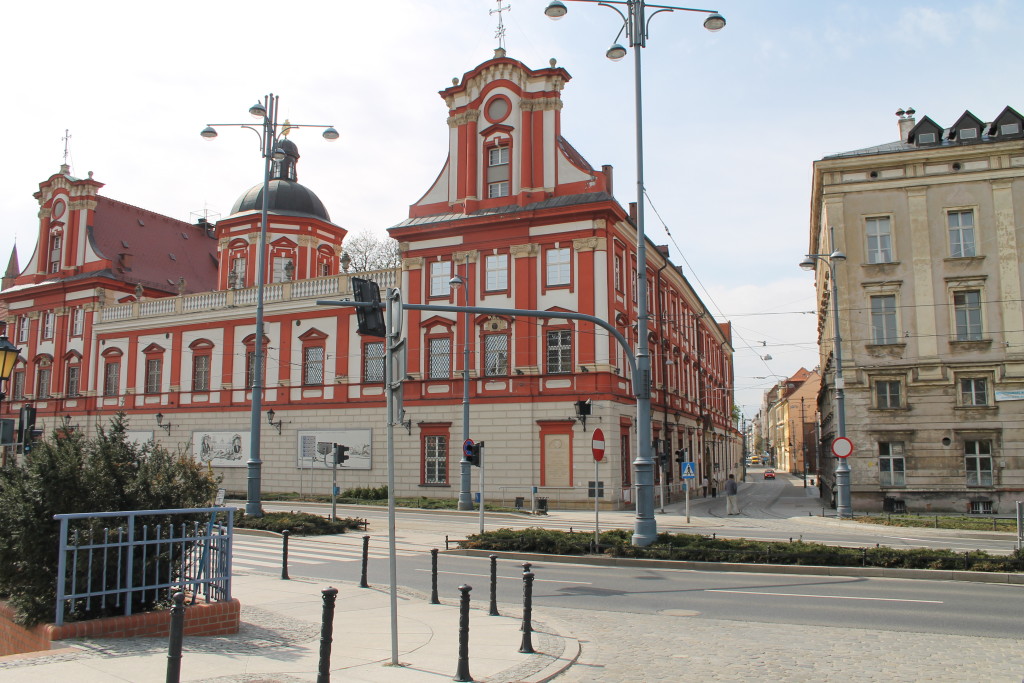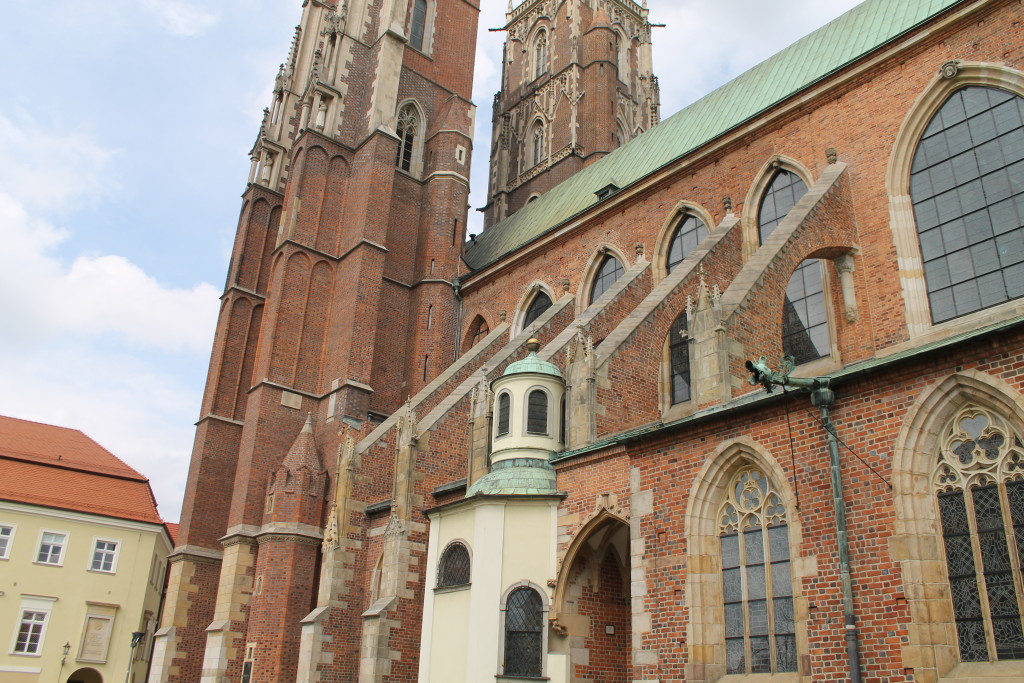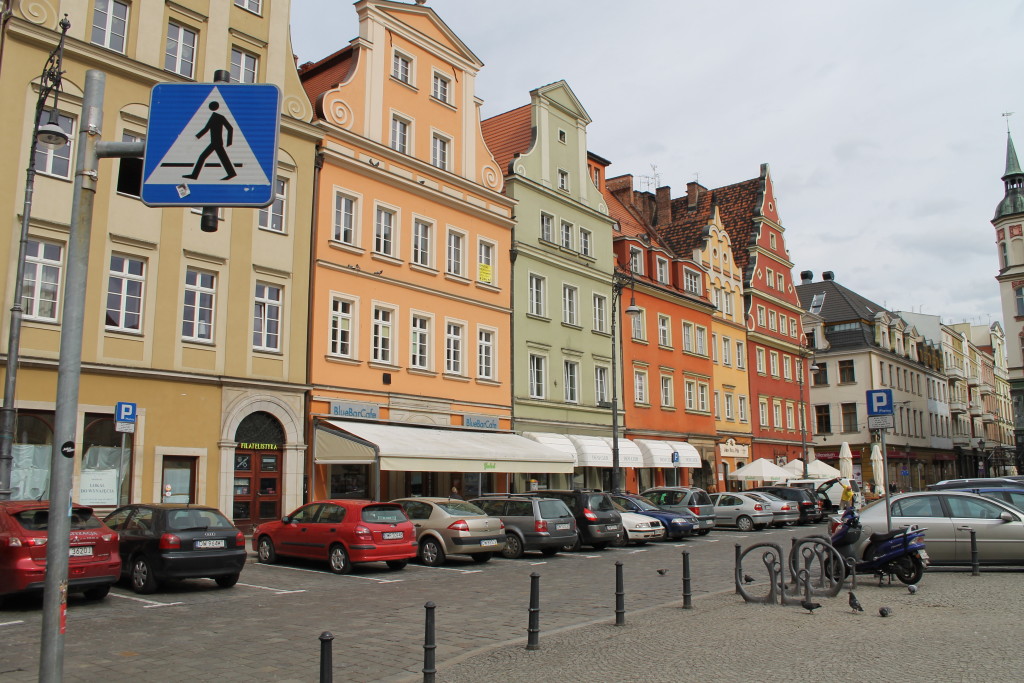 Many beautiful newly renovated houses, university buildings and a park.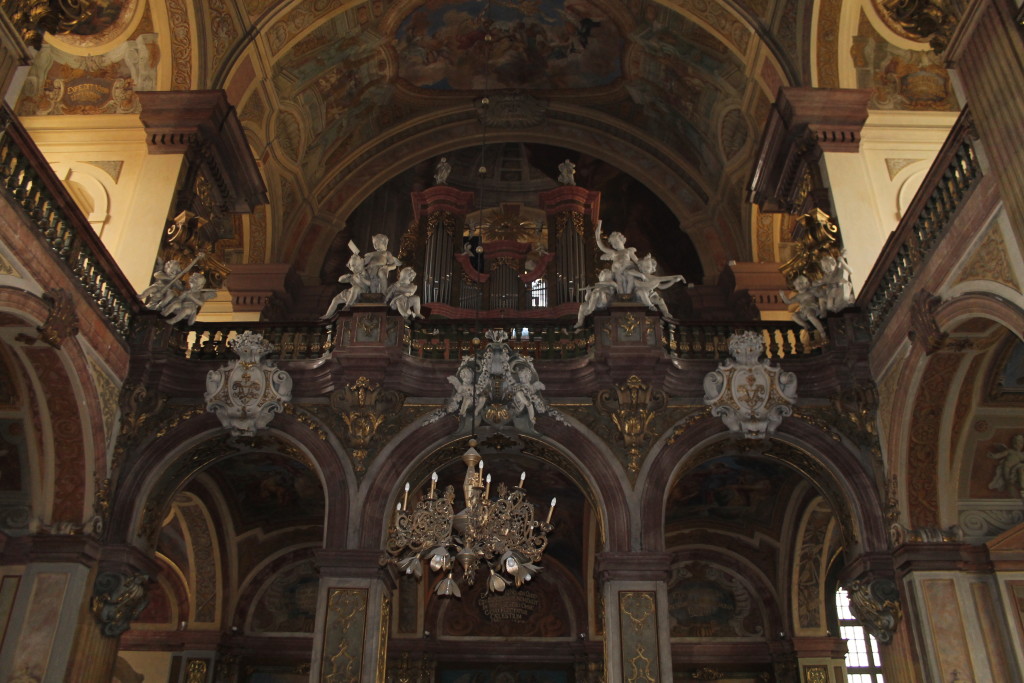 I Has also managed to make purchases for the continued journey south. I plan to cross the border of the Czech Republic tomorrow afternoon.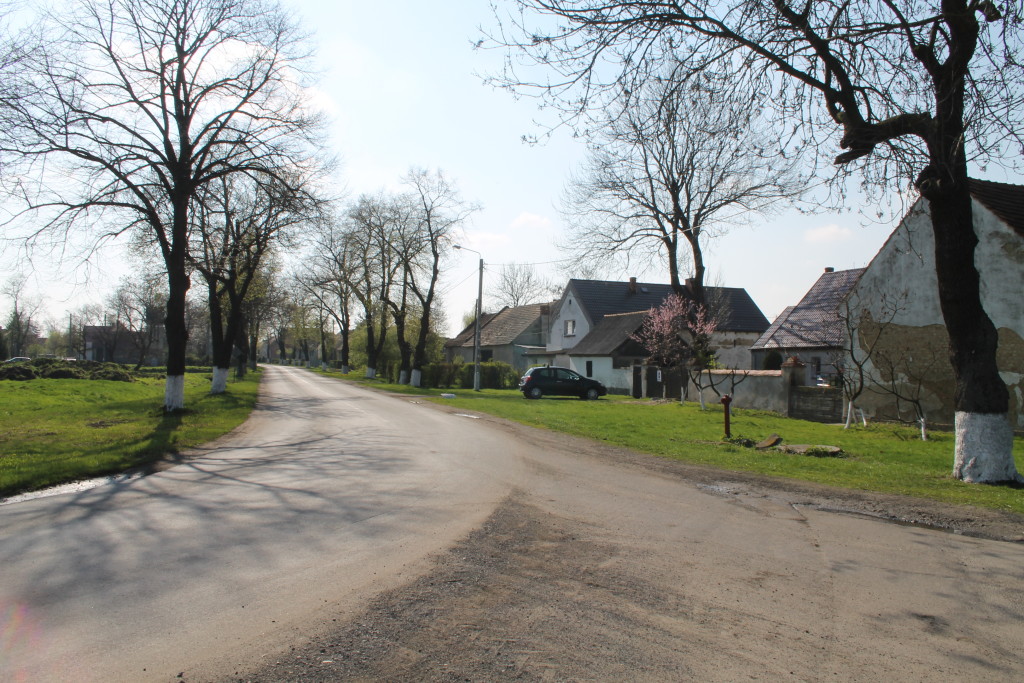 Day 14 Leaving Poland Wroclaw (P) – Horni Fort (CZ) 110.6 km
Not even this time I managed to find my way out of a major city without taking wrong turns. Something good came out of this anyway, I found small picturesque roads without much traffic. My aim today was to pass the border to the Czech Republic before the evening.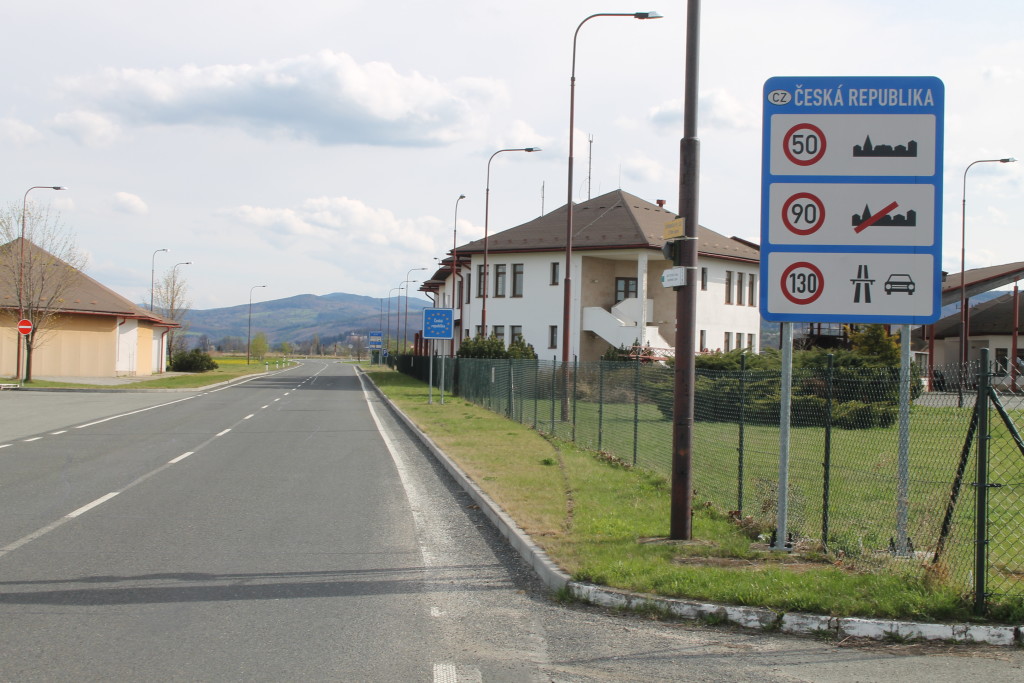 Worked hard to use my last zloty by buying lunch in Stretzin and dinner in Pazckom.
This is from Stretzin where I stayed for a beer brake. I passed the border without any problems. I actually did not notice I came to a new country if it wasn't for the sign.
After a hard day on the bike i finally found a good place to camp. Nature was agrarian. No forest or hill to hide behind. First I tried an abandon farmhouse. Finally I stayed behind a large farm building about 300 m from the road. Ahead of me I have Jeseníky mountains and tomorrow I'm expecting some long climbs.
Summary Poland
7 days, 6 cycle days, 635.6, a rest day in Wroclaw, 1 rain days 5 good cycling days
Czech republic
Day 15 Climbing and climbing Horni Fort – Bruntal 88.5 km
It was as I suspected. Long and hard climbs. The first 10 km to Zulova was easy. Next 40 km was brutal. Three climbs of perhaps a total of 25 km. Two high-speed descents, fun. The climb to Vidly was 11% in six km, perhaps longer. The climb to Karlova Studanka was a 12% decent for more than 5 km. It was chilly. Saw snow in the forest and on the roadside. I took a beer break outside Karlova Studanka at a ski resort.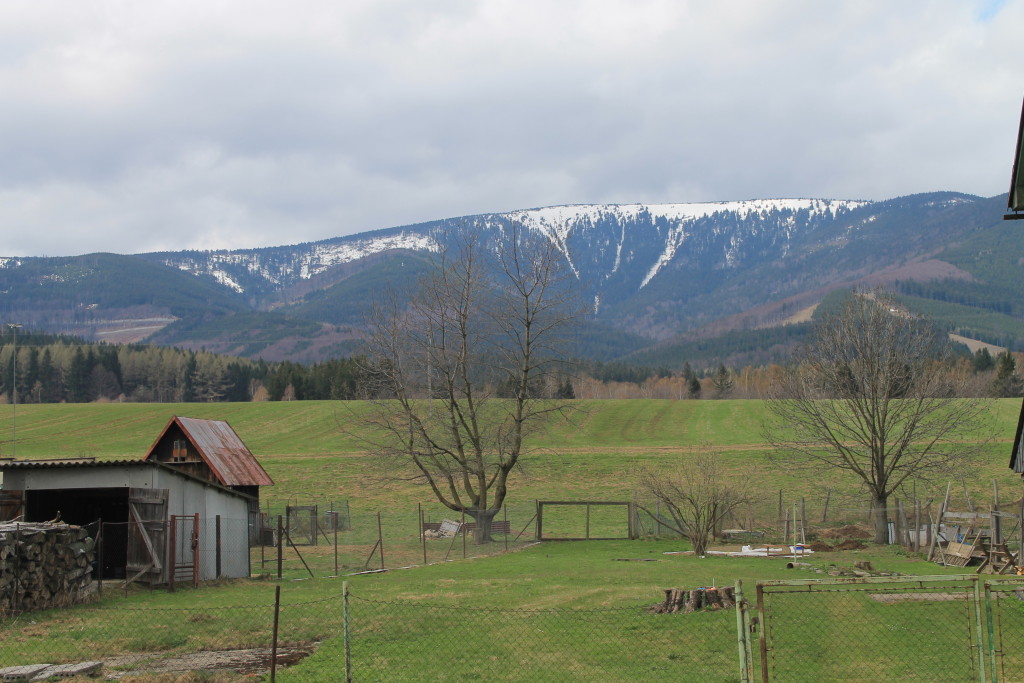 But then it became a jumble of wrong decisions that made me spend two hours cycling in a circle and made my day end on a field outside Bruntal. Took the wrong route and ended up in a small village named Podlesi. The road went ahead and so did I. But it felt wrong after a while when the road climbed up instead of downwards. It was down the mountain I was supposed to go. I looked for alternatives, there, a road to the left, ie south. I turned left. Two km was good tarmac, then came a meadow. Over the meadow, passed a few farmhouses and the road did go downhill so I felt safe that it was a good choice. Imagine my surprise when I discovered that I was back in Prodezi.
Nothing to do but to continue opposite direction I came from. After a few miles I came to the junction I came from the left. Took right turn. It proved to be a good choice because two kilometers later signs said "Bruntal 7 km". In Bruntal I had a long discussion with myself about whether it was worthwhile to check into a hotel. I circled around town looking for tourist information office to help find a good hotel.
But since I did not find it I decided to camp outside town. I stopped at supermarket Kaufland to get me some food for the evening. Now I have set up camp about 3 km outside Bruntal, over a meadow, a railroad track, and another meadow. It is perhaps 300 meters to the road. Here I hide next to a creek and are protected from view by a high embankment.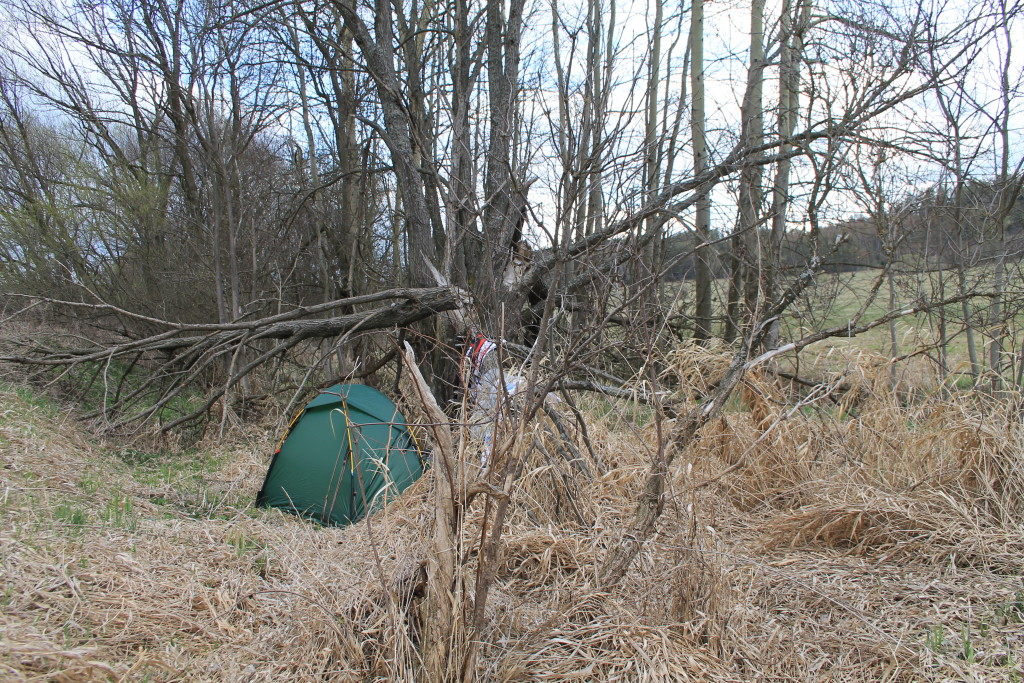 Here is a picture of a typical camper supper.
It consists of mashed potato powdermix with canned corned Beef, supplemented with beer. Later on I tried rice with chicken patty, and it was not good.
Day 16 my typical day Bruntal – Kroměříž, 108, 6 km
A typical day might look like this.
I wake up early, before six o'clock. I think a little more about yesterday's cycling and today's stage. Getting dressed, prepare breakfast. Usually coffee (two cups), bread with jam and porridge with jam. Pack my bags and take down the tent. About eight o'clock I am ready to get on the road. I bike 20-30 km and take a coffee break. Ideally, indoor (gas stations), Cycle another 20-30 km before lunch break at the roadside, often pasta with something. Continue to cycle to about 4 in the afternoon. Start to think about today's necessary purchases for evening. Continue cycling on to find a good place to stop at. I set up my camp, change clothes, cook, brush my teeth, crawls into my tent and sleeping bag, listening to music or read my book. Usually I fall asleep before nine o'clock.
When I came to Horni Lodenice I felt very tired of cycling. It has been an endless day of up and downhill. Rolling small hills. At the gas station I took a cup of coffee and continued upwards again without any expectations that it will end soon. But I was wrong. The decent to Sternberg was great, about 12 km with ease.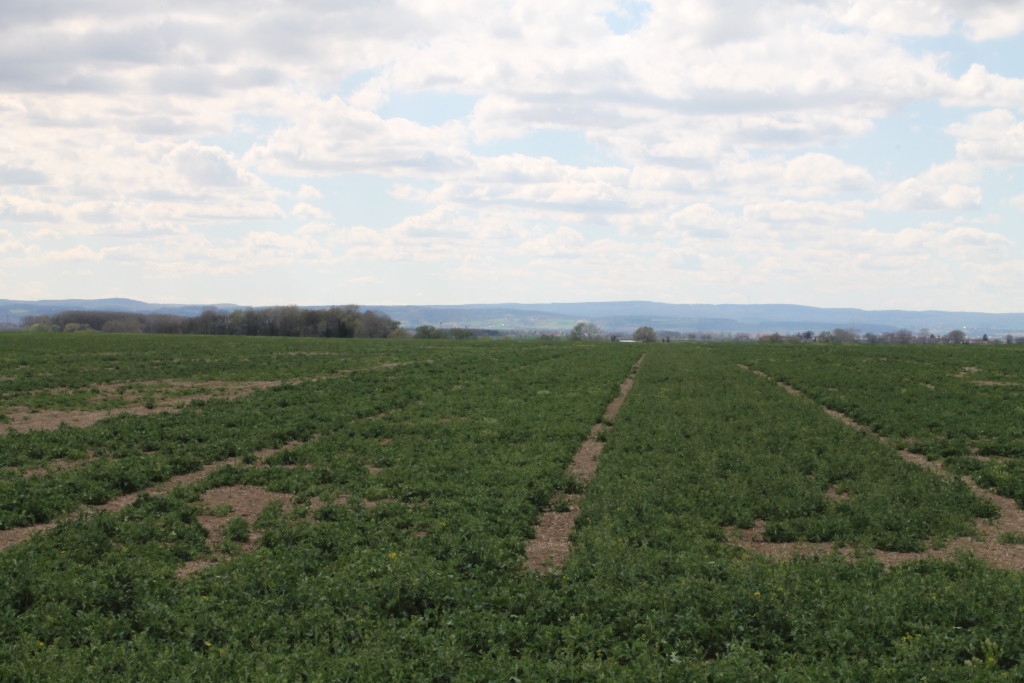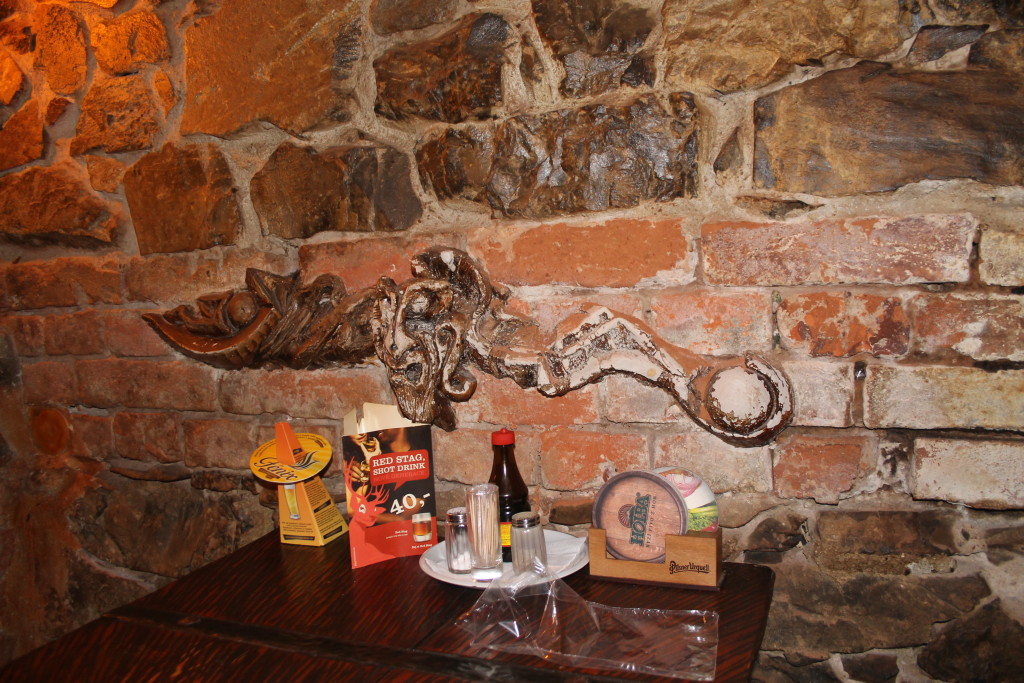 This was old Swedish territory. From 1645 until 1650, during and immediately after the Thirty Years' War, the town was held by Sweden.
It felt good today. Eight degrees when I started cycling at 9 o'clock, now at night 21 degrees. First time since I left hometown that temperature is getting pleasant. I am sitting outside the tent about 5 km south of Kromeritz in a field and an apple orchard. The tractor working hard but I don't think the driver has seen me.
Summary Czech
199.9 km, a full day and two half days. All good bike days. Many slopes in the Czech Republic.
Slovakia
Day 17 A perfect day Kroměříž,- Jablonlica 113.9 km
It was a beautiful morning, clear blue skies and sunshine that warmed me. I was on the road early as usual and heading south as usual. In Zdonky began a climb that lasted more than an hour. 12% for more than 5 km. Descent was as intense as the climb difficult.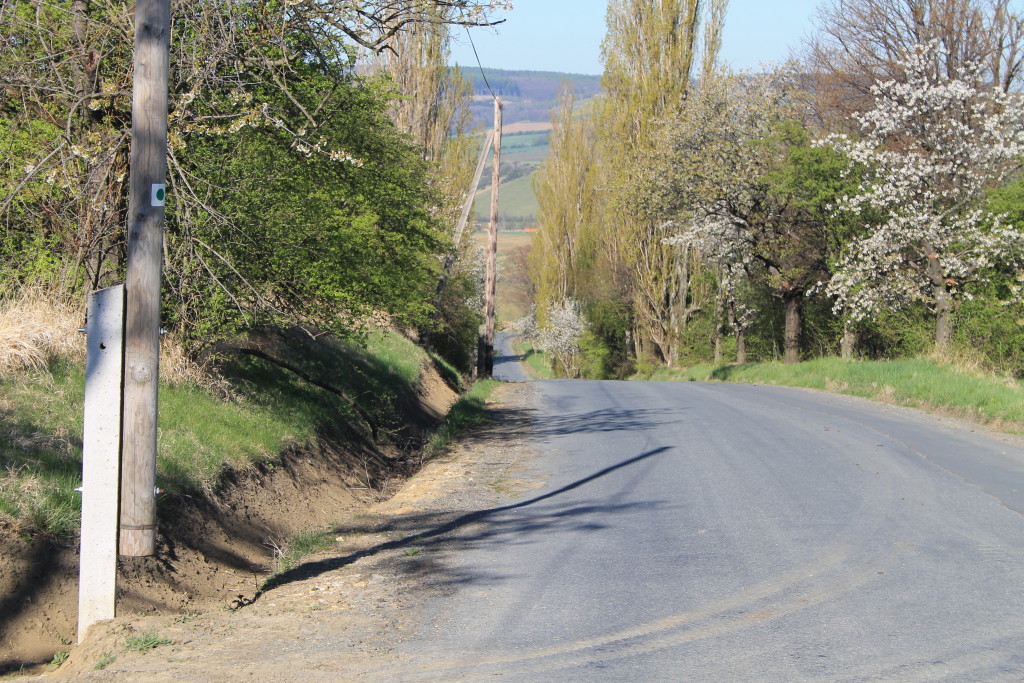 Came to Slovenia.
I Took off towards Highway 55 even though it was closed for construction, but not for a Swedish cyclist. Somewhere there, in the middle of nowhere Uhersky Ostroh, I took off to route 71 and again a climb, or rather several smaller climbs of the valleys came one after another. In Javornica I saw the first grape fields. After Javornica it was a difficult climb. A sign stated 17% but it was probably the max and not the average slope. However hard it was, I can promise. Quickly down to Myjava where I stayed for a long time in a bar that had free WiFi, I talked with the family. Then it was nice descent to Jablonica. I stayed just outside town. Tomorrow hope to get to Gyar.
Summary Slovakia 129.9 km Two Days
Magyarország
Day 18 Entering Hungary Jablonica – Gyor. 136.9 km
The day began with a 4 km climb. Then it was easy cycling rest of the day to Gyor. I came to Trnava. There I stayed at McDonald's for lunch. Trnava is a car town. In Trnava Peugeot and Citroen has a joint production plant. The plant has a designed capacity to produce 300,000 cars annually , originally intended to employ 3,000 people organized into three shifts, which according to the manufacturer equates to an hourly output of 55 vehicles. The Trnava plant was built to produce the company's "Platform 1" cars, which are small cars. The first car to be produced in volume was the Peugeot 207 produced initially in October 2006 at a daily rate of 450, with an increase to 800 scheduled in time for Q2, 2007. I passed outside this huge plant but I did not stay for guided tour.
Crossed the Danube River 16 km before Gyor.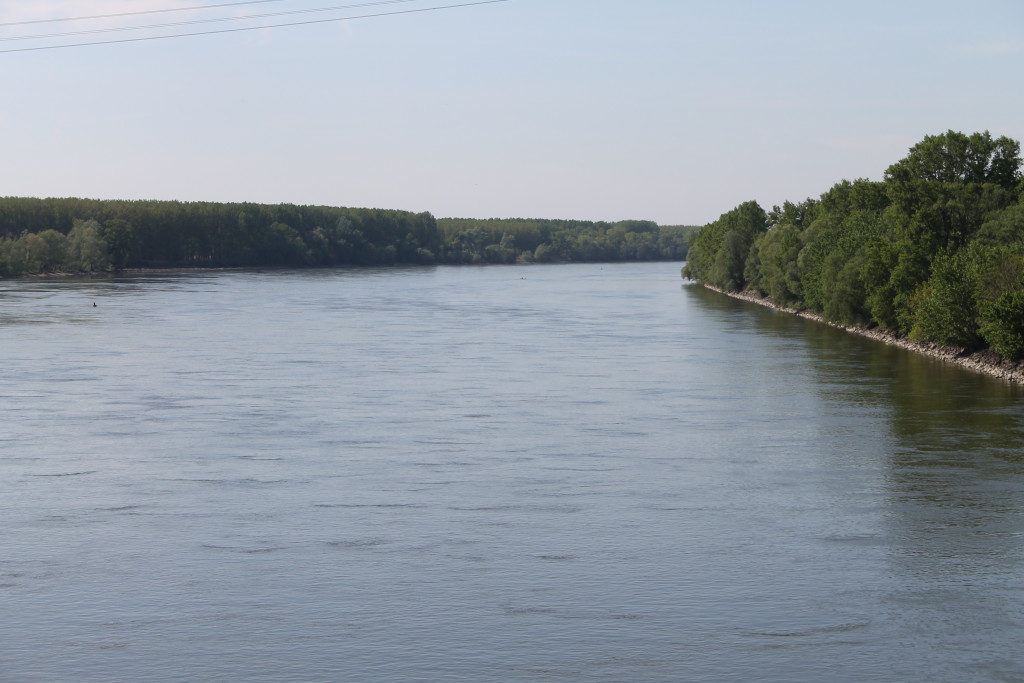 I was really tired when I arrived in Gyor. I Looked for a hotel that was not too expensive. Found one for 54 Euro for a room with breakfast. First hotel since Söderköping in Sweden. I felt I needed a shower and sleep in a real bed again. I took a stroll in the town to find an open restaurant.
I took some pictures.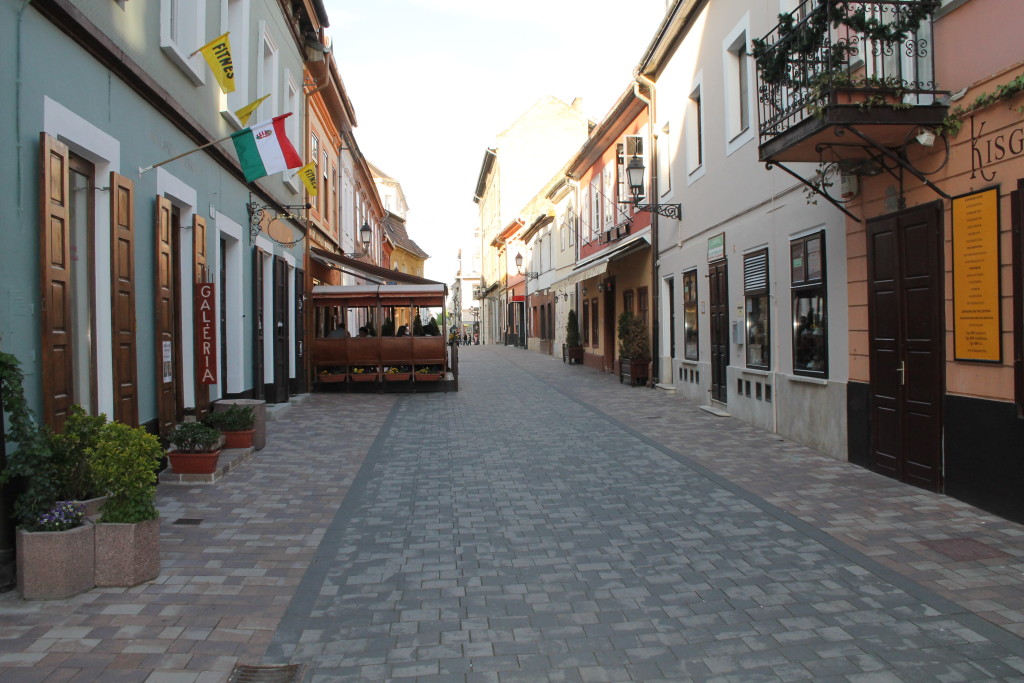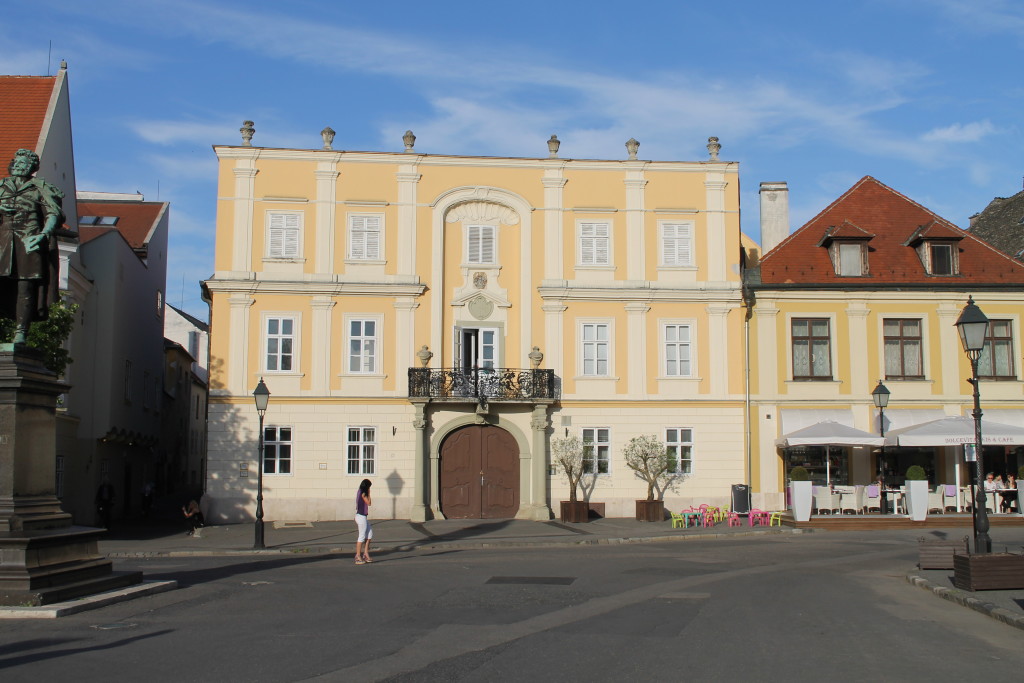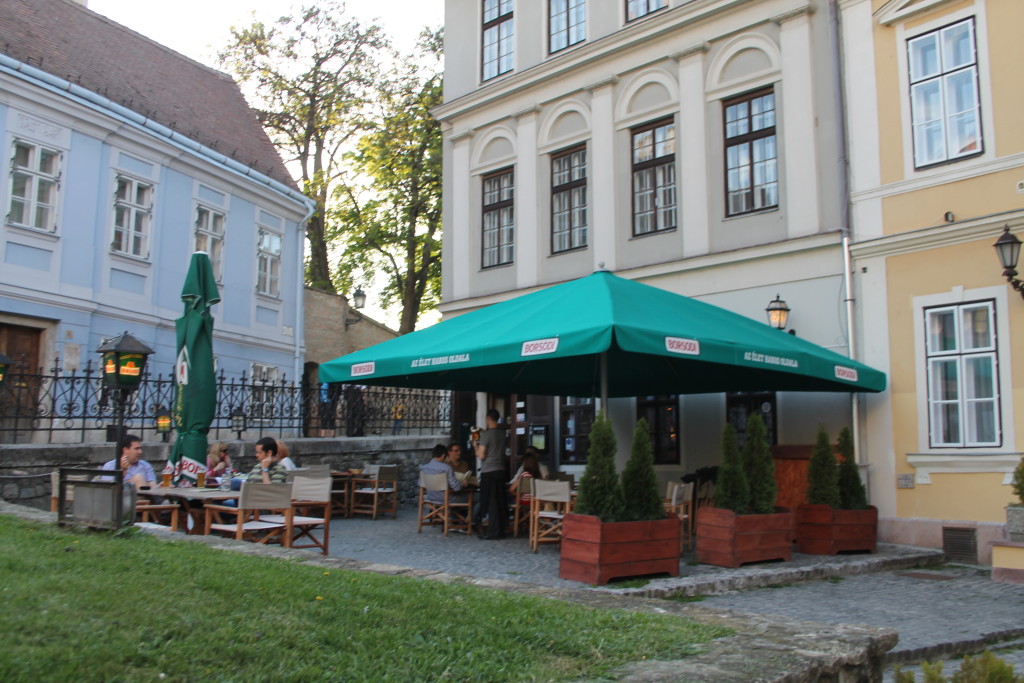 Gyor is a beautiful city that deserves more than a night. But for a cycle tourist with a purpose of getting to Athens in time for flight it was not a major sacrifice not to explore more.
Day 19 Burning hot day Gyor – Balatonkenesy 131.9 km
Oddly good tailwind from yesterday had changed for the hateful headwind. The heat was also getting hard. The temperature peaked at 30.6 during the day. For a Swede not used to heat after a long cold winter that felt hot. The objective of the day was to get to lake Balaton and finding a campsite. Again, the problem to find my way out of Gyor caused me to lose delays.
Outside Gyor I came into a long line of cars and people waiting to get into a big building. Of course I wanted to find out what exitment they where waiting for. I found a man that could understand English.
– Chicken he said. It was a chicken farm and they sold out cheap chickens, worth waiting for.
After 17 km I was caught up by two couples who were out for a day trip on a bicycle. They invited me for a beer brake. A request I could not refuse.
After we said goodbye to each other I continued south on old Highway 81. It smelled like south part of Sweden, Skåne, rape was in full bloom. Large fields with yellow color.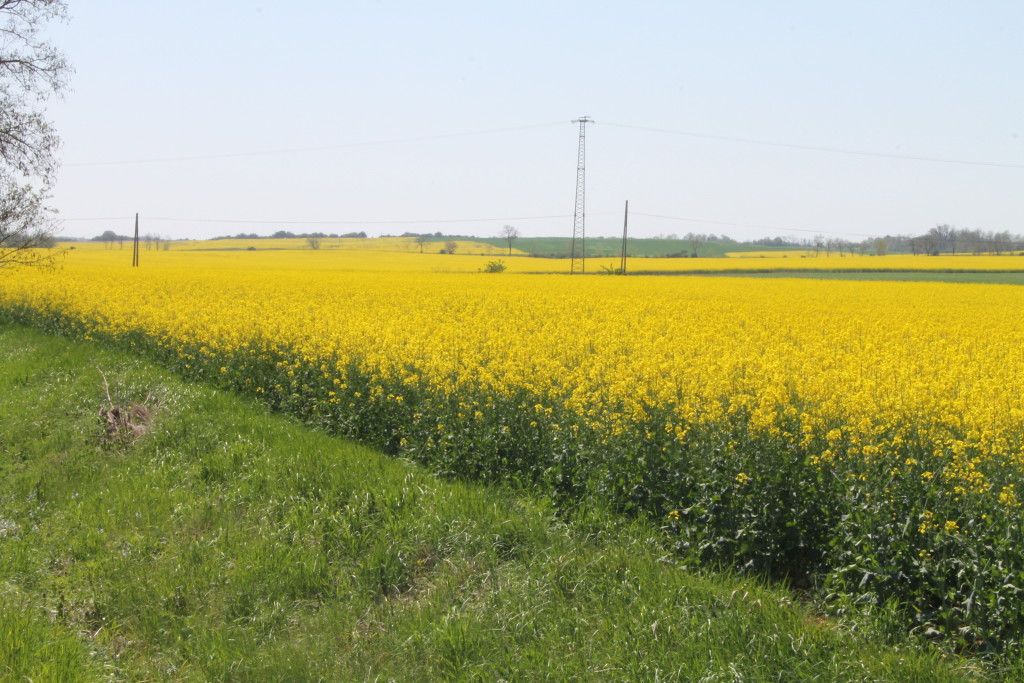 Things went well for about 80 km but then came a climb that was little annoying. The slope on the other side was magnificent, A breathtaking view. I could see miles away. I was on the Hungarian steppe "Puztan". After 120 km I began to feel uncomfortable and bored of cycling. Struggled to get to lake Balaton. Looked for a campsite. Asked some old people for advice. The first camp closed. The second camp as well. Now I'm on a public beach park and have pitched my tent under a big tree near the water. Near me I have a group of Hungarians who are night fishing.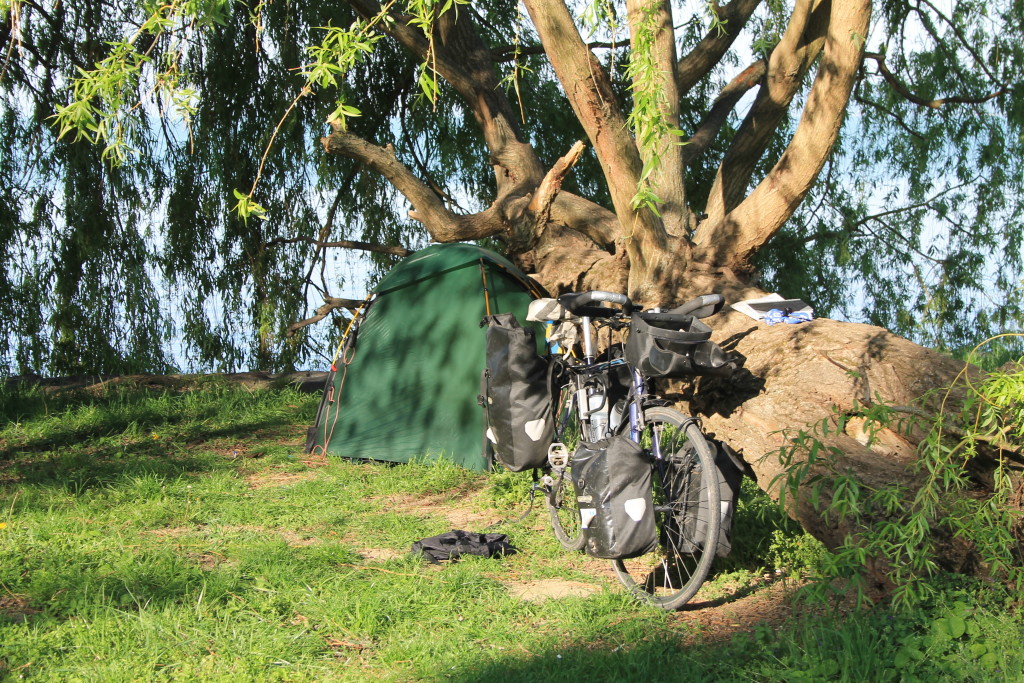 This guy got this fish early morning. Proudly he let me take a picture.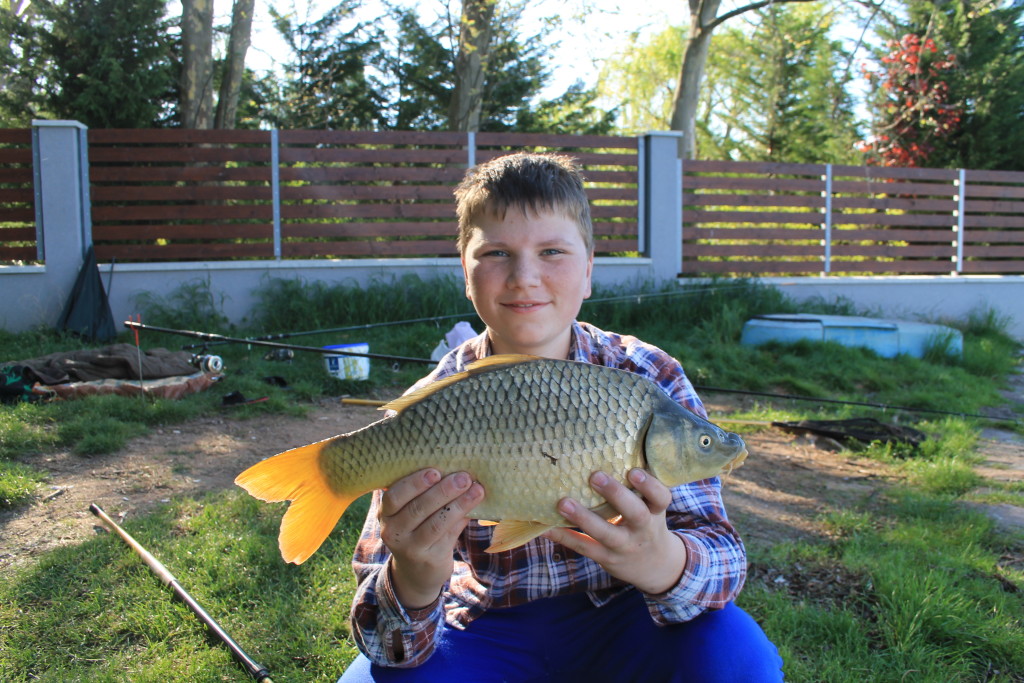 Day 20 Relaxing day Balaton 10 km
After the normal procedures in the morning I continued biking along the Balanon lake. I got only 5 km until I found an open campsite. Since I was in a dire need to rest I decided to stay here. Day filled with writing, transferring pictures to my Acer, drikning beer and just relaxing in the sun. It was a necessary and needed day of rest. The day was used for bike care and myself. The bike is now running smoothly again to continue.
Day 21 On the Hungarian plain – Balatonkenezy – Decs (Szekzard) 125,8 km
As usual, I woke to the chirping of birds. This means sunlight. It seems to be about five. At quarter to seven I got up. Or rather scramble out of the tent. Customary morning things and at a record early 7:45 I left the camping to continue southward. The image shows my tent.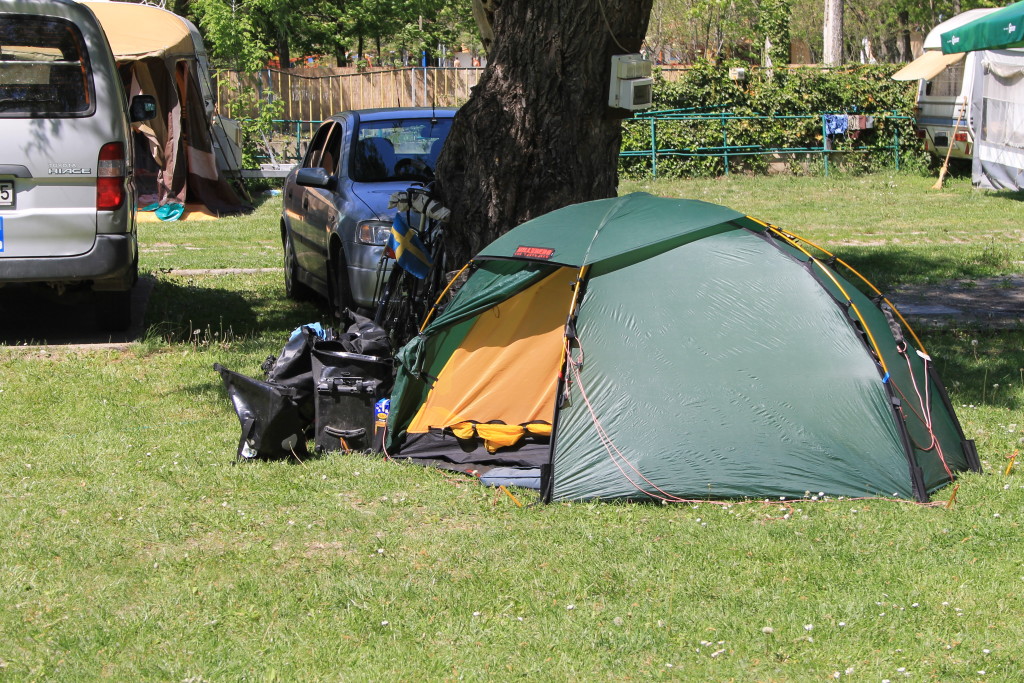 … And the view.
Yesterday I also got the first flat tire, after 1.4 km. It was when I was pumping air to front tire the attachment to valve failure. From now on I have to use the service stations pumps.
Today's cycling was warm but quick. Arrived to Szekszárd already at 15.30.
Picture from Hungarian puszta.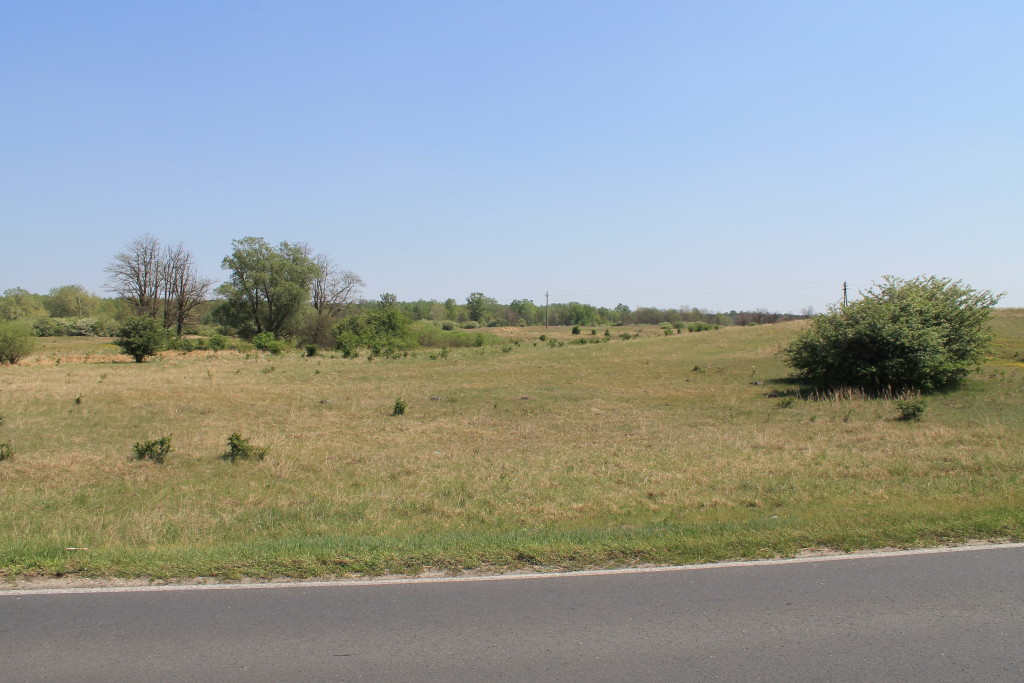 Szekszárd lies at the meeting point of the Transdanubian Hills and the Great Hungarian Plain.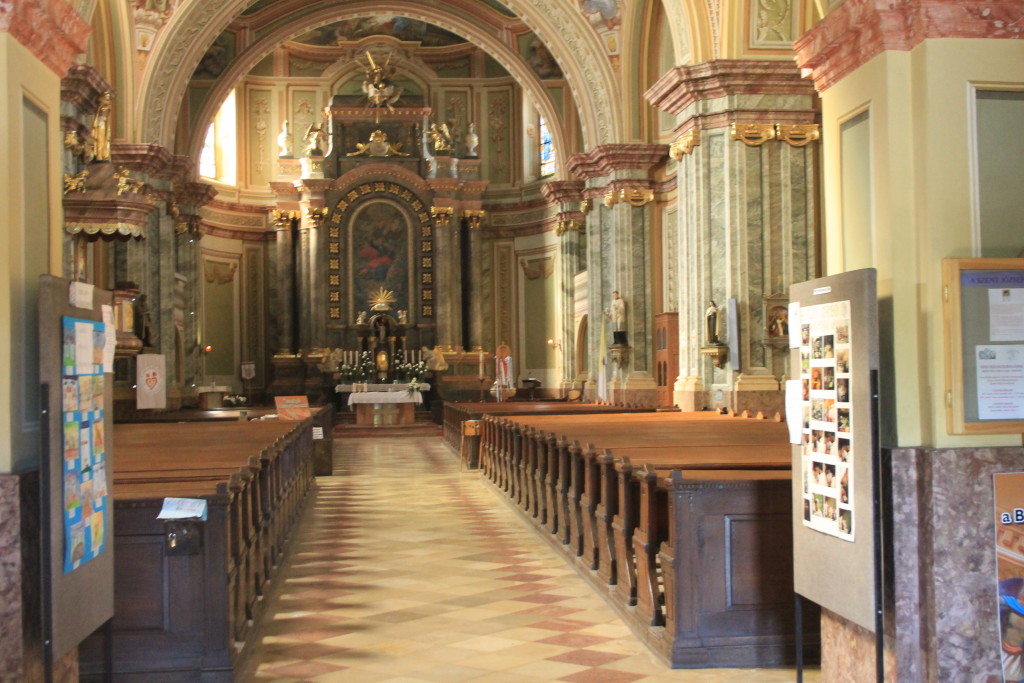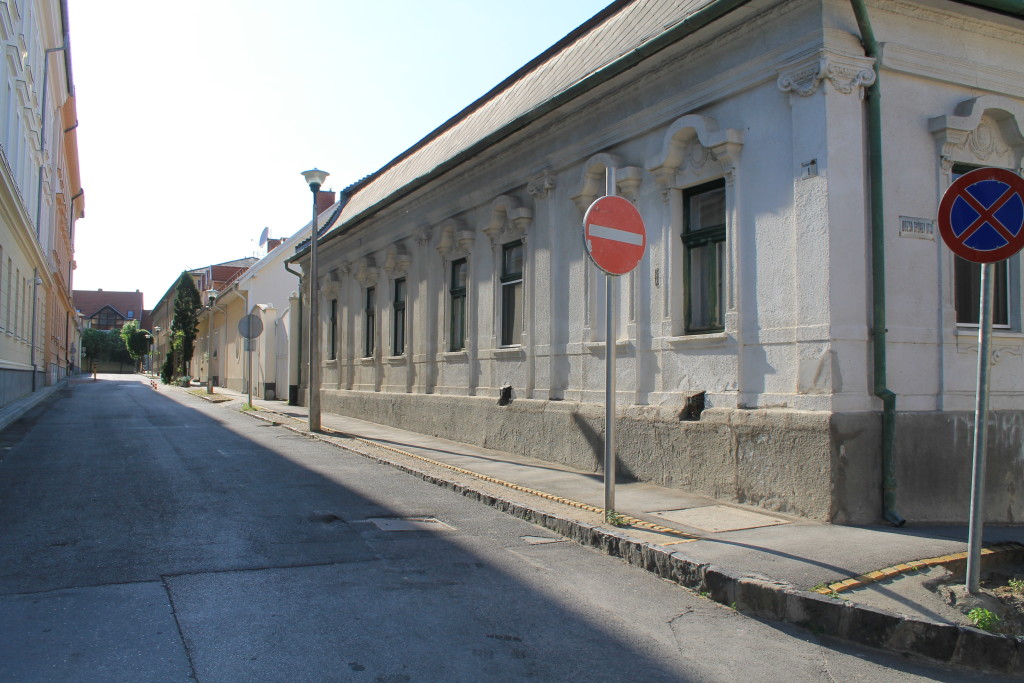 Szekszárd was also the goal of todays cycle, but the question is where I should put up my tent. Not in the city or in a park. I must go out to the countryside. I got some food and compensated for the loss of fluid with some beers. Now I am just outside a village called Decs, maybe 16 km from Szekszárd Here I found a good enough camp. In front of me maybe 400-500 meters newly seeded soil and behind me a sparse grove of trees.
'
view from my tent
Trough the trees I can see houses in the village. I can hear the animals and the church clock strike eight. From a venue I hear laughing and bawling.
It was a lively traffic on my little dirt road that evening. A tractor stops 100 meters from my place and they start to take down trees. A car traveling at high speed and cut ends. Shortly thereafter came a motorcycle with a man and boy. The boy has a machete as he waves but they left me alone. In the morning just when I opened the tent, a Mercedes E model is slowly rolling past my tent. A grim face looking at me and I waved cheerfully backs. Although he leave me alone.
I am in southern part of Hungary close to border to Serbia.
Villages look deserted but I can imagine there are some people working on the family farms.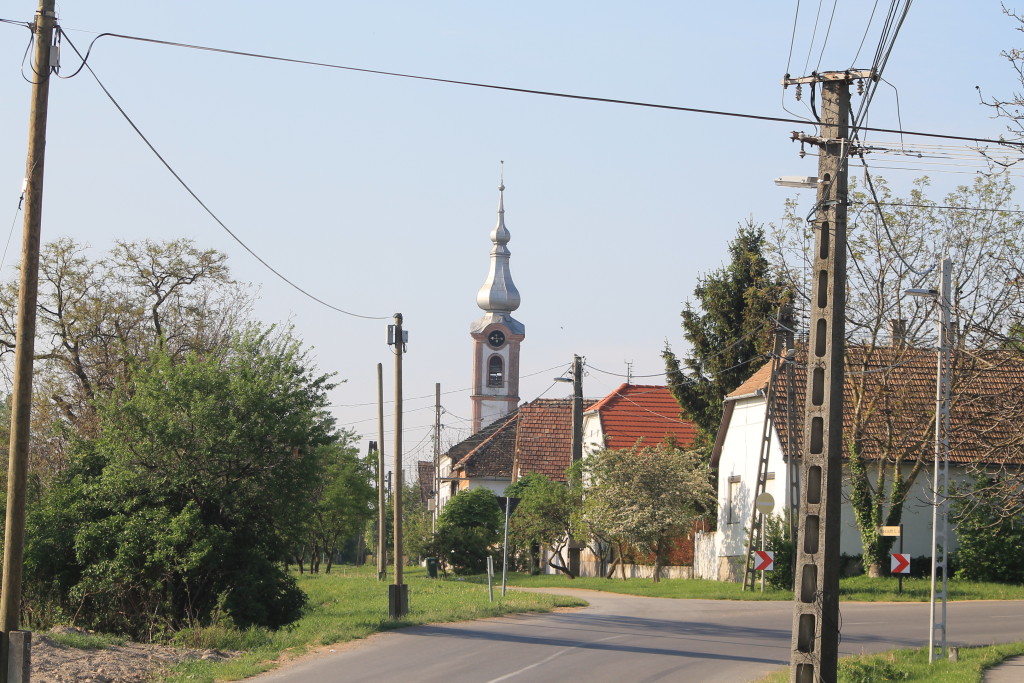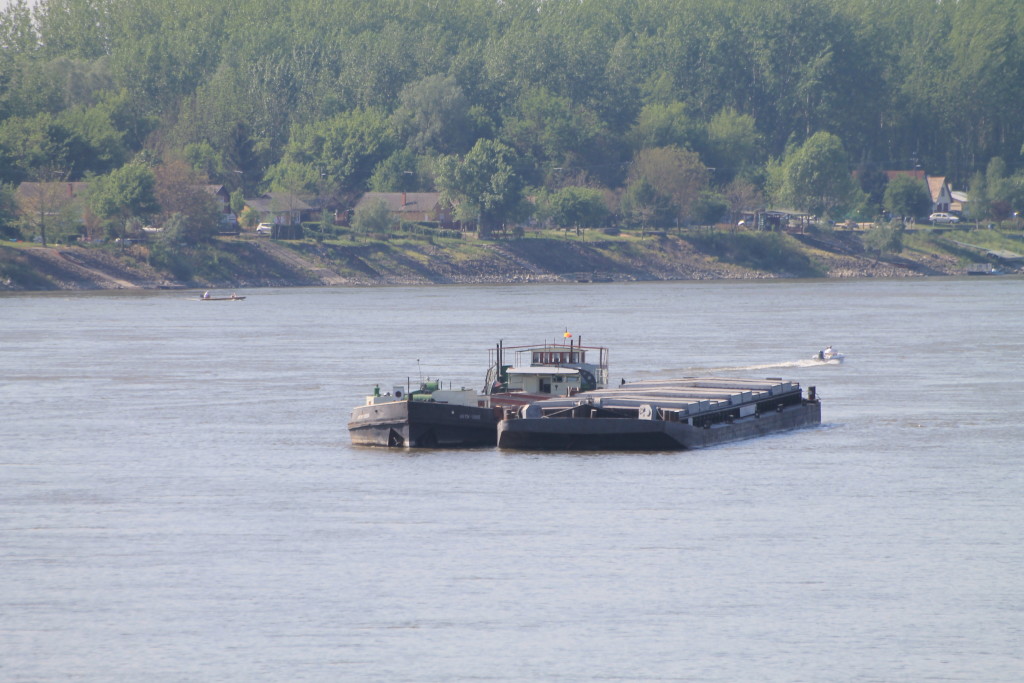 Summary Hungary
343,7 km. 4 sunny days with light winds. Hungary is flat and monotonous. I understand that 2 million of 10 chosen to live in Budapest. For in the countryside there is not much more to do than work.
Serbia
Day 22 Big party time Decs – Bezdan 89 km
When I woke up that morning I had no idea that the evening would end in the country with a party that I've never experienced before. But let us start from the beginning. It's always fun to get to border control. It breaks the often repetitive cycling. There was no problem to leave Hungary. Either no problem entering Serbia.
The border guard took note of my thermometer on the bike, which just then showed 31 degrees. The problem was that I had no money. I was thirsty, hungry, But without any Serbian, dinars only Hungarian forints. And no exchange office opens at the border because it was public holiday. But I saw an open restaurant run by a Serb who had been guest workers in Germany. So I could using my rough German bargaining that I for 1400 florins had some beers. HE gave me driving directions to nearest ATM in Bezdan 10 km away.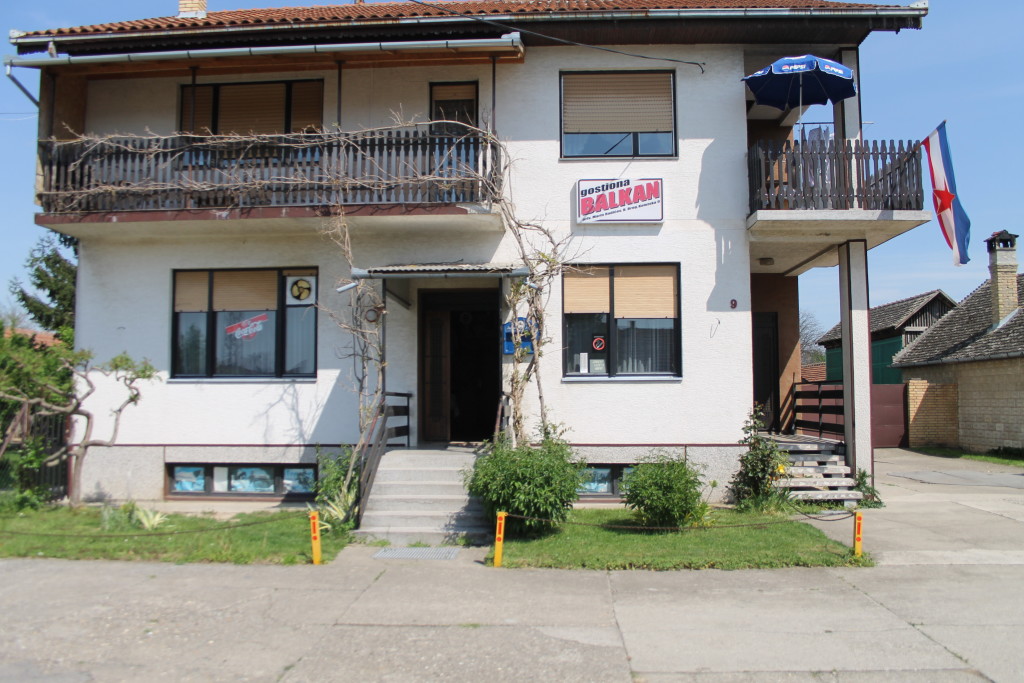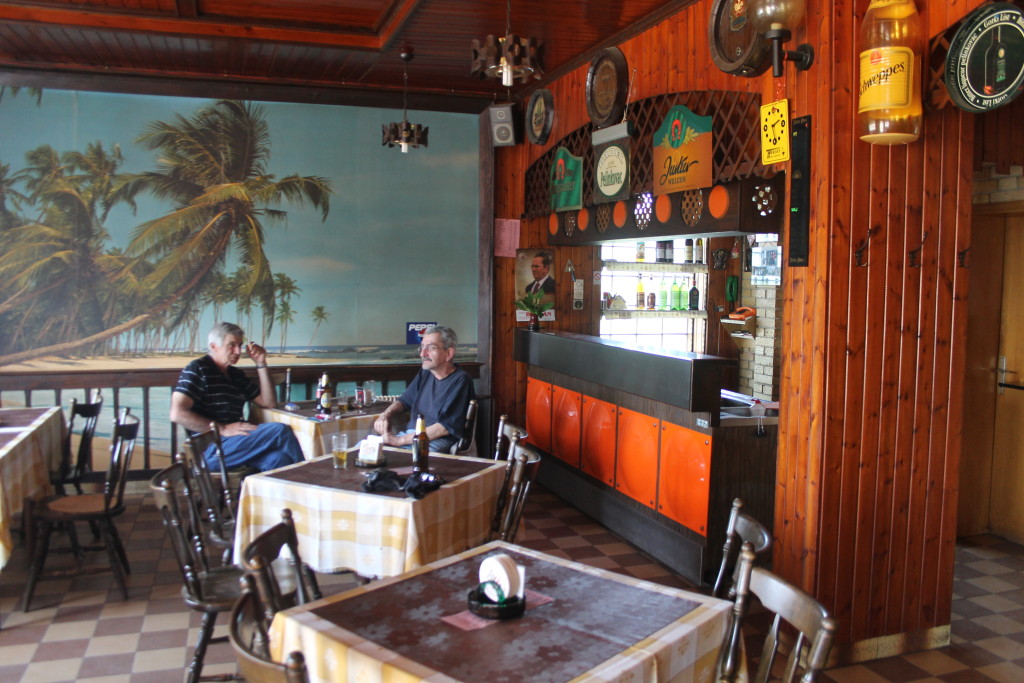 With his English-speaking seamen I could share some thoughts about life.
I thanked for the company and rode towards Bezdan. Circled around there a bit before I finally found the ATM. Sat down on a bench to rest and suddenly I hear a Swedish voice shouting at me. It was a Serb from Bromma Sweden, who wondered what I was doing there. He invited me to their table and a beer. After a few hours talking I had a bed to sleep in, breakfast included, and a big party in the countryside with his friends.
There was roast pork, potato salad, beer and homemade Rakia. Rakia, you should beware of. I know from personal experience. That was a nice evening but I do not know when the party ended.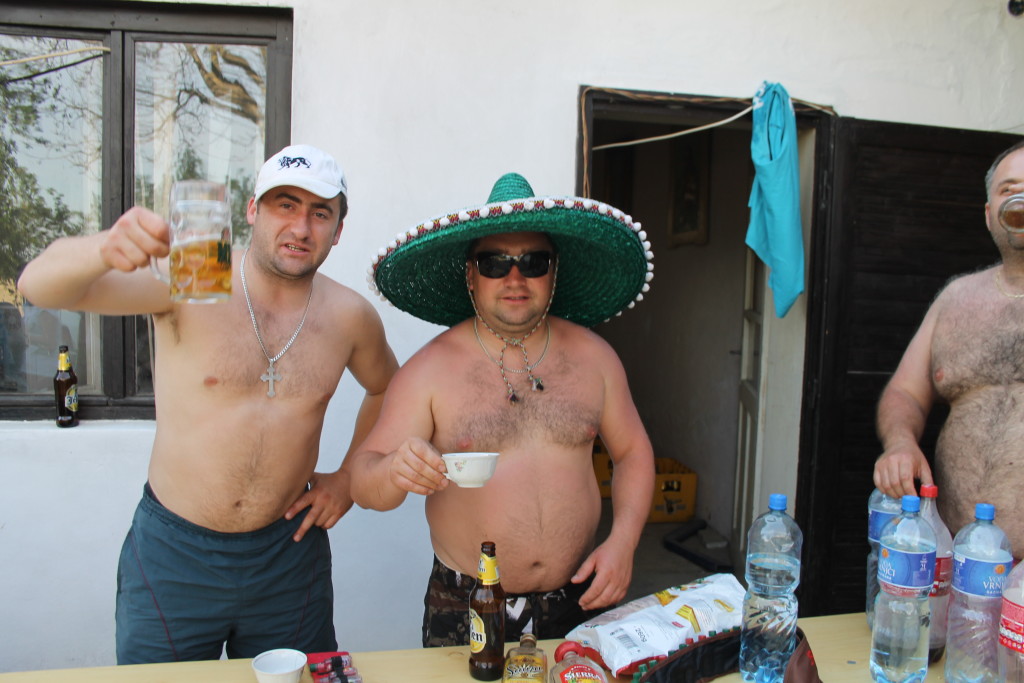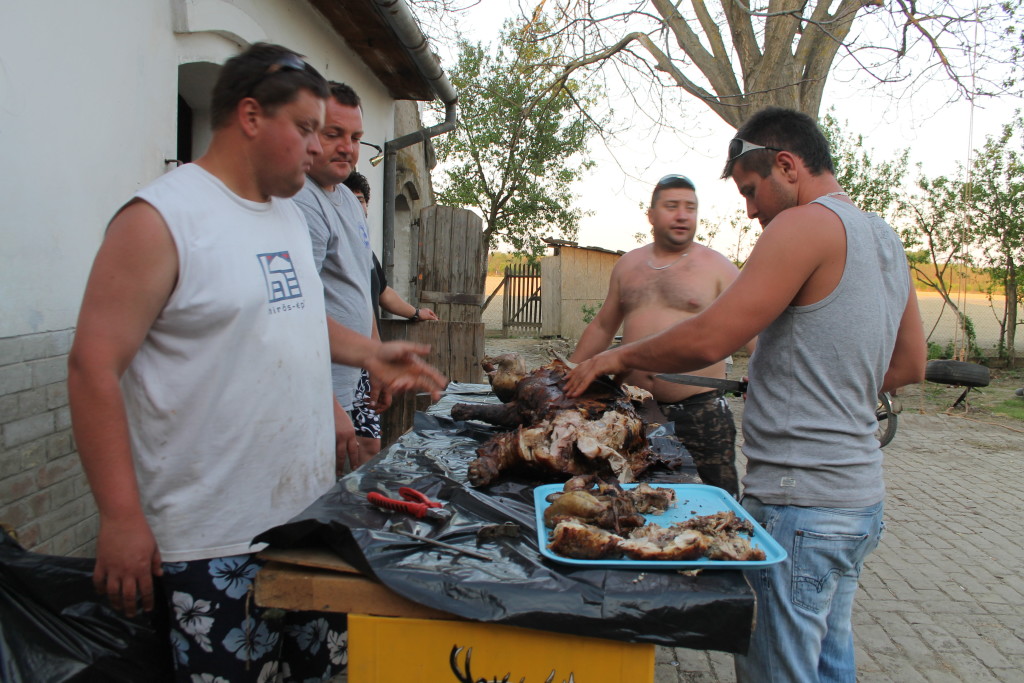 Day 23 meeting with a walker Bezlan – Novi Sad 135.2 km
After a quick shower I got up on my bike very early. The promised breakfast disappeared because restaurant owner was not awake and I was in no mood to wait. My speed the first hours was slow due to a heavy hangover. I blame it for somewhat high consumption of beer yesterday. After an hour I stopped at a gas station and took a light breakfast, bread with jam and coffee.
Sometime after 11, I had been cycling 50 km. I came to Srpski Miletić, I bought a Coke. Suddenly a man came towards me and asked, in Swedish, if he could buy me a coffee. "Sure" I said. He had seen my Swedish flag. After coffee, he wanted to give me Serb quick lunch, Pljeskavica, a type of hamburger.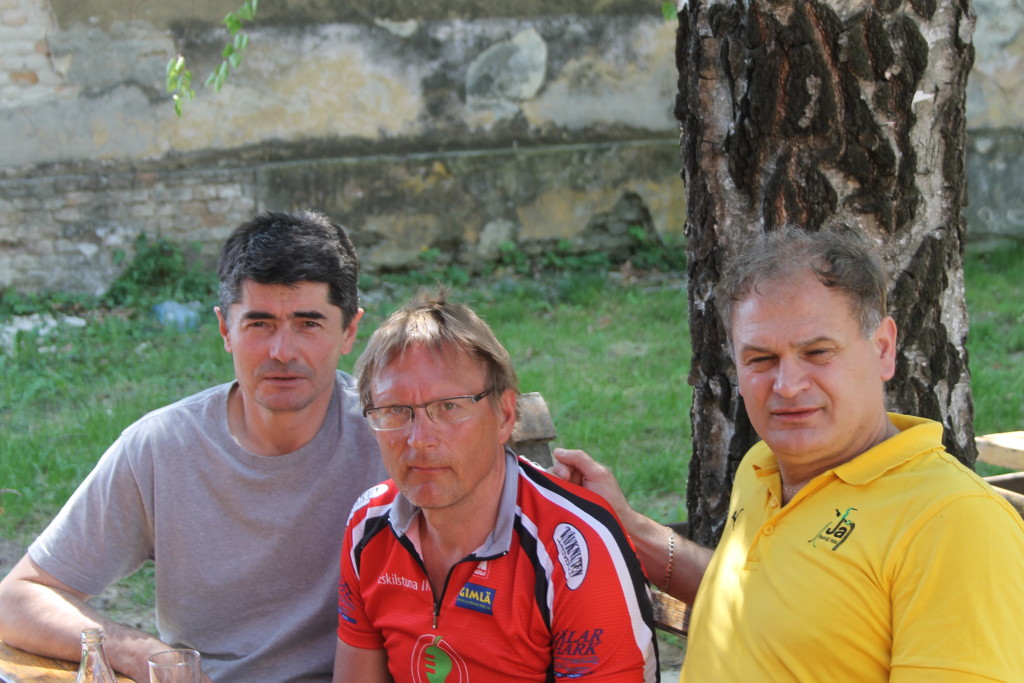 With good speed I continued towards Novi Sad. i saw signs of Danube bike Trial but had decided not to follow that trail. Fortified by coffee, Coca-Cola and food I swept up in the amazing speed of 23-24 km/h. It is flat and insipid, noting to look at, monotonous large fields, few houses outside the villages.
Suddenly I saw in the distance a man walking with a big backpack. It was an Austrian young man who was walking to Jerusalem. We shard strawberries and I wished him good luck.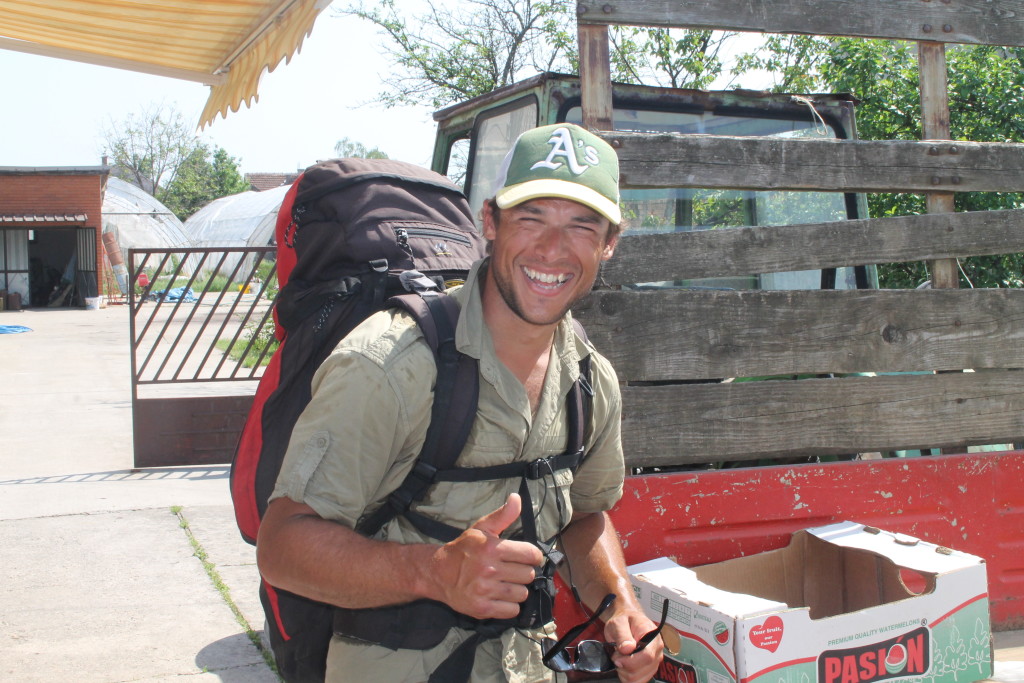 At 16 o'clock I was in Novi Sad. How to find a hostel? I saw a street map on one street information post. I carefully memorized tha map to what I beleived would be a camp ground on an island in Danube. I guess my memorizing was out of order that day because I did not find the camp site. Or, yes I did but it was not a campsite for tents only trailers. Disappointed, I sat outside a café with my Ipod and managed to pick up an open network. Using Goggle, I managed to find the address of Hostel Down town on Njegoreva nr 2. But no clue how to get there. I wrote the address on a note and thought I'll have to ask me way to find it. After 50m I hear someone shouting in Swedish "hey cyclist stop." It was a Swedish-Serbian couple from Stockholm who was at home in Novi Sad on vacation.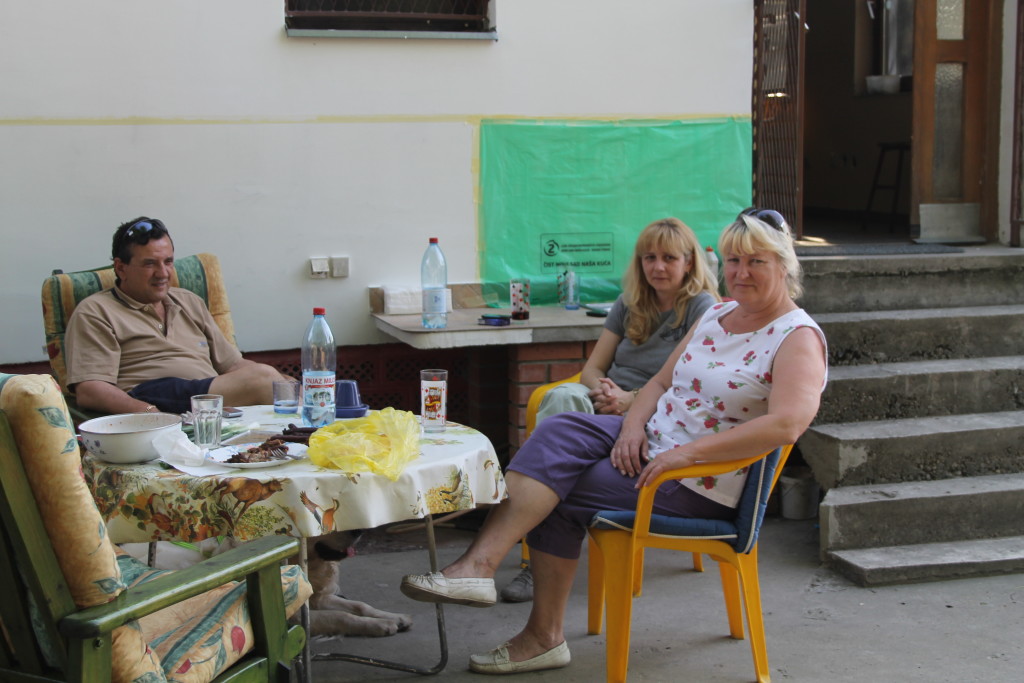 They invited me to talk a little bit and it was not many minutes before I had a plate of meat and fried hot dogs and snacks in front of me. After a long time I took farewell to my new friends and took off towards the center to find my hostel. It lasted about two people who showed me the way. The second was a bit embarrassing. Asked one girl where Njegoreva street was and I stood on it and did not realize it. THe best thing I can say about this hostel is its good position. Only 20 m away from the pedestrian area with all restaurants.
In the evening I took a walk and ended up in an election rally in the pedestrian area.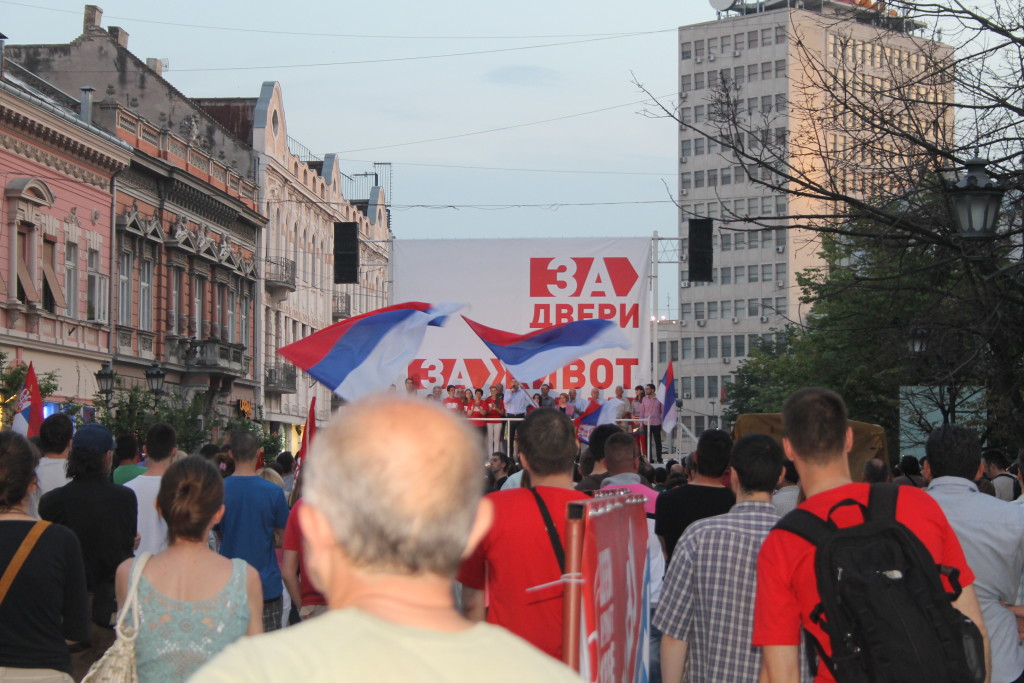 Novi Sad is a beautiful city, old town anyway, many restaurants and bars. Large pedestrian area. The city deserves a longer stop, but I have a final goal and a date to take into account. Therefore, I leave Novi Sad tomorrow. Tomorrow I need to find a bicycle shop for purchasing an inner tube and sunglasses.
Day 24 to a party town Novi Sad – Belgrade 88.7
The actual cycle distance between Novi Sad and Belgrade is 79 km. But when I came to Seva, I found no bike path across the river and spun around in a park a few km extra. After crossing Danube I came directly to the hostel.
Cycling to Belgrade was an easy task. The only challenge was a 4.3 km long hill just outside Novi Sad. But the descent was relaxing. There were roadworks on the way I planned to cycle but Again, nothing stops a Swedish cyclist.
It was a short cycle day and I came to Belgrade at 2 pm. In the evening I was out to find a place to eat. At the same time was once again a political meeting in the pedestrian area. On the way there I got into conversation with a Serb who wanted to offer beer. Ok for me. So we took a few beers together. At the hostel there was a party going on and I hung on. Ended up on a underground club. Got back to hostel early, felt asleep already at 01.30. The other was back 0500.
Day 25 Belgrade 0 km
This day was used for relaxation and walking the city. I try to walk around as much as I can when I'm in a town to rest. Go to see the things a tourist should see. Sometimes I take detours to see how ordinary people live. Trying to buy cheap food where the locals buy it.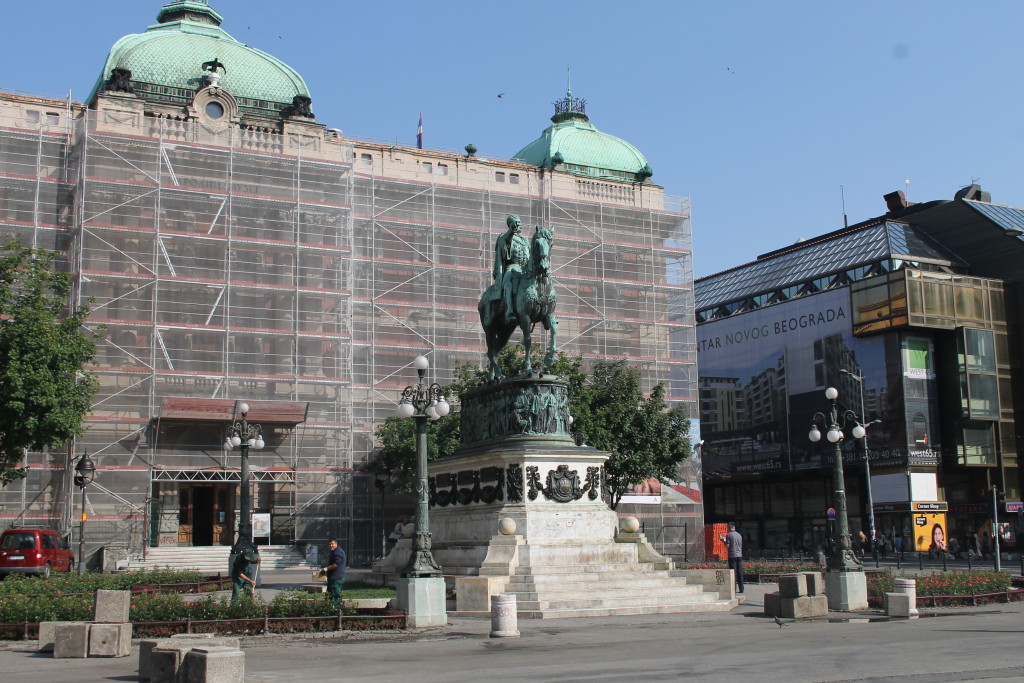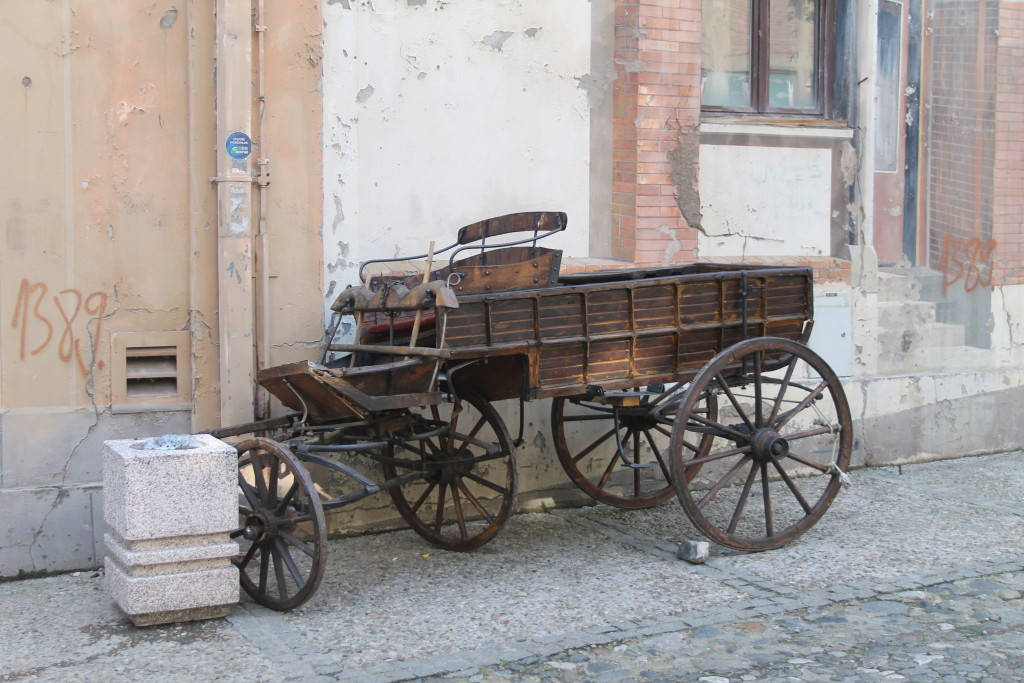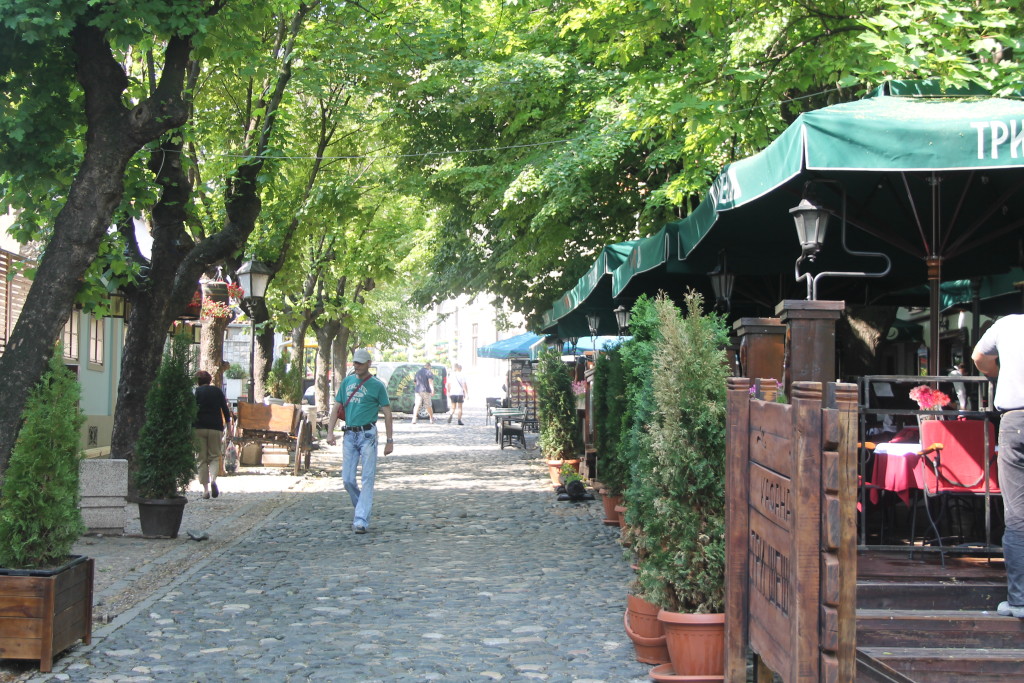 This is one hit from the bombing of Belgrade streets was a which occurred on 1 May 1999
This is the largest Orthodox Church in Europe. Magnificent on the inside as the pictures do not do justice.
Tomorrow up early to ride to Tirana. Estimate it would take me seven or eight days. If I'm lucky if I find an open WiFi connection somewhere. If not the next contact from Tirana.
Day 26 Change of nature Belgrade – Rudnik 132.3 km
Woke up in when the Finnish boys came home after a night of pub crawl about quarter past five. Packed my bags and left Belgrade. No music any more since I broke the iPod when I dropped it at full speed when I came from Novi Sad. Now with a new exciting country I have long been looking forward to see, Albania.
Approximately 40 km from Belgrade, I realized what was wrong. Too many abandoned, half finished house. Looks like Serbia is being urbanized. Seen the same thing in Poland and Belarus. Or is it the result of the war?
I did not cycle the roads I was planning on the map before left Belgrade. It was tangled leaving Belgrade. But this time I managed to leave the city without taking wrong turns. When I cycle I realized I have seen a similar nature. This resembles the nature of Tuscany, Italy, The roads follow the valleys and in between climbing hills to the next valley. Today, three such climbs. Took a shortcut that was a dirt road for 8 km.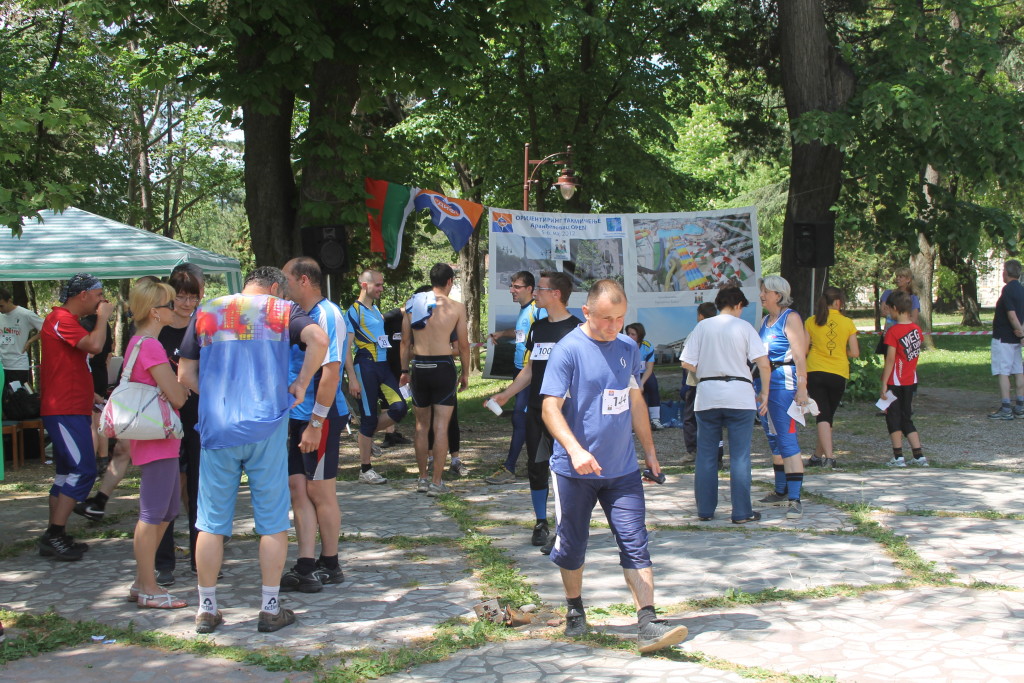 Come to a town I forgot the mane of and got into an orienteering event in the city park. Looked just like a Swedish event.
Tonight I camp outside Rudnik.
Day 27 Unexpected family party Rudnik – Ivanicia 102.2 km
Woke up early, my choice of camp for the night was not the best. What I thought was a farm road was a village road. That evening, my sleep were interrupted by cars, tractors and pedestrians until midnight. In addition, there was heavy truck traffic from the road about 70 meters away.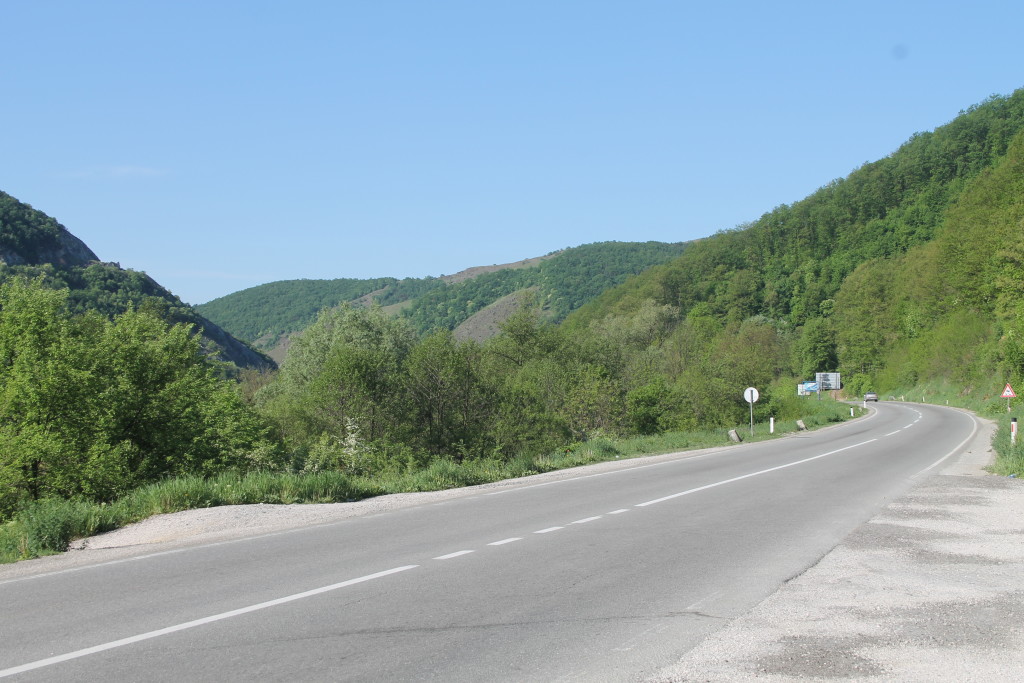 Today's first kilometer was wonderful. First 25 km was downhill. In Gornji Milanovac, I stopped to refill water at a gasstation. There I met these three party guys who had been up all night. They invited me for a a cup of cappuccino and sparkling water.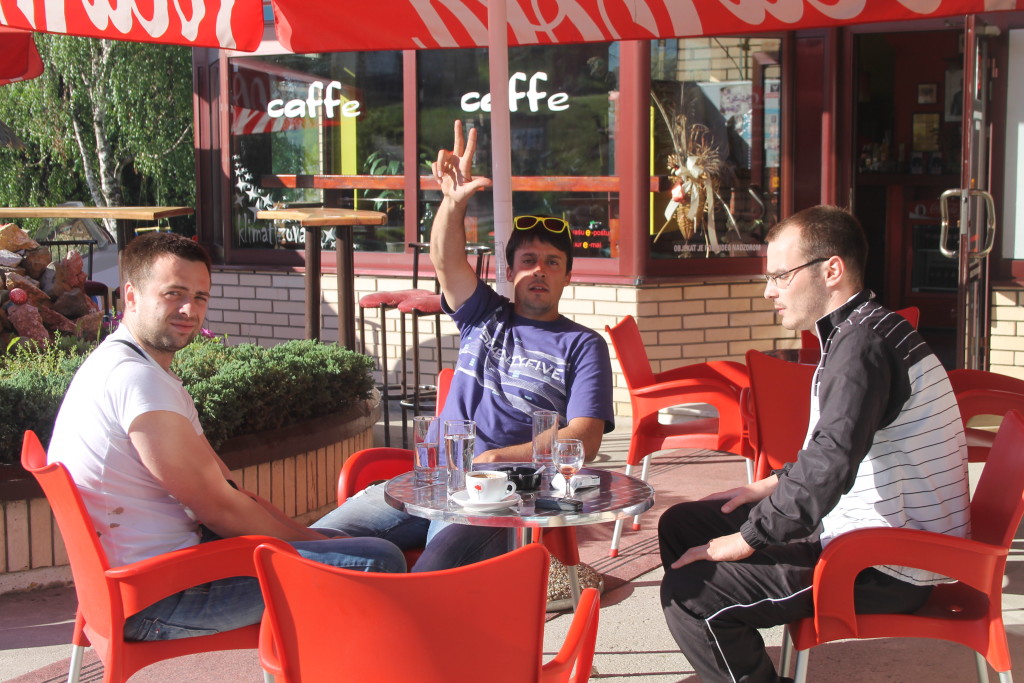 I continued with good speed down the hill to Cacak. After some searching I found the way to Guca. First 10 km uphill. After 10 km downhill. From Guca it was easy riding about 10 km. There I met Jovan who gave me coffee, soup and pepper cabbage. Also, he invited me to their family reunion later in Ivanicia. In Serbia, this day is the family day.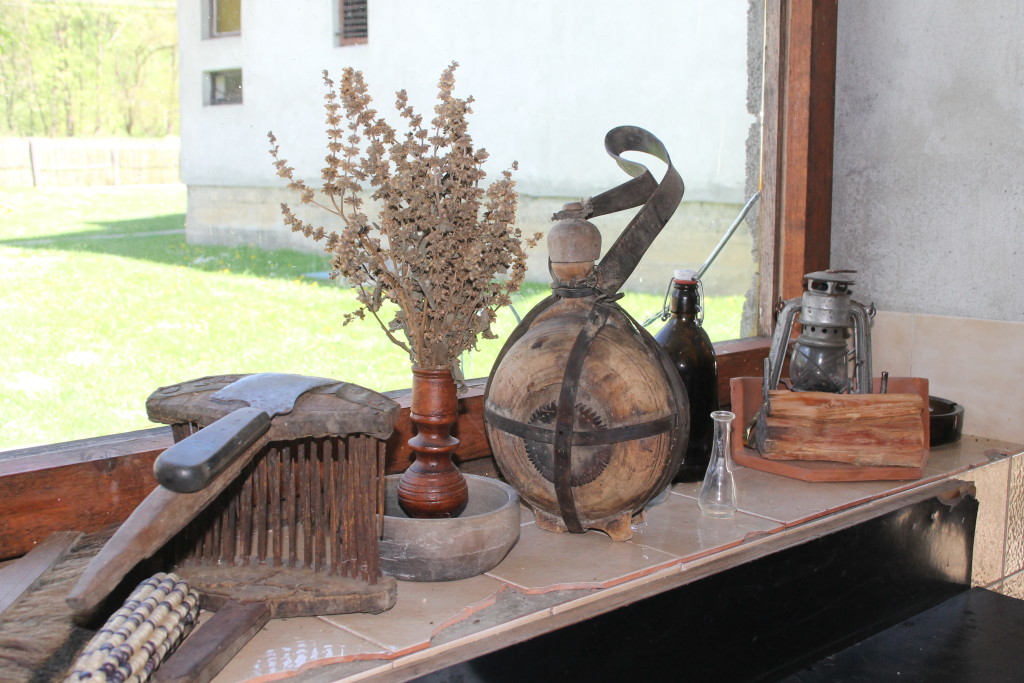 I left Jovan and climbed 8 km in 55 minutes, Then downhill for 15 minutes. A powerful feeling to ride down the hairpin bends, with a packed touring bike in full speed 50-55 km/h.
In Ivanicia I stayed at the family reunion for three hours.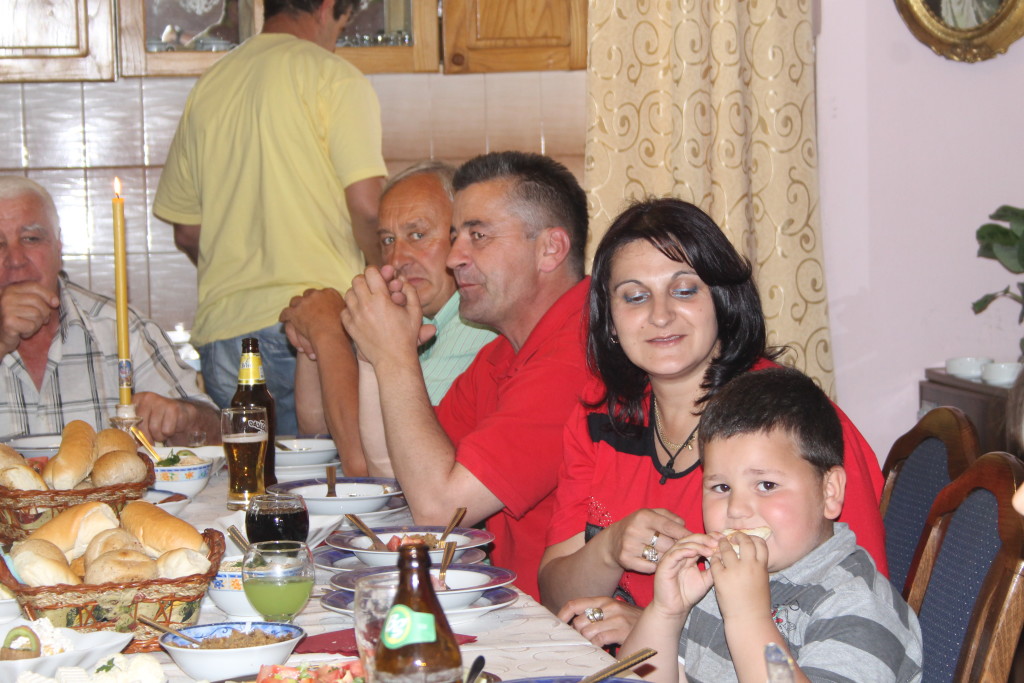 It started well but ended in chaos. Jovan were brought out from the the room I was in. Jovan was reviled by the wife. Jovan kicking chairs, jelling at his wife. Then I left the party as a dejected dog, I took the bike and went out of their lives. 8,6 km later, I broke camp between a stream and the road above me. Tomorrow I go to Albania.
Sometimes you are used as a local celebrity for someone to get benefits. Sometimes I am using that to get advantages as cyclist far from home. Today, I was probably utilized, while I took advantage of the situation and got some food and drink without paying for it.
In addition, an enriching experience. We may not understand the conflict between Serbia and Kosovo until we understand the Orthodox religion and the value of the family, maybe I did wrong when I pretended to be religious when I said just before I am an atheist.
Day 28 Is this the right way? Ivanicia – Bunari 94.6 km.
The day started well with a downhill run for a few km. But what good did that when I read the map wrong and took a detour on the Serbian countryside. A three km long climb that ended on a farm with a magnificent view. I said no thanks to Rakki and fled down the road. I took the right path but again, I was concerned that the map and reality did not conform. At a beautiful Roman bridge I realized that I biked too far and turned around.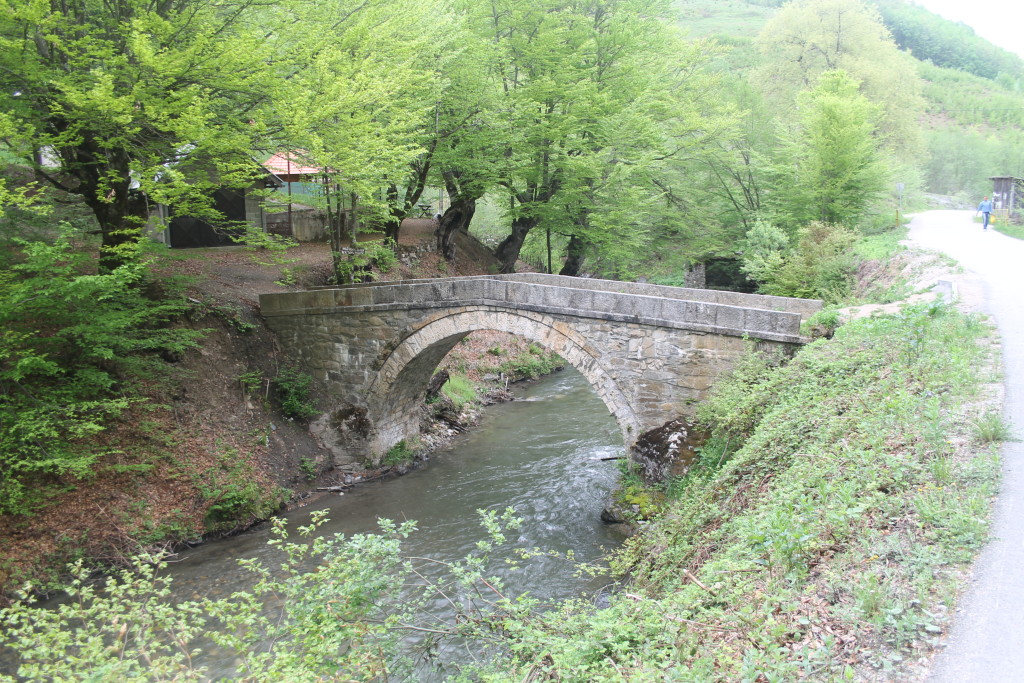 Now began a climb that lasted almost all day. The climb to Duga Poljana took me up to heights that are not seen in my county in Sweden. First it was an ordinary tarmac road. Then the road became a gravel road. Then it became a dirt road with rocks with size of a fist. In between they managed to build a ski resort. But with the road in that bad condition I doubt they have had many customers there. It was cold, I froze and was hot depending on whether it was uphill or downhill cycling.
Descent to Duga Poljana on the other hand was beautiful. Imagine a dirt road that loops from 1000 m down to maybe 400 and on both sides of the road open pastures with short grass flocks with lambs or pigs.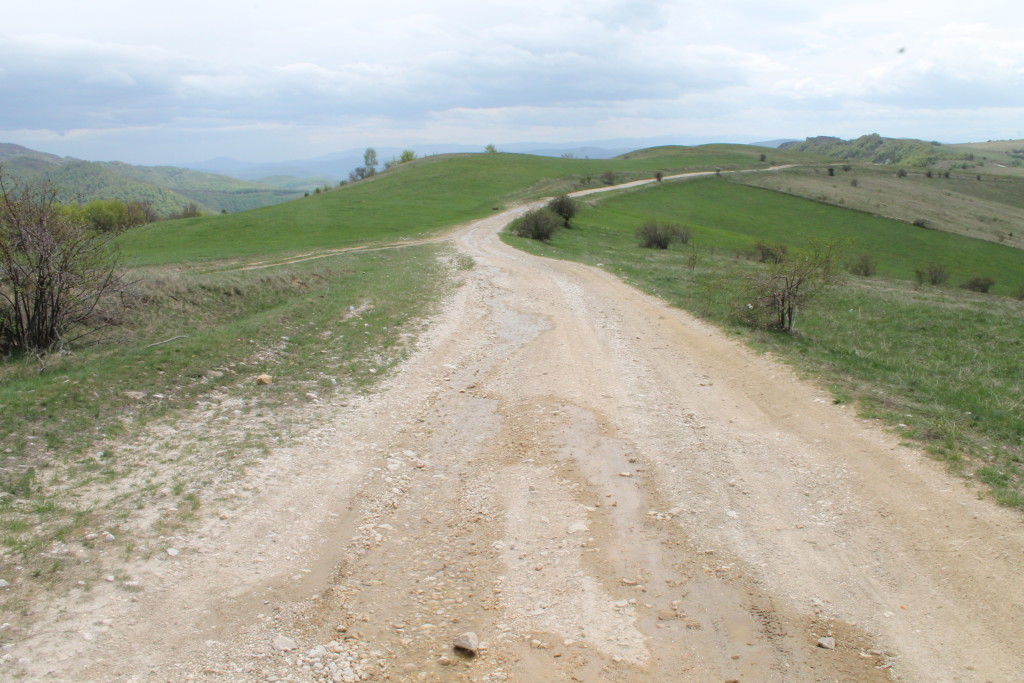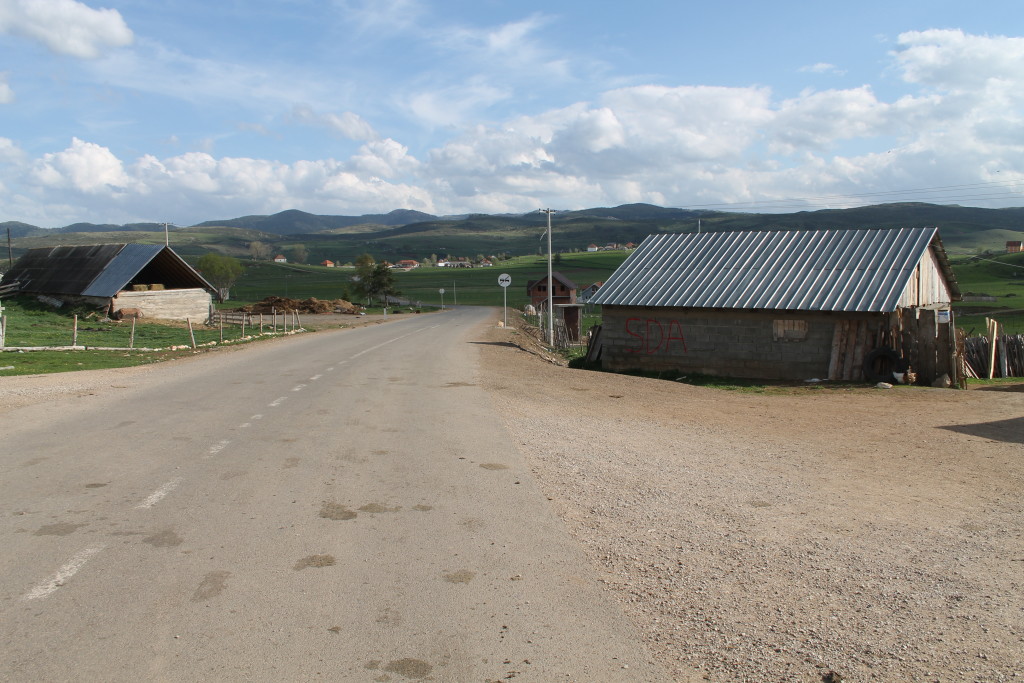 Got a cappuccino in Duga Poljana for free and continued with tired legs on. The goal was to cycle at least 100 km. From Duga Poljana it was a 12% climb of three kilometres but then it was down almost 30 km. after the nightmare couple of hours ago with bad road, cold wind it was good to find a place to rest indoor. In Karajukića Bunari I stopped for a rest in a restaurant. I continued after a short brake because it was getting late afternoon now.
In BorošticaI Stopped at a derelict house that was a local mini market. It was hard to understand they where selling food in there but car parked outside said it was something going on there. I bought a Coke and chips. They did not sell beer. Apparently I am in Muslim territory now.
I Pursued a little and 5 km later I found a good spot for my tent. Up above the road behind a large juniper. A spectacular view over the valley and no one could see me. At night it rained and was cold.
Day 29 Two countries in one day Bunari – Pec (Peje). 108.3 km
Fell asleep already at 19:30 so it was no wonder I woke up before five. But I fell asleep and woke up again just after seven. It was cold. Plus six. Did not know it was so cold in Serbia in May. On the other hand, my altitude was at about 1200 m. The first pitch began as early as after 4 km, but it was nice and lasted a few km, I had climbed a few hundred meters. Descent towards Tutin was fast. Tutin proved to be a fairly large regional city, where I could buy me some bread and juice. Got instructions to Rozaje and started cycling again. I filled my water bottles from this dwell. It is not difficult to fill with water for these kinds of dwells are almost everywhere in this region of Serbia.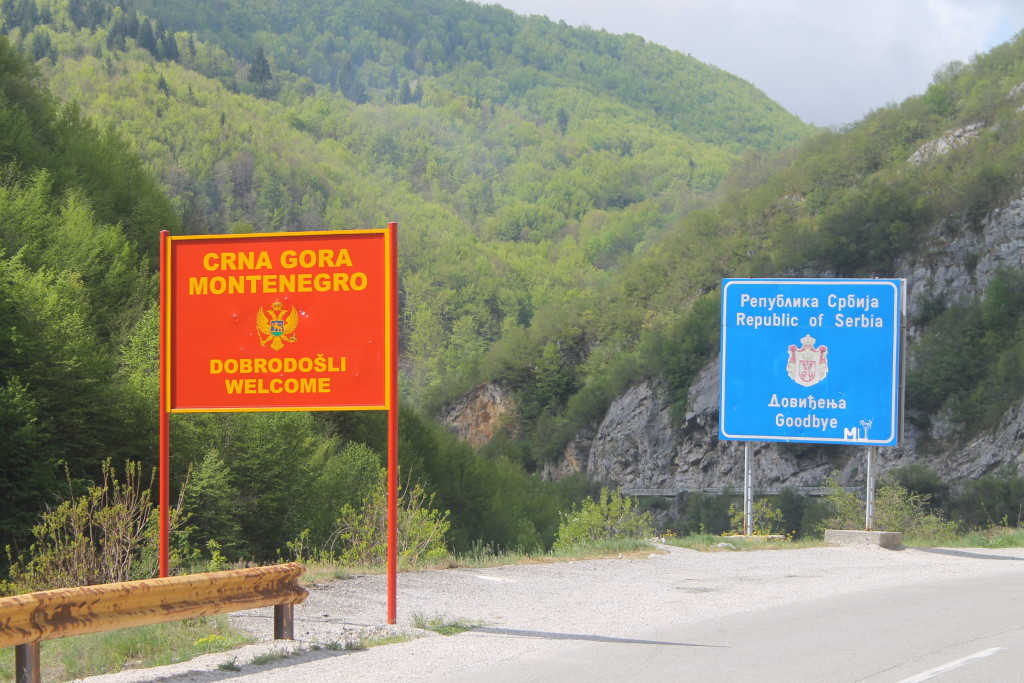 Came to the crossing of the border with Montenegro and got another stamp in the passport. The sixth country on this journey.
It was easy cycling and I could keep a good pace until lunch. Had already cycled 60 km and was in Rozaje. Come to Montenegro after 37 km cycling.
Summary Serbia: 8 days thereof 7 days cycling 610 km.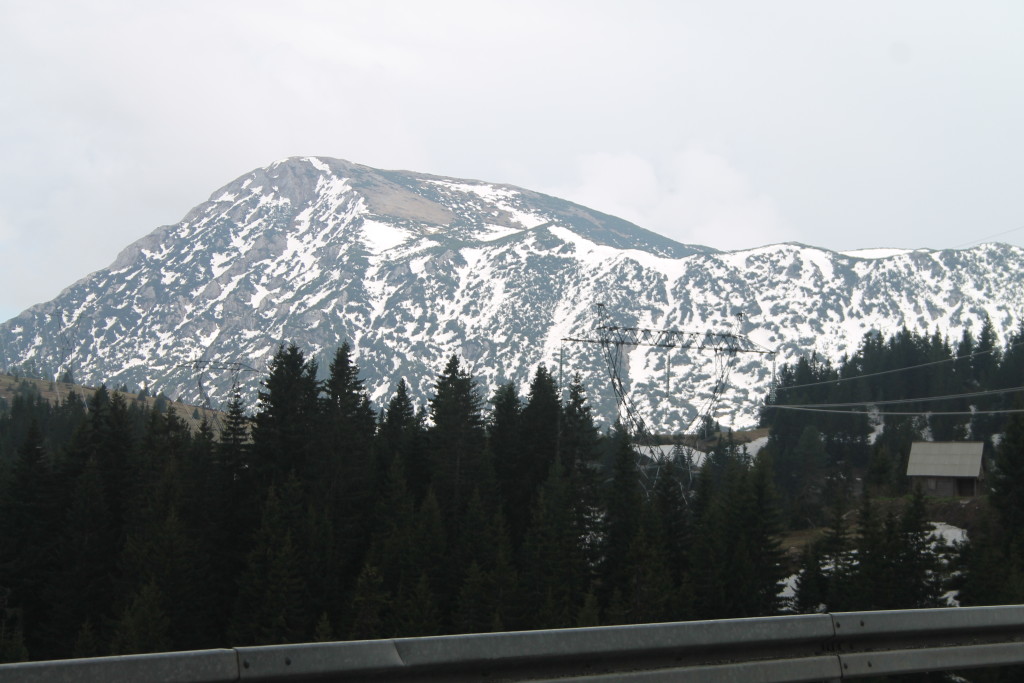 The road was following a valley. Far down there the river flowed. The road wound its way through tunnels and with great views. Strangely for me was that there was debris on the slopes I saw quite ugly.But then today's challenge. it was 8 km uphill to Kosovo border.
Summary Montenegro: 37 km cycling three hours.
Albania
It was cold. Do not know how many times I changed my clothes. Cover jacket on / off. Raincoat on / off. I was in the rain clouds so it was both cold and wet.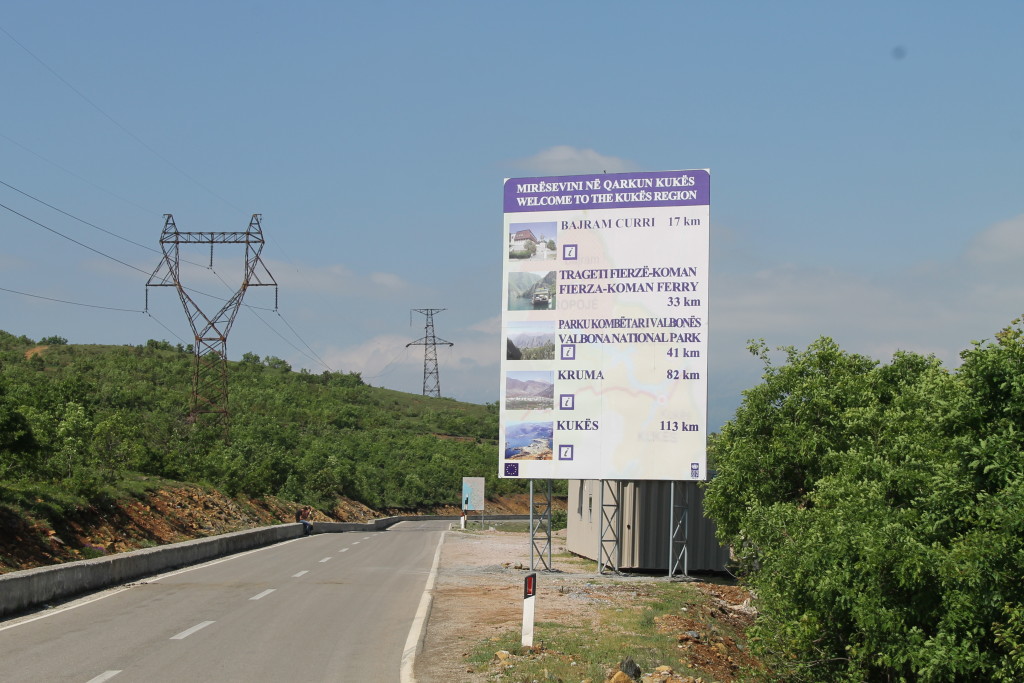 After 14 km up, I came to a new border. Border police promised that after another one kilometres climbing, it was only downhill. And it was true. It was 22 km downhill with beautiful hairpins. When I started down decent , it was 9 degrees and when I was down my thermometer showed 18.4 degrees. After another 8 km km I came to Pec. When I arrived in Pecs I looked after a teller. Got my money, Euro is used here. I bought a pizza and a beer and thought about the situation. Tent or no tent. Interrogated me about hostel. No, but hotel there is one. I stay in a hotel, 22.5 Euro for room and breakfast, I think that was OK. I also had time to do a haircut for 2.5 Euro.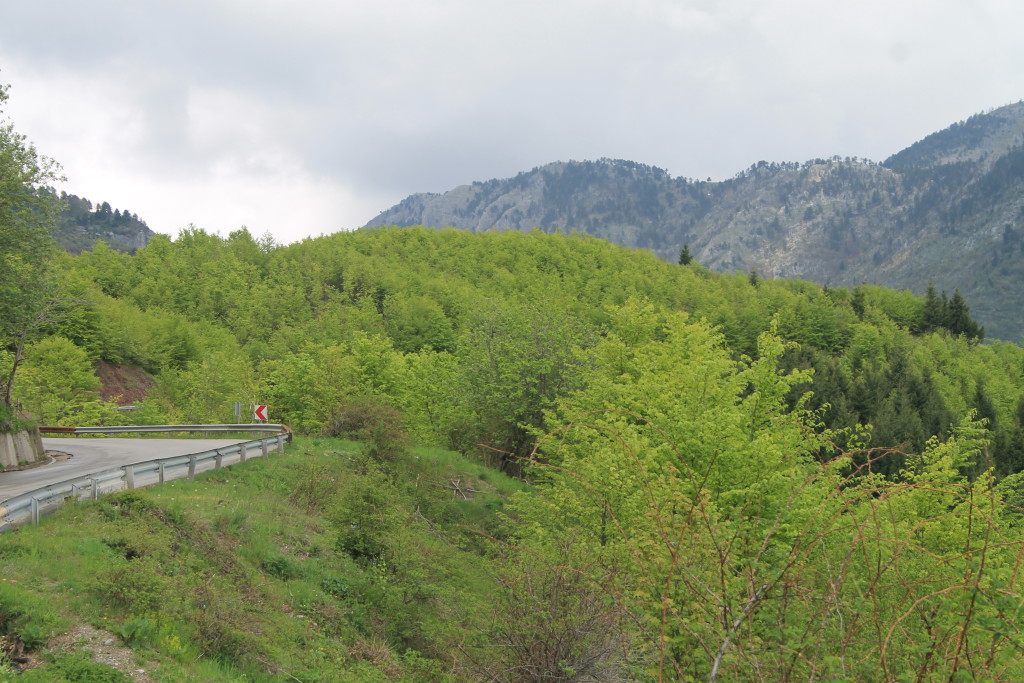 Savine Vode from above
Summary Kosovo 37 km
Day 30 Endless climbs Pec – Albania 130.6
It is not much to tell more than it was easy cycling to the Albanian border. Light downhill and tailwind for 43 km. Nothing to report more than that I took wrong way out of Pecs. But that is not unusual for me, to take wrong exits from cities. Came to Albanian border. After the passage, it was downhill all the way to Bajram Curri 30 km. Set a new speed record; 66.7 km/h . Then I thought that I had Tirana within reach.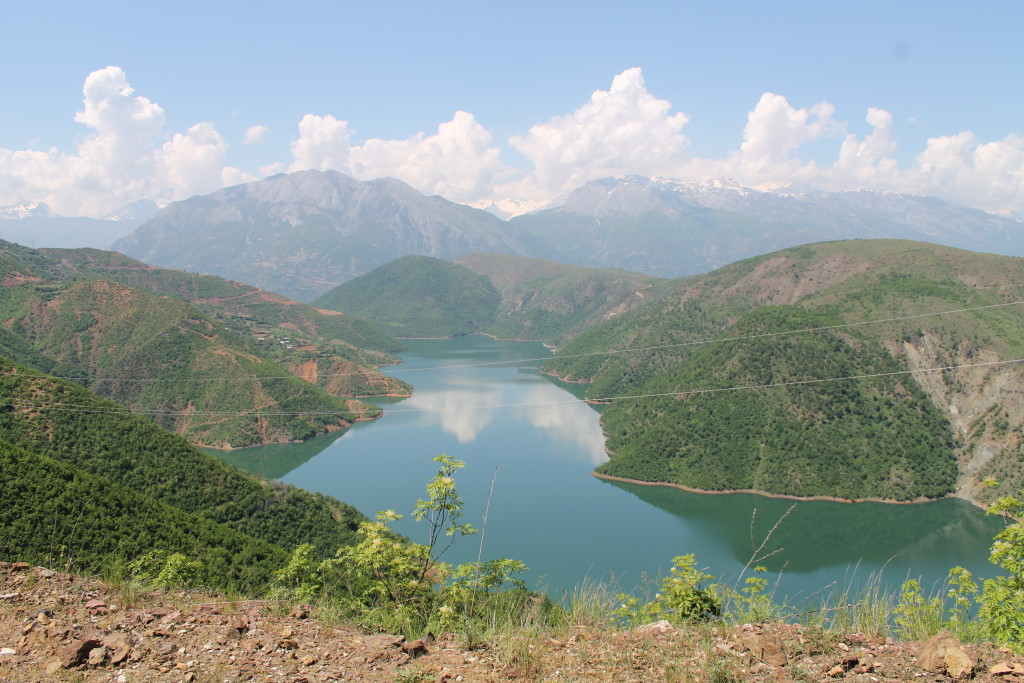 After 40 km I came to a crossroads where I hesitated as to which direction to go. An Albanian in a car stopped to help. Explained that the left road goes to Tirana, but is poor asphalt. The right road is also to Tirana, better asphalt but longer. I took the left road.
And it was bad. Patched and repaired. Sometimes gravel and large stones. But strangely enough, it was also parts of good asphalt. I do not understand the decision-making here on the allocation of asphalt.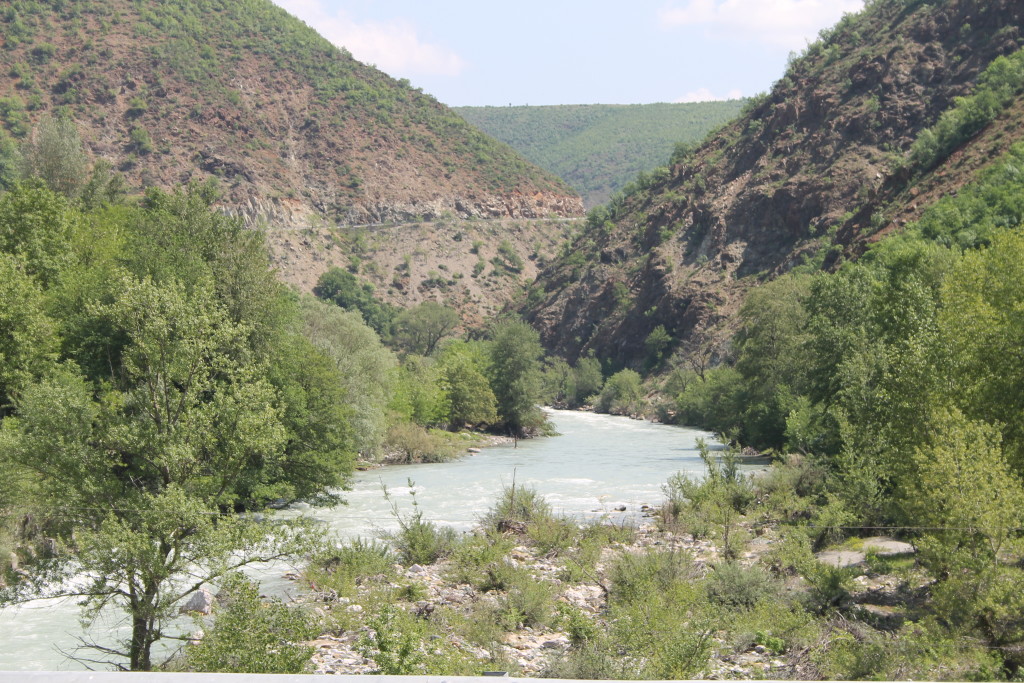 It was hard riding even on downhill slopes, But then I had no idea what was in front of me. 30 km downhill. Partly it is due to the price of the mountains. Had no idea that the day would consist of climbing, and climbing, downhill a few km. Climbing climbing down a few km. Climbed up to perhaps 1400 m, highest point was 2100 m above me on a mountain top. Lunch break in the Albanian mountains. Coffee and bread and jam.
After a climb in the late afternoon, I thought that if there is one more climbing I stop.
There was a hill so I started looking for a place to pitch my tent. Found a plateau above the road. Supper consisted of mashed potatoes with ham pate. Easy to do lot of carbs but tasteless. Make mashed potatoes according to directions. Mix in ham pate. Season to taste, done.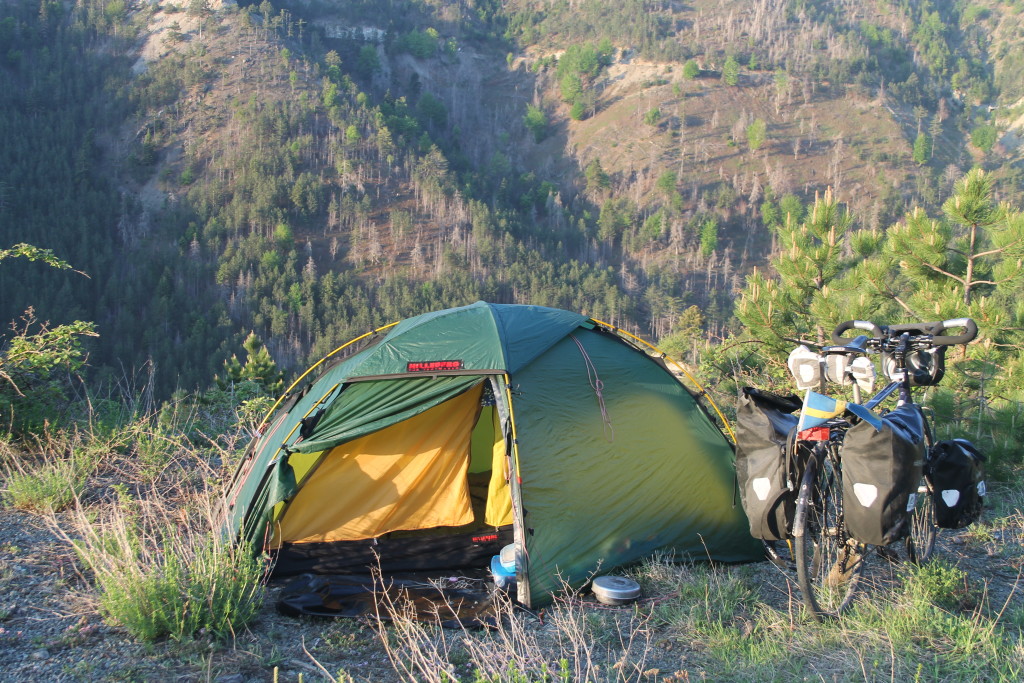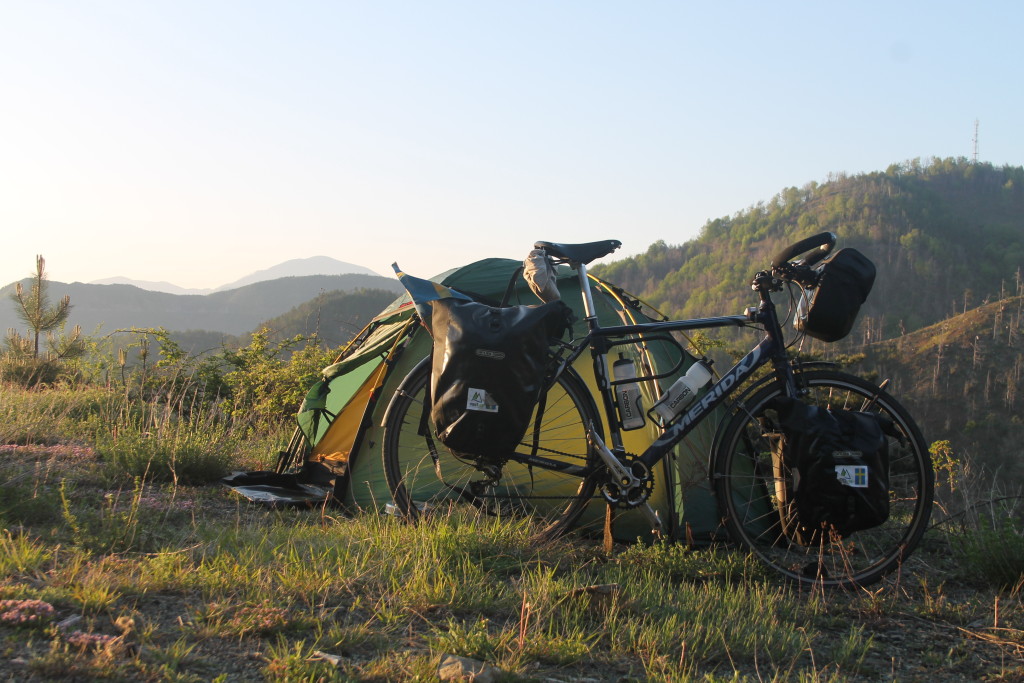 It was a starlit night. Starlight and the moon made the night into day. Far away across the lake down below I saw Kukes. Since it was the last night before hostel, it was film time, Tonight's film was the Confession.
Since I was drinking tea late at night I had trouble falling asleep. Or was it the sound from the brook not far away from my tent, which kept me awake? It was a good place to camp. Tucked, obstructed but still close to the road and close to fresh water.
Day 31 Longest day on bike and mountains – Tirana 153 km
Today's cycling did not differ much from yesterday. Up up down, up, up down. A few times I came to a collection of houses which may be called a city or village. Have no idea what they where called. Generally, It was short on signs that tell road number, distance and name. I parry and slowed down to avoid the panniers to be broken. After about 30 km on this bad road I came to a group of houses. Collection is perhaps to exaggerate. It was actually three houses. A café, a garage and a car wash.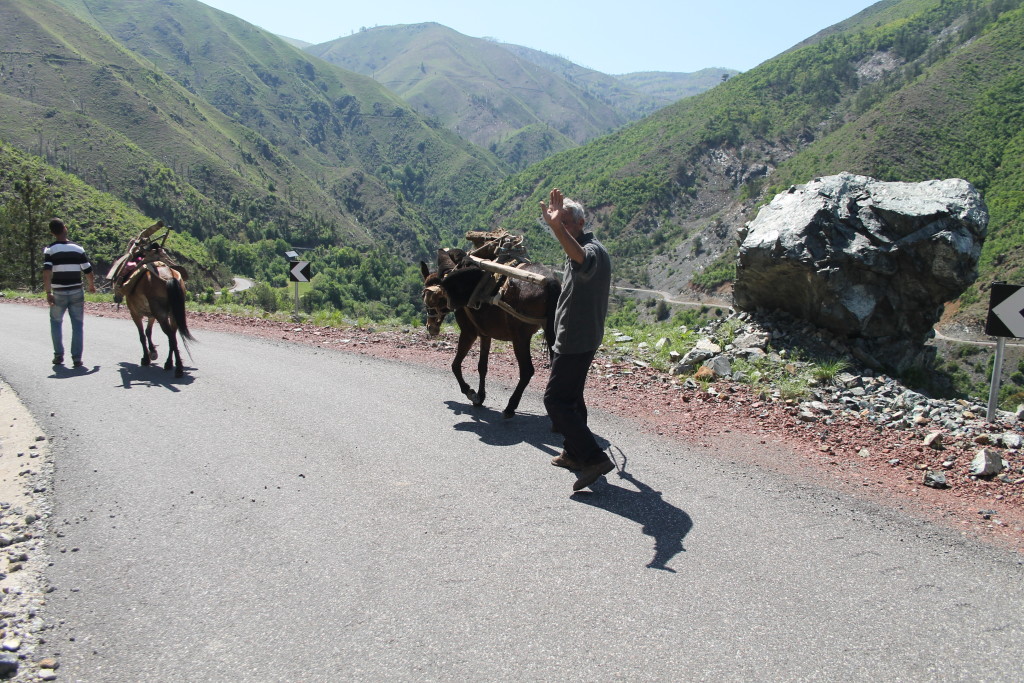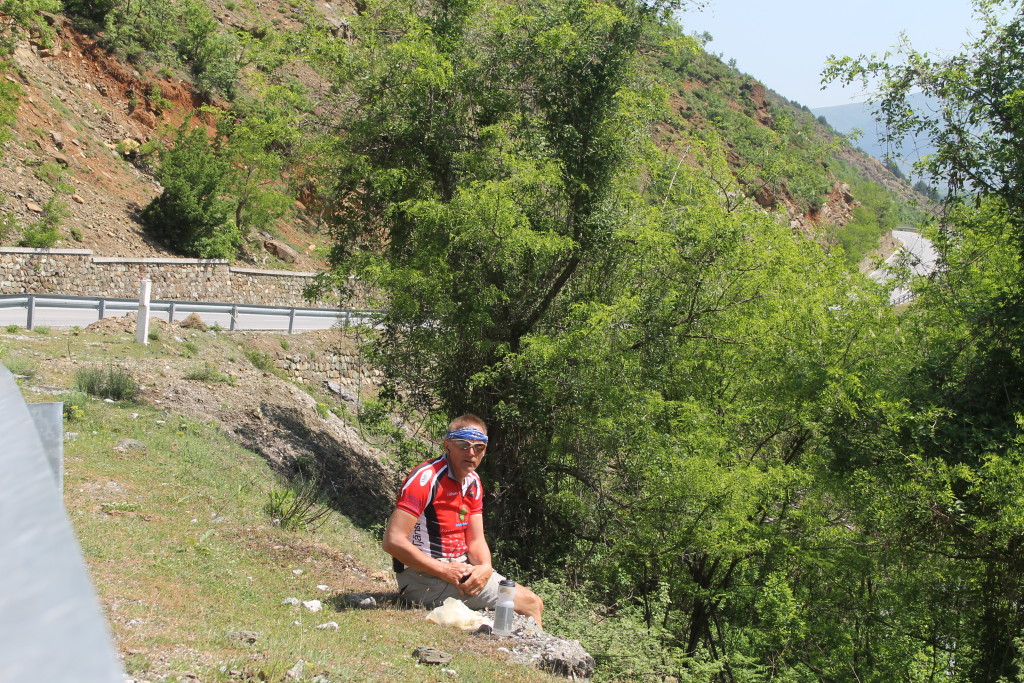 In all cases, the road divides and I did not know which to choose. I was tired of the mountains and not in a good mood. A boy standing beside the road. Should I turn left or straight ahead. I asked the boy who aswered; to left Tirana and autostrada, straight ahead Tirana no autostrada. I choose left. Three kilometers down with less than ten minutes for the road is completely discarded. Nonexistent absent. There were pebbles, gravel, gigantic rocks. Used my brakes and fend off all the way down. Then there are no more to say. The highway was new asphalt, wind in my back and slightly downhill. I took the highway all the way into Tirana. There was little traffic and a wide shoulder so it was easy cycling. The only problem was the heat and that I had no local currency LEK. In the mountains I could not buy anything. Now I was hoping my VISA card or Euro would work in a restaurant. Yes, I found not one but two places where I could pay with Euro. It's two lunches in 30 minutes. Now I felt strong and Tirana was within reach. Just 70 km to go.
15 km left I got my second puncture on this trip. Did not fix the tube, choose to switch to reserve. An operation that toke me 20 minutes. Arrived Tirana sometime after 16 after 147 km cycling time of 10 hours. I stayed at a café with WIFI to browse hostel. Found Hostel Albania just 1.5 km away. But how to get there without a map. I made me a sketch on a paper and took of to hostel. Did not find it. Got help from the wrestling coach of the Albanian national team, which ran before me in his car. Arrived and they had a bed for me. I Write these words in a café/bar on the street. On the other side is a vegetable market. It is warm and I feel good about having arrived here. Tomorrow sightseeing of Tirana.
Tirana (Albania Tirana or Tiranë) is the capital of Albania. The city's population amounted to 421 286 inhabitants at the census of 2011. Tirana, replaced Durres as the capital in 1920 when the Albanians rebelled against the Italian occupation, which ended the first world war. In "Old Town", which extends to the east and north of the squares, there are ancient buildings and architecture. Skanderbeg Square is located in the city center, next is Etehem Bej mosque, a church and the Palace of Culture. Among the attractions are also National History Museum and the Communist Party's house and Shpella e Zeze.
Here I was in almost two days. Walking in the centre. Looking at beautifully painted houses.
For long time I wanted to go to Tirana to see these painted houses. One local told me that the first mayor was an artist and he encouraged Tiranians to repaint the houses to get rid of the gray communist colors of the old town.
This is the mausoleum of the last dictator Envar Hoxha. It was supposted to be a great monument. Today it is used as a playground by the children and painted with graffiti.
Day 34 Over the mountain Tirane – Baranjes 121.6 km
It is beautiful in Albania. By that I mean that it is beautiful with the mountains and valleys. This is a view outside Tirana on the way to Elbasan.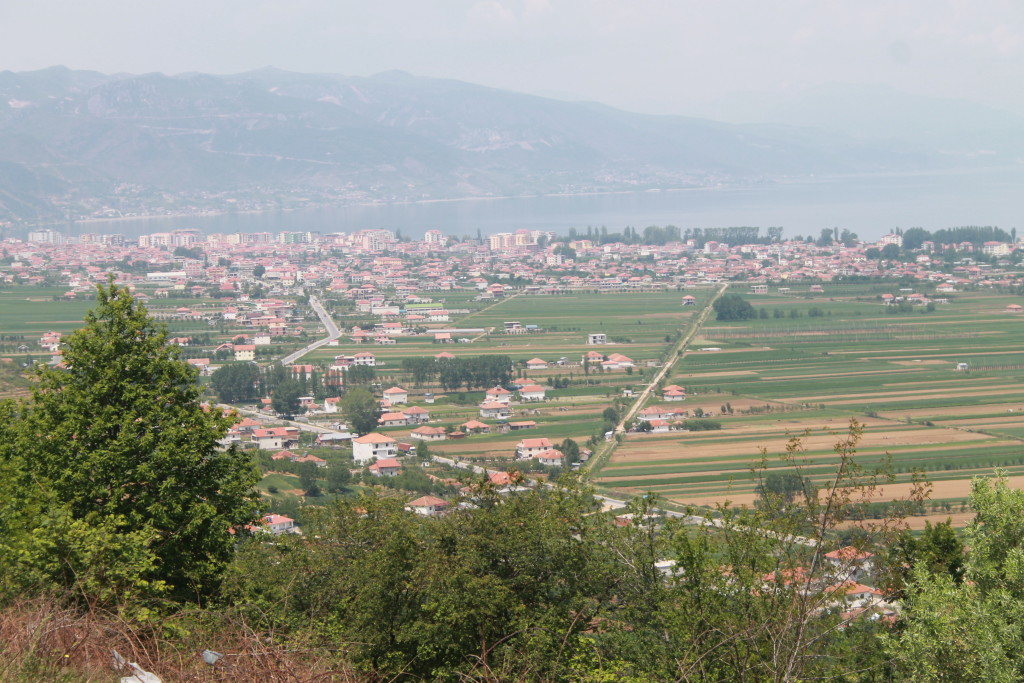 On the other hand, it's ugly in Albania as well. The Swedish tradition of planning and investigations before making public decisions of life conditions and health has not reached here. Everywhere I see waste piles and debris. In the cities, I see telephone wires in the air in clutters. Power cables everywhere. In the middle of a residential area a gas station. But now I leave this town.
The road from Tirane to Elbasan was an up and down cycling. Had no map of Albania but it was never any problem finding the right way. Because there was only one alternative. The first 30 km was uphill. Not difficult but a long time. Nearly three hours it took to come up to the pass at 900 meter. Downhill to Elbasan was 20 km. Many great pin turns . Cycle rolled downhill at high speed, I enjoyed and had fun.
Elbasan was an interesting experience. I stayed here for lunch and beer. Elbasan is a major industrial town. Through town flow river Shkumbi. The population is approximately 80 000 What I remember most clearly were all these men and boys who sold cherries at the roadside. All with the same business idea. A stick with bunches of cherries on which they showed to motorists. I did not buy any of had no place to store the. Another main business idea is car wash. Nowhere I have seen so many men and boys with a Kärcher high pressure water washing cars.
In the middle of town was the old castle, now a museum. From north to south a broad boulevard resembling those seen in Italy. Stayed for kebabs and beer. Kebab has been my favorite lunch here in Albania, in Serbia it was Pljeskavica, a Serbian hamburger, for 1,5 Euro. i stopped outside Elbasan when some men wanted to offer beer. Ok, for one I said. for it was a hot day. I tried to talk in Italian, English, German, French and Swedish but nothing worked, only Albanian and just that is my worst language. So we used sign language.
The road from Elbasan followed the river. Very beautiful. High mountain slopes on both sides and the road that wound up. It's hot. More than 30 degrees and hardly any wind that cools. Then suddenly it starts to rain. 28 degrees and rain, I have not felt anything last since last year, outside Kiev. Then it was 25 degrees and pouring rain. Then it was like a warm shower, then the rain was over very quickly.
Stayed in an uphill for the night. I did not manage any longer. I pitched my tent visible from the road behind a small pile of sand. Thought there are no houses nearby.
Day 35 meeting with locals Paranjes – Bilisht 110.8 km
My choice of camp site failed this time. 50 meters from the road, beneath me a steep 30 meters, a ravine with a brook that splashed. It was difficult sleep because the swirling from the water, cars and trucks passed by late into the night. Fell asleep at last, and woke up at early, still tired. When I open the sheet, I saw that I have been joined by a flock of sheep and its shepherd. We greeted each other and said good morning. He continues to care for his sheep, that is, cut the little ones. I made my breakfast and packed up.
The first six kilometers were easy, then climbing in nine km. I stopped for an extra breakfast at the top of the hill, then rolled down to Lin.
I followed the lake south towards Podgradec where I stopped for lunch. The afternoon was relaxing with the tailwind to Korca. Met this horse cartridge. Old technology is still in use here.
I stopped about five km from the border in an olive grove 200 meters from the road. Something about the evening meal. Boiled rice with mushroom soup, topped with mashed potatoes mix. To make this culinary meal, boil some rice, add mushroom soup powdermix and add some water. Heat and stir to mix it properly and get a nice consistency. Complete with a little potato powder and possibly a little more water. Season for flavor with what is at hand.
Summary Albania
477.2 km six days. A rest day in Tirana. Five cycle days. Mountains and valleys.
Day 36 The wrong turn Bisliht – Dialekto 104.2 km
It started off well, 5 km to the border. Nice downhill to Kastoria. Made 50 km before lunch. Here somewhere after borderpassing I was chased by not one dog but two. Come rolling at 35km/h when the two beasts, like St. Bernard's, began chasing me. One on each side of the bicycle. I felt the adrenaline rush, pedalling like a mad man. came up in 47-48 km/h, the dogs were still with me but after 200 meters they realize who was the strongest and gave up. I won.
Kastoria is a city situated on a promontory on the lake Orestiadas western shore, in a valley surrounded by limestone mountains. In Greek, meaning "κάστορας (kástoras) Beavers – the fur trade has traditionally been an important economic source of income for the city. But what I could see the fur trade is in decline. Many empty shops and factories.
Stayed at Lidl to buy food for evening and breakfast. Then began the misery. The dark clouds hanging over me began to empty its contents over me. And it was no small amount that came down. Not like our small rains at home. No, here it was like getting a bucket of water on me.
In Agos Orestiko I got totally wrong after spinning around the city center. Without realizing it I came westwards. I searched desperately for places to take shelter in or under. Suddenly I saw a cement casting factory that was open. Stopped there under a roof. Two nice girls worked in the office. They took pity on me and offered me coffee, Greek frappes. I rode on in a light rain but did not know where I was. Asked at a bar in a small village and now I realized that I was dead wrong. Got instructions to cycle back to Agos Orestiko to get to right road towards Athens. Had cycled two hours, 30 km for nothing. Is now just outside Dialekto in an abandoned farmhouse. It's been rainy all day, late dinner and I'm cold and wet. T
This is not what I expected of Greece.

Day 37 The wet and boring day Dialekto – Anoixi 88.7 km
It was a very heavy storm during the night. Thunder and lightning. It was so humid in the air and the tent that my bike computer quit. Therefore, today's estimate using Google maps.
Everything was either wet or humid. I was not in a good mood to ride, plus it was cold. About 12-15 degrees. In Neapoli I bought a new battery to restart the computer, it did not help. I got help in finding out of the city from an Greek old man that lived in Australia. I followed the old national road, Road 15. Come to Gravena and stopped at a tavern. Had been riding 50 km and it was already 15:00. Bought Greek food and I decided to ride another 30 km or two hours. Outside Anoixi after a long climb up to 900 m and a quick cold slopes I stopped in a small forest for the night
Day 38 Strange mountain formations Anoixi – Kalamaki 152 km
Woke up early, wanted to get some distance and hope to reach Athens in three days. It started off well. Easy down and wind in the back. Remained steady at +25 km/h Come to Kalabaka already at 10.30.
Had heard that there would be a meteor hit nearby. And yes, I saw it. Magnificent rock formations at long distance.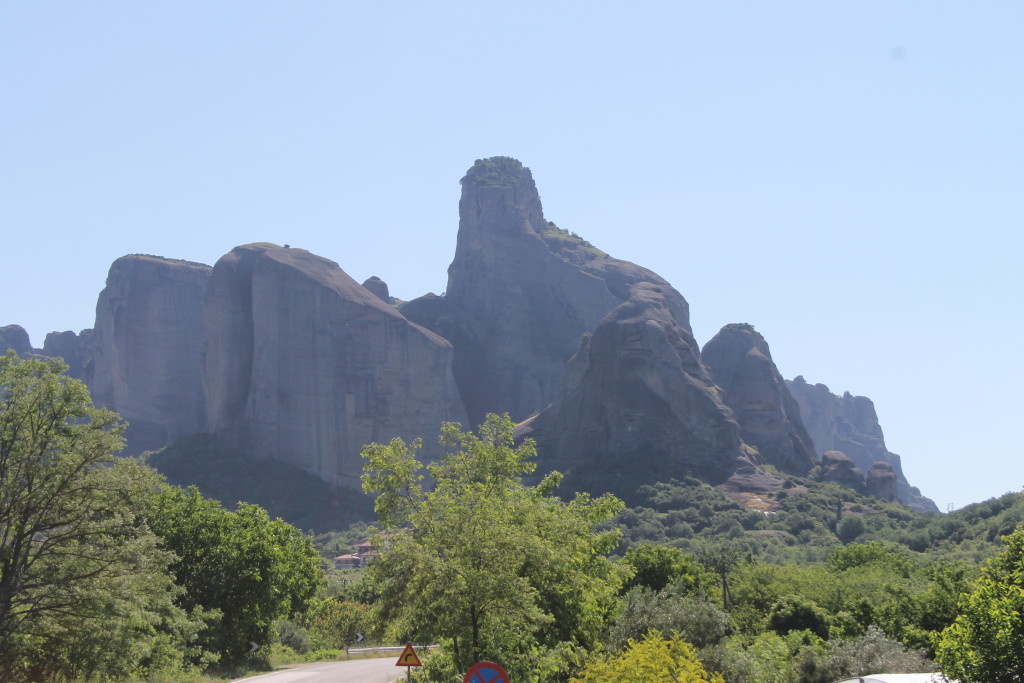 Decided to ride up to the temple which is located at the top of the formation. It was interesting images. It was 7 km to the top.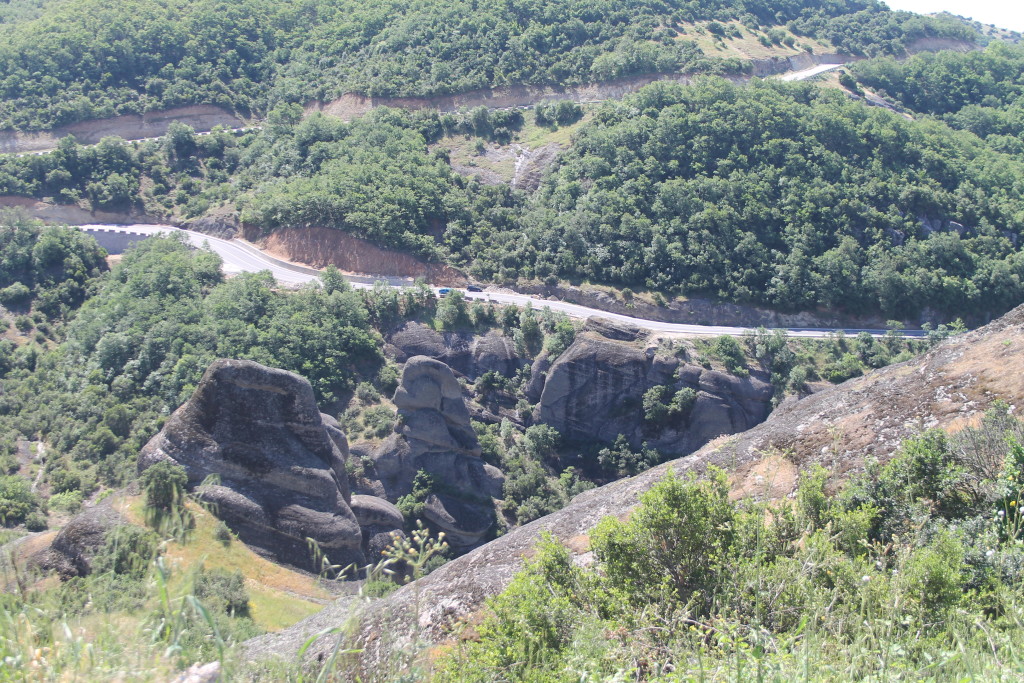 Lunch on the roadside coffee and bread. Since the wind was favorable I rode on after a short break.
Cycled through the plains in the middle of Greece, the surrounding hills and farmland. Took me through Karditsa without problems. A large city with 126 000 inhabitants. The city is built according to a grid pattern. Narrow streets with heavy traffic. The rest of the day on a big road to Lamia. It's clear that Greece is in crisis. Many shopping malls are empty. An entire shopping mall was empty. The way I cycle on was half completed. It is noticeable that the job stopped for lack of money. Two lanes, four lanes, sometimes half asphalt pavings and access roads that are off unfinished.
Day 39 More climbs Kalamaki – Kato Titorea 131.2 km
This day went on as before. Overnight camp this time where the climb began. Below me, a gas station, cafe and mini market, about 400 feet above a cornfield, Above me the way. Started to Ride 8 km uphill.
A quick descent to the next valley.
Stayed in Lamia for sandwiches and coffee and to use the internet. 250 km left. A straight heading south toward the mountains The old trunk road. Up ahead somewhere, the road that will take me across the mountain.
In front of me the mountain and the road towards it, but I could not see the ascending climb, but I knew it was there.
Sometimes there are animals on the road. As this goat herd.
It was 12 km climb in rain. Wet like a dog and cold, I dressed me well for the descent. A beautiful valley. The road follows the river. Camp in an olive grove. Livadia about 15 km away. Rain during night. It started before midnight and then the next day. Talked to two Dutchmen who were on their way home from Turkey.
Day 40 Last day Titorea – Athens 133.2 km
This was a miserable morning. The rain hung in the air and splashed a bit. Breakfast was minimal, I had finished all my remaining food. Had only left a little oatmeal and coffee. Packed up my wet tent. Put on my clothes that smelled of sweat and dirt after 6 days of cycling. This would be the day of this trip.
Stayed in Thiva for a coffee and sandwich.
Followed the old trunk road. Although it was old, it was dense truck traffic. Cycled up with two Frenchmen who was on their way to Delhi. Got my second chain break today. Maybe time to change the chain?
The rain continued and I was approaching Athens. Had realized that if I continue on this path, I will get straight into the Elefsina and the highway into Athens. Wanted to avoid it, and had seen that in Oinio I could take a minor road into Athens. My mistake that I missed Oinio and the exit. Ended up in Elefsina and highway anyway.
Continued towards the center of Athens or what I thought was the center. There were no signs I could read. Asked my way to Monastrakikis. First I stopped a taxi, said he would drive in front of me and I follow him. Not needed, he said, I's just barely one km to go and the streets are so narrow that he can drive in there. Followed the taxi driver's instructions and came closer. Asked four people who gave four different answers. This is clearly so that Agias Theklas streets in several cities. Athens is composed of several "cities2 that are built together. Got help from a police officer and found the right street and the hostel. Soaking wet into my bare skin. It was good to get inside and take a warm shower.
Here are some pictures from Athens, more is on the Gallery 2012 page.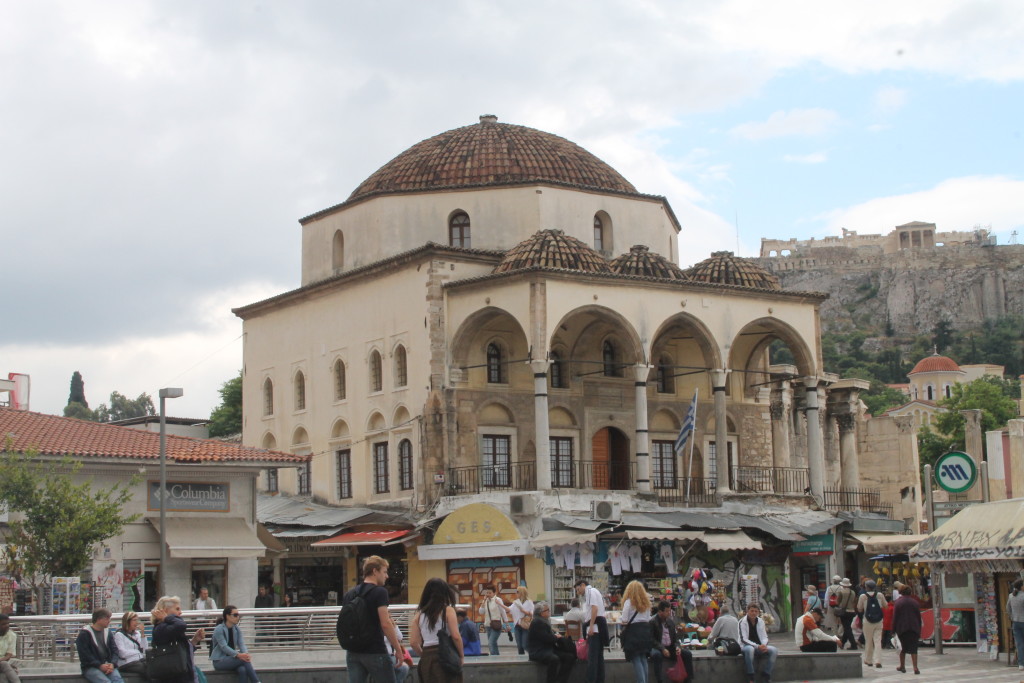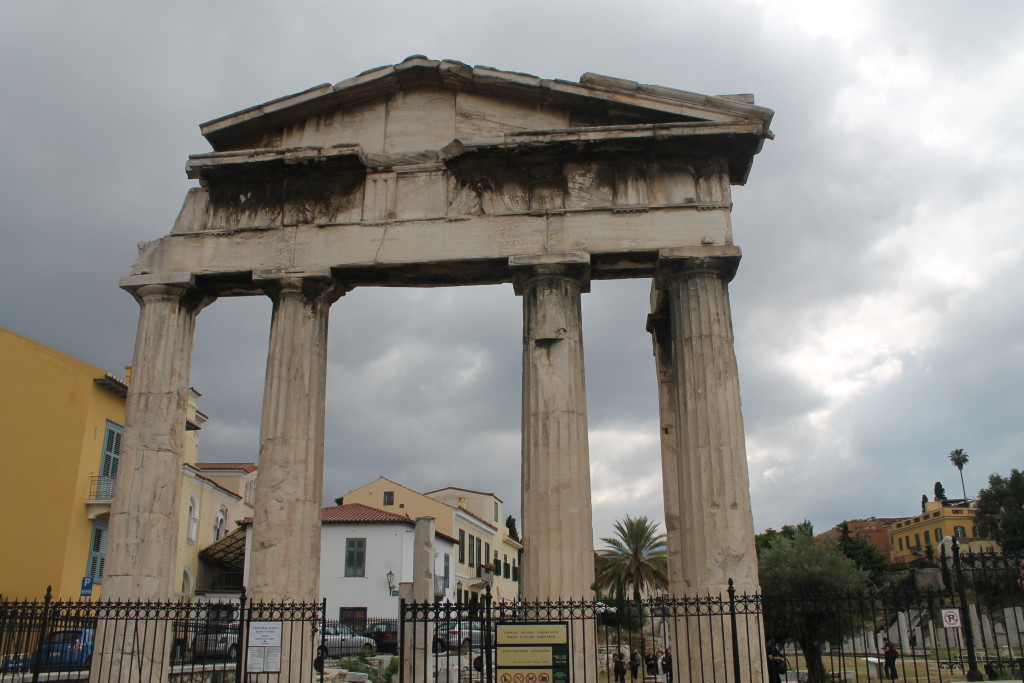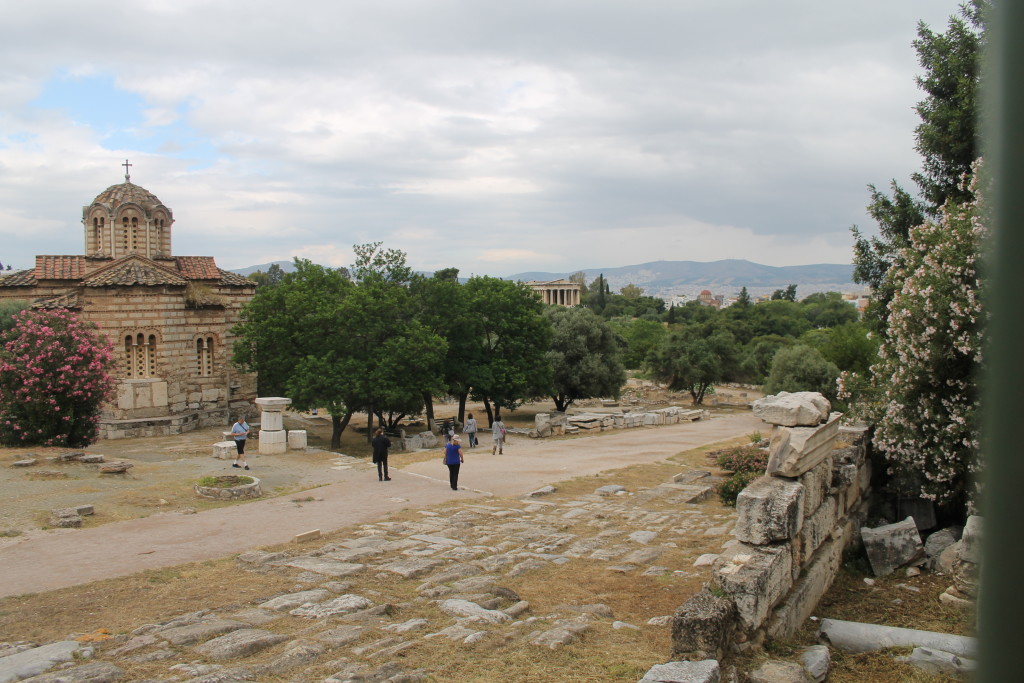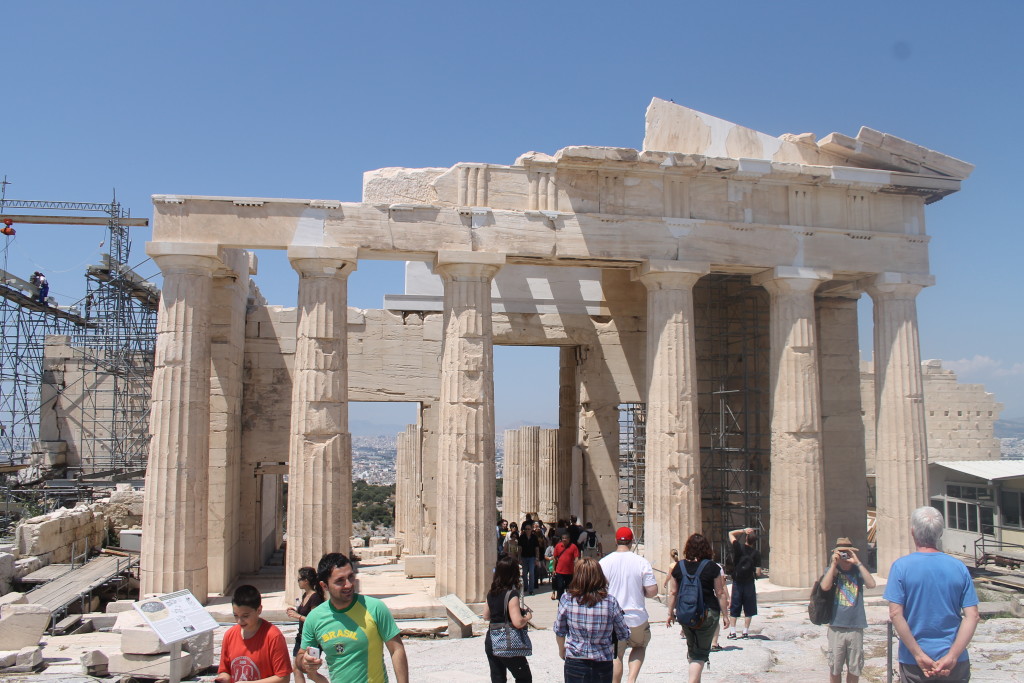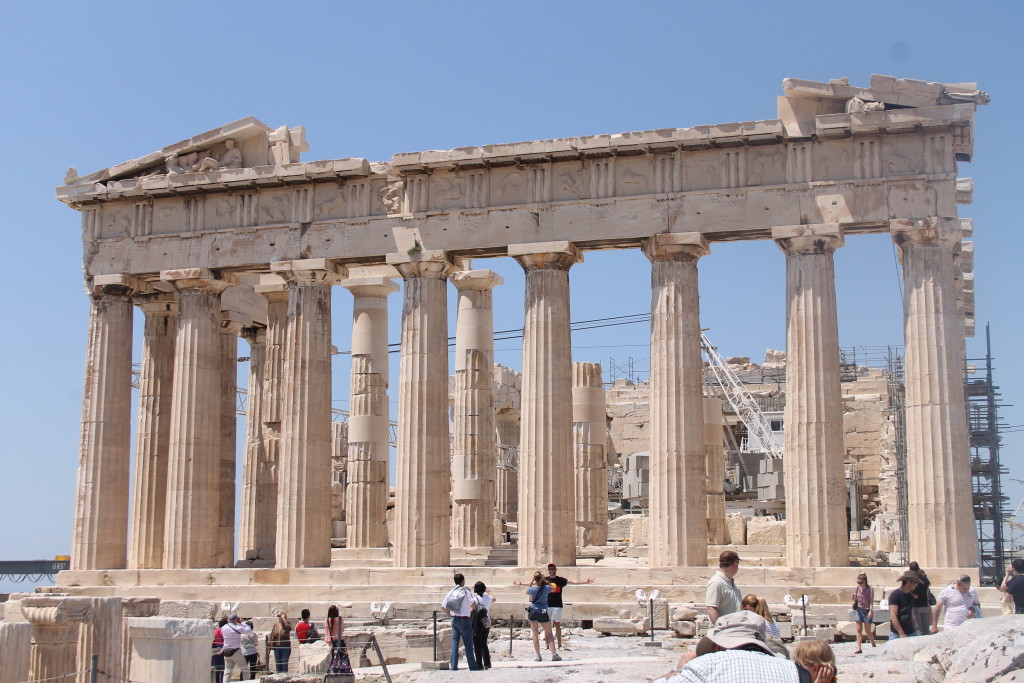 I Stayed five days in Athens in Athens style hostel. One day I took a trip to the ols (1984) olymic area. Here it was obvious that the economy in Greece was in bad condition. No maintenance in many years.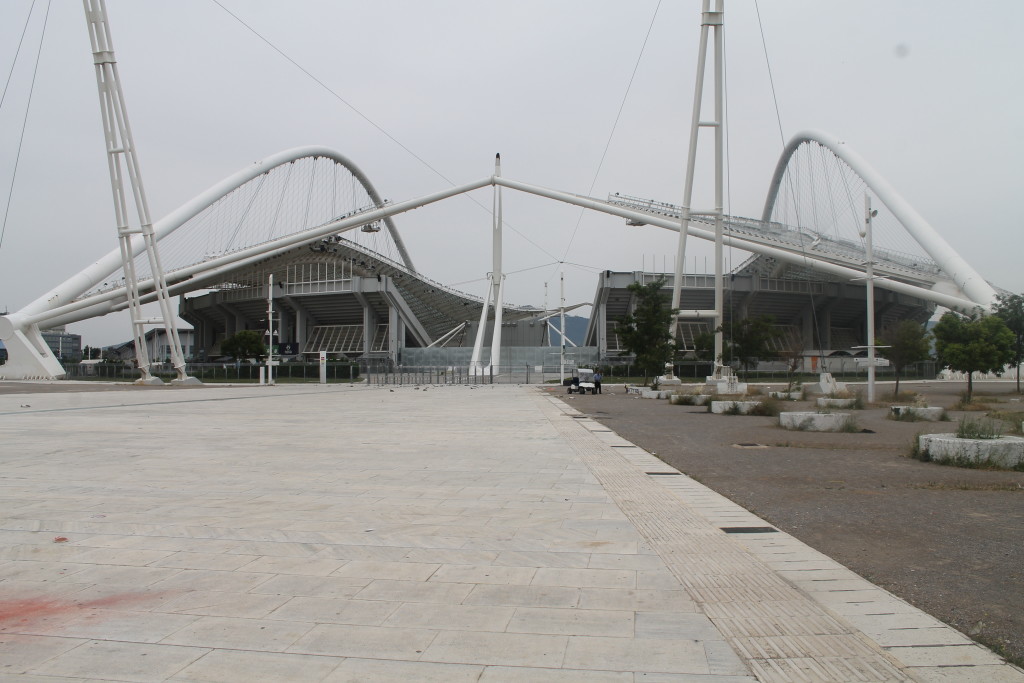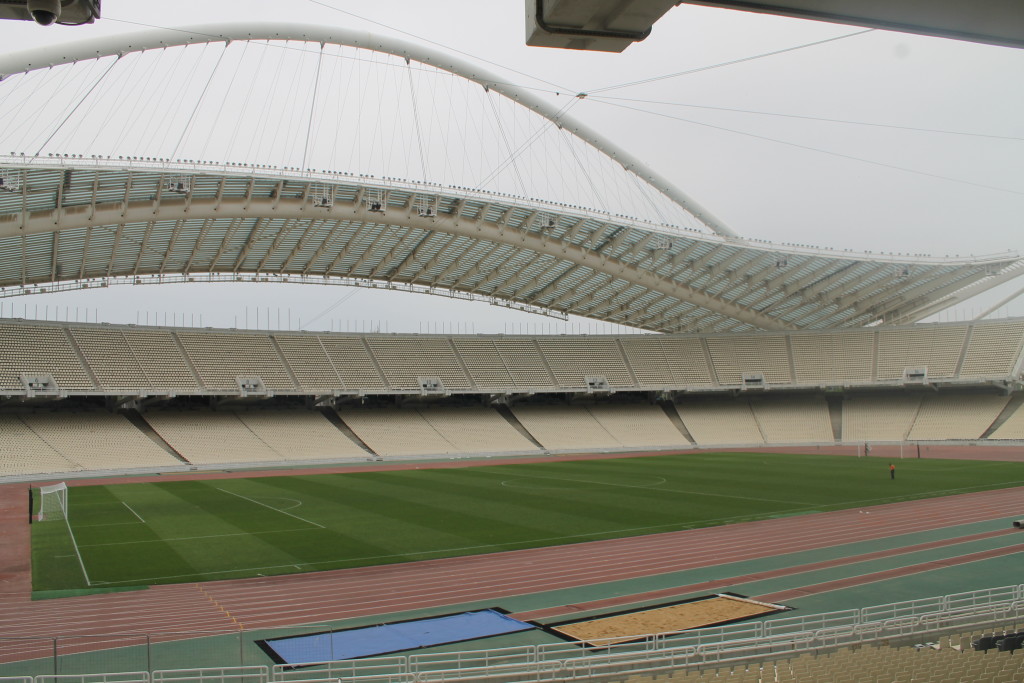 Another day I took ferry from Pireus to Aegina. The nearest island with ferry connection.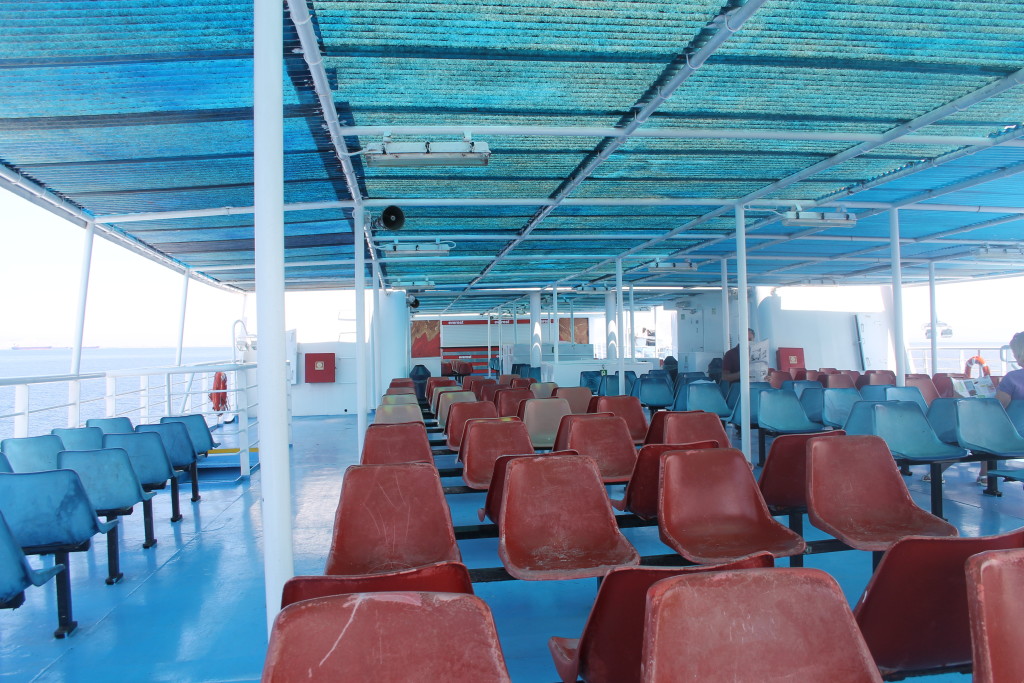 This was about my cycling to Athens. Continue read about my cycle experience 2013 here.