What do you do when it starts to get hard to sit still on the chair. When you sit in front of Google maps in evenings and dream away. When you look for exciting cycling routes in train travel through Sweden. You make a career break and bike of course.In a new job, threfore, this year cycling experiences stays in Scandinavia. My plan is to to ride north towards Östersund, where I turn and pedaling back home.
Those of you who have been with me before know that I'm not much for planning. My plan looks like this:
Determine

where you want to ride a bike

Determine date
Start saving money
When the day comes, start cycling.
That's how easy it is.
What is the theme of this trip? I asked that question to myself when I started cycling and f thought about it until I got home. Maybe it is how Sweden's prosperity grew with the forest, ore and hydropower. From Östersund, All the time place after place evidence and examples of how specialization was a driving force in the development. In the north ore and minerals was broken. A little further south refined ore in blast furnaces in the north of Bergslagen. In southern Bergslagen ore used to make steel. Round Lake Malaren grew up manufactures which used steel to make products. In Stockholm was the capital.In this way runs all capital flows to Stockholm from north to south, and this I saw very clearly on my tour through Sweden. So it may be the theme of this trip.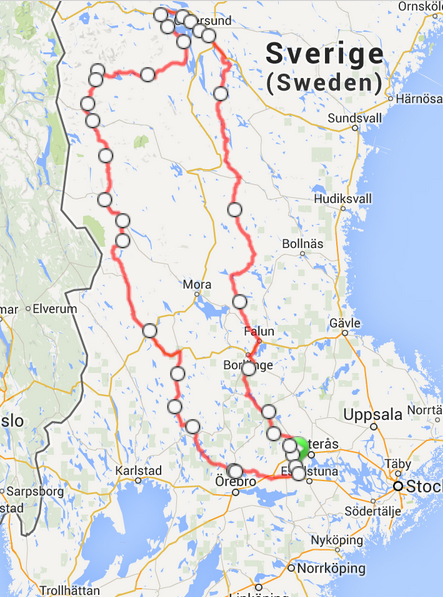 6 juni Kvicksund – Malingsbo 106 km
I left Kvicksund in a reasonable time in the morning. My two guests from Germany was not seen by so I wrote a note to them. They were just passing through on the way from Berlin to Finland and the Baltics. On well-known roads I started cycling at 10 am.  However, after 4 km I realized that something what was missing. My camera. Turned back and came home again after 35 minutes. The Germans were awake and I left them again.
Happy I remembered the camera, I wanted to test it on this deserted house.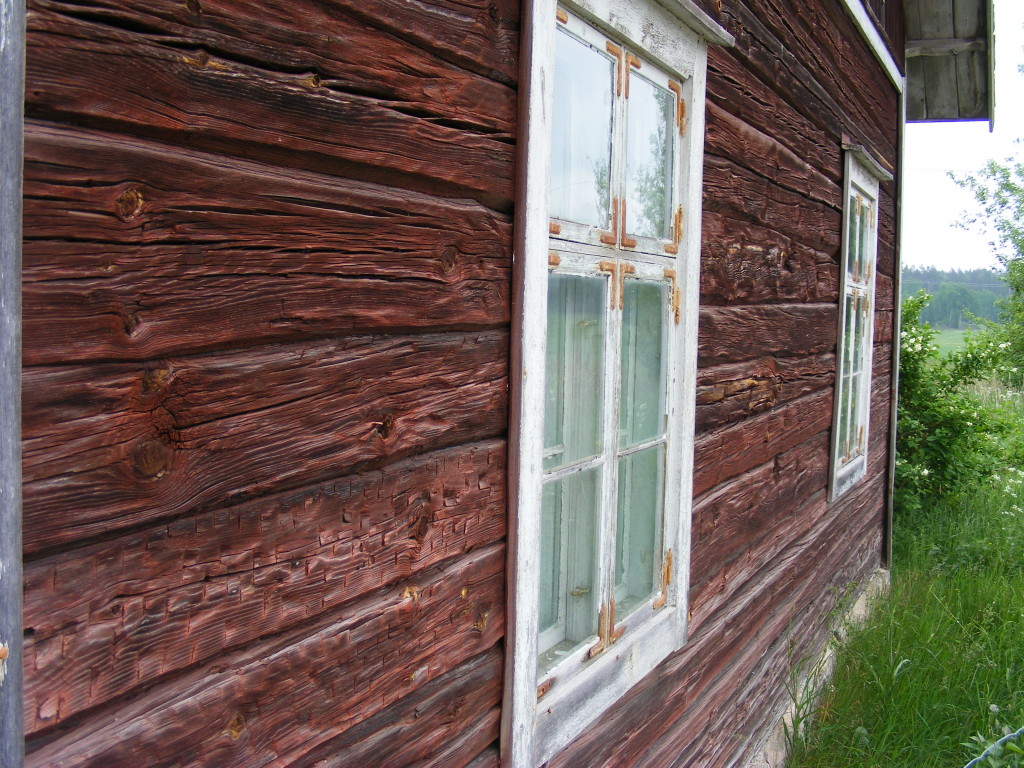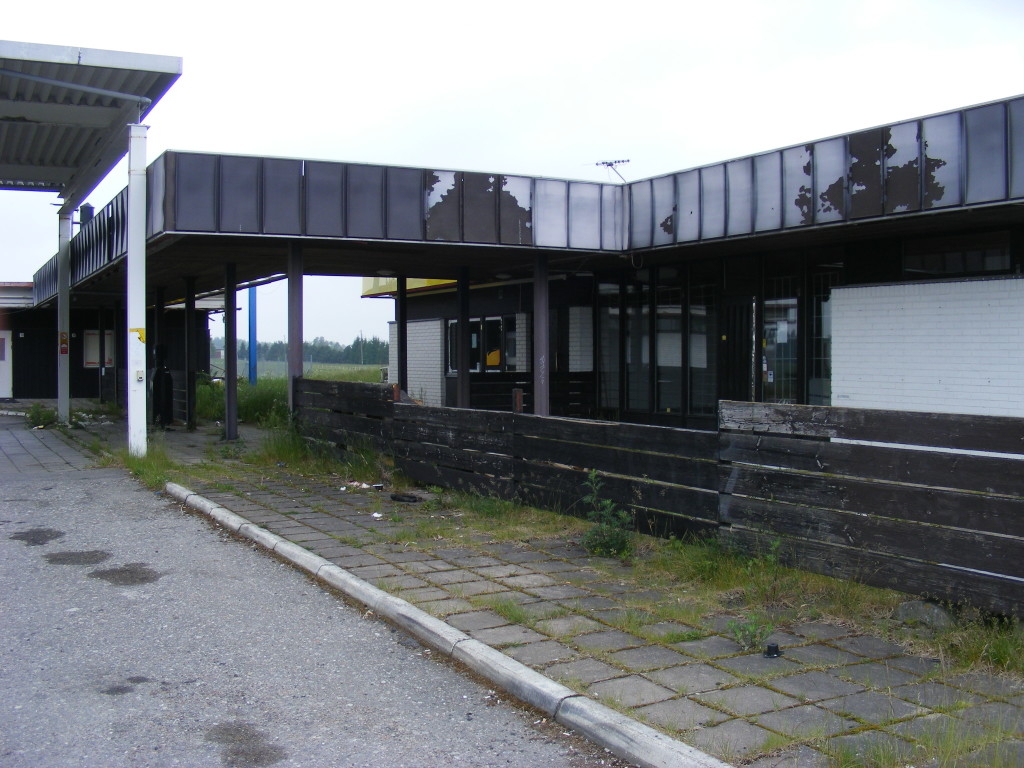 Sweden is changing. This is an example of that. Just outside Köping, an abandoned fuel station and motel. Memories of good old days.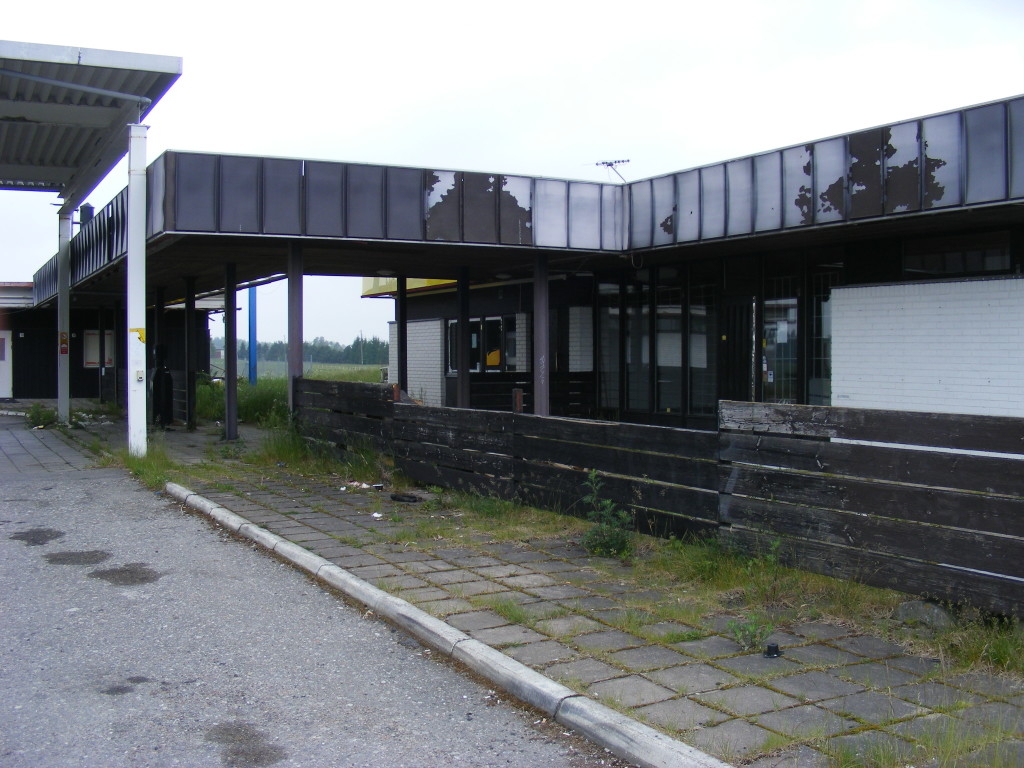 The first stop was in Kolsva. I came there at 1 pm. From Kolsva I had found nice little roads with no traffic. The cycling was easy. From Kolsva I took the first right exit after the bridge. The road winds its way through the beautiful landscape. Plenty to look at and my thoughts wandered off. "It is nice to be on the bike again after nearly 7 months."
In Uttersberg I stopped for a while in the sculpture park and looked at the art in the old station building. Utttersberg is an example of the iron ore processing. In Uttersberg was a hammer mill (Flohammaren) in the late 1500s. Uttersberg mill was acquired in 1873 by a consortium that developed and modernized the plant. In 1875 started a blast furnace and participations in Grängesberg mine and Pershyttan purchased. Flohammaren was closed down in 1901 and the mill closed in the 1920s. Of Uttersberg ore and foundry remains only ruins of coal, tank and water channel, stable, barn, dairy, construction and manor. Today Uttersberg is best known for the sculpture park.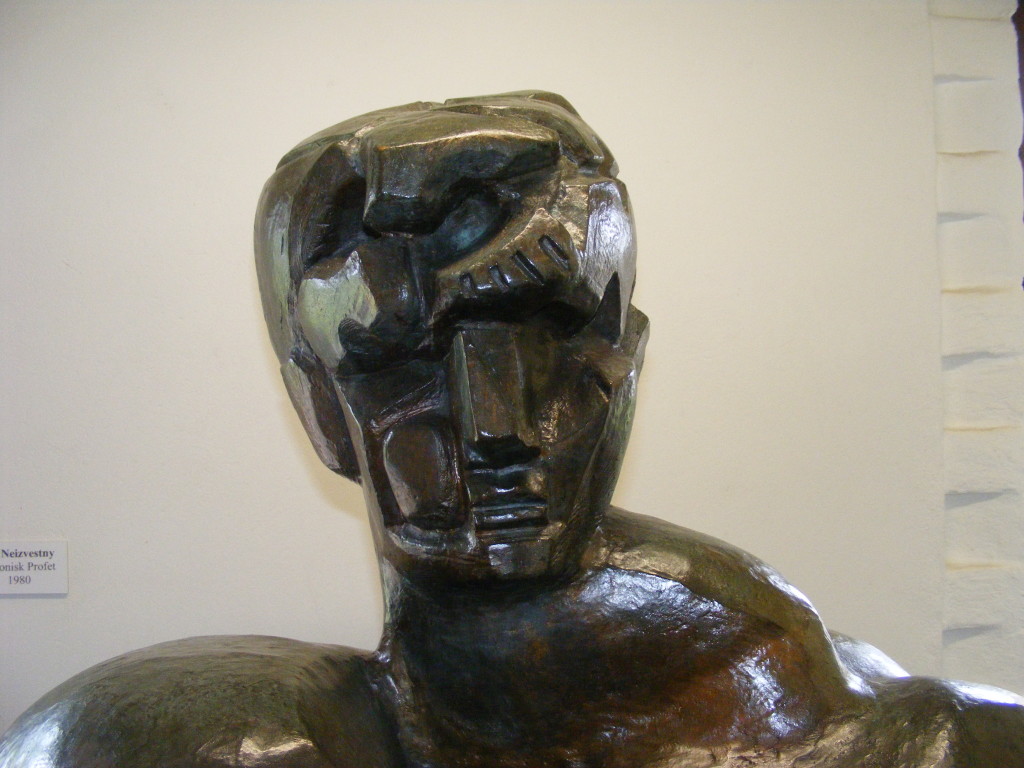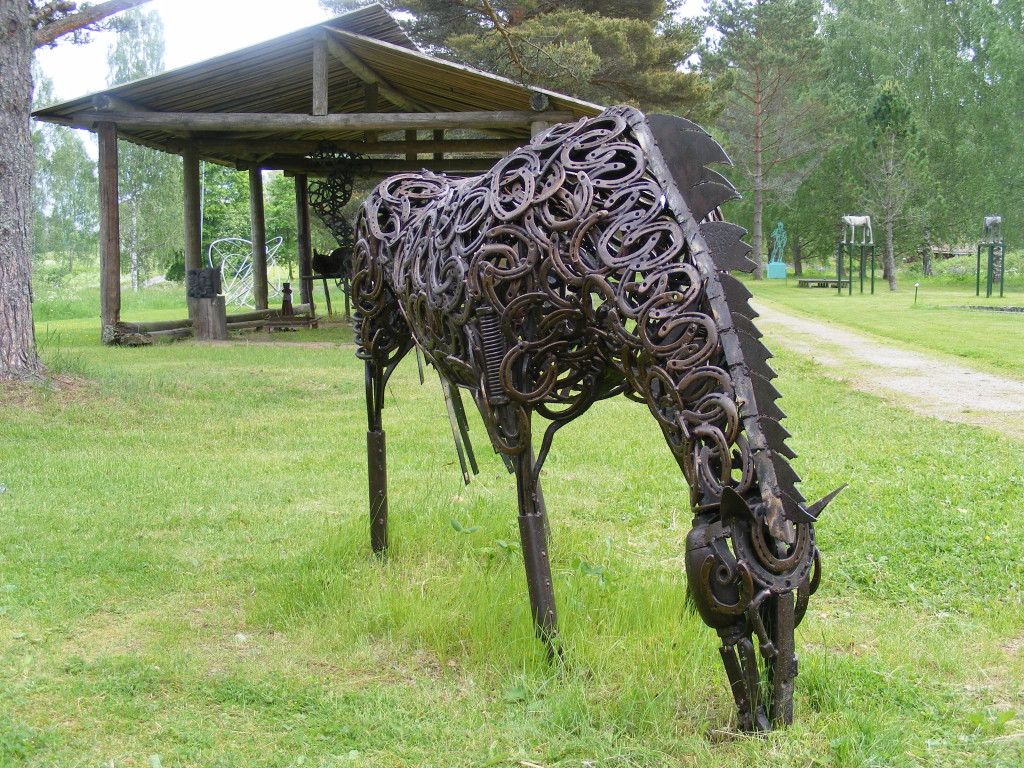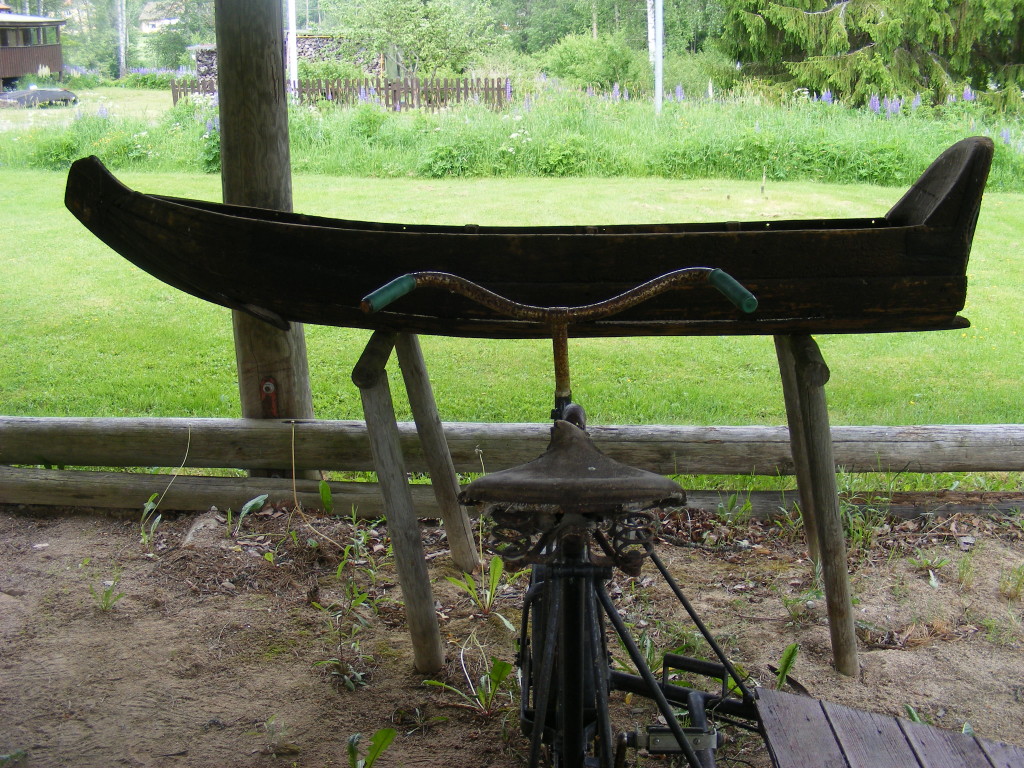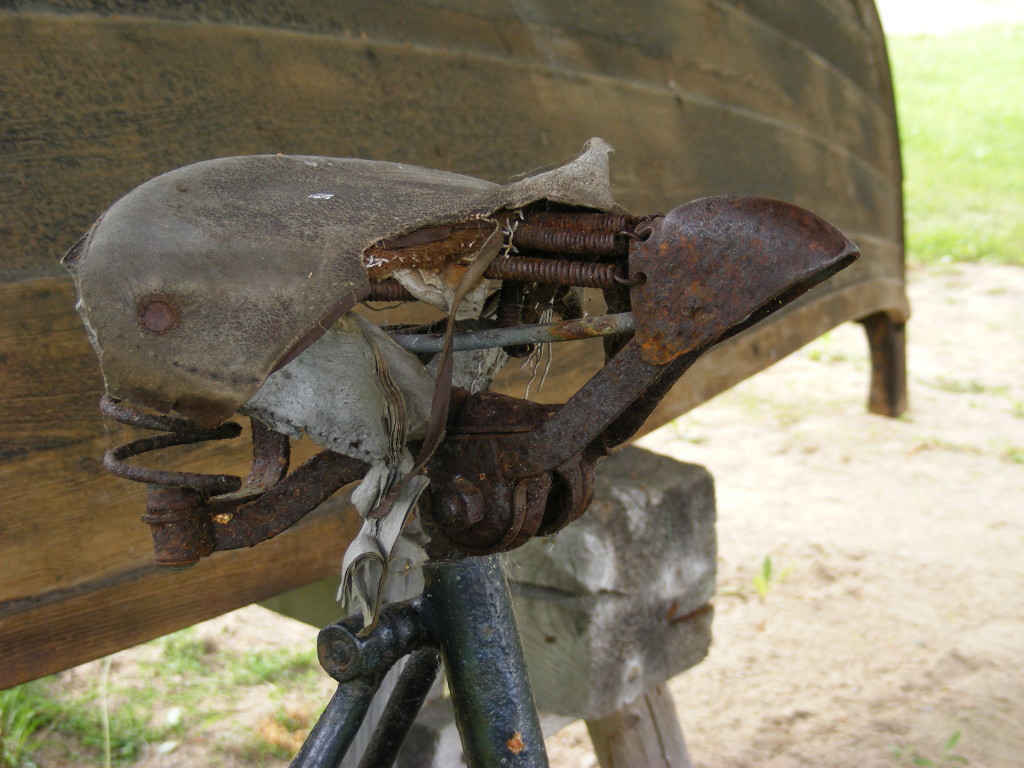 I arrived at Road 68 and took a right turn towards Riddarhyttan. In 1610 the privileges was given for a foundry and a hammer at Riddarhyttan, founded by Tomas Hammarsmed. Riddarhyttans copper mill was built in 1616-17, and can be seen as a continuation of the ironworks that existed in Skinnskatteberg. When the copper foundry was closed in the early 1800s a new was built up at Nedre Skärsjön, just east of the existing urban area. A portion of the crude copper produced went to the coin factory in Avesta. The copper plant was finally closed in 1873.
After Källfallet I took off left onto a dirt road. After about 20 km I came to the road 233 which I took to the left towards Malingsbo. Malingsbo originated in an ironworks erected in the 1620s. Mill operations were acquired during the 1630s and 40s of coins master Markus Kock, who expanded the facility. Malingsbo mill climax came to be during the 1700s first half. Mill Operation ended in 1891, and in 1899 it was sold to the Swedish state. Here in Malingsbo I could fill my water bottles at the cemetery. Then I continued one kilometer after the camp ground where I found a nice road down to the lake. There, I pitched my tent. I was very tired and fell asleep almost immediately. It was a beautiful evening.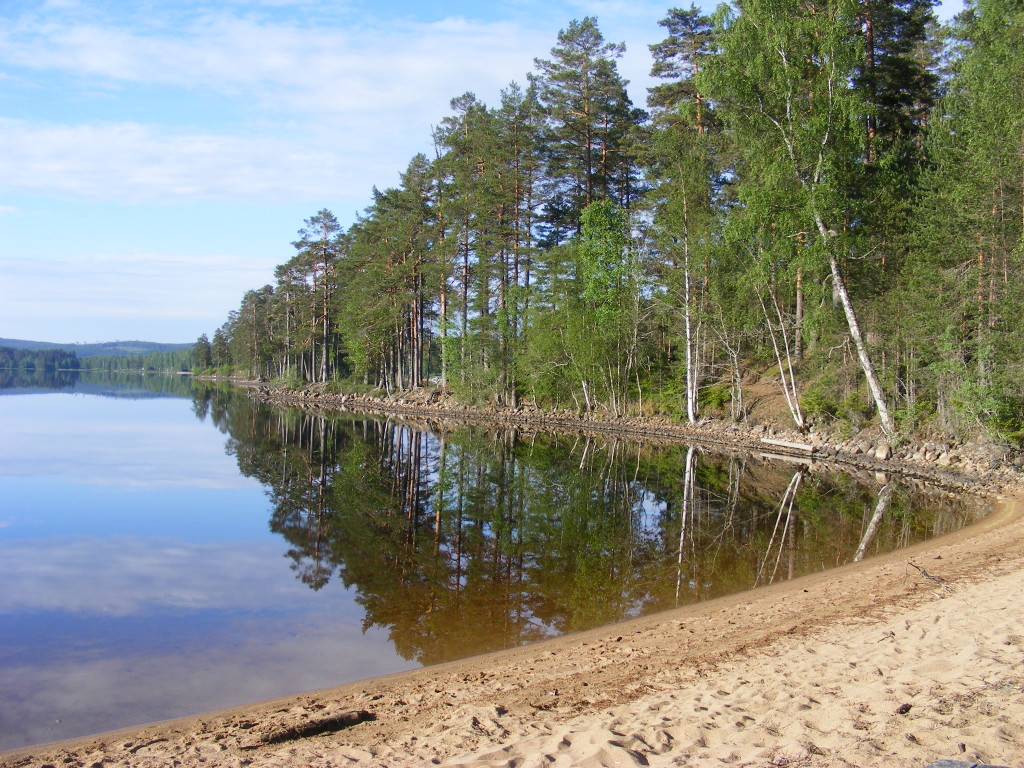 7 juni Malingsbo – Näs 96 km
Up early and a vivid fight against mosquitoes while I tore the camp. Come off in good time and was aiming to be in Sunnansjö before lunch. I have been looking for smaller roads to avoid cities.I passed outside Ludvika. In Blötberget I saw the old railroad, made bicycle path, with km signs. 13.9 km to Sunnansjö. But it was just that I took of towards Grängesberg instead. So it became 23 km instead.
In Sunnansjö I bought a small snack before continuing. In Norhyttan I ate lunch and fell asleep in the sun for an hour. Norhyttan is known for its glass works since the 1640s. The foundry was at Lower Noren outlet and gave the name Norhyttan to the village which was then called Mageråsen and was a summer pasture to Västansjö. "Slag Castle" is located next to the east side of the highway.
"Slag Castle" is located next to the east side of the highway. "Slag castle" in Norhyttan was a big barrack built in 1884. The building contained residential house for mill and forestry workers. The building consisted of two floors with attic under a gable roof. The outer walls were 60 cm thick and built of slag and slag chips with hints of blue and green stones.
Slag castle
8 juni Nås – Mångsbodarna 114 km
Näs is best known for Ingmarsspelen, which has its base in Selma Lagerlof's books Jerusalem 1 and Jerusalem 2, (1901-02). The story is based on a real event, namely about 37 farmers from Näs 1896 sold everything they owned to make a pilgrimage to Jerusalem, where they joined a Christian colony. But I thought of other things, so I left Näs. I took the road west of Västerdaläleven towards Vansbro. Around here somewhere the forest began. km after km with fir and pine  trees. In Vansbro I spun around a little before I stopped at the local grocery store for a Coke. From Vansbro I took the road 26 towards Johannisholm and E45. On the way from Vansbro you pass the start of Vansbrosimningen. There a right turn and after about 5 km turn left towards Venjanssjön. A beautiful road that wound its way up and down along the Lake Venjanssjön. In Venjanssjön I took north toward Mångsbodarna. I came to Mångsbodarna early and took it easy. Mångsbodarna is, as everyone knows, a depot Vasaloppet. Probably because thats why it has Internet connection there.
 9 Juni Mångsbodarna – Särna 95 km
I Continued early westward towards Sälen but already after 2 km I took a right onto a dirt road toward Lövnäs. The road was in bad condition 38 km to Lövnäs. Long time ago the population of Lövnäs subsisting mostly on forestry. Today there are 35 residents in the village and most people commute to work. In July, on a Tuesday (week 30) are held every year the so-called Finnmarkday. That day attracts thousands of visitors. There you can see many artisans showing their creations, you can eat local food and visit the garden Villa Blåkula with over 2000 plant species.
I continued without stopping to Nornäs where I ate lunch.
In Nornäs I took the north on a gravel road. Look for a red house with Cafe and a german flag. This road was a bit better and I arrived after 25 km to Särnavägen, road 311. Thre are a grocery store and gas station In Särna so I took the opportunity to buy some things I needed. I continued on road 70. I stopped for the night about 8 km north of Särna on a camp site .I was quite pleased with today's effort.
10 juni Särna – Funäsdalen 111 km
Before I left Kvicksund I looked at my tires thought that they would last to Östersund. Today I had to shift them because they would not last. After that I continued north on Route 311 towards Tännäs 89 km away at a pretty good gravel road. I passed Högvålen, Sweden's highest village at 830 meters above sea level.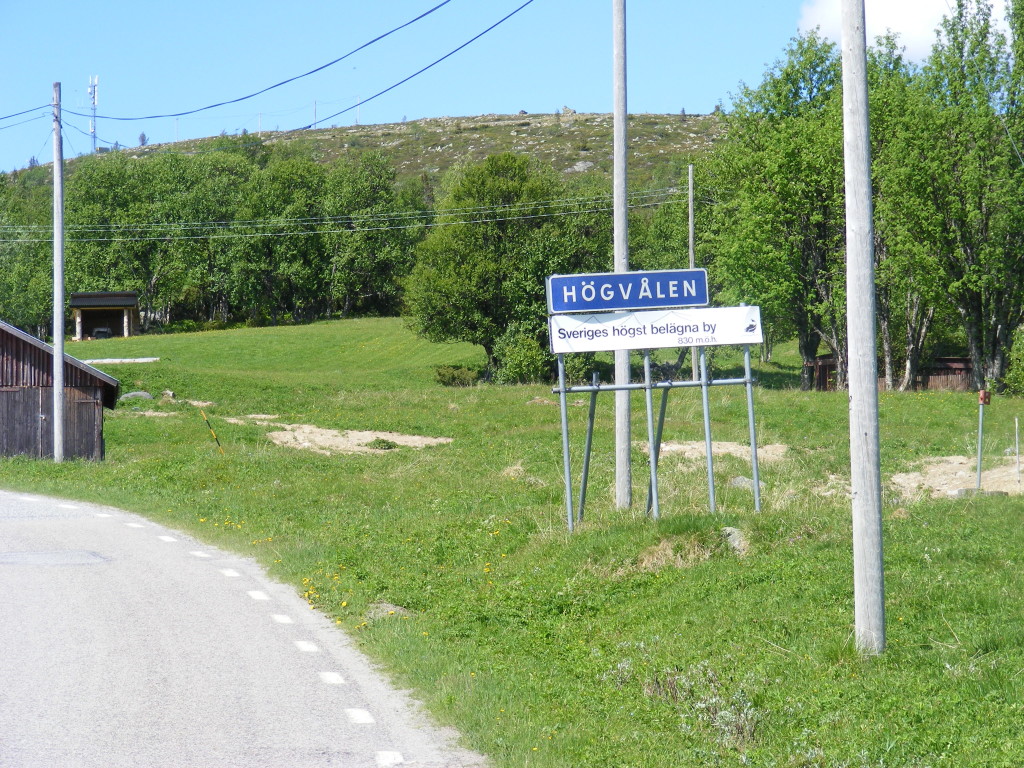 Finally, I came to Tännäs fishing center. If you pass here take the opportunity to talk with Heike and buy a fish or two. I taped my front tire here, I saw that the tread started to run out. Got the hint that Top Sport in funäsdalen have MTB tires so I hasten forward with hope to get there before they closed. Out of Tännäs it is a steep hill, 9% it is written on a sign. Tännäs is also Sweden's highest village. – 648 meters above sea level. The church was built during the years 1855-58 and is a wooden church. If you don't have to rus to Funäsdalen take the left side of the T-junction at the top of the climb and take the gravel road to the left of the mountain. If you hurry, turn right on road 84 which is paved and faster. I came to Funäsdalen in an hour but did not find Top Sports. I think I was looking at the wrong place. I gave up and went ahead and stopped for the night a little outside Funäsdalen.
 11 juni Funäsdalen – Högån 137 km
I had come to Flatruetvägen that goes over the mountain Flatruet. The road is often closed at night or in bad weather. There is a signaling system that warns when the road is closed, the road reaches a high of 975 meters above sea level, making it Sweden's highest public road.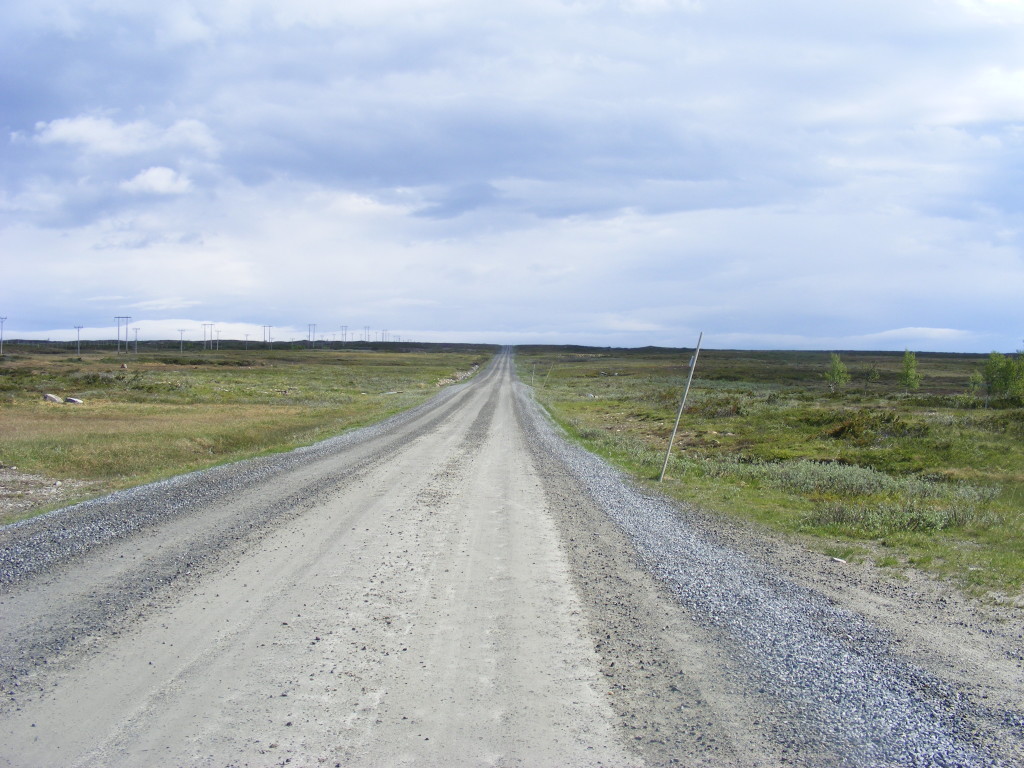 Ljungdalen is 38 km away. On the way there I pass Mittådalens Sami village.
After Mittådalen it was a climb that was more than 6 km. Once up, it was a great view of the mountains especially north towards Helagsfjället.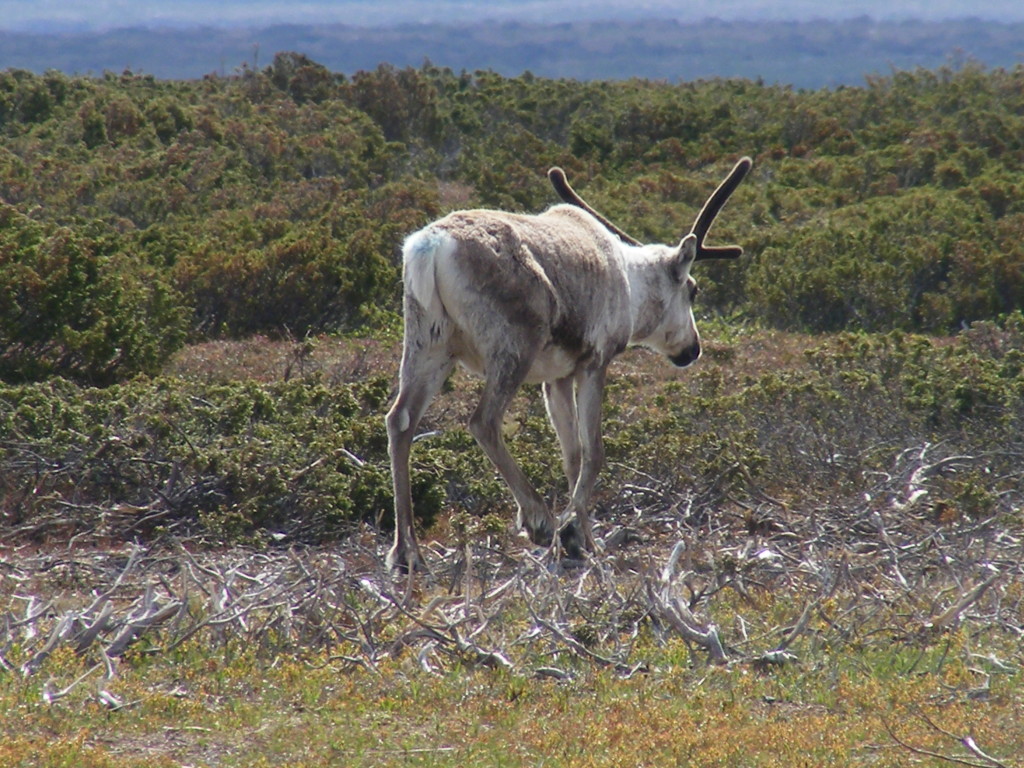 I saw four reindeer but oh how timid animals. It was enough, I picked up the camera so they disappeared.
A little later I saw a moose run across the road a few hundred yards in front of me when I was cycling in full speed downhill to Ljungdalen. In Ljungdalen there is a goricerty store. It was a perfect place for a snack break. I met at a Swedish couple who went "green belt" from Grövelsjön to Treriksröset. Ljungdalen is located in Jämtland where the forest meets the high alpine, with Sweden's highest peak south of the Arctic Circle – Helagsfjället and Sylarna. The village's name comes from the Ljungan which gave its name to the entire valley. The village is placed relatively high up in the valley and surrounded by mountains on three sides.
I wanted to come to Ostersund the day after and figured out that I should be in Kövra before the evening to catch it. Those 100 km to Kövra was easy with tarmac road and a favorable wind fro  the west.
To Börtnan, Sweden's coldest place; as it says on the sign when you come into the village, it was 67 km. Here I turned left onto the gravel road to Kövra. It was a beautiful road and I didn't see any cars. It rumbled ominously around me. Rain and thunder was in the air. The night looked like getting wet, I thought. After an long downhill a few km before Kövra, at the small brook, Högån, I saw a shelter. Made to fit my small tent and I stay therefore there. It was fortunate for a little later the rain began to fall. A small battle against the mosquitoes made me quickly lfinished my dinner nad jump into my tent, away from the mosquitoes.
12 juni Högån – Östersund 113 km
The rain was poring down all night. I was lucky I found that shelter.  After the usual morning procedures I continued towards Östersund.  It was easy cycling down to Kövra about 8 km down the road.  I took a detour to Kinderåsen before I came down to road 321. A little hesitant about how I would continue but after a while I came to Myrviken.
Östersund 47 said the sign. But my plan was to go around the lake, so after a brief hesitation, perhaps three seconds, I took left, to the north. If I didn't have headwind all the way to Mattmar  It would have been easy cycling. But now it was headwind and a bit hilly. In Mattvar there where no alternatives more than the E45 east. E45 I the eoad to Trondheim and full of 24 meter long trucks. After 20 km I got to Ytterån and could leave the E45 towards Östersund Airport 22 km.
Which meant that I had 30 km left, with the wind at his back. I approached Ostersund 10 km left.It was lucky that I found this shelters for the night the rain was pouring down. After the usual morning procedure so I continued. Glad I was soon in Östersund, I set off just before eight. It was easy, mostly because it was down to Kövra that I came to after a few miles. Took a little extra turn to Kinder ridge before I came down to the road 321. A little hesitant about how I would do when I after a while came to Myrviken.
Ostersund 47 to the right. But my plan was that bike around the lake so. After a brief hesitation, perhaps three seconds, I took the left, to the north. Had I not had a headwind all the way to Mattmar I had said that it was easy cycling. But now it was the headwind and a bit hilly.
In Mattvar there where no alternatives more than the E45 east. After 20 km I got to Ytterån and could leave the E45 towards Östersund Airport 22 km. Which meant that I had 30 km left, with the wind at his back. I approached Östersund 10 km left.
I pass the airport exit and knew that soon I will be in Östersund.
I came to Frösön and followed the bike path to get over the water on the GC bridge and I arrive in Östersund. Here, I stayed at the Scandic downtown hotel. I started my evening with a good hot sauna, followed by a dinner at a nearby restaurant. 
13 juni Östersund 0 km
No cycling today, only some sight seeing in Östersund.  Took the opportunity to wash my clothes, buy new tire and stock up food for nest coming days. Last evening before continue home I vent to Jane Doe Rock Bar http://www.janedoebar.se I bought a pulled pork pizza. Probably the first and last time I eat such a pizza. Lagunitas Summer Ale was accompanying the pizza. It was a good end to my days in Östersund and I was looking forward to get back on the road homewards.

Pictures from Östersund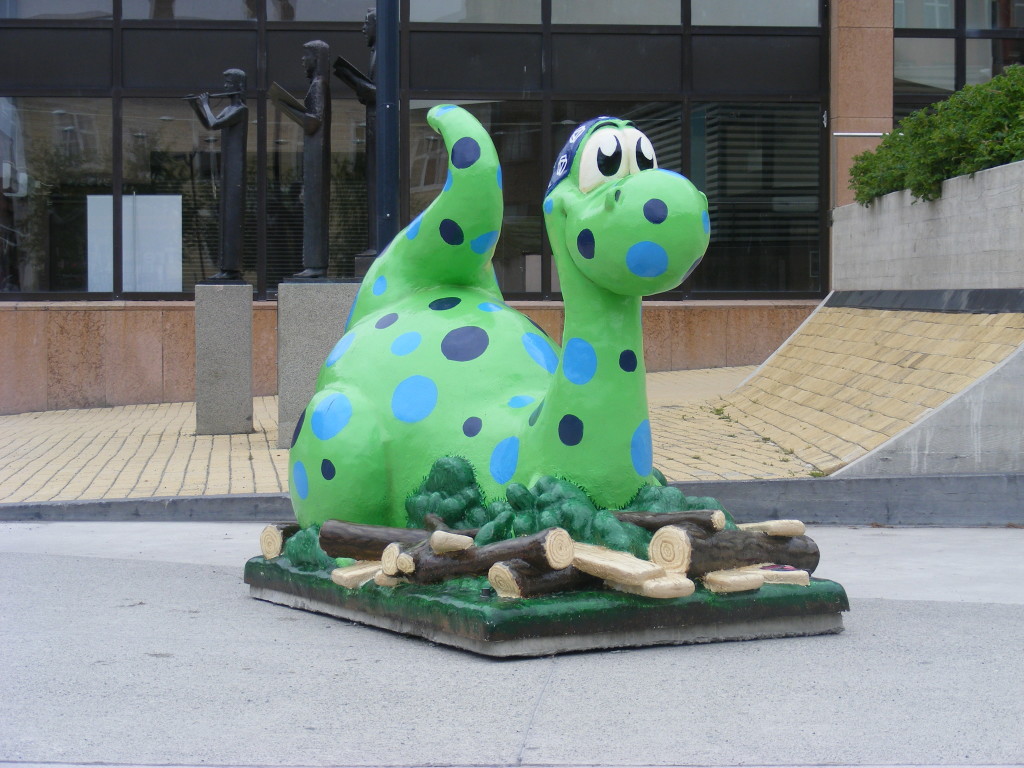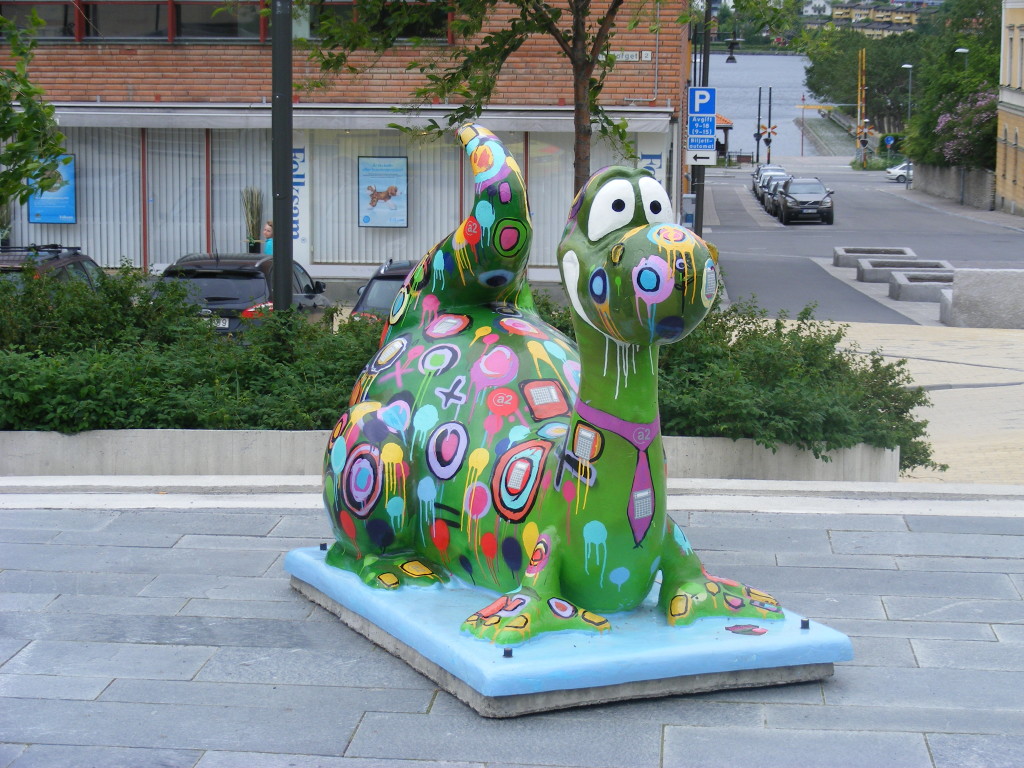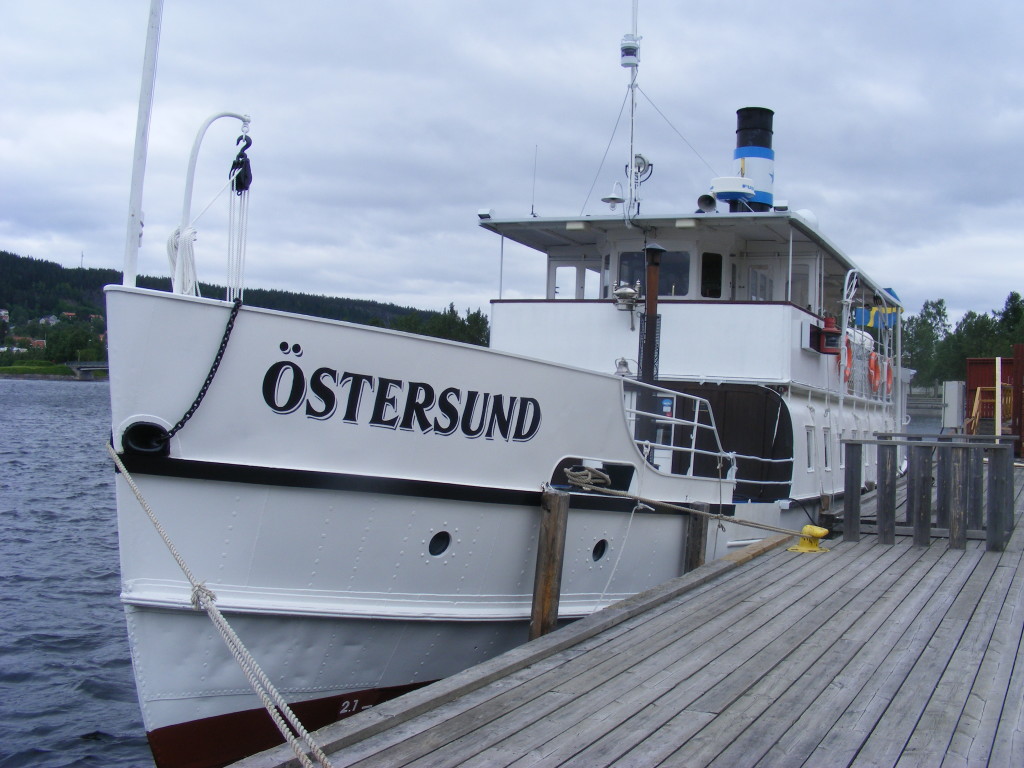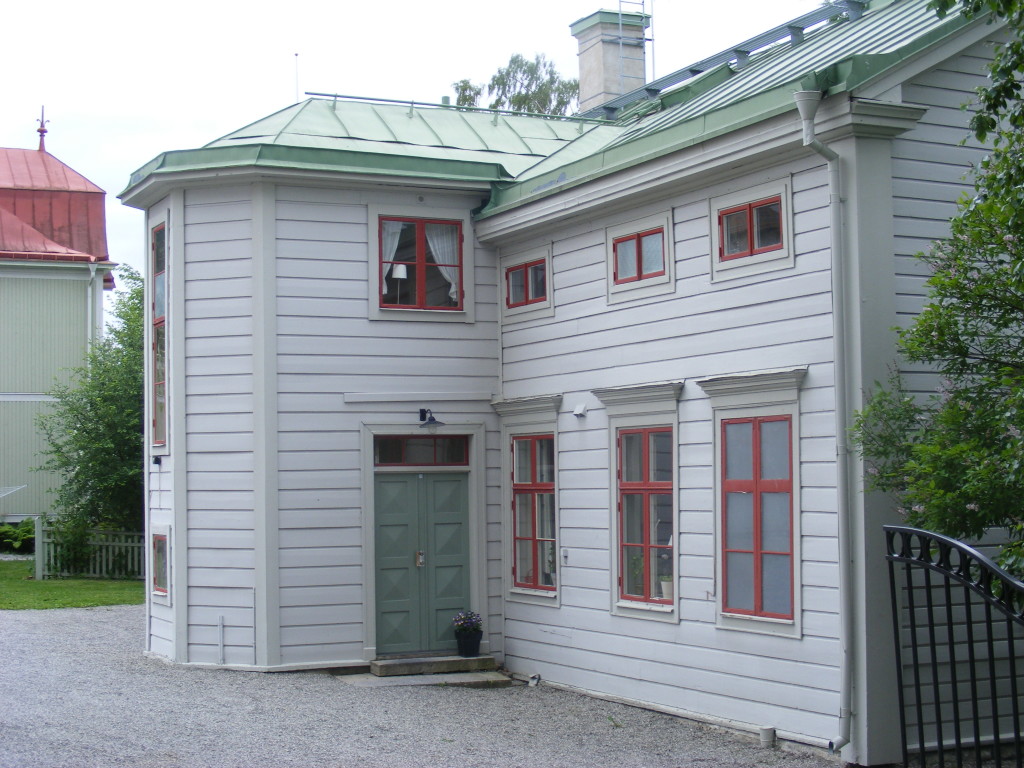 Östersund is the seat of Östersund Municipality and the capital of Jämtland County. Östersund is located at the shores of Sweden's fifth largest lake, Storsjön, opposite the island Frösön, and is the only city in Jämtland. Östersund is the region's cultural and economic center and by tradition a city of trade and commerce. The city is the Mid Sweden University's largest campus site with approximately 7,000 students. With a total population of 44,327 (2010) Östersund is the 24th most populous city in Sweden, the 46th most populous city in Scandinavia, and by far the largest inland city in Northern Sweden.
The city was the only Swedish city founded and chartered in the 18th century. Östersund was founded in order to create a trade monopoly over Jämtland whose inhabitants' lucrative trade annoyed the Swedish crown. The intention was to persuade the local farmers to deliver merchandise to middlemen in Östersund, but the population opposed this economic philosophy, and Östersund long remained small. It took until the end of the 19th century for Östersund to truly become a city, after the arrival of the railroad and the economic liberalization of that time.
 14 juni Östersund – Turingen 108 km
After a jumbobreakfast I left a chilly Ostersund. First to Frösön on the bicycle bridge. Then I follow the water towards Vallsund bridge connecting Frösön with the mainland south of the Storsjön. The bridge is 1504 meters long and thus Sweden's seventh longest bridge. After the bridge I turn to right towards Orrviken but in Mälsta it is a dirt road towards Måläng that I followed. A long pretty tough climb but well atop a grand view.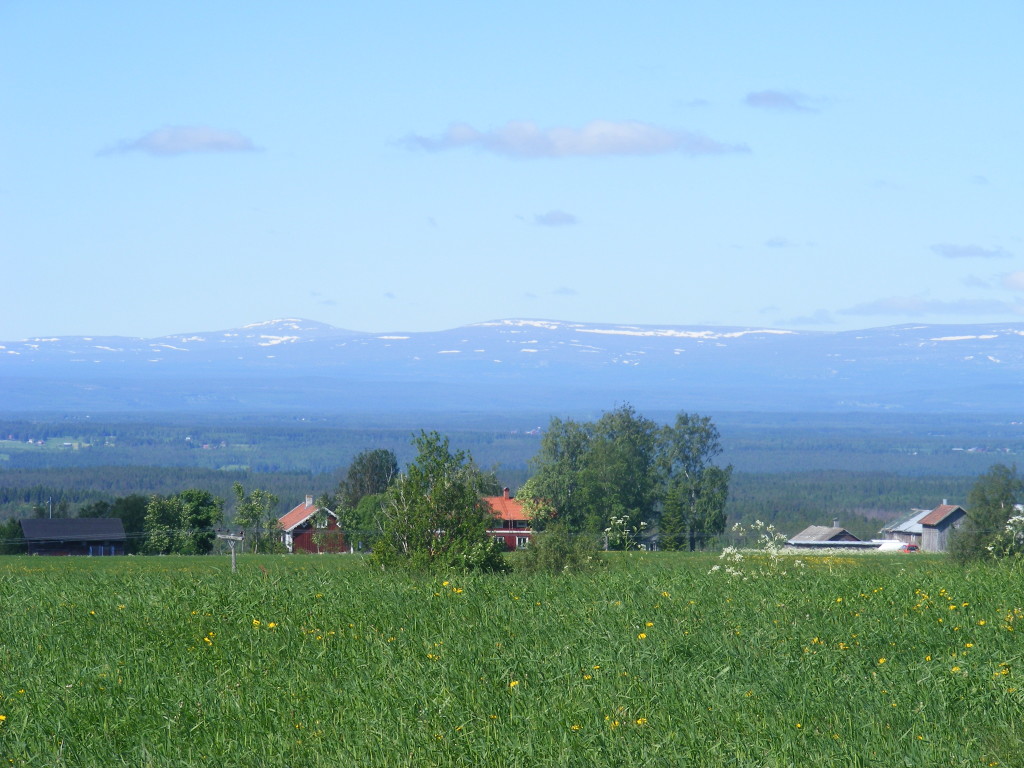 I continue on this gravel road to Fåkern.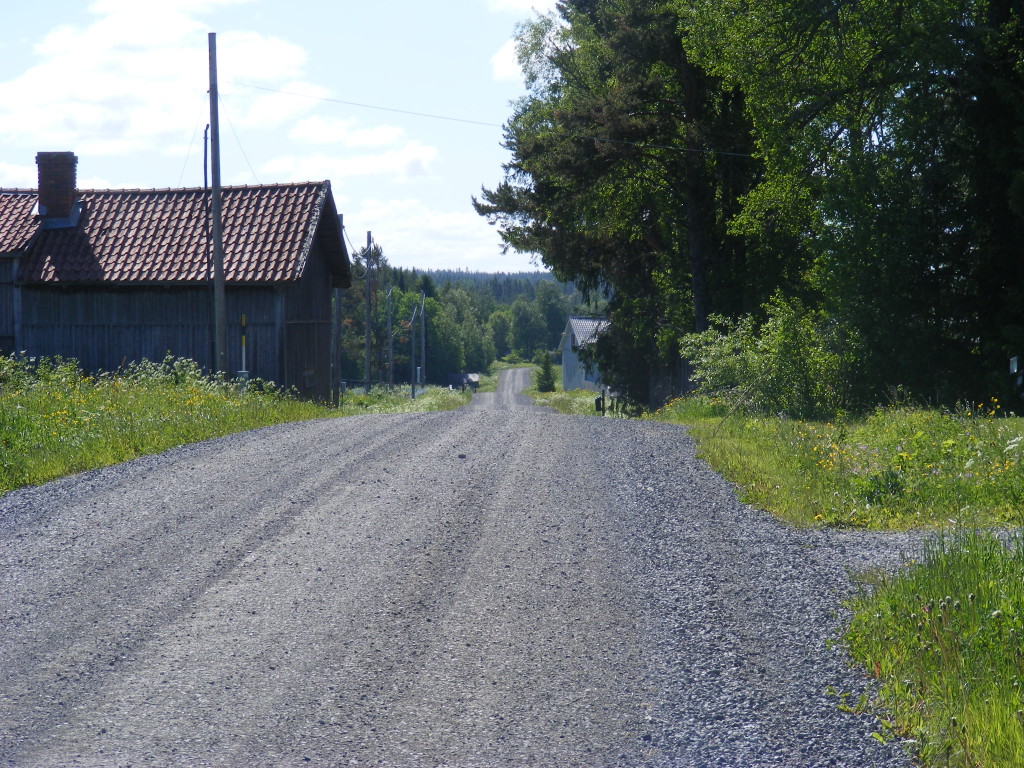 Through the little village down on E45. If you follow my route take a left turn on E45 for about one km. Turn right towards Dödre. A gravel road that is straight but very hilly. The road follows Näktens eastern shore. A little after Dödre I stopped and made myself a lunch at the roadside. The road just continue south down to Gillhov. Here you can either turn left and take up a gravel road before the church, or turn right towards Bräcke. I took the second option. Approximately 8-10 km asphalt, a gravel road towards Överturingen. I hit the road. It was here I saw the cranes.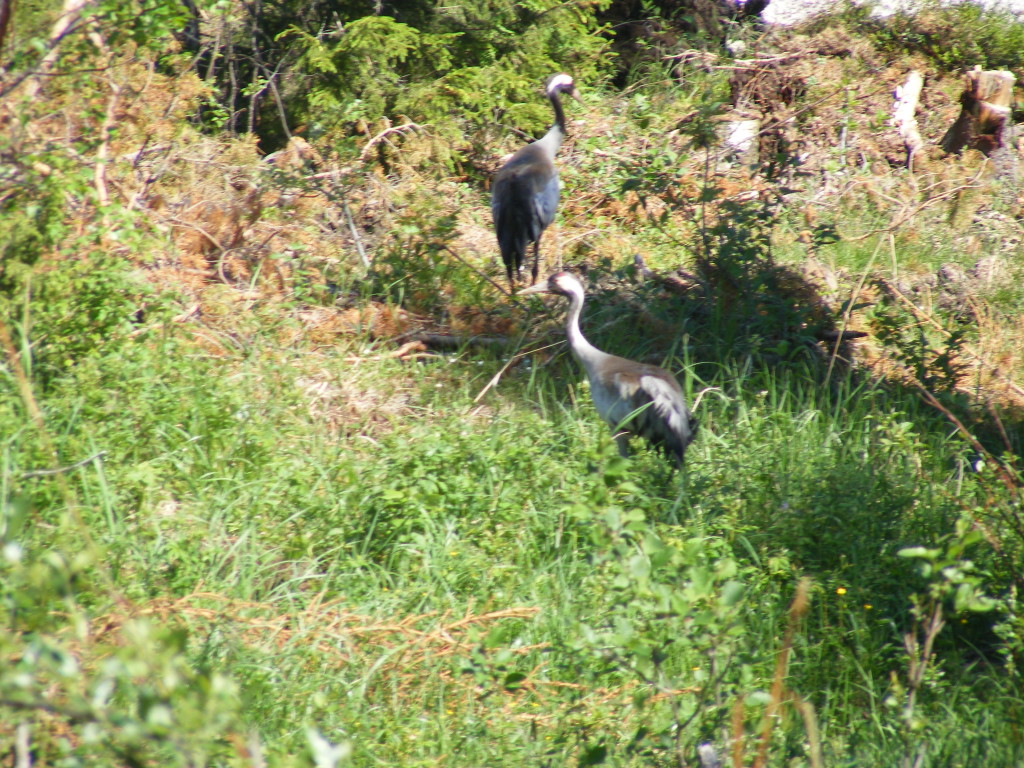 I came to Överturingen and was thinking of a good place to stop for the night. But could not find anything suitable,  I continued. I stopped two kilometers outside the village on a forest road. Turing is interesting from a historical perspective. There is a perception that the early settlers came from Jämtland. This understanding may have arisen from Snorri Sturluson in his royal fairy tales told to a man, Tore Helsing, Norwegian nobel family, for a killings sake fled from the mountains and the people with him. It is mentioned that the refugees came through Ljungans valley through Haverö, where a lot of people settled.
I wasn't thinking so much more about Tore Hellsing, was more interested in finding a good place to sleep on. This is not a throughway it is a loading place for timber. The real road is about 50 meters to the left of the tent.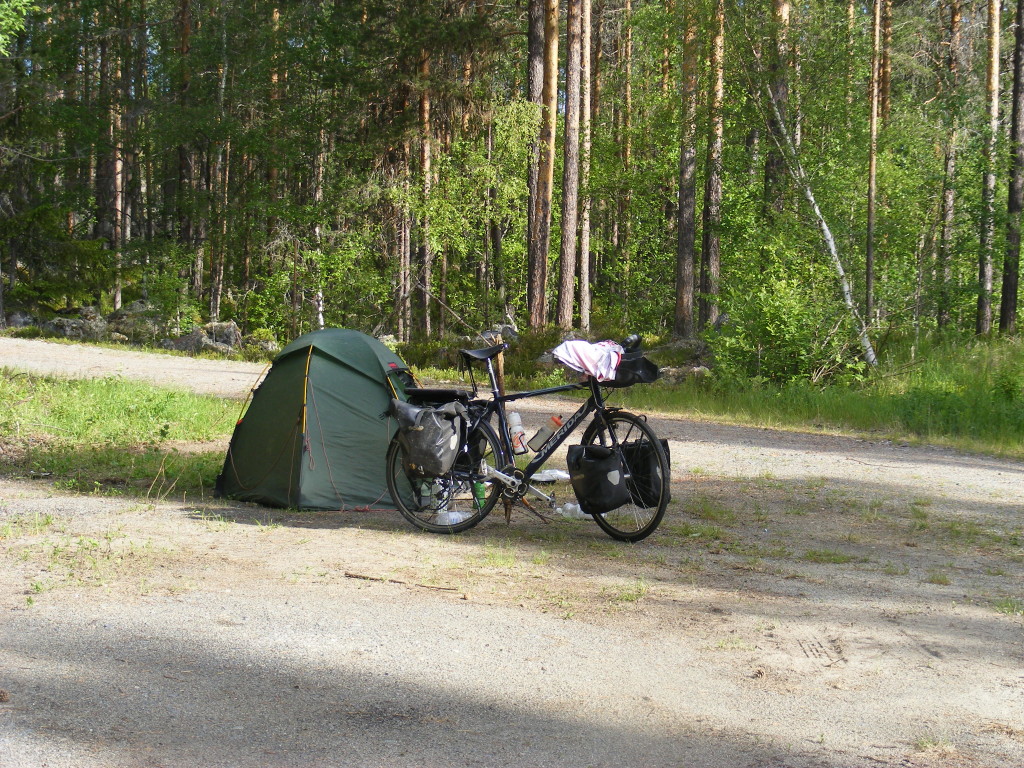 15 juni Turingen – Los 129 km
315, 314, E45, 296 is not lotto numbers. It is road numbers I followed today. 314 and 315 paved roads, sparsely trafficked. Fine, I thought. If you ever going to ride a bike here remember take extra water with you. I was out of water after breakfast so I had to cycle to Ytterhogdal to replenish.  if no need to get waater there is two opportunity's to take two gravel roads through the woods to Kårböle. The first comes in Fördalsgran, signposted from the road. The second variant is to take off towards Flor and continue after Flor on 296 or take the road east of the lake.
Well, pleased to have found water, I continued on E45. Six kilometes south before I came to road 296 signposted Ljusdal. Here I met a German couple on their way to Treriksröset. Their bad English meant that we just talked a little. I was told that they left Los in the morning and they have to be back at work in Germany on August 11.
After 25 km I came to Kålböle.  Kårböle calls themselves Sweden's geographical center of which it is if looking only at the Swedish mainland. Now commenced a troublesome piece of cycling. A left turn onto the road to Los. Not only that it was a uphill battle that lasted more than 25 km, it was road works aswell. Large stones, no packed trails to ride on. The 35 kilometers which I thought would take a maximum of 2.5 hours took 4 hours. Strange that the Germans did not mention anything about this. I showed them alternative route to avoid E45. A little good manners if I may ask.
Somewhat tired legs and irritated I started looking for accommodation facilities in Los. Not a chance to find something suited for wild camping. Thought for a while camping on the cemetery or behind it. It all ended in that I stayed on Gamla Tomtens camping in the middle of the village. For 150 SEK, I pitched my tent on teh lawn, used their service building with shower, toilet and kitchen. Actually an unnecessary expense, but the clock was almost six when I decided to stay here. Tomorrow I continue to Voxna.
Losgruvan has a long history of refraction of various minerals, including cobalt and copper. The mine was first found the nickel. The discovery was made by chemist and mineralogist Axel Frederik Cronstedt. Who found a metal that resembled cobalt which Counselor Georg Brandt already in 1735 designated as a separate metal. Henric Kalmeter had begun to break cobalt and bismuth, cobalt, but the man got out did not result in pure blue color. Cronstedt then started an investigation into the cause and discovered that the ore contained only a small amount of cobalt.
16 juni Los – Grycksbo 147 km
Today was a great day, an important day, my birthday. Woke up early, it had been raining during the night. Now it was a cold north wind blew down across the country. In one perspective it was good. Nice to ride with strong tailwind.  Bad in second perspective, Had to dress for spring cycling.
I saw this thing, which I think is a spaceship Russians lost, but is a little uncertain.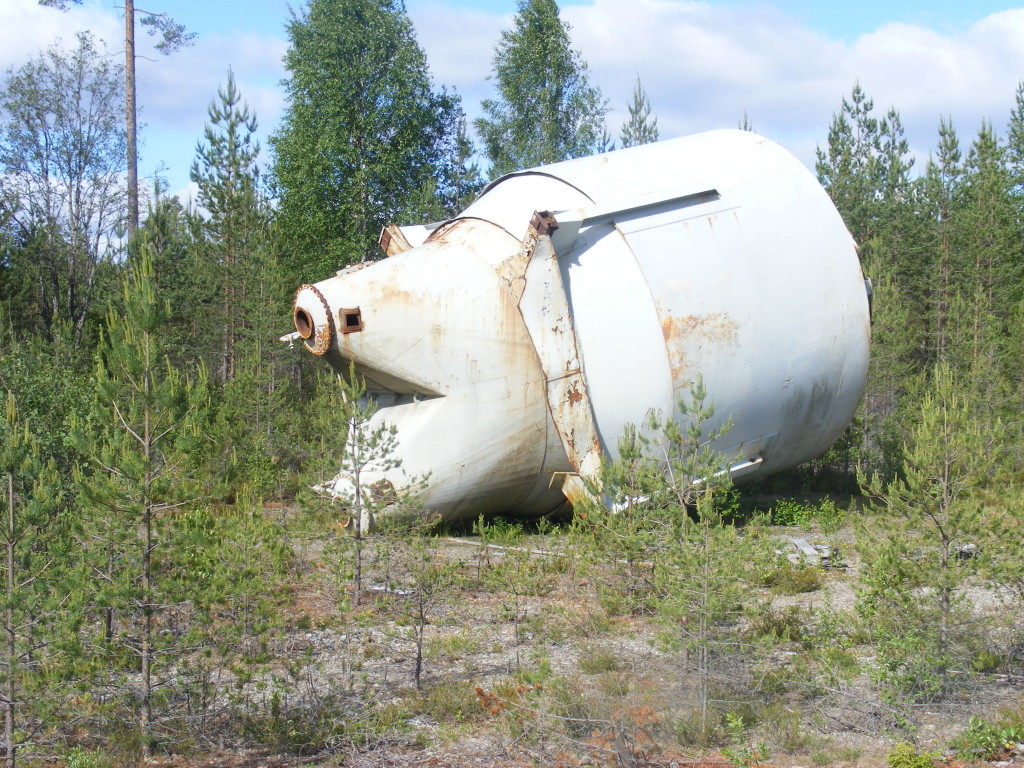 The road to Voxna from Los begins with a long hard climb.  Because of all road constructions with 15 km of gravel repairs and upset asphalt and you will understand that it was not fast forward. In Voxna I decided to seize the cold north wind and cycle asphalt roads. It meant that I left all thoughts of short cuts through the woods on gravel roads.
Voxna is perhaps best known for his Jim Reeves Museum in Voxna old railway hotel. The museum was inaugurated in 2007.
After Voxna I continued south on 296 towards Furudal. When I had 5 km left to Furudal I saw that there were signs Silja trail. I followed that path and eventually I came out on the road 301. I continued south with the wind at back. In Bjursås I stopped for a moment before continuing. Between Bjursås and Grycksbo I stopped for the night.
A fantastic beautiful slope with lupins.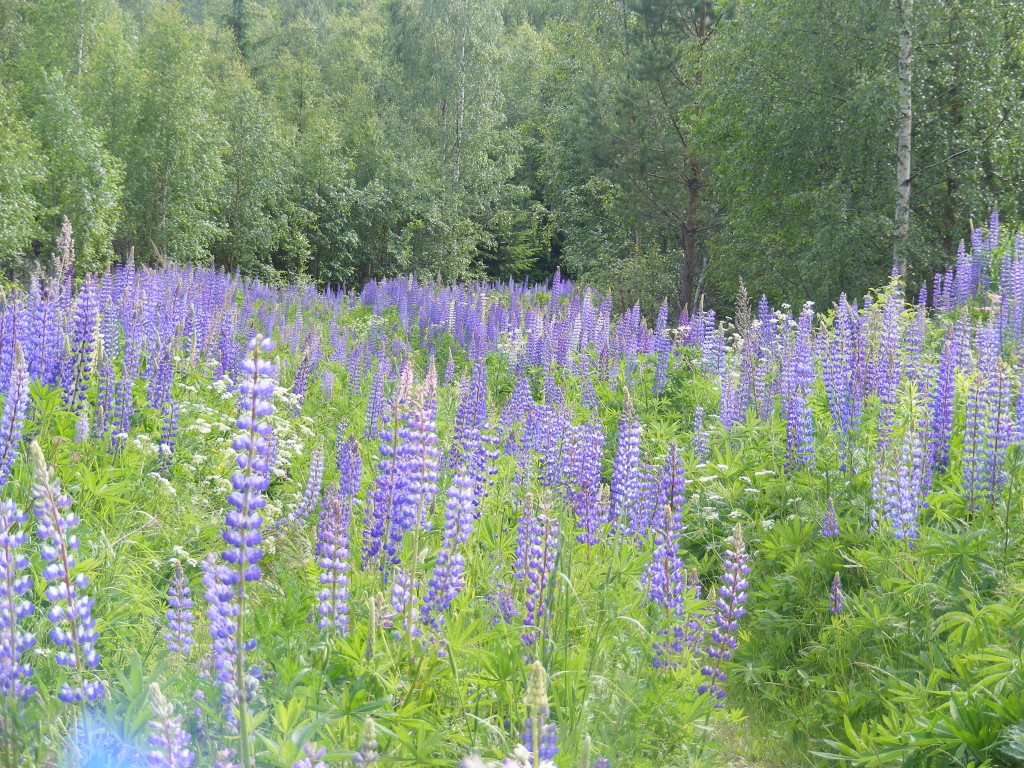 Not too much later, I stopped for the night. Some kilometres outside Grycksbo. From Gryckbo comes Torbjörn Ericsson "Grycksbo Express", Swedish former athlete Ericsson's best distance was 200 meters (where he was a Swedish record holder).

17 juni Grycksbo – Västervåla 124 km
The plan was to avoid major cities such as Ludvika, Borlänge and Falun. But what happens? I cycled through Falun. Certainly a beautiful city but not what I sought to pass. But sometimes it will not always be that I want or desire. After Falun, I found road 69 towards Hedemora. There is not much to say about today's cycling. Uneventful and uninspired. From Hedemora it is not far to Norberg. Hedemora received city privileges in 1459, making Hedemora to Dalarna only medieval town with official rights (Falun was the de facto city during the Middle Ages, but was officially their privileges until 1641). The city's only preserved medieval building is Hedemora church, built in late 1200 or early 1300's.
Hedemora was during the 1500s a marketplace for the surrounding areas and transit place for mountain products were sent to Mälardalen region. During the 1600s d the economic conditions worsened in the city since including iron production cut by 1688. A renewed expansion began in the early 1900s as a result of new industries and the population doubled during the period 1900-1930.
Road 69 towards Norberg was lost in memories of a young boy. It is not that far from where I lived in my toddler years and I took the opportunity, therefore, to turn towards Jäsjö. A village that was once lively but today only two resident households, the rest are summer residences. I stopped at the house I lived for more than 50 years ago. Memory Fragments of a bygone era. I did not stay long but went quickly towards Norberg.
Iron-making in Norberg can be traced back to the 500s, but the area has been inhabited since the Nordic Stone Age. Blast furnace plant at Lapphyttan, probably from 11-1200 century shows the beginning of the mining community that grew up in Bergslagen.  Norberg already existed in the Middle Ages as a marketplace where mountain men in the surrounding districts gathered. The oldest surviving buildings in Norberg is collected at Norbergsån that runs through the resort near Norberg church with farms that originate from the Middle Ages, while many current buildings date from the 1700s. The oldest parts of Norberg's church, including the vaults, are from 13-1400 centuries.
My goal for the day was Ängelsberg 10 k from Norberg. I came to Ängelsberg but chose to continue. I was looking for a place for the night. I did not see any good spot, instead I saw a deer.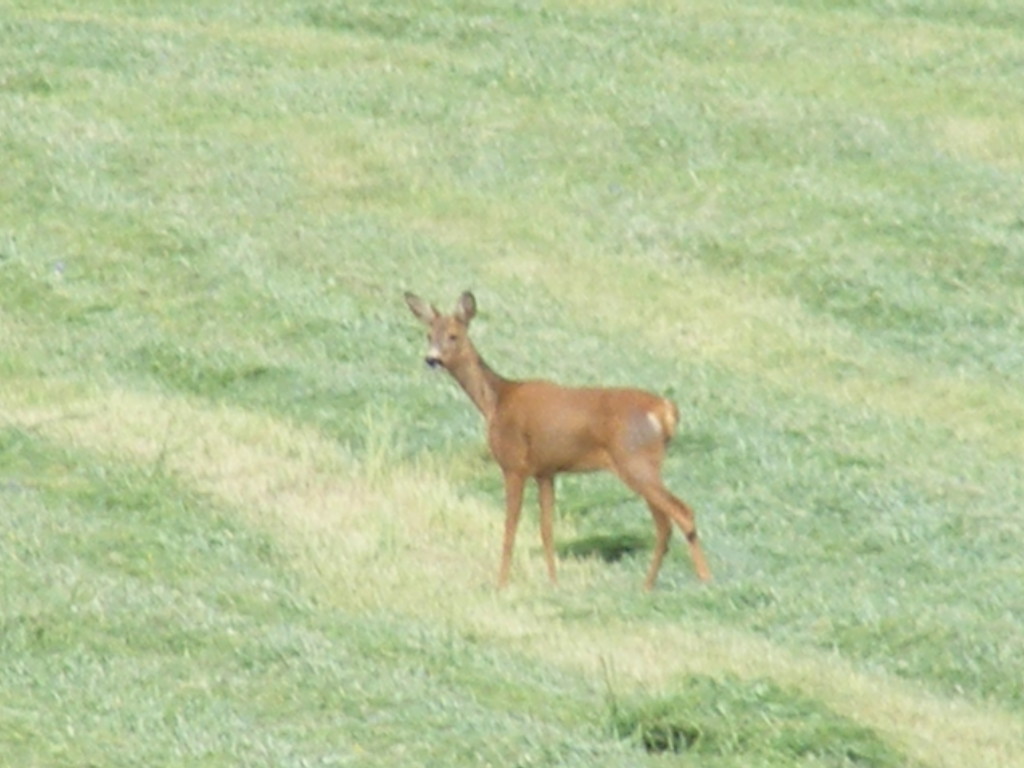 Just a few kilometers later I stopped just outside Västervåla.
18 juni Västervåla – Kvicksund 67 km
Last day on cycle experience 2014. From Västervåla I continued on the road and Virsbo passed at a rapid pace.
Virsbo was mentioned first under the name Hwirtzboda in the late 1500s. It then belonged to Pontus de la Gardie. Virsbo use was laid out in 1620 when Johan de la Gardie got permission to build a hammer at Virsbo Stream. The mill was in 1920 a power station, factory for projectile manufacturing, forge, machine shop, steam sawmill with two frames, edge, rip and steel mills and a planing and carpentry. The production consisted of projectiles, railway leash, screw brakes, hammers, manufacture forgings and sawed and planed timber. The area around the ancient practice today is residential.
In 2008, consists mill, formerly Wirsbo Use of three companies: Uponor (plastic tube), Ruukki (steel pipe) and Componenta Wirsbo (forging).
After a few more kilometers of cycling, I arrived at Ramnäs. Now I was back on familiar roads. Ramnäs is an industrial town with a long history. Already in 1590  the first bar iron hammer was built on Kolbäcksån of Katarina Stenbock with received the area as widow's pension after her husband King Gustav Vasa. The hammer was therefore named Kings Hammer. The pig iron came from different foundries located upstream. The practice grew, and the mid-1600s, four more batters erected at the rapids in Ramnäs. With Tersmedens family Ramnäs developed to one of Sweden's leading producers of iron rod. 1868 the first mill was built. During the 1930s, the company began to manufacture stainless steel sinks. Today the production is shared between several companies, but the chain is still produced.
From Ramnäs to Surahammar is only ten kilometers. Those kilometers disappeared rapidly. I crossed road 66 and a little later I started to follow the signs Strömsholm kanal cycling path to Surahammar.
The largest private employer in the area, is steelmaker Surahammars Bruks AB, dates from the 1500s. 1637 erected a hammer with two foci of Axel Oxelstierna at the place where the current practice is. 1866 began manufacturing of railway wheels and axles that and has since been an important part of the production. The first Swedish car that gave rise to a successful automobile was designed and built in Surahammar. I passed through the center and followed Olbergavägen to Hallstahammar. Olbergavägen is a beautiful road on the east side of Kolbäcksån as meandering itself beautifully through the landscape.
Hallstahammar became the last major industrrial city I passed. Hallstahammar is an old industrial community with metal base for society.  The first forge was built in 1628. Bulten AB founded in 1873. AB Kanthal, which would become one of the town's largest industrial company, founded in 1931. Five years earlier, the founder, Hans von Kantzow, patented alloy called Kanthal. "kant" after Kantzow and "Hal" after Hallstahammar. I went through Hallstahammar. I came to Kolbäck and to avoid the road I started on I took the road through Mölntorp to the 56. So last ten kilometers home was on the intensive road 56. The circle was closed in Kvicksund.
Happy and satisfied, I saw the bridge and ICA store o Kvicksund. Knowing that now it was just 1 km left.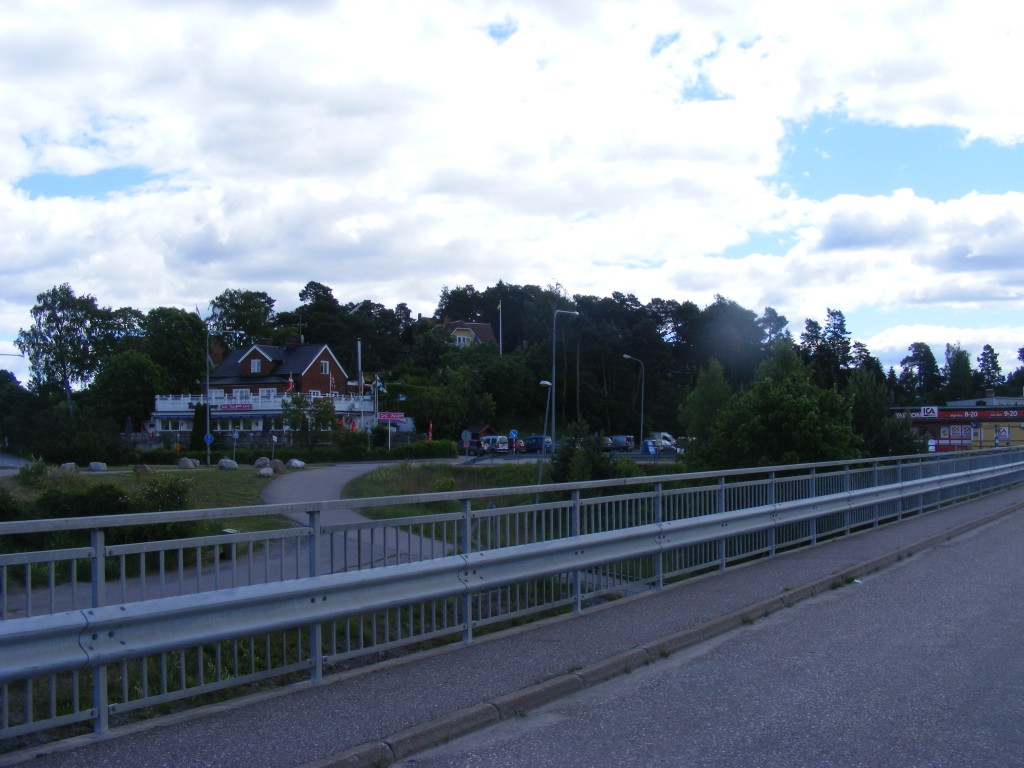 Cycling Experience 2014 is finished. Happy with this year's trip, I have already started thinking about cycling experiences in 2015. There is something special about being alone on a bike on unfamiliar roads. Dare to seize the opportunities and break off from the gridded work. That's my advice to those who hesitate.
UPPDATE
Cycle Experience 2014 was not over. In late October I decided to take a short trip to and through Finland. You can read about it here.
Finland 2014 Åbo – Helsinki
After a few months on the job, there was a "window of opportunity" to take a week off. I have long thought about Finland. Another idea has been to cycle several days with quite severe conditions. So the end of October, I made nine days in Sweden / Finland. North of Lake Mälaren to Norrtälje Kappelskär and south of Lake Mälaren on his way home from Stockholm.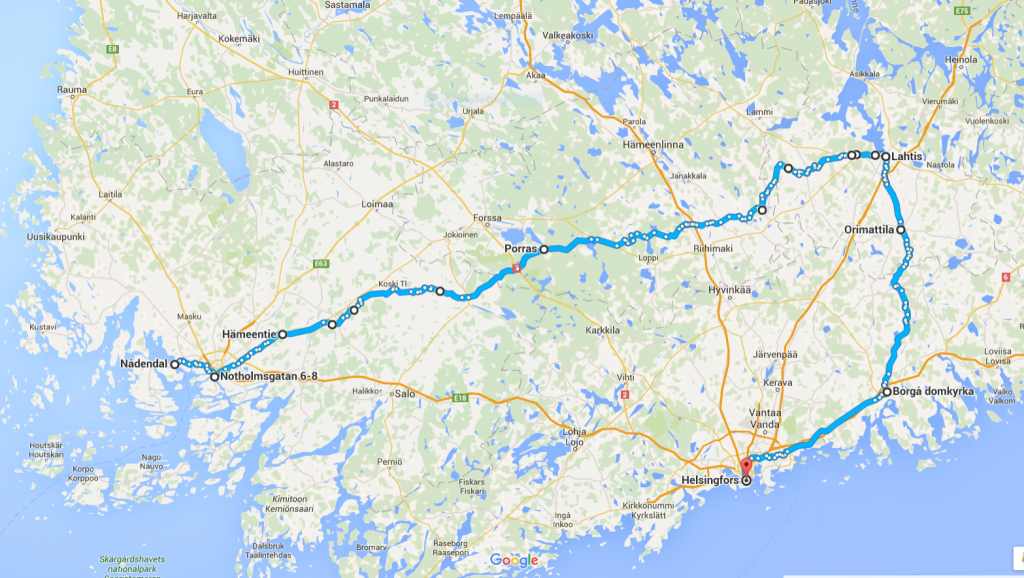 Kvicksund – Kapellskär 206 km
I looked out, it was drizzling and barely ten degrees. not the best weather but what can I do? it. It's the journey that's the goal. After I left the cat to P I loaded the bike and pedaled toward Västerås. On familiar roads, I took me forward. Slowly, very slowly compared to how it is with my road bike. The road had completely different properties than with the speed of the racerbike. A quick lunch at MacDonald's and a last-minute purchase at Naturkompaniet I left Västerås without problems. I followed the old road to Stockholm. After 86 km I came to Litslena. I stayed there the first night. Pitched my tent here: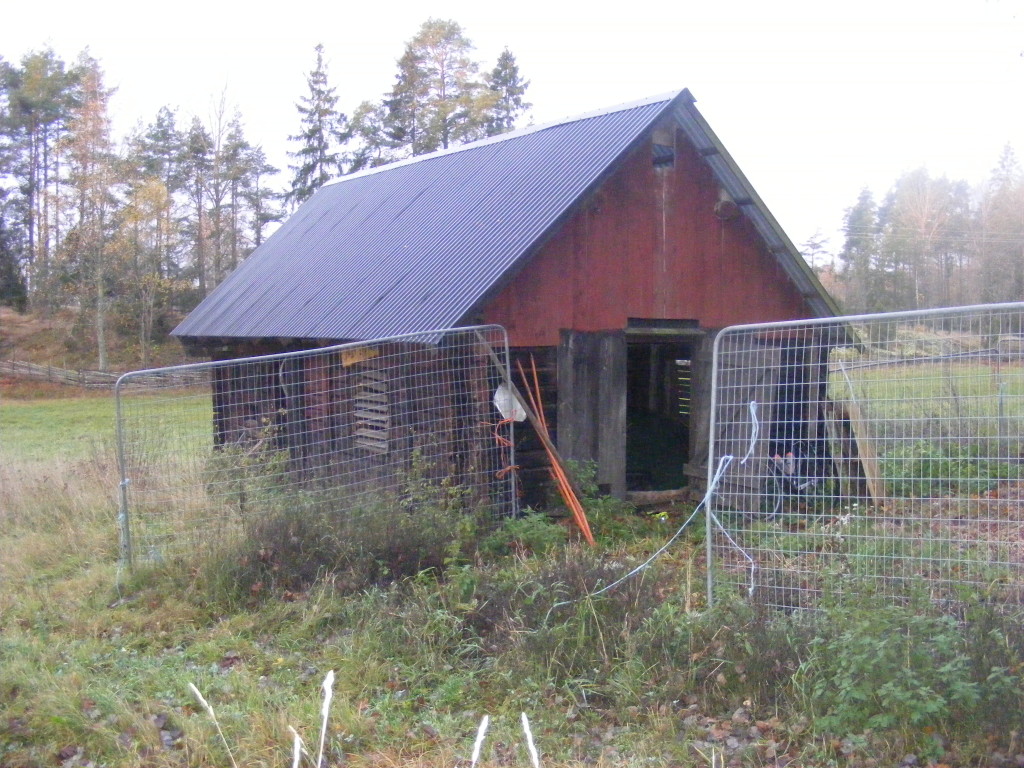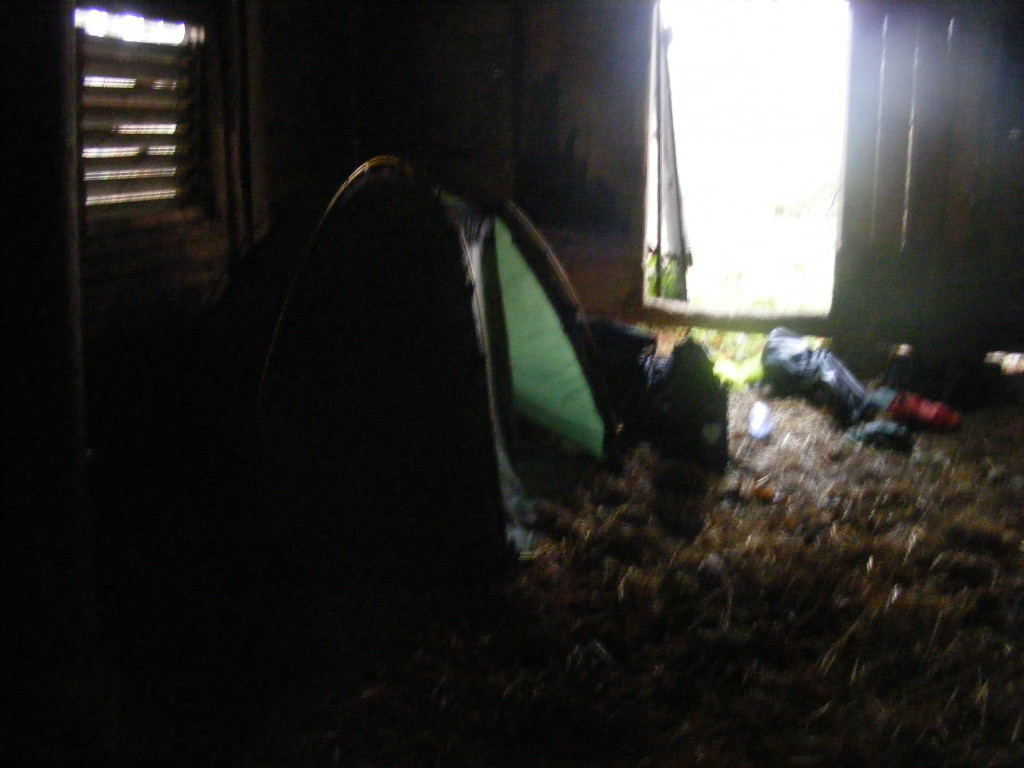 Cycling through Uppland in October was interesting. My thought of cycling in October was to get an understanding of cycling when the temperature creeps down towards zero. Now it was not as cold as I had hoped for.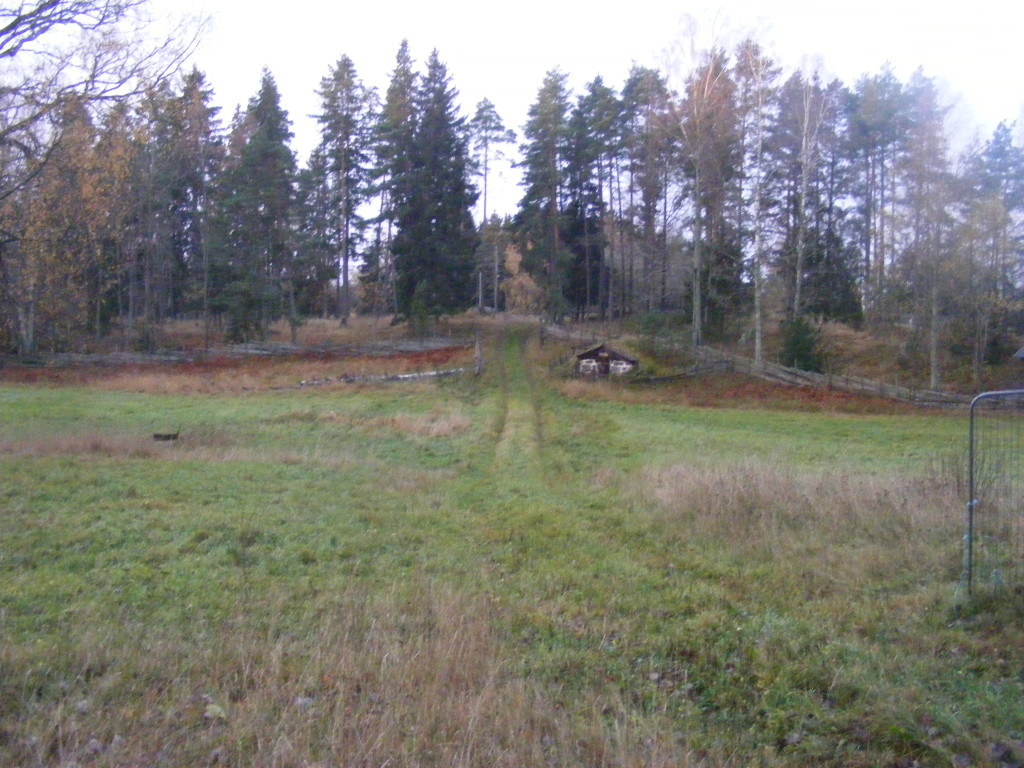 Varpsunds stone on road 263
.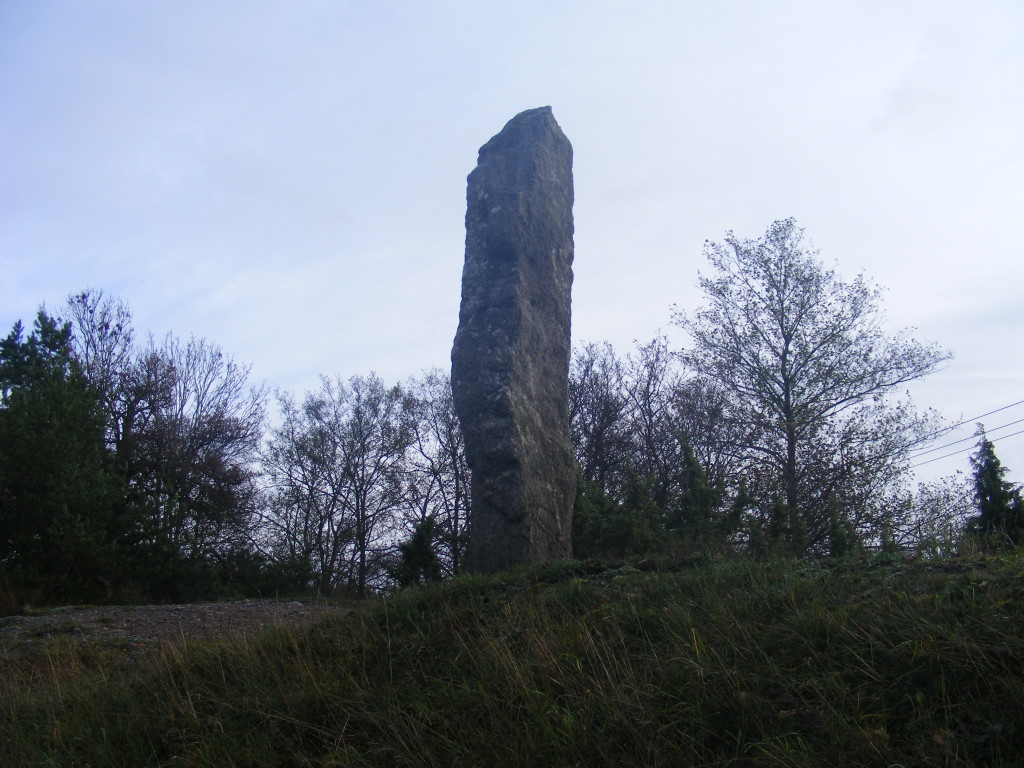 After VarpSund I came to Eriksund.
Erik Sund (formerly Sundby or Håtunabo) is a stud farm with a mansion in Sigtuna. The castle on Erikssund built in the late 1500s. There was then a log building whose lower floors are still preserved. According to legend, as Gustav Vasa built Erikssund to his son Erik XIV. Erik Sund got its name from Axel Eriksson Oxenstierna af Södermöre (1652-1676) who renamed the manor in remembrance of his father Erik Axelsson Oxenstierna af Södermöre (1624-1656). Erik got the manor in the gift of Karl X Gustav 1655-06-29. Inside the castle are still today the Vasa room. It is still in the original version with its strange, well-preserved wall paintings from the 1600s. During the 1700s changed the main building; Upstairs was extended and wings were moved into the house.
1959 was bought Erikssund of Ellert Larsson who started the breeding of race horses and built stables. Today driven no extensive agriculture on Erik Sund. All land is now pasture for horses.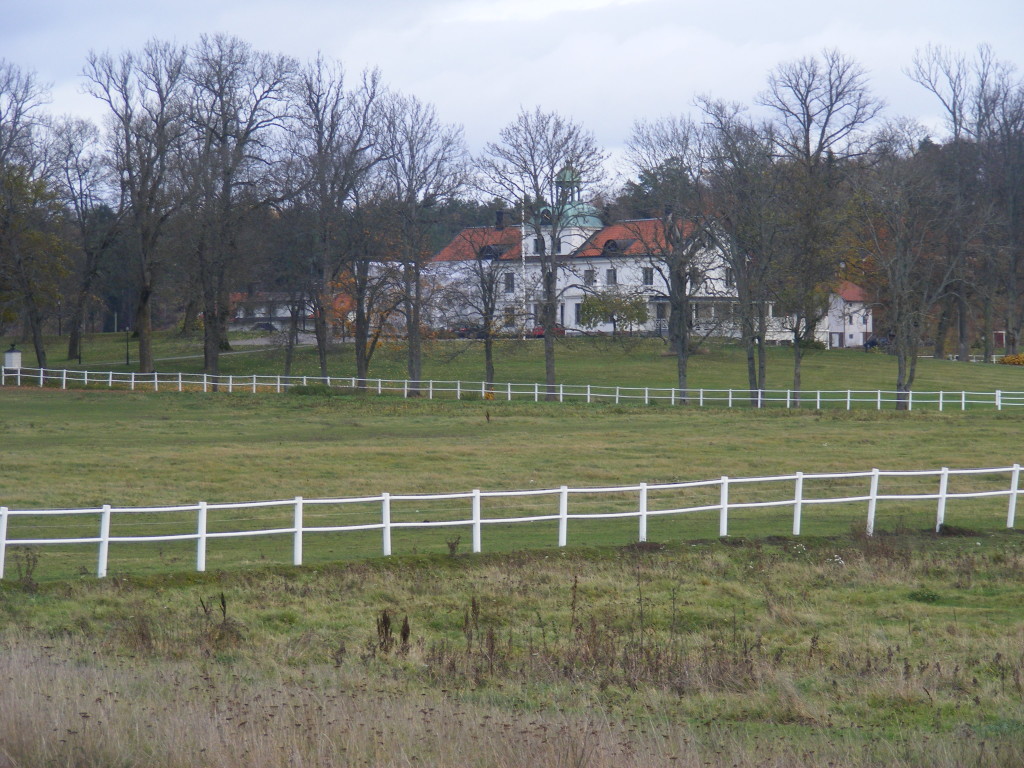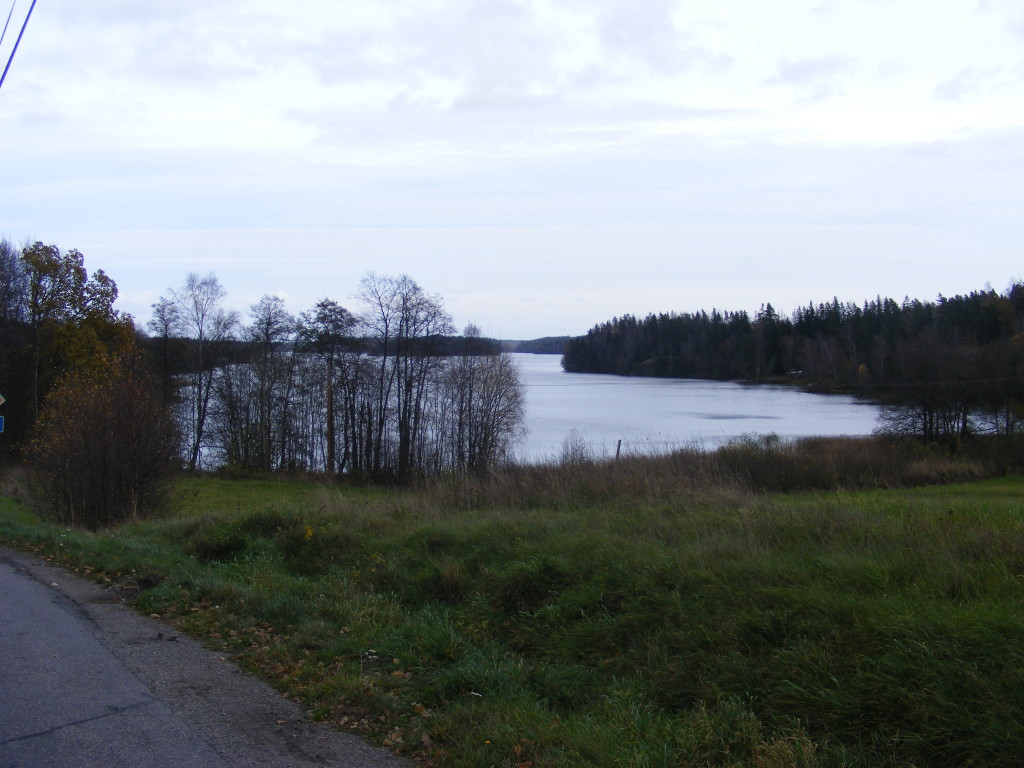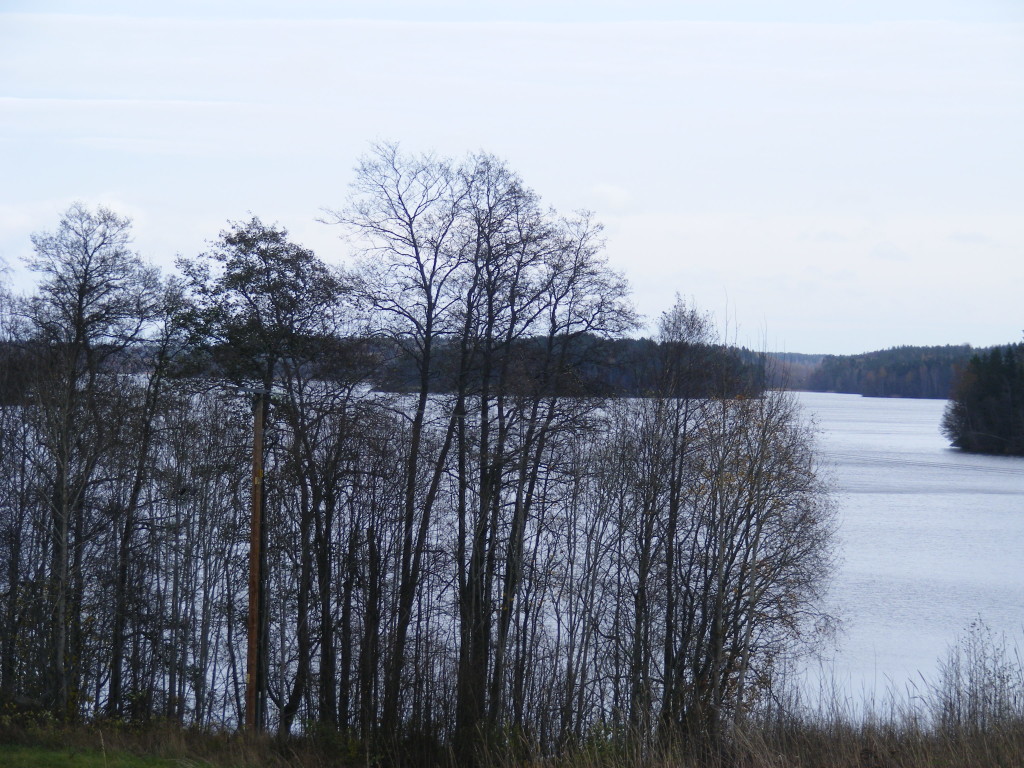 I passed Arlanda airport thinking back when I came home from Athens and cycled home to Eskilstuna. Now I was headed in the opposite direction on the same road. I came to Kapellskär without any problems. I sat in the restaurant, was waiting for the ferry would depart against Finland.
Finland, a new cycle country. Wondered how I would cope with the Finnish language. Could I understand what they said, or get into using English.
From Kapellskar to Turku Centre is not a fun way. Intense traffic but there was a bike path.
When I came to the Åbo center I stopped to take some pictures.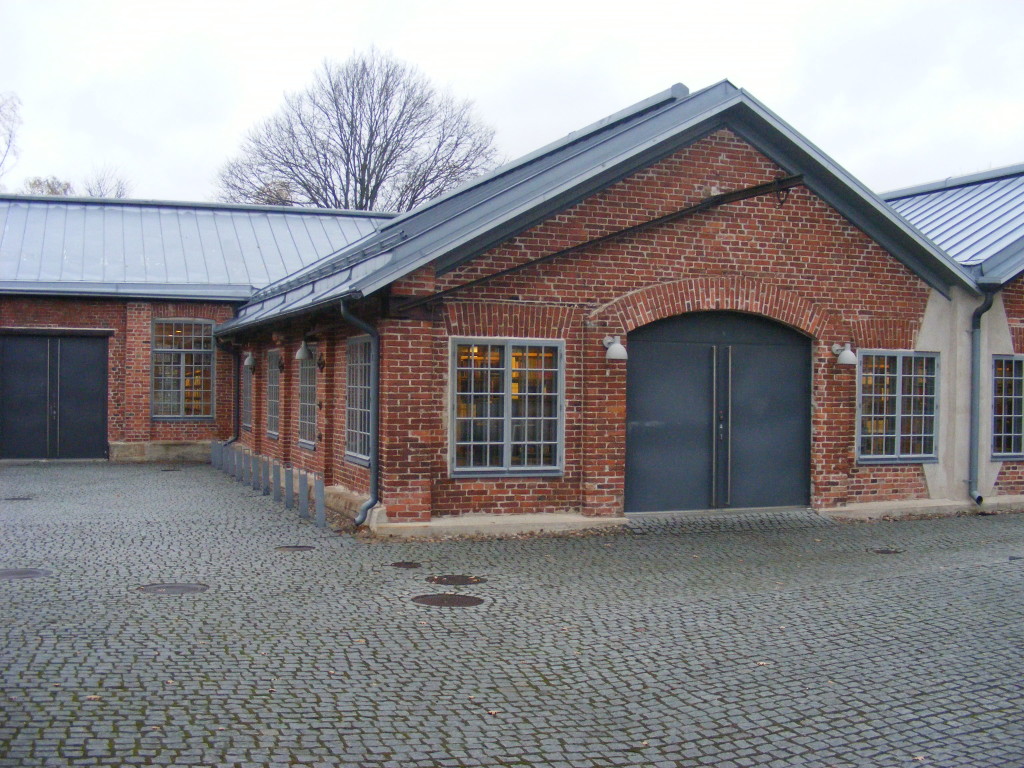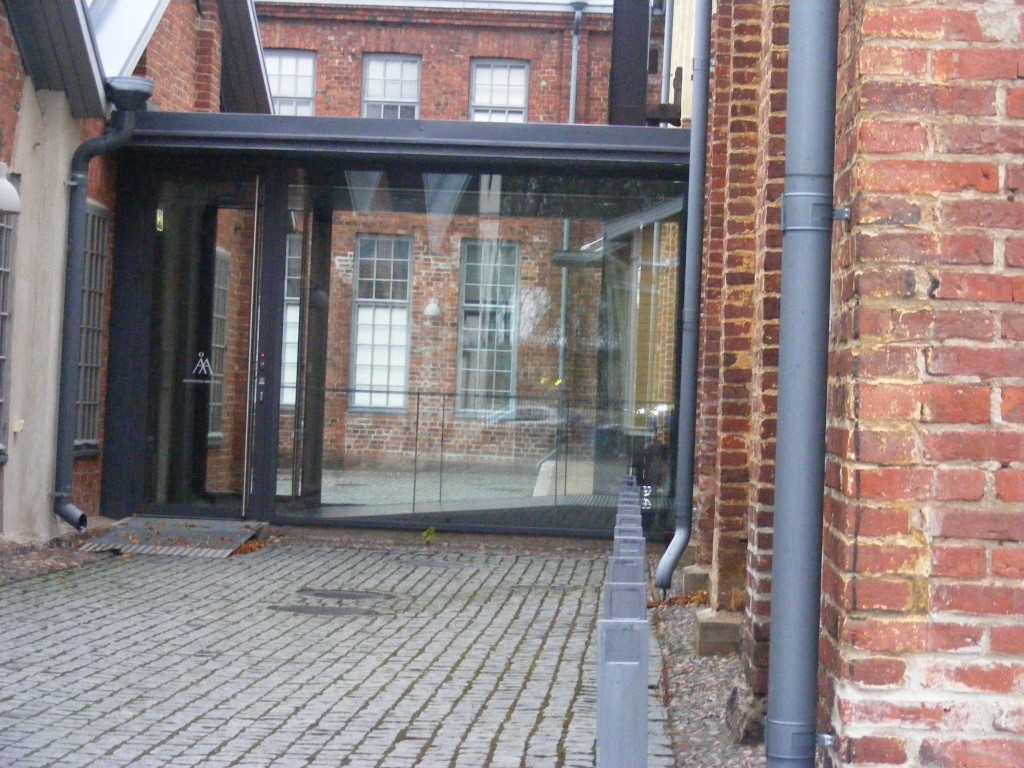 Part of Åbo University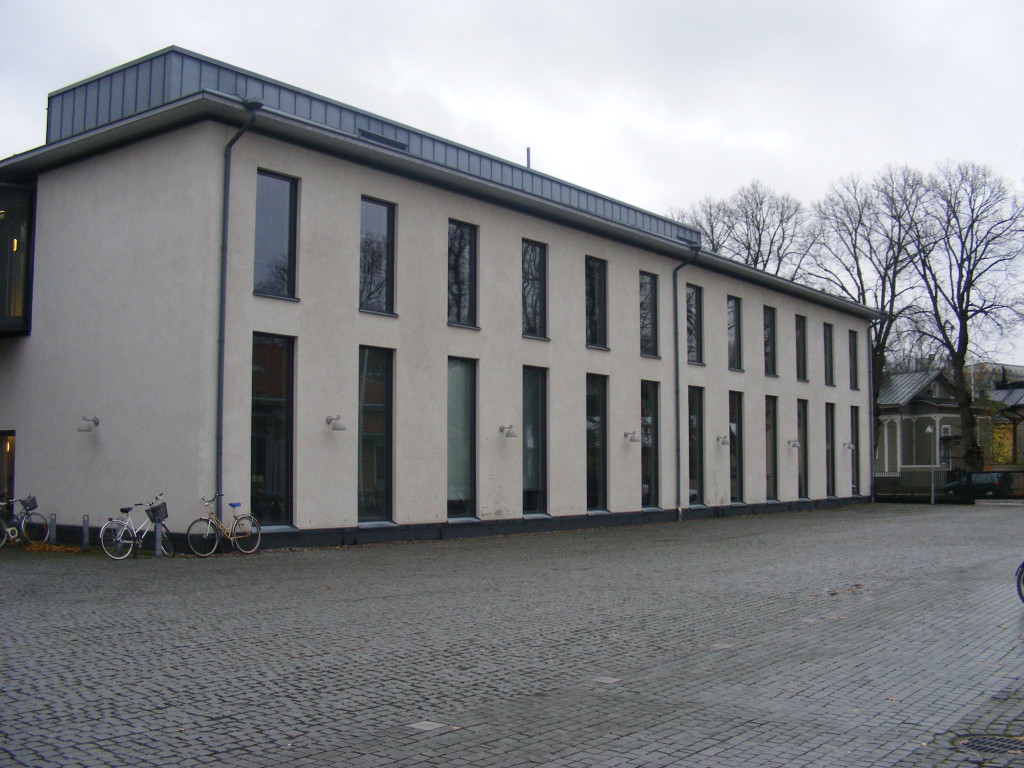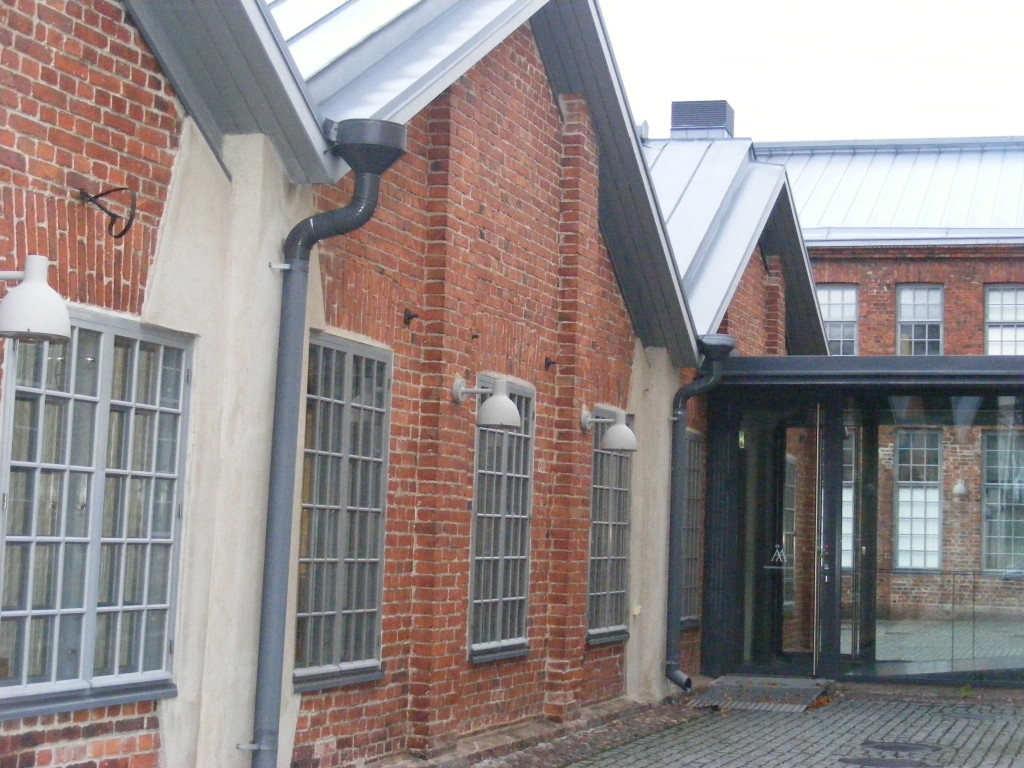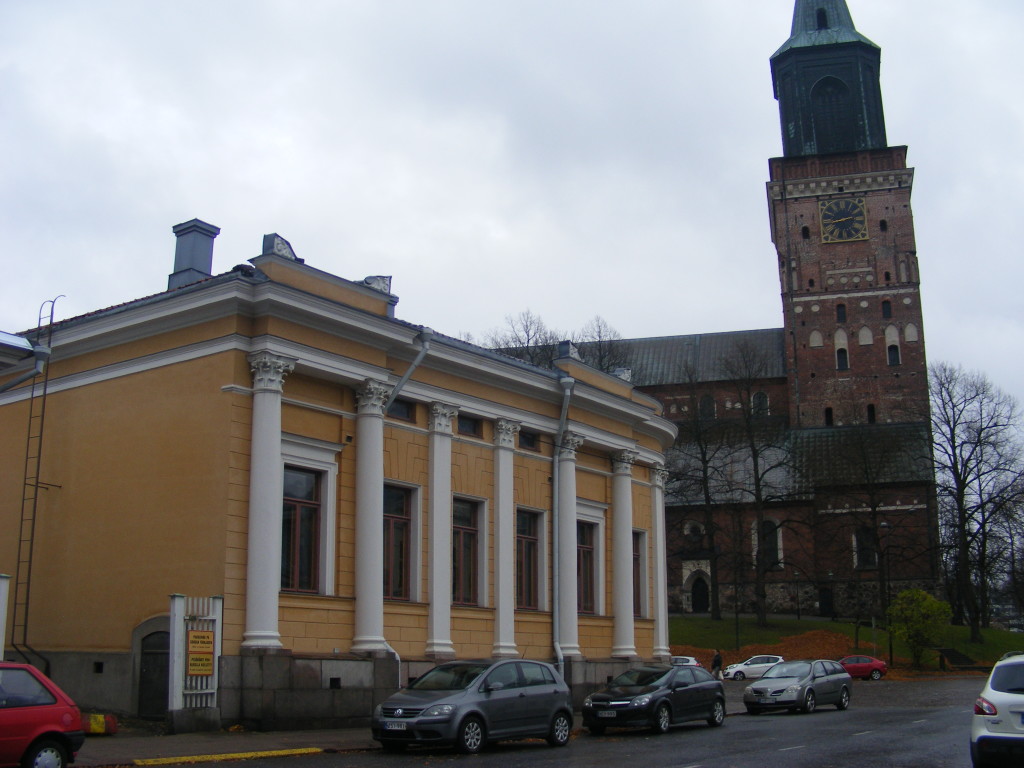 Sibelius museum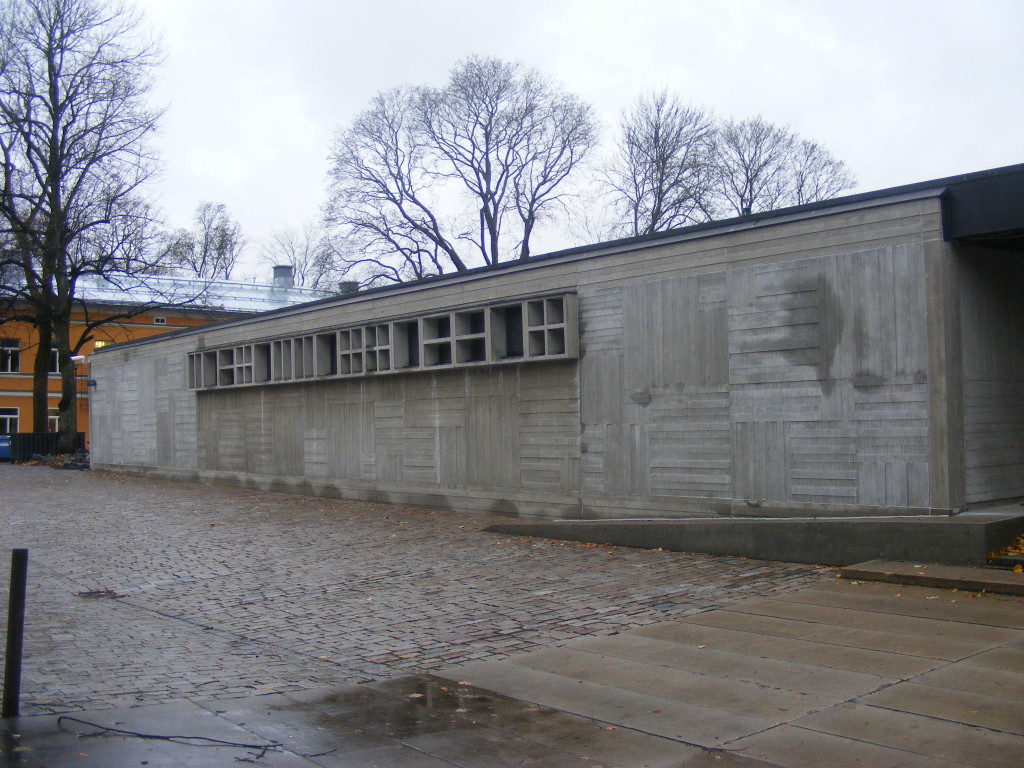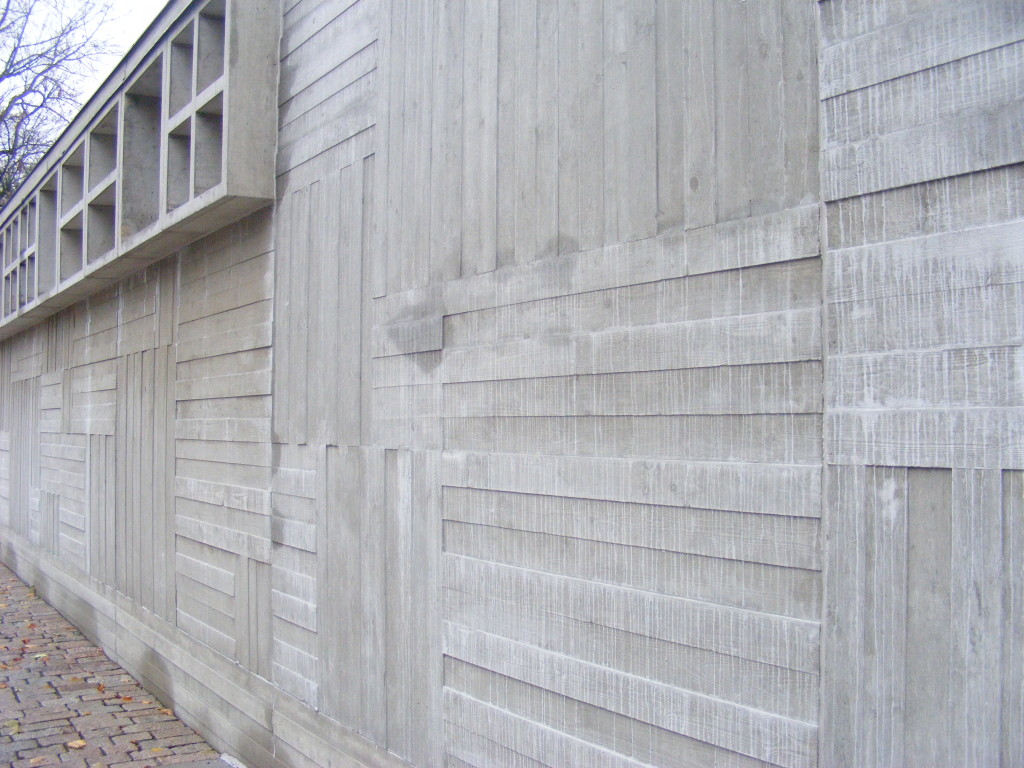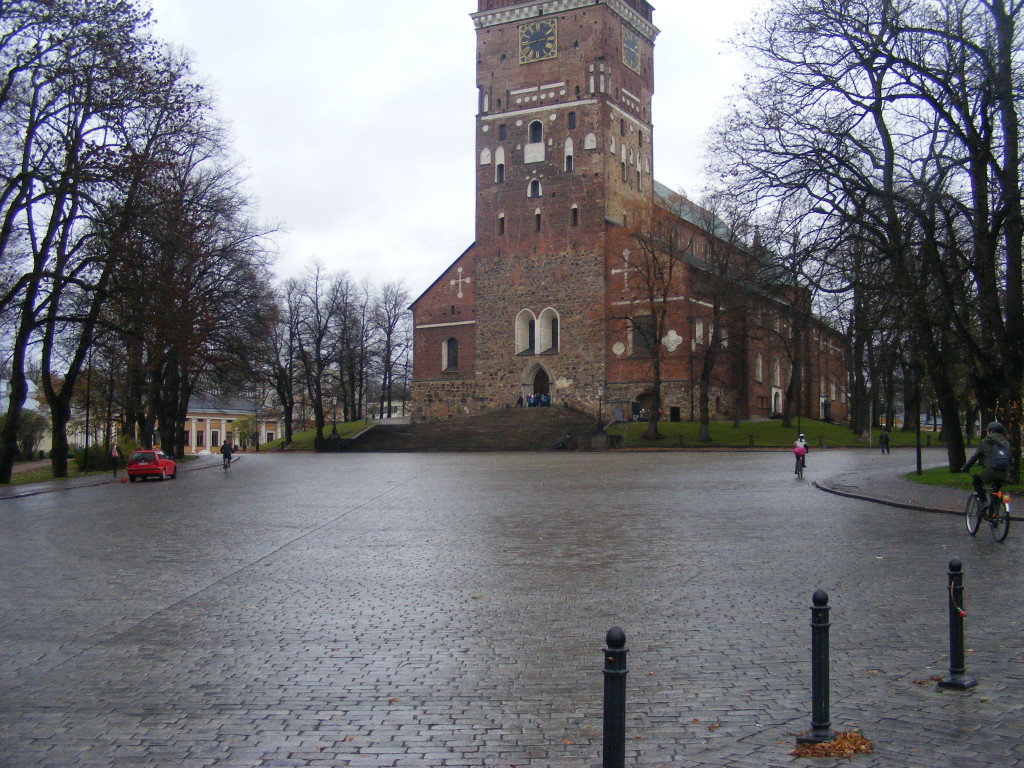 Åbo cathedral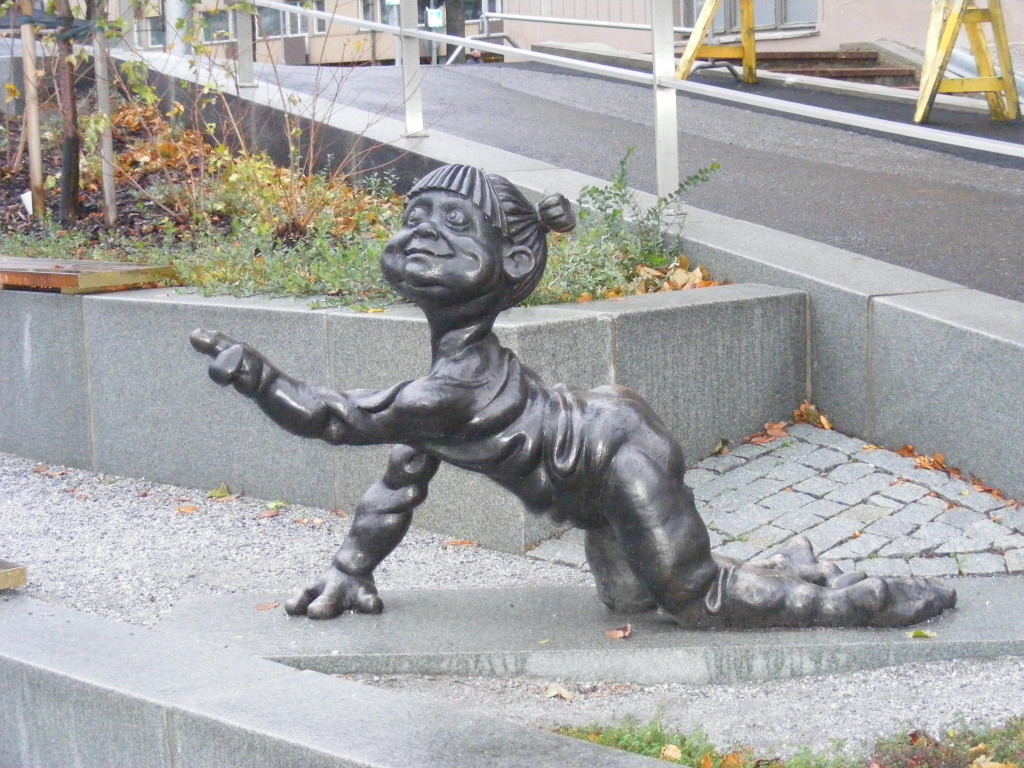 "That's the way out" She pointed my way out.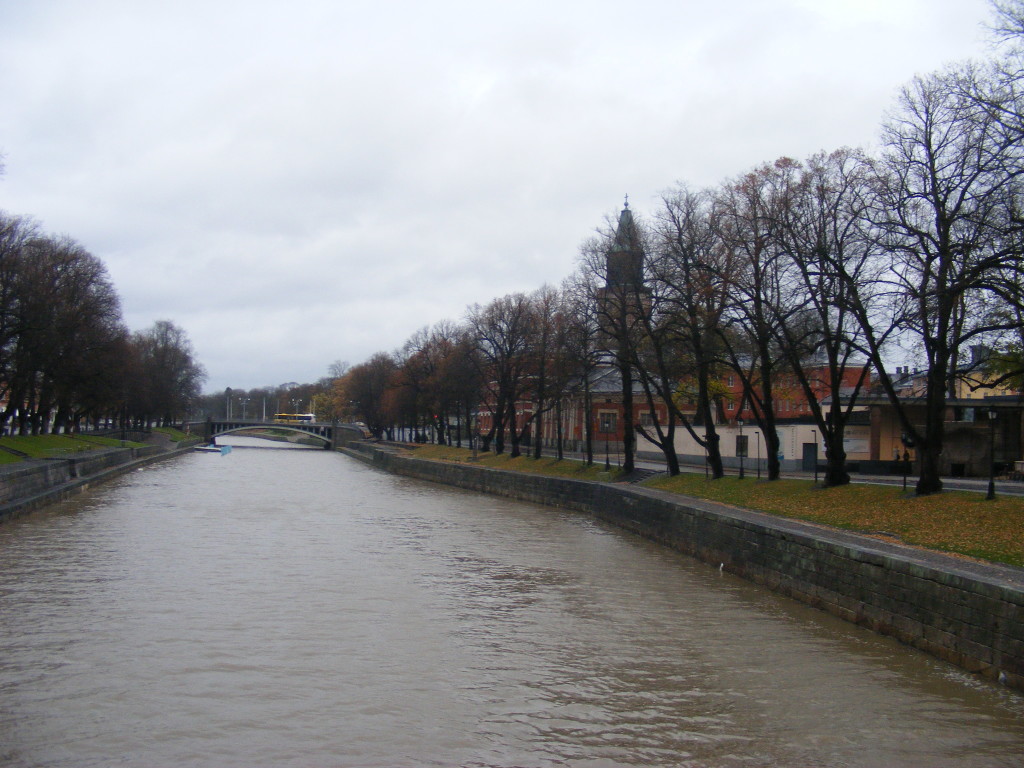 Åbo Castle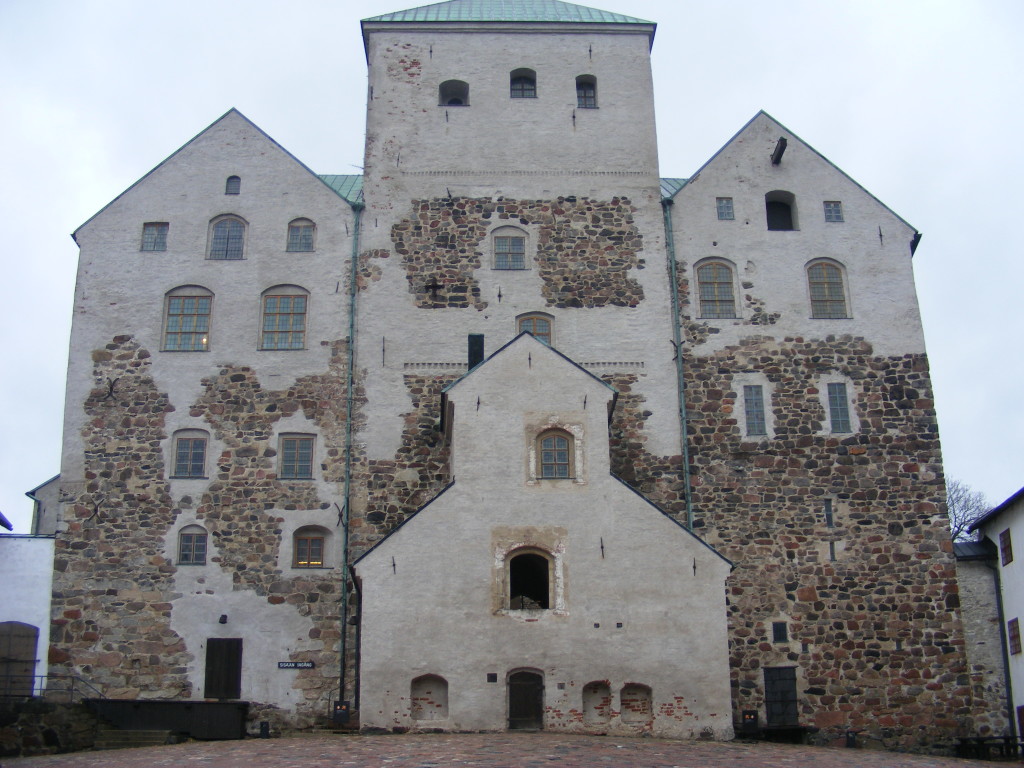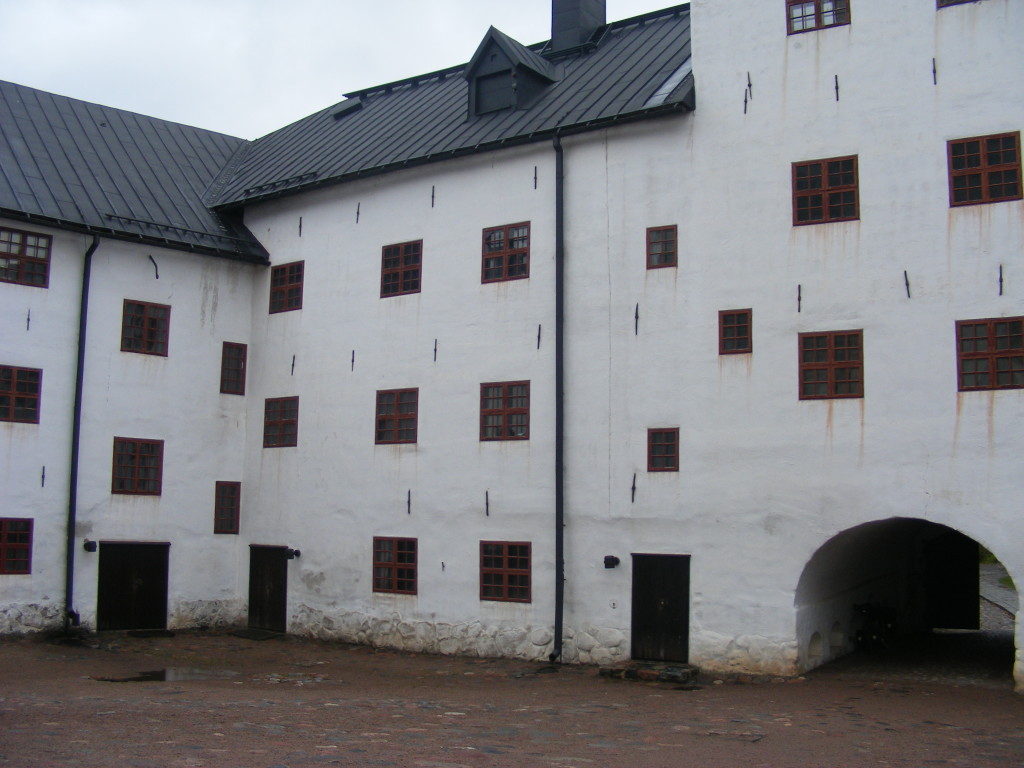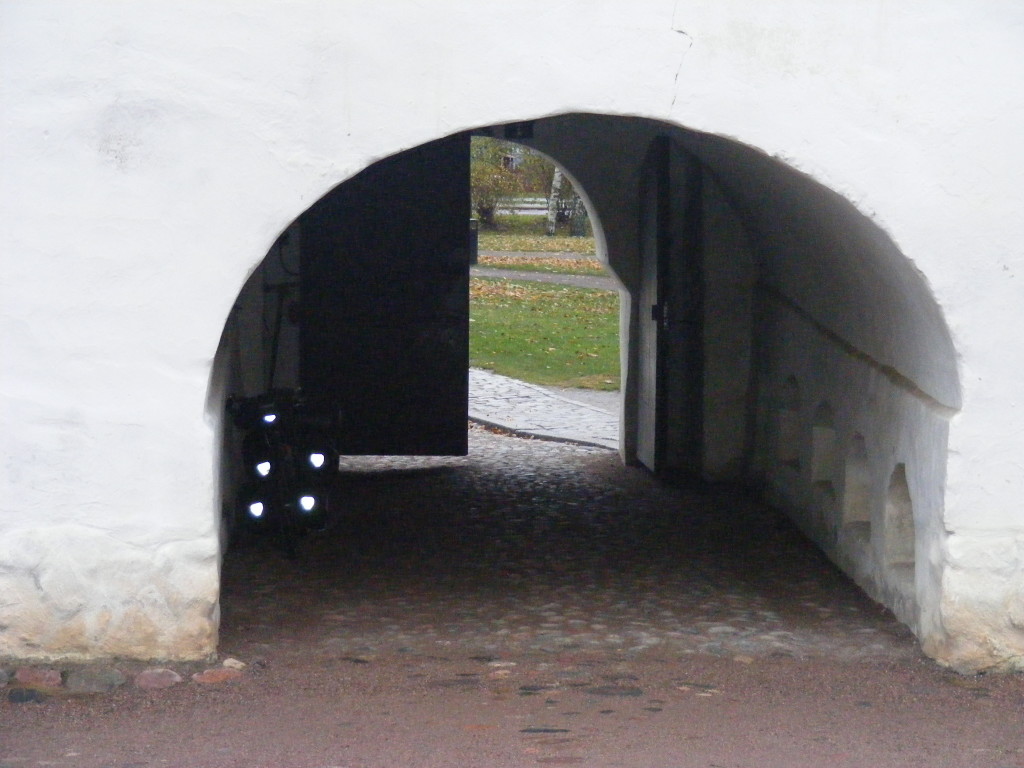 Old townhall in Åbo
I took road nr 10 out of Turku but already after 20km it became boring with all trucks stroked past my left side. I took a smaller by way.  Like Sweden, the Finnish countryside vulnerable to an exodus to the cities. Saw this old garden swing, which may symbolize decay.
Sign of abandoned and ruined farmhouses everywhere.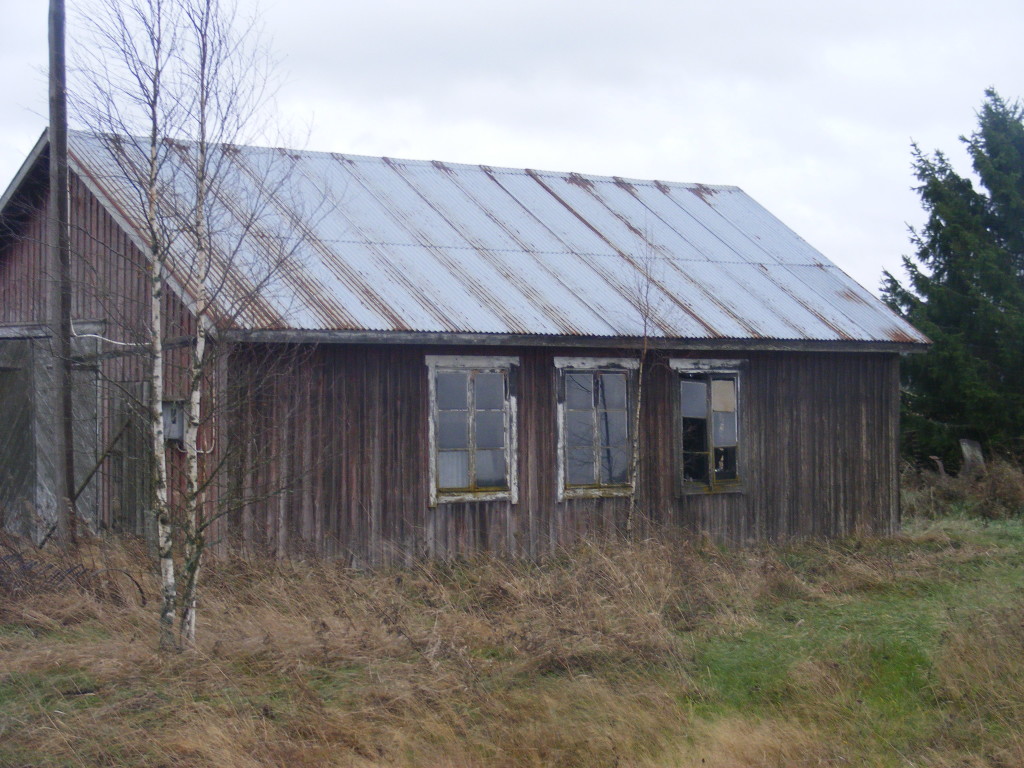 In the evening, I came to this sign. "Beach" It might be my sleeping that night.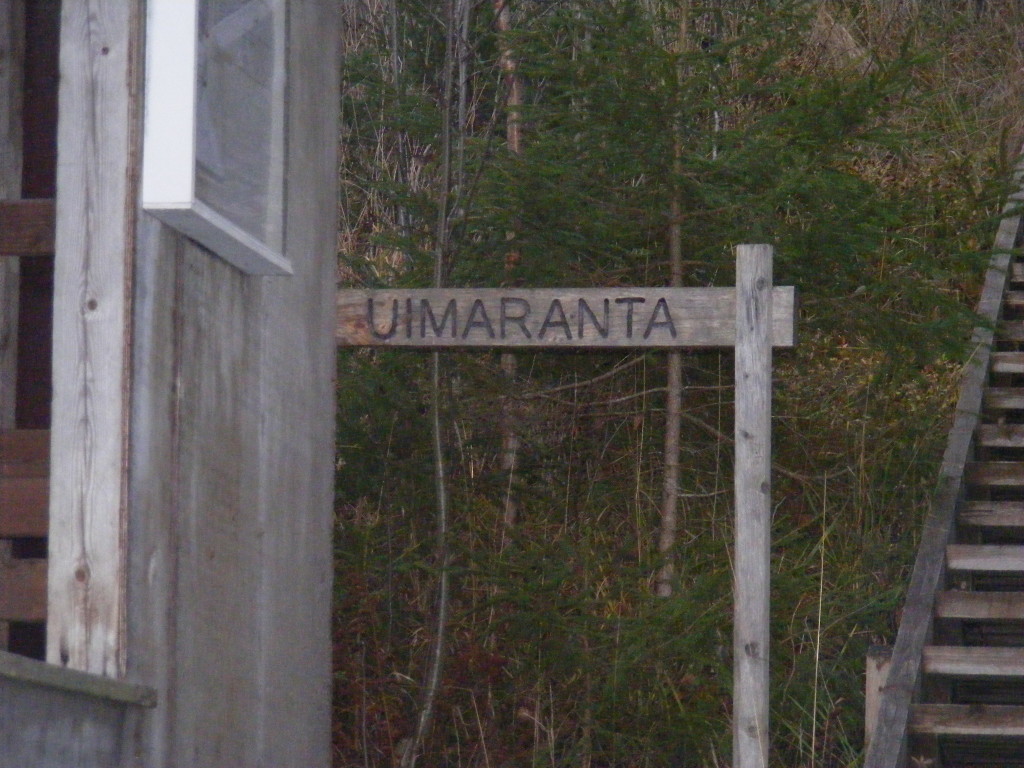 Why use a bridge assignments? Because it was wet on the ground. Thought it was a good idea.

This was in late October. It was autumn. It was moist and few degrees above freezing. But I liked it. The goal was to get to Lahti and Hallola. My father comes from Lahti so there was an great reason to get there.
Took off on a minor road. That's when I saw the sign  "traktori museo" (Tractor museum) . Of course I was interested.  It was Mäkilein Traktorimuseum  But it was of course closed in late October. The owner, however, was in place in the process of renovating a tractor. He opened the doors to the museum so I got me a look.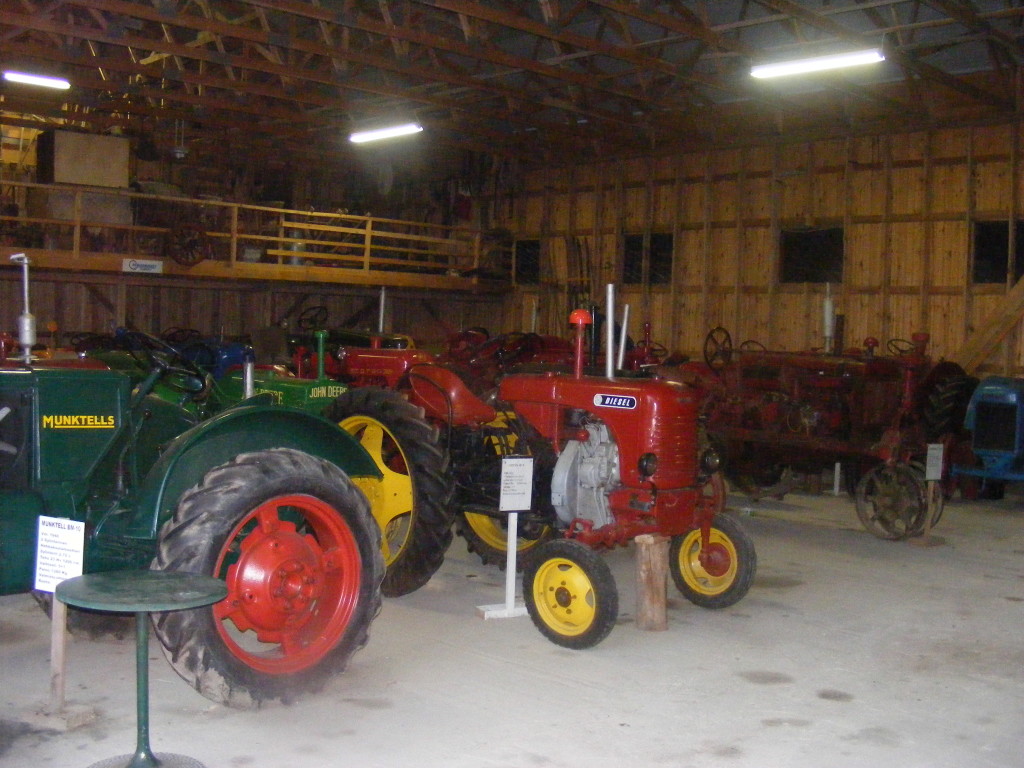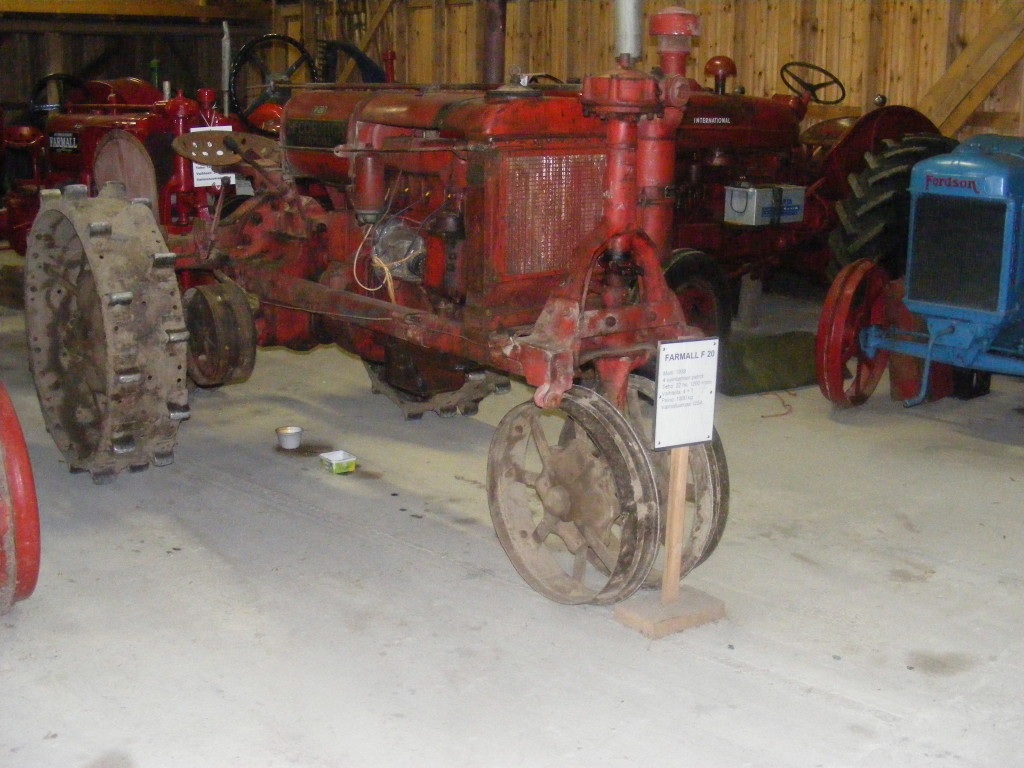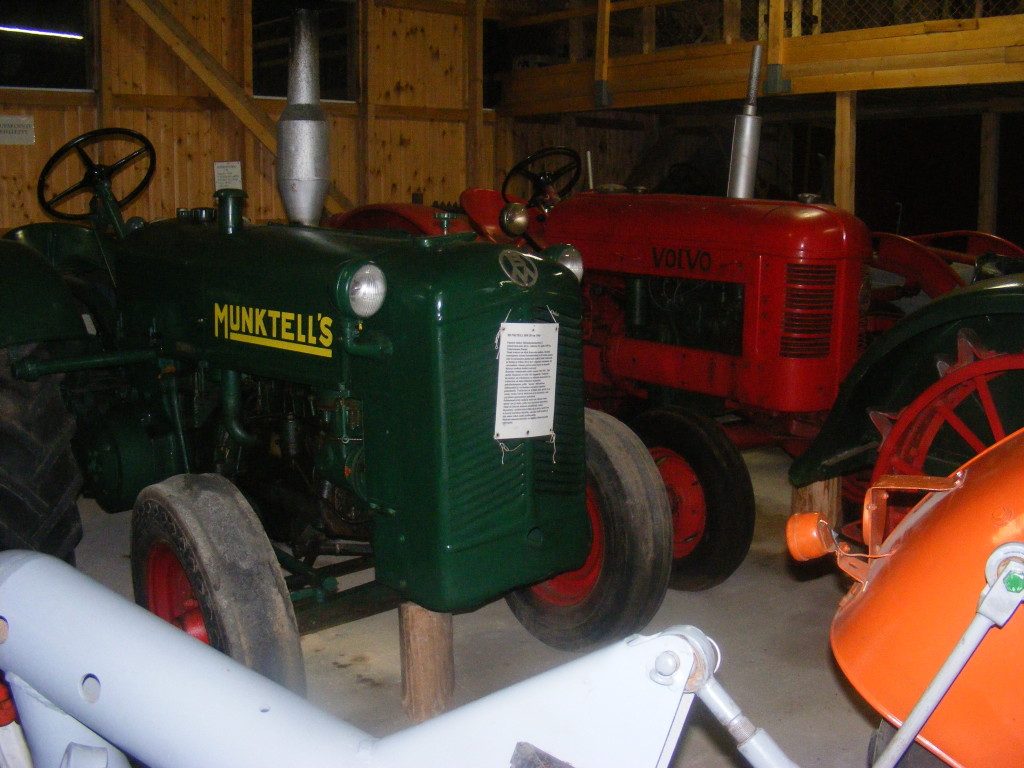 There were tractors from the Soviet Union, Germany, USA, Sweden and Finland. From the early 1900s until the late 60's. I stopped to take some pictures and had time to talk to the owner before he went on his renovation work.
I had found this rural road with virtually no traffic. It reminded me of Västmanland and Uppland.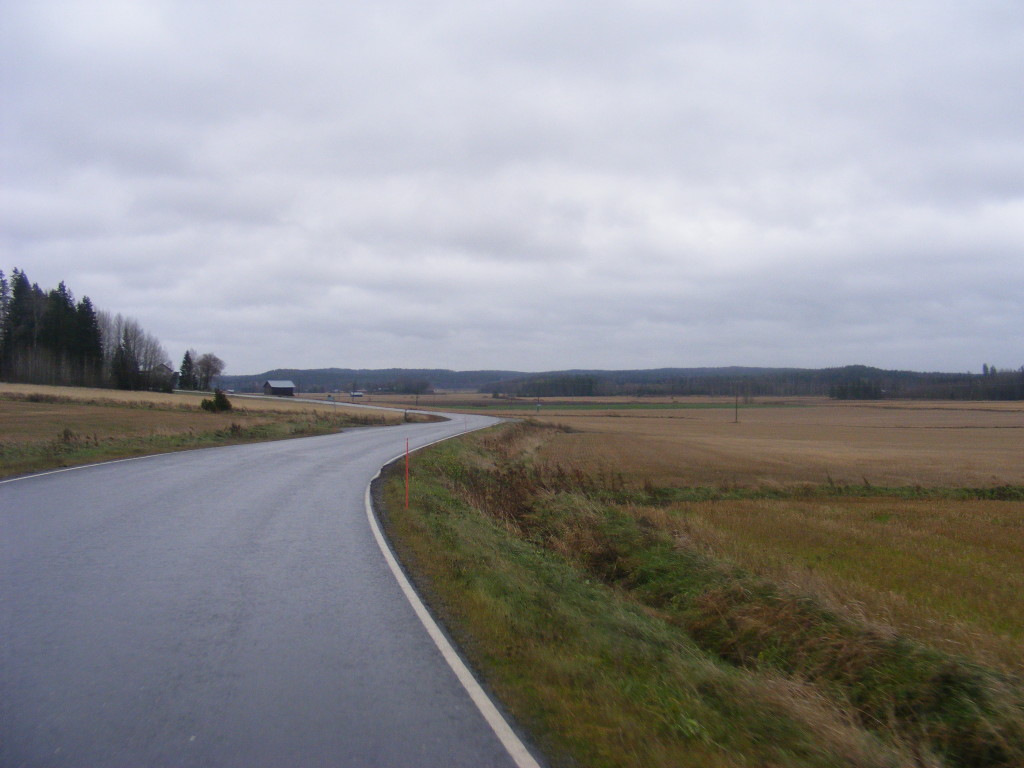 DSCF0085
Eventually I came to Porras. I stayed there for a coffee break in the village combined record shop / café.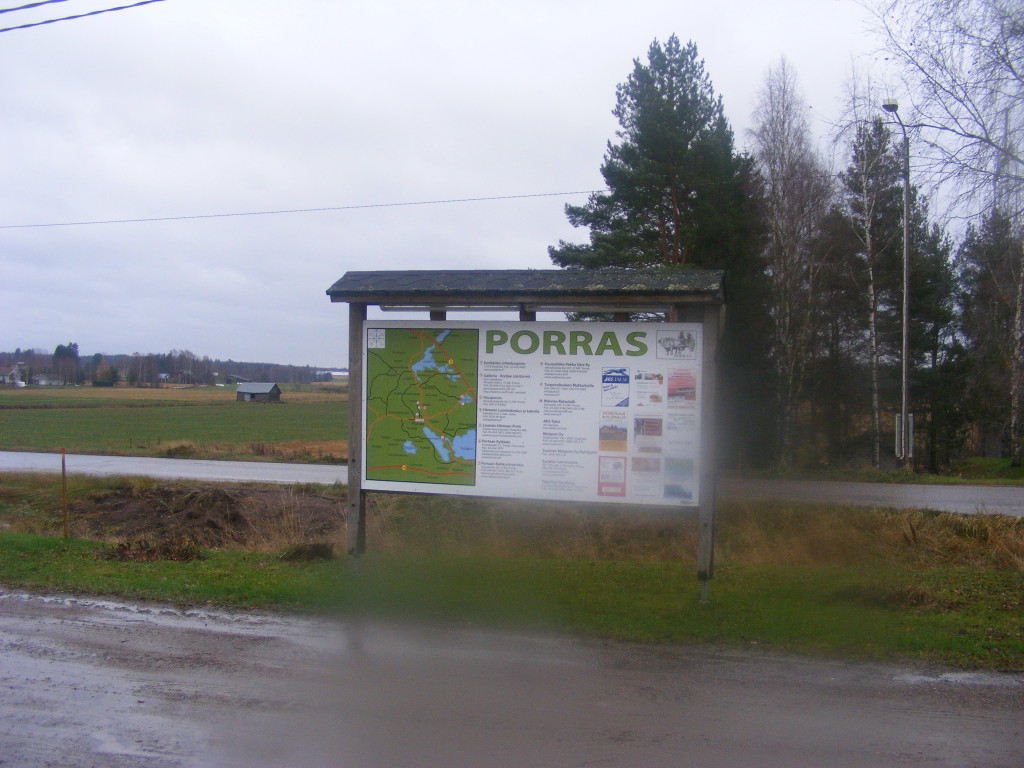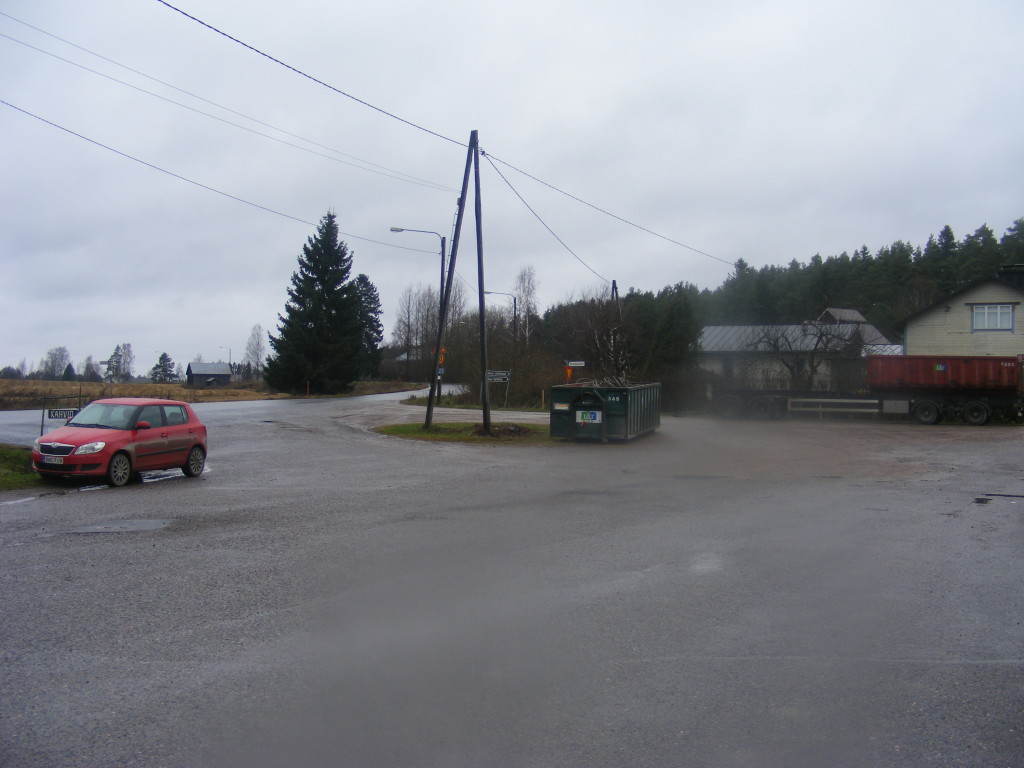 The evening I arrived in a holiday home area outside Vojakala. Pitched tent on the porch of a winter dormant summer cottage.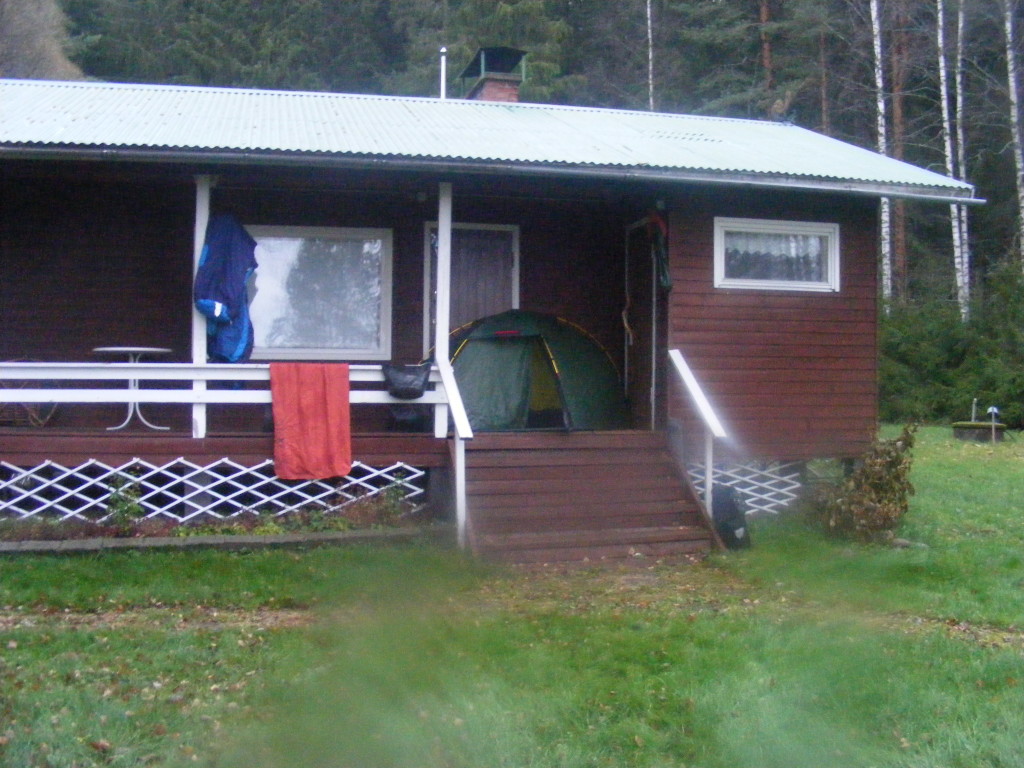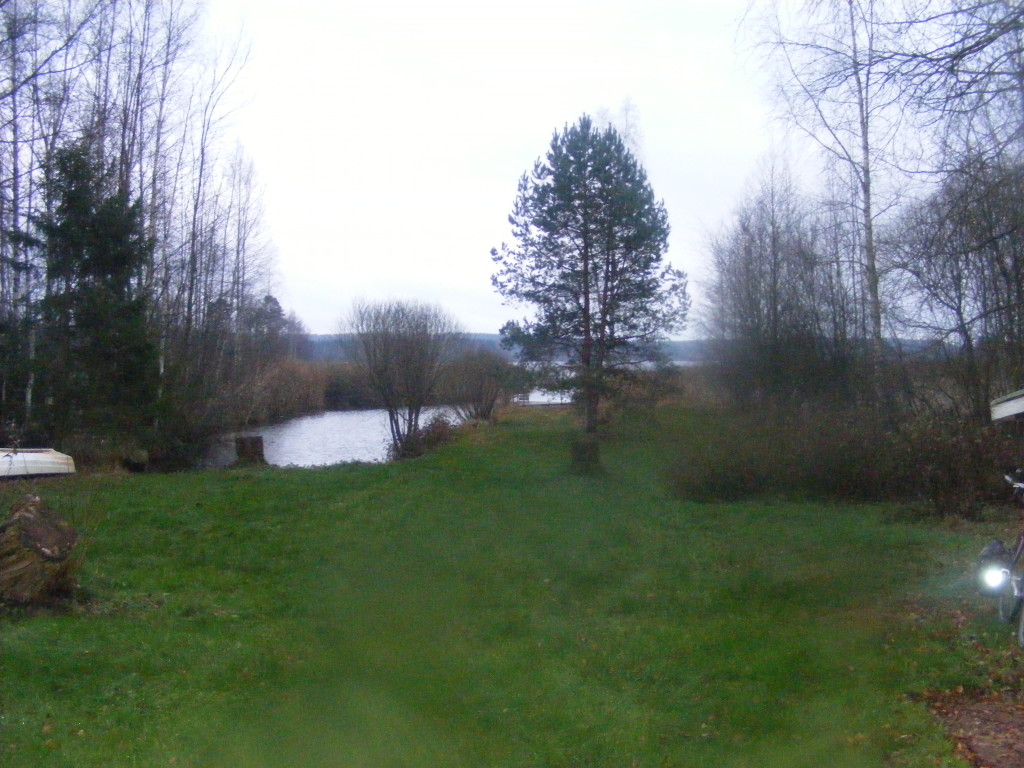 Rural areas in Finland has some surprising moments. As this sculpture park.
I followed route 54 until I came to Vesala. There, I took right turn towards Lahti and Hollola. I did not want to ride with the trucks to Lahti so I took off through Hollola center. From there I came to Lahti downtown after following Vesijärvi. Once there, I stopped at McDonalds before I continued. It had started to get dark so there was not much to look at Lahti. Barely outside the city center, I found a forest between two major roads. It had to do for the night.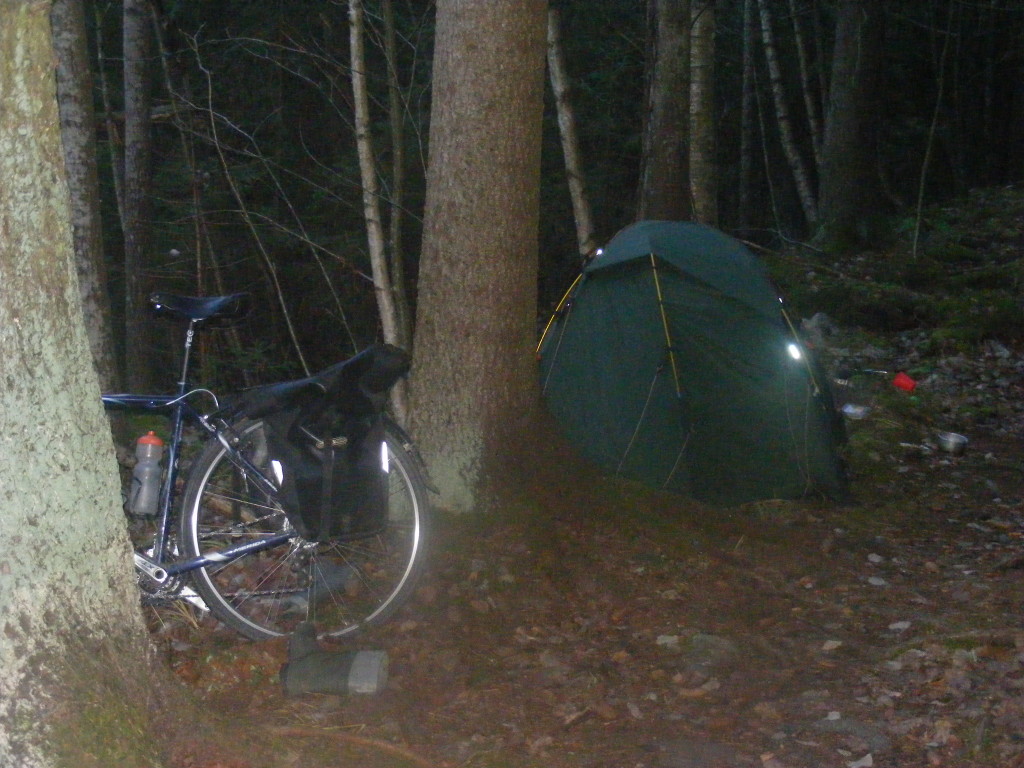 The planned challenge with a little cold were absent during the entire trip. It was barely 10 degrees with light winds. Not even the rain was a challenge. I continued south towards Porvoo. There I had found warmshower host hat offered tea. Did not want to stay there overnight they were packing for their bike challenge in Georgia.
Instead, I continued out of Porvoo to find a place to pitch your tent on.
I found many interesting buildings along my path. Here are two examples. A wooden church somewhere between Lahti and Porvoo.
DSCF0100
Buildings are good ad sites like this. "You are beautiful". Do not know who was the object of this admiration but hope she saw the message.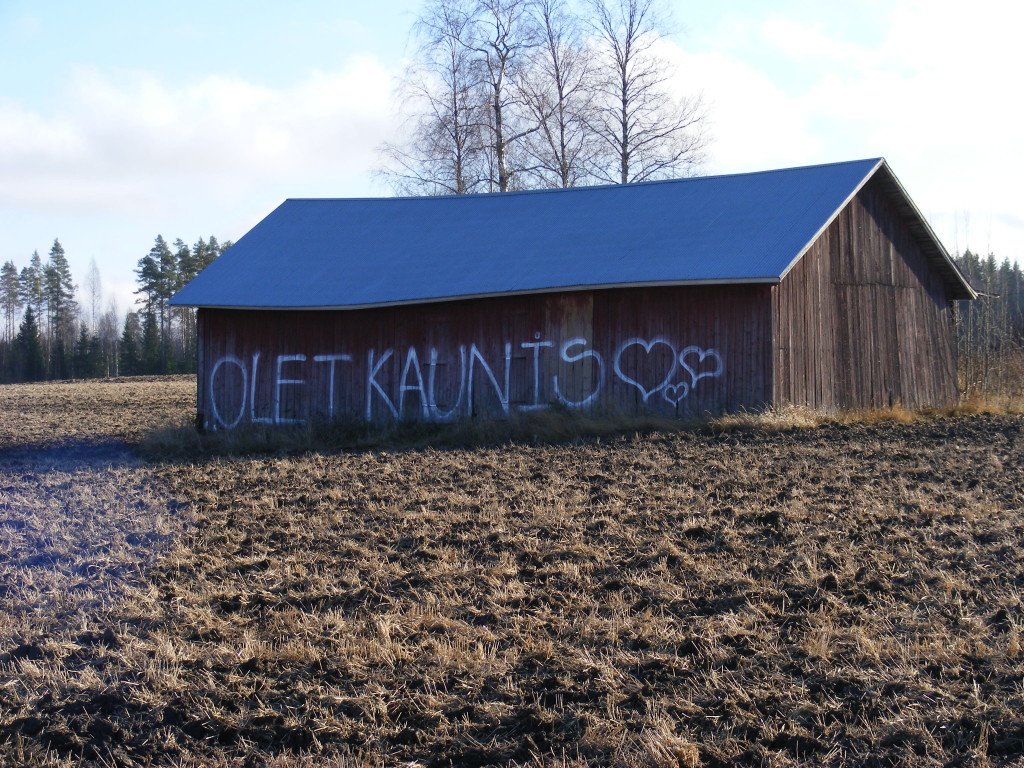 Porvoo is located at an old trading. Linnanmäki in Porvoo, which is possibly built on the foundations of an old Viking stronghold, is probably from the late 1200s or early 1300s. The city's name comes from the word castle and on. Borgbacken just next to the river is still surrounded by old moats. Trade to the Häme was conducted along the Porvoo River, and the main beach, also called the King's Road, from the 1200s went through the Porvoo.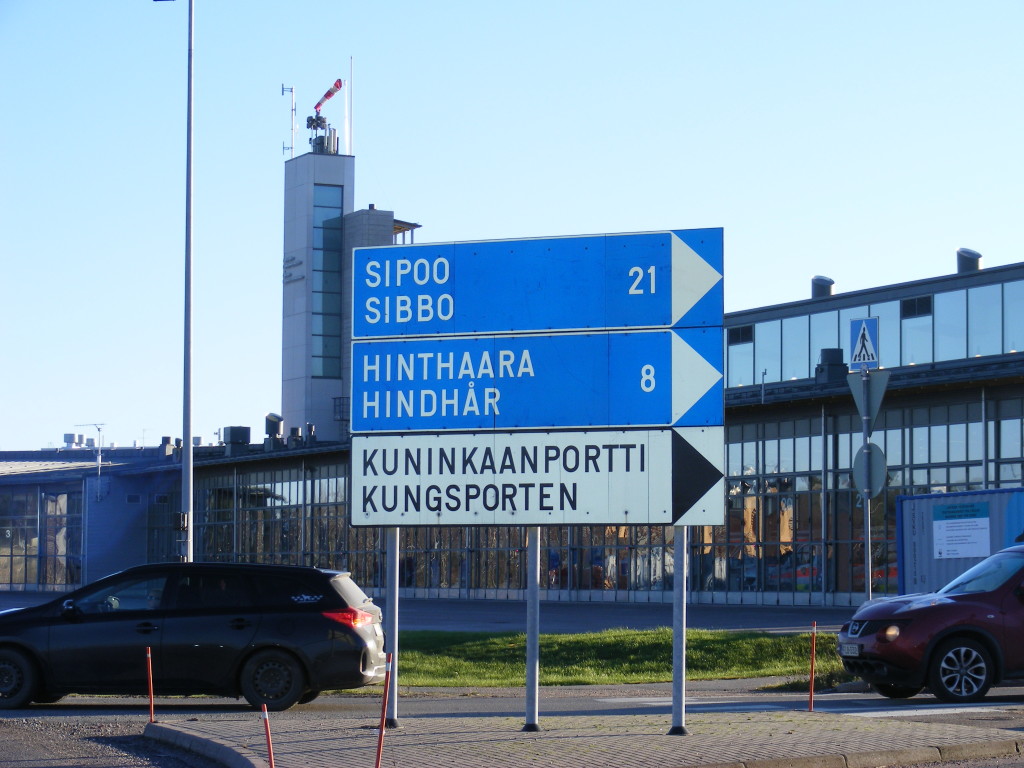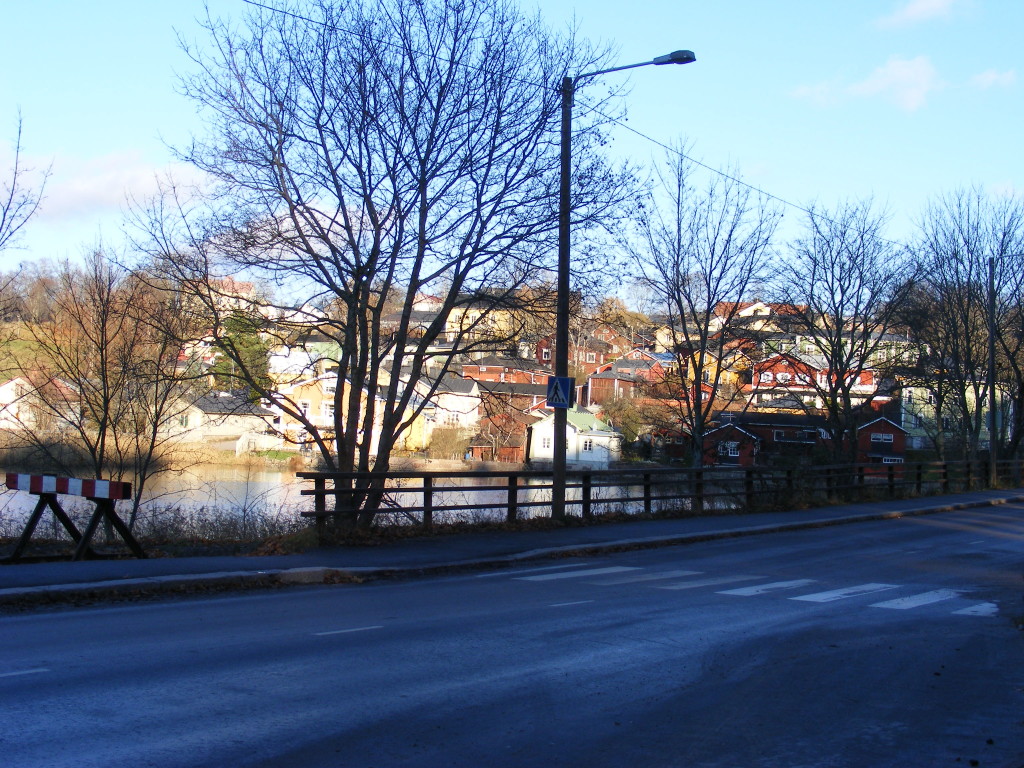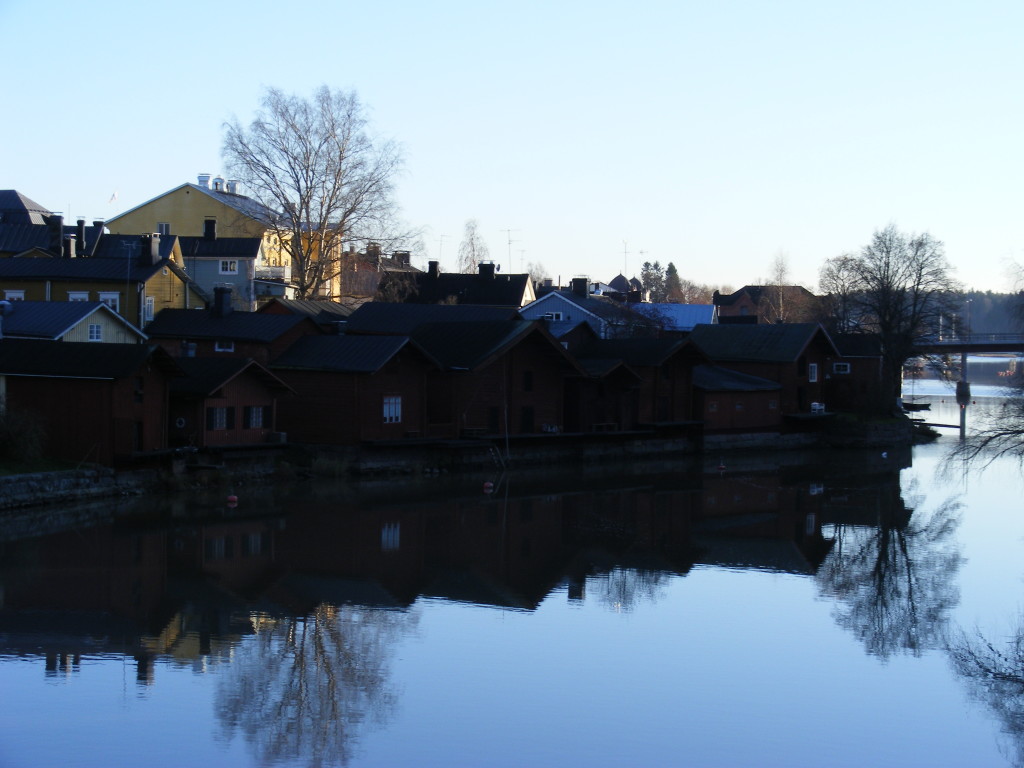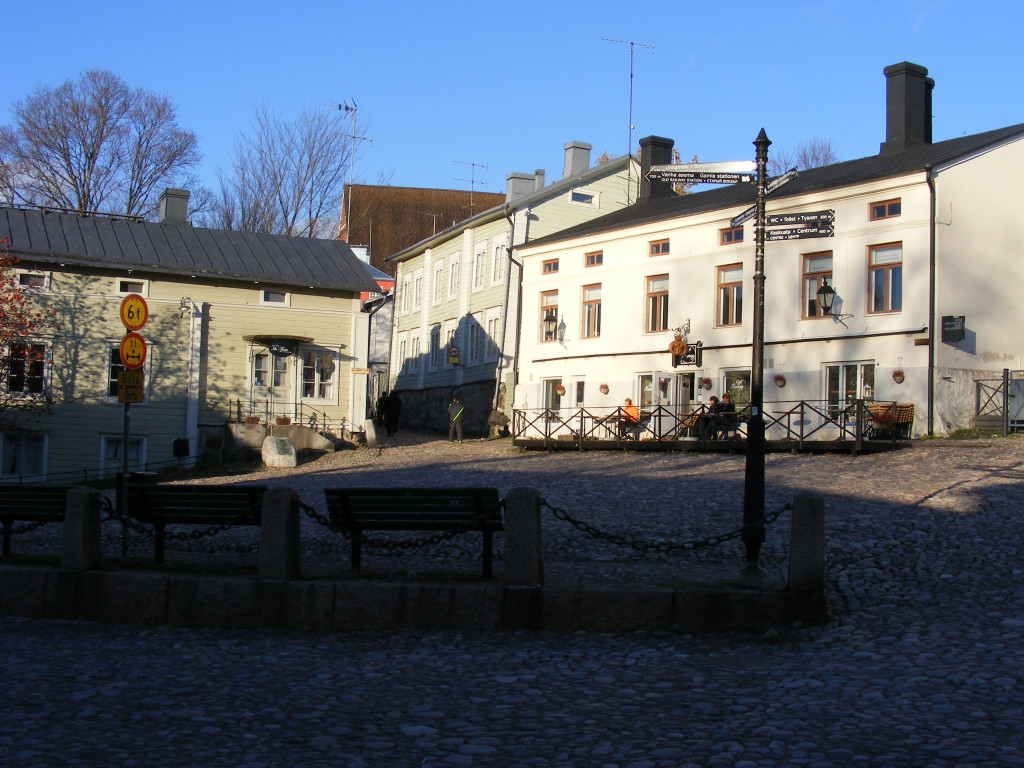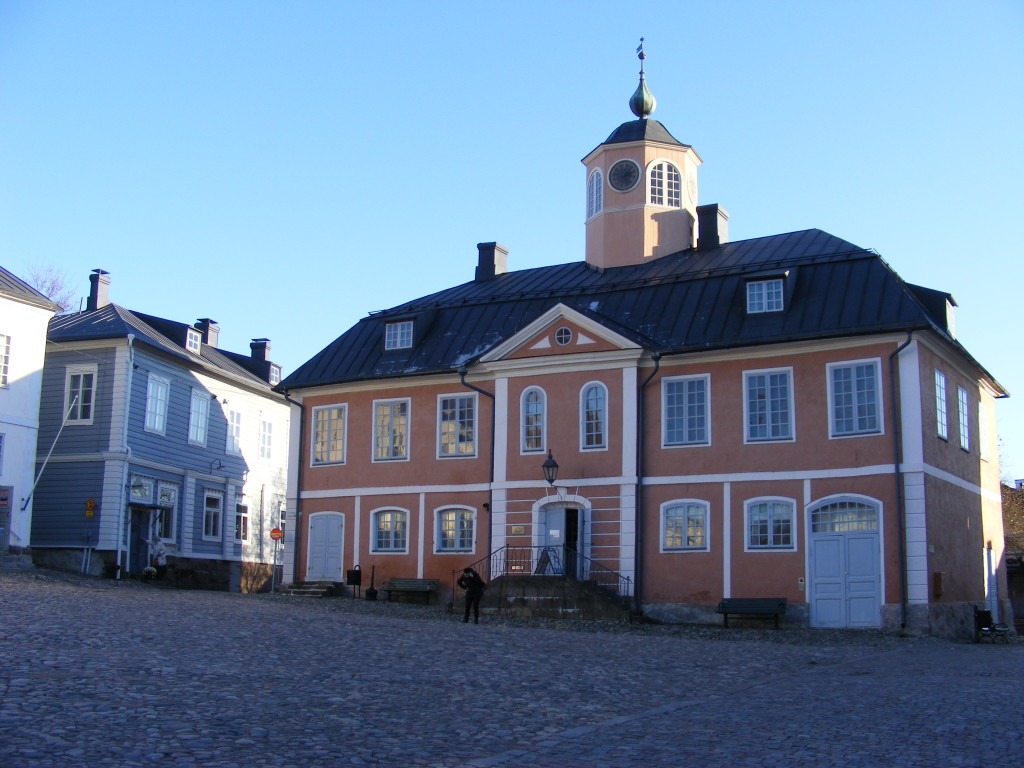 After a few hours, I left Porvoo. It was getting dark and I wanted to get out of town before it became impossible to find a good place for the tent. It went like that between two major roads. Behind a phone mast, I found a good place.
Last day to Helsinki. I followed road 170, the old road. As usual when I approach my final destination I was looked forward to it. In this case, there were two things that attracted. Partly sauna bath at Kotiharju sauna. I've been there before and it is always a total experience.
Secondly the gigantic buffe on the ferry to Stockholm.
Once in Stockholm, I stayed one night before the last day to Kvicksund. It took 10 hours to Kvicksund. Finally home.
With the condition that I was expecting this trip should be a test to ride in bad weather so it was a so-so experience. It was a warm autumn. However it rained a few days and it was interesting. Happy with the year's two short trips in the neighbourhood, I started thinking about cycling experience the panels in 2015. For a long time Cuba was an option but suddenly swung in favour Eastern United States. The plan was Key West to Boston. You can learn about the trip here.